Sponsored Article
10 Healthy Smoothie Recipes For You In 2021
Achieve Your Fitness Goals This 2021 With The Most Delectable Healthy Smoothies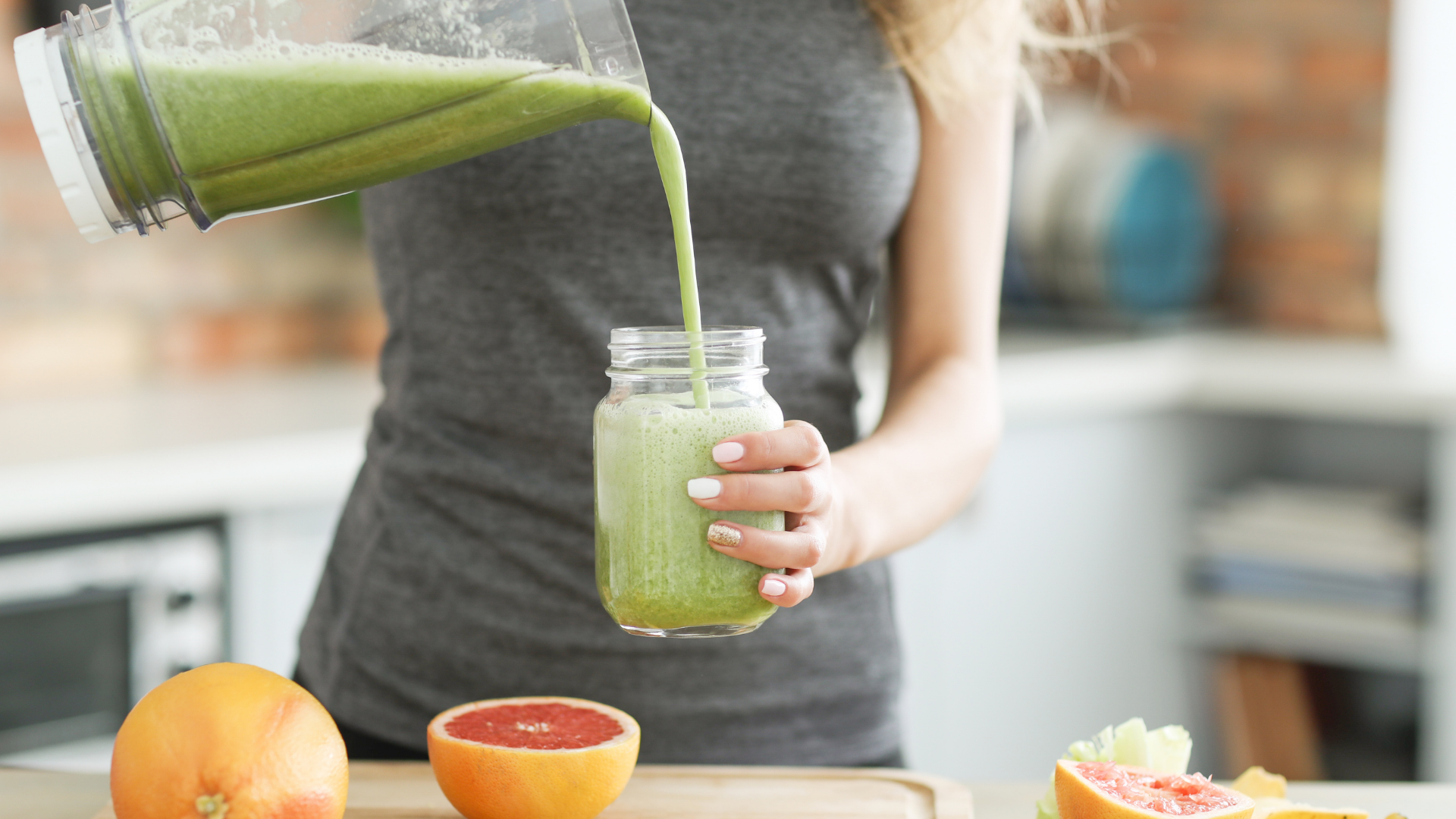 It's important to consult your doctors with any medical concerns, and before making any changes or adding supplements to your health plan.
Smoothies can help you lose weight as part of a balanced diet. Healthy smoothies replace standard meals - from breakfast to dinner - so you can lose excess fat caused by solid form calories. The best smoothies include protein and nutrients to make sure that you don't lose any muscle tissue in the process of burning fat, which means that you need a mix of fruit, vegetables, and a source of protein.
Below are the most delectable fat-burning smoothies that will help you lose weight in 2021, all easily blended with NutriBullet Pro, the most affordable yet ultra-powerful personal blender in the market today. Blend different smoothies every day, on the go.
10 Healthy Smoothie Recipes
1. New Year Green Detox Juice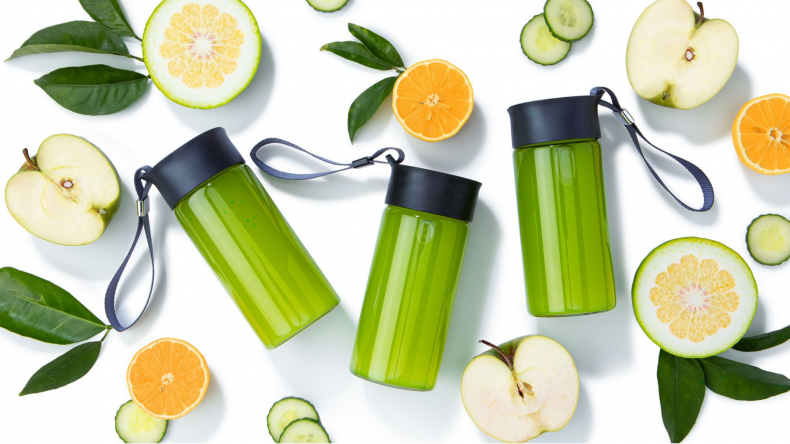 Treat your body to a refreshing and hydrating green juice, made with nutrient-rich ingredients like lemon and green apple. Lemon helps promote water fullness, support hydration, and boost metabolism, while green apple is a fruit that is low in fat and carbohydrates that will fill up your tummy and prevent feelings of hunger.
Ingredients:
1 peeled lemon
4 raw celery stalks
2 cucumber
1 green apple
2. Cleansing Green Smoothie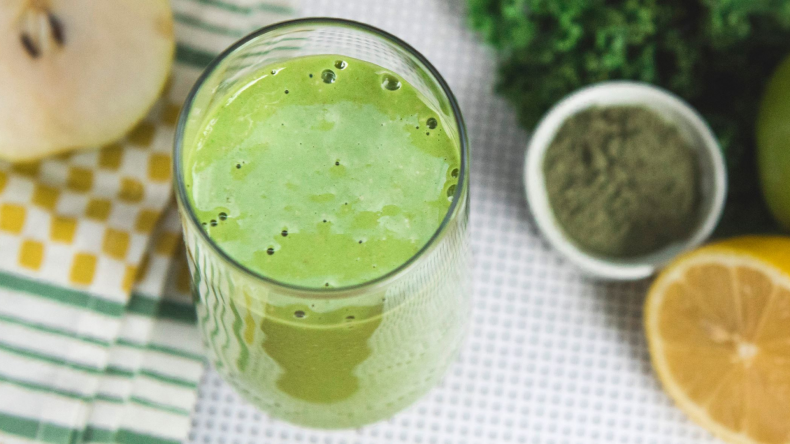 This green smoothie is loaded with cleansing ingredients for renewed body and energy. With the inflammation-fighting power of pineapple, the metabolism-boosting power of cayenne, and fiber-rich kale and pear, this is one breakfast drink that helps prevent those pesky afternoon cravings.
Ingredients:
1 cup of kale
1/4 cup of sliced cucumber
1/2 cup of fresh pineapple
1/2 cored pear
1 tbsp lemon juice
1 1/2 cup coconut water
1/4 tsp Cayenne Pepper Powder
3. Fiberlicious Smoothie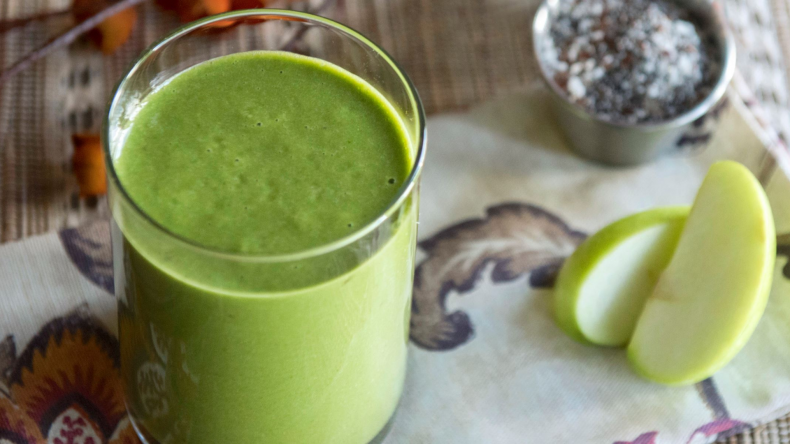 This fiber-filled smoothie is simple to make and even easier to enjoy! Blend it in a flash by using NutriBullet Pro first thing in the morning as a fiber-focused breakfast to keep you full through lunch. You may also enjoy the Fiberlicious Smoothie as a meal replacement any time.
Ingredients:
1 cup of spinach
1 green apple (can be replaced with pear or mixed berries)
1/2 banana
1/2 cup coconut water
1 cup of unsweetened almond milk
1/2 tbsp hemp seeds
1/2 tbsp chia seeds
1 tbsp almond butter, no added salt (can be replaced with peanut or sunflower seed butter)
4. Tropical Green Smoothie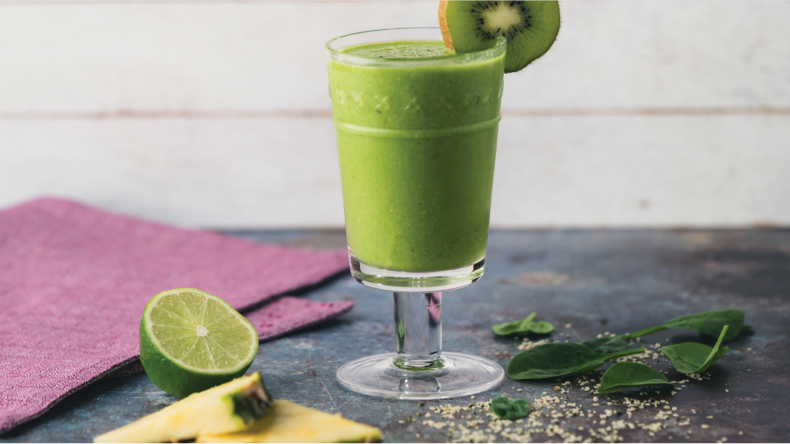 When you think of the tropics, the kind of fruits that come to mind include loss-friendly lime, coconut, and pineapple. Blend all three with other dietary smoothie ingredients, and you've got yourself a tropical green smoothie.
Ingredients:
1 cup of spinach
1/2 cup of fresh pineapple
1/2 kiwi
1 tbsp hemp seeds
1 tbsp lime juice
1 cup coconut water
5. Banana Mango Shake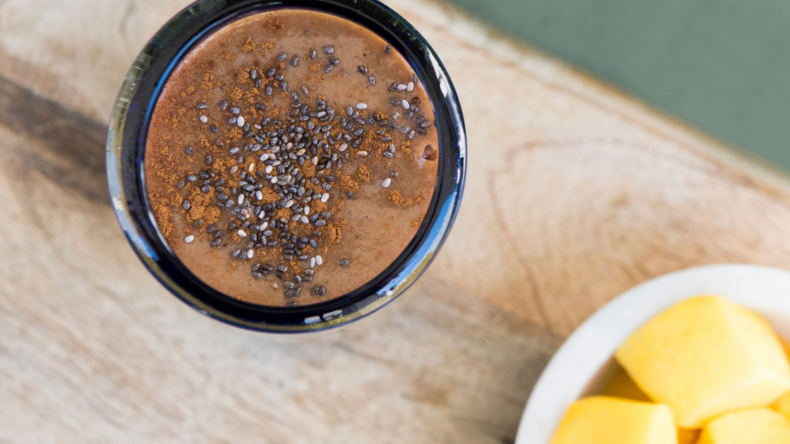 Bananas are high-fiber, low-calorie snacks that help with weight loss. Eating mangoes also helps you lose excess fats if you consume less than what you are already eating. Replace unhealthy snacks with this delectable banana mango shake for successful weight loss results.
Ingredients:
1 banana
1/2 cup mango, fresh and pitted
1 cup almond milk, unsweetened
1 tbsp cacao powder
6. Berry Essential Smoothie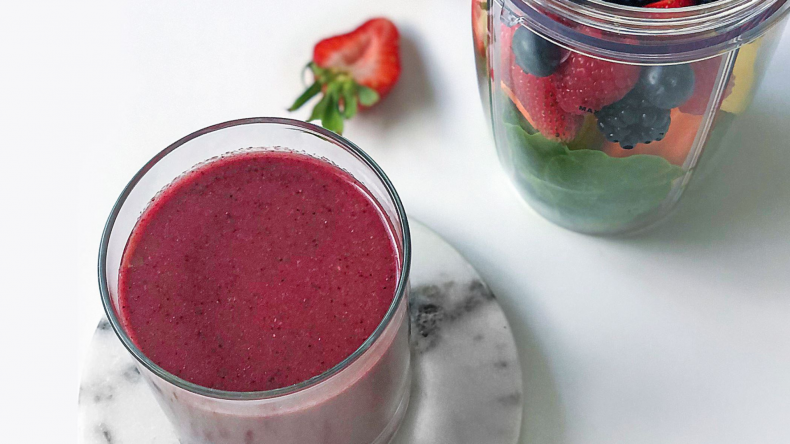 Get a mighty boost of essential nutrients with the Berry Essential Smoothie! An antioxidant-rich combination of spinach, berries, carrots, and more, along with heart-healthy fats from flax seeds, can help you feel good from the inside out. This mighty blend of ingredients is easily made into the perfect smoothie with the NutriBullet Pro.
Ingredients:
1 cup of spinach
1 cup of frozen mixed berries
1 carrot
1/4 cup of fresh pineapple
4 tsp essential greens
1 tbsp flax seeds
1/2 cup of ice
1 cup of water
7. Refreshing Melon Smoothie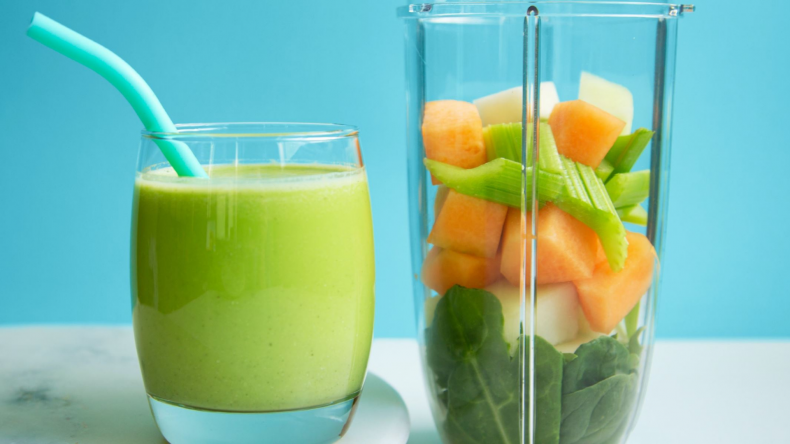 Melon is often an underrated smoothie ingredient, but it is a fruit that is low in calories with high water content, which makes it a perfect ingredient for weight loss. The Refreshing Melon is made with cantaloupe, honeydew, coconut water, and more to keep you cool and hydrated. It's especially good for the summer because melons are in-season and super sweet!
Ingredients:
1 cup of power greens
1/2 cup cantaloupe
1/2 cup honeydew melon
1/2 cup of raw celery
1/4 cup fennel
1 tbsp hemp seeds
1 cup coconut water
1/2 cup of ice
8. Creamy Green Strawberry Dream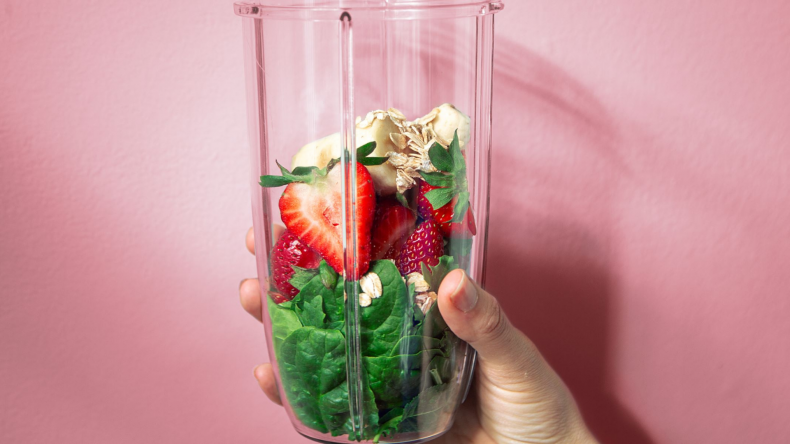 Made with juicy strawberries, sweet banana, and satiating oats, the nutrient-packed Creamy Green Strawberry Dream is just what your body and taste buds have been dreaming of. Strawberries, the main fruit ingredient for the smoothie, promote the production of two important loss hormones - adiponectin and leptin. Both of these hormones help to burn fat and enhance metabolism so while you're getting the nutrition that you need, you are also losing weight!
Ingredients:
2 cups of power greens
1 cup of strawberries
1/2 frozen banana
2 tbsp oats, rolled, gluten-free
1/2 cup of ice
1/2 cup of coconut water
1 cup of unsweetened almond milk
9. Strawberry Banana Protein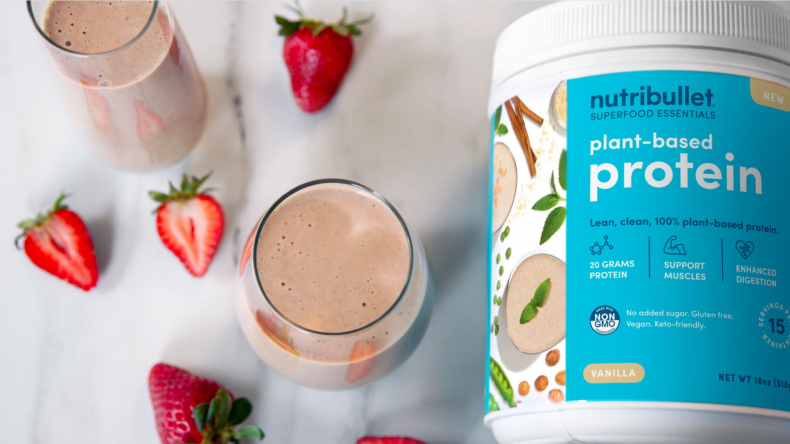 We can't get enough of the powerful fat-burning abilities of strawberries! Here's another smoothie with strawberries, paired with banana and a plant-based protein ingredient from NutriBullet. Drink up the strawberry banana protein smoothie after a workout to feel refreshed and refueled.
Ingredients:
1 cup of power greens
1/2 cup of strawberries
1/2 frozen banana
1/4 cup oats, rolled, gluten-free
1/2 cup of ice
1 1/2 cup of unsweetened cashew milk
10. Papaya Coconut Smoothie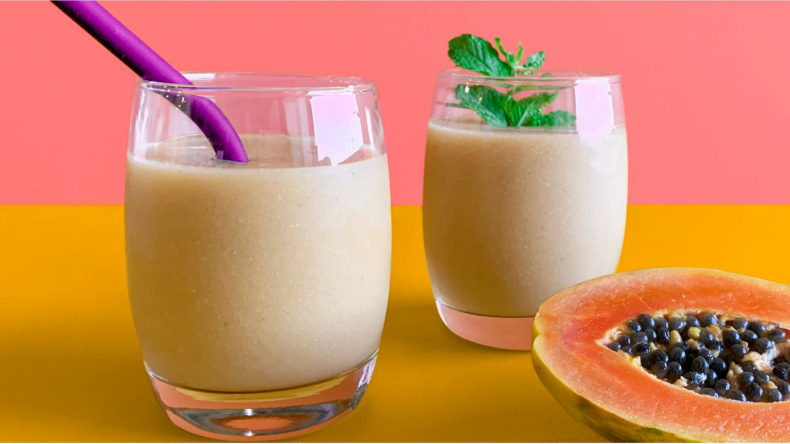 The combination of creamy papaya, fresh mint, and coconut makes this delicious smoothie satisfying and refreshing. Papaya is filled with vitamins A and C providing you with enough of your daily dose of vitamin C in this recipe alone! Ginger and mint give this smoothie an extra zing while helping with digestion. Feel free to add some extra ginger or mint leaves if you're craving a bit more.
Ingredients:
1 cup of papaya
1/2 tbsp fresh ginger root, fresh
4 mints
1/4 cup of unsweetened coconut flakes
1 cup of coconut water
1/2 cup of water
1 cup of ice
Ready-To-Blend Smoothies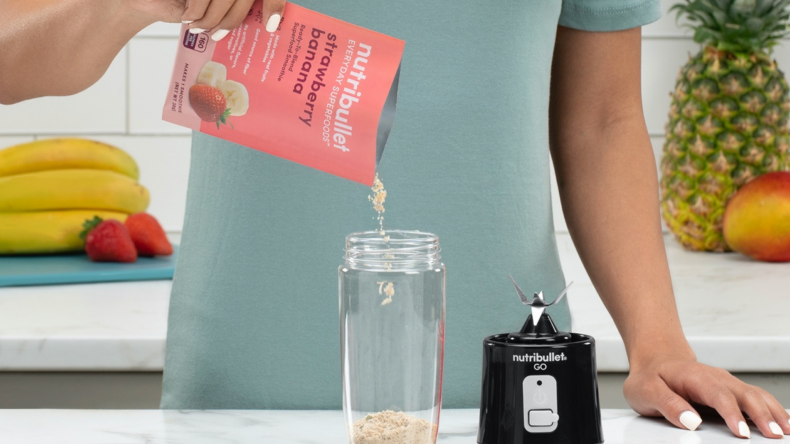 Don't have fresh fruits and vegetables in stock at home? No worries! Stay on top of your fitness regime with Nutribullet's Ready-To-Blend Smoothies. Get the nourishment that you need before you start the day with 3-5 servings of freeze-dried fruits and vegetables mixed with 15 grams of pure plant-based protein per packet. Simply open the packet, pour the contents in your smoothie blender, voila! Savor an energizing, nutritious drink.
Choose from 5 refreshing flavors - strawberry banana, seven berries, banana mocha, blueberry almond, and mango pineapple - for only $24.99 / 5 packets.
NutriBullet Pro for Your Daily Smoothie Perfection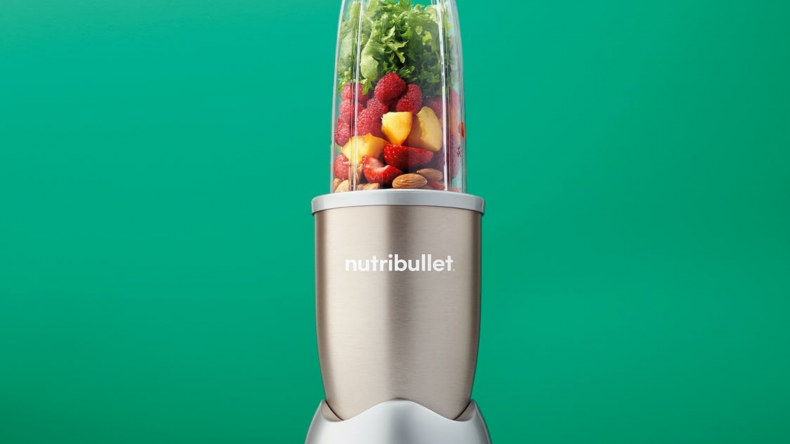 The NutriBullet Pro is an affordable, worthy investment that is made up of a compact and optimized 900-watt personal blender. It comes with two to-go lids, two 32oz cups, two cup rings, two-handled lip rings, and a recipe book, to boot. Prepare your smoothie in under 60 seconds every day. Simply push, twist, and blend.
Another great thing about the NutriBullet Pro? It cleans like a dream. Simply twist off the blades, rinse with soap and water, and put the cups on the top rack of the dishwasher. After that, you're good to go.