Sponsored Article
10 Items That Could Make Your Home Office Tidier
Need help keeping your home office clutter-free? Our Amazon finds might be the organizing hack you're looking for.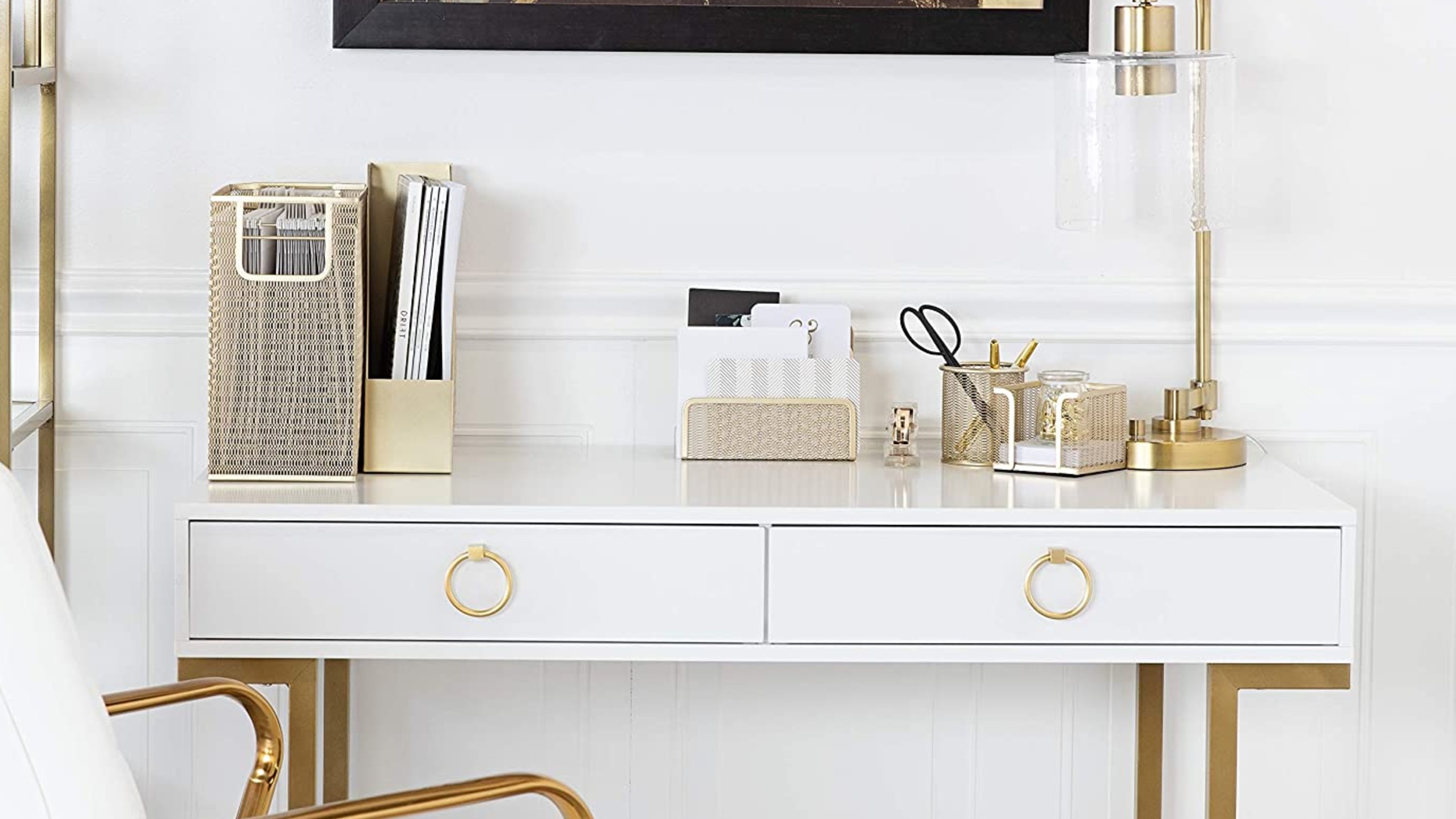 More than a year after the pandemic completely changed our lives, remote work remains the norm—and it might take some more time before we return to our office cubicles and workstations.
Even as restrictions continue to ease nationwide, many workplaces will continue work-from-home arrangements. According to Upwork's 2021 Future Workforce Pulse Report, managers believe that more than 25 percent of the American workforce will be fully remote this year.
If you'll still be taking Zoom calls and beating deadlines from your home office within the foreseeable future, it's probably high time to give your workspace a bit of spring cleaning. After all, various studies suggest that clutter could affect your mental health and productivity. Having an organized desk not only keeps distractions at bay but also helps you work faster.
Accessories To Organize Your Desk and Home Office
According to Marie Kondo, the creator of the popular KonMari tidying method, you need to give everything a home to keep any space clutter-free. Bins, shelves, and dividers might help organize your most-used office items while keeping them within easy reach.
Looking for inspiration? Below are ten useful Amazon finds you could use to upgrade and transform your desk into a relaxing, clutter-free space.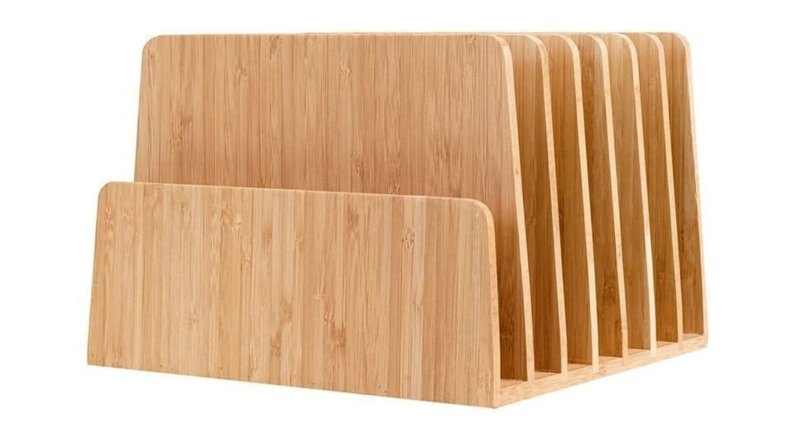 1. MobileVision Bamboo Desktop File Folder Organizer and Paper Tray
You could store your loose files and folders in this sturdy, seven-slot desktop organizer. Because it's made of high-quality bamboo, it could be ideal for keeping files upright and easily accessible on your desk. The slots are even wide enough for your laptop so that you can tuck it away when you need to clear your working area. This tray's base has rubber pads to help it stay in place.
Order the seven-slot file folder organizer now for $36.95.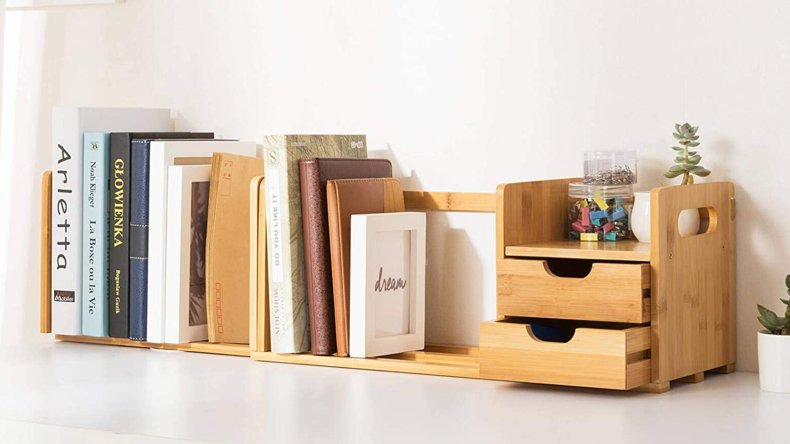 2. Ollieroo Natural Bamboo Desk Organizer
If you have a big desk in your home office, you could get this expandable storage system for your frequently-used office essentials. The shelf can expand from 12.3 to 23.8 inches to store more books and files. The drawers could help you store small items like pens and paper clips. You could also place a small plant or photo frame on top of this organizer for an instant decor boost.
Order this versatile set for $31.99.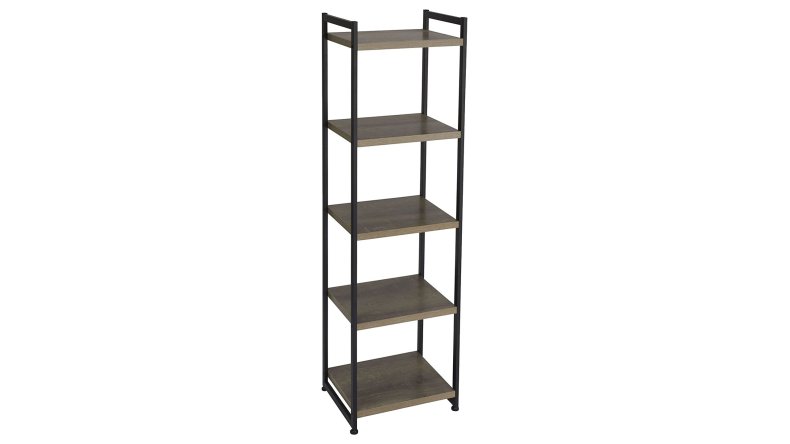 3. Household Essentials 5 Tier Storage Tower
This tall, narrow shelf might help you maximize storage in small spaces. It has five layers that you could use to store everything from books to games or trinkets. You could use it as is by placing the items you wish to store on the shelves or use bins to keep rarely-used items out of sight.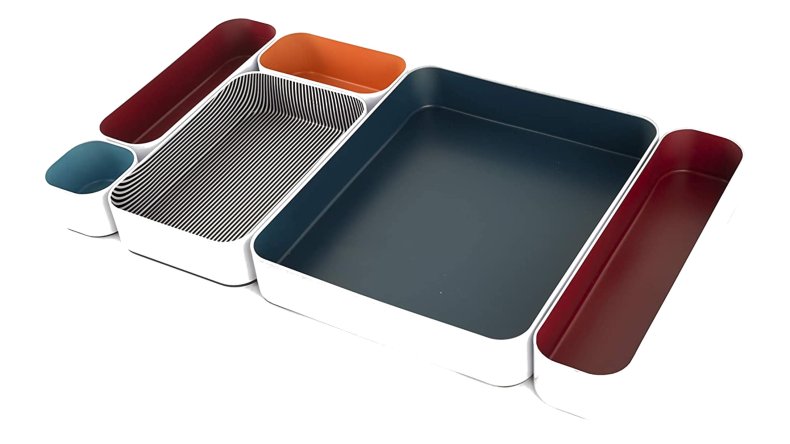 4. Three by Three Drawer Organizer
Every single item on your desk could have a proper home with this set of drawer organizers. You may choose from several color and pattern options to match your home office's theme. These bins are food-safe and equipped with protective bottoms that could keep your desk scratch-free. A set of six includes five stacking bins in different sizes and one paper tray.
Order this set (pictured) for $28.91.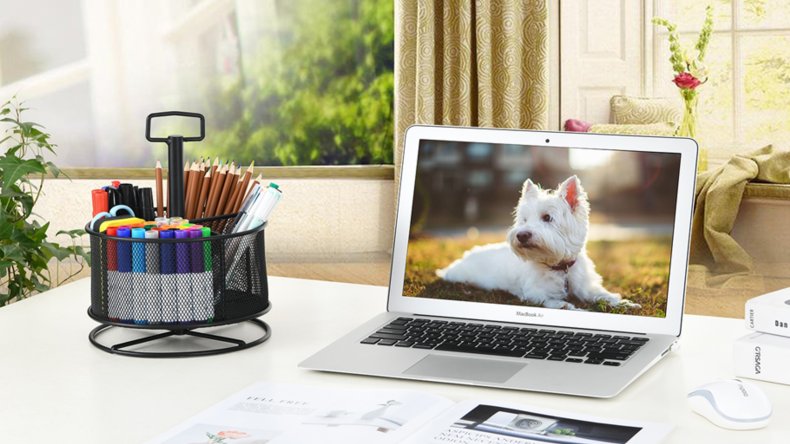 5. Marbrasse Mesh Desk Organizer
This large-capacity pen holder could be suitable for artists, students, or anyone who simply must have a wide array of pens or markers on top of their desk. It features four compartments to organize your drawing and writing instruments properly. The rotating base saves space and gives you easy access to your favorite tools.
Order it in blue or black (pictured) for $22.99.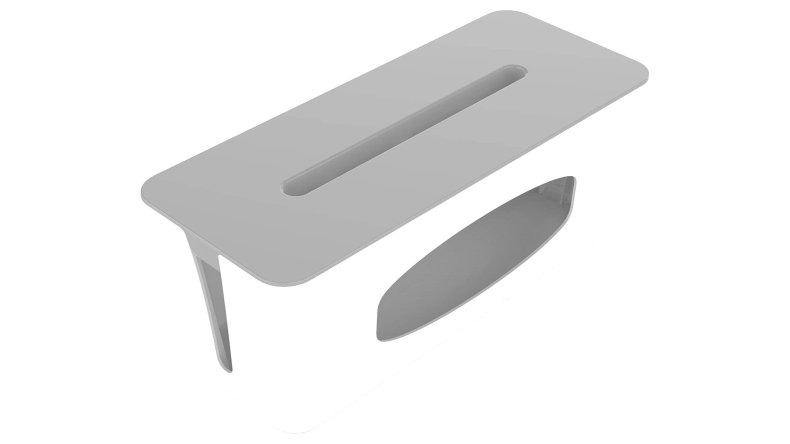 6. DMoose Cable Box
You could keep messy cables and chargers out of sight with a box cord organizer, such as this one from DMoose. It has four accessible cable cutouts and is made of fireproof material. Parents might also find this organizer useful for keeping wires away from little, curious hands.
Order it in five designs including white and gray (pictured), starting at $27.99.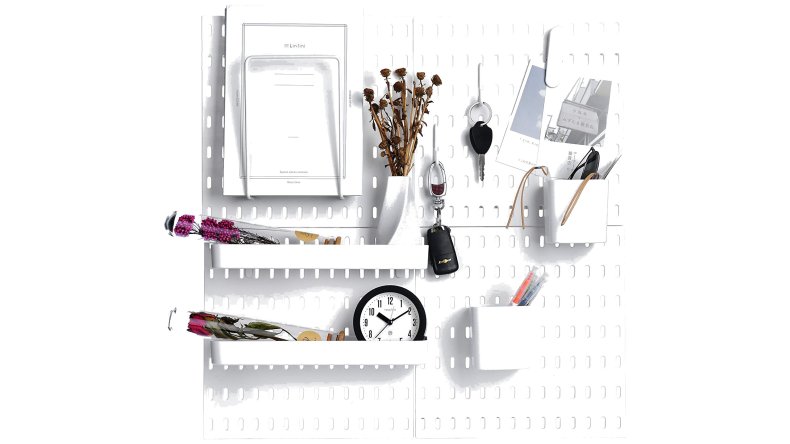 7. Keepo Pegboard Combination Kit
Wall-mounted pegboards could instantly transform your wall into a versatile storage area. This pegboard kit from Keepo comes with everything you might need to organize your office items—the board, hanging materials, hooks, and containers. It could hold up to 20 pounds when secured with the included nails. Don't forget to personalize it with your favorite photos or trinkets.
Order the larger variant (56 centimeters x 56 centimeters) here for $54.99.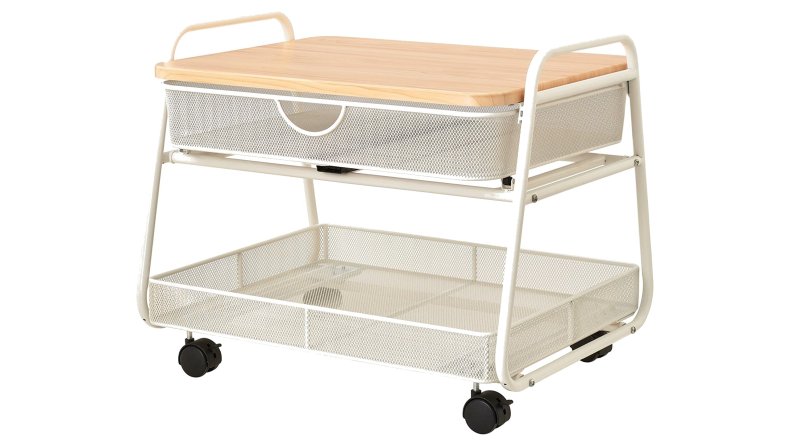 8. Safco Products Onyx Under-Desk Mobile Machine Stand
This rolling machine stand might provide versatile storage for your frequently-used supplies. It has a sturdy top shelf for your home printer, fax machine, or even a secret snack stash, along with a roomy bin for everything else. Since it's low enough to be rolled under your desk, it could make tidying up a breeze.
Order it here in white (pictured) for $118.87.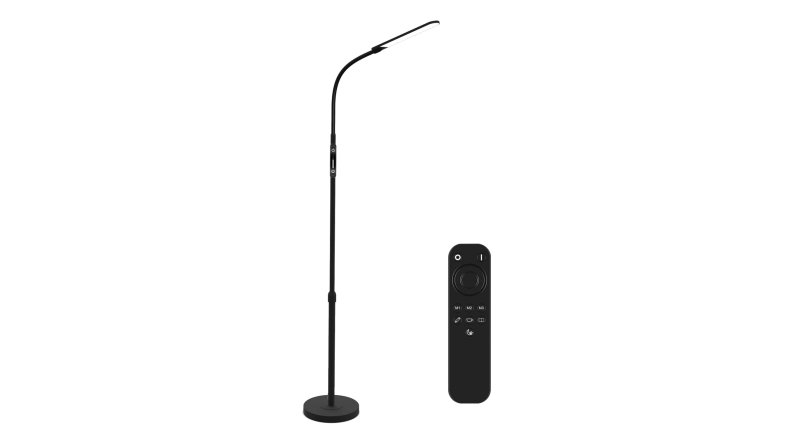 9. NXONE LED Floor Lamp
If you have a limited workspace at home, you could switch to a floor lamp to regain valuable real estate on your table. This sleek floor lamp from NXONE comes in three colors and has a retractable pole so you could adjust its height to your liking. You could also tweak its brightness and color temperature. The best part is it comes with a remote so that you could operate it without leaving your bed or chair.
Order it here in silver, white, or black (pictured) for $39.99.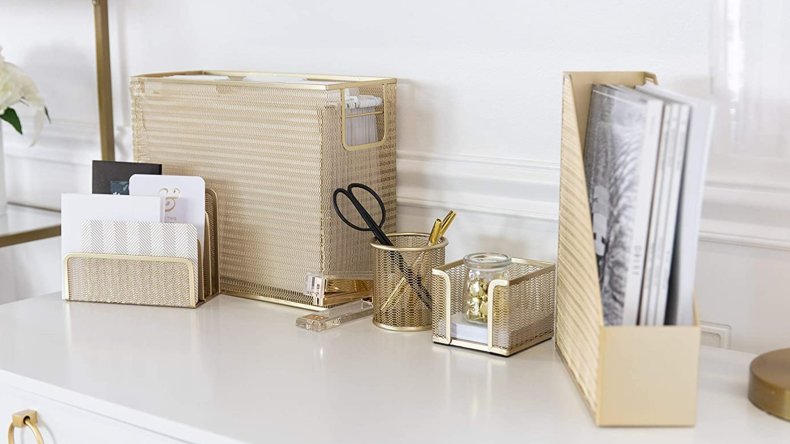 10. Blu Monaco 5 Piece Desk Organizer Set
Color-coded office supplies create a unifying effect to make your home office look tidier. You might want to consider giving your desk a glam makeover with this five-piece organizing set, which comes with a hanging file folder organizer, a magazine file holder, a pen cup, a sticky note holder, and a letter sorter.
Order the entire set in gold (pictured) for $45.