Sponsored Article
10 Products That Could Help Keep Your Dog Cool This Summer
Help Your Dog Beat the Heat With These Amazon Finds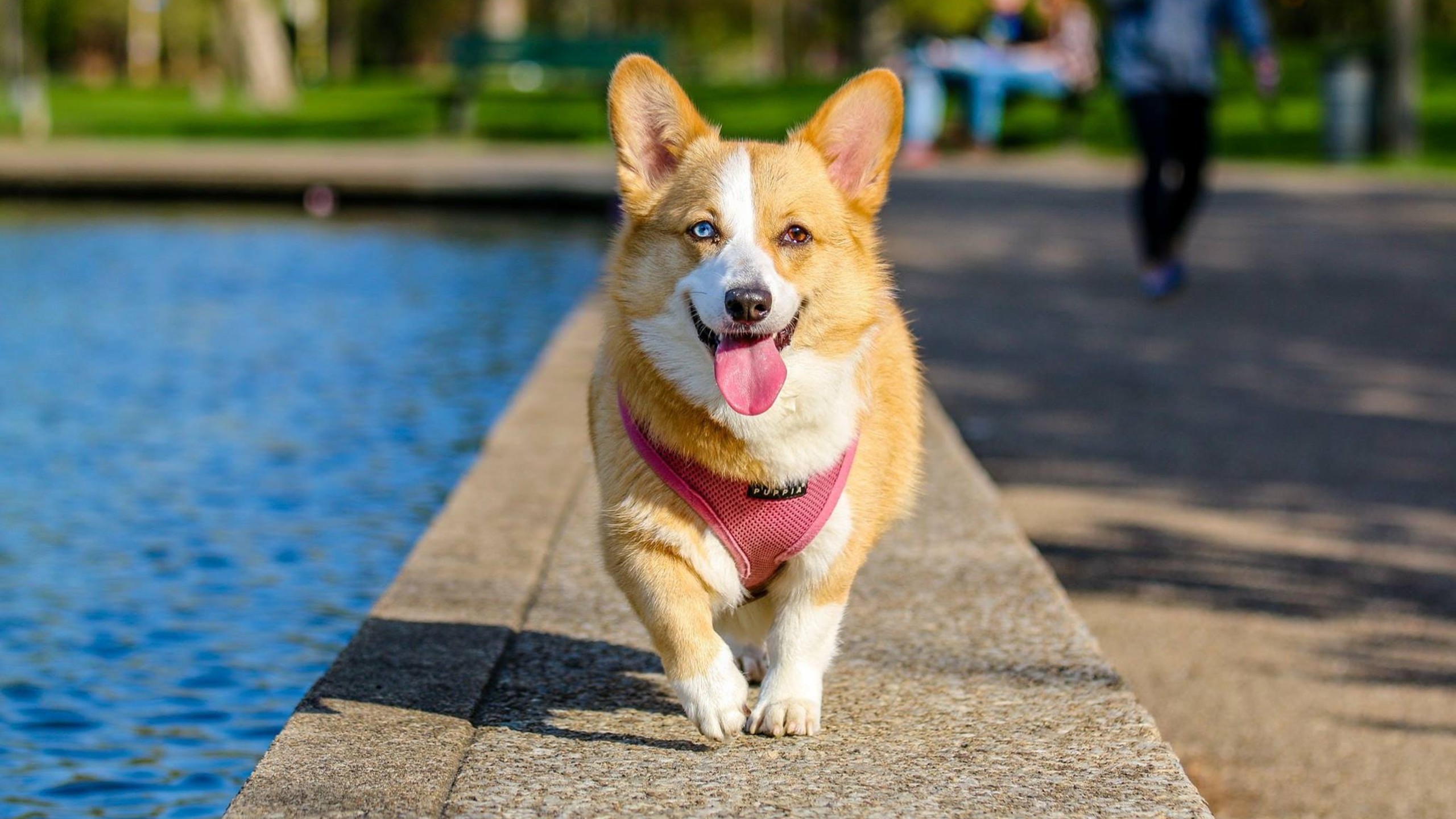 Summer is almost upon us, and if you're already starting to feel the heat, imagine what it's like for your beloved dog.
On very hot days, dogs could be more prone to dehydration and overheating than humans because they can't cool down as fast as we can. For dogs, overheating is a dangerous condition that might require immediate medical care.
Signs and Treatment for Overheating
For dogs, overheating is potentially life-threatening if not detected right away. On hot days, be on the lookout for common signs of overheating in dogs, such as excessive panting, dry and pale gums, erratic pulse, weakness, diarrhea, and vomiting. If your dog exhibits any of these symptoms, you could try the following remedies:
Move your dog to a shaded, cool area.
Help lower your dog's temperature by pouring cool water over them or using wet towels.
Offer small amounts of cool water.
Once your dog has cooled down, you can bring them to the nearest vet.
The American Society for the Prevention of Cruelty to Animals (ASPCA) shares the following tips to help protect dogs from heat-related dangers:
Make sure your pet stays hydrated. Check that they always have fresh, clean water. When heading outdoors, always ensure that they can access a cool indoor area or a shady spot if the weather becomes too hot.
Be familiar with the symptoms of overheating, such as panting, collapsing, bright red or blue gums, vomiting, or diarrhea.
Never leave your pet in the car. Even a car with the air-conditioning turned on might become too hot inside under the full glare of the sun.
When going on walks, make sure the pavement isn't too hot.
Groom your pet correctly—trim, but don't shave fully because their fur could protect their skin from the sun's heat.
Accessories That Could Help Keep Your Dog Cool And Comfy
Aside from these tips, you could use cooling products and accessories to make sure your dog is happy and comfortable despite the summer heat. Check out ten of our recommendations below.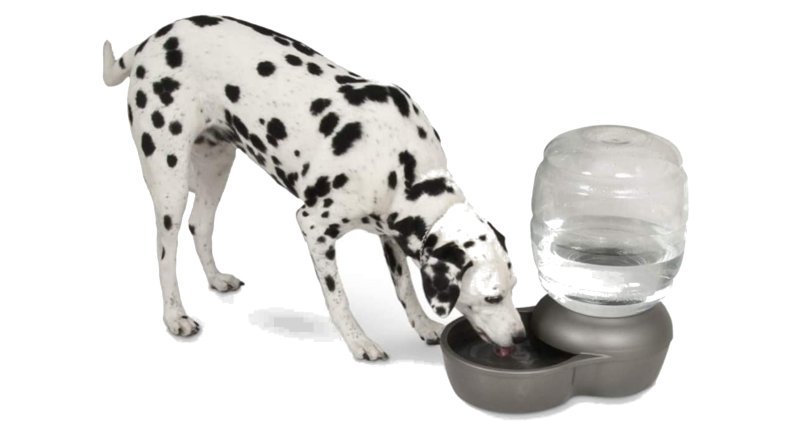 Petmate Replendish Gravity Waterer (Four Gallons)
There are dog waterers, and then there's the Petmate Gravity Waterer that comes in a massive four-gallon version. Given its large capacity, it might take a while before its next refill. You could also be assured that the water is clean, thanks to this dispenser's built-in Microban Antimicrobial Product Protection.
Order it here, starting at $35.95.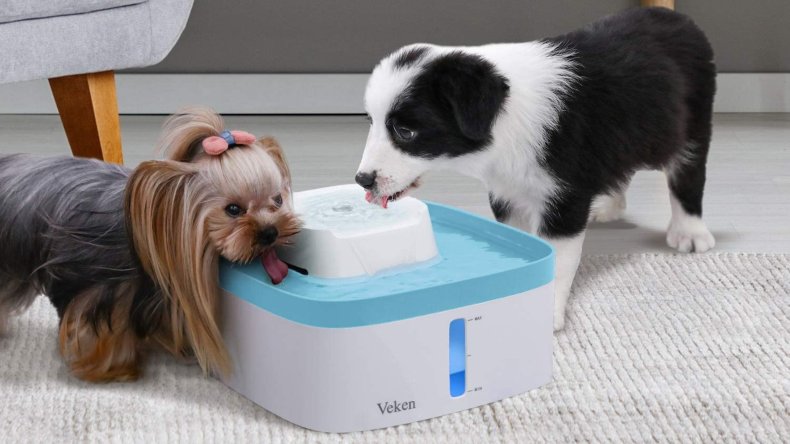 Veken Pet Water Fountain
Here's a fun way to get your furry friend to drink up. Veken's Pet Fountain has a double-decked cover that creates a continuous flow of water, which might entice your pet to drink more frequently. It can hold up to 100 ounces or three liters of water and comes with a triple filtration system to make sure every drop is clean and safe for your dog. You can check if it's time for a refill through the bowl's transparent window. It also has LED lights that can be turned on or off.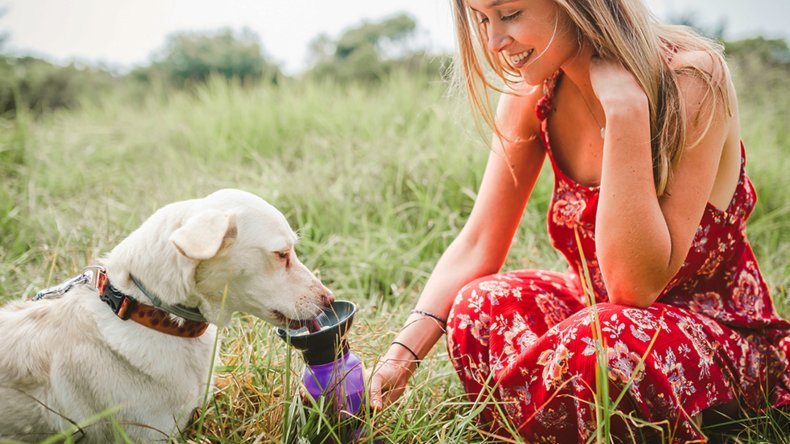 Highwave AutoDogMug
The Humane Society of the United States recommends limiting outdoor exercise on hot days to keep our pets safe. Before venturing out for your daily walk, don't forget to pack a water bottle for your dog, too. Highwave's AutoDogMug could be a practical on-the-go bottle because it dispenses water with a single squeeze. It could reduce spillage, is easy to wash, and might give you peace of mind knowing that your dog is drinking clean, safe water.
Order it in purple (pictured) here for $14.99.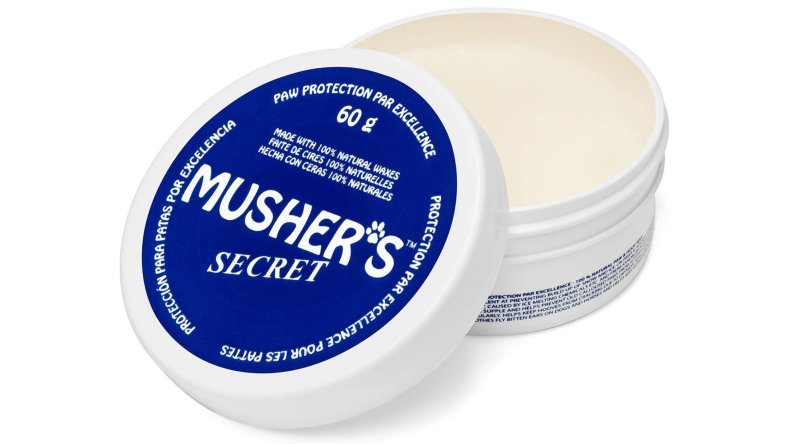 Musher's Secret Dog Paw Wax
Aside from a water dispenser, another outdoor essential for dogs could be a soothing balm like this dog paw wax from Musher's Secret. Slather it on their paws before heading out the door to protect them from the hot pavement or sand. It's formulated with Vitamin E and beeswax, which might help soothe and relieve cracked skin. You could also use this on your dog's other "hot spots," such as the paws, ears, elbows, and snout.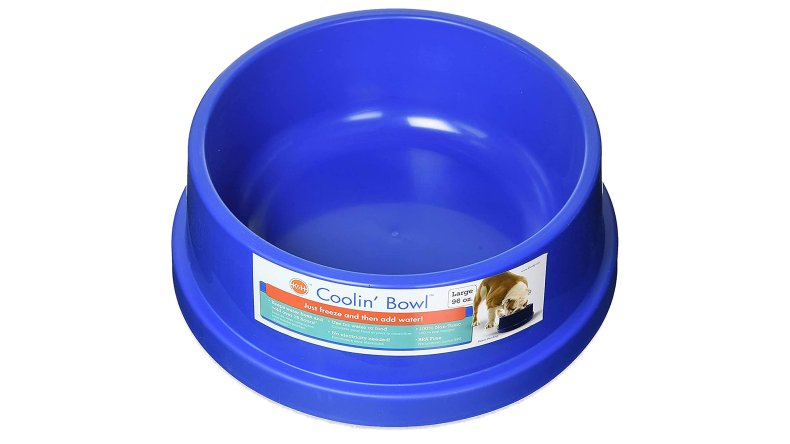 K&H Pet Products Coolin' Water Bowl
Nothing beats the feeling of drinking ice-cold water on a scorching day. With this bowl, you could treat your dog to the same indulgence. It just requires a little preparation: to activate the built-in cooling crystals, first, you need to add water through an opening, shake the bowl, and then put it in the freezer overnight. By the following day, you could have an ice-cold bowl that might keep your dog's water fresh and cold for up to 15 hours.
Order the 96-ounce bowl here for $15.22.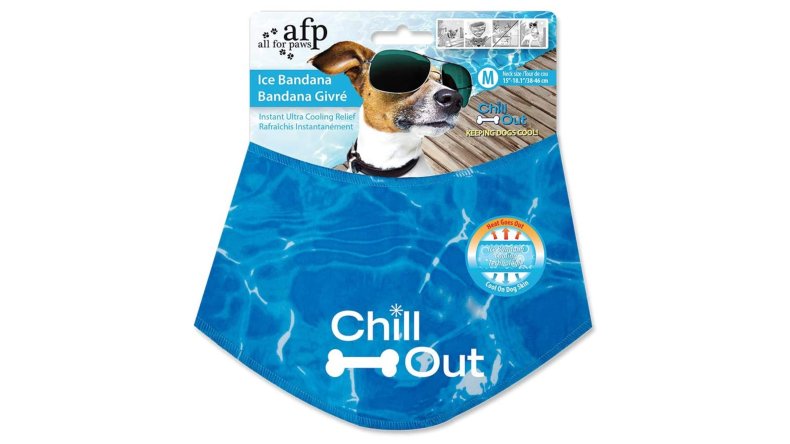 All For Paws Ice Bandana
Fashion meets function with this (literally) cool accessory for your dog. This bandana from All For Paws is made of a unique material built with cold-sensing technology that could resist heat. Just dip it in water, twist it, then chill in the fridge for ten minutes. When worn, it might help wick away heat from your dog's skin.
Order it here in small ($9.99), medium ($10.69), or large ($19.14).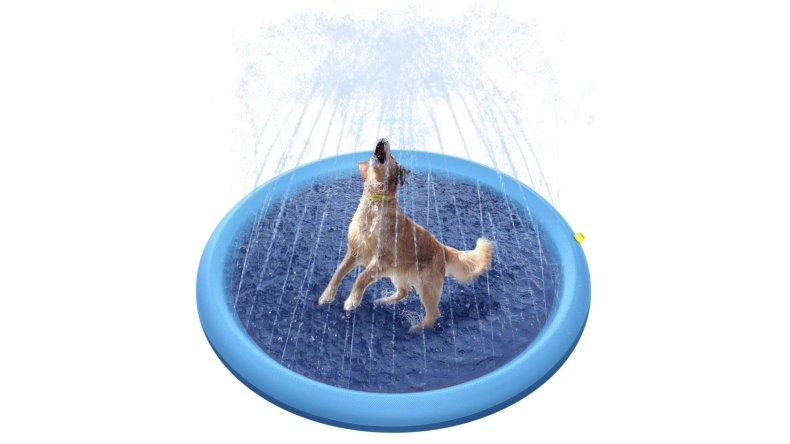 Peteast Splash Sprinkler Pad For Dogs
Let your dog enjoy a moment of watery fun on your lawn with this pool that comes with a built-in sprinkler. Its material is BPA- and phthalate-free, which could keep your dog safe from these potentially toxic chemicals. Just connect the pool to a garden hose, adjust the water pressure to determine the sprinkler height, and then let your dog splish and splash away.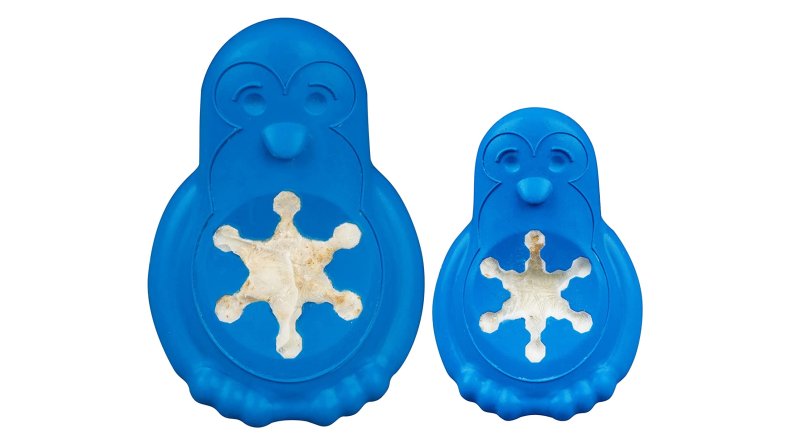 PetSafe Freezable Treat Holding Chilly Penguin Toy
Freezing your dog's favorite snacks might be a great way to help them cool down throughout the day. These treat-holding toys from PetSafe could accommodate various snacks, such as flavored water, broth, peanut butter, dog food, or yogurt. Just add the treat, pop the toy in your freezer, and have a chilled snack ready when your dog needs it. Dogs could enjoy discovering the hidden tasty treat waiting for them!
Order it here in small ($3.95) or medium/large ($6.95).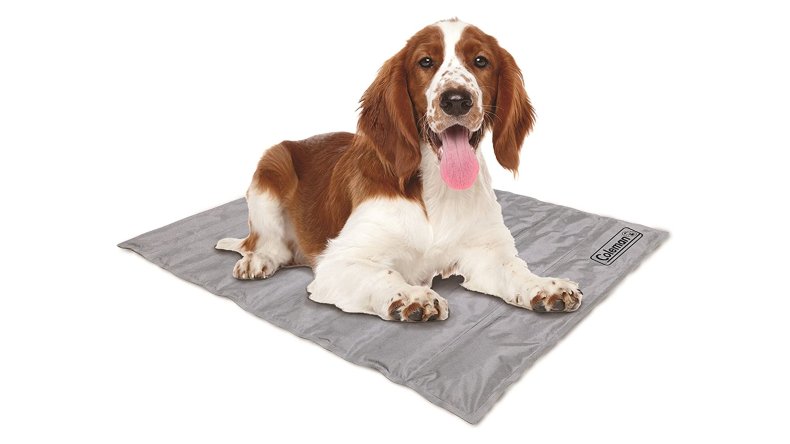 Coleman Pet Cooling Mat
Thick dog beds might bring more discomfort than coziness on long, hot afternoons. Offer relief for your pet with this cooling mat, which could stay up to 10 degrees cooler than room temperature to keep your pet comfortable. It comes with a stay-cool gel lining that doesn't require refrigeration or batteries to be used indoors and in cars or pet carriers. Maintenance is a breeze, too—to clean, just wipe this mat down. At 24 by 30 inches, this mat might be the perfect fit for medium-sized dogs.
Order it here in blue and silver (pictured) at $39.99.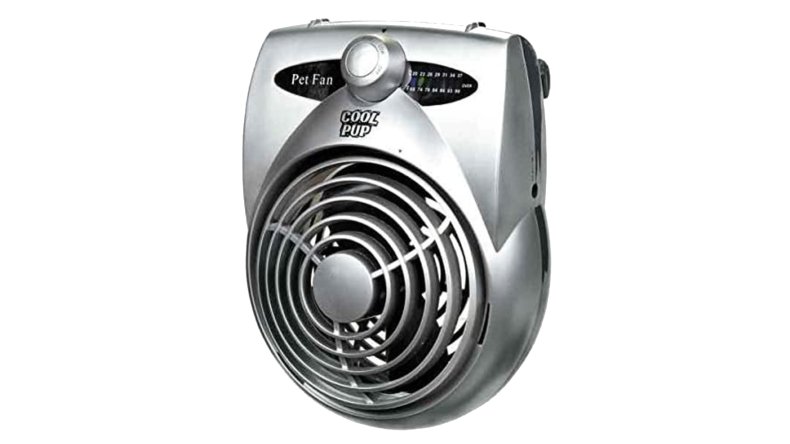 Cool Pup Portable 2-Speed Pet Crate Fan
Are you headed for the vet or a road trip soon? Make sure your dog is comfortable while in transit. Bring along this battery-operated fan that could hang on a cage, crate, or pet carrier to protect your dog from overheating. It has a built-in thermometer, a port for an AC/DC adapter, and could also be used with optional cooling cartridges.