Sponsored Article
10 Reasons Why Athletes and Travelers Are Ditching Regular Water Bottles For This Deep UV-Powered Bottle
This genius invention eliminates unnecessary plastic waste and guarantees clean water anytime, anywhere.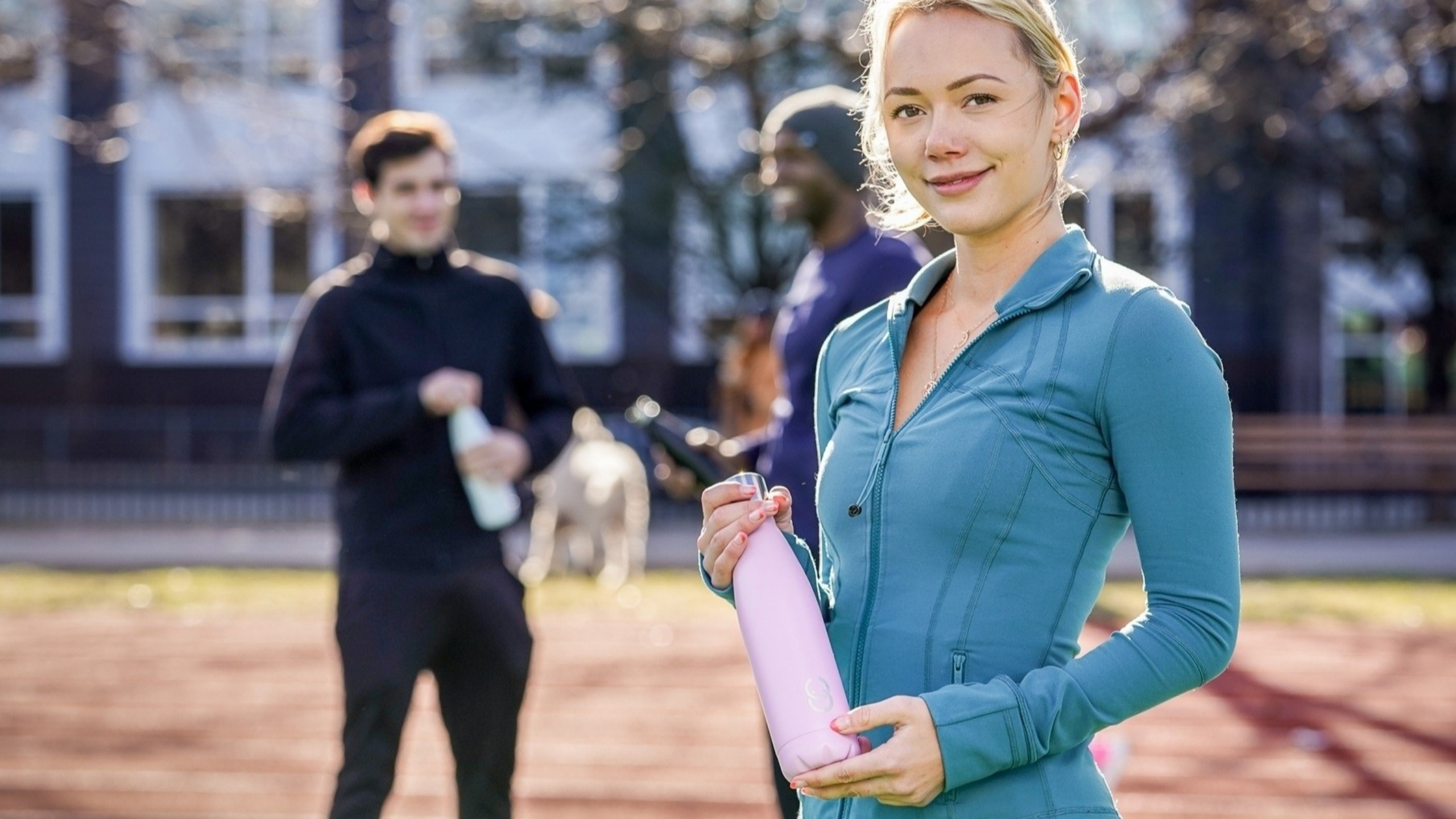 When you have access to drinking water, it's easy to take it for granted. In first-world countries, it's available in major cities and most rural areas; but in some developing countries, drinking water is considered a luxury. Around 29% of the world's population only have access to contaminated water, which often becomes the primary source of illnesses and even viral outbreaks. In contrast, 25 countries have tap water deemed unsafe to drink.
The answer to this water crisis isn't to buy single-use water bottles, though; these also pose adverse effects on the environment and your health. A 2018 study found that 93% of multiple bottled water manufacturers from several countries contained traces of microplastics in the water itself. To ensure that the water you drink is clean and potable, gear up with a reusable stainless steel water bottle accessorized with a UV-C powered lid instead, like CrazyCap.
CrazyCap founder and CEO Rakesh Guduru, Ph.D., created a water bottle cap made of stainless steel and UV LED light technology to sterilize water from any questionable source to guarantee its cleanliness and drinking quality. Backed by studies, CrazyCap has garnered multiple awards, including Best Overall Self-Cleaning Bottle (CNET), one of TIME's 100 Best Inventions in 2020, and Best Innovation in 2020 (Outdoor Retailer), making it the ideal upgrade from your regular water bottles.
How CrazyCap is a Game-Changer in Sustainability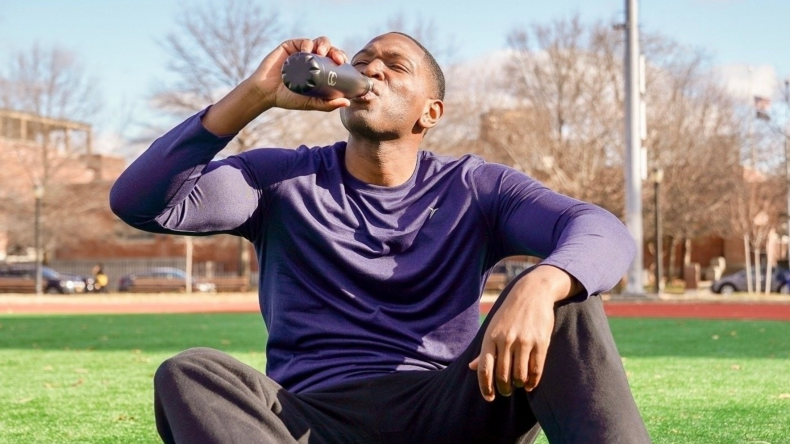 Here are other reasons that make the case for CrazyCap as an essential accessory for your drinking water needs:
1. It reduces plastic waste
Every minute, the world consumes one million single-use plastic bottles. One CrazyCap bottle can potentially prevent 20,000 plastic bottles (the estimated amount of plastic bottles used in a single lifetime) from ending up in landfills by merely drinking purified tap water from a reusable bottle.
2. It purifies water from the tap and public fountains...
If you want to make sure that you don't catch anything from the water from tap and drinking fountains, especially while traveling abroad, you can use CrazyCap to cover all of your bases. Fill up the water bottle, seal it with the CrazyCap, then double-tap the touchpad on top of the cap until a blue circle lights up to signal you that it's decontaminating the water in Normal Mode.
3. ...and also from freshwater sources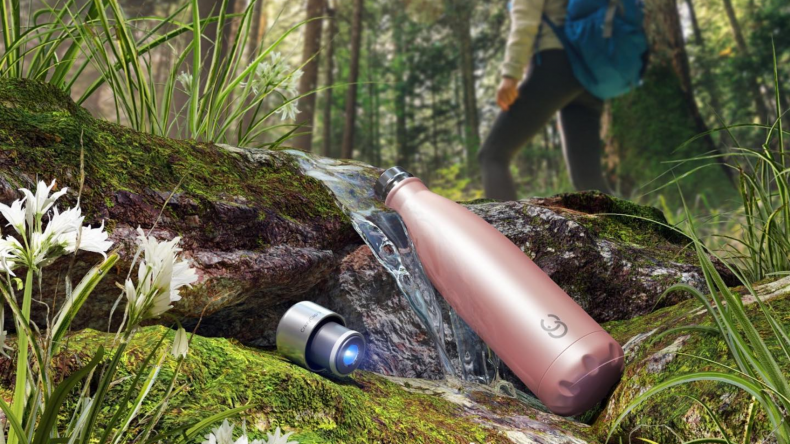 As long as your water source contains zero debris and is transparent (light can pass through it), CrazyCap can make it drinkable. You're not limited to tap water and public fountains, either. You can also make clean water from lakes, ponds, rivers, and other freshwater sources. All you need to do is fill up the bottle with fresh water, secure the CrazyCap, then tap the touchpad on the cap five times until the blue circle lights up to begin the purification process.
4. It uses UV-C light to decontaminate water
Among the three kinds of ultraviolet or UV rays (UV-A, UV-B, and UV-C), UV-C is the most efficient in destroying bacteria, viruses, pathogens, and other microbes. UV-C kills microorganisms by targeting the protein molecules in their cell walls and disintegrating said molecules, thereby rupturing the cell walls and killing microbes.
5. It can be used to sterilize small items or surfaces
CrazyCap isn't only capable of killing waterborne microorganisms. Without the bottle, CrazyCap can also decontaminate small surfaces and items on the fly. The Crazy Mode can eliminate up to 99.999% of germs, bacteria, and viruses over 5 square inches of space. Just make sure that the distance between the surface and the bottom of the CrazyCap measures 4 inches for the UV-C light to be most effective.
6. It keeps your water bottle free from mold and foul odor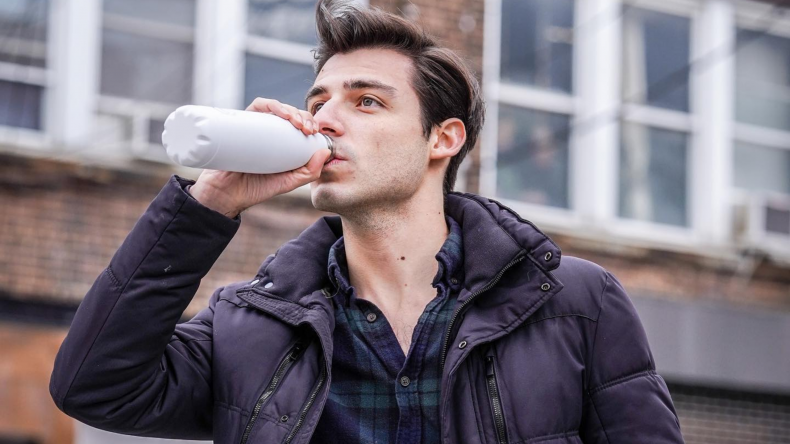 If you already own a reusable water bottle with a narrow spout, then you know the hardship that comes with cleaning its interiors from mold and other gunk. To address this, CrazyCap destroys mold every time it's switched on to purify water. Plus, it automatically switches on every four hours for 20 seconds each time to keep your bottle clean. You don't need to tap the touchpad to sterilize your bottle; CrazyCap does it for you, so you can keep the bottle interior smelling fresh and free from mold.
7. It uses a mercury-free UV light source
Most artificial light sources contain mercury to contribute to the light's efficiency and life expectancy. However, mercury is also a neurologically toxic metal, and that's why CrazyCap uses advanced UV LED technology instead. Combined with their next-gen design, CrazyCap can deliver optimal UV luminosity to sterilize water and surfaces without adding mercury to the equation.
8. It can be recharged without a USB port
A fully-charged CrazyCap can last for up to seven days with regular daily use. A portless 360 degree seal charger can be attached to the CrazyCap and the indicator light will switch on to let you know it's charging (a full charge takes no longer than 4 hours). To check the battery life, tap the touchpad once for the indicator light. Green means battery is >50%; orange means battery is 25% to 49%; red means battery is <25%.
9. It pairs perfectly with any cola-shaped reusable bottle
If you have a cola-shaped reusable water bottle, you can replace the original bottle cap with the CrazyCap to instantly transform your bottle into a water sterilizer. You may also opt to purchase the CrazyCap with a stainless steel bottle to change up your favorite reusable bottle or give it as a gift to a loved one with an on-the-go lifestyle.
10. It's the perfect water accessory for people on-the-go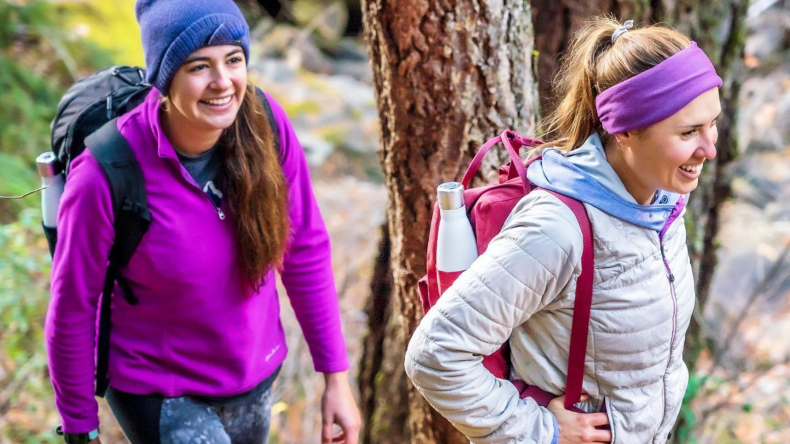 The reusable water bottle isn't a new concept, but CrazyCap revolutionizes the idea by justifying that purified drinking water doesn't have to come from single-use plastic bottles. Whether you're traveling, working out, hiking, or running errands, CrazyCap complements your lifestyle by ensuring that you always drink clean water, and that you don't neglect your daily recommended water intake.
If you're concerned about how much good you can do in the world, CrazyCap can also help extend your reach. CrazyCap believes that clean drinking water isn't a privilege but a basic necessity. To make potable water accessible to everyone, the company donates 5% of every sale to water.org, which is dedicated to delivering clean water, sanitation, and upward mobility to over 22 million people worldwide.
Ready to find out what truly clean drinking water tastes like? Find out more about CrazyCap and their products here!