Sponsored Article
12 Affordable Pet-friendly RV's with 5-Star Ratings
Looking For An RV Family Adventure With Your Four-legged Family Member? Here Are Our Top Picks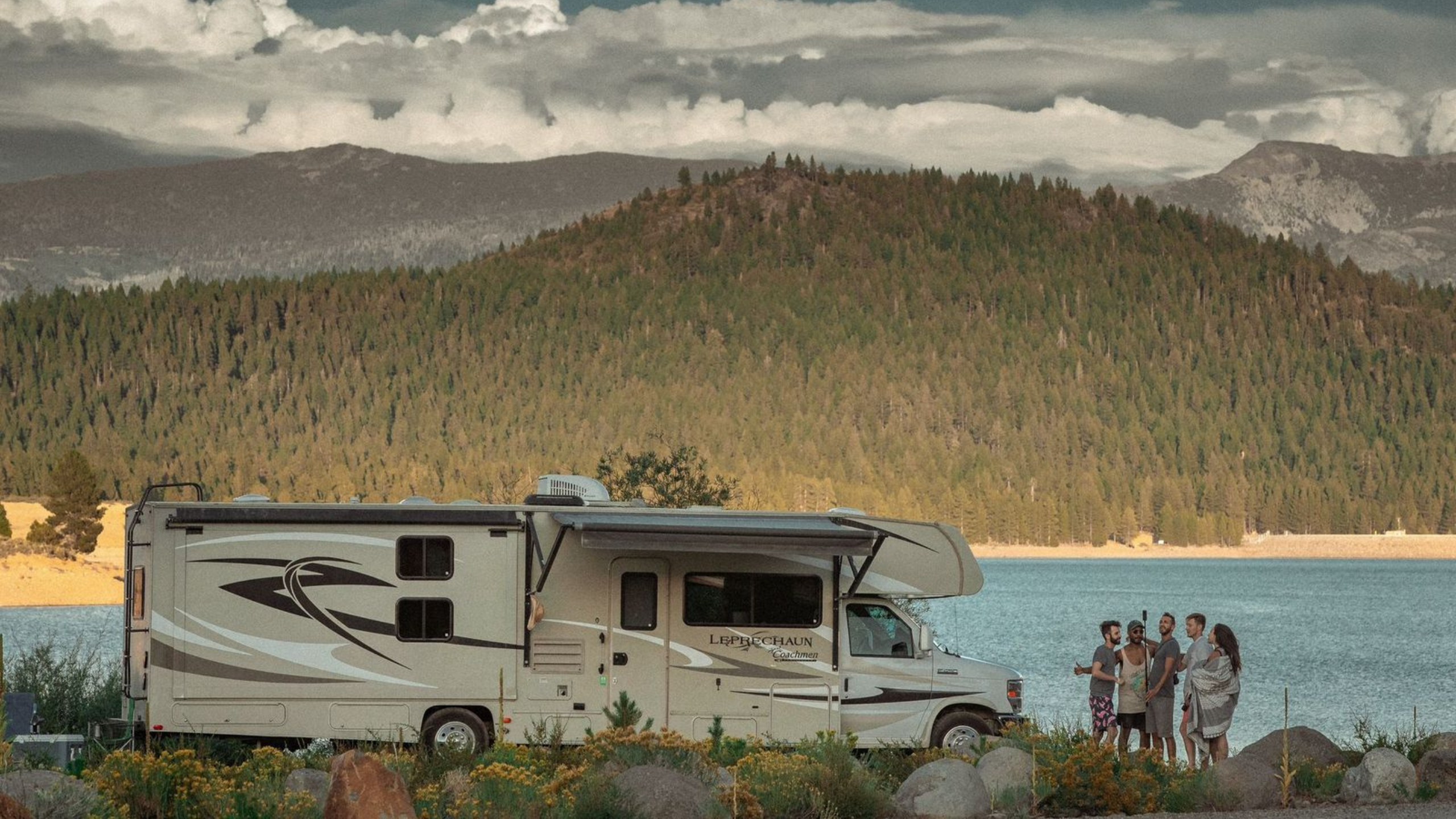 Since the global pandemic put a halt on the commercial travel industry, many people sought other means for weekend getaways instead of staying cooped up at home. RVs became a popular option because it encouraged families to practice physical distancing by having their own portable vacation home as their safe, virus-free space.
Even better, RVs also allow you to hit the road with your furbabies so they can join in on the adventure. After all, the last thing you want is for your pet to feel like you've abandoned them when you leave for a trip. Thankfully, you can rent a pet-friendly RV instead of buying yourself one to achieve your short-term travel goals!
RVshare is the first and largest marketplace for RV rentals on the internet, and there are over 100,000 listings to choose from! Join all the new RV renters on RVshare to hop on the newfound travel trend that also lets you bring your four-legged companions on an adventure. Below are our choice picks for top-rated, pet-friendly RVs:
1. 2018 Keystone Bullet with Bunkhouse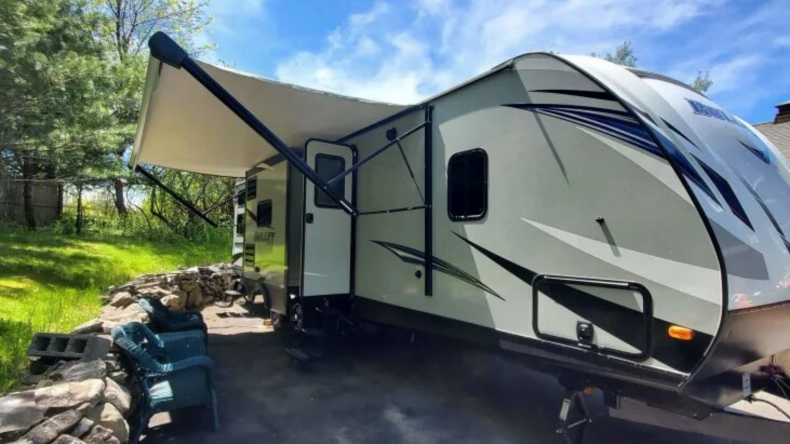 Location: Middletown, NY
Base Rate Per Night: $139
Sleeps: 10
RV owner Ryan is looking to pass the positive experiences he shared with his family on to others by renting out his 2018 Keystone RV Travel Trailer. After every booking, the RV is aired out thoroughly, and linens are washed and dried on the highest heat setting. Meanwhile, every surface and countertop are thoroughly disinfected for the next family planning their latest adventure.
Check out the listing here.
2. 2018 Jayco Jay Flight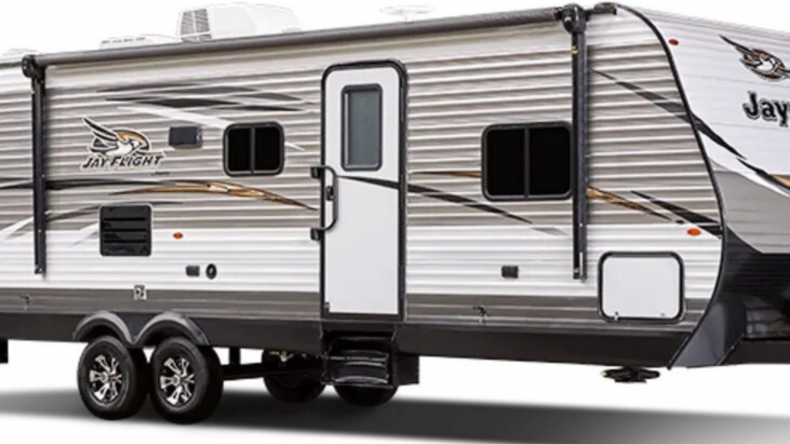 Location: Fresno, CA
Base Rate Per Night: $125
Sleeps: 7
Many RV renters who booked this listing mostly used it to explore the wonders of Yosemite National Park. RV owner Kenny ensures that this travel trailer is equipped with everything you need for a Yosemite excursion and offers a few upgrades—and some unlisted camping essentials, too—to make your trip more enjoyable.
Check out the listing here.
3. The Cub - 2019 Kodiak Cub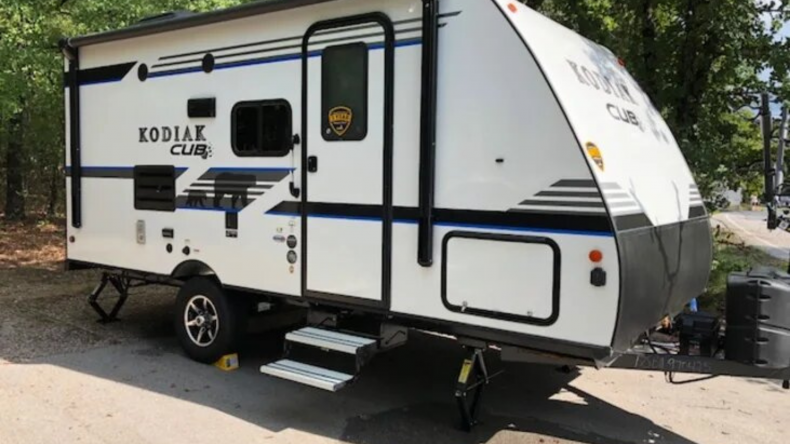 Location: Fort Worth, TX
Base Rate Per Night: $99
Sleeps: 5
If you want a lightweight and spacious trailer with a thorough walkthrough from the RV owner, then this listing is worth looking into. You'd be surprised at all the amenities this motor home has in a compact size: an entertainment center, dining, and kitchenette, loads of storage space, to name a few! RV owner Kenny's attention to detail and customer service is what makes his Kodiak Cub travel trailer a top-rated listing on RVshare.
Check out the listing here.
4. 2019 Forest River Cherokee Grey Wolf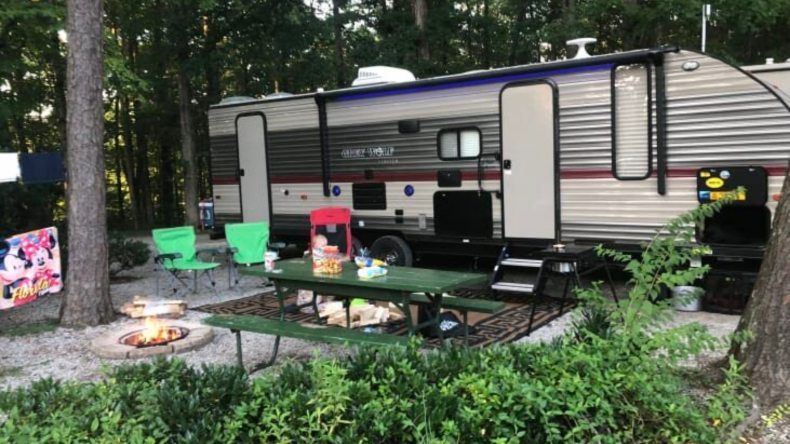 Location: Wheatfield, IN
Base Rate Per Night: $199
Sleeps: 10
RV owners Joe and Amanda provide top-notch service complementing the size of this travel trailer. All that makes many of their renters plan to book with them again for another adventure! This Cherokee Grey Wolf is sent out to RV renters fully stocked with all the essentials they need so they can just focus on all the memories they can make during their trip.
Check out the listing here.
5. 2019 Keystone Hideout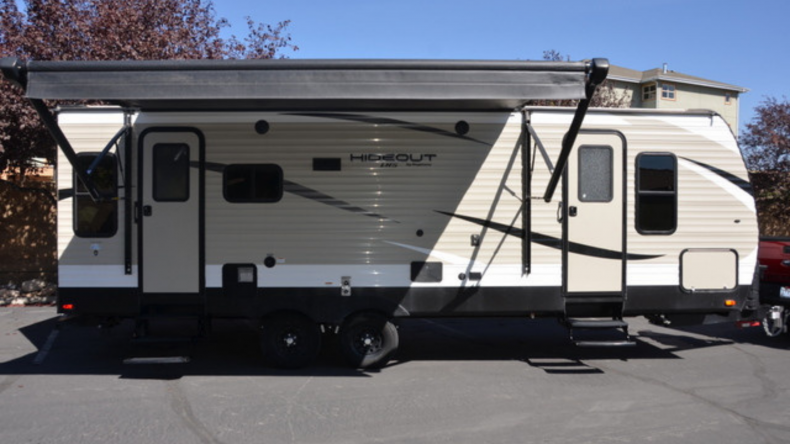 Location: Mokena, IL
Base Rate Per Night: $150
Sleeps: 9
If you have a family full of young, highly energetic kids, the Keystone Hideout perfectly accommodates all the playtime they'll want (at least indoors) during a family trip! RV owner John has spent over 20 years traveling all over the United States, so don't be afraid to ask him any questions and suggestions about the RV and must-see attractions on your vacation.
Check out the listing here.
6. 2020 Entegra Odyssey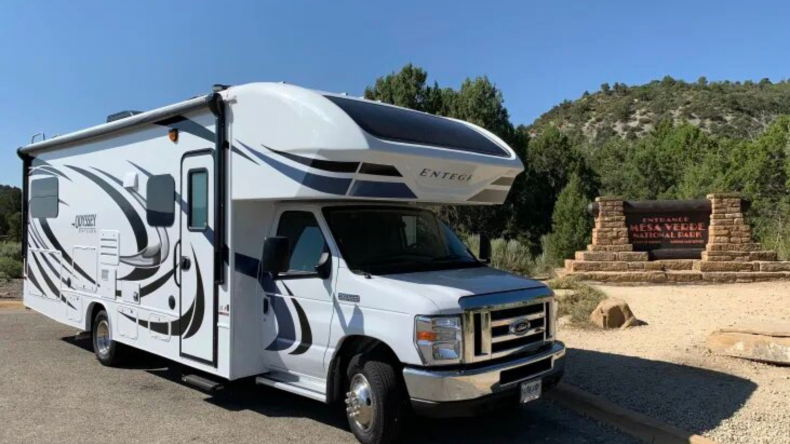 Location: Phoenix, AZ
Base Rate Per Night: $200
Sleeps: 7
Embark on an epic journey into the Southwest with this Entegra Odyssey from RV owner AJ. The rig can comfortably accommodate six people, but you can push it to seven if you're planning on bringing an extra guest. It includes two queen-sized beds—one is located above the driver seat—with a dinette and sofa that can be converted into small sleepers, too.
Check out the listing here.
7. 2019 Forest River Cherokee Wolf Pup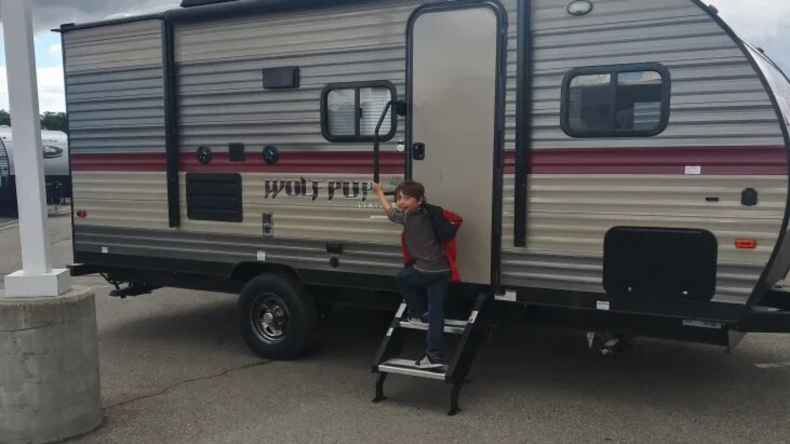 Location: Fresno, CA
Base Rate Per Night: $110
Sleeps: 6
With the same owners as the 2018 Jayco Jay Flight listed, you can expect the same service and maintenance upheld by RV owner Kenny and his wife. Most RV renters who book this travel trailer are impressed by the interiors' cleanliness and how much more spacious it gets with the 14-inch slide out. Equipped with adventure gear and travel essentials, this Cherokee Wolf Pup is a worthy home away from home.
Check out the listing here.
8. 2020 Forest River Wildwood X-Lite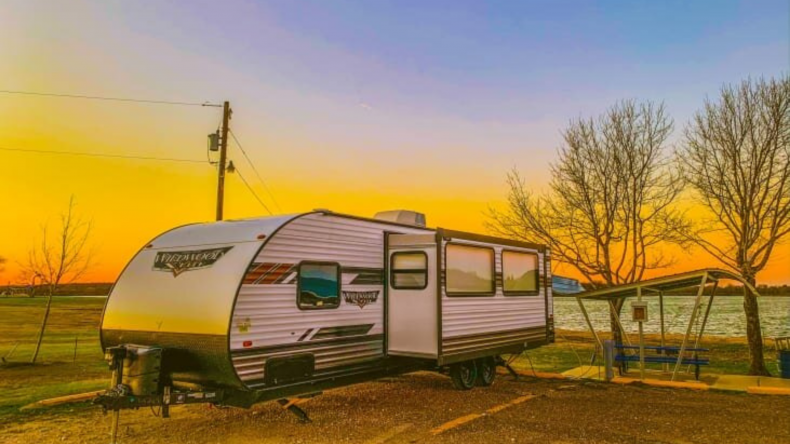 Location: Mansfield, TX
Base Rate Per Night: $125
Sleeps: 8
Lovingly named Magnolia, this RV is perfect for families with young teens looking to immerse themselves in nature and adventure. It has a bunkhouse at the back of the trailer as the kids' room, but there's no doubt they won't be spending too much time in there when there's so much to see in the great outdoors! RV owners Hann and Mariz hope that Magnolia helps create fond memories your family will never forget.
Check out the listing here.
9. 2018 Coachmen Freelander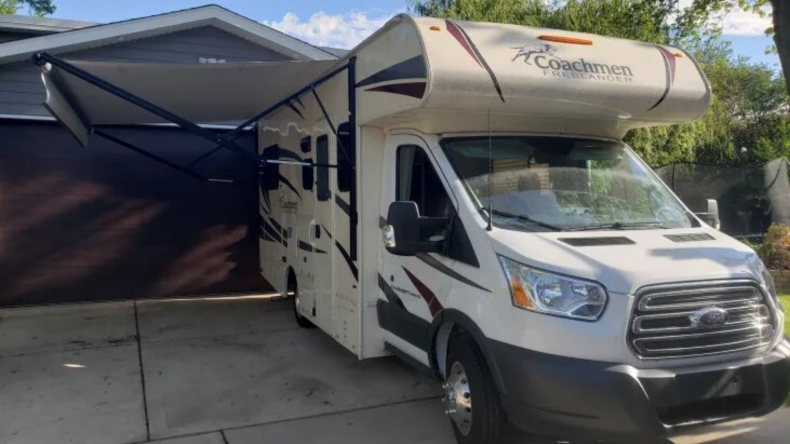 Location: Schaumburg, IL
Base Rate Per Night: $185
Sleeps: 6
The best part about the Coachmen Freelander is that it still fits in most standard parking slots, so you won't have to worry about looking for large open spaces to accommodate your motor home for a quick grocery run. The RV can accommodate a maximum of 6 persons, but families of four (and their furry friend) can find this setup to be the most comfortable and ideal motor home for a cross-country vacation.
Check out the listing here.
10. 2017 Thor Motor Coach Freedom Elite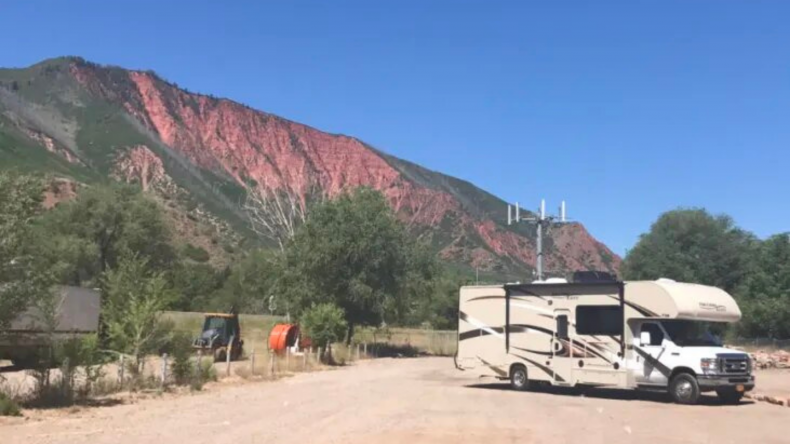 Location: Brooklyn, NY
Base Rate Per Night: $200
Sleeps: 6
RV renters love father-daughter duo Sal and Gina, who own this listing. From their thorough instructional videos about RV maintenance to their responsive on-the-road assistance, this fully-equipped, spotless, and spacious motor home is sure to make any first time RV family feel safe and comfortable on their adventure to the great outdoors.
Check out the listing here.
11. 2019 Winnebago Minnie Winnie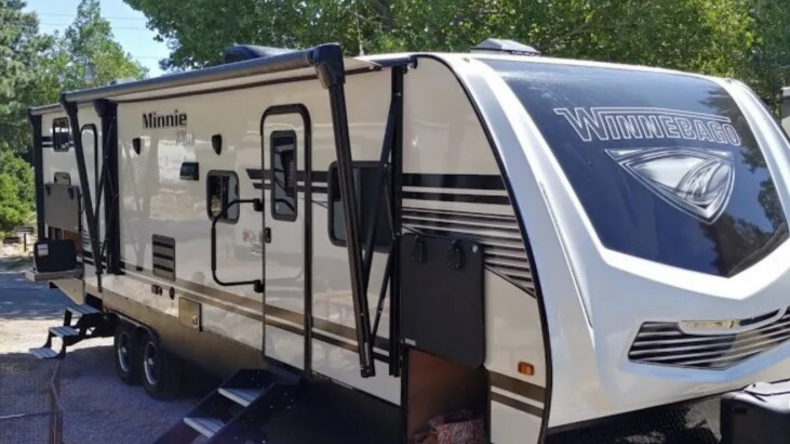 Location: Mesa, AZ
Base Rate Per Night: $129
Sleeps: 12
An ultra-spacious home away from home, this Winnebago is perfect for large families and their four-legged companions looking to explore Arizona's national state parks. The trailer includes a queen-sized bed plus a bunkhouse that can easily fit four persons. RV owners Shon and Amelie fully stocked their Winnebago with all the kitchen, bedroom, and bathroom essentials you'll need for your excursion to the desert!
Check out the listing here.
12. 2018 Heartland Wilderness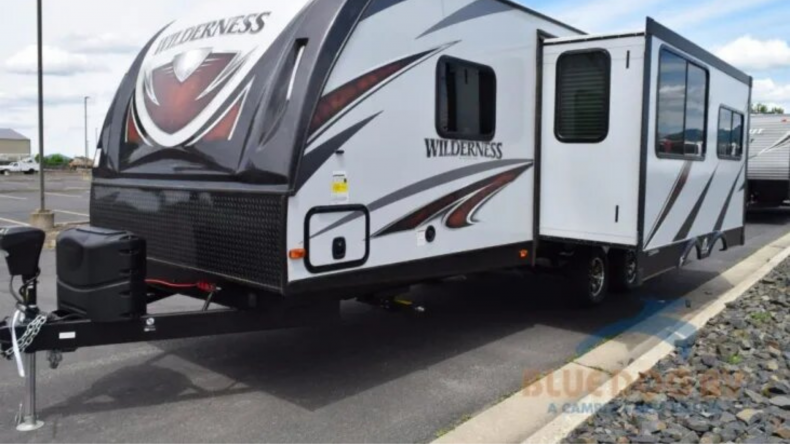 Location: Santo, TX
Base Rate Per Night: $100
Sleeps: 6
By its namesake, it's off to the wilderness you go with this well-maintained RV. The half-ton camper includes a queen-sized bed, a couch that pulls out to a full-sized bed, and a dining area that can be converted into another bed. RV owner David takes pride in his experience owning campers over the years, so rest assured you're taken care of when you book this RV.
Check out the listing here.
Hop onto your next adventure with your family and pets when you book an RV rental with RVshare! Begin your search here.