Sponsored Article
12 Gorgeous Easter Fruit Baskets From Edible Arrangements—Order Online Now
These fruit bouquets and platters from Edible Arrangements could be an"egg-cellent" choice this Easter.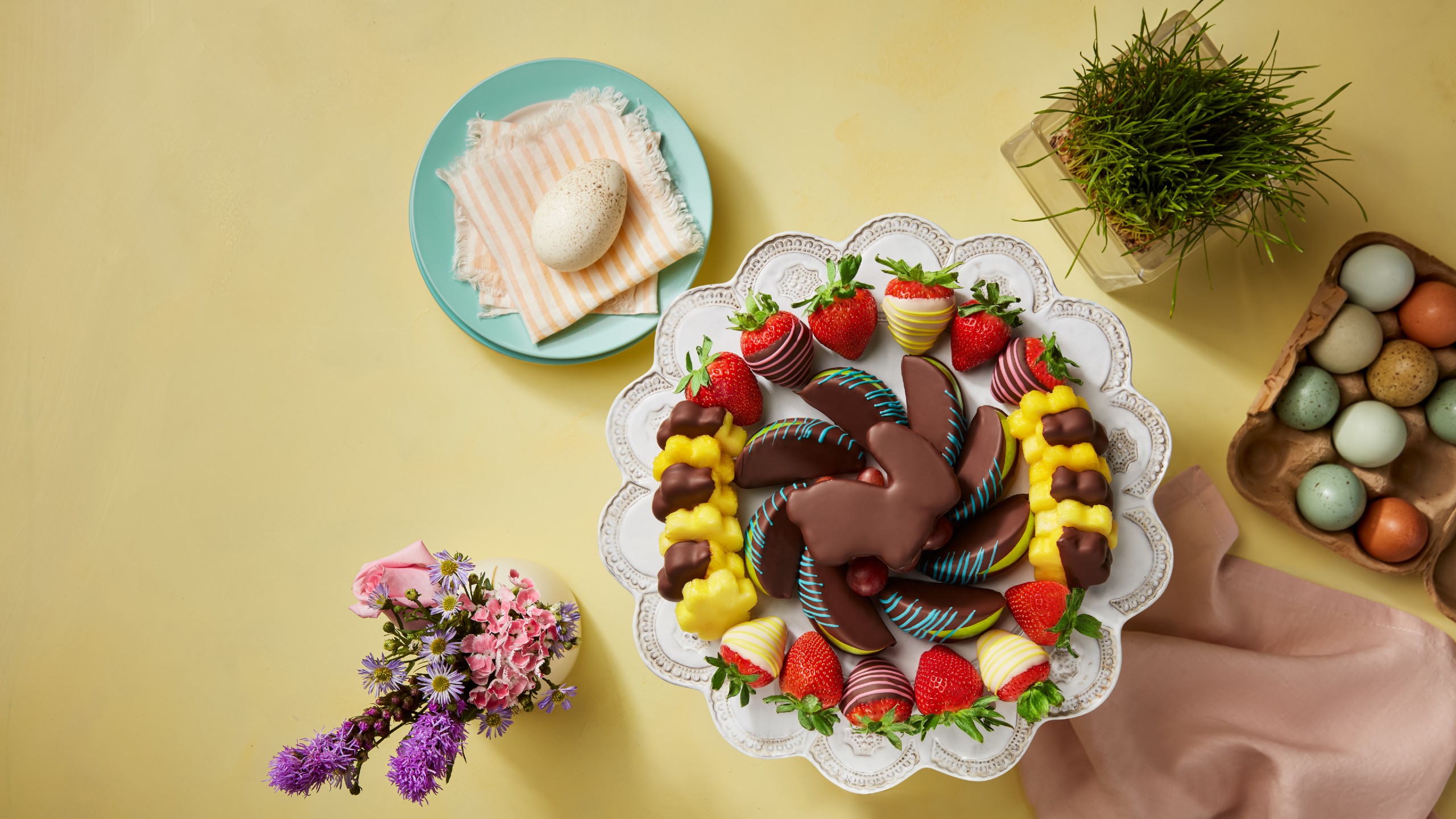 For the second straight Easter, most Americans probably won't be having a big potluck lunch with family and friends. That annual Easter egg hunt for the kids will have to take a backseat once again, given these times. Instead, celebrations at home might be a little more intimate and low-key. Fortunately, there's one tradition we'll get to keep: giving out Easter baskets.
Share Easter's message of hope to your loved ones this year by sending them a delicious fruit and gift basket from Edible Arrangements®. These one-of-a-kind bouquets, platters, and bundles are filled with fresh fruit and delectable desserts that could delight whoever receives them. You might not have to worry about shipping and delivery because Edible Arrangements® offers curbside pickup or contactless delivery for your safety and convenience.
Beat the Easter holiday rush and order from our "egg-cellent" Easter fruit basket picks now.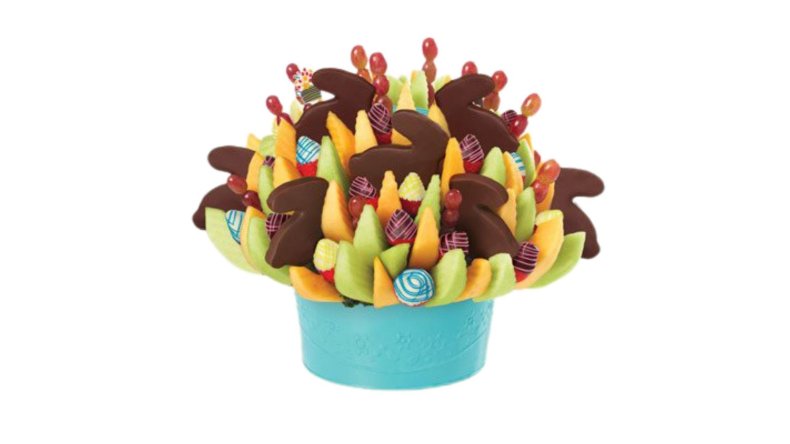 Kick off the spring season with this colorful medley of cantaloupe wedges, grapes, honeydew wedges, chocolate-dipped strawberries, and chocolate-dipped pineapple bunnies. This large-sized bouquet costs $159 and could be a sweet Easter gift for a big family.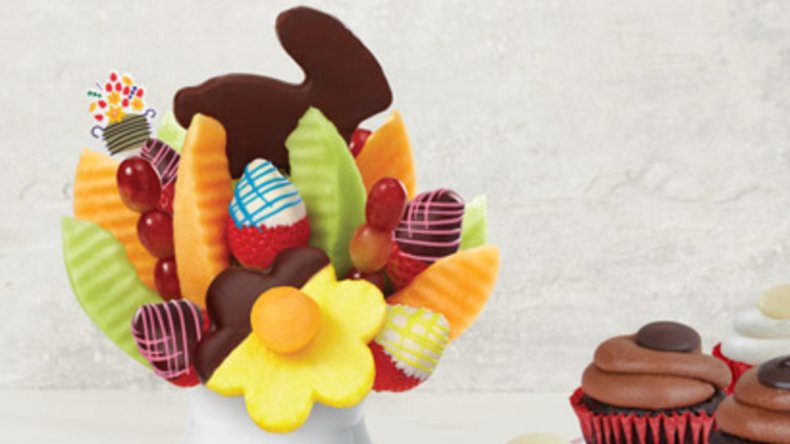 Indulge in this springtime feast of fresh fruits (grapes, cantaloupe, honeydew, strawberries, and pineapple daisies) arranged with an adorable Easter Bunny Daisy®. The bundle also includes strawberries, daisies, and an Easter Bunny dipped in real chocolate. As an additional treat, this edible arrangement comes with four Edible Bakeshop® cupcakes, each with a creamy filling and a delicious frosting topping. For the cupcake flavors, you can choose to go with Chocolate Truffle, Madagascar Vanilla Bean, or a combination of both. All of these are available for $71.98.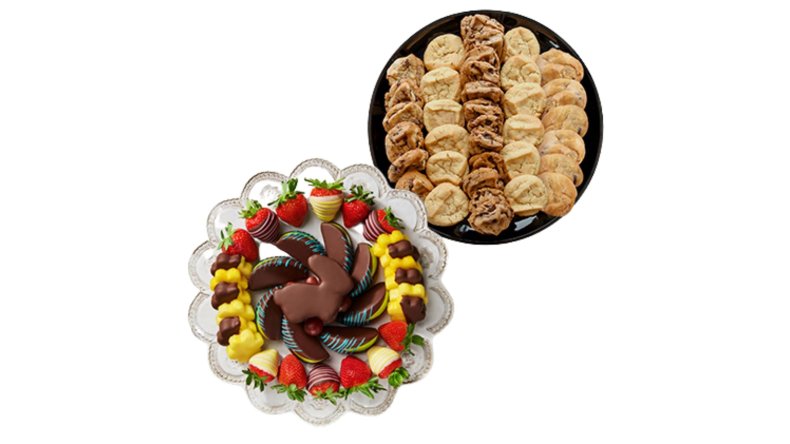 This platter worth $94.98 could be irresistible for someone with a sweet tooth. The fruit platter contains strawberries dipped in chocolate and topped with colorful Swizzle®, flanked by chocolate-covered pineapple daisies and bunnies. Meanwhile, the cookie platter has an assortment of freshly baked cookies to balance the fruits' tart flavors.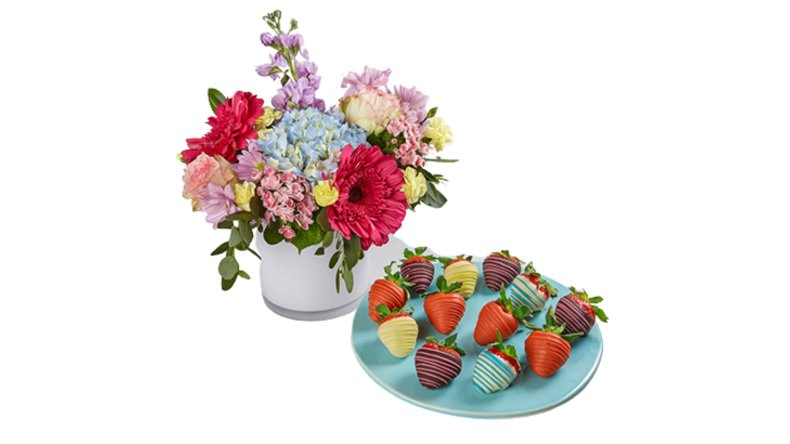 Fresh flowers are associated with Easter, but instead of eggs, you could pair the bouquet with luscious, chocolate-dipped strawberries adorned with colorful swirls. Order this pairing as a ready-made gift from Edible Arrangements® for $89.99.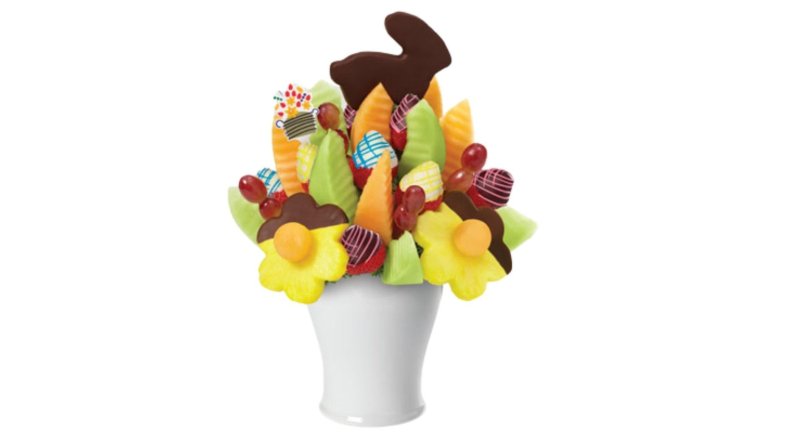 This could be an Easter-themed gift basket for your special someone. It features cute pineapple bunnies and daisies dipped in semi-sweet chocolate, surrounded by cantaloupes, grapes, honeydew, and strawberries. Choose from two sizes of this sweet Easter-themed fruit arrangement: Regular ($69.99) and Petite ($59.99).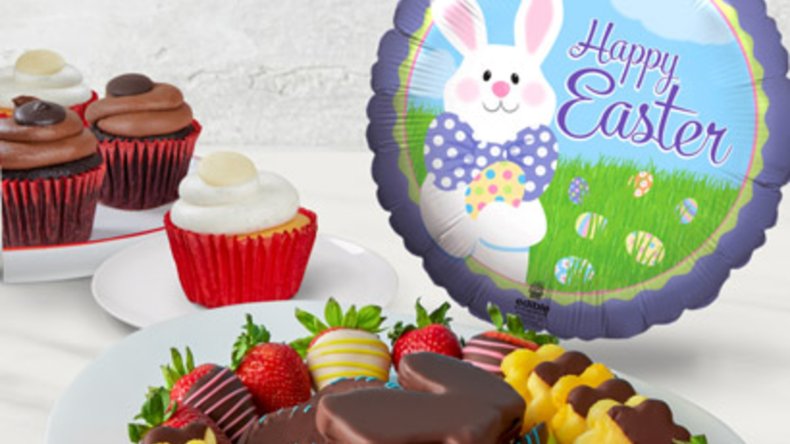 You could bring color and sweetness to the dining table with this cheerful Easter bundle. Get four pieces of cream-filled cupcakes, a chocolate-dipped fruit platter, plus a special Easter balloon for $79.98. Choose from three cupcake flavor options: Chocolate Truffle, Madagascar Vanilla Bean, or a combination of both.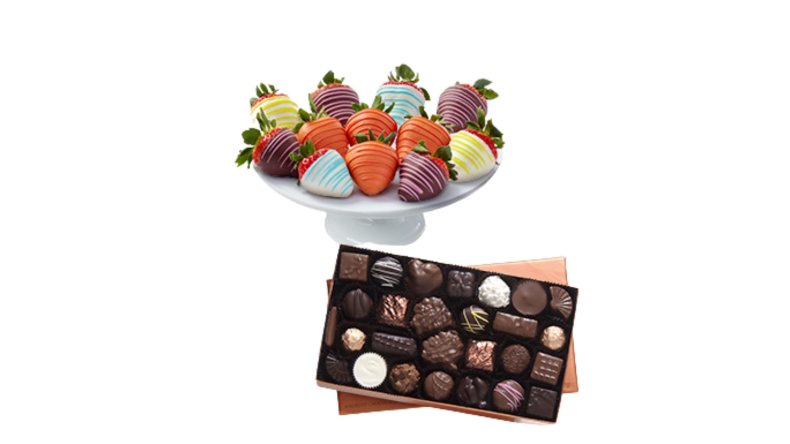 This sophisticated take on the Easter basket could be healthier than the standard chocolate eggs while being just as delicious. The Hoppy Easter Bundle ($76.98) comes with juicy strawberries dipped in white and semisweet chocolate, plus a 27-count box of Rocky Mountain Chocolate Factory Confections. It could take more than one sitting to go through this entire set.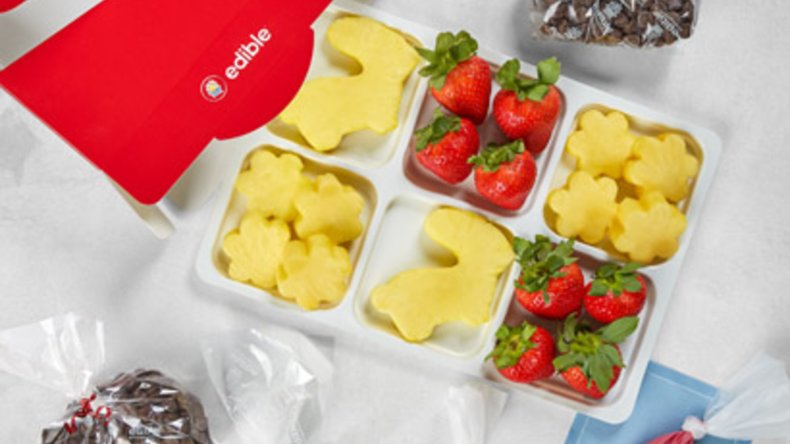 Get creative with your Easter basket this year—literally. This DIY Happy Easter Dipping Kit could let you and the family dip, swirl, and decorate your own strawberries, Easter Bunnies, and Easter Daisies. You might even have as much fun making them as eating them, and the kit only costs $59.99.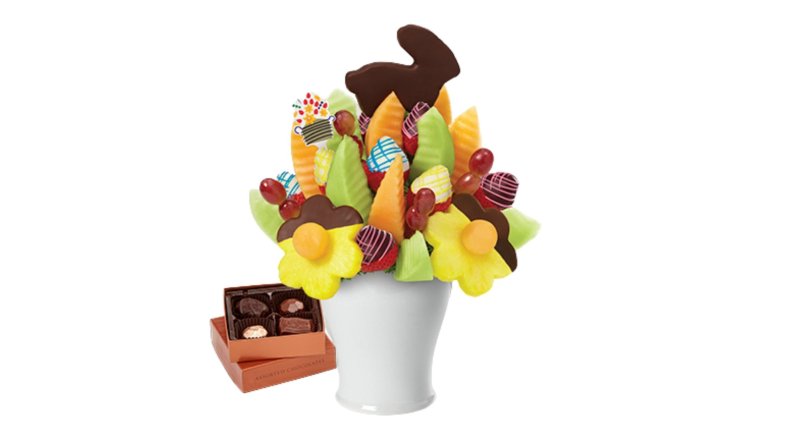 This Easter gift basket idea combines the spring flavors of cantaloupe, grapes, honeydew, pineapple, and strawberries in one edible bouquet. It also comes with a four-piece box of handmade premium chocolates from Rocky Mountain Chocolate Factory to sweeten the deal. This "berry" colorful bundle comes in Regular ($76.89) and Petite ($63.98) versions.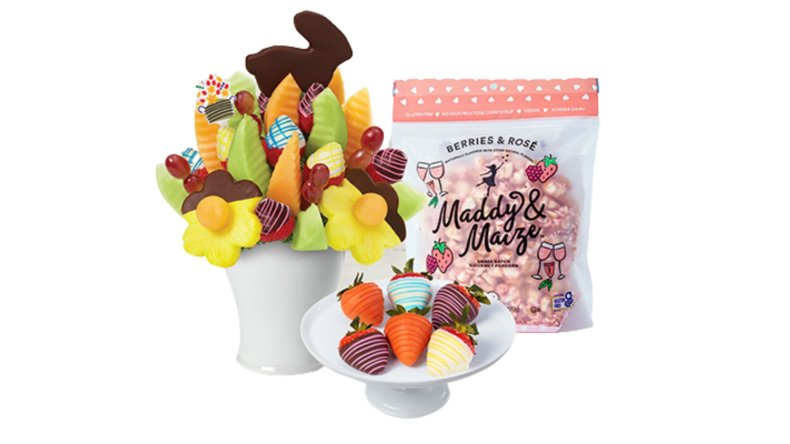 This palate-pleasing bundle of chocolate-covered fruits and gourmet popcorn from Maddy & Maize could add a different flavor to your Easter. Each fruit piece is meticulously cut and dipped in real white or semisweet chocolate. It could be the Easter gift basket to order for someone who loves fine surprises. The regular-sized bouquet is available for $96.97, and it comes in a petite ($86.97) version as well.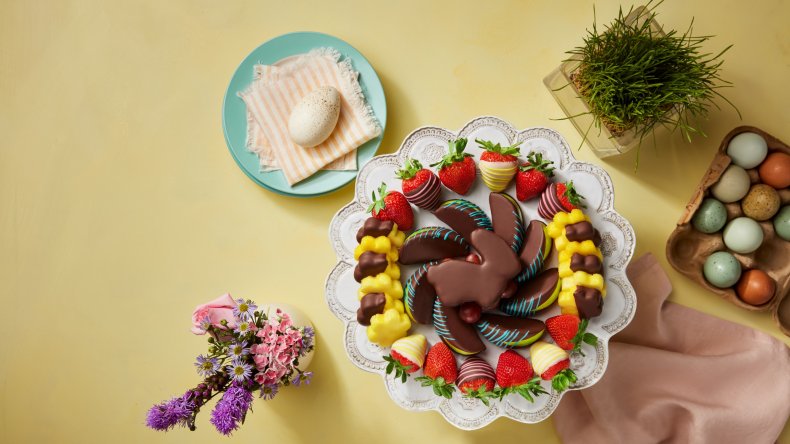 No garden parties this year? No problem. Bring the fresh outdoors inside to any table with this adorable Easter gift idea. It features juicy strawberries, luscious grapes, crisp apples, and tart pineapples dipped in two kinds of chocolate. This $59.99 platter could be enjoyed by your whole family by the end of the day.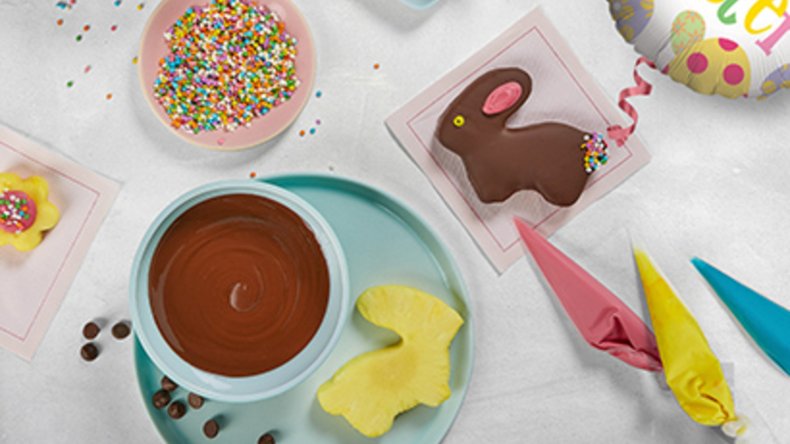 Both kids and kids-at-heart might enjoy this sweet alternative to egg decorating for Easter Sunday. The kit comes with pineapple bunnies and daisies, fresh strawberries, sprinkles, swizzle decoration bags, and dipping chocolate. You could even show off your creations afterward by snapping a photo with the Happy Easter balloons that come with the kit. You could have hours of delicious fun for only $72.99.