Sponsored Article
12 Sunglasses Trends for Summer 2021
Our Favorite Trend-Forward Sunnies Feature Items From Your Favorite Designers and a Dash of the Classics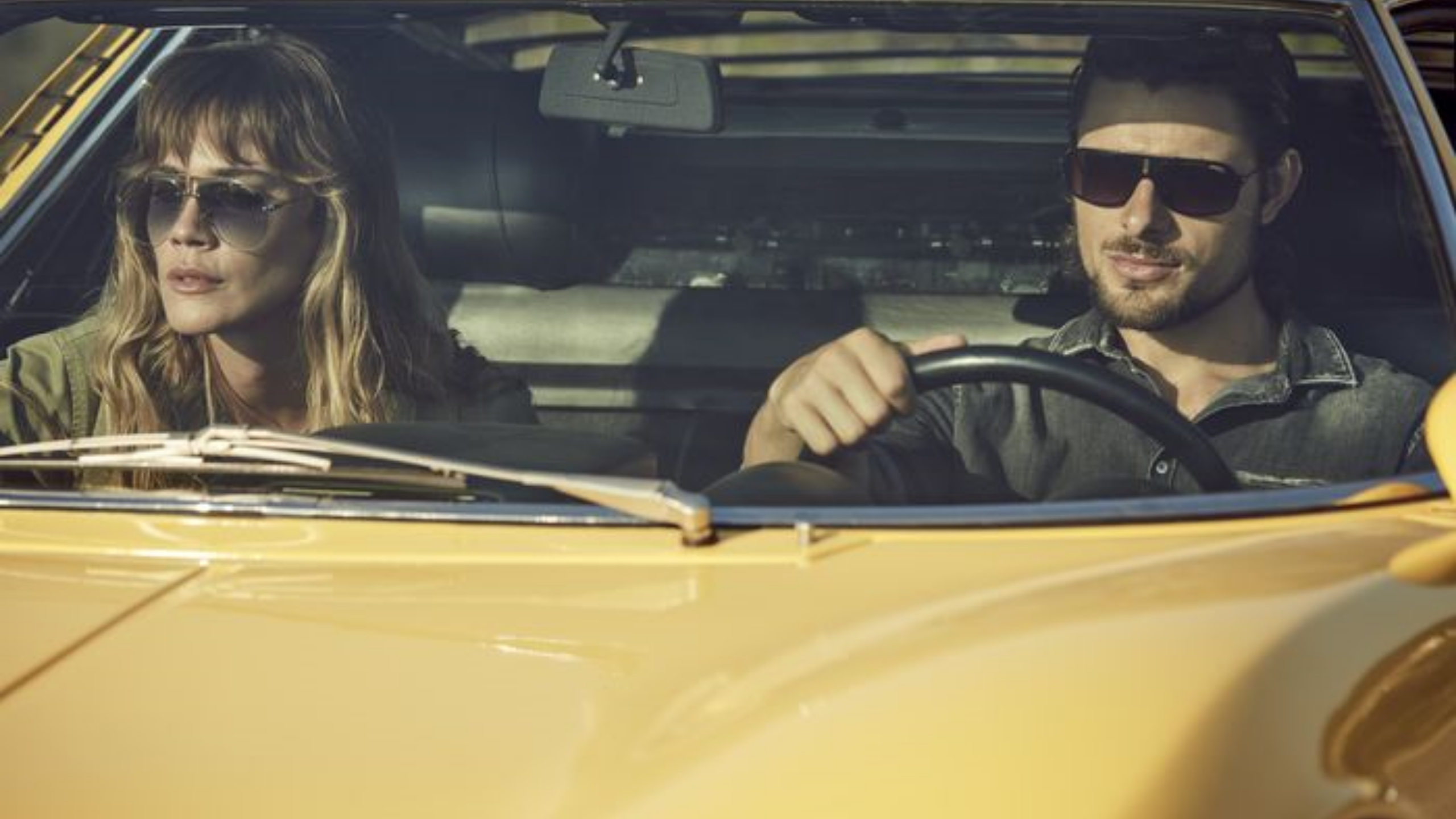 There are nearly endless ways to accessorize with sunglasses this summer, from everyday classics to funky statement pieces. The best part is you can incorporate a pair of shades into your outfit with or without a prescription. When you put on a pair of shades, you're not just protecting your eyes. You're completing an ensemble.
Are you hoping to update your look with trend-driven shades? Or just protect your vision with some polarized lenses? From iconic designs to fun, campy Instagram selfie specs, Befitting has you covered with tons of great options.
We're compiling our favorite trend-forward sunnies while also adding in your favorite designers and a dash of the classics for a recipe for summer chicness. We based our trends on suggestions for women and men from Marie Claire and GQ U.K., respectively, but anyone is welcome to rock any style that makes them feel confident and beautiful. Click here to view all sunglasses from Befitting or keep scrolling through to see our top recommendations.
Trends for Women
Cat-Eye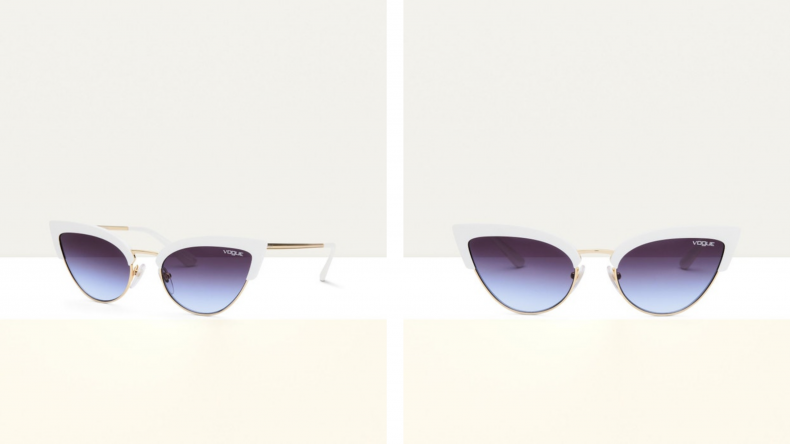 If the sophisticated Marie from The Aristocats were a person, she'd probably be a modern-day Instagram influencer wearing these retro-inspired sunglasses. You and your friends could grab the white, black and tortoiseshell pairs before heading to the Friday night sock hop. These vintage shades feature a thick, half-rimmed style and mixed material design.
Click here to buy the VO5212S by Vogue from Befitting for $96.
Bold Rectangles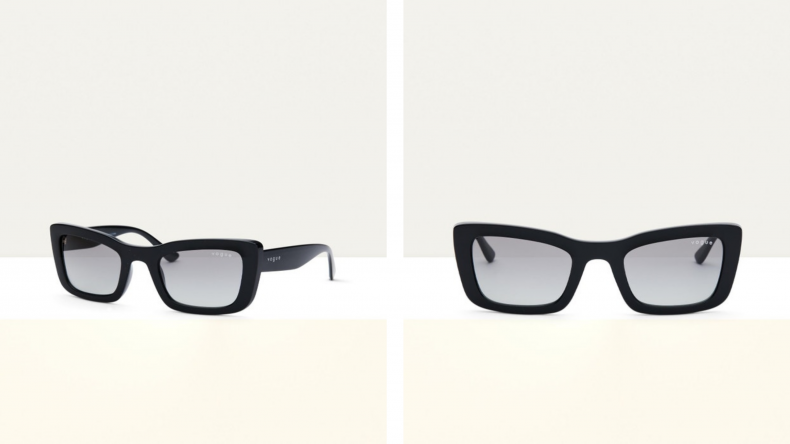 Let Gen Z know that you're still cool by donning this trendy pair of Vogue shades. You could wear them while you try to film the latest TikTok dance craze or put them on after filming to hide how tired 45 seconds of dancing made you feel. Game of Thrones and X-Men actress Sophie Turner has even been spotted rocking a similar pair, so you know they're stylish. These shades could be a good introduction for those wary of the rectangular style because they aren't as severely angular and come in more subtle shades, like black and tortoiseshell.
Click here to buy the VO5311S by Vogue from Befitting for $81.
Geometric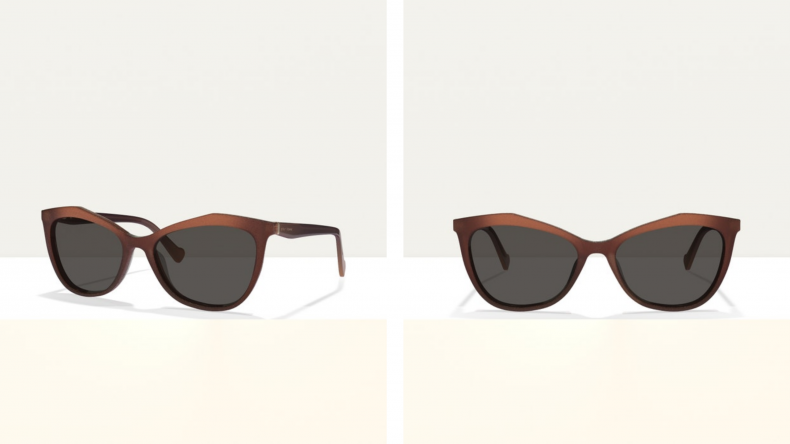 Angular doesn't have to be overpowering. Sometimes, a touch of a geometric shape can add an unexpected flair to your ensemble. Take these Betsey Johnson shades, for example. The angular frame accents their chic brown hue and subtle cat-eye shape. Don these at your next brunch and just wait for the compliments to roll in. Your best friend will probably love them, too, so you could grab them a pair in gray and take adorable coordinating selfies.
Click here to buy the Bowtiful by Betsey Johnson from Befitting, originally priced at $130, on sale for $110.50.*
*Only available as prescription sunglasses
Square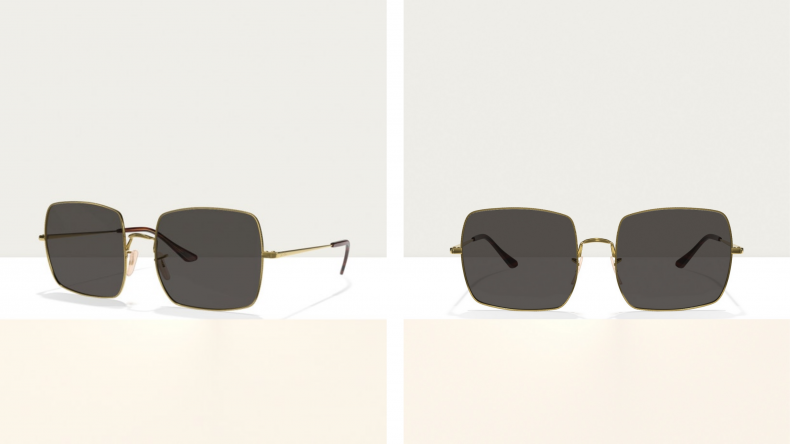 Oversize frames were a major trend in 2020, but these large square frames decided their moment isn't over quite yet. Channel your inner celebrity style icon and use these Ray-Ban shades to hide from the paparazzi. These large, dark lenses are rimmed with shiny gold and feature temples tipped with tortoiseshell. You could also pick them up in copper or silver, because who doesn't love options?
Click here to buy the RX1971V by Ray-Ban from Befitting for $177.*
*Only available as prescription sunglasses
Tortoiseshell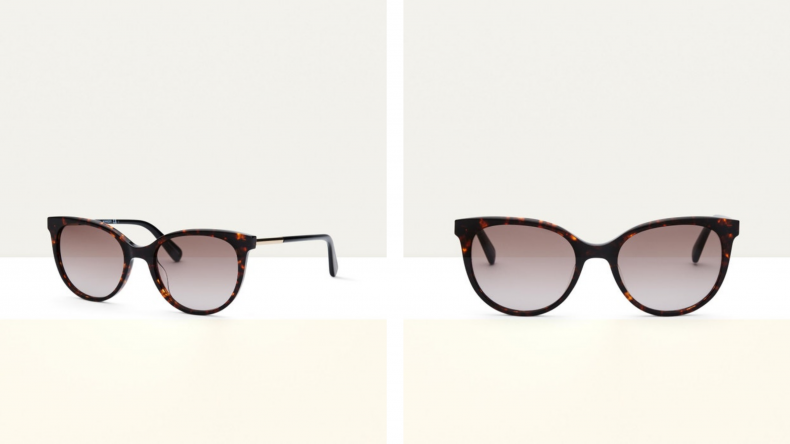 Tortoiseshell sunglasses are enduringly stylish. Whether you wore them a decade ago or a week ago, you likely would have gotten compliments on them. The shape is flatteringly round but not too oversize, and the frames are just thick enough to show off the warm amber tortoiseshell pattern. Gold temple details and gradient lenses complete the look. If you love the shape but not the color, they're also available in a satiny black and a baby blue so sweet that Cinderella would probably be jealous.
Click here to buy the Indio 4/S by Rebecca Minkoff from Befitting for $128.
Monochrome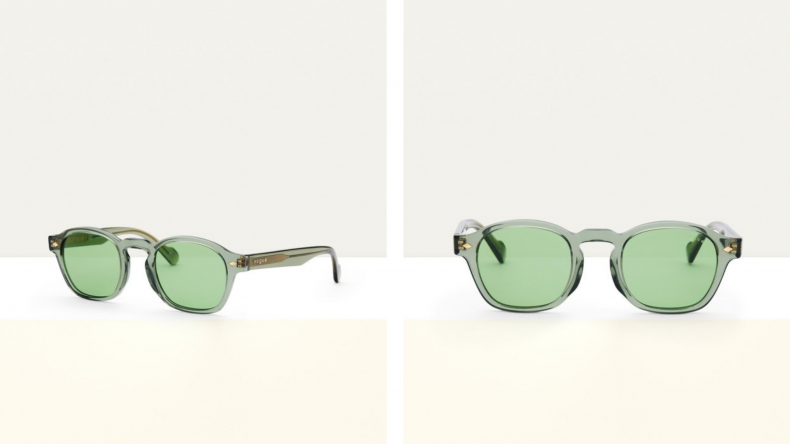 These monochrome sunglasses could have your friends turning green with envy. Their chunky frame is still light thanks to their transparent material, and the round lenses get a modern update with their light green sheen. You could also pick them up in blue, tortoiseshell, or black to match more fun summer styles.
Click here to buy the VO5329S by Vogue from Befitting for $88.
Trends for Men
A Pop of Color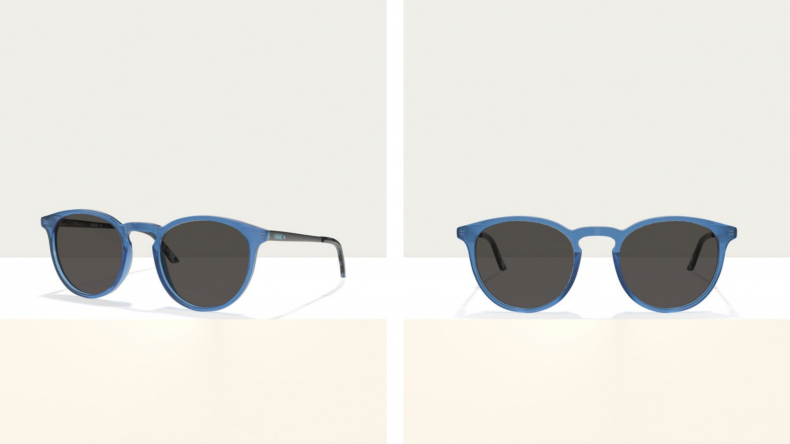 These Tony Hawk shades are totally gnarly, but you don't have to shred a half-pipe to wear them. Adding a fun pop of color could be an easy way to update your look for the summer. With their familiar round shape and vintage-inspired design, the bright translucent blue hue offers a modern twist on a classic. If you're not ready for a bold palette choice, you could get them in translucent brown or gray instead.
Click here to buy the TH556 by Tony Hawk from Befitting for $100.*
*Only available as prescription sunglasses
Clubmaster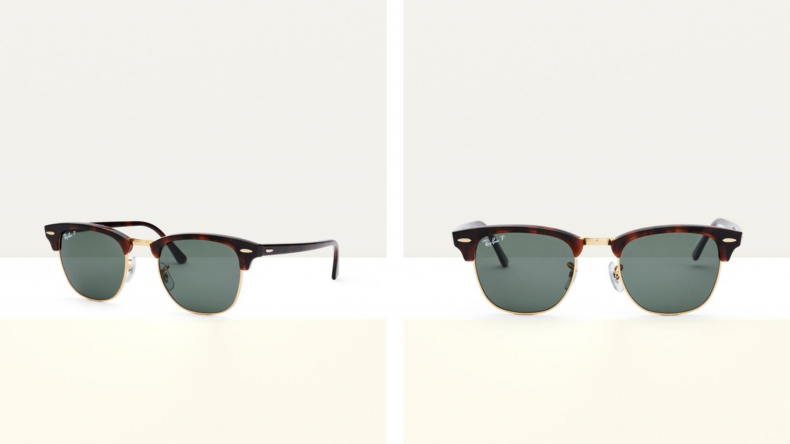 These shades give us major 1950s rookie reporter vibes. You could put these specs on when you go to interview your top-secret source or when you're heading to meet the boys for a brew after work. The tortoiseshell brow line, gold rivet details, and squared lenses create a timeless style you could rock now or for decades to come. You can also pick them up in black, tortoise, or black polar green.
Click here to buy the RB3016 Clubmaster from Befitting for $211.
'70s Inspired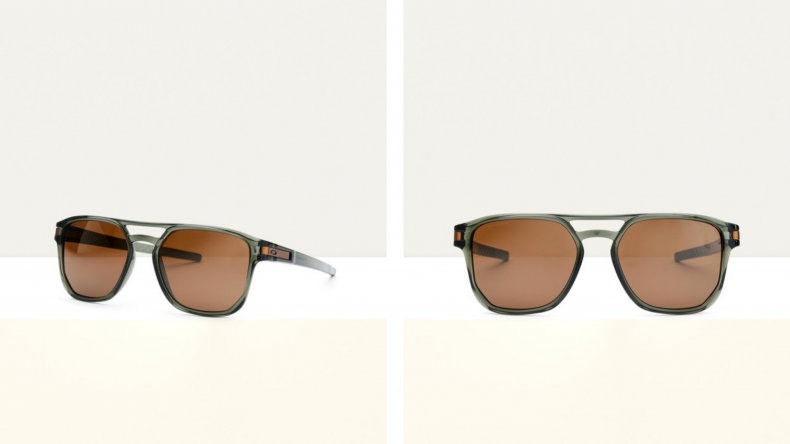 Anyone else thinking of vintage Burt Reynolds because of these shades? Unfortunately, we can't all be '70s heartthrobs, but maybe you could pull off these vintage-inspired shades instead. You could even pair them with a full-on iconic Burt Reynolds-inspired mustache. With their amber lenses and translucent olive green frames, you could grow whatever facial hair you want, and all eyes will probably still be on your sleek frames. For a more subtle look, you could check them out in black or matte black instead.
Click here to buy the Latch Beta by Oakley from Befitting for $173.
High Performance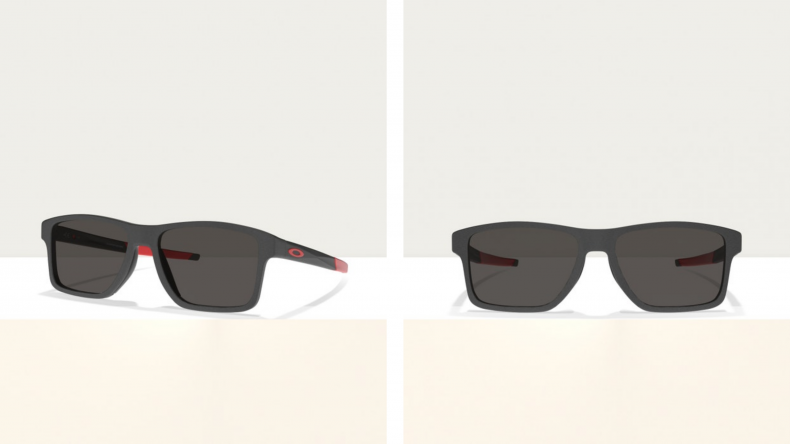 Do you hear that? It might be the water calling your name. You could grab these shades, a 6-pack, and your poles and head to your boat (or a nearby dock, we won't judge) right now. These glasses feature the adventure-oriented designs Oakley is known for and come in six neutral hues, like gunmetal featured above. Sporty and stylish don't have to be mutually exclusive—just peek at those sleek red details on the temples.
Click here to buy the Chamfer Squared by Oakley from Befitting for $195.*
*Only available as prescription sunglasses
Updated Classics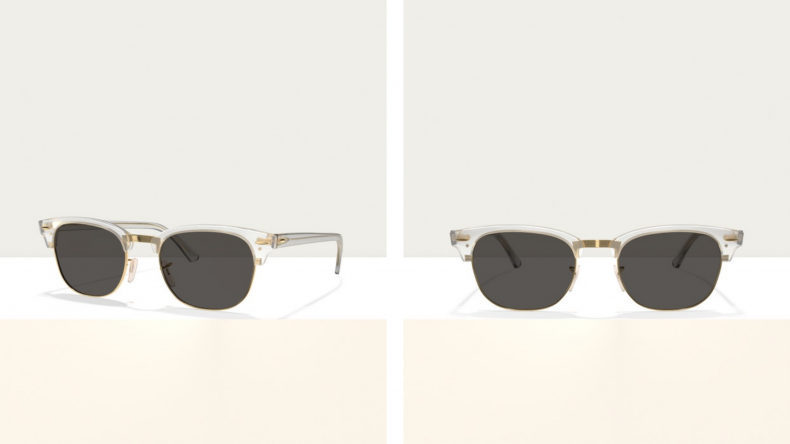 Ray-Ban could coast on its classic designs for decades, and it could still be one of the notable names in eyewear accessories. But instead, they keep coming out with killer updates that have us continuing to click "add to cart." Just look at that transparent horn-rimmed brow line with soft gold details. These aren't your grandfather's Ray-Bans, but they would probably also look quite dapper on him if you're looking for a gift. These frames come in 13 color combinations, including a few classic tints. So you could get your grandfather, dad, or any of your bros these sleek shades to welcome the summer.
Click here to buy the RX5154 by Ray-Ban from Befitting for $189.*
*Only available as prescription sunglasses
Bold Patterns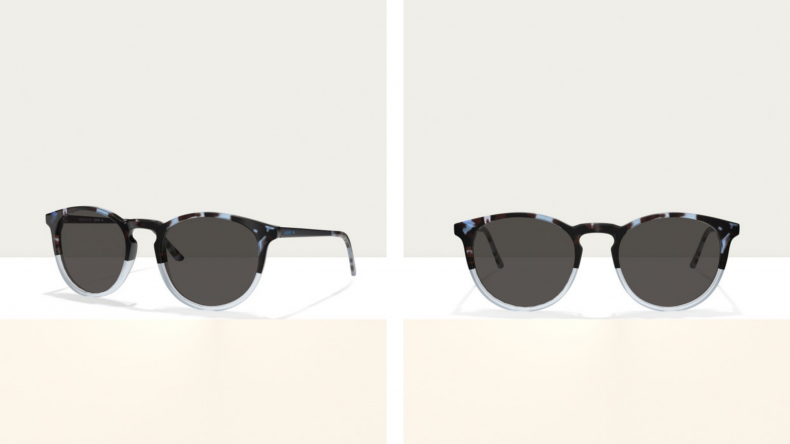 These round frames with a keyhole bridge fit get a dramatic update with their fun tortoiseshell pattern. The blue and black print fades to pale blue for an eye-catching take on a gradient. You don't need to flash your baby blues to get your crush's attention; these striking shades might just do the trick. They're also available in two other shades of brown tortoiseshell for an equally bold look in more neutral tones.
Click here to buy the TH554 by Tony Hawk from Befitting for $100.*
*Only available as prescription sunglasses