Sponsored Article
15 Floating Shelves Under $40 for Your Books and Plants
These shelves are favorites on Amazon
Floating shelves can be great pieces of home décor to install in your home, especially if you have limited living space. They could function as good options to organize your books, plants, or collectibles. Simply find a strategic blank space on a wall, install your floating shelves, and you could have ample storage to organize your belongings while maintaining a neat, clean look.
The best part is that you won't have to break a bank to install floating shelves. In fact, they are often more affordable than bookcases, hutch cabinets, china cabinets, and other organizational furniture.
Highly-Rated Floating Shelves Under $30
Ready to organize and level up your space? Here are the most highly-rated floating shelves as reviewed by thousands of Amazon customers worldwide.
1. BAYKA Floating Shelves Wall Mounted, Rustic Wood Wall Shelves Set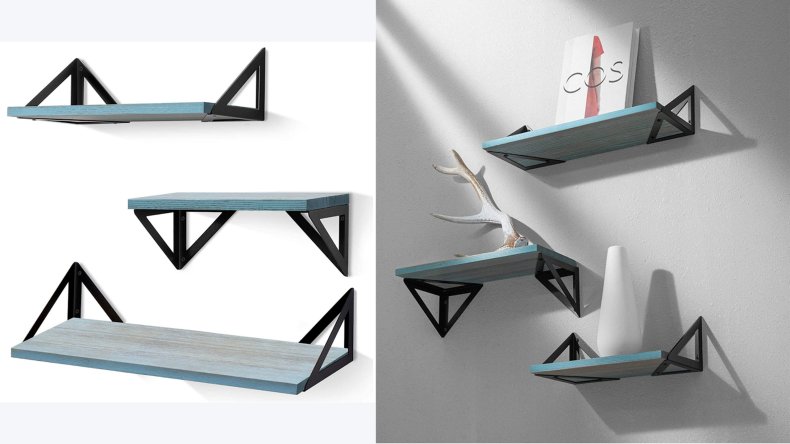 These geometric floating shelves offer a subtle but cute pop of color along with a triangular design for a contemporary look. They're flexible, too. You can choose to install them with the geometric designs on top or at the boot. They're also very easy to install.
Get a set of 3 for only $23.99!
2. Soduku Floating Shelves Wall Mounted Storage Shelves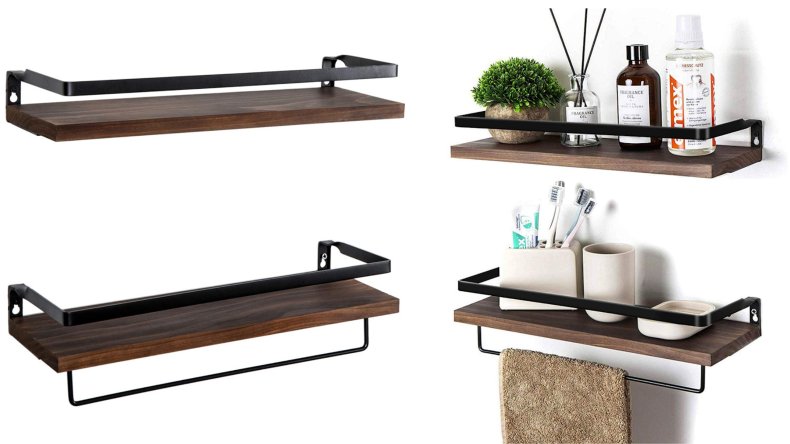 These floating shelves are made of high-quality radiata pine wood and are tested to be damp-proof and heat-resistant. They could be the ideal wood-inspired shelving options for your bathroom as you can store all of your bathroom essentials on them and even hang a small towel underneath. They also work well in the kitchen.
Enjoy an extra 10 percent off when you order them today!
3. WALI CS201-1 Floating Wall Mounted Shelf with Strengthened Tempered Glasses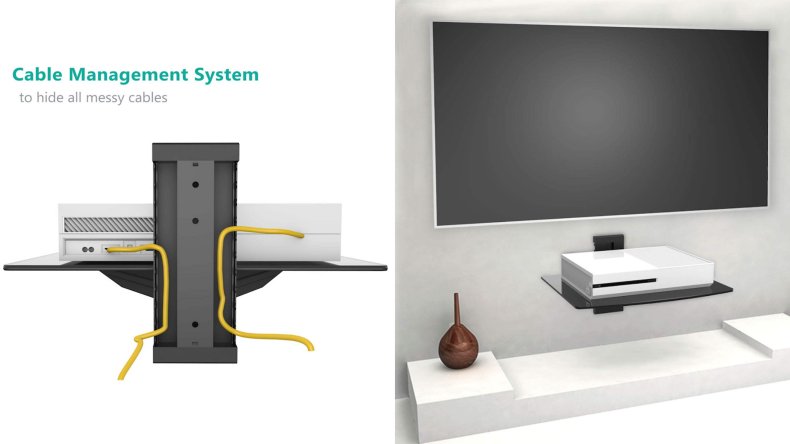 Need a sturdy set of floating shelves that will suit the modern aesthetics of your living room or entertainment room? This floating wall-mounted shelf could be a heavy-duty yet sleek solution for your electronics and other gadgets. Each tempered glass could support up to around sixteen pounds (approximately 8 kilograms) of weight, so you could use it for your DVD player, gaming console, or surround sound speakers. It even comes with an innovative cable management system, so you can tuck away messy cables with ease.
These shelves start at only $17.99 - order them today!
4. Melannco Floating Wall Shelves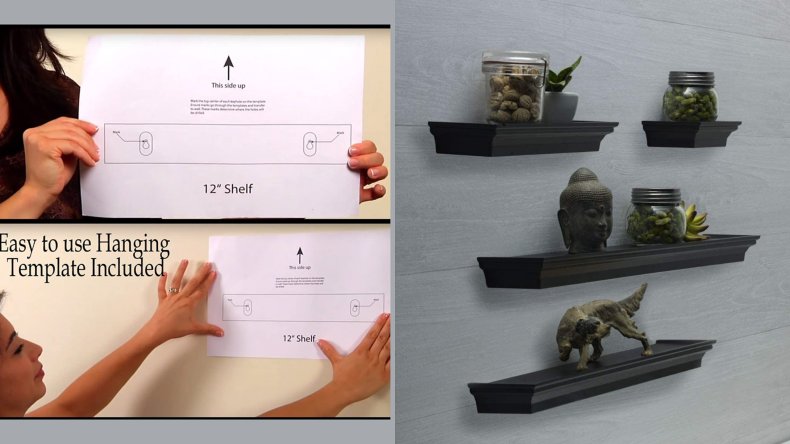 This set includes four wooden floating shelves that vary in length for a more interesting and creative look. Each shelf is four inches thick and can carry up to eight pounds of weight, so you could put your favorite statues and collectibles on display without any worries. Its installation guide is easy to follow, too.
Buy a set of 4 while it's on sale for only $19.15 today!
5. Peter's Goods Rustic Floating Wall Shelves with Rails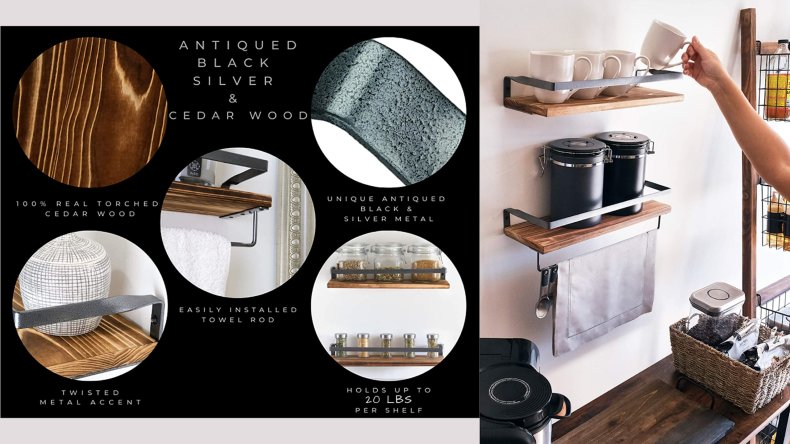 These black, silver, and cedarwood floating shelves offer that trendy industrial farmhouse aesthetic for a boost of sophistication for your kitchen. Display your spices and coffee stash on top, and hang a kitchen towel for extra convenience.
Enjoy 23 percent off when you order these shelves today!
6. PETAFLOP Wall Mount Shelf Rustic Wood Floating Shelves Storage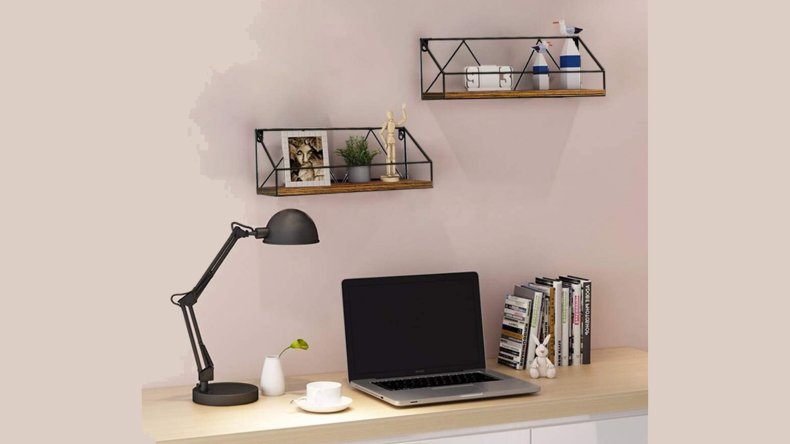 Love the minimalist look? These rustic wooden shelves come with thin black frames to ensure your belongings might not fall off by accident. They will look good in practically any room in your home, too.
Buy a set of 2 now for only $19.99!
7. Amada Floating Shelves Wall Mounted, Rustic Paulownia Wood Wall Shelves Set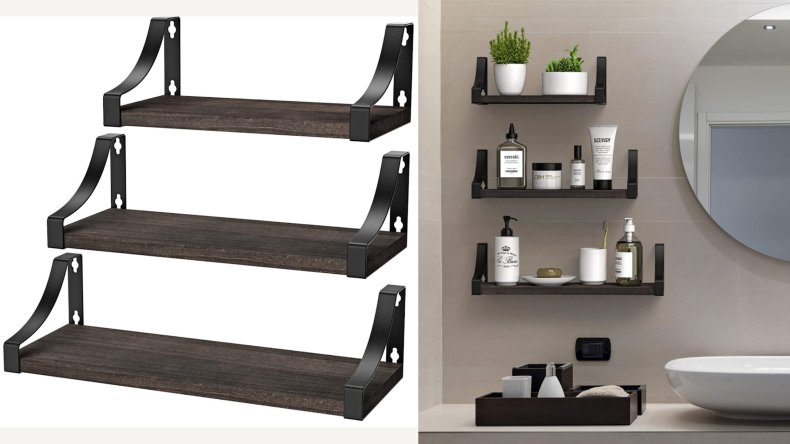 Regardless of which color you choose, these floating wooden shelves will make for a great addition to an otherwise stark and monochromatic living space. You could put your skincare routine on display in the bathroom, or use them to showcase your favorite potted plants in the living room. Each shelf is sturdy, too, and can carry up to 40 pounds of weight.
A set of 3 starts at only $19.99!
8. Sorbus Floating Shelf Set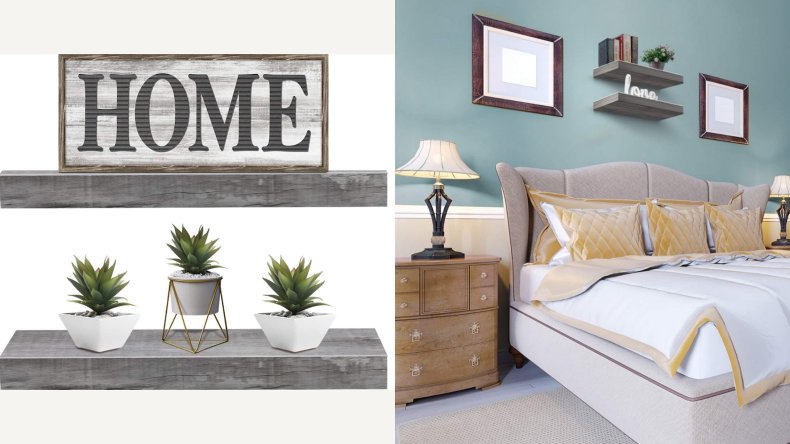 This set of two grey floating shelves are built to last. Made of medium-density fibreboard (MDF) with polyvinyl chloride(PVC), you could use these shelves to fill blank wall spaces or as additional storage in any room that needs it.
9. SUPERJARE Wall Mounted Floating Shelves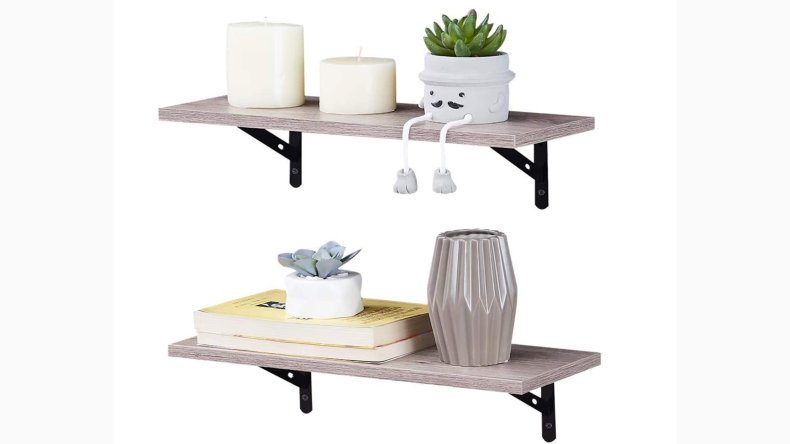 These floating shelves feature sturdy and durable P2 particleboard panels along with four metal brackets, two widened boards, screws, wall anchors, and detailed instructions for easy installation. Simple yet classy, you could install them in your living room to display your favorite home décor or picture frames. They might also work well as extra shelves in your bathroom.
Get a set of 2 for only $31.99.
10. Cq acrylic 15" Invisible Acrylic Floating Wall Ledge Shelf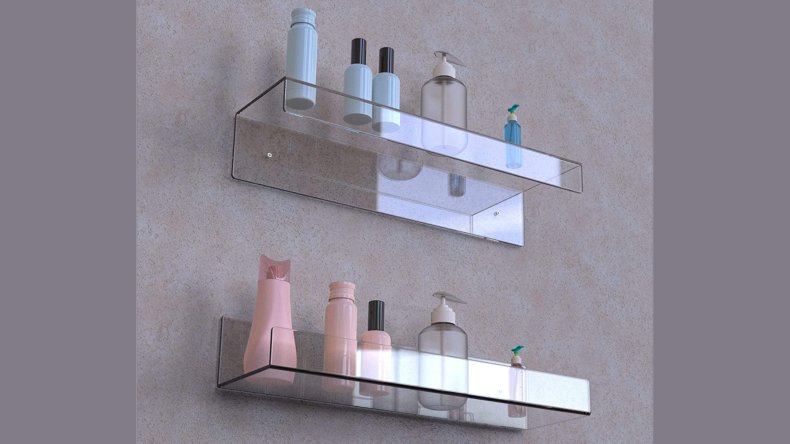 The fashionista in you will totally love these floating shelves that are made of sturdy and durable five-millimeter thick acrylic. They are weather-resistant and incredibly easy to clean, too. Since they are transparent, you should also be able to see if any hair ties or hair clips are hiding in their nooks.
Get a pack of 2, 4, or 6 today.
11. Sorbus Floating Shelf—Hanging Wall Shelves Decoration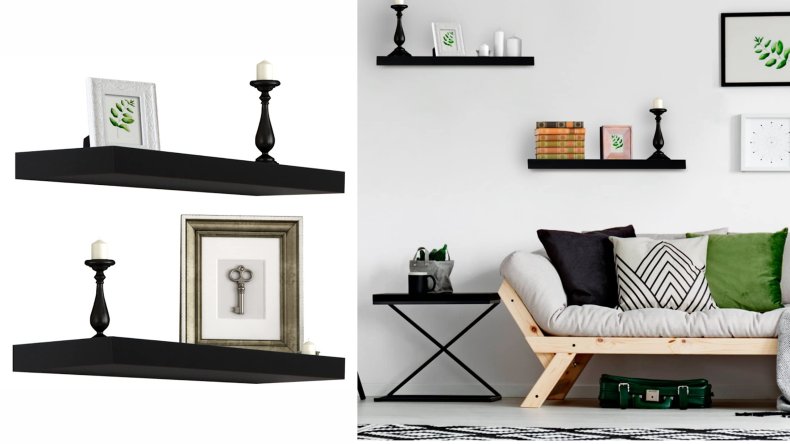 This pair of black faux wood floating shelves has a smooth matte finish that provides a beautiful contrast to any empty wall. Whether you stack them or place them side by side, they are a great addition to any modern living space.
12. Amada Rustic Floating Shelves Wall Mounted, Solid Paulownia Wood Set of Two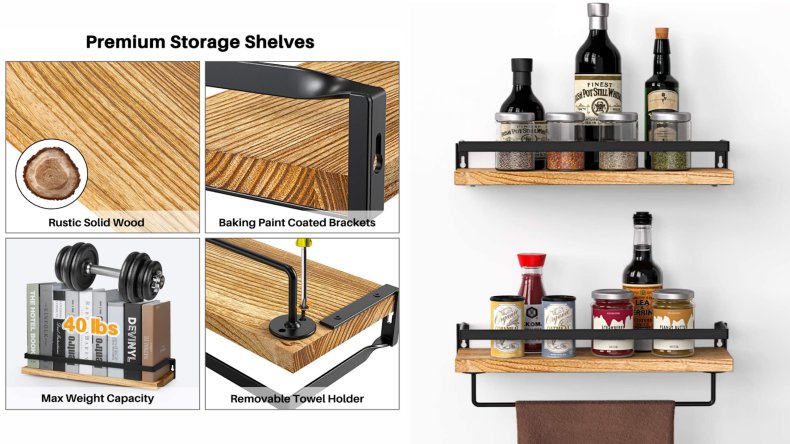 These well-designed floating shelves could provide a warm addition to any part of your home. Since the towel bar is actually removable, you aren't just limited to using them in a space that requires a towel rack. They will also look good in a living room or bedroom.
Buy these shelves starting at only $17.99 today!
13. Soraken Floating Shelves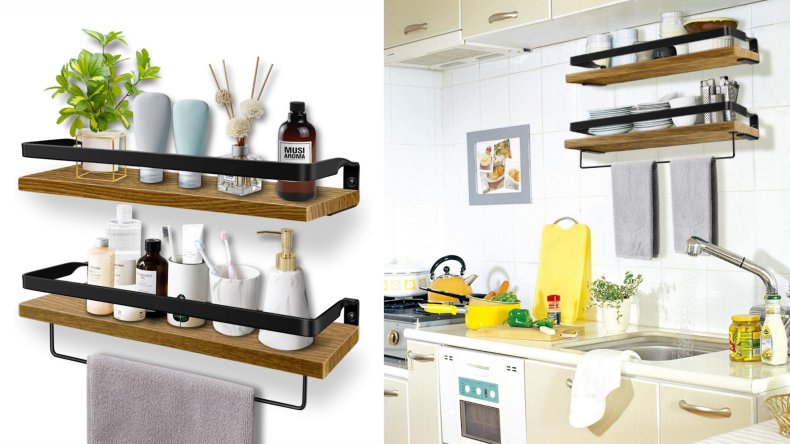 This set of premium floating shelves features a black wraparound metal guard to keep your belongings tucked safely in place. The high-quality rustic wood is heat-resistant for durability and damp-proof for easy cleaning. It also comes with a removable towel holder, so you are not just limited to using them in the bathroom.
Get a set of 2 for as low as $22.99.
14. Command Display Ledges, Slate, Two Ledges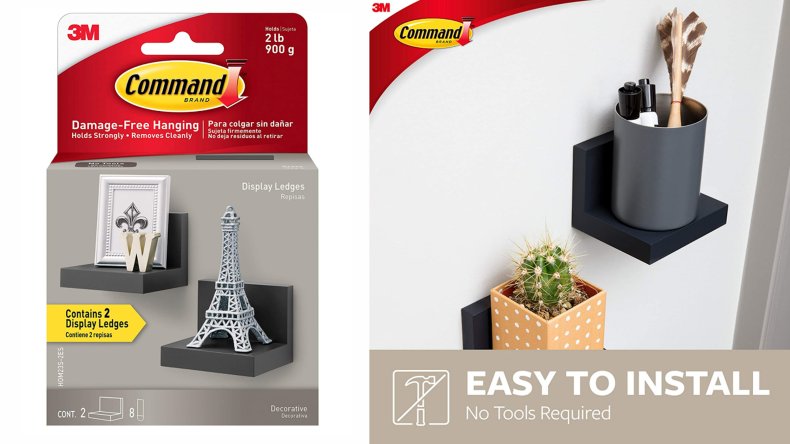 These floating shelves could be perfect for potted plants. The display ledges are clean and simple and can hold up to two pounds of weight. You can also use them to display collectibles, photos, and other kinds of home décor.
15. OAPRIRE Acrylic Floating Wall Shelves Set of Two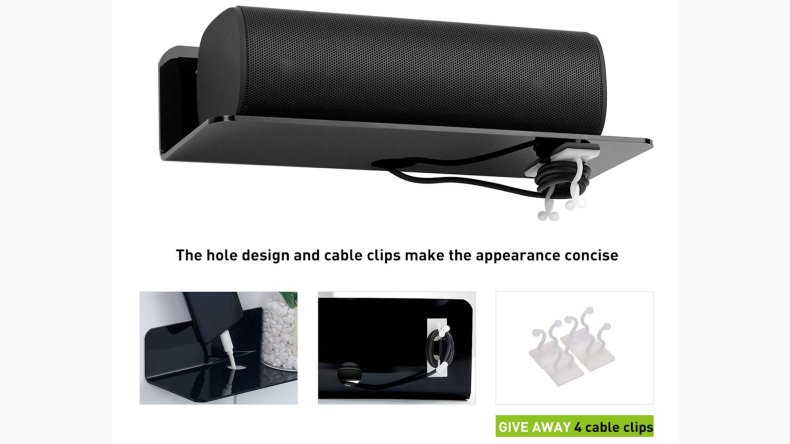 This acrylic floating wall shelf is made of high-quality material and has a hole and cable clips to help you organize the cables of your electronics and gadgets. Since it comes in a sleek black color, it could be easy to fit into practically any room that needs it. Moreover, you won't need nails to install it. Just use the 3M adhesive strips included in every purchase.
Choose between black or white shelves here.