Sponsored Article
17 Best Interactive Toys Every Cat or Dog Should Have
Bust your pet's boredom with these fun toys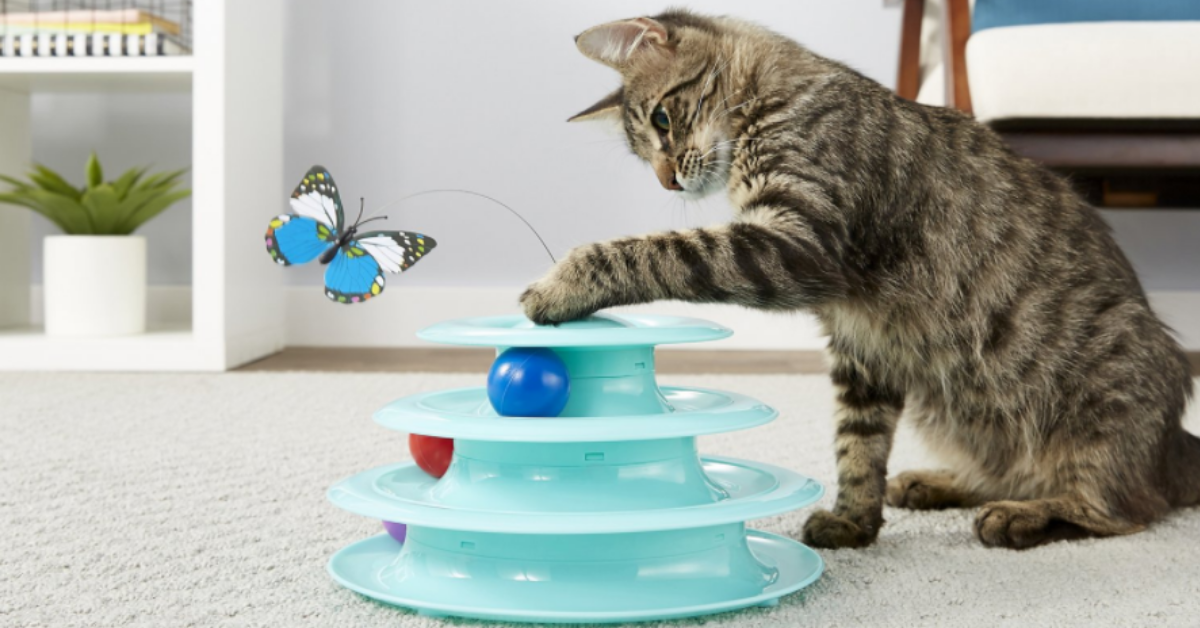 Dogs and cats can get bored too, and when they do, real issues can arise. They could start chewing on your sofa, your shoes, and furniture. A resounding NO wouldn't do so much. Dogs and cats need help, especially when they stay inside the house for most of the day.
Interactive toys from pet product specialist Chewy can help your beloved cat and dog be physically and mentally stimulated throughout the day.
Here are the top-rated interactive toys for cats and dogs, according to your fellow pet lovers, plus newly released interactive toys that are quite promising based on their design.
Interactive toys for cats mainly explore their instincts to catch prey. Instead of letting your cat nap all day or put all its frustration on your furniture, you can give your cat an interactive toy that will keep its mind and body active.
Here are some of the best interactive toy products for your cat.
This type of interactive toy is designed to unleash your cat's inner instinct to hunt. Turn on the toy and choose the speed setting for the false prey. The "prey" moves in a circle, imitating a real-life mouse. This toy will give your cat the exercise it needs and will keep it occupied for hours.
Prey toy choices at Chewy include:
SmartyKat Hot Pursuit Electronic Concealed Motion Cat Toy, Blue ($16.99)Petlinks Mystery Motion Concealed Electronic Motion Cat Toy ($15.15)
---
This one is for the smart kitties. The box holds treats in its compartments and your cat will have to work to get them out. There are three levels available: beginner, intermediate, and top cat.
Watch your cat develop its skills in strategizing and solving puzzles through this interactive toy.
Cat Amazing Interactive Treat Maze & Puzzle Cat Toy is available at Chewy for $15.83.
---
It's the classic laser dot toy that every cat enjoys. Lead your cat into a wild chase as it tries to capture this elusive red dot prey. The LED lights are safe for animals and humans and can be pointed at the floor or the wall either indoors or outdoors.
Check out the Ethical Pet Laser Exerciser Original 2 in 1 Dog & Cat Toy ($3.99) with an average rating of 4.2 out of 5 Stars from 1,313 reviews.
---
Arouse the hunter's instinct of your cat with the SmartyKat Chickadee Chirp Electronic Bird-Sound Cat Toy.
Activated by touch, this chirping chickadee imitates the sound of the cat's natural prey. Every pounce and swat of the paw will keep the bird chirping. This toy is stuffed with natural catnip that can be refilled.
SmartyKat Chickadee Chirp Electronic Bird-Sound Cat Toy ($4.99) got an average of 4.2 out of 5 Stars from 516 reviews on Chewy.
---
Every cat loves a tasty treat and your cat will enjoy the treat more if it works to get it.
The Catit Treat Ball Cat Toy makes sure your cat is never bored and gets enough exercise. Such an interactive toy will help prevent obesity in your feline friend.
The Catit Treat Ball Cat Toy is available at Chewy at $4.49.
---
Make playing with balls more fun with this interactive toy with balls rolling on tracks. Your kitty will have a blast chasing the balls around the three-tier track. Because there are three levels for the rolling balls, more than one cat can play with this toy. Expect it to be a wild multi-player game.
Frisco Cat Tracks Butterfly Cat Toy ($9.14) has been rated 4.6 out of 5 Stars by 745 reviewers.
---
According to cats, it is fun to hide and go through a tunnel. Thus, the concept for the Petlinks Twinkle Chute Lighted Cat Tunnel Toy was born. This simple toy is shaped like a tunnel where the cat can hide, relax, play, and hunt. It has a crackly surface that cats love and touch-activated lights along the path for added fun for the feline.
Petlinks Twinkle Chute Lighted Cat Tunnel Toy ($13.61) received an average of 4.5 out of 5 Stars at Chewy.
---
The Trixie Mad Scientist Turn Around Activity Strategy Game Cat Toy is designed for the smart cat.
Count on your cat's curiosity and cleverness to figure out how to get the tasty treat from inside the beakers. Start with a simple puzzle for your kitty, then gradually add some level of difficulty to stimulate your cat's thinking.
Trixie Mad Scientist Turn Around Activity Strategy Game Cat Toy is available at Chewy for $16.99.
---
Whether young or old, smart or very smart, your cat will have its simple pleasure of scratching satisfied in this simple yet necessary toy every cat should have.
This 21-inch pole will give your feline a place to claw, nuzzle, and play with the attached toy. Your furniture can take a breather as this scratching pole takes all brunt from your kitty's instinctive need to scratch.
Frisco 21-in Sisal Cat Scratching Post with Toy ($13.99) scored 4.3 out of 5 Stars from 622 reviews.
---
Bored dogs at home have a tendency to be destructive. Instead of complaining whenever the dog decides to chew on your shoes and furniture, present an inexpensive interactive toy to your pooch to drive boredom away.
All these toys are designed to trigger the hunter and playful nature of dogs.
This hide-and-seek puzzle is designed for mental exercise whenever your pup gets bored. Three unique toys—a rope, a squeaker ball, and a plush squeaker bone—are hidden inside the box. Watch your doggo have fun burrowing and retrieving these toys.
Frisco Hide and Seek Plush Chewy Box Puzzle Dog Toy ($9.02) is a hit with reviewers with a rating of 4.7 out of 5 Stars. Refill pack ($5.48) is also available at Chewy.
---
Expect this cute toy to become one of your dog's favorites. Recommended by thousands of dog owners, the Outward Hound Hide A Squirrel Squeaky Puzzle Plush Dog Toy lets your pup play hide-and-seek with the squeaky squirrels.
The game is simple: hide the six squirrels inside the plush tree trunk and let Fido sniff them out. Hide them again to keep the game going.
Outward Hound Hide A Squirrel Squeaky Puzzle Plush Dog Toy ($9.29) got an average of 4.4 out of 5 Stars from 2,622 reviews.
---
Your dog will love the Everlasting Treat Bento Ball as it makes chewing extra fun. Since the Bento Ball holds a treat, it can keep the dog busy chewing as it tries to reach that hidden treat. Aside from encouraging mental stimulation, this toy is also excellent for cleaning the dog's teeth with gum massaging nubs.
Check out the Starmark Everlasting Treat Bento Ball Tough Dog Chew Toy ($12.20) at Chewy.
---
The Tail Teaser toy is a fun way for your pooch to get the exercise it needs while staying inside the house for most of the day.
Have him chase and pull the faux-fur tails that squeak and rattle. The toy is made up of a durable nylon cord and a flexible pull, so you can be sure that it can endure even the strong pullers.
Outward Hound Tail Teaser with Refill Dog & Cat Teaser Toy ($13.59) got 4.5 out of 5 stars from 499 reviews.
---
This interactive toy is perfect for your teething puppy. Made of all-natural rubber, this is a gentle rubber toy is designed specifically for the puppy's baby teeth to prevent bad chewing habits. The toy even bounces, so the puppy is sure to have fun playing with it.
KONG Puppy Dog Toy starts at $6.99 and rated 4.5 out of 5 Stars based on 786 reviews. Available in small, medium, and large sizes at Chewy.
---
It is a good thing to challenge smart doggos from time to time. This Tornado Plastic Puzzle Toy does just that by stimulating the pup's brain while having a fantastic time.
Treats are hidden inside the compartments and the dog's task is to find a way to get those goodies by rotating the layers with its nose or paw. As they get accustomed to the strategy to get the treats, you can adjust the level of difficulty to challenge them further.
Nina Ottosson by Outward Hound Tornado Puzzle Game Dog Toy ($19.14) scored 4.2 out of 5 Stars from 229 reviews.
---
Another mentally stimulating toy for dogs is the Trixie Activity Poker Box Interactive Toy, Level 2. This toy hides treats and Fido will have to figure out how to get them. There are four boxes and they can be opened in different ways. Watch your fur baby figure out how to open lids, drawers, and knobs. This toy will help your dog develop concentration and strategy.
Trixie Activity Poker Box Interactive Dog Toy, Level 2 ($26.99) received 4.4 out of 5 Stars from 334 reviews on Chewy.
---
For the good dog that just loves chewing on a bone, the classic bone toy is a perfect choice.
Shaped like a big bone, The Extreme Goodie Bone Dog Toy is made from a safe and strong all-natural black rubber material. This toy is designed to withstand the power chewers and it should keep your furry friend occupied all day long when you fill each end of the bone with treats.
KONG Extreme Goodie Bone Dog Toy ($16.99) gets a strong thumbs-up from dog owners, with more than 1,042 reviews giving it an average of 4.3 out of 5 Stars.
---
Interactive toys are an excellent way to bust boredom and relieve anxiety in dogs and cats staying at home for most of the day. There are hundreds of interactive toys perfect for your pooch and kitty at Chewy.com, where you can enjoy 30% off on your first order when you choose delivery by Autoship. Simply select Autoship at checkout to grab the extra savings.
Autoship is an excellent way of scheduling regular deliveries of pet supplies, so you will not have to worry about running out of pet food, treats, and essentials ever again. No membership fee is required and you can cancel any time. You can even get an extra 5% to 10% discount on select brands on future Autoship deliveries, while orders over $49 are free to ship.