Sponsored Article
5 GNC Beyond Raw Products That Could Help Boost Your Gym Performance
The Brand Claims That There Are No Meaningless Fillers in Its Products
It's important to consult your doctors with any medical concerns, and before making any changes or adding supplements to your health plan.
Getting fit and sticking to daily workouts can be difficult for many people, especially when you don't see the results you want right away. If you're looking to get into better shape for summer, or you've spent all of the pandemic in a home gym and want to boost performance results, there are plenty of products to help you achieve your goals.
According to Healthline, certain protein supplements can provide users with an increase in performance during and after resistance training or conditioning. Unfortunately, not all fitness products are made the same, which is why we recommend GNC.
About GNC
GNC is a company known for its health supplements in nearly 4,800 stores throughout the United States. It also offers a wide selection of health, wellness and fitness products online. GNC has over 85 years in the industry, and the company claims its products are science-backed with proven results.
Beyond Raw, a fitness brand from parent company GNC, offers a wide assortment of products. The brand claims that there are no "proprietary blends" or meaningless fillers in its products. Instead, Beyond Raw claims to include only ingredients designed to maximize your time in the gym, including pre-workout supplements, casein protein powders, meal replacements and creatine supplements. Here are five of our GNC Beyond Raw favorites:
Beyond Raw Lit Pre-Workout—$39.99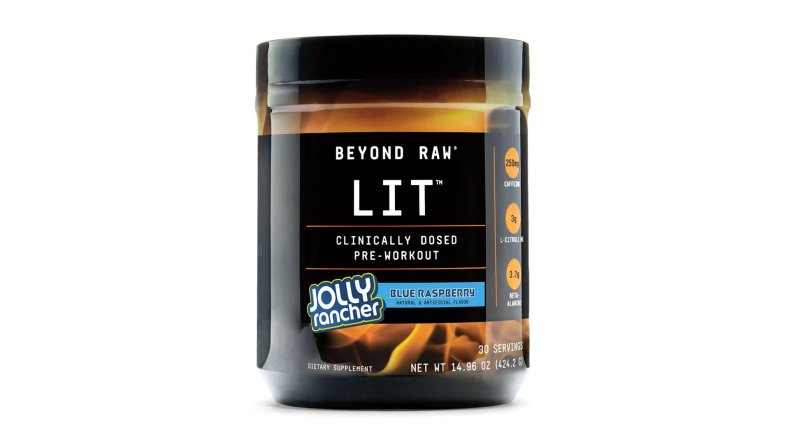 Pre-workout supplements are increasingly popular to provide an energy boost to get the best out of your workout. If you want to get energized before your workout, Beyond Raw has you covered.
Lit Pre-Workout from Beyond Raw uses clinically dosed dietary supplements to help you train with focus, intensity and energy. Each serving has 250 milligrams of caffeine to keep you alert, along with 3.2 grams of beta-alanine, 1.5 grams of micronized creatine, 1.5 grams of Nitrosigine and 3 grams of L-citrulline.
This product has 1,200 positive reviews, 10 tasty flavors, including Jolly Rancher Watermelon and Green Apple, and plenty of caffeine to help you power through your sessions. There is even a Lit AF, with extra caffeine.
Get Beyond Raw Lit Pre-Workout here.
Beyond Raw ISO-Casein P.M.—$39.99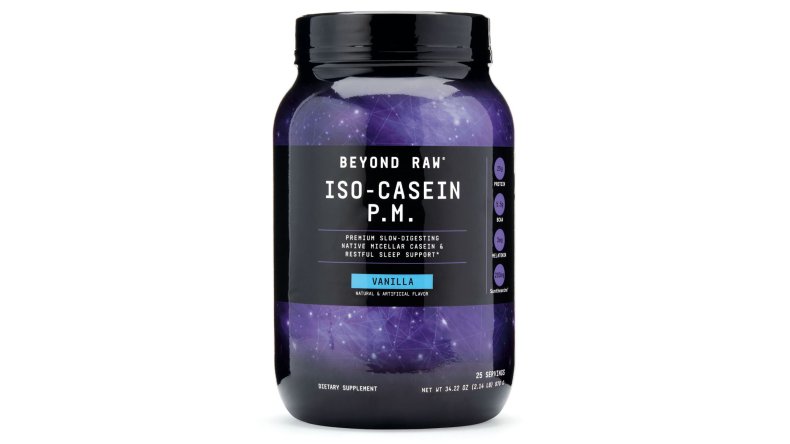 While there are dozens of protein powders to choose from, Beyond Raw has a specially formulated, gluten-free casein protein designed to be taken at night. GNC claims that casein protein is easier to digest overnight than a whey powder, which is why this is a great option to take before bed.
This ISO protein powder features a premium blend of slow-digesting native micellar casein, 25 grams of protein, 5.5 grams of branched-chain amino acids (BCAA), along with 3 milligrams of melatonin and 200 milligrams of suntheanine to assist with sleep. The goal is to help you get much-needed rest to aid in muscle recovery, growth and performance.
Get Beyond Raw ISO-Casein P.M. here.
Beyond Raw Chemistry Labs Creatine HCI—$29.99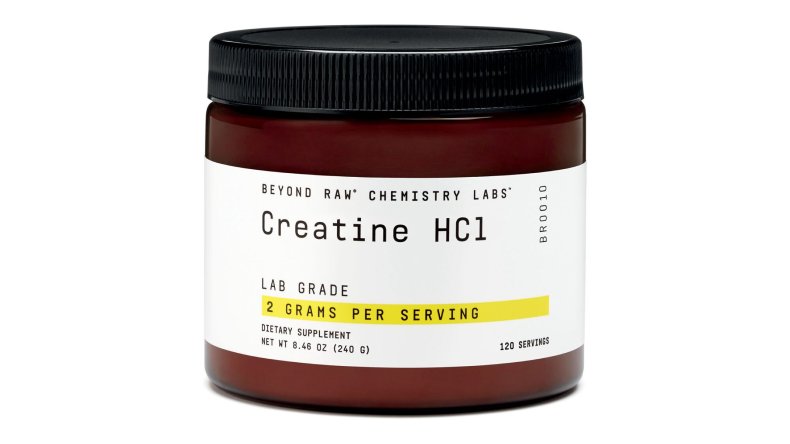 If you're dedicated to fitness and exercise, you know that every little bit of energy can help you reach your goals and boost gym performance. A good way to do that could be with Beyond Raw Chemistry Labs Creatine HCI.
Beyond Raw Creatine HCI contains 2 grams of lab-grade micronized creatine hydrochloride per serving. Simply mix one scoop with a cup of water and you're set. GNC offers a 60- and 120-serving size, and like the other products on our list, this too is gluten-free.
Get Beyond Raw Chemistry Labs Creatine HCI here.
Beyond Raw Precision BCAA—$39.99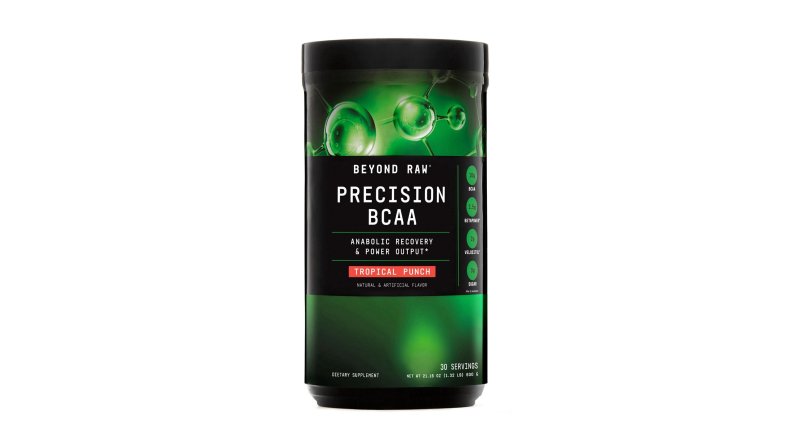 After a workout, you'll want to try Beyond Raw's branched-chain amino acid and essential amino acid options. Beyond Raw claims that amino formulas aid in muscle recovery, growth, power and overall body hydration.
If you're looking for anabolic recovery and improved power output, Beyond Raw's Precision BCAA delivers 10 grams of BCAA, 2.5 grams of BetaPower and 2 grams of Velositol. The company says this blend is "built by science and driven by obsession—an obsession to work out longer, harder, faster and see results sooner." Precision BCAA comes in seven different flavors, including Tropical Punch, Sour Gummy, watermelon and grape.
Get Beyond Raw Precision BCAA here.
Beyond Raw Re-Built Mass XP—$64.99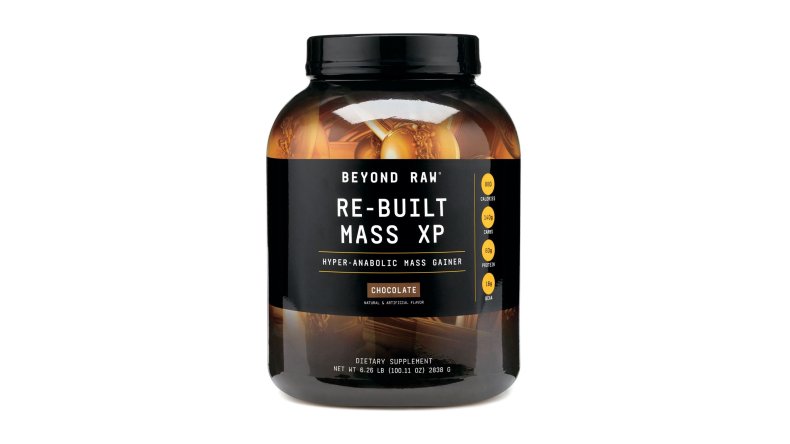 Our last suggestion is Beyond Raw's Re-Built Mass XP for advanced muscle builders who are trying to bulk up. This isn't your average powder: Each serving of this hyper-anabolic mass gainer delivers 880 calories, 140 grams of carbohydrates and 60 grams of protein.
In addition to a creatine complex, the Re-Built Mass XP also delivers 16.1 grams of BCAA, BetaPower betaine anhydrous, calcium HMB and a digestive enzyme blend. You'll take three scoops at a time; these easily mix with cold water. Beyond Raw's Re-Built Mass XP comes in a tasty gluten-free natural and artificial chocolate flavor.
Get Beyond Raw Re-Built Mass XP here.
GNC's science-backed* products and supplements could help you boost your gym performance and reach your goals. Check out the entire Beyond Raw range today.
*These statements have not been evaluated by the FDA. These ingredients are not intended to treat, cure, diagnose, or prevent any disease.