Sponsored Article
5 Stunning Area Rug Ideas to Upgrade Your Living Room (All Rugs are 60% Off Right Now!)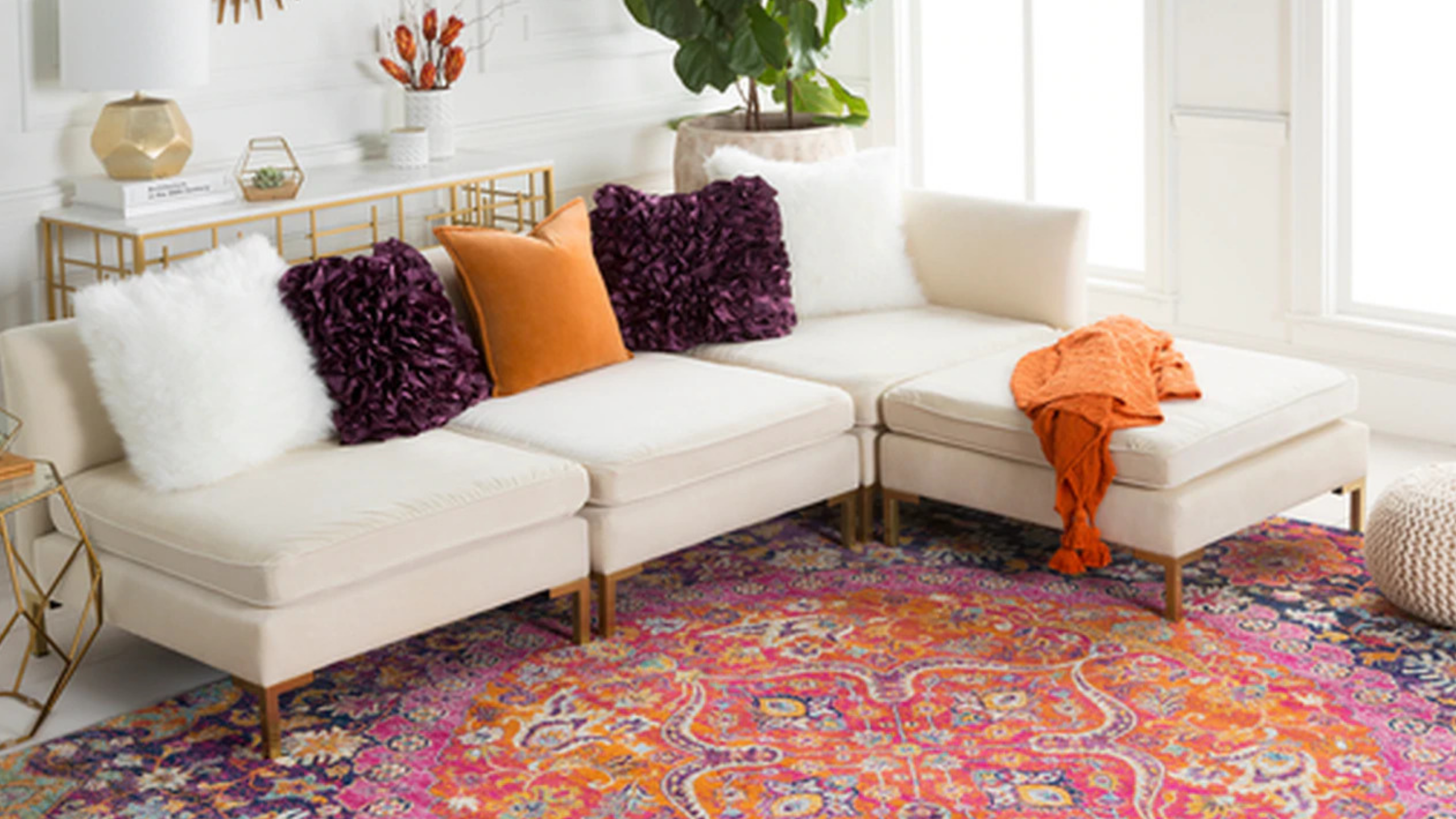 A well-placed area rug is one of the most effortless ways to upgrade your living room. With the right texture, design, and color, a rug can completely transform the look and feel of the main entertainment area and the focal point of your home. Apart from reducing noise and creating a warmer and more comfortable ambiance, a rug brings all your interior design and decorative elements together creating a cohesive and well-connected space. You can get exquisite area rugs at a great price from Boutique Rugs right now at their Labor Day Sale!
Here are 5 stunning area rug ideas from Boutique Rugs to instantly upgrade your living room, focused on five different living room design aesthetics.
1. Keep Things Clean and Minimalist with a Monochromatic Area Rug
Rugs with monochromatic hues and clean lines add simplicity, brightness, and a soothing aura of restfulness to any space. After a long day of working in a noisy and cluttered space, coming home to a minimalist and harmonious living room will help you relax and unwind easily.
The Battle View Area Rug by Boutique Rugs is minimalist, yet has a unique texture that adds warmth, personality, and a more "lived-in" feel to your modern and minimalist living room. You can get the rug in a large range of sizes and colors, including Medium Gray and Charcoal. It has the perfect balance of contemporary minimalism and traditional elegance.
2. Go Bold with a Bright and Colorful Area Rug
Bright colors make us happy. From warm and bold colors such as sunshine yellow and crimson red to more soothing pastel hues such as mint, peach, and lavender, colors have a magical power to instantly uplift our mood and to create a happy and optimistic ambiance.
The Tidioute Area Rug by Boutique Rugs is a great way to add color to your living room, especially if you have kept the overall color theme understated and subdued. The rug has a stunning mix of bright pinks, purples, sky blue, and peach, which will beautifully complement any other warm and bright colors you may have used in your living space as well.
3. Create a Warm and Welcoming Atmosphere with a Farmhouse Inspired Area Rug with a Contemporary Edge
As we live our highly modernized and fast-paced lives, there's an overwhelming nostalgia in the back of our minds about days when farmhouses were the norm. Designing your living room in a modern farmhouse aesthetic helps you relive the charm of a simpler time. Apart from adding wooden and stone elements, a simple and earthy rug is a great way to create the farmhouse feel in a living room.
Boutique Rugs' Wallagrass Area Rug is quite popular among farmhouse design enthusiasts as a great way to bring the wooden colors and natural textures together to complete the look and feel of a farmhouse-chic living room.
4. Stay Happy and Carefree with a Classic Bohemian Style Area Rug
For the Bohemian free spirit in you, there is no other design aesthetic that feels as perfect as a lovely Bohemian living room. The core of this aesthetic is to defy the norms and be carefree with your decorative choices. You can mix and match your favorite colors and use any amount of mixed patterns, furniture, and ornaments.
The Bodrum Area Rug by Boutique Rugs is effortlessly Bohemian and beautifully matches any and all decorative elements you may use for your living space. The nice and fluffy rug is made in Turkey, and the stunning combination of bright colors will really pop in your free-spirited living room.
5. Make a Statement with an Updated-Traditional Area Rug with Rich and Bold Colors
A statement rug is a great way to add character and warmth to your living room, without overwhelming the other decorative elements. Especially if you need a change to the look and feel of the space, but do not want to go for a full renovation, the right statement rug will give an instant upgrade to your living room, without having to add anything else. You can select a color and a design that reflects your own personality and style.
You cannot go wrong with the Kaitlyn Area Rug if you are looking for a quick and gorgeous upgrade to your living room. It has an updated traditional design, with rich dark blues, garnet, saffron, and ivory elements that will complement your furniture and stand out beautifully on its own.