Sponsored Article
8 CBD Products Scientifically Proven to Be Best for Senior Dogs
Some of the Best Pain Management and Relief Solutions for Senior Dogs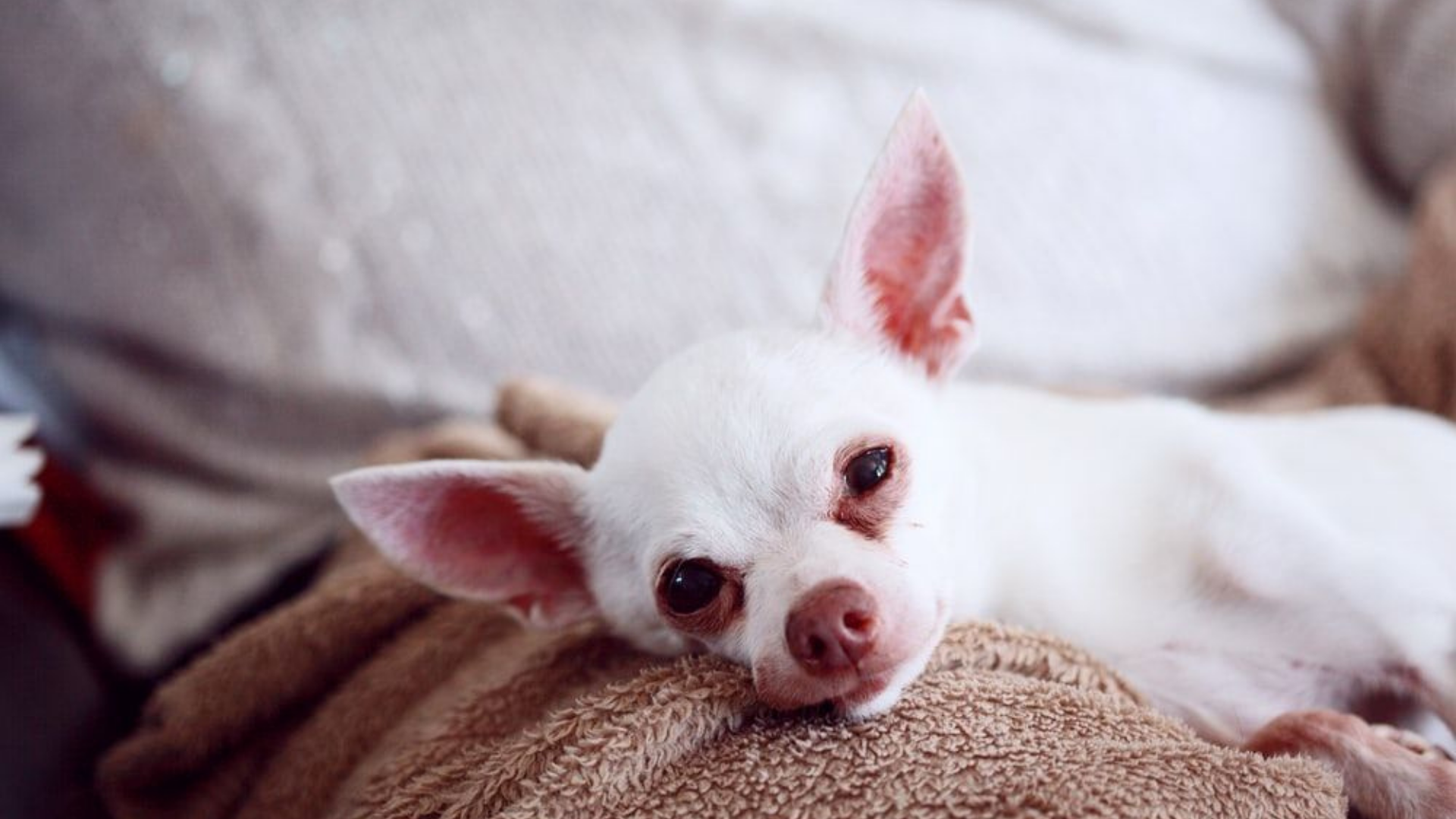 It's important to consult your pet's veterinarian with any medical concerns, and before making changes or adding supplements to your pet's health plan.
Dogs are truly man's best friend. But as they get older, their health might start to decline. You might be surprised that cannabidiol (CBD) products could be the answer to your aging dog's problems. There are many health benefits of using CBD on senior dogs. You'll be relieved to know that CBD could be used to treat various conditions of your beloved pet.
What is CBD?
CBD is an organic compound from the cannabis plant. While it is a type of cannabinoid, it does not cause any psychoactive effects. Only tetrahydrocannabinol, or THC, is responsible for that.
Many studies have been conducted to explore how CBD oil could have a number of health benefits, both in humans and in dogs. Over the years, studies have found that CBD could possibly help humans with:
Anxiety and stress relief
Inducing sleep for those who suffer from insomnia
Reducing seizure frequency for epileptic patients
Reducing inflammation
Chronic pain relief
Cancer symptoms relief
The effects of CBD on humans are similar to its effects on dogs, in that it can help to relieve pain and reduce seizure frequency. Research has shown that CBD can help provide substantial pain relief in dogs experiencing osteoarthritis, provided that the CBD is given to the dog twice a day. There are also no worries about dogs "getting high," because these CBD products only contain traces of THC, and are guaranteed safe. While further research is still needed to understand all the effects of CBD, manufacturers are already using CBD oil to address medical conditions in both humans and animals.
How Could CBD Help Senior Dogs?
If you are a dog lover, then you already know that older dogs tend to suffer from a variety of health problems. It's no secret that aging dogs could experience cognitive decline, joint pains, and even depression.
Unfortunately, their age may sometimes aggravate previous conditions or make it hard for them to recover from injuries. Problems like these will cause stress for you and other owners as you scramble to find a treatment that's both effective and affordable.
Studies reveal that CBD could have a myriad of health benefits when administered to dogs and cats in appropriate amounts. It could be used as:
● An anti-inflammatory for weak muscles and joints
● An antiemetic for nauseating dogs
● A painkiller for various injuries
● Prophylaxis for seizures and anxiety attacks
Whether you want to treat a specific condition or it becomes necessary to boost mobility and health, consult your veterinarian today about purchasing CBD-infused treats. The dosage depends on many factors like your dog's weight, age, size, and medical history. So make sure to consult your vet first.
7 Best CBD Products for Your Fur Baby
It can be hard to know where to start when it comes to CBD for your pets. We've searched far and wide to find the 10 best products that contain a safe amount of CBD. These brands could be healthy and beneficial for older dogs because they are organic, but only one has been tested for safety and effectiveness. Take note that the CBD dosage is weight dependent, and each dog is different.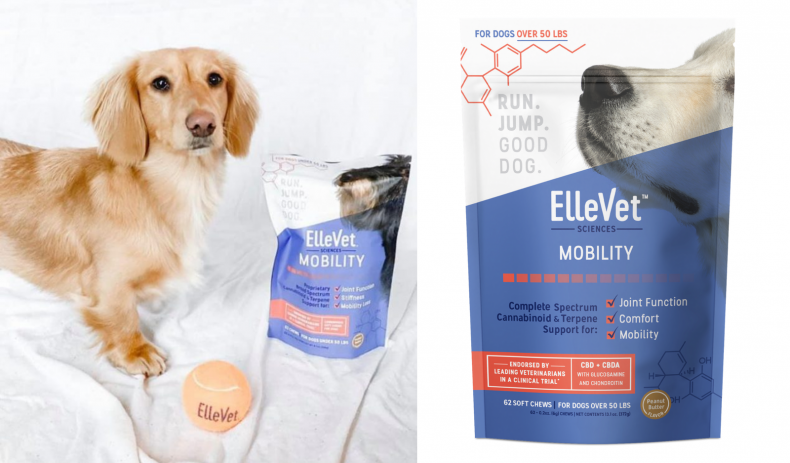 Price: $89.95 (372 grams)
These CBD-infused chews are perfect for dogs over 50 pounds and could help with their joint function, comfort, and mobility. ElleVet's dog chews are soft and come in a peanut butter flavor that your dog will surely love. Besides the CBD oil, the chews contain a terpene blend that could keep your dog active and mobile despite their big size. These full-spectrum CBD + CBDA chews are the only ones on the market that have been tested and shown to work in a clinical trial.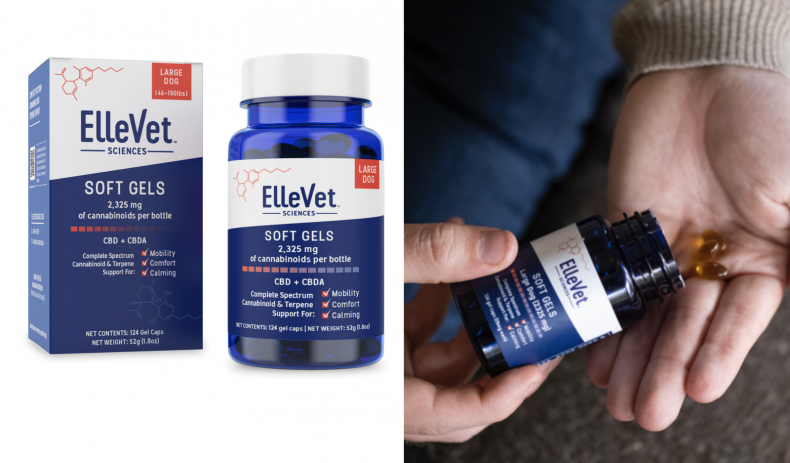 Price: $139.95 (52 grams)
Soft gels come in two sizes so you can choose the perfect one for your dog's size. Each gel is filled with the ElleVet Complete Full-Spectrum Oil. Since it's in gel form, you don't need to measure the dosage for your pet anymore. It has no taste or smell, so you can easily hide it in their food, and it can help with promoting physical activity and comfort. This product has also been tested in a clinical trial for effectiveness and safety.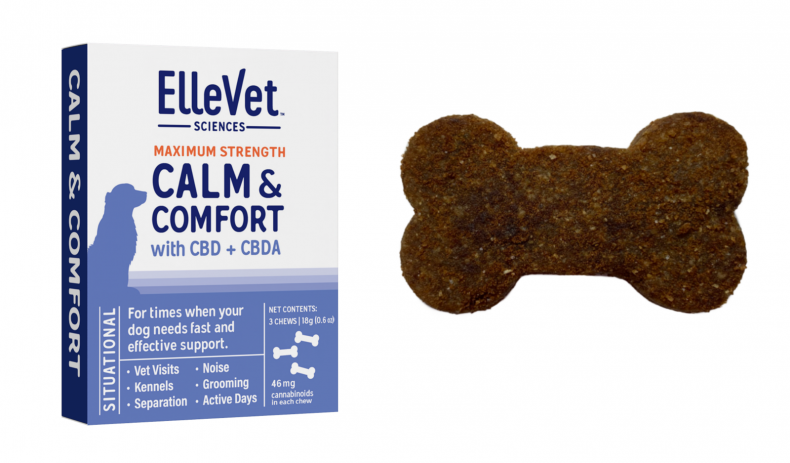 Price: $14.95 (18 grams)
ElleVet designed this brand-new emergency-use product to help relieve your pet during stressful situations. It can provide relief within 1 to 2 hours. The chews contain pork flavoring and peanuts, and are the most potent on the market. Your dog will surely enjoy them. They're best taken to help your dog with anticipated situations including loud noises, thunderstorms, grooming, vet visits, or separation.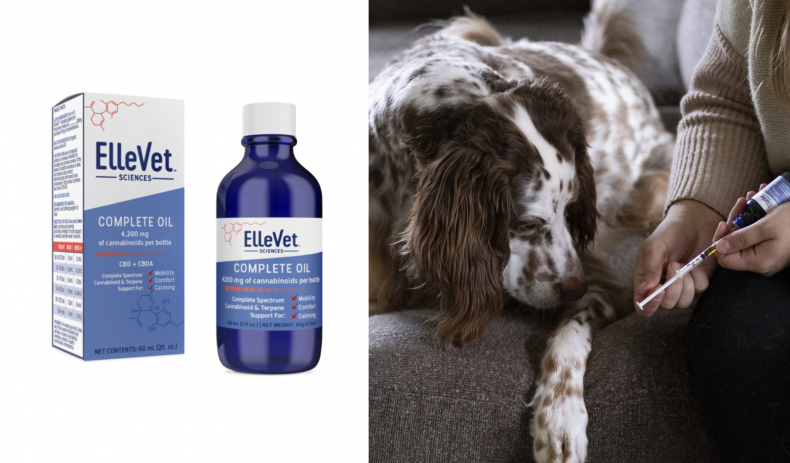 Price: $119.95 (30 mL)
This ElleVet Complete Oil is a full-spectrum oil, so it can help provide mobility, comfort, and a calming sensation for your older dog, especially for large breeds. It is concentrated, so you only need a small amount. It's taken orally or with food, making it perfect for picky eaters.
5. Blue Ribbon Hemp Extract Oil for Senior Furry Friends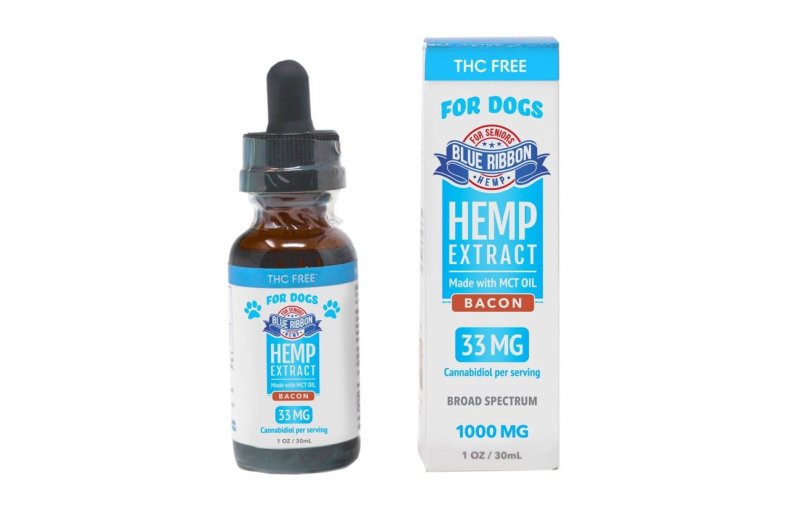 Price: $59.95 (30 mL)
Blue Ribbon Hemp boasts a broad spectrum whole-hemp extracted alcohol-based tincture and could provide the highest level of relief for senior pets. Since tinctures are easily absorbed, you can just give them a drop on their mouth or place it on their food.
6. HolistaPet Hemp and Chamomile Dog Treats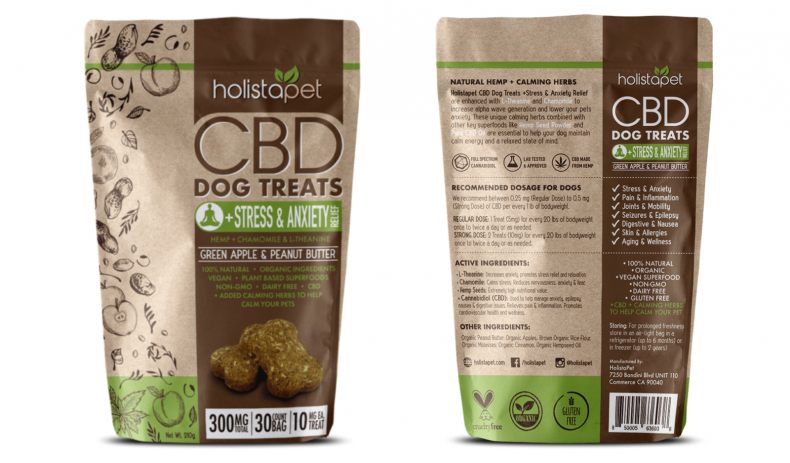 Price: $26.95 (150 mg)
These crunchy treats from HolistaPet are considered a superfood, containing whole CBD, chamomile, and L-theanine. Give your dog one of these delicious treats to help mitigate their separation anxiety, hyperactivity, aggressive behavior, excessive barking, and agitation during car rides.
7. Pet Hemp Company Superfood Dog Treats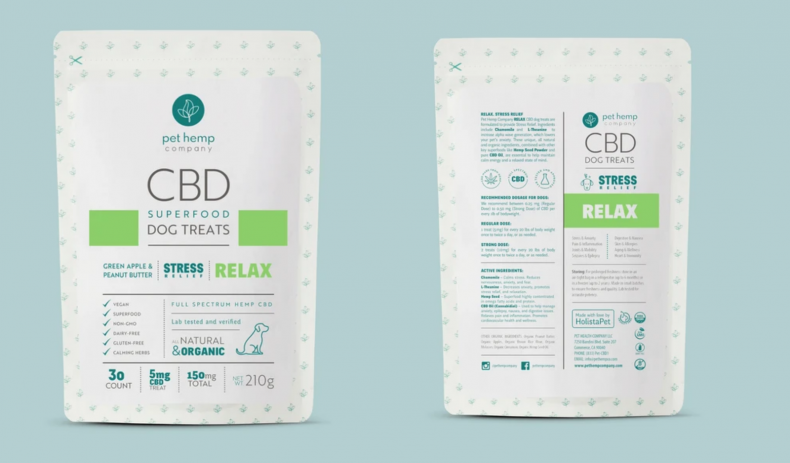 Price: $29.95 (210 grams)
Pet Hemp Company has its own superfood treats for ultimate stress relief. Loud noises, like other barking dogs and fireworks, can stress dogs out, so these CBD dog treats could help address and minimize that. These have 100 percent natural ingredients and come in green apple or peanut butter flavors.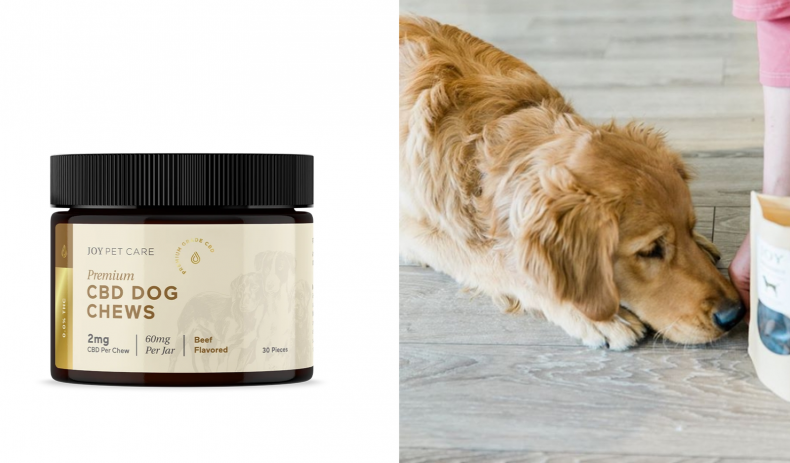 8. Joy Organics Premium CBD Dog Chews
Price: $34.95 (30 pieces)
CBD chews are the perfect daily treats for your dog. They can act as a dietary supplement and contain water-soluble CBD powder and other premium ingredients. These CBD chews are also beef flavored for your fur baby's enjoyment.
Seeing your best friend suffering and anxious pulls on the heartstrings, and even more so knowing that no amount of cuddles or playtime can make it better. CBD oil could help change the game. Whether you're looking for help to calm down your dog or relieve their pain, there are many treats to choose from.
CBD dog treats even come in delicious flavors for your dog. Find a quality product that works for your dog and one that they actually like. Help your dog today by grabbing one of these CBD products!