Sponsored Article
8 Home Cinema Projectors that are Worth Buying in 2021
Can't go to the cinema? Easily build one in your house with one of these top-rated home projectors on Amazon!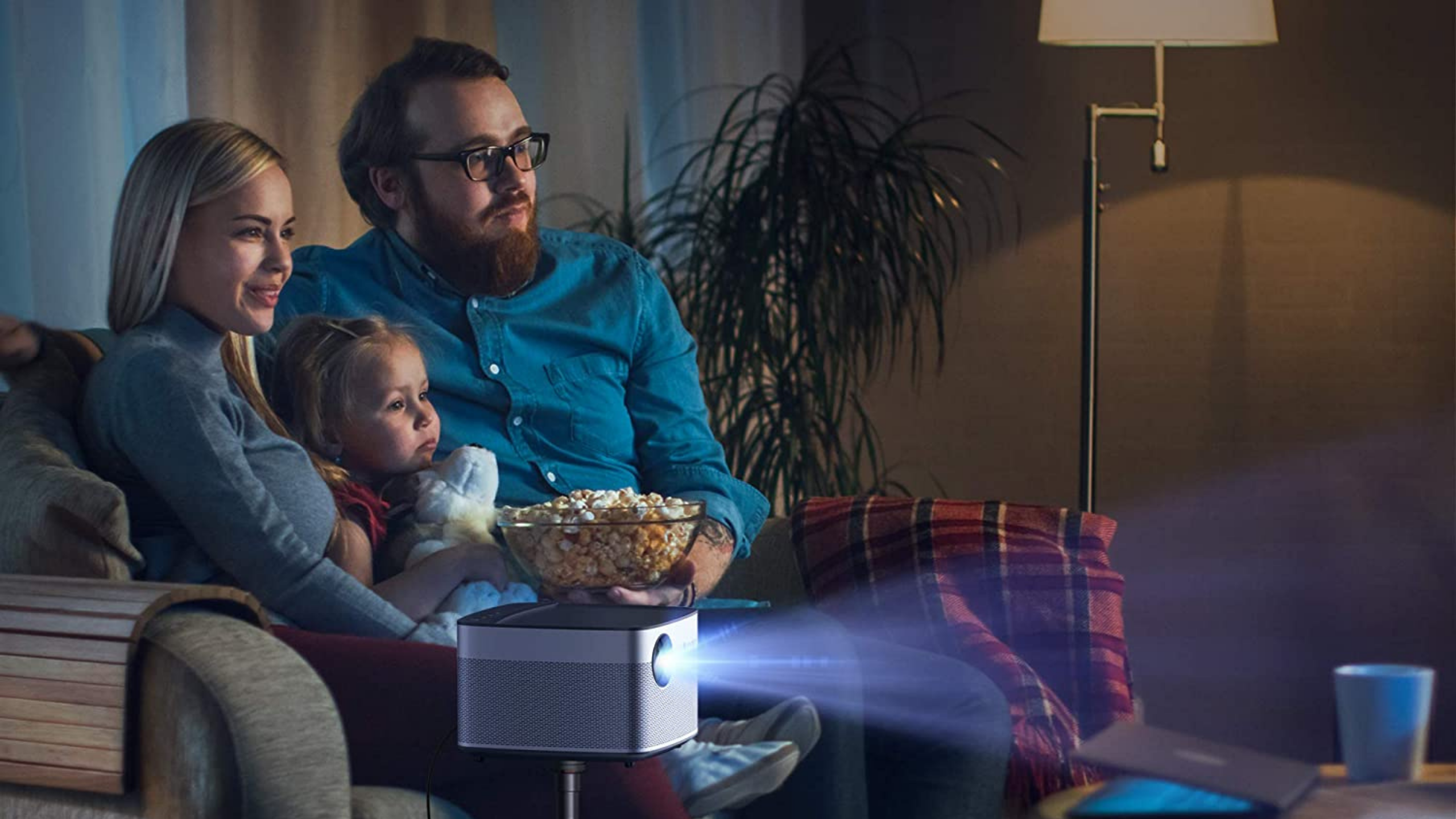 Home projectors usually have a rep of being old-fashioned: often clunky, unclear, and hard to operate. But this is the 21st century, and with the fast advancement of technology, a new range of projectors is taking over America's homes: sleek design, smart features, and compatibilities that make them must-have devices for every family. And as we continue to shelter in place amidst the current global pandemic, home projectors are an ideal replacement for the cinema experience we've all been missing so much.
Top Home Projectors That Are Worth Buying On Amazon
Instead of getting a new, large-screen TV, why not get a projector instead? Read on to find out our list of top home projectors on Amazon!
1. Epson Home Cinema 3200 4K PRO-UHD 3-Chip Projector with HDR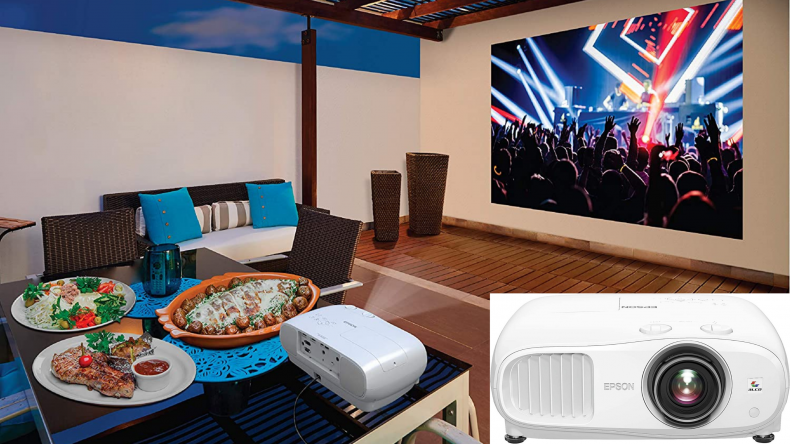 Learn more about this home projector here.
The Epson Home Cinema 3200 comes with a 4K PRO-UHD (1) projection technology, which brings a new type of 4K theater experience to your home. The technology ensures that image and video projections appear at the top enhanced resolution, color, and image processing. The advanced 3LCD technology displays 100 percent of the RGB color signal in each frame without that annoying "rainbow effect" and without causing any color brightness issues.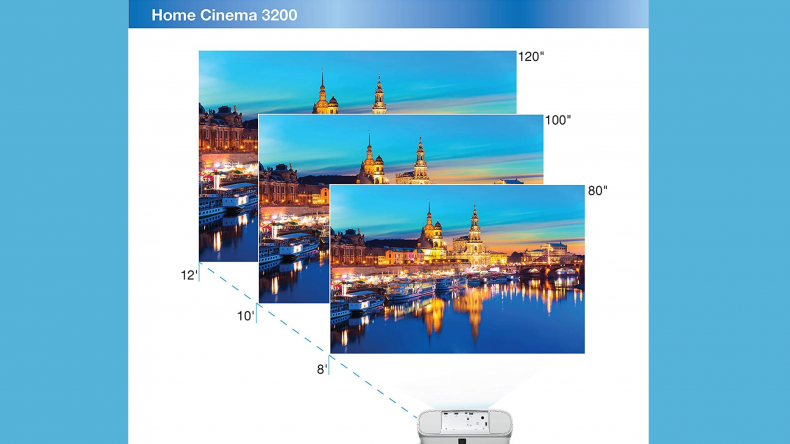 And have we yet mentioned that you could get up to 120 inches of HDR screen with this Epson miracle? Now that's what we call a home cinema!
2. NICPOW Native 1080P 7200L Full HD Video Projector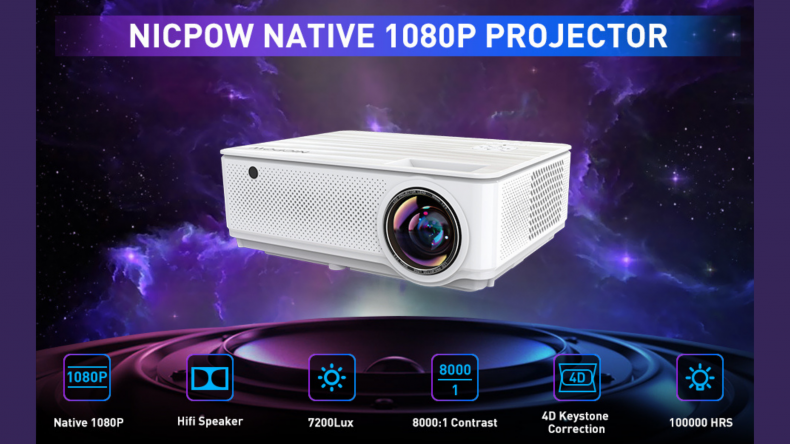 A Native 1080P Home Projector with Hi-Fi speakers? Now, that's amazing! This ceiling-mount home projector by NICPOW features 1920 x 1080 native resolution, 8000:1 contrast ratio, 7200LUX, and 2020 upgraded configuration. This ensures that you project high-definition images and videos, and they truly come alive, especially in dark entertainment rooms. It also comes with Dolby and SRS sound system. The configuration is easy to set up with its handy remote control.
3. FANGOR 7500 Native 1080P WiFi Full HD Video Projector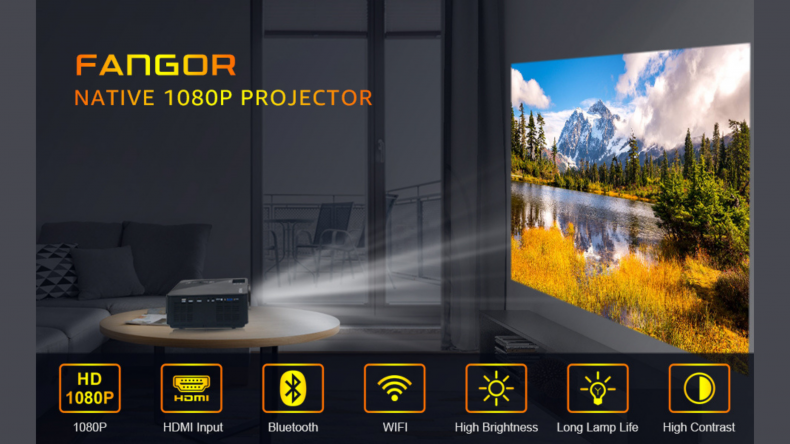 Another Native 1080P player on the market, the FANGOR home projector, is also a top favorite. It has all the features of a cinematic home projector as well as special add-ons, like iOS/Android WiFi synchronization, 7,500-Lumens LED light utilization efficiency for high brightness, 5-layer big-caliber high transparency coated glasses lens, with the highest-level 5.8 "TFT panel that is built in to increase light. No need to include additional speakers; this projector has a built-in stereo surround speaker.
4. YABER Y30 Native 1080P Projector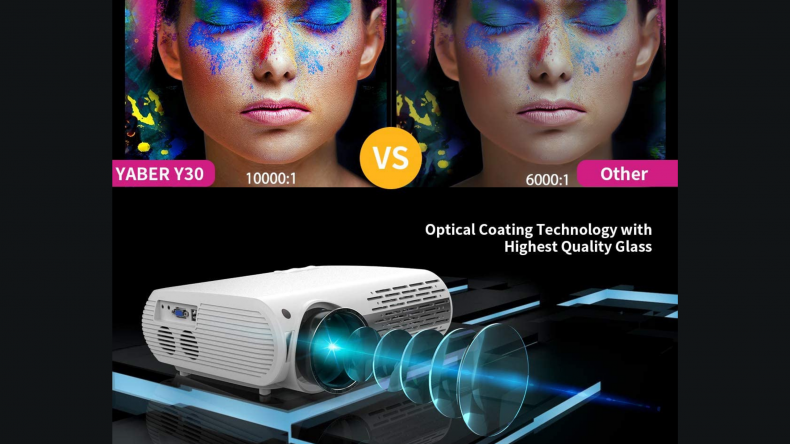 Want those vivid, quality pictures you've seen in Avatar? Then you should add this ceiling-mounted home projector to your shopping cart. This home projector by YABER claims to be the first projector to have the 50-degree 4D (vertical and horizontal) keystone correction function, plus the following: native resolution of 1920 x 1080, remarkable 7200L bright, and a high dynamic contrast ratio of 10000:1 to bring images and videos to life as if you were watching from a high-quality TV screen.
5. FANGOR 1080P Supported Movie Projector with Sync Smartphone Screen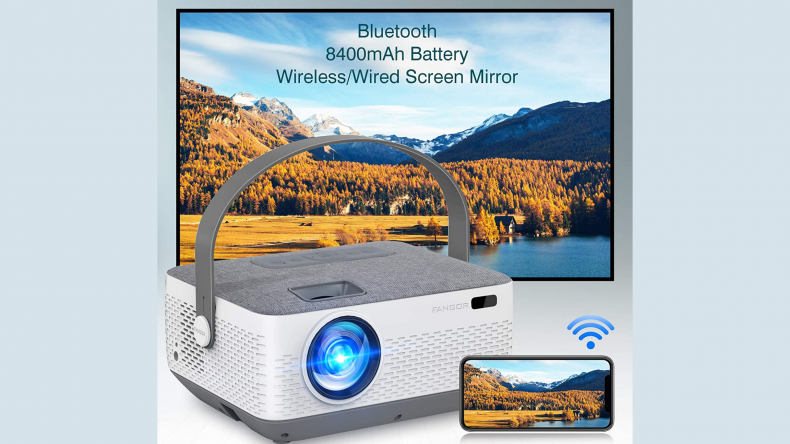 The FANGOR movie projector might have the lowest resolution on this list, but its visual features still make it a deserving contender. Featuring 1920 x 1080P (Native 720P), up to 80,000 hours of lamp life, and up to 200 inches of projector size. The best thing about this FANGOR movie projector variant is its built-in battery: you can take this outdoors or camping and enjoy some movie time without needing a power cable and socket, thanks to its 8400mAh battery and portable handle. It also has built-in speakers, so there's no need to plug in extra speakers when outside.
6. WiMiUS S1 Native 1080P Projector 10000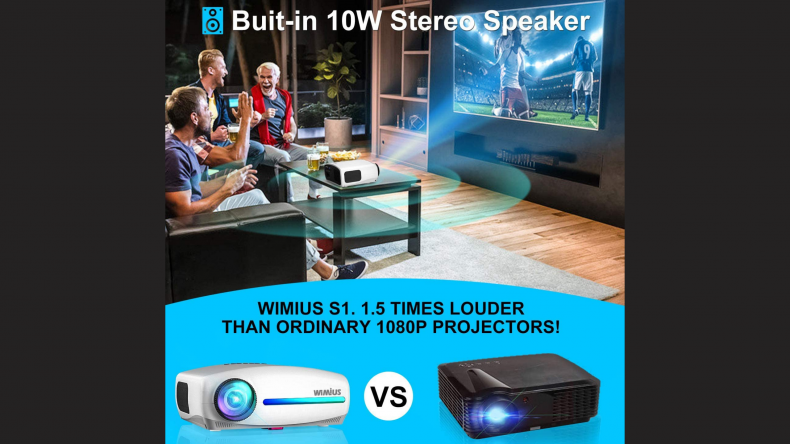 Brought to you by WiMiUS, this ceiling-mounted, Native 1080P, full HD home projector is perfect for the outdoors. It supports 4K video playback and has a 4D 50-degree digital keystone correction. Best of all, it has a powerful 10-watt speaker.
7. LG HU70LA 4K UHD Smart Home Theater CineBeam Projector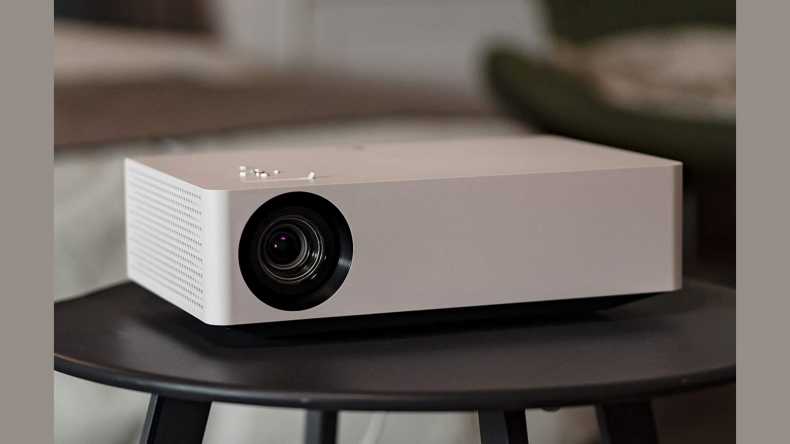 LG is undoubtedly a famous name, and of course, you should expect nothing short of excellence from an LG home projector. Featuring 4K UHD resolution (3840 x 2160), up to a 140-inch screen, LG ThinQAI, full IP control, it also has HDR10 with TruMotion for better visuals. Thanks to its built-in Alexa, this is a smart device, literally. It also comes with an LG webOS lite and a Magic Remote, which lets you access the brand's proprietary smart TV operating system so you can watch shows and movies from your favorite streaming apps like Netflix, Amazon prime, and VUDU.
8. XGIMI H2 4K 1080p HD Smart Projector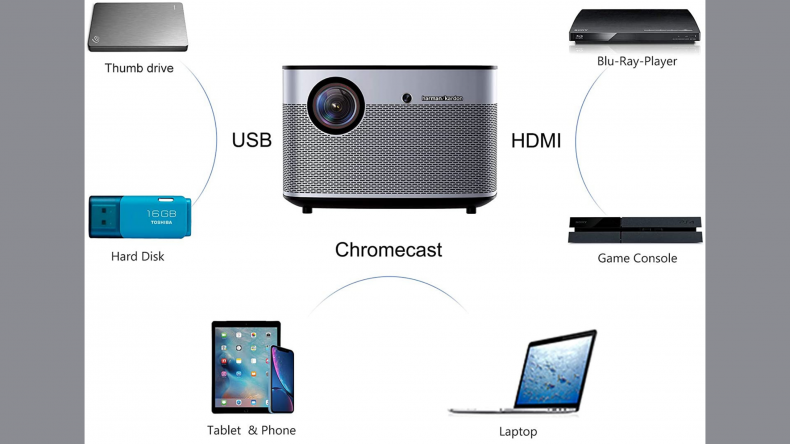 Enjoy an extraordinary viewing experience with the XGIMI H2 4K 1080p HD Smart Projector. This ceiling mount home projector may look like the bulkiest of all home projectors on this list. Still, it has the best features to guarantee a fantastic cinematic experience, anywhere. Its features include True 1080P quality for better picture clarity, 4K video support, incredible 1350 ANSI lumens of brightness, which makes it 200% brighter than most projectors, and built-in Harman Kardon speakers for that superb sound.
Check out these easy-to-set-up home projectors for your very own in-house cinema!