Sponsored Article
Add These Desserts to Your Backyard Barbecue This Fourth of July
These Edible Arrangements Bouquets Could Add a Fun and Delicious Twist to Your Fourth of July Get-Together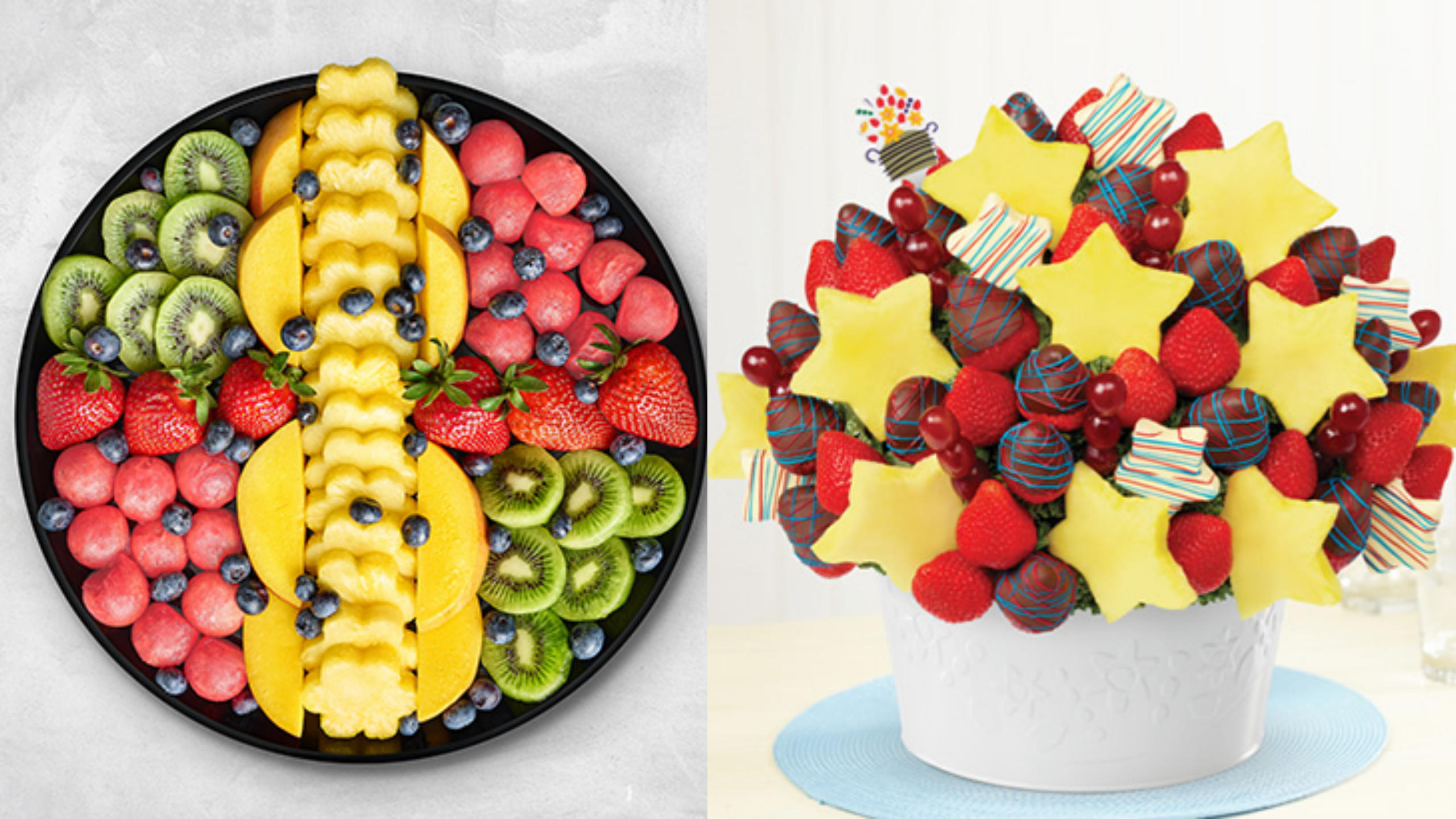 The Fourth of July is just around the corner, so it might be time to dust off the patio furniture, fire up the grill, and get ready for a backyard barbecue. Certain foods are staples at events like these, including coleslaw, beans, and potato salad.
But if you want to make your barbecue stand out from the rest, you might want to consider picking up a fruit bouquet from Edible Arrangements. They could add a fun and delicious twist to your backyard get-together. Click here to view all the Fourth of July gifts and platters, or keep reading to see our top picks.
10 Desserts for Your Backyard Barbecue This Fourth of July
1. Berry Patriotic Chocolate Star Bouquet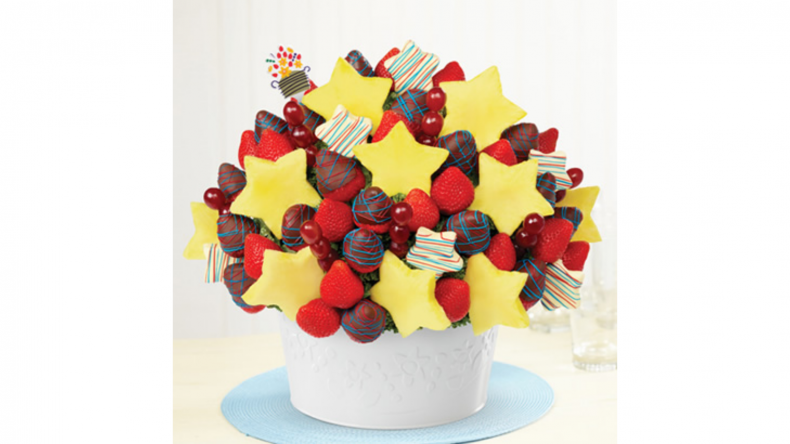 With this arrangement on your table, the fireworks won't be the only eye-catching display. Celebrate the Stars and Stripes with this beautiful arrangement, featuring fresh strawberries, red grape skewers, and bright pineapple stars. Add a delicious, chocolaty twist with white chocolate-covered pineapple stars and semisweet chocolate-covered strawberries, both decorated with vivid red and blue drizzles for a patriotic flair.
Click here to buy a small bouquet for $84.99, a regular bouquet for $114.99, or a large bouquet for $144.99.
2. Red, White, and Blue Edible Donuts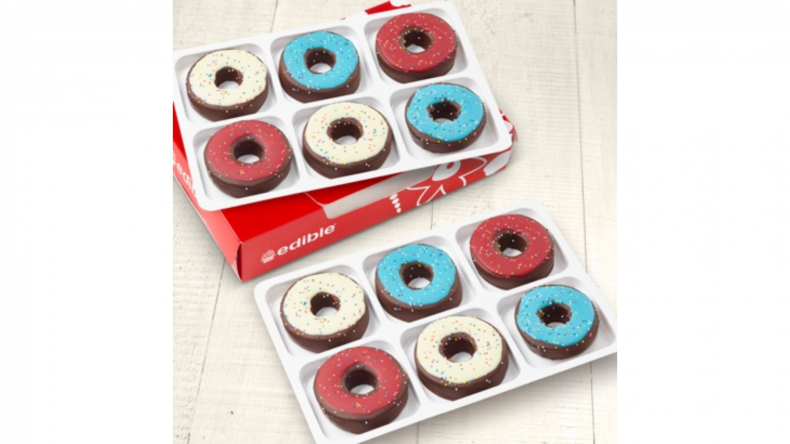 The Granny Smith apples you usually find in an apple pie get a patriotic makeover this year. Treat your guests to crisp slices of Granny Smith apples hand dipped in gourmet semisweet chocolate. Each donut is topped with red, white, or blue chocolate glaze and patriotic sprinkles.
Click here to buy a dozen for $34.99.
3. Summer Fruits Platter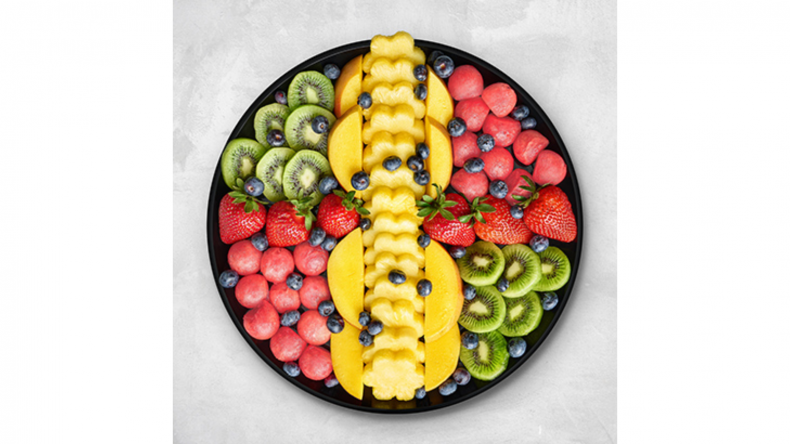 You might begin feeling the summer heat at its peak by the time you start having your Fourth of July get-togethers. So why not cool down with this juicy fruit platter? This assortment of pineapple, mango, watermelon, kiwi, strawberries, and blueberries could refresh the entire family while you enjoy each other's company under the sun.
Click here to order a platter for $49.99.
4. One Sweet Summer Bundle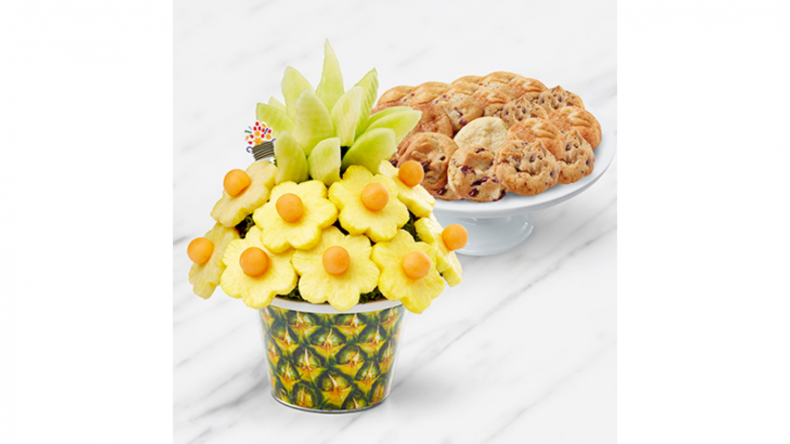 Welcome guests into your home this Fourth of July with a lovely pineapple-themed arrangement and gourmet cookie bundle. Edible Arrangements' signature pineapple daisies—topped with cantaloupe ball centers—make up the pineapple body, while a cluster of juicy honeydew wedges creates the leafy top. This eye-catching display is tucked into a matching pineapple container and comes with 24 assorted cookies. Summer sure is looking sweet.
Click here to buy it for $86.98.
5. Chocolate Treats and Brownie Platter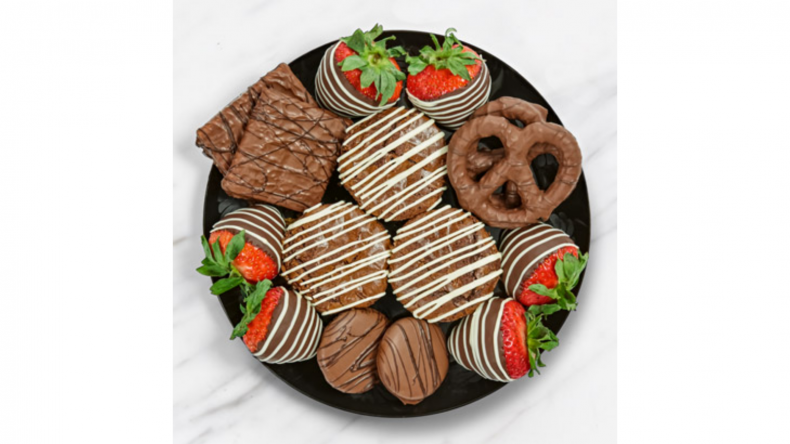 If you're looking for something delectable to top off your hearty barbecue, this platter could be an ideal pick—especially for chocolate lovers. You're getting strawberries, graham crackers, sandwich cookies, and Bavarian pretzels, all dipped or covered in sweet, sweet chocolate. And we haven't even gotten to the centerpiece yet: three chocolate fudge brownies with a white swizzle. It's okay to give in. We won't judge.
Click here to order a platter for $39.99. Use the promo code 20PICKUP and get 20 percent off when you choose to pick it up from an Edible Arrangements store.
6. Chocolate Strawberry Dipping Kit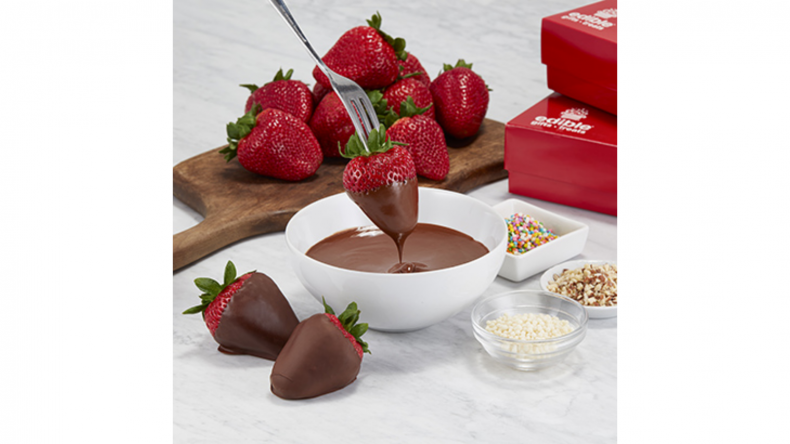 While you and your guests wait around for the fireworks to kick off, give everyone a fun activity that doubles as a tasty treat. This DIY dipping kit comes with 12 juicy strawberries, gourmet dipping chocolate, and various fun toppings to decorate with, like crushed almonds, mini sequin sprinkles, and vanilla white crispies.
Click here to buy the kit for $39.99.
7. Chocolate Dipped Indulgence Platter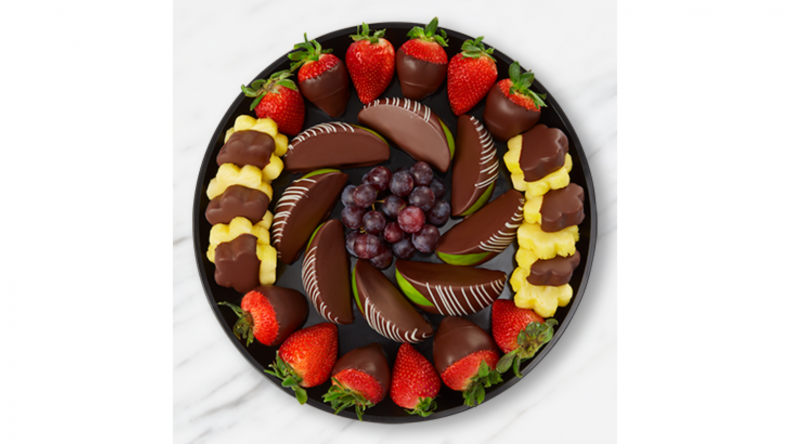 With fresh fruit for the health-conscious and chocolate-covered treats for the dessert-conscious, you'll have all your bases covered with this party platter. It features a combination of chocolate-covered strawberries and pineapple daisies, a generous bunch of juicy red grapes, and crisp apple wedges covered in semisweet chocolate and decorated with white chocolate drizzle.
Click here to buy it for $54.99.
8. Cookies and Swizzle Berries Platter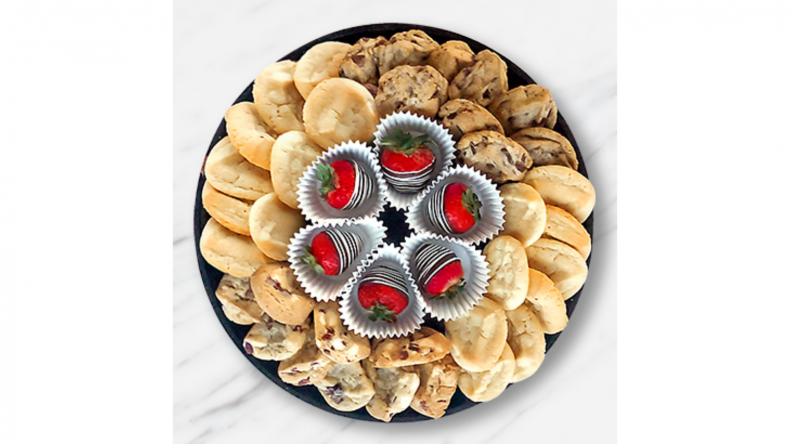 You never want to show up to an event empty-handed, so why not arrive with a pile of sweet treats? A selection of chocolate-covered strawberries with white chocolate drizzle takes center stage, surrounded by three dozen assorted gourmet cookies. This catering tray could be a delicious addition to any dessert table.
Click here to buy them for $49.99.
9. Cheesecake With Chocolate Dipped Fruit Box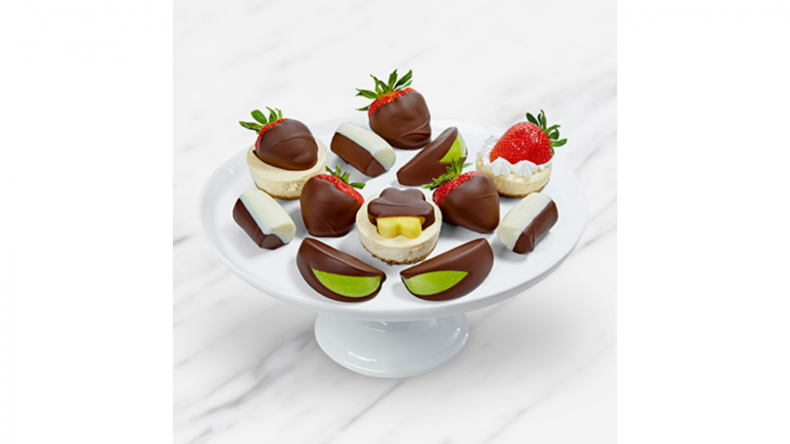 Chocolate-dipped fruit could very well be among the most indulgent of desserts. And a holiday is as good a time as any to treat yourself to this box of chocolate-dipped apples, pineapples, strawberries, and bananas. Rounding out this set are the cheesecakes, which have a graham cracker crust, adding texture to this instant classic dessert.
Click here to order a dozen for $44.99.
10. Party Platters Bundle of Three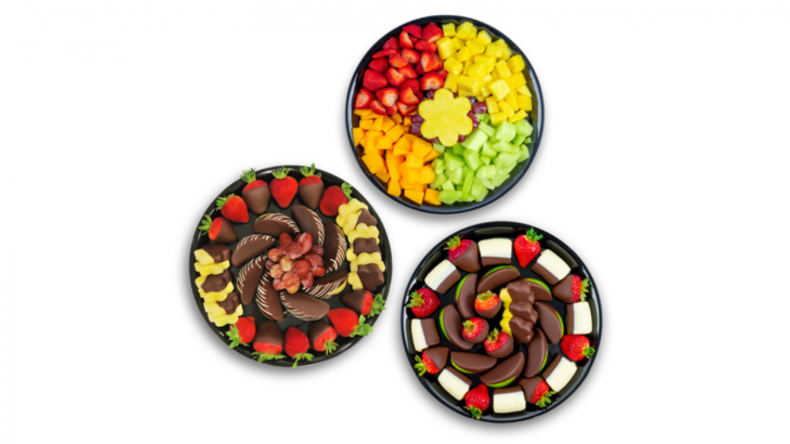 If you have a crowd to feed, you might want to consider this bundle of three party platters designed to serve 25 to 30 guests. It includes a tray of fresh-cut pineapples, honeydew, cantaloupe, strawberries, grapes, and the Chocolate Dipped Indulgence Platter (described above). A third tray rounds out the bundle with banana bites double-dipped in white and semisweet chocolate, chocolate-covered apple wedges, fresh and chocolate-covered strawberries, and juicy chocolate-covered pineapple daisies.
Click here to buy the bundle of three platters for $145.99.