Sponsored Article
Alcohol & Marijuana Reform Should Help Restore the Hospitality Industries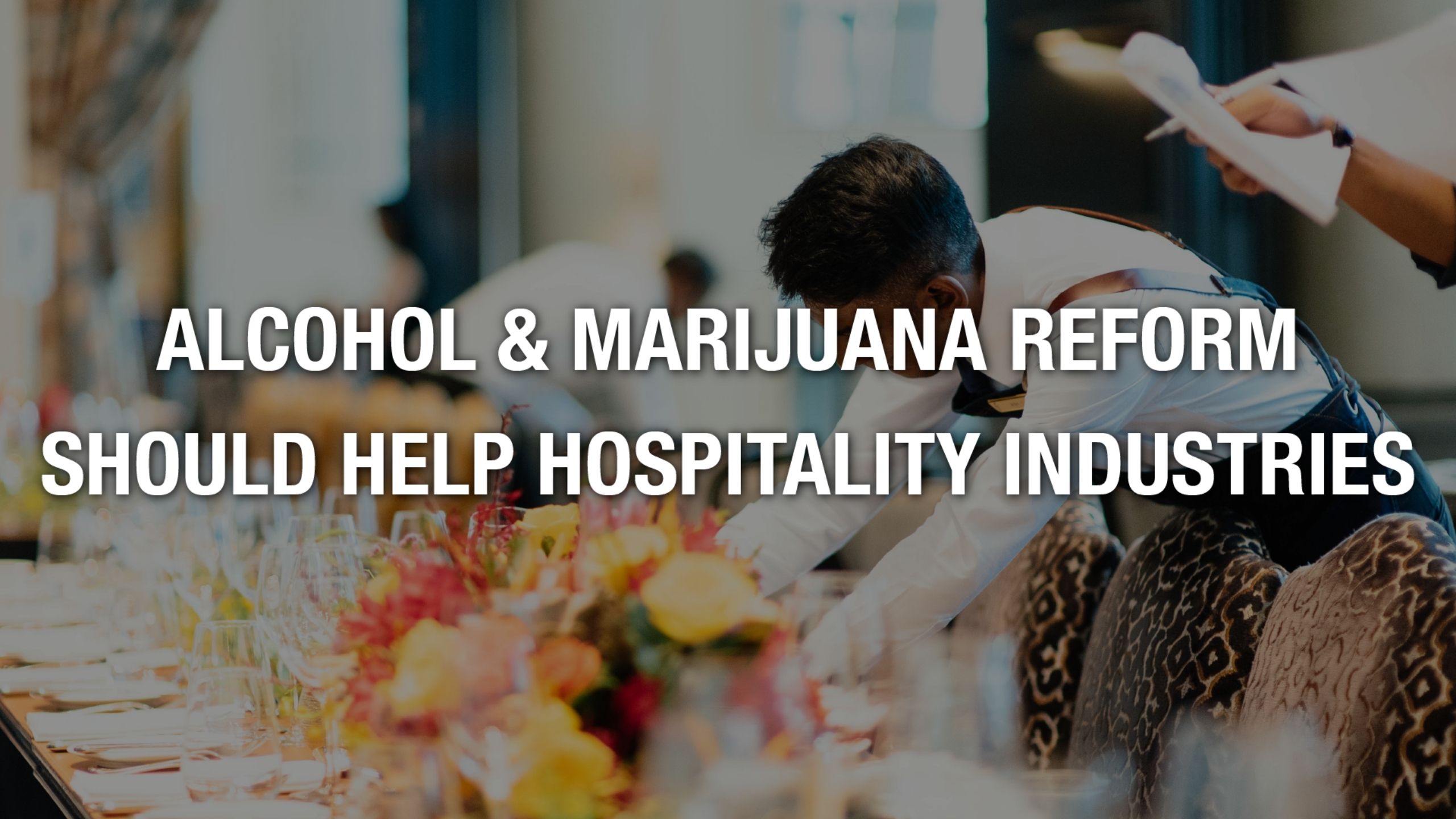 The pandemic has probably caused more damage to the "hospitality" industries than almost any others. Ironically, it has probably helped the cannabis industries more than most. Now, going forward we should look at how finally ending the remnants of both alcohol and marijuana prohibition can help repair the damage done.
Although Federal alcohol prohibition formally ended almost 90 years ago, various state laws continue to place pointless restrictions on the alcohol businesses. Ironically, the pandemic has nudged a number of states to finally be realistic.
A recent article on TheHill.com reported, "More than 30 states have enacted to-go or delivery statutes for alcohol. Earlier in the pandemic, New York allowed to-go sales. Legislation now under consideration would extend that permission for two years beyond the current emergency, in a bid to help restaurants and bars. Colorado has extended its to-go laws to 2021. In June, Iowa became the first state to make such a temporary change permanent. Ohio may do likewise."
The article also noted that, "There are some who maintain that liberalizing alcohol laws is dangerous. But multiple studies of alcohol control laws and various social outcomes, at least, suggest otherwise. Just last March, one of us (LaFaive) co-authored an analysis of alcohol safety and state control regimes.
"We divided states up into four categories by how strictly they control alcohol. We then looked at social outcomes such as "alcohol attributable deaths" from 2006-2010 and in each state. We found no obvious correlation between how strictly a state regulated alcohol and how many alcohol-related vehicle fatalities it had from 2006-2017. We also performed this exercise in 2012, and likewise found no clear links. Others have found similar results."
While alcohol is associated with a wide variety of social problems, it does not necessarily follow that easing restrictions on its sale will increase those problems. In fact, these laws can be counterproductive. For example, restrictions on alcohol deliveries or "take-out" might increase drunk driving.
As noted, most of these arbitrary restrictions were the result of the politics around the end of alcohol prohibition decades ago. Now we are in the midst of ending marijuana prohibition and politicians are again creating pointless restrictions "to protect the public," of course.
Also, as noted, the recreational marijuana businesses have actually boomed during the pandemic for a variety of reasons, even being declared "essential" at a time when bars have targeted as potential vectors for the pandemic. It is hard to imagine how traditional bars can "get back normal" any time soon. The same might be said of places like Dutch "coffeeshops" where marijuana "joints" or pipes were passed in a circle.
Until 2008, there were places in Holland that were both bars and cannabis "coffeeshops." When they had to choose one or the other, most chose to sell cannabis. However, it is still legal to smoke cannabis in bars and restaurants... if the owners allow it. Barney's Uptown on Haarlemmerstraat is my favorite bar/restaurant for wine and weed.
Meanwhile back in America, restaurants that are set up for proper ventilation and social distancing could be perfect for consuming cannabis with "vaporizers" or just bongs to limit "secondhand smoke." The "live music" venues have been especially hard hit, but allowing cannabis use, with social distancing, could help venues cope with smaller audiences.
Finally, we have to recognize that there are far fewer social and health problems associated with marijuana than with alcohol, and the objective should be to bring back jobs. The cannabis industries offer new opportunities for the hospitality industries.