Sponsored Article
Are Air Fryers Really Worth It? Where to Buy Them Online
Here's What You Need to Know About Air Fryers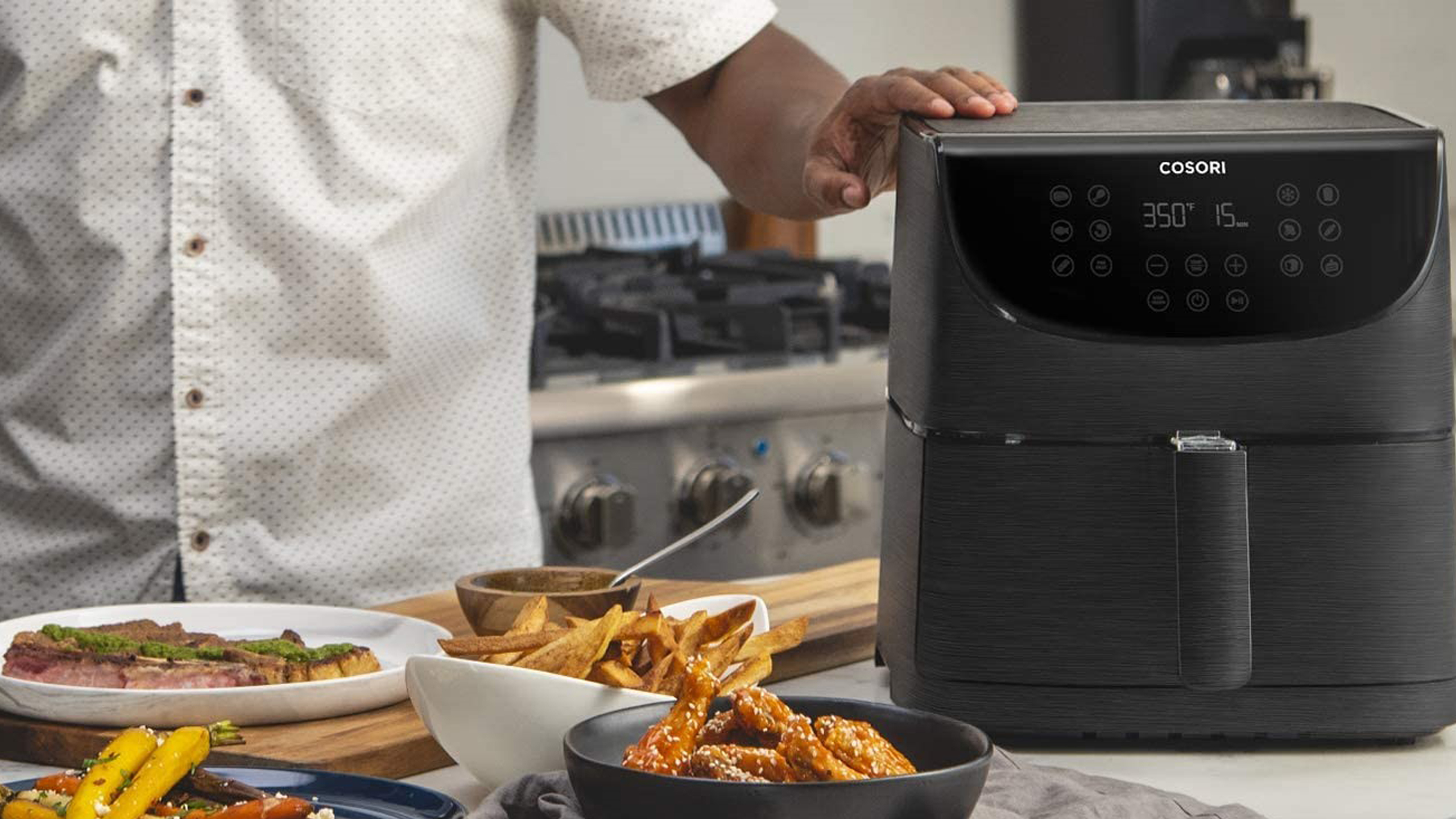 The delicious taste of your favorite fried chicken and french fries comes with a cost. It may, in fact, be harming you. Some studies show that frequent consumption of fried foods could be associated with a higher risk of cardiovascular mortality as they are usually high in calories, salt content, and fat.
If you're looking for a healthier alternative to your favorite fried dishes, you may benefit from owning an air fryer. Air fryers have become increasingly popular during the last few months, with a surge in Google searches and Facebook groups dedicated to air fryer owners and recipes popping up left and right. If you find yourself wanting to join the bandwagon but are still a bit hesitant, here are a few things you should know to help you make the decision:
How Do Air Fryers Work?
An air fryer is essentially a convection oven—but fans of it may argue that it's better. It mimics the results of deep-frying with nothing more than hot air. The whole concept may sound like a miracle, but the explanation is actually quite simple. This electric appliance uses a heating element and a fan that blows air in a circular manner, allowing it to reach all surfaces of the food to create a crisp crust.
While most deep-fried recipes may require up to 3 cups of oil, many air-fried dishes need only about 1 tablespoon, which means less oil compared to regular fried food. Some dishes won't require the use of oil at all. So if you're looking to cut down on fat intake or lose weight, using an air fryer may just be one of the best decisions you will make.
Where to Buy the Best Air Fryers Online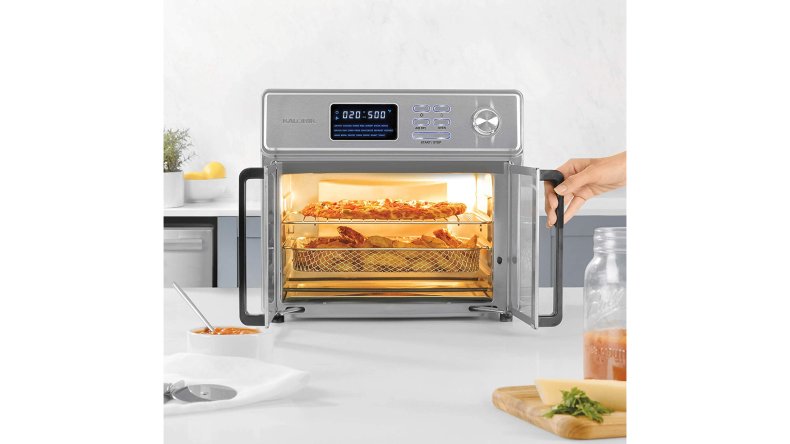 Not all air fryers are created equal. Whether you want one that's easy to use or something with special capabilities to add pizzazz to your meals, there are options available for everyone. Here are some of the top-reviewed air fryers currently available on Amazon:
Cosori Air Fryer Max XL (56,886 Reviews)
The Cosori Air Fryer Max XL is one of the most-reviewed air fryers on Amazon. It uses 85 percent less fat than when cooking through regular frying methods but still maintains the food's flavor. It can fit 5 to 6 pounds of a whole chicken and has 11 one-touch presets, including poultry, steak, shrimp, bacon, seafood, frozen foods, vegetable, root vegetables, french fries, desserts and bread, so you can just press one and be ready to cook. It also comes with 100 original recipes, so you can make the most of your air fryer and cook delicious meals at home.
Click here to order the Cosori Air Fryer Max XL.
Instant Vortex Plus Air Fryer Oven 7-in-1 With Rotisserie (34,483 Reviews)
With multiple built-in programs, including bake, boast, broil, toast, rotisserie, and dehydrate, you can quickly cook your favorite meals in this air fryer. It is also equipped with a one-step EvenCrisp Technology that results in dishes that are crispy on the outside but tender inside. Prepare your meals with little to no preheating time needed with this Instant Vortex Plus Air Fryer.
Click here to order the Instant Vortex Plus Air Fryer Oven 7-in-1 With Rotisserie.
GoWise USA 8-in-1 Digital Air Fryer (23,322 Reviews)
This sleek and stylish air fryer comes with a built-in touch screen menu that features eight cooking presets: pork, chicken, fries/chips, steak, cake, fish, shrimp and pizza. It has a wide temperature range, from 180 to 400 degrees Fahrenheit, that you can set in increments of 10. It also features a start-stop button and a built-in alarm function that reminds you to shake your ingredients every 5, 10, or 15 minutes. To ensure 100 percent customer satisfaction, this air fryer comes with a one-year warranty, 30-day guarantee, and lifetime support from GoWise Customer Care.
Click here to order the GoWise USA 8-in-1 Digital Air Fryer.
Ultrean Air Fryer, 4.2 Quart (15,473 Reviews)
Save time and money with this air fryer that helps you roast, grill, and bake your food evenly. It comes with an auto switch-off timer, so you'll never have to wonder if you left the fryer on, and a temperature setting that you can adjust at your convenience. Make use of the bonus recipe book this air fryer comes with to help you prepare snacks and meals for yourself or the whole family.
Click here to order the Ultrean Air Fryer, 4.2 Quart.
Ninja OS101 Foodi 9-in-1 Pressure Cooker and Air Fryer (34,788 Reviews)
This 9-in-1 air fryer lets you slow cook, steam, pressure cook, sear, bake, roast, fry crisp, broil, and keeps your meals warm. It is nonstick and dishwasher safe, plus it comes with a nesting broil rack to steam, broil, or store your food in the pot. It can hold up to 4 pounds of chicken and 2 pounds of french fries, and eliminate up to 75 percent fat.
Click here to order the Ninja OS101 Foodi 9-in-1 Pressure Cooker and Air Fryer.
Kalorik 26 QT Digital Maxx Air Fryer Oven (3,222 Reviews)
This multipurpose air fryer combines the functionality of 10 different appliances and comes with 21 presets for easy cooking. Its Turbo Maxx airflow system can produce temperatures of up to 500 degrees Fahrenheit and was designed to cook food 30 percent faster than other air fryers. Its 25-quart capacity is perfect for the whole family: It can roast a whole chicken, toast a loaf of bread, and even bake a whole 12-inch pizza to share.
Click here to order the Kalorik 26 QT Digital Maxx Air Fryer Oven.
Is Air-Fried Food Really Healthy or Is It Just Hype?
While you can air-fry food with no oil, some recipes may require a small amount, usually only around 1 tablespoon. Compared to the usual amount of oil needed to fry food in a pan and the calories that this process yields, the use of air fryers may be deemed more beneficial than regular fryers. Plus, having an air fryer makes it easier to cook things in terms of time and attention required. You can simply pop something in and come back to it without having to worry about burning your food.
If you are a fried-food lover, an air fryer is a great addition to your kitchen. It could be good not only for your taste buds but for your diet and convenience, as well.