Sponsored Article
Beat the Rush and Order a Mother's Day Bouquet from UrbanStems Now
You could level up your bouquet with one of these gorgeous Mother's Day arrangements from UrbanStems.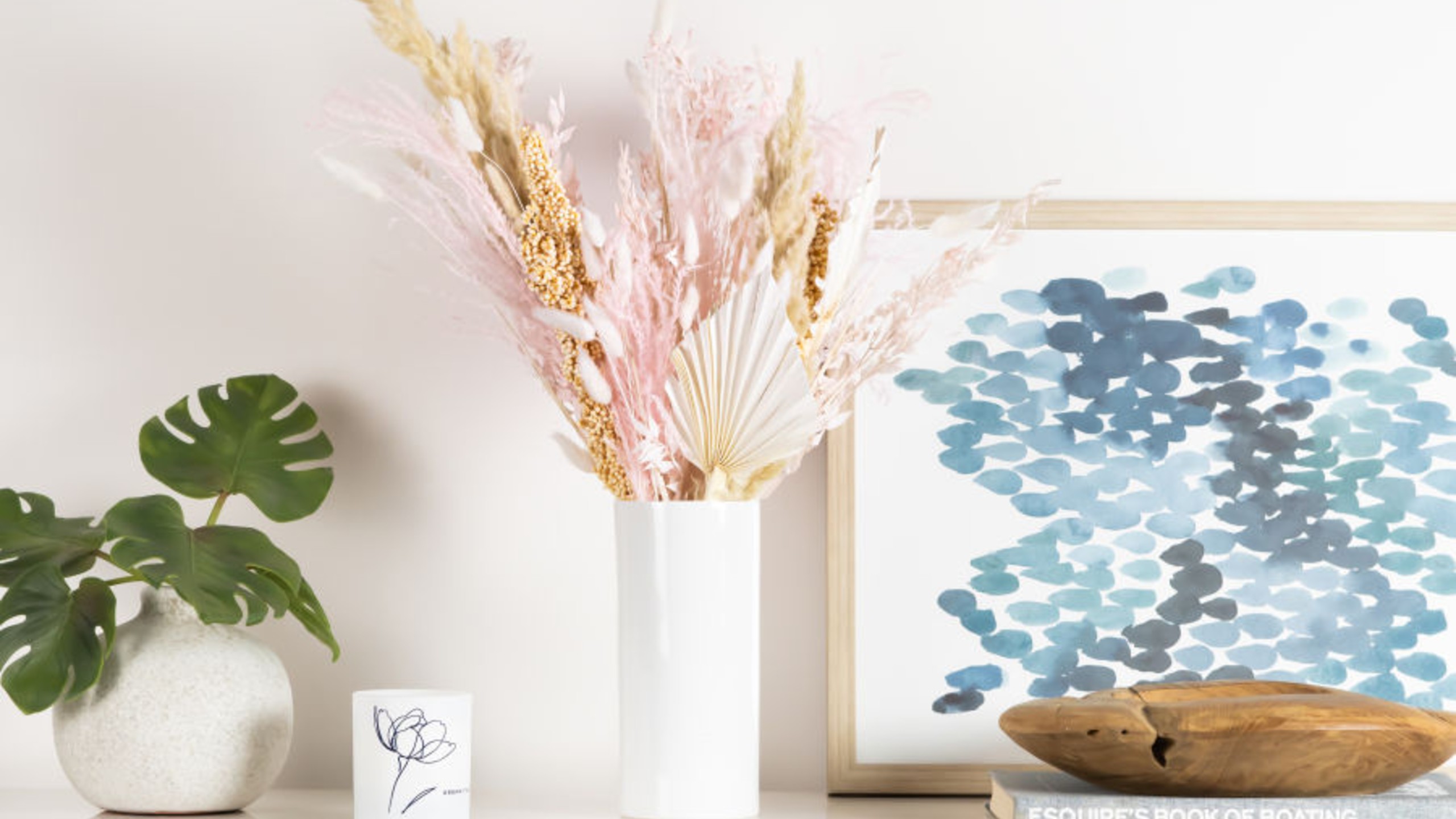 Mother's Day falls on May 9 this year, so mark your calendars because it's as good a time as any to give Mom her time to relax and unwind. You could make her feel even more special on this day with an exquisite floral arrangement from UrbanStems.
They have a special collection of Mother's Day blooms and houseplants for that mother figure in your life. Whether she's your mom, wife, sister, confidante, colleague, or neighbor, she deserves a bouquet that's made just for her.
Order your Mother's Day bouquet as early as now to beat the rush and ensure you get your first option. You can enjoy free shipping on orders worth $85 and up, and you also have the option to convert your payment into interest-free installments with Affirm.
Not sure about which bouquet to choose? Here's our list of 15 arrangements that your mom might love.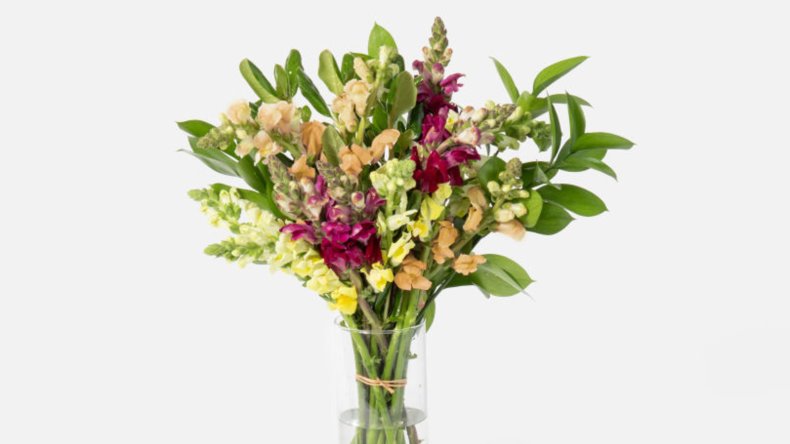 The Chloe
This bouquet could be a thoughtful gift for the mom who loves snapdragons and all things garden-inspired. The Chloe features an arrangement of these tall blooms in several colors nestled in a backdrop of deep greens. Its 21-stem version looks breathtaking on its own, but you can also choose the 42-stem double version for that extra "wow" factor.
Click here to order this bouquet starting at $48.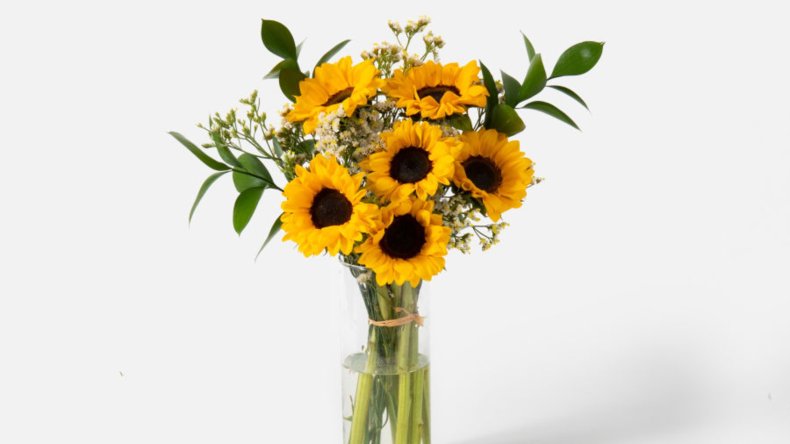 The Sonny
Nothing says "you're the sunshine in my life" quite like a cheerful arrangement of sunflowers delivered straight to Mom's doorstep. Sunflowers are given as a symbol of faithfulness and warmth, and this happy bouquet could be your way of saying thanks to Mom for taking care of you and the family.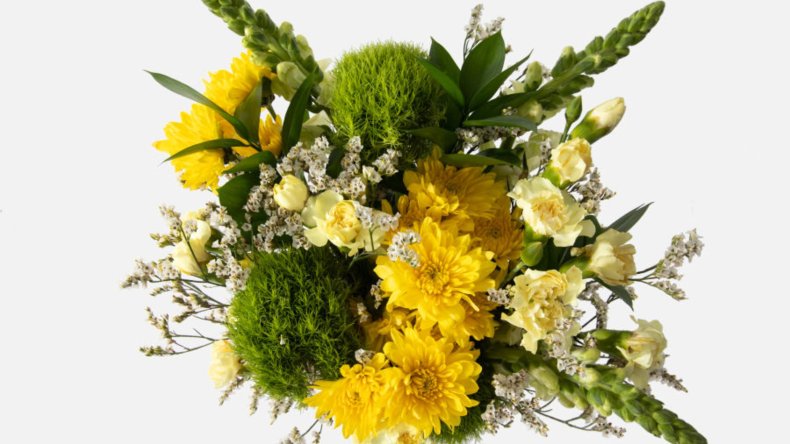 The Lucy
Did you know that carnations are the "official" Mother's Day Flower? You can't go wrong with this bouquet of mini carnations, bright yellow daisies, and snapdragons that could put a smile on her face. You could order this floral arrangement for the busy mom who needs a thoughtful pick-me-up on Mother's Day.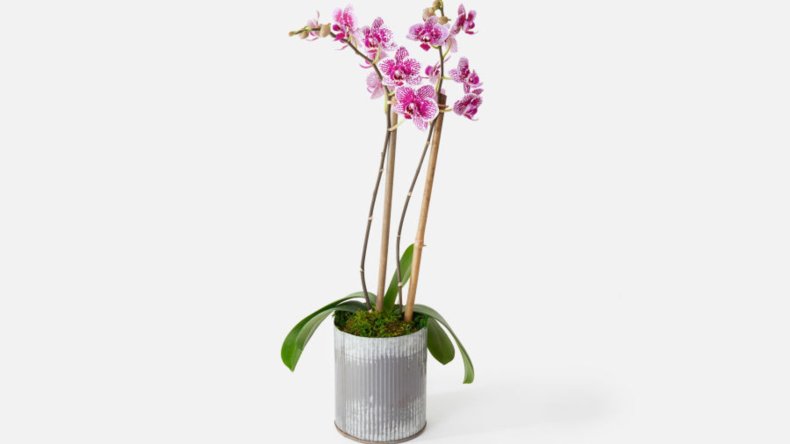 The Skye
Purple-speckled orchids could mean admiration for someone you hold in great regard, so this arrangement could be a gift for someone who deserves to be treated like a queen. This could also be a fitting Mother's Day gift for the mom who has babies and pets in their home. These blooms are non-toxic, and since they will come planted in their very own pot, they could last well beyond Mother's Day. You might be hard-pressed to find a more beautiful and practical gift than The Skye.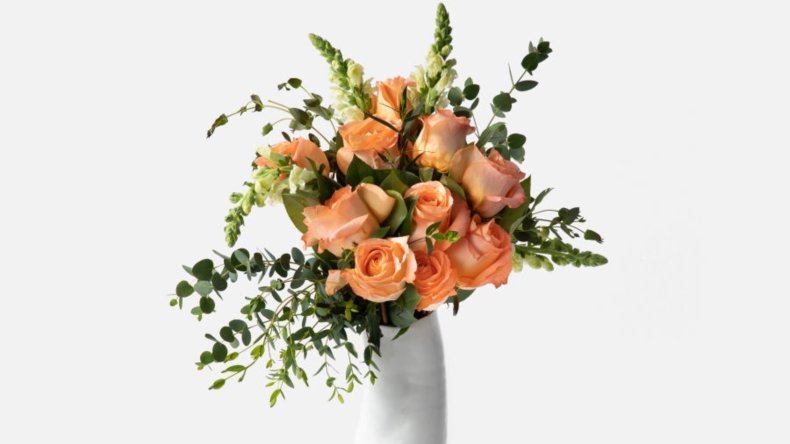 The Santorini
If Mom's been feeling under the weather and missing her annual getaways, you could cheer her up with this colorful bouquet named after the popular Greek island destination. This arrangement might help her recall her favorite vacation memories from her youth since orange roses are typically associated with the energy and fascination of a new relationship.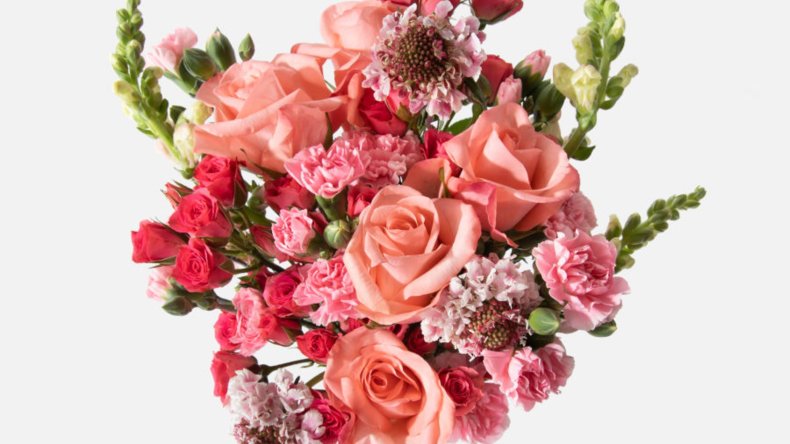 The Pink Champagne
Raise a toast to Mom with The Pink Champagne. This timeless collection of coral and pink-hued roses, carnations, and scabiosas could make her blush with happiness. Mother's Day or not, this bouquet might be a suitable gift for the most special woman in your life.
Click here to order this bouquet for $65.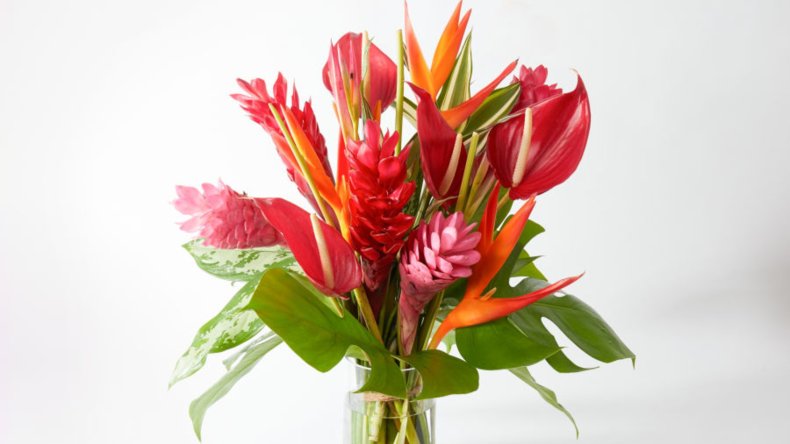 The Carlotta
Impress the most important woman in your life with this tropical-themed bouquet featuring South American blooms. This arrangement of anthuriums, ginger lilies, and Birds of Paradise flowers could make Mom feel more hopeful that better days will come. This arrangement has quite a story to tell, too—it will be assembled and shipped directly from Ecuador, just in time for Mother's Day.
Click here to order it for $85.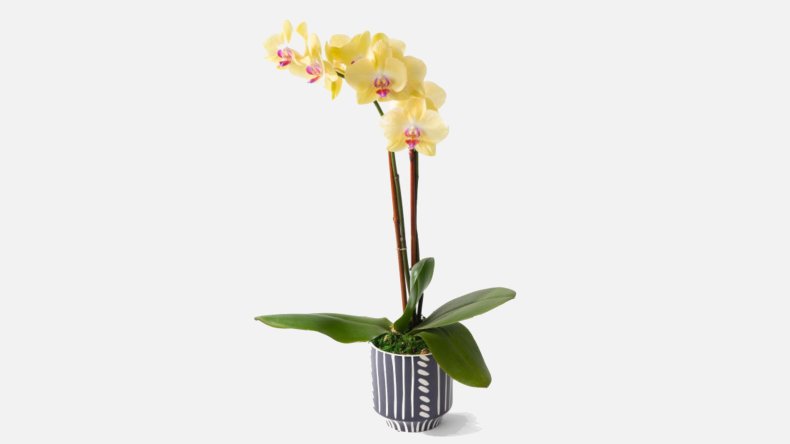 The Lemon Drop
If you're looking for an unforgettable Mother's Day floral arrangement this year, The Lemon Drop could be an excellent choice. These yellow phalaenopsis orchids planted in a hand-painted pot might actually last for months. The bright hue of these flowers could make the mother figure in your life look forward to new beginnings. It could also make for an eye-catching addition to her home office or kitchen window.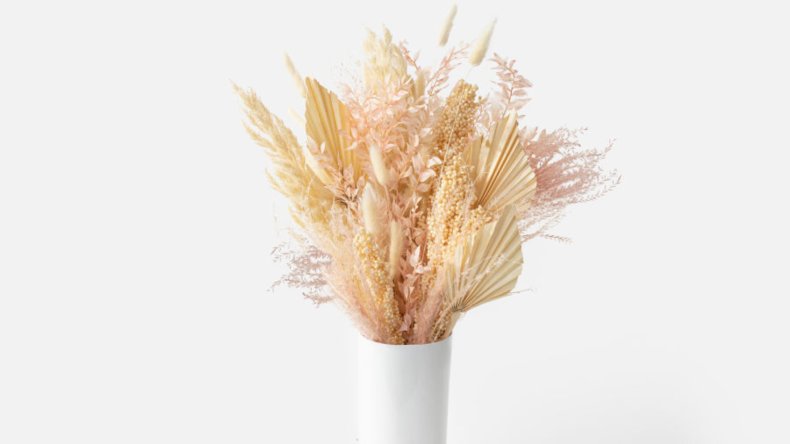 The Sanibel
This dried flower bouquet might have its fair share of posts on her feed, thanks to its on-trend aesthetic. The Sanibel features an Instagram-worthy arrangement of natural pampas, bunny tails, preserved razor ruscus, and sorghum. The pretty white vase also comes with your order.
Click here to buy it for $120.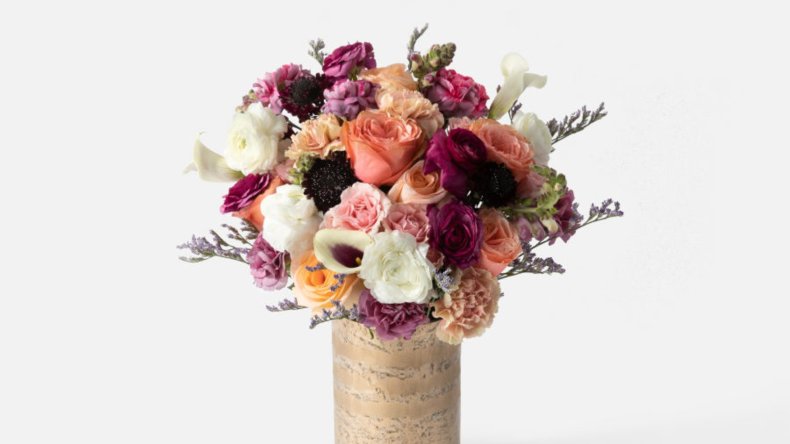 The Manhattan
Getting a bouquet for the chic mom in your life? Look no further—The Manhattan could be the one. This elegant arrangement of burgundy calla lilies, snapdragons, and roses might suit her sophisticated style. The pink florals in this bouquet may also help you say "Thank you, Mom" in a more thoughtful way.
Click here to buy this bouquet for $150.
Potted Plants For Mother's Day
If they're not into flowers, you could still celebrate the mother figure in your life with potted houseplants that are just as memorable as bright floral bouquets. Take your pick from these luscious greens that are also part of UrbanStems' Mother's Day collection.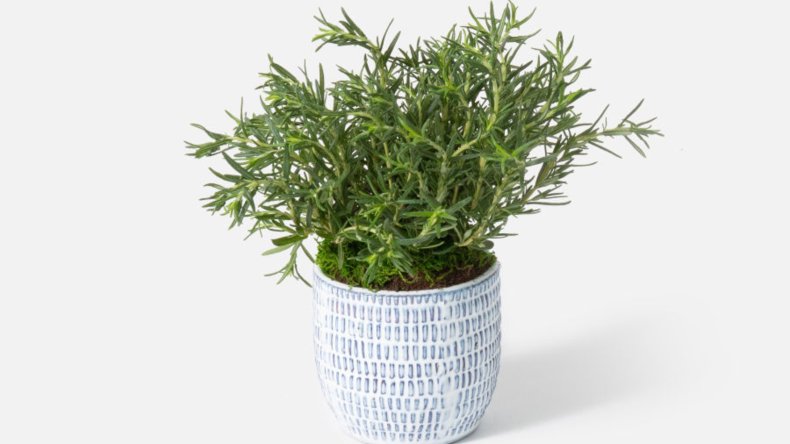 The Rosemary
This rosemary isn't just for eating. The mom who will receive this gift might still enjoy the other benefits of having this herb on her desk. A 2012 study showed that the rosemary's crisp scent could stimulate brain activity. Why not order one for yourself, too?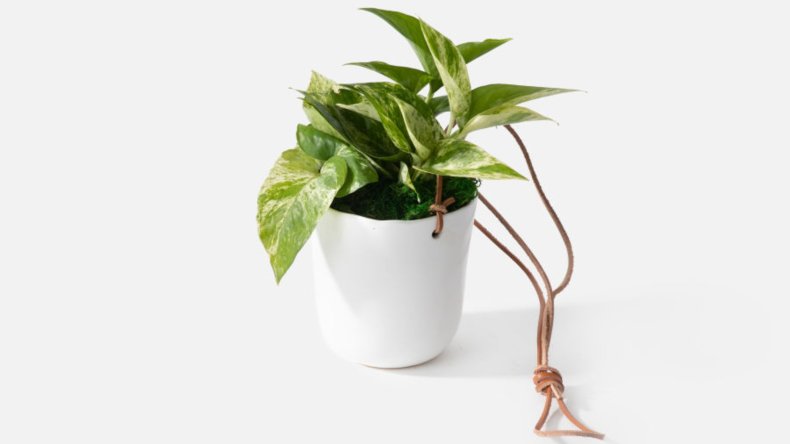 The Bohen
Pothos is a popular starter plant because it's easy to grow. A 2011 study also showed that it could have air-purifying properties as well. The Bohen features healthy pothos in a hanging pot, which could bring a touch of nature to the recipient's favorite corner of the house.
Click here to order The Bohen for $50.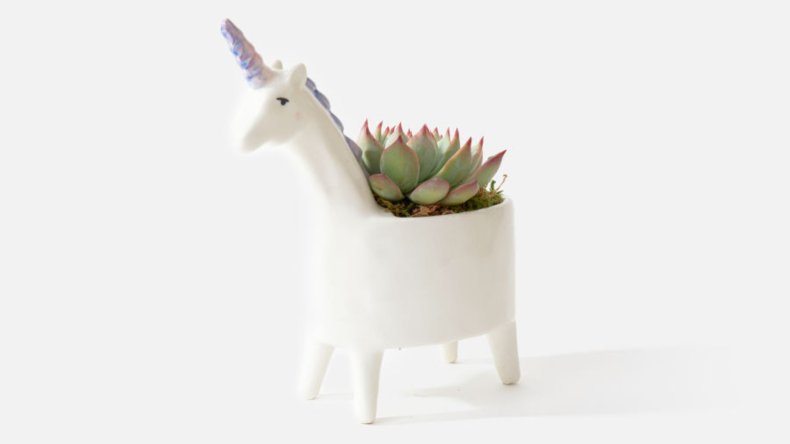 The Phoebe
For the mom who loves to stand out from the crowd, this unconventional version of a Mother's Day bouquet might do the trick. The Phoebe features a succulent potted in a quirky unicorn vessel. It could be right at home on her desk or nightstand.
Click here to order this item for $50.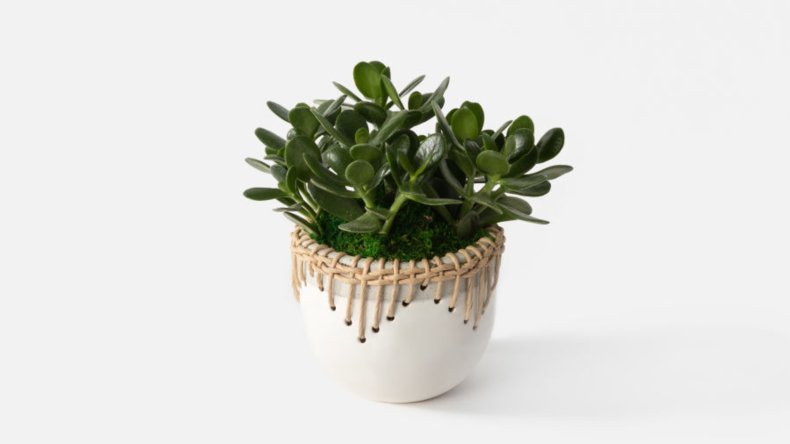 The Dakota
This potted jade plant comes in an eclectic vessel with rattan. This no-frills arrangement might be appreciated by plant moms who are just starting their home garden because The Dakota is relatively low-maintenance and easy to grow.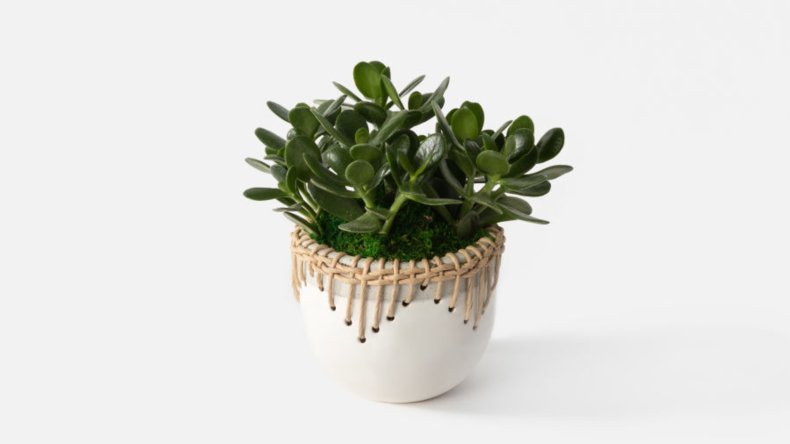 The Charleston
For the mom who wants plants in her home but has no time to take care of them, this ZZ plant might be a much-appreciated gift. These sturdy plants could thrive without daily watering, and since they don't need too much sunlight, you could leave them indoors, and they might still survive.