Sponsored Article
Before and After Photos of Men Who Managed Their Hair Loss—and How They Did It
Here are the products that worked for these men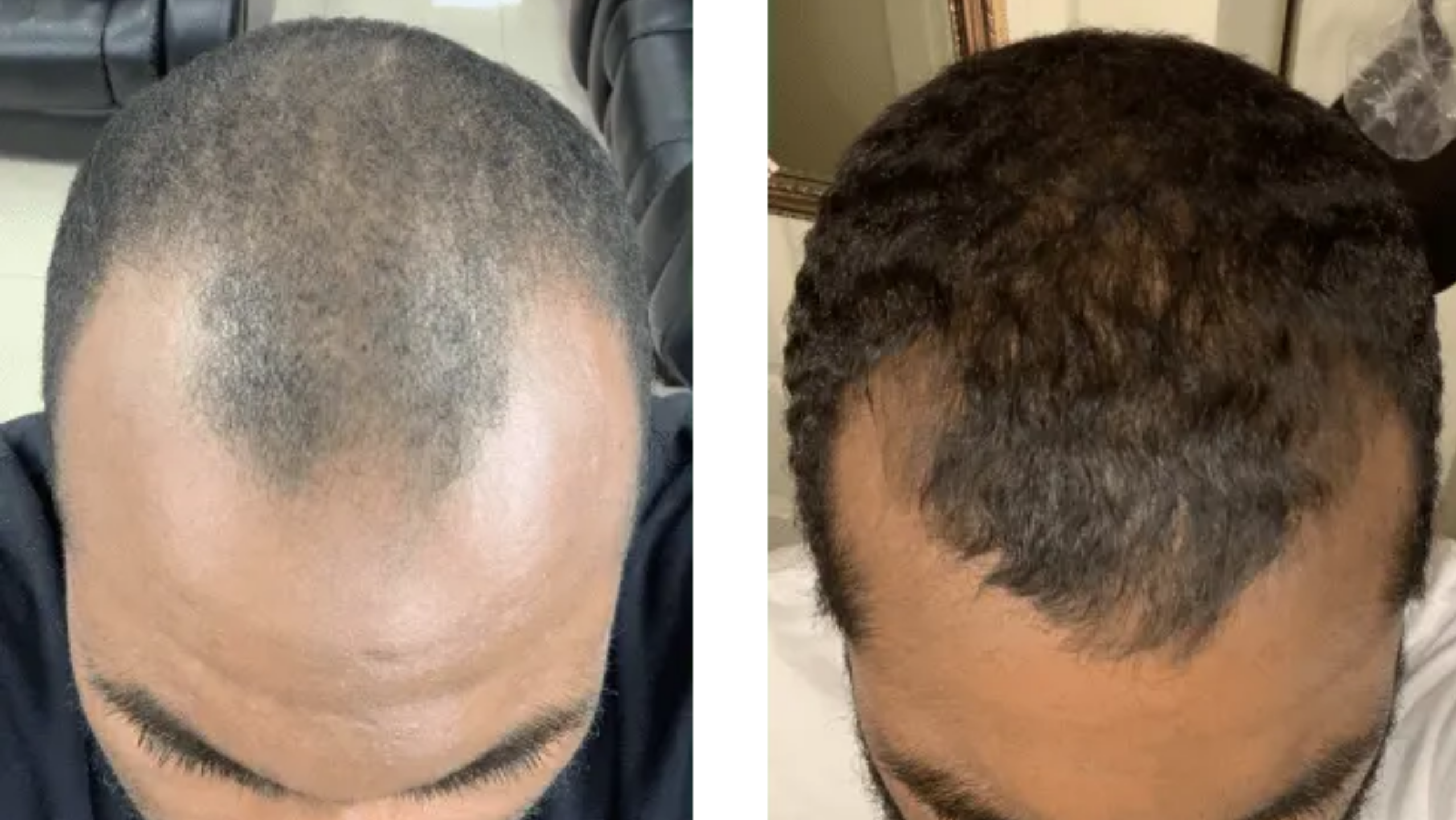 It's important to consult your doctors with any medical concerns, and before making any changes or adding supplements to your health plan.
While it has been reported that we usually lose around 50 to 100 hair strands per day, there are instances where the loss is more noticeable. Androgenetic alopecia, also known as male-pattern baldness, is a type of hair loss that could make the hairline gradually recede into the shape of the letter M. It usually begins in the area around the temples and could cause the hair on top of a man's head to thin.
According to Harvard Health, there might be many possible reasons for hair loss. It could be due to a side effect of a drug you're currently taking or your body's reaction after going through severe stress. A fungal infection called tinea capitis could also be a reason, as the fungi cause the hair strands to break and make the scalp go patchy and flaky. Constant hairstyling could cause significant damage to your hair as well, leading to traumatic alopecia.
Is Hair Loss Treatable?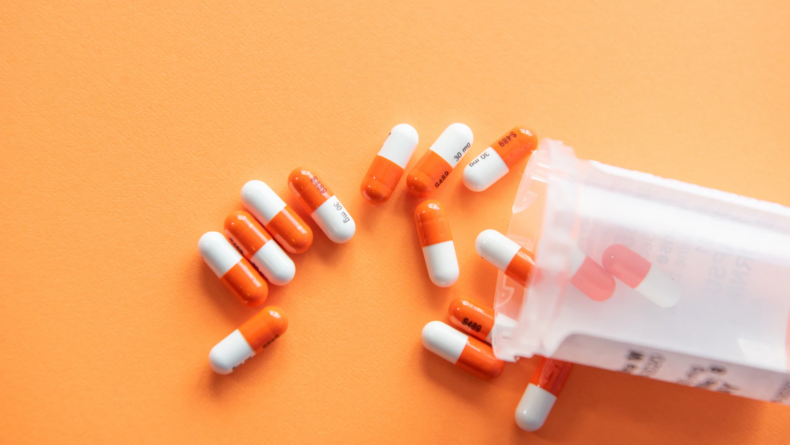 If the idea of going bald is not exactly enticing to you, the good news is there are some treatments you and your doctor could explore to help manage hair loss.
Finasteride
Also known as the brand Propecia, finasteride is an oral prescription drug for men reported to help either slow down hair loss or aid in new hair growth. It also aims to improve the quality of your hair, restoring its health. Supplements like Hims' Finasteride could be taken daily as a way to treat male pattern hair loss, preventing dihydrotestosterone (DHT) from damaging your hair follicles. According to Hims, DHT "can bind to receptors in your hair follicles and cause them to shrink, weaken and eventually die," causing hair loss.
Minoxidil
Minoxidil is a topical treatment commonly used to address male pattern baldness. It may help reduce hair loss and expedite hair growth with regular use. Hims' Minoxidil contains five percent of the solution that could aid in reactivating your hair follicles for improved hair growth. While it has been reported that an increase in hair loss may occur for first-time users, it is said to be usually temporary and, according to Hims, may be due to the hair follicles "rapidly moving through the hair growth cycle."
Vitamins
An article by the American Academy of Dermatology Association noted that doing a blood test could help determine if you lack specific vitamins like iron, zinc or biotin, which could contribute to hair loss. Another study suggested that appropriate supplementation could help make up for the vitamins your body lacks, which may aid in hair growth. Consulting your doctor could help you find a way to boost your vitamin intake without the dangerous side effects.
What Worked for These Men
With a lot of brands promising to deliver results, finding the right one could be challenging. But one company that is known for its hair loss treatments is Hims, a wellness brand that aims to provide effective and affordable solutions that are clinically backed and FDA-approved.
Here are some before and after photos from men who reportedly managed their hair loss using Hims products:
Brian, 48
"I tried several different options before. Hims' combined approach of all four methods, by far, created the best results."
Al, 54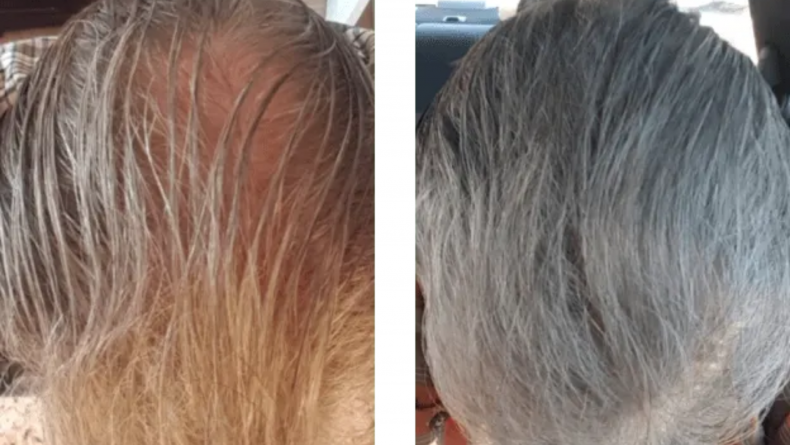 "The results speak for themselves and I recommend it to all of my friends."
Ryan, 29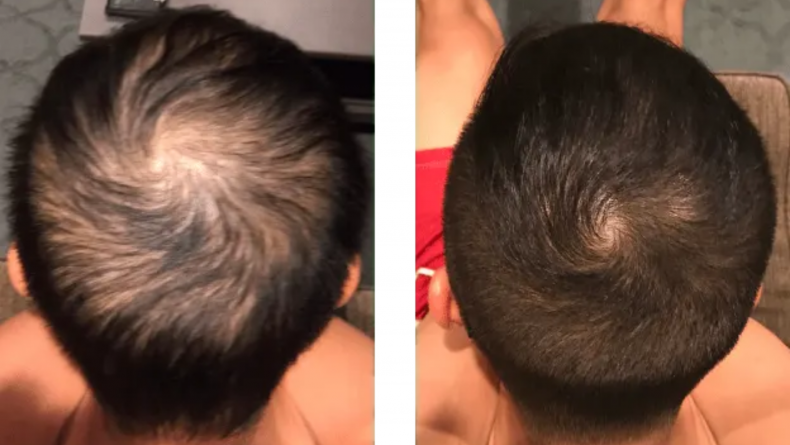 "Cost-effective and affordable. My hair keeps growing thicker, fuller, and at a fast rate."
Hims Hair Loss Treatment Products for Men
Hims is a brand that aims to help men take control of their wellness without them having to spend a fortune. To purchase products from Hims, the process begins with a breakdown of your problems through an online questionnaire. Depending on the result, the brand then gives you a list of possible remedies from their line of products, along with an option to consult a Hims medical provider for a more detailed analysis.
As not all men might feel comfortable opening up about their health problems, Hims provides an option that allows their customers to discreetly connect with its medical experts so they could receive appropriate treatment. Some of Hims' hair loss treatments are also prescription products, so an online consultation is required before you can make a purchase.
Hims Prescription Products
Below are the hair loss treatment products at Hims that require an online consultation.
Topical Finasteride and Minoxidil Spray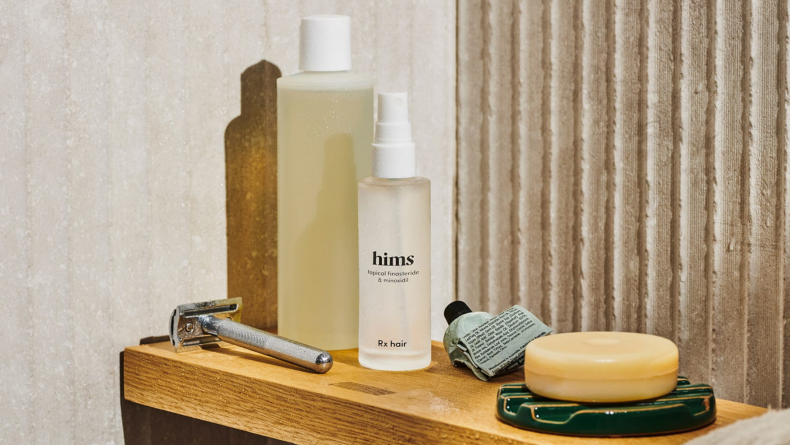 The two main ingredients in this product—finasteride and minoxidil—are FDA-approved for managing hair loss. Hims claims this product, which is only available after an online consultation, may help "regrow hair and prevent further hair loss with a lower risk of sexual side effects compared to finasteride pills." Formulated in spray form, this Topical Finasteride and Minoxidil Spray is designed for convenient use.
Get a consultation to purchase the Topical Finasteride and Minoxidil Spray here.
The Pill Finasteride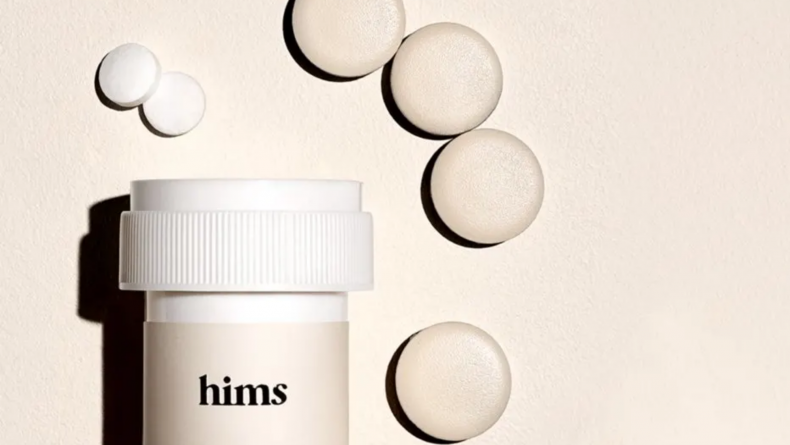 There are possible side effects to using finasteride, so before Hims lets you purchase this prescription drug, an online consultation is first required to see if this treatment is right for you.
Finasteride aims to treat male pattern baldness. With regular use, it may help you slow down the progression of hair loss and achieve thicker hair. It also works to stop testosterone from converting into DHT, the androgen responsible for follicle damage.
Get a consultation to purchase The Pill Finasteride here.
Hims Non-Prescription Products
These hair loss products at Hims are available for purchase anytime, with no prescription needed. They can be bought through a subscription plan or as a one-time purchase.
Thickening Shampoo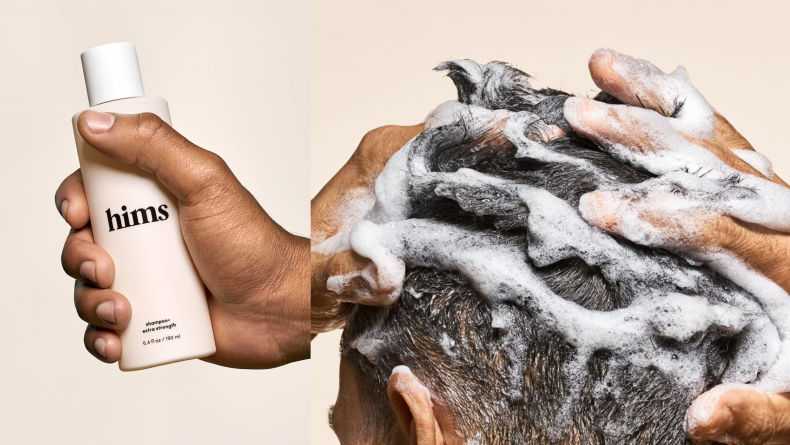 Price: $19
This shampoo is said to contain saw palmetto, which helps break down and eliminate buildup on your scalp to make way for better hair regrowth. It may also contribute to slowing down hair loss with regular use, helping you treat it before it gets worse.
User review: "I am very self-conscious about my thinning hair! The worst part is, it's not thinning evenly, just in the front. That said, I'd come to terms with it. It is what it is. But I will certainly still do everything I can to mask or improve this issue. I have very fine, straight hair. The Hims thickening shampoo really helps give my hair the volume it needs! It doesn't weigh my hair down or make it clump, [making it look] fuller. My hair also feels much healthier than my previous standard shampoo. This is definitely an improvement, and I would highly recommend!" —T.R.
Get the Thickening Shampoo here.
Thick Fix Conditioner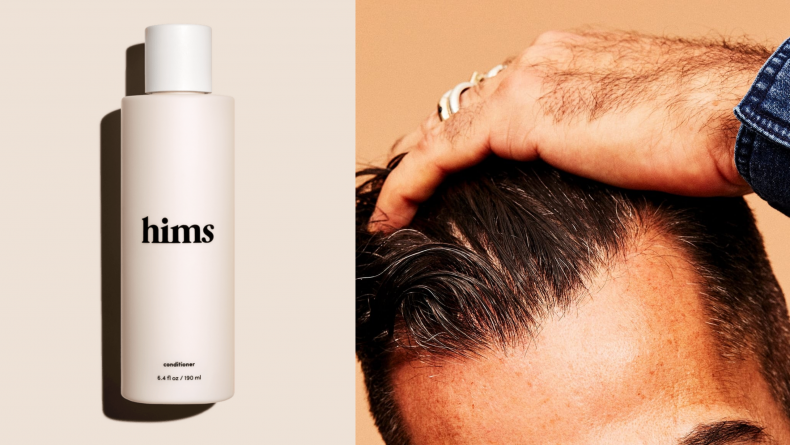 Price: $22
Using this conditioner along with the Thickening Shampoo could help keep your hair and scalp moisturized throughout the day. The niacinamide in this formula aims to stimulate your hair strands, help you achieve stronger and healthier hair and improve your hair's regrowth rate.
User review: "The product has a nice smell and comes in a nicely packaged bottle. After about a week of usage, I noticed my thinning hair started to look like it had more volume and appeared thicker. Overall, I am pretty impressed with the product." —Mike G.
Get the Thick Fix Conditioner here.
Biotin Gummy Vitamins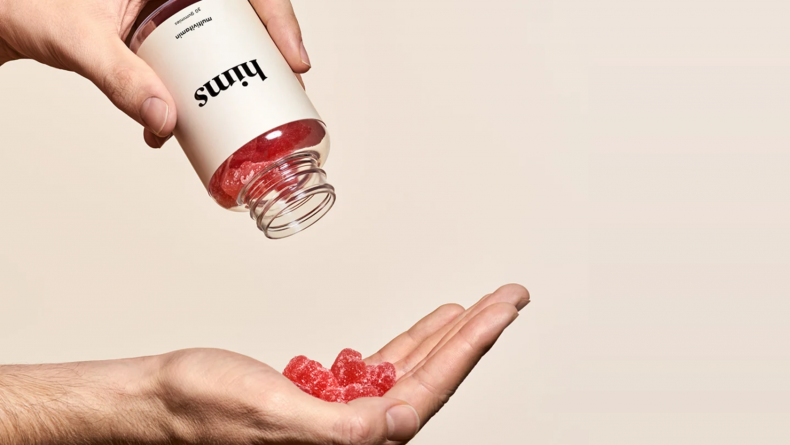 Price: $16
These Biotin Gummy Vitamins contain vitamin B7 that could help balance out your body's deficiencies that may be causing hair loss. Combining other vitamins like B12, B6 and D in its formula, this hair loss product could also help provide you with the energy you need for your daily hustle.
User review: "These gummies were easy to consume, and the watermelon mint flavor was wonderfully refreshing. I have noticed healthier-looking skin and nails and would recommend these to friends." —Joe S.
Get the Biotin Gummy Vitamins here.
Minoxidil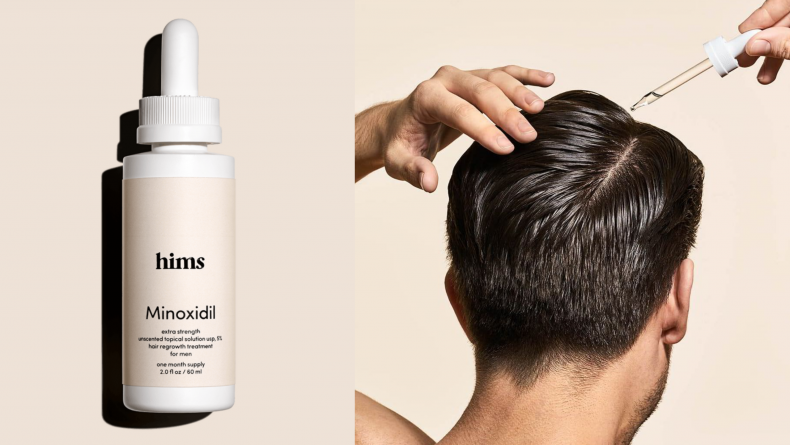 Price: $15
Hims' Minoxidil drops is a five percent topical solution aiming to regenerate inactive hair follicles for faster regrowth. It also aids in improving the blood circulation on your scalp and follicles, which could help you achieve fuller, stronger hair.
User review: "This hair regrowth solution by Hims is excellent. I've only used this for a short time, but I can already see some hair regrowth. You'll want to use it consistently day after day. If you're a male that has some hair loss, you should definitely try this product out. You can even use this with the Hims shampoo and conditioner to see even better results. I'd definitely recommend this to others. It's worth the purchase." —Bulldogsfs55
Losing hair could be caused by many reasons, but in some cases, the causes may be treatable. Finding a brand that has delivered results for others could help provide you with a glimpse of its effectiveness, and give you a chance to prevent and repair hair loss. But before that, make sure to consult with a physician who could help you determine the most appropriate hair loss treatment for you.
Disclaimer: Before and after images were shared by the customers. Customers' results have not been independently verified. Individual results may vary. Prescription products require an online consultation with a healthcare provider who will determine if a prescription is appropriate. Restrictions apply. Visit Hims' website for details and important safety information.