Sponsored Article
Best Adjustable Beds - Top Adjustable Mattresses and Bed Frames Reviews
Here are some of our favorite adjustable bases
Despite their names, adjustable beds aren't a mattress. First popularized in hospitals, adjustable beds are hinged foundations with electric motors that you put a mattress on. So, if you want an adjustable bed base, you'll still need an actual mattress to go with it.
Most adjustable bases offer features outside of just going up and down the way hospital beds do. This can include customizable presets to optimize your comfort, massage features, silent alarms, and USB charging ports. Of course, luxuries like these may impact the price tag.
Adjustable beds are an investment and can cost thousands of dollars. However, the countless health benefits—ranging from pressure relief to alleviating chronic pain—outweigh the cost.
Our article takes you through some of the best adjustable beds on the market today. Along with that, we go over what to look for in an adjustable bed and the numerous benefits of sleeping on an adjustable base.
Best Adjustable Beds
Best Adjustable Bases
| | | |
| --- | --- | --- |
| Adjustable Bed | Highlights | Price |
| Amerisleep Adjustable Bed+ | Full body massage, under-bed lighting, and USB charging ports bring this base to the next level | $1260 to $2100 |
| Zoma Adjustable Bed | With its optional legs, either use the base on its own or with an existing bed frame | $840 to $1680 |
| Amerisleep Adjustable Bed Base | Customizable presets allow you to get in your favorite positions easily | $840 to $1680 |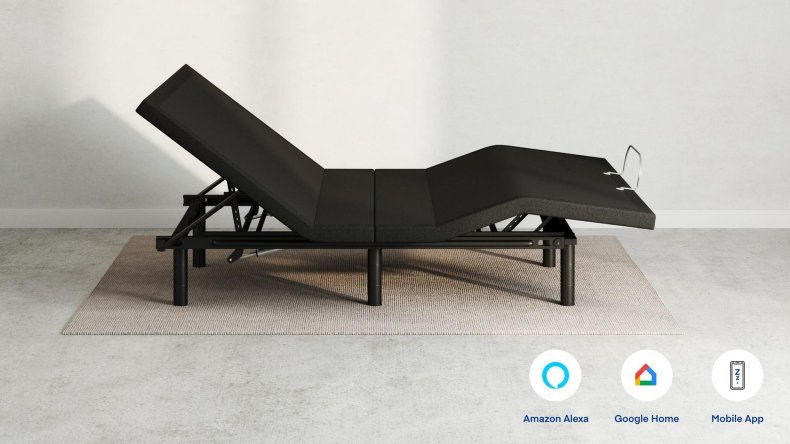 Check out the Amerisleep Adjustable Bed+ for one of the best sleeping experiences out there.
With most adjustable beds, as you lift your upper body, you're naturally taken away from your nightstand, making it harder to reach when you want a sip of water or to turn off your alarm. The Amerisleep Adjustable Bed Frame includes a Wall Glide design to offset this. As you lift your upper body, the base shifts backward so you're still close to your nightstand.
A cool feature with the Amerisleep Adjustable Bed+ is the full-body massage feature. With the press of a button, the adjustable base will provide a rolling wave massage, soothing your muscles and fostering deeper, undisturbed sleep.
On the sides of the Amerisleep Adjustable Bed+ are USB charging ports, so you can plug in your devices and have them nearby at all times. The charging ports are especially useful if you use your cell phone as your alarm clock.
In addition to a wireless remote and app controls, the Adjustable Bed+ is compatible with smart home devices such as Amazon Alexa and Google Home so you can issue voice commands. The bed's non-slip fabric also safely keeps your mattress in place as it adjusts. Its under-bed lighting is a neat extra that helps you get around safely at night.
The Amerisleep Adjustable Bed Base comes in sizes twin XL, queen, king, California king, and split king. The standard height of the bed base without the legs is 3 inches, but with adjustable legs at 6", 9", and 12". Together, the bed base can stand between 9 to 15 inches tall.
The Amerisleep Adjustable Bed+ comes with free shipping along with free in-home setup and a 10-year limited warranty.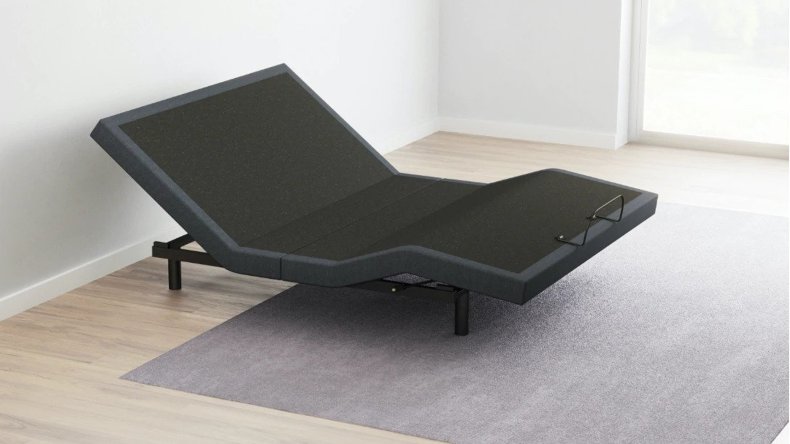 After a long day, the Zoma Adjustable Bed is built to work for you, accommodating your personal sleep needs to reduce pressure and pain, improve your breathing, and, ultimately, help you get a good night's sleep.
With the Zoma Adjustable Bed's wireless remote controller, you can save your favorite sleeping positions as a preset. These customizable presets include zero-gravity and flat presets so you can easily sleep in one of the more popular angled positions or flatten your bed in the mornings.
The Zoma Adjustable Bed is usable both on its own or on top of your existing bed frame. The base has a gray upholstery and optional legs so it offers a nice standalone design too. Conversely, if you don't want to replace your bed frame, simply rest the adjustable base on top of your current frame.
The Zoma Adjustable Bed is available in sizes twin XL, queen, king, split king, and California split king. On its own, the base is only 3 inches while the optional legs come in 3, 6, and 9 inch heights. With the legs, the base can be 6, 9, or 12 inches tall.
Zoma offers free shipping and a 10-year warranty with the Adjustable Bed in case of mechanical defects. The Zoma Adjustable Bed ships to your home for free and is straightforward to assemble since there are no tools required. All you need to do is twist the pieces together and you can instantly drift off to dreamland.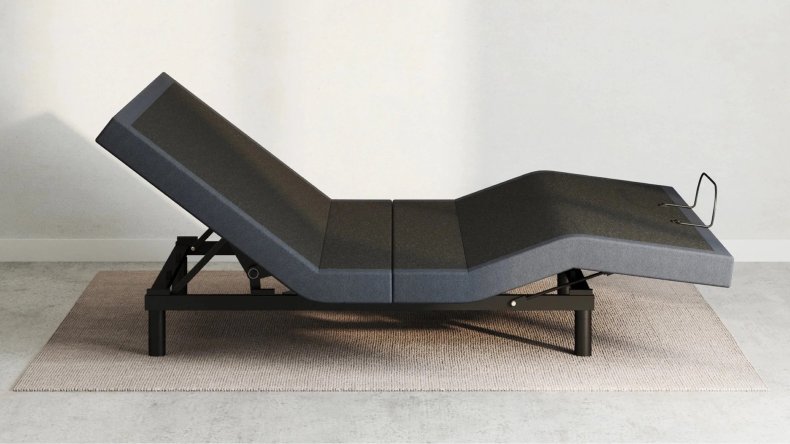 If you're on the hunt for an affordable, yet high-quality adjustable bed, take a look at the Amerisleep Adjustable Bed Base. With its sleek, wireless remote and near-silent motors, the Amerisleep Adjustable Bed has everything you could want from a hinged mattress foundation.
The Amerisleep Adjustable Bed Base is made from solid industrial-grade steel supports. The metal frame is wrapped in a muted gray polyester fabric designed to suit any bedroom. It also comes with optional adjustable legs made from steel so you can alter your bed's height as you please.
This adjustable base's head and foot articulation allow you to raise the bed's angle to suit any of your needs. The head tilt angles up to 60 degrees, while the foot tilt goes as high as 40 degrees.
Alleviate snoring, reduce pressure, and soothe joint pain with the Amerisleep Adjustable Bed Base's zero-gravity preset. In this position, both your upper and lower body are elevated to relieve pressure and minimize issues such as lower back pain.
The Amerisleep Adjustable Bed Base is available in twin XL, queen, king, split king, and split California king sizes. On its own, the base is 3 inches tall but with the optional 3, 6, or 9-inch legs, the bed ends up being 6, 9, or 12 inches tall in total.
A great aspect about the Amerisleep Adjustable Bed Base is that it's easy to assemble. You won't need any special tools to put the bed together so you'll get to sleep in no time.
Plus, you can get 30% off the Amerisleep Adjustable Bed Base and any of Amerisleep's mattresses, saving you hundreds if not thousands of dollars.
With Amerisleep's adjustable base, you score a 10-year warranty protecting the base from workmanship defects. It also comes with free shipping within the continental US.
How to Choose an Adjustable Bed
A lot goes into picking an adjustable bed. When deciding what adjustable bed you want, you have to take into consideration your ideal budget, how heavy you and your mattress are, what type of mattress you have, your preferred sleeping position, and what features you want from your adjustable bed.
Price
Adjustable beds are one of the most expensive mattress accessories out there. Unlike a comforter or cozy set of bed sheets, adjustable bases are a luxurious foundation with advanced technology.
Most adjustable beds are between $1000 to $3000, which, along with buying an actual mattress, can set you back thousands of dollars. Some adjustable base models are available for a lower price than $1000, which can be a good deal too if they come with at least a 10-year warranty and enough of the features you need to sleep soundly.
Weight Capacity
Adjustable bed frames have different weight capacities, often ranging from between 350 to 900 pounds depending on the quality and size of the frame. When looking at adjustable bed weight capacities, consider your weight and the weight of your mattress. If you share your bed, consider how much your partner weighs, as well.
Type of Mattress & Compatibility
The type of mattress you have can impact whether or not it's compatible with an adjustable bed and will properly adapt under the adjustable foundation. Ideally, your mattress should be 14 inches or less to properly flex under an adjustable bed. A mattress that's any thicker won't fold properly, minimizing the benefits you'd receive.
Let's take a look at which mattress types are compatible or incompatible with adjustable beds:
Memory Foam: The best memory foam mattresses are known for their pressure relieving properties, which is useful for sleepers with chronic pain. Coupled with an adjustable base, a memory foam mattress does wonders for soothing discomfort and making it easier to sleep.
Latex: Latex is a natural foam with great breathability, bounce, and durability. As a foam, it's flexible and adapts easily, so it's a great choice for an adjustable bed. With this in mind, latex is one of the more expensive types of mattresses.
Hybrid: Hybrid mattresses combine coils with a thick foam comfort layer. The best hybrid mattresses offer great air flow, support, and cushioning. In fact, they are among the best cooling mattresses, too. While some hybrid beds work fine with adjustable bases, be sure to double-check if your hybrid bed is compatible so as not to damage it or void its warranty.
Innerspring: Innerspring beds are affordable and common. These mattresses are known for being supportive and breathable. However, innerspring mattresses are almost always unsuitable for adjustable beds.
Water: Waterbeds are renowned for their excellent pain relieving capabilities, which seems like they'd pair great with an adjustable bed for optimal pain alleviation. However, waterbeds are heavy and require a specific bed frame. A waterbed won't function properly on an adjustable bed.
Air: Airbeds aren't all low-quality vinyl bags made for camping or the occasional guest. High-end airbeds feature solid support systems and quality comfort layers, equipping them for everyday use. Even then, airbeds won't flex properly with an adjustable bed and are at risk of breaking when folded.
Your Sleeping Position
How you sleep impacts whether or not you should be using an adjustable bed and how to use it best. Different positions are more or less suited for adjustable beds, as well. Sleeping in the wrong angle or position on an adjustable bed can lead to pain and difficulty sleeping.
Adjustable beds are best suited for back sleepers. Whether you want your feet up, your upper body elevated, or both, adjustable beds accommodate your ideal incline with no expense to your comfort or support. Zero-gravity and anti-snore positions on adjustable bases are typically optimized for back sleeping, as well.
Side sleepers are safe to use adjustable beds if they please. Still, it's better to only use the upper body elevation when side sleeping, perhaps to improve your breathing or alleviate pain. Raising your legs on an adjustable bed while side sleeping will curve your body unnaturally, leading to pain and pressure points. Just remember to pair your adjustable bed with the best mattress for side sleepers.
Stomach sleepers should avoid adjustable bases entirely. When stomach sleeping, you should remain flat at all times. An adjustable base will only unnaturally curve your spine, leading to severe pain and aches. There is no benefit of using an adjustable bed if you primarily sleep on your stomach.
Accessories and Features
While shopping for adjustable beds, consider what features you want and what different adjustable bases have to offer. There are a wide variety of fun features and accessories you can find with an adjustable base. Higher-end models usually include a larger range of additional features, while cheaper adjustable beds only have the basics.
Here's a quick overview of the features and extras you might want in an adjustable bed:
Remote Control: All adjustable beds will come with a remote for you to adjust your base and take advantage of its other features with just the click of a button. The main consideration with the remote is whether or not it's wireless or attached to the base with a cord, and whether or not it uses batteries or needs to be charged.
App Connectivity: Sometimes adjustable beds come with a mobile app. Even then, the adjustable beds will have a remote, but the smartphone apps just make controlling your bed a bit easier for some.
Upper and Lower Body Adjustments: Older types of adjustable beds were only capable of adjusting either the upper or lower body, not both. Nowadays, the standard adjustable bed is capable of adjusting both halves of the body.
Split Adjustments: For couples with split mattresses (split queen, split king, or split California king), consider looking for split adjustable bases. This means either half of the bed has their own adjustable functions so you and your partner can choose the angle for your side without affecting each other.
Range of Motion: Different adjustable base models have their own levels of elevation. The general range of motion for adjustable beds is between 60 to 80 degrees for the upper body and 30 to 40 degrees for the lower body. With this in mind, the lower body half of adjustable beds lift your legs upwards versus folding them inward.
Retainer Bars: An adjustable bed's retainer bars are what prevent the mattress from sliding off the frame when at an angle. Adjustable beds feature two small retainer bars for split adjustable beds or one large retainer for whole bed units. Occasionally, you may come across an adjustable bed with a decorative footboard as the retainer bar, though this is not the norm.
Massage Features: Select high-end adjustable beds include massage features. The most common type of massage feature has a rippling effect, but some adjustable beds include numerous massage options with different intensity levels.
Zero-Gravity Preset: Zero-gravity is a position where both the top and foot of the bed are elevated higher than the hips. Not only does sleeping in the zero-gravity position relieve pressure and pain, but it also increases blood flow. Some adjustable beds have a button preset for zero-gravity, but you can manually adjust any adjustable bed for a zero-gravity feel.
Anti-Snore Preset: Another common preset for adjustable beds is the anti-snore mode, which elevates the head of the bed. This ergonomic position opens your airways, minimizing snores and sleep apnea symptoms. Like the zero-gravity preset, most higher-end frames already have the preset included, but this doesn't mean you can't adjust a basic frame to the same angle.
Customizable Presets: Customizable presets allow you to save your favorite angles and positions on an adjustable bed frame so you won't have to fumble with your remote every night. The exact number of programmable memory positions an adjustable bed has will depend on the frame, but higher-end bases tend to have 2 to 3 preset options.
Customizable Height: More luxurious adjustable beds come with legs to make the bed taller or shorter. Changing the bed's height makes it easier to access, especially for those with limited mobility. The average leg height of an adjustable bed is between 5 to 12 inches.
Timed Adjustments: Albeit a rarer feature, some high-end adjustable beds have the option for you to alter the angles of the bed throughout the night.
Wall Glide Design: A common issue with adjustable beds is that, when you raise your upper body, it's hard to reach your nightstand. Wall Glide design solves this problem by shifting the bed backward as it lifts your upper body, ensuring you stay in line with your nightstand.
LED Lighting: Some adjustable bases have LED lights underneath the bed. Not only does it cast a gentle glow, but it helps you see where you're going at night so you don't bump your foot. The lights are either always on, remote-controlled, or motion-sensored.
Headboard Compatibility: If you don't want to buy an additional bed frame, some adjustable beds come with a headboard already attached. Others might have screws in place or optional brackets where you can attach a headboard of your choice to the frame.
USB Charging Ports: It's common for adjustable bases to feature USB ports on the sides of the base. The handy USB ports make it easier to charge your devices and plug in any other USB-charged items you may have.
Company Policies
Before you purchase an adjustable bed, it's always important to read through the brand's policies, including its warranty and shipping information.
Nearly all adjustable beds include a warranty covering workmanship defects, though they'll vary from full or limited warranties. A full warranty means the manufacturer will cover the full cost of either replacing or repairing the adjustable base, while a limited warranty means the manufacturer only partially covers repairs or replacements, while you'll pay a small fee.
Most adjustable bed manufacturers feature a combination of full or limited warranties. For instance, say you have a 10-year warranty. In that time, a brand may offer full coverage for the first few years, but limited coverage for the remaining time.
When it comes to shipping, some companies charge a shipping and handling fee while others offer free shipping and, in some cases, they may offer white glove delivery and free in-home setup.
White glove delivery is a service where the company sends workers to both deliver and assemble your adjustable bed for you. It's a great option if you're busy, don't have the tools to assemble furniture, have limited mobility, or cannot carry heavy furniture on your own. Some brands may provide white glove delivery for free while others offer it for an extra fee.
Benefits of Sleeping on an Adjustable Bed
Although adjustable beds are great, comfort-wise, there are a wide number of health benefits that come with sleeping on an adjustable bed. Some of the benefits to using an adjustable base include reduced physical pain, minimized snoring and sleep apnea symptoms, and improved blood flow.
Easy to Use
One of the great things about an adjustable bed is that it's straightforward to use. There's no manual crank to adjust the angle of the bed thanks to the remote controls adjustable beds come with, and many include angle presets. The ease of use with adjustable beds makes them that much better, so even the most physically impaired individuals can enjoy excellent comfort.
Improves Breathing
Problems such as snoring and obstructive sleep apnea (OSA) are a result of your airways being blocked at nighttime.
Obstructive sleep apnea, in particular, can cause you to wake up throughout the night due to the lack of air, leading to fatigue and, if left untreated, may cause strokes, heart attacks, or heart disease. Although snoring isn't as detrimental as sleep apnea, it's still disruptive, especially if you share a bed.
When flat on your back, the soft palate in your mouth collapses, blocking your throat and worsening your breathing. Elevating your upper body with the help of an adjustable base opens your airways, making it easier to breathe and minimizing symptoms of both OSA and snoring.
Soothes Chronic Muscle Pain
Struggling with chronic pain is a common ailment, with roughly one-fifth of adults in the US dealing with it at some point. Chronic pain correlates to your sleep quality—the pain makes it hard to sleep, and the lack of sleep worsens your pain.
This never ending cycle of poor sleep and worsening pain doesn't have to last forever. Whether you have back, neck, hip, or shoulder pain, using an adjustable bed base may be the answer to soothing your pain, at least well enough so you can sleep properly.
Adjustable beds evenly distribute your body weight, reducing pain-causing pressure points and tension around your spine. Some adjustable beds include zero-gravity and head articulation presets, further reducing pressure and pain in sleepers.
You'll also want to consider shopping for the best mattress for back pain to go along with your adjustable base.
Relieves Arthritis Symptoms
Arthritis is a condition causing the joints to inflame. By sleeping on an adjustable bed, your symptoms may improve since the base evenly distributes body weight and soothes pressure. Minimizing your joint pain makes it easier to sleep, which further improves pain.
Another reason arthritis sufferers may want to use an adjustable bed is because the frames are easier to get in and out of than a flat mattress. All you need to do is lift your body up with the frame—rather than sitting upright on your own—and scoot out of bed, putting less strain on your body in the mornings.
Increases Blood Circulation
When you sleep flat on a mattress, it gets harder for blood to pump efficiently throughout the body. Poor blood circulation can lead to coldness, achy muscles, and cramping. In the long-term, you may also end up with skin, nerve, vein, and artery damage, along with fatigue.
Lifting your upper and lower body up may help improve blood circulation throughout your body, reducing various symptoms and protecting you from long-term physical damage.
Reduces Acid Reflux and Heartburn Symptoms
Acid reflux and heartburn can be a result of eating fatty, spicy, or salty foods, pregnancy, and digestive issues. Regardless of the cause of your acid reflux or heartburn, lying flat only worsens it because gravity will carry your stomach acid up to your throat.
Elevating your upper body with an adjustable bed keeps your stomach acid where it belongs and also improves digestion, minimizing your risk of experiencing acid reflux or heartburn.
Aids People With Limited Mobility
Individuals with limited mobility may be pregnant, elderly, or disabled, making it harder to complete everyday tasks, such as getting in and out of bed.
Adjustable beds help you easily sit upright in bed to read, relax, or watch TV. Sleeping on an adjustable bed aligns the spine and lifts up the legs, alleviating pain and improving circulation to reduce swelling around the legs and ankles, issues common for physically limited persons.
Enhances Sleep Quality
If you struggle with insomnia or getting enough sleep, the excellent support and comfort of an adjustable bed may be able to boost your rest. Rather than focusing on being uncomfortable or in pain, you can enjoy peaceful, undisturbed slumber.
Frequently Asked Questions
Can you use a regular mattress on an adjustable bed?
Yes, there's no special type of a mattress for an adjustable bed. So long as your regular mattress is a compatible type of mattress with an adjustable bed, it will work fine.
Latex, memory foam, and most hybrid mattresses are suitable for adjustable beds. Conversely, innerspring beds, waterbeds, and airbeds won't function well on adjustable frames. Generally, most of the best mattresses in a box work perfectly with adjustable bed bases.
Do you need special sheets for an adjustable bed?
No, there are no specific bed sheets made exclusively for adjustable bed frames. Still, it's worth looking into deep or extra-deep pocket sheets. They're made for thicker mattresses, but are a good way to prevent your sheets from popping out of place when your bed is at different angles.
You might consider getting sheet suspenders for your sheets as well, elastic strips designed to keep the corners of a fitted sheet together so it won't pop off of the bed. Some fitted sheets feature technology similar to sheet suspenders, though this is uncommon.
Do hybrid mattresses work with adjustable beds?
Most, but not all, hybrid mattresses are compatible with adjustable beds. Most hybrid mattresses are flexible so they curve well with the moving base. So long as you choose a hybrid mattress with durable, high-quality materials, it will maintain its shape and support for years to come.
Of course, always double-check to see if your hybrid mattress's manufacturer says it's a compatible mattress for an adjustable base. Using a hybrid mattress with an adjustable bed when it goes against your manufacturer's guidelines may void your mattress's warranty, meaning you'll be in charge of paying for your bed's repairs and replacements in full.
Do firm mattresses work with adjustable beds?
Some firm mattresses might be too rigid to bend with an adjustable bed. The best firm mattresses, however, can if they're made of high quality memory foam, latex foam, or hybrid materials. Just be sure to check with the mattress manufacturer before using it on your new adjustable bed.
What is the average cost of an adjustable bed?
Adjustable beds usually sell for between $1000 and $3500 depending on the different features the base has.
While they're much pricier than the average bed foundation or accessory, adjustable frames have countless more benefits, making up for the added price. Some adjustable foundations also feature decorative headboards and footboards, so you wouldn't need to buy an extra foundation.
You'll also want to invest in the best mattress you can find, since an amazing adjustable bed might not be as effective with just any cheap mattress. Of course, if you're keen to save money, we also recommend the best budget mattresses but you can even get a good deal shopping for any of the best online mattresses.
For extra savings, you can shop the best Memorial Day mattress sales this year too.
Are adjustable beds worth it?
Despite their high price, many adjustable bed owners say the benefits outweigh the costs. Adjustable beds can improve your sleep tenfold and they last roughly 10 years. If you use the adjustable features every night over their 10 year lifespan, the value you get more than makes up for the cost.
If you're still on the fence about whether or not you want an adjustable bed, consider what features you like about the bases and why. If you're only interested in an adjustable bed for the USB charging ports and under bed lighting, an adjustable bed probably isn't the right choice for you.
On the other hand, if you want an adjustable bed to alleviate pain, improve your posture at night, or perhaps minimize your snoring, then it's worth looking into. Since you'll want to keep it for a while, you'll ideally want a larger size adjustable bed so you don't outgrow it. If it's a queen size, make sure to pair it with the best queen mattress, too.
Conclusion
Adjustable beds have a high price-point, but the good outweighs the bad with these motorized mattress foundations. You get to rest in your favorite sleep positions, enjoy pressure relief, breathe better, and have an all-around more relaxing nighttime experience.
There's a lot to consider before making the leap and investing in an adjustable bed base. For instance, you'll also have to determine which mattress to pair with it, whether it's a mattress you buy in stores or one of the best mail order mattresses. But with our guide, we hope you can narrow down your options. With that, take the time to read customer reviews, compare popular models, and decide what features are a must in your adjustable bed. Knowing your needs makes shopping for an adjustable frame much easier in the long run.