Sponsored Article
Best Black Friday Mattress Deals
Want to save on a new mattress? We outline the best Black Friday mattress deals to help you find the perfect bed at a budget-friendly price.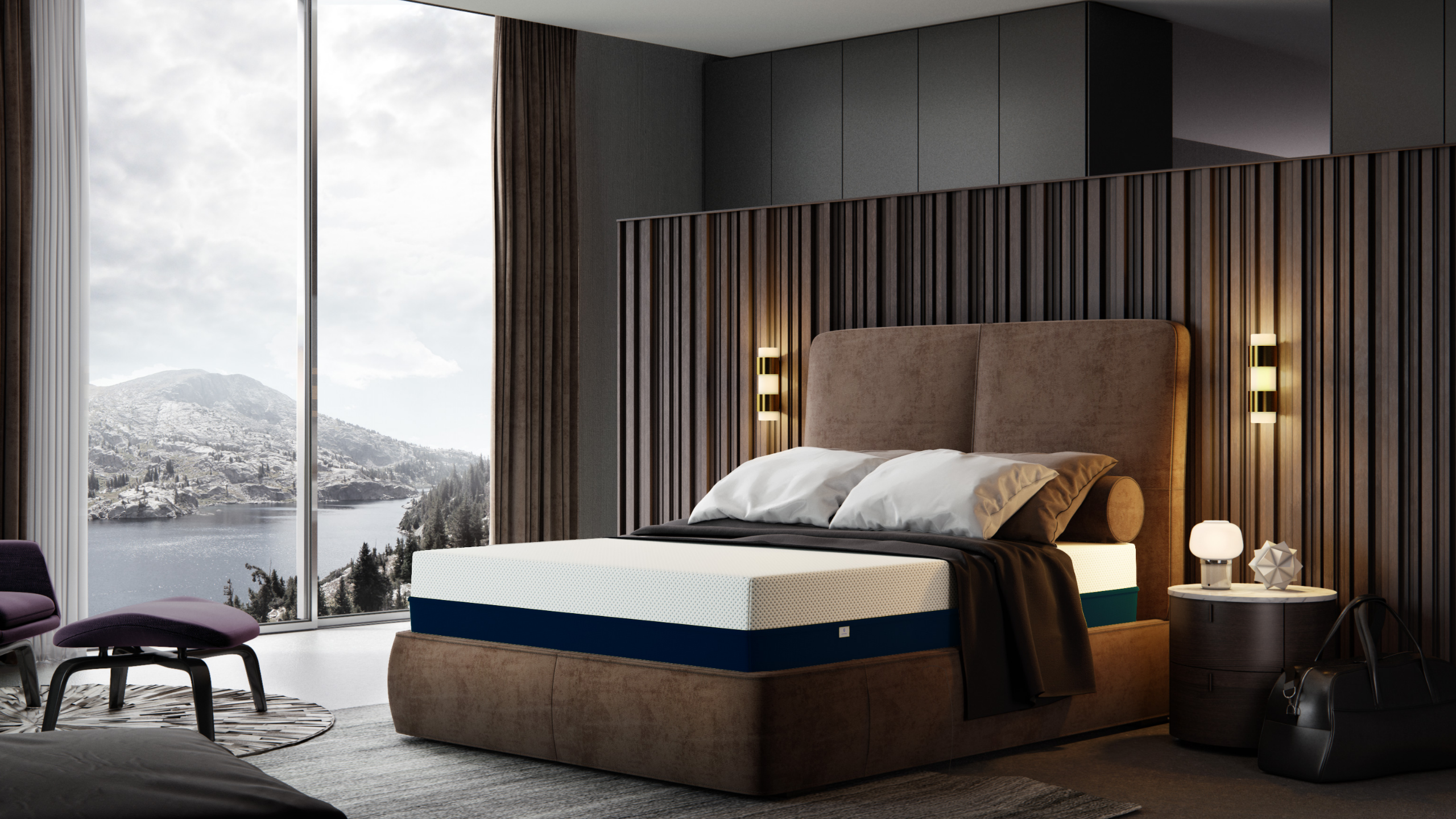 On Black Friday, many mattress brands offer massive savings on their most popular models. If you've been putting off replacing your old, lumpy bed, now is a great time to upgrade to a more supportive and comfortable mattress. Every type of bed, including memory foam, hybrid, and more is on sale this Black Friday—making it a perfect time to shop.
To help you find the best deal possible and avoid the crowds, we highlight the best Black Friday sales. Plus, we put together a short buyer's guide to determine which mattress type and mattress firmness is right for you.
Best Black Friday Mattress Deals
Best Black Friday Mattress Sales
Below are the best Black Friday mattress sales. We take an in-depth look at the firmness level, materials, sleep trial, warranty, and other unique features of each mattress. With a better understanding of each bed's comfort level, value, and quality, you are sure to find one that fits your needs and your budget!
Amerisleep is a popular, eco-friendly brand offering mattresses in five different firmness levels, each designed to suit various sleep needs. This Black Friday, all Amerisleep beds are on sale for 30 percent off—this includes their five memory foam mattresses and three hybrid models. Plus, you can save even more when bundling an Amerisleep bed with one of their advanced adjustable frames.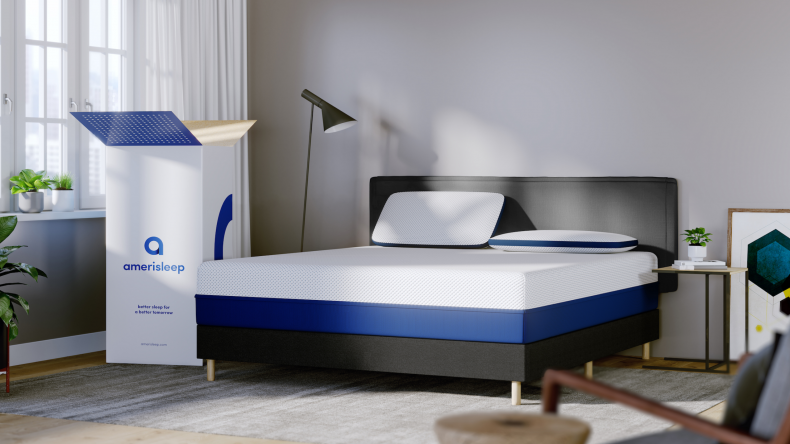 Amerisleep's AS3 mattress has a medium comfort level suitable for several different sleep positions, including back, side, and combination sleeping. With over 6,500 verified customer reviews and an average rating of 4.7 out of 5 stars, this mattress has a proven track record of customer satisfaction.
The top layer of the AS3 features three inches of Bio-Pur®—a plant-based foam that doesn't retain heat the way traditional memory foam does. This material is also highly responsive, non-toxic, and resistant to dust mites, mold, and mildew. By using renewable plant-based oils, Amerisleep creates a safer, non-toxic sleep space.
Two inches of Affinity foam with HIVE® technology makes up the middle layer of the AS3. HIVE® features hundreds of hexagonal cutouts that respond differently to pressure. Near the hip and shoulder joints, cutouts are spaced further apart for more cushioning. Along the back, cutouts are closer together and stabilizing. This combination ensures the spine is always neutral, so pressure and tension don't build up in the muscles.
At the base of the AS3 is seven inches of Bio-Core®—a support foam that prevents indentations and premature sagging. This material ensures the mattress keeps its sturdy structure through decades of use.
All layers of the AS3 12-inch mattress are backed by a CertiPUR-US® certification, guaranteeing it is free of harmful chemicals and flame retardants. With a removable and machine-washable cover, it is easy to keep this bed clean and germ-free.
To ensure you are happy with your purchase, Amerisleep offers a 100-night sleep trial with every mattress. If the firmness level is not right for you, one of their Certified Sleep Science Coaches will work with you to exchange the mattress or provide a full refund. Their 20-year warranty also covers sagging deeper than .75 inches.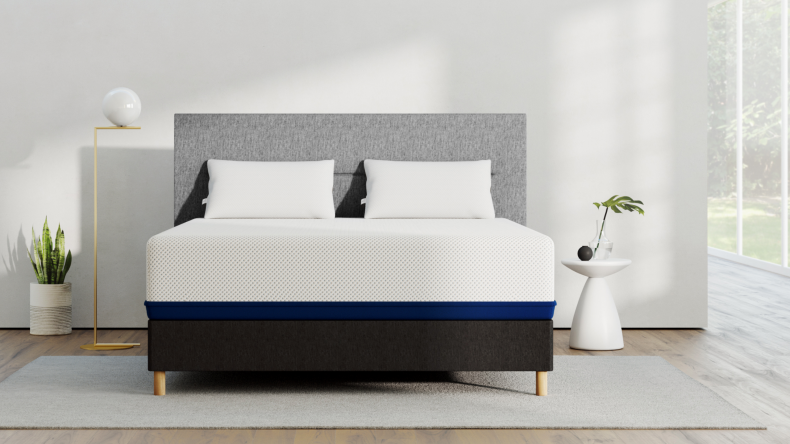 Side sleepers in need of a softer sleep surface often prefer the Amerisleep AS5 Hybrid. This mattress has a combination of pocketed spring coils and Bio-Pur® foam—Amerisleep's plant-based memory foam. Like all of their beds, the AS5 Hybrid is available for 30 percent off during their Black Friday mattress sale. This is a huge savings on a supportive, yet soft hybrid mattress.
With three inches of plush Bio-Pur® foam, the top layer of the AS5 Hybrid contours to the body to prevent pain-causing pressure points. The softness of this foam is ideal for side sleepers and those living with chronic pain. The use of non-toxic, plant-based oils also makes this material safe for all sleepers, including those with severe allergies and other sensitives.
Beneath the Bio-Pur® comfort layer is two inches of Amerisleep's Active Flex foam—a responsive material that reduces excess sinking and spinal misalignment. Since soft mattresses tend to cause sinkage, Amerisleep includes this buoyant foam to keep the hips and shoulders lifted. When you sleep with your spine in a safe, neutral position, you naturally wake up with fewer aches and pains.
Supporting both foam layers is an eight-inch base of pocketed spring coils. These coils are zoned to provide a balance of firmness and cushioning to targeted areas of the body. The slight bounce of the coil springs is also perfect for heavy sleepers because it won't cause the sensation of being "stuck" in the mattress.
The AS5 Hybrid comes with a 100-night sleep trial, so you have plenty of time to test out this mattress and make sure it is right for you. A 20-year warranty also protects against manufacturing and structural defects.
Zoma Mattress

- Best Memory Foam Mattress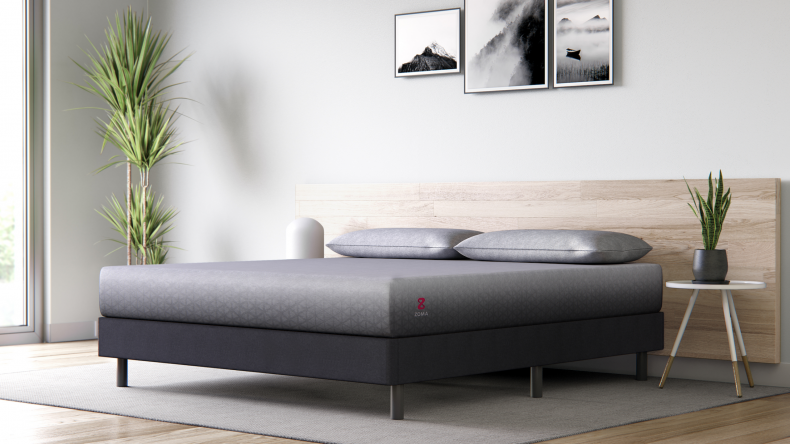 The Zoma Mattress has recently become popular among professional athletes because it promotes deep relaxation and muscle recovery. When the body is weightless and supported, you are more likely to slip into deeper, more restorative sleep. For those with an active lifestyle, quality sleep means faster healing times, better performance, and less pain. Plus, during Black Friday, Zoma is offering $150 off on this advanced memory foam mattress.
The top layer of the Zoma features their gel-infused memory foam with Triangulex™ technology. This unique technology includes triangular cutouts in distinct zones to cradle the joints and ease tension. The gel infusion pulls heat and moisture away from the surface of the bed, while the AirCloth cover promotes air circulation. This combination makes it one of the best cooling mattresses, allowing you to get a comfortable night's sleep.
Reactiv™ foam, which has a latex-like bounce to prevent over-sinking, sits in the middle of the Zoma Mattress. This layer keeps the hips and shoulders aligned so the spine can rest in a natural position.
A durable poly-foam called Support+ makes up the base of the Zoma Mattress. This sturdy foam maintains the mattress's structure and reduces sagging. A CertiPUR-US® certification also guarantees all three layers of the Zoma are safe and non-toxic.
You can take advantage of Zoma's 100-night sleep trial to make sure the bed is right for you. Their 10-year warranty also covers manufacturing defects and indentations greater than .75 inches.
Zoma Hybrid

- Best Hybrid Mattress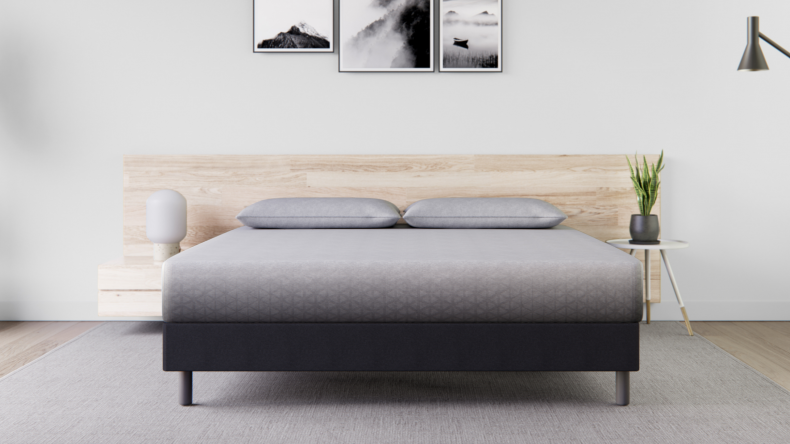 Like their memory foam mattress, Zoma's Hybrid has a soft and contouring comfort layer and a medium firmness suitable for most body types. The spring coils in the Zoma Hybrid give it a slight bounce. Back sleepers and heavy sleepers often prefer the combination of foam and spring coils because it provides both pressure relief and buoyancy.
The gel memory foam with Triangulex™ technology keeps the mattress cool, while the triangular cutouts cradle and lift the body for proper support. Beneath this layer, Zoma's Reactiv™ foam reduces sinking and keeps you resting in a safe position.
The base of the Zoma Hybrid features 7-inch pocketed spring coils, designed to prevent pressure points while cradling and supporting the body. This base is also reinforced with edge support, making it easy to hop in and out of bed without falling off.
The Zoma Hybrid is available in all standard mattress sizes for $150 off during this year's Black Friday mattress deals, which is an excellent price for an already affordable hybrid mattress. Plus, this price includes their 10-year warranty, 100-night sleep trial, and free shipping to anywhere in the continental U.S.
Vaya Mattress

- Most Affordable Mattress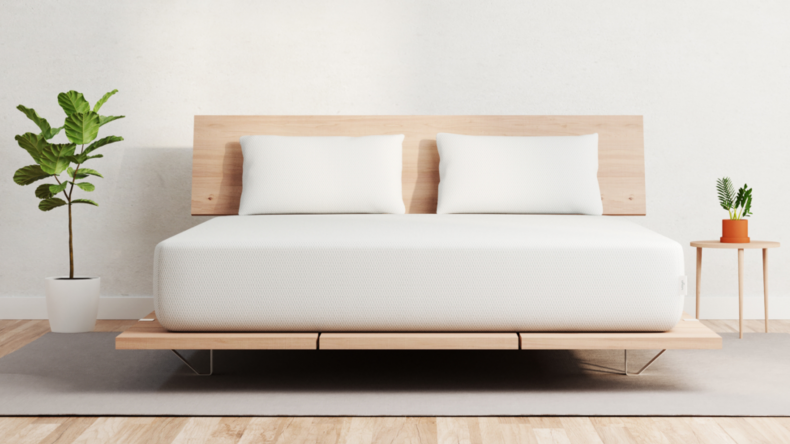 The Vaya is a new, affordable foam mattress with a universal comfort level. For Black Friday, this mattress brand is offering $300 off plus free pillows on any size mattress, including twin, twin XL, full, queen, king, and California king size mattresses.
The two layers of foam in the Vaya Mattress are hypoallergenic and resistant to dust mites. With a CertiPUR-US® certification, you can rest assured this mattress is free of harmful chemicals and additives.
Both foam layers in the Vaya work together to provide pressure relief and stability for a good night's sleep. The Vaya Foam in the comfort layer is soft and conforming, but it also has a natural elasticity to prevent over sinkage. This material protects against painful pressure points while keeping you in a safe, comfortable sleep position.
The base of the Vaya is made with a durable poly-foam to support the soft layer above and prevent indentations. You can place the Vaya on most modern bed frames and foundations, including slatted frames and adjustable bases.
Not only is the Vaya Mattress affordable, but it also comes with a 100-night sleep trial and a 10-year warranty. The quality and value of this bed make it one of the best Black Friday mattress deals!
Finding the Right Mattress For You
Getting a great price on your new mattress is important, but it is not the only thing you should consider as you shop. Your new bed should be compatible with your body weight and preferred sleep position. Below, we explain how to select a mattress firmness suited to your needs.
Mattress Firmness and Sleep Positions
Many mattress companies use a firmness scale from 1 to 10—1 being the softest and 10 being the firmest. Your body type and sleep style often determine the most supportive and comfortable firmness for you.
1 to 2 - Soft Mattress: Ideal for lightweight sleepers (130 pounds or less) who experience minimal sinking, and side sleepers who need more contouring to reduce pressure points.
3 to 4 - Medium-Soft Mattress: This firmness level is perfect in the

best mattress for side sleepers

and lightweight individuals. It provides cushioning to the hips and shoulders with a slight firmness to reduce sinking.
5 - Medium Mattress: Medium mattresses are perfect for side, back, and combination sleepers, and couples with different sleep needs. These beds offer a balance of firmness and cushioning to protect the joints and prevent spinal misalignment.
6 to 7 - Medium-Firm Mattress: Suitable for back sleepers, heavier individuals (230 pounds or more), and those with back pain. The firmer feel keeps the body lifted and aligned, making medium-firm beds the best mattresses for back pain.
8 to 10 - Firm Mattress: Firm mattresses tend to work well for stomach and back sleepers. The best firm mattresses also keep the heaviest parts of the body from sinking too far into the mattress and forcing the spine to bow.
Shopping Online vs. In-Store
While Black Friday mattress sales have typically taken place only at brick and mortar locations, this is no longer the case. Many companies now offer the best Black Friday deals online. Most people prefer online shopping since it allows them to avoid the crowds and long lines. Plus, online mattress brands offer lower prices, longer sleep trials, and a more transparent warranty. You can easily find the best mattress in a box when you shop online, too.
If you shop at a brick and mortar mattress store, be sure you are clear on the warranty guidelines and return policy. In many cases, warranties do not apply to mattresses sold at third-party retailers. Also, warranty claims must go through the manufacturer, not the store.
Also, it's important to note that it can take up to 6 weeks to become accustomed to a new mattress, so make sure you have plenty of time to test it out. The 30-day return policy most mattress retailers offer may not be enough time to determine if the bed is right for you. If you prefer a longer sleep trial, you may want to shop online. The best online mattress brands offer 100-night sleep trials with free shipping and free returns. Plus, the mattress can be sent right to your doorstep with safe delivery and zero contact.
Frequently Asked Questions
Is Black Friday the best time to buy a mattress?
Black Friday is a great time to save on a mattress; however, most online brands offer seasonal discounts. Labor Day, Memorial Day, Presidents Day, and Independence Day are also some of the best times of the year to shop for a mattress. That said, Black Friday is the perfect opportunity to score a good deal on your next mattress before the year ends.
Will mattress stores have Black Friday sales?
Yes! Most mattress stores offer discounts on select models on Black Friday. Once you determine the type of mattress you want, research the sales being offered online and at various retailers. Shopping around can help you find the best deal possible.
Are Black Friday mattress deals better than Cyber Monday mattress sales?
It often depends on what you are shopping for. Black Friday sales usually apply to big-ticket items like mattresses, appliances, and cars, while Cyber Monday is a good time to save on technology and smaller gift items. Typically online mattress brands offer the best Cyber Monday mattress deals, though. During these sales, you can save on the best memory foam mattresses and the best hybrid mattresses, too.
When it comes to mattresses and bedding, Black Friday sales were previously applied only to in-store purchases, but now, many online mattress companies offer discounts too.
Can you negotiate the price of a mattress?
You may not be able to negotiate the price of a mattress when shopping online, though you don't want to have to bargain at a traditional mattress retailer either. Often, you're better off purchasing from a direct to consumer mattress company that eliminates the middleman and passes those savings onto you.
What is a good price to pay for a mattress?
A high-quality mattress typically costs between $1000 to $2000 for queen-size mattresses. On Black Friday, many brands offer discounts between 10 and 30 percent off, saving you anywhere from $100 and $600 and allowing you to get the best value. However, we suggest avoiding deals more than 50 percent off the retail price. These mattresses are discounted because they are not selling well or because they are a cheaper quality model. We recommend searching for the best memory foam mattresses to get the most value for your money.
Conclusion
As Black Friday approaches, watch out for discount codes and sale dates and get a head start by researching your options now. While Black Friday mattress sales traditionally only lasted for one day, many of them now last one to three weeks. As you shop, be sure to keep your needs in mind. A significant discount is important, but a good night's sleep is the number one criteria in considering the best mattress for you.