Sponsored Article
Best Firm Mattress
Considering a firm bed? We outline the benefits of this comfort level and introduce you to the best firm mattresses.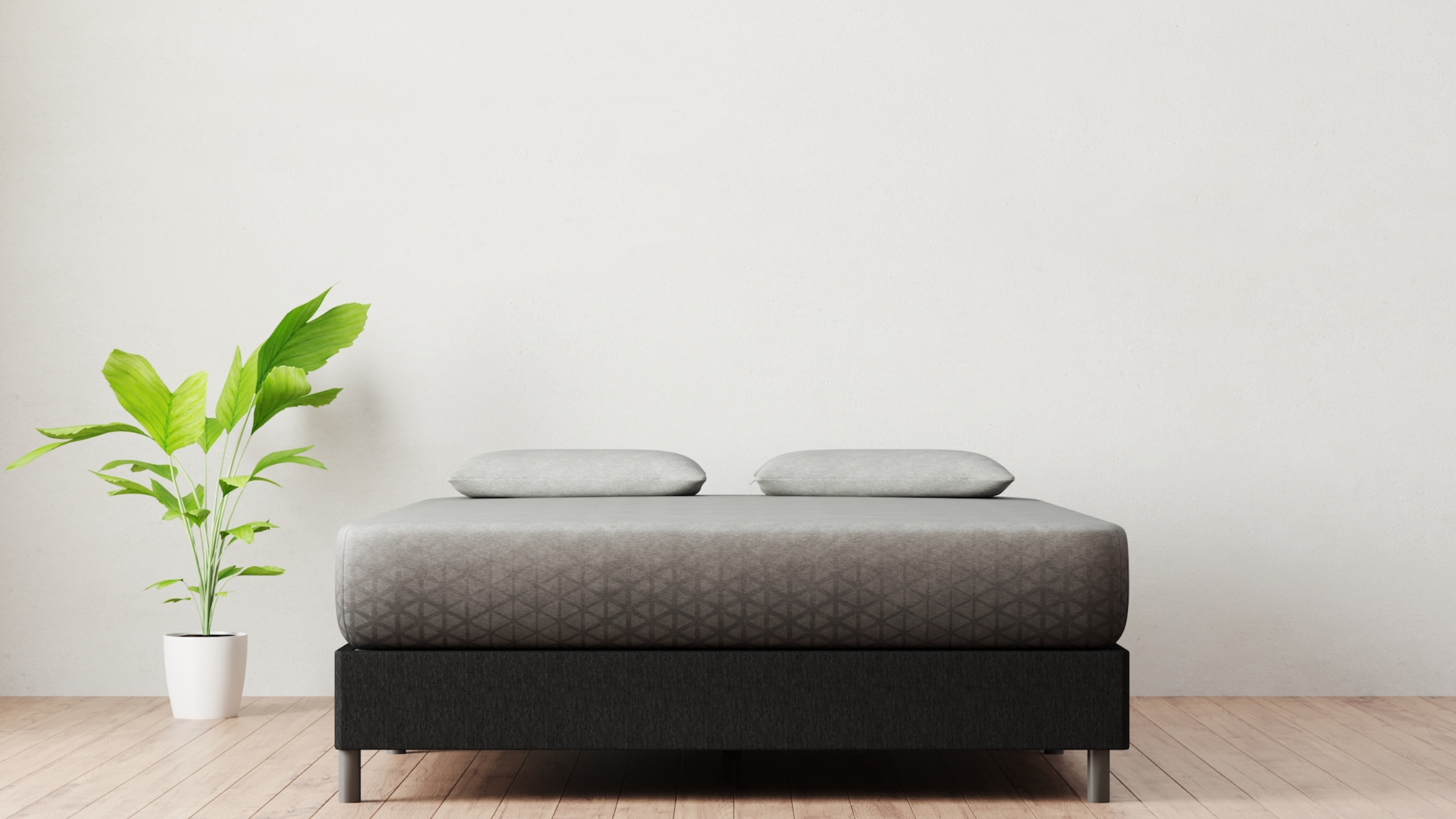 The right mattress firmness really depends on sleep positions, so firm mattresses suit some sleepers way more than others. For example, back sleepers, stomach sleepers, and those weighing more than 230 pounds tend to struggle with sinkage and misalignment during sleep. If these sleepers rest on an overly-soft mattress, the hips can dip too far into the bed and force the spine to bow. When the spine is misaligned, it causes the muscles in the back to clench, leading to pain and stiffness. Therefore, these sleepers need a firmer bed to keep body weight evenly distributed so muscles can completely relax during sleep.
If you are considering a firmer bed, we are here to help. We outline the best firm mattresses. We take an in-depth look at the construction, durability, and warranty coverage of each of these high-quality beds.
Best Firm Mattresses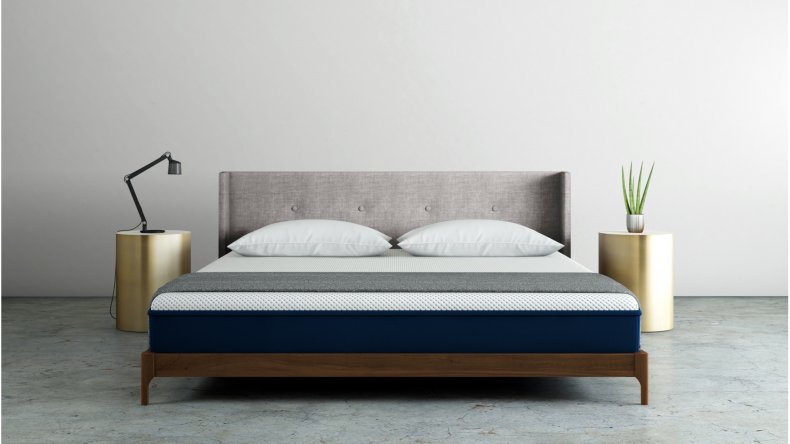 Amerisleep's AS1 is our pick for the best extra firm mattress because it has a supportive memory foam comfort layer to evenly distribute body weight without causing pressure points. This top layer is firm enough to keep the hips and shoulders lifted, allowing the spine to remain neutral. However, since this foam is so responsive, it also prevents tension build-up. When the body is aligned and the joints are protected, the muscles can fully relax, allowing you to fall asleep quickly and rest soundly. Among Amerisleep's lineup of five memory foam mattresses and three hybrid mattresses, the AS1 is their firmest mattress option.
The AS1 comfort layer is made with Amerisleep's unique Bio-Pur® foam, a plant-based material with more breathability and responsiveness than traditional memory foam varieties. Bio-Pur® is non-toxic, eco-friendly, and backed by a CertiPUR-US® certification, ensuring it is free of harmful contaminants.
Bio-Core®, Amerisleep's durable support foam, makes up the base of the AS1. This material helps reduce sagging and indentations, ensuring the bed remains firm and stable throughout many years of use. If the mattress ever develops indents greater than .75 inches, you're covered with Amerisleep's 20-year warranty.
Amerisleep's 100-night sleep trial is a great opportunity to test out the mattress firmness and make sure it meets your needs. They also offer free returns and free shipping anywhere in the contiguous U.S.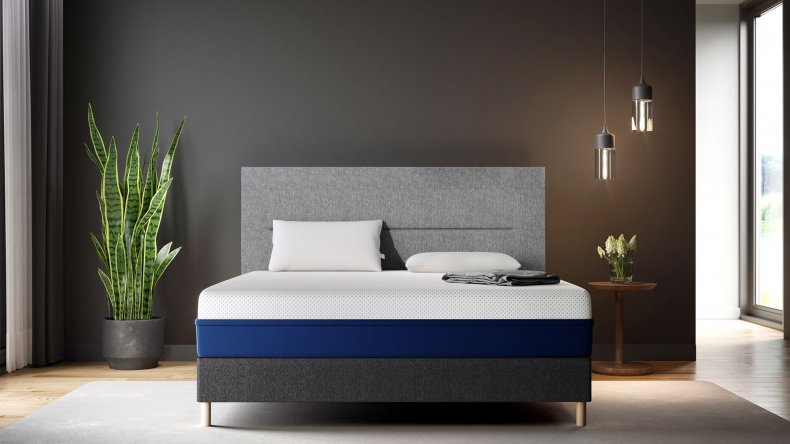 Amerisleep's AS2 Hybrid has a medium-firm feel, which is slightly softer than the AS1. However, pocketed spring coils give this mattress a buoyancy that keeps sleepers resting on top of the mattress rather than sunken into it. This feature is perfect for heavier individuals who want to avoid uncomfortable sinkage.
The Bio-Pur® comfort layer of the AS2 Hybrid is firm and supportive, but soft enough to cushion the joints and relieve tension. Amerisleep's Affinity Foam sits just beneath the Bio-Pur® layer. This dynamic layer lifts and aligns the body for a healthy sleep position. The combination of these two foam layers ensures even weight distribution, a neutral spine, and minimal pressure points.
The base of the AS2 Hybrid is made up of hundreds of pocketed spring coils. Each coil is tuned to respond to a different level of pressure. For example, coils near the hips and shoulders compress easily to prevent tension build-up. Coils along the back are firmer to reduce excess sinking, so the spine doesn't bow. The base is also reinforced with edge support to reduce motion transfer and make getting in and out of bed easier.
Like all Amerisleep mattresses, the AS2 Hybrid comes with a 100-night sleep trial, so you can gauge the comfort and support it offers and guarantee it's right for you. They also include a 20-year warranty covering manufacturing defects such as sagging and indentations. This coverage ensures the mattress maintains its stable and supportive structure.
What to Consider When Shopping for a Firm Mattress
If you are considering a firm bed, there are a few things to keep in mind as you shop. Below, we outline the various types of firm beds you may come across, and how to determine if a firm mattress is right for you.
What is a Firm Mattress?
Mattress firmness is typically rated on a scale from 1 to 10, with 1 being the softest and 10 being the firmest. However, most mattresses are rated between a 3 and an 8. Medium-firm mattresses have a firmness rating of 6, while firm beds rate between 7 and 8. Those that are extra-firm may be rated between 9 and 10.
Firmer mattresses have very little give. They are stable, supportive, and do not compress easily with pressure. Medium-firm mattresses have a similar feel but they offer slightly more give.
Who are Firmer Mattresses Right For?
Firmer beds work well for the following individuals:
Back sleepers: When resting on the back, bodyweight must be evenly distributed to prevent tension from building up in the back muscles, making firm mattresses a perfect fit for back sleepers. A soft mattress, on the other hand, can cause the hips to sink too far into the bed, forcing the spine to bow and leading to morning aches and pains.
Stomach sleepers: In general, it is best to avoid stomach sleeping because it can exaggerate the natural curvature of the spine, causing pressure build-up. However, if you find it difficult to avoid stomach sleeping, it is best to rest on a firm mattress. A firm support system ensures the hips stay lifted and aligned with the shoulders to alleviate tension.
Individuals with chronic back pain: Those with chronic back pain tend to sleep best on a medium-firm mattress. This firmness ensures even weight distribution, which allows the muscles in the back to relax and recover. For side sleepers with back pain, medium mattresses are the best beds for back pain.
Heavy sleepers (230 pounds or more): When resting on a soft mattress, heavier sleepers often experience excess sinking, which can make changing positions difficult and lead to muscle tension. A medium-firm to firm mattress keeps heavier sleepers resting on top of the mattress rather than sinking into it. This makes it easier for them to change positions, too.
Who Should Avoid Firm Mattresses?
The following individuals should avoid firm mattresses when possible:
Side sleepers: When side sleeping, the hip and shoulder joints bear most of the body weight. Without enough contouring, tension can develop in these areas. Therefore, the best mattresses for side sleeping are typically soft to medium.
Lightweight sleepers (130 pounds or less): Lightweight sleepers tend to sink very little. If their mattress is too firm, it can cause pressure to build-up near the joints. Lightweight sleepers need a soft to medium-soft mattress to keep their hips and shoulders cushioned and protected.
Sleepers with joint pain: For those with arthritis and other inflammatory diseases, a firm bed may exacerbate joint pain. A softer bed can help muscles relax and reduce painful pressure points.
Benefits of a Firm Mattress
If a firm mattress is right for your body shape and sleep style, you may experience the following benefits:
Spinal alignment and even weight distribution: When resting on a firm mattress, sleepers are less likely to experience excess sinking. When your spine sinks too much, it can lead to spinal misalignment. This forces the spine to bow and muscles in the back remain tense, causing pressure and pain to develop.
Less heat retention: Soft beds contour closely to the body, which often causes heat retention. On a firm bed, warm air can circulate more freely, helping the mattress stay cool and comfortable. For other mattresses that'll combat night sweats, see our list of the best cooling mattresses.
Motion Isolation: Hard mattresses are less likely to respond to movement—this helps reduce motion transfer and sleep disruptions.
Types of Firm Mattresses
Firm beds are made up of several different materials and layers. Below, we outline the four most common mattress types and how they vary in terms of comfort, support, and durability. Generally, the best mattresses online are ones that come in memory foam and hybrid.
Memory Foam
Memory foam is a highly responsive material that contours closely to the body to promote relaxation and pressure relief. Depending on the manufacturing process, memory foam can be made in several different firmness levels, including soft and firm. Therefore, it is easy to find the best memory foam mattress suited to your sleep position and body type.
Memory foam is typically used in the top layer of the mattress while an extra firm support foam is used in the base. This layer helps reduce sagging and prevents indentations from forming in the upper layers. Memory foam can also be used in the top layer of a hybrid mattress.
Traditional memory foam is known to cause heat retention. Therefore, we suggest selecting one made with plant-based oils or gel infusions to avoid overheating.
Latex Foam
As we mentioned above, natural latex has a buoyancy that works well in a firm mattress. Latex helps guard against pressure points and keeps the hips and shoulders lifted for a neutral spine. Although latex can be made to feel either soft or firm, it is most commonly available in medium-firm to firm.
There are two different types of latex, Dunlop, and Talalay. While both are naturally derived, Talalay latex has synthetic fillers that break down quickly and retain heat. Therefore, if you are looking for a long-lasting latex mattress, it is best to purchase Dunlop latex. This material is highly durable, with many Dunlop mattresses lasting up to 12 years. It is also naturally resistant to bacteria, dust mites, and mold.
Hybrid Mattresses
Hybrid mattresses have a pocketed spring coil base and a comfort layer made with either memory or latex foam. The coils in a hybrid mattress are typically pocketed, or wrapped in fabric for added comfort and pressure relief. These coils also move independently of one another, allowing them to contour to the body more effectively. This support system is ideal for even weight distribution and provides a slight bounce that many sleepers prefer.
Memory or latex foam is typically used in the top layer of the best hybrid mattresses. Therefore, the type of foam can change the feel and durability of the mattress.
Innerspring Mattresses
Like hybrid mattresses, innerspring beds have a spring coil base. However, the comfort layer on most innerspring mattresses is made with cotton, wool, or polyester. Some may have a foam top layer, but it is thinner than those on hybrids, offering sleepers less contouring and pressure relief.
Additionally, traditional spring coils are thicker and interconnected, meaning they move as a unit. When pressure is applied to one side of the bed, the coils on the other side also move. This movement causes motion transfer and sleep disruptions.
Although innerspring mattresses can be made to feel both soft and firm, they do not provide the same pressure relief as those with a foam comfort layer. Therefore, when purchasing an innerspring bed, be sure to select one with a pillow-top made of at least 2 to 3 inches of foam.
Frequently Asked Questions
Who needs an extra firm mattress?
Extra firm mattresses work well for back sleepers, stomach sleepers, and larger people (over 230 pounds) because they keep the hips from sinking and forcing the spine to bow. When the heaviest parts of the body, such as the hips and shoulders, are lifted on the mattress rather than sunk, the spine is more likely to remain neutral, allowing muscles to relax and heal during sleep.
How can you tell if your mattress is too firm?
If you sleep on your side and frequently wake with joint pain near the hips and shoulders, your mattress may be too firm. When side sleeping, these areas bear the brunt of the body weight, so they need some level of cushioning to prevent pressure points from forming. Additionally, if you are a back sleeper and experience stiff lower back or neck pain, the mattress may not have enough give to cradle and support these areas.
What is the best mattress for side sleepers?
The best beds for side sleepers are soft to medium. Softer mattresses offer side sleepers plenty of contouring for the joints to alleviate tension. Side sleepers who rest on a firm mattress often develop joint pain and stiffness near the hips and shoulders.
How can you firm up an old mattress?
If your mattress is too soft, you can increase the firmness by adding a firm memory or latex foam mattress topper. Mattress toppers are typically 1 to 3 inches thick and can help change the overall feel of your bed.
What is the best mattress for lower back pain?
In most cases, the best mattresses for lower back pain are medium-firm. These beds have a slight softness to cushion and protect the joints from tension. However, they are also firm enough to keep the hips lifted and aligned with the shoulders. When the spine is neutral and the lumbar spine is supported, pain and pressure are less likely to develop in the lower back.
Conclusion
Firm mattresses offer a stable and supportive sleep space for many individuals. With so many high-quality options to choose from, you are sure to find one that meets your needs with a little research. Conveniently, many of the best mattresses in a box deliver straight to your door and are easy to handle. But before making your selection, make sure the mattress you have your eye on comes with some sort of at-home trial period or return policy. These help you get a better feel for your new bed and give you time to test your purchase out at home.