Sponsored Article
Best Hybrid Mattresses
Looking to upgrade to a hybrid? We reviewed and listed all the best hybrid mattresses.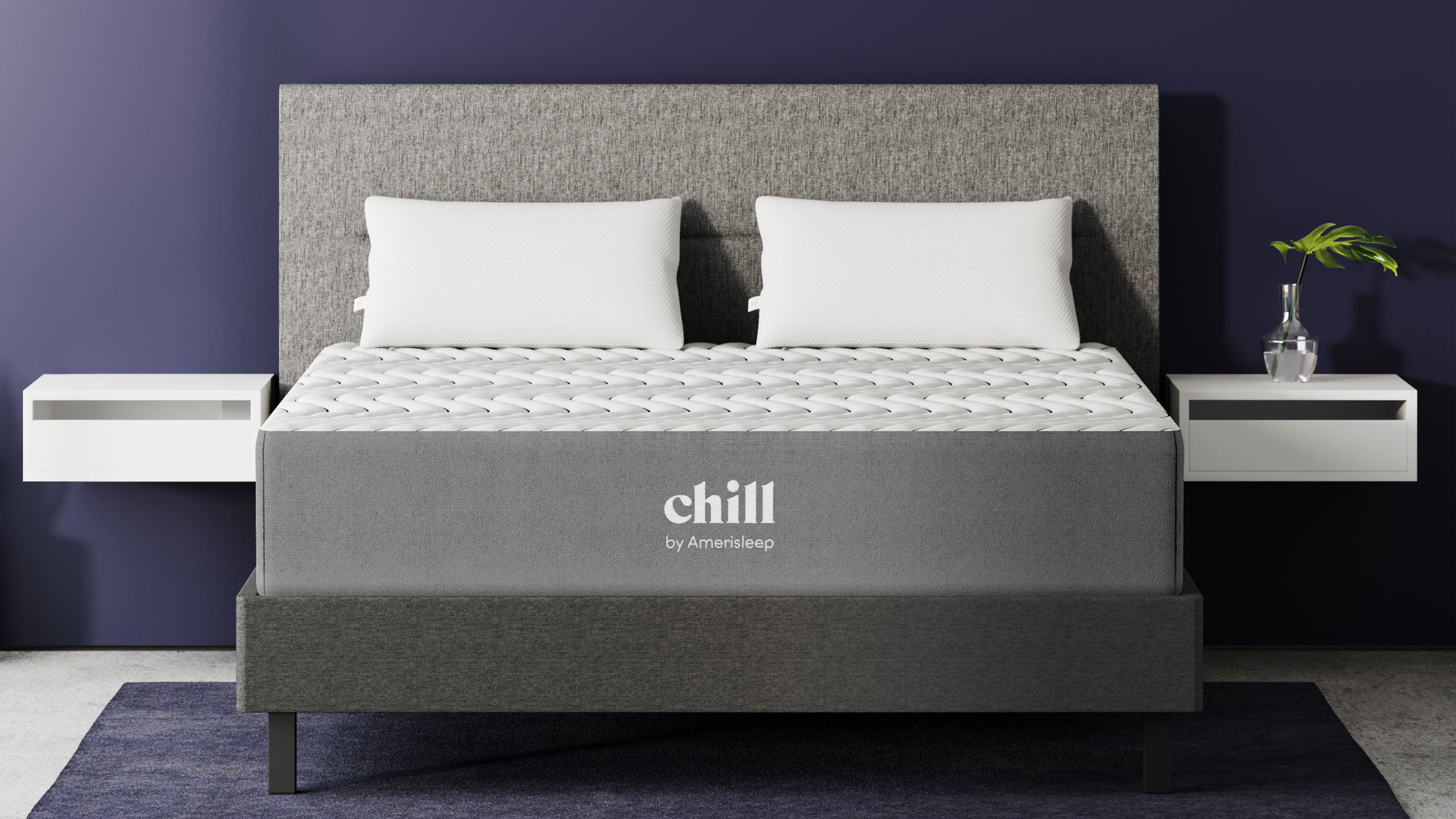 Hybrid mattresses have a mix of foam and innerspring mattress materials. They have a coil core support like an innerspring mattress and a conforming foam top like a memory foam or latex mattress. Combining these components gives hybrid mattresses a feel that other mattress types can't match.
The best hybrid mattresses deliver a well-structured blend of:
Responsive support
Pressure-relieving cushioning
Cooling
Durability
To save you time searching for the best mattresses, we rounded up our top hybrid recommendations.
Best Hybrid Mattresses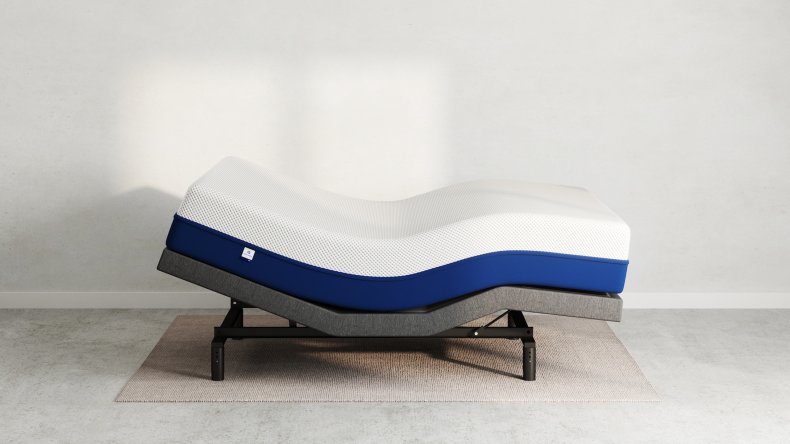 Choosing the right hybrid for your sleeping style often comes down to a mattress's firmness level. If it's too soft or too firm for you, you may wake up with a sore back, aching hips, or stiff shoulders. The Amerisleep AS3 Hybrid is our top recommendation for the best hybrid mattress overall because the firmness accommodates a wide range of sleepers.
With its balanced medium feel, the AS3 Hybrid is well suited for side, back, and combination sleepers:
Side sleepers experience much-needed pressure relief.
Back sleepers keep their spines in neutral alignment.
Combination sleepers are free to move and feel adequately supported in every position.
The AS3 Hybrid is 12 inches tall with three layers:
3 inches of Bio-Pur® foam
8 inches of pocketed coils
1 inch of base foam
Bio-Pur® foam is the top layer in all of Amerisleep's memory foam and hybrid mattresses. Bio-Pur® is partially plant-based to create a more sustainable, breathable, and responsive material than traditional memory foam. It relieves pressure across the body and snaps back into shape within seconds.
Amerisleep arranges its pocketed coils to provide targeted support and pressure relief. The midsection's coils provide steady, stable back support. The coils in the mattress's head and foot create a softer feel for pressure relief.
The sturdy foam base provides a consistent, even surface for the coils to bounce off. This layer promotes a long-lasting mattress structure.
Every Amerisleep mattress comes with free shipping, a 100-night sleep trial, and a 20-year warranty. The sleep trial starts when the mattress arrives at your front door. This leaves you with several months to try out the mattress and see if it's right for you. If not, Amerisleep will allow you to exchange it for another mattress model or return it for a full refund.
Best Hybrid Mattress in a Box:

Zoma Hybrid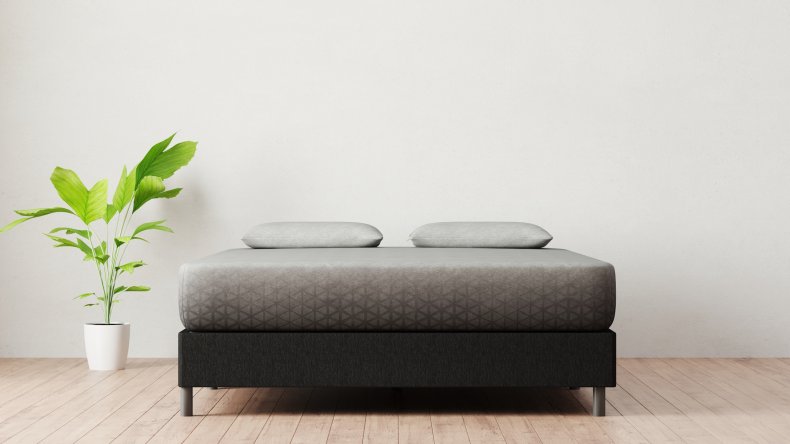 Zoma focuses on making mattresses that leave a sleeper feeling restored and ready to tackle a busy day. They primarily market their beds to individuals with active lifestyles, but anyone can benefit from sleeping on a Zoma Hybrid.
A Zoma Hybrid stands 12 inches tall and has the following four layers, wrapped up in their breathable AirCloth cover:
2 inches of gel memory foam
2 inches of Reactiv™ foam
7 inches of pocketed coils
1 inch of sturdy base foam
The gel infusion in the first layer allows the mattress to stay cool, even as it cradles your body and absorbs excess heat.
Reactiv™ foam is another unique sleep technology Zoma employs. The responsive material is designed to mimic latex's buoyancy, lifting a sleeper so that they don't sink too deep and bottom out. Reactiv™ also helps the mattress adapt to your movements within seconds.
The pocketed coils react individually when a sleeper lies down. Firm foam surrounds the coil layer too, creating edge support for easier movement. The bottom layer of foam is made as a firm base to maintain the coils' structure.
The Zoma Hybrid includes free shipping, a 100-night trial, and a 10-year warranty. The warranty allows for a free replacement if the mattress sags beyond 0.75 inches or experiences other manufacturing defects.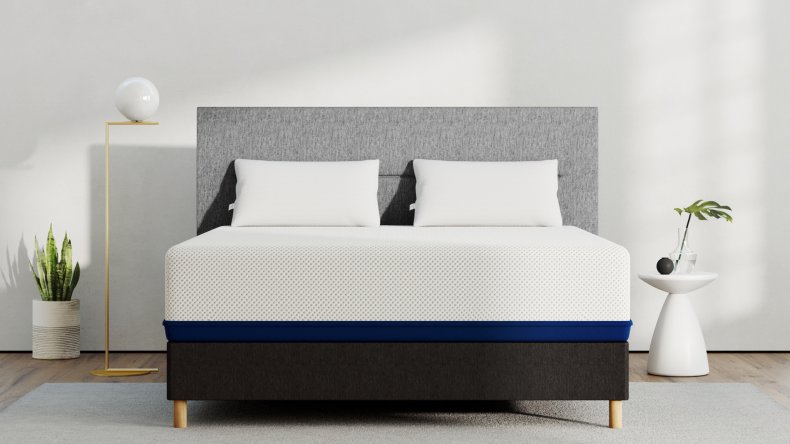 Side sleepers need a cushioning mattress that can relieve pressure in their shoulders and hips. If too much pressure builds up, they will likely experience morning stiffness and pain. The Amerisleep AS5 Hybrid is ideal for side sleepers who want a bouncy yet soft mattress. It's also a good choice for petite people who need a soft, conforming mattress for pressure relief.
The AS5 Hybrid is 14 inches tall and has four layers:
3 inches of Bio-Pur® foam
2 inches of Active Flex
8 inches of pocketed coils
1 inch of base foam
As with the AS3 Hybrid, the top layer is breathable and responsive Bio-Pur® foam. It feels plush and pressure-relieving, cushioning the body's heavier parts while responding quickly to a sleeper's movements.
The next layer is another Amerisleep-exclusive foam known as Active Flex. The foam has a latex-like feel for buoying a sleeper's body. The buoyancy prevents them from feeling trapped in their mattress. Soft mattresses often sink down too far, so Active Flex counters that without reducing the bed's plush feel.
The pocketed coil layer is arranged to provide three support zones, the same as in the AS3 Hybrid. The targeted back support helps ensure a person's spine stays in a neutral position.
Like the AS3 Hybrid, the Amerisleep AS5 Hybrid comes with free delivery, a 100-night sleep trial, and a 20-year warranty.
Best Budget Hybrid Mattress:

Vaya Hybrid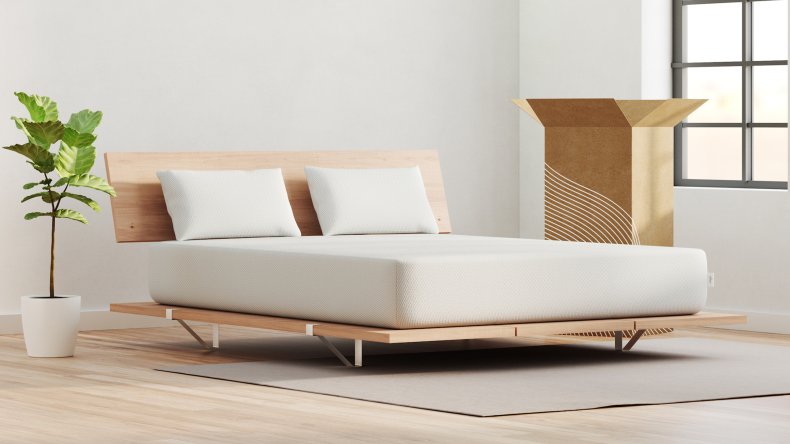 Hybrid mattresses are often expensive, and their high price tag can keep bargain hunters from investing in one (despite their many advantages). Even if you do find one at a low price, the bed might not be what you're expecting—many low-priced models lack the comfort and support of a higher-price hybrid mattress made with better-quality materials. However, the Vaya Hybrid successfully combines quality and durability with affordability.
The Vaya Hybrid features an excellent blend of responsive, pressure-relieving foam and supportive coils. This well-rounded mix prevents pain and promotes optimal spine alignment. Because the hybrid does so well at balancing support and comfort, Vaya recommends it for all sleeping styles.
The Vaya Hybrid is a 12-inch mattress that has three layers, encased in a soft and lightweight fabric cover:
2 inches of Vaya Foam
8 inches of pocketed coils
2 inches of supportive foam
Vaya Foam has an exceptionally porous design to promote airflow, ensuring the mattress's surface won't grow overly hot while you sleep. The material cushions the body for pressure relief yet is quick to regain its shape.
The pocketed coils extend all the way to the mattress's side, with extra supportive coils at the bed's edges. This edge support keeps the mattress from feeling too soft and unsupportive on its sides. Sleepers can easily and quickly move in and out of bed.
The thick foam base helps the mattress resist sagging. It ensures the bed stands strong for many years.
All foams used in Vaya mattresses are certified safe by CertiPUR-US®. This certification means they are free of potentially toxic materials. The Vaya Hybrid also has a low chance of off-gassing.
Every Vaya Hybrid comes with free delivery, a 100-night sleep trial, and a 10-year warranty.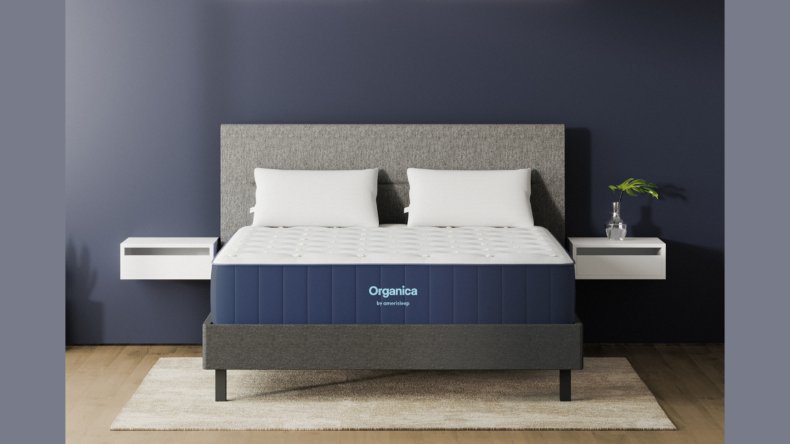 Many shoppers are looking to reduce their carbon footprint by investing in sustainable, all-natural products. Eco-conscious mattress shoppers may want to consider the Amerisleep Organica for their next bed. The latex hybrid mattress comes with a list of certifications proving its materials are responsibly harvested and manufactured.
The Amerisleep Organica has four layers, wrapped in cotton knit fabric:
1 inch of New Zealand Joma Wool®
3 inches of Talalay latex
8 inches of pocketed coils
1 inch of all-natural Dunlop latex
The Talalay latex cushions the sleeper's body, bolstered by a super-soft, moisture-wicking, and all-natural Joma Wool® quilted top. The coils are arranged to provide targeted support and comfort, while the Dunlop latex base promotes a durable mattress.
The Amerisleep Organica has been certified by the following organizations:
Aside from "green" consumers, the Amerisleep Organica is a good choice for sleepers with allergies or sensitivity to synthetic materials. It's recommended for people with seasonal allergies, asthma and other respiratory issues, and skin conditions because the mattress is naturally resistant to bacteria and dust mites. Plus, mold spores are less likely to settle in this organic mattress. (However, people with a latex allergy may want to consider another mattress on this list for their comfort and safety.)
Like every other Amerisleep mattress, the Amerisleep Organica includes free shipping, a 100-night sleep trial with free returns, and a 20-year warranty.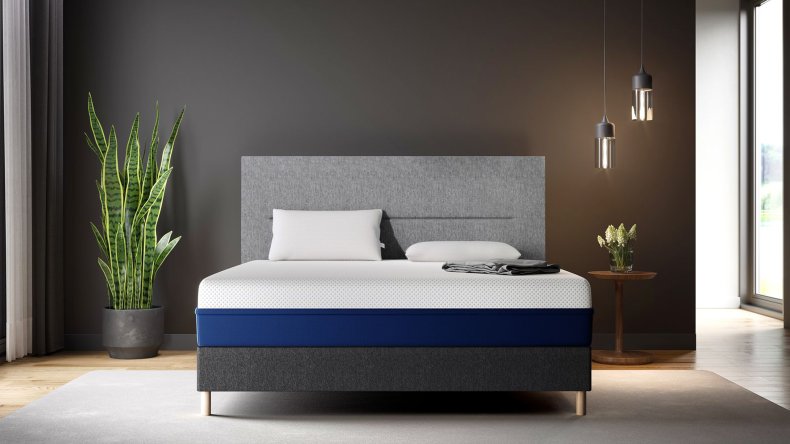 Many sleepers have the mistaken belief that a soft mattress is inherently better than a firm mattress. This isn't always the case, as some sleepers will find a firm mattress perfectly complements their sleep style, preventing spinal misalignment that can cause back pain.
Amerisleep's medium-firm AS2 Hybrid provides the support stomach and back sleepers need for a good night's rest. At the same time, it offers just enough cushion to relieve pressure across the body. The AS2 Hybrid is 12 inches tall and has four layers:
2 inches of Bio-Pur® foam
1 inch of Affinity foam
8 inches of pocketed coils
1 inch of base foam
With a thinner layer of Bio-Pur® foam resting on top of one inch of Affinity foam (a firmer support foam), the AS2 Hybrid is noticeably firmer than the AS3 Hybrid and especially the AS5 Hybrid. That way, the mattress offers the right amount of contouring so that it's not so firm that you end up with pain-causing pressure points.
The AS2 Hybrid also includes free shipping, a 100-night sleep trial, and a 20-year warranty.
Best Cooling Hybrid: Amerisleep Chill Mattress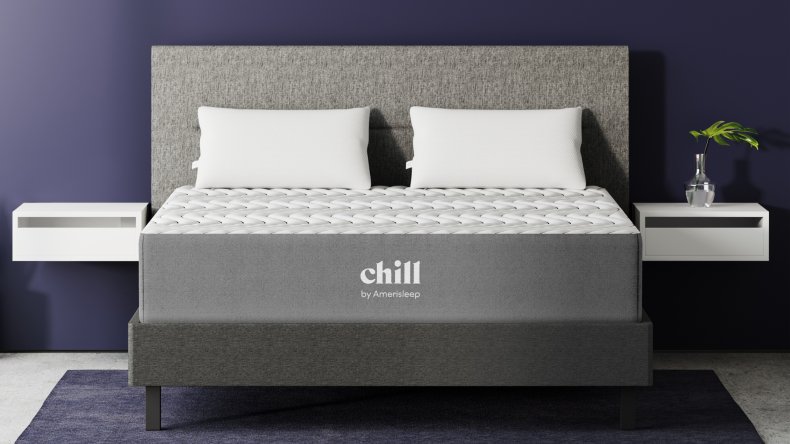 Do you live in a warmer climate or have a naturally high body temperature? You likely have woken up a few times in the middle of the night feeling sweaty and sticky. The right cooling mattress is a big part of resting undisturbed if you're a hot sleeper.
The Amerisleep Chill Mattress is 14 inches thick with four layers:
2 inches of Cooling Comfort Foam
3 inches of Active Flex
8 inches of pocketed coils
1 inch of base foam
The first layer of Cooling Comfort Foam contains a copper infusion to act as an all-natural heat magnet. Copper's conductive nature allows it to quickly wick away heat for a cooler sleeping surface.
Unlike traditional memory foam, the Chill's Comfort Foam is porous and airy. This design makes it easy for absorbed heat to escape the mattress. The top foam layer also bounces back fast, adjusting to your movements rapidly.
As we previously mentioned, Active Flex is a transition material unique to Amerisleep. The foam lifts a sleeper's body, preventing them from sinking in too deep without affecting their mattress's feel. Your body weight is also evenly distributed across the material, creating deep compression to cushion the heavier parts of your body and relieve pressure.
The pocketed coil layer is airy, allowing it to carry off collected heat and moisture. The coils are also arranged to offer targeted support, standing tall on the bed's foam base.
The mattress is topped with the company's Chill+ fabric cover. This icy cool material quickly moves heat away from the body and releases it into the air. Chill+ can help you sleep cooler by as much as 14 degrees. Plus, the fabric has plush padding for added cushion and pressure relief.
The Amerisleep Chill Mattress includes free home delivery, a 100-night sleep trial, and a 20-year warranty.
Best Memory Foam Alternative Hybrid Mattress: Purple Hybrid
Purple has made its name in the mattress industry with its Purple Grid™, a comfort material made from Hyper-Elastic Polymer gels. Not only has the company produced three different mattress models containing the Purple Grid™, but they also sell seat cushions and pillows with the conforming material.
The Purple Hybrid is one of two hybrid models the company offers. The other is the thicker Purple Hybrid Premier. The Purple Hybrid has three layers, wrapped up in a mesh fabric:
2 inches of Purple Grid™
1 inch of polyurethane foam
7.5 inches of pocketed springs
Purple designed its grid-like comfort layer as an alternative to traditional memory foam. The Purple Grid™ sleeps cool, with its squares doubling as air channels. The material is also quick to regain its shape once a sleeper moves off its surface.
Purple claims its hybrid is suitable for all sleepers. This is because the Purple Grid™ flexes under pressure, feeling soft and firm as needed. However, side sleepers may want to consider the Purple Hybrid Premier model with its thicker comfort layer.
The Purple Hybrid mattress comes with free shipping, a 100-night sleep trial, and a 10-year warranty.
Best Dual-Sided Hybrid Mattress: Alexander Signature Flippable
The Alexander Signature Flippable hybrid from Nest Bedding has two different firmness levels within the same mattress. This hybrid is well-suited for sleepers who want to experiment with their favored sleep position. It also fits well in guest bedrooms.
The medium side is excellent for side and combination sleepers, while the firm side is better for back and stomach sleepers. The Alexander Signature has handles that make it easier to flip and turn the mattress whenever you need to change its comfort level.
The Alexander Signature comprises five layers, wrapped in an organic cotton cover:
1 inch of CoolFlow™ Plush Quilting Foam
2 inches of gel memory foam
2 inches of transitional foam
2 inches of luxury-firm base foam
1 inch of CoolFlow™ Plush Quilting Foam
The foams inside the Alexander Signature are CertiPUR-US® certified. Plus, Nest Bedding airs out all their foams inside their factory. Airing out the foam minimizes the chances of any "new mattress smell".
Free shipping, a 100-night trial, and a lifetime warranty are included with this flippable hybrid mattress.
What is a Hybrid?
Hybrid mattresses are a combination of foam and innerspring mattresses' qualities, as the name implies. Combining elements of these two mattress types together minimizes the drawbacks of each. A great hybrid mattress should keep cooler than a memory foam mattress and feel more conforming than an innerspring mattress.
A hybrid mattress must have at least three layers to qualify as such. The bed needs a comfort foam layer, followed by a coil layer and a foam base. Many high-quality hybrids also have a fourth layer in between the comfort and coil layer.
A genuine hybrid mattress has a comfort layer at least 2 to 3 inches thick. Memory foam hybrids are perhaps the most common, but latex and poly-foam are also available alternatives.
If the hybrid mattress has a transition layer, it often keeps a person from sinking in too deeply and increases the mattress's responsiveness.
The coil layer usually contains pocketed coils, wrapped in foam or fabric to limit motion transfer. A traditional spring mattress with unwrapped coils usually carries a person's every movement across the mattress surface.
When it comes to a hybrid's coils, two qualities worth considering include the bed's coil gauge and coil count. Coil gauge refers to a coil's thickness, with thinner coils indicated by higher gauge numbers. Thin coils can establish a soft feel, while thick coils can create a firm feel. Coil count is a straightforward term, referring to the number of coils inside a mattress.
A hybrid's foam base ensures the mattress remains structured by giving the coils a solid foundation.
Pros and Cons of Hybrids
Every mattress type has its own pros and cons, and hybrid mattresses are no exception. The bed has a cooling, pressure-relieving design. However, hybrids also tend to come with a high price tag.
Pros
Cooling design
Bouncy
Conforming enough to relieve pressure
Motion isolating
One of the biggest reasons people choose a hybrid mattress is because the bed feels bouncy yet conforming. It's usually responsive enough to adapt to movements, keeping a person from feeling trapped. Yet a quality hybrid also cushions the body and relieves pressure points.
A hybrid provides excellent motion isolation too. The pockets around every coil ensure they move independently and prevent a person's movements from rippling across the mattress. Thus, hybrids are a good choice for couples.
Hot sleepers often choose a hybrid mattress because of the bed's breathable design. The coil layer leaves room for air to circulate and remove trapped body heat. Many manufacturers take steps to ensure the foam top layer releases heat quickly with copper infusions or other cooling additions.
Cons
Expensive
Heavy
More likely to sag than an all-foam mattress
The two biggest drawbacks of a hybrid mattress are the bed's higher price and weight. Many hybrid mattresses cost more than $1000 for a queen size or larger. They get even more expensive if you require bigger bed sizes that usually need to be custom ordered. If you're shopping on a limited budget, a quality hybrid might be more than what you can afford.
Many large hybrid mattresses also weigh more than 100 pounds. On average, only an all-latex mattress is likely to weigh more than a hybrid whilst other mattress types (innersprings and memory foam models) weigh less. A heavy mattress is more difficult to set up and complicates simple tasks such as changing sheets and rotating the bed.
Due to its material composition, hybrids are more likely to sag compared to pure foam mattresses. On the other hand, a hybrid is likely to outlast the average innerspring mattress, so if you want a bed with long-lasting bounce, a hybrid is the better option.
How Thick Should a Hybrid Be?
Since you plan on enjoying your mattress for years to come, you should look for a bed at least 10 inches thick, no matter what kind of mattress it is. Mattresses this thick are more durable than thinner mattresses. Thicker mattresses typically have better support and comfort features, too.
You also want to keep in mind what your bed's height will be when you're considering mattress thickness. If you have a tall bed frame and choose a thick mattress, you may find it difficult to move in and out of bed. Similarly, a low bed frame with a thin mattress may make it awkward to stand up in the morning.
The best bed height for you allows you to sit on the edge of the mattress with your feet flat on the floor. Your knees should also be in line with your hips.
How Long Do Hybrids Last?
The average hybrid mattress tends to last about 7 years. However, that number may change as newer, more modern models are released featuring more durable designs and materials.
Do you want to get your full money's worth out of your hybrid mattress? You can care for it by covering it with a mattress protector and rotating the bed regularly.
Mattress protectors keep liquids and pests out of the mattress, ensuring the bed stays clean and comfortable. Rotating a hybrid every three to six months evens out wear and tear on the surface. Regular rotation keeps the coils from sagging prematurely too.
You'll also want to make sure you're using it on top of the right foundation, whether that's a slatted bed, floating platform bed, or adjustable base.
How Much Does a Hybrid Cost?
Hybrid mattresses often cost more than $1000 for a queen or king size. There are budget models that cost under $1000. However, they may lack some of the features that set a high-quality hybrid apart.
Do you want a hybrid mattress but are restricted by a limited budget? Try shopping to find the best online mattress. Online mattress retailers tend to sell their beds at lower prices than a traditional mattress store. They ship their beds directly to the customer, eliminating the need for middlemen salespeople. Online retailers also avoid many of the expenses needed for a store's upkeep. Though, some retailers are worth visiting if they're brand-owned stores. Distributors, on the other hand, often significantly markup their mattress prices.
Is a Hybrid Right For Me?
There are many hybrids on the market, from thinner, firmer models to luxuriously soft mattresses. Sleepers can choose the standard memory foam hybrid. They can also purchase something less common, like an all-natural latex hybrid. If you're interested in a hybrid bed, you can usually find the right one for you with some searching.
Naturally, hybrids are a perfect fit for sleepers who want some bounce. We especially recommend them for side sleepers because traditional innerspring beds don't conform enough to provide a comfortable night's rest. Hence, a hybrid is the best option for side sleepers who want a bouncy mattress.
Despite the bed's bounce, a hybrid is also a good option for couples looking for a mattress that prevents motion transfer. Most hybrids have pocketed coils. This type of supportive layer ensures every coil reacts individually to a person's movements, instead of carrying the movement across the mattress.
Because hybrids come in different firmnesses, they're well suited for all body types. A firm hybrid mattress can support a plus-size sleeper with its buoyant coils. No worries of a heavy person sinking too far into their bed! Petite sleepers can relax on a soft hybrid that molds to their body's curves.
Hot sleepers or people in warmer climates can benefit from a hybrid mattress. A hybrid's airy coil base allows heat to easily slip through the mattress. This ensures warmth doesn't build up and disturb a person's rest. Many hybrids have additional features, such as conductive materials and temperature-regulating fabric covers, to promote a cool sleeping surface.
However, hybrid mattresses are not the best choice for a lightweight, easy-to-move mattress. Many budget shoppers will also find the typical price of a quality hybrid mattress a bit steep for their liking. That said, inexpensive yet well-made hybrids do exist.
Hybrid Mattresses vs Memory Foam Mattresses
Memory foam mattresses are a popular alternative to hybrid mattresses. The beds have a top-to-bottom layered design. There's a top layer of memory foam and at least one underlying layer of poly-foam for the base.
| | | |
| --- | --- | --- |
| | Hybrid Mattresses | Memory Foam Mattresses |
| Structure | Coil support layer and foam base | Polyurethane foam base |
| Feel | Sleeper tends to rest on top of a hybrid | Less responsive, tends to cradle the sleeper |
| Heat retention | Air circulates freely in coil layer, removing heat | Some memory foams can retain heat |
| Price | Can be costly since they combine high-quality coils with foams | Many quality memory foam mattresses have reasonable prices |
| Motion | Usually keeps movements from affecting the surface, though coils may transfer a minimal amount | Foam layers absorb motion at the point of impact, keeping movement from rippling across the surface |
| Off-gassing | May have a noticeable chemical smell first few days | May have a noticeable chemical smell first few days |
Like hybrids, memory foam mattresses come in all firmnesses. However, memory foam mattresses are also available at most price points. If you're a budget shopper looking for your next mattress, a memory foam bed might be the best choice for you.
However, there are memory foam mattress qualities that a hybrid mattress can't top. For example, even though a hybrid is decently motion-isolating, memory foam is still superior when it comes to preventing motion transfer. As a hybrid's pocketed coils wear out, they can let motion ripple across the mattress.
Traditional memory foam tends to hold onto body heat because of the material's density. Many modern manufacturers ensure the bed quickly releases absorbed heat with special infusions and added ventilation. Still, even the best memory foam mattress usually can't match the natural cooling ability of a hybrid mattress.
Many hybrids and memory foam mattresses may have a funky new mattress smell due to off-gassing effects. Volatile organic compounds linger in the foam after production and begin to break down after a mattress is unboxed. The smell usually disappears within a few days.
Other Mattress Types to Consider
A hybrid or memory foam mattress isn't your only option when shopping for the best mattress—you can also consider a latex or innerspring mattress.
Latex
Latex mattresses are an excellent choice for sleepers who want a responsive, organic mattress. The material's buoyancy keeps a person on top of the mattress. However, some people find latex too responsive and unable to conform enough to relieve pressure.
Latex is also a breathable material, releasing heat instead of retaining it. Many latex mattresses tend to contain additional heat-wicking materials like cotton and wool, so the mattress type is a good choice for hot sleepers.
Durability is another reason all-natural latex mattresses are popular. A well-made latex bed may last between 12 to 15 years. However, some people pass over latex mattresses because they are the most expensive mattress type. That said, many shoppers find the high cost a worthwhile investment when it comes to a good night's rest.
Innerspring
An innerspring mattress has a simple design with a coil layer sandwiched between two thin comfort layers. Many people love how an innerspring mattress pushes them upward. However, others dislike how they often feel the coils through the mattress's padding.
Though other mattress types have risen to prominence, innerspring mattresses haven't been completely overshadowed. They remain a popular choice because of their availability and affordability. You can find an innerspring at mattress showrooms, furniture stores, and select big-box stores. They usually have reasonably low prices.
We do not recommend innerspring mattresses for side sleepers because of the bed's naturally firm surface. The coils and thin comfort layer often do not provide much pressure-relieving cushion, which can leave side sleepers waking up with sore hips and shoulders. However, some innerspring mattresses do come with a pillow top to soften their feel.
Frequently Asked Questions
What is a hybrid mattress?
A hybrid mattress combines a top layer of memory foam or latex with a base layer of coils. The appeal of a hybrid mattress is that it features the best of a foam and traditional spring mattress. You have the durable bounce of a classic spring bed and the pressure-relieving cushion of a foam mattress.
How do I choose a hybrid mattress?
The first thing you should do is decide what mattress firmness works best for you. Sleep position is an important factor because it will affect how supportive a mattress feels:
Stomach sleepers require a firm or medium-firm mattress to keep their bellies from sinking into the bed and misaligning their spines.
Back sleepers often benefit from sleeping on a medium mattress to one of the best firm mattresses for spine support and pressure relief.
Side sleepers need a soft to medium feel mattress for maximum pressure relief. Too little pressure relief can leave a side sleeper with sore hips and shoulders.
Combination sleepers should choose a medium mattress to support their different positions.
Know what firmness you want to look for? Then decide how much to spend on a hybrid mattress and what extra features you want. For example, you might want the best cooling mattress with a cooling cover and other breathable materials.
What is the best hybrid mattress for side sleepers?
A mattress for side sleeping should offer a soft to medium feel, regardless of the bed's type. A hybrid mattress should feature at least 2 inches of comfort foam for adequate pressure relief. Plus-size side sleepers or side sleepers prone to switching positions might prefer a supportive medium over a softer mattress.
How much does a hybrid mattress cost?
The average hybrid mattress costs between $1000 to $1500 for a queen-size mattress, although a few hidden gems have a lower price tag. If you want to get the best deal on a hybrid mattress, we recommend shopping online. Internet retailers offer low prices because they have relatively few costs to meet, passing their savings on to the customer.
Does a hybrid mattress work with an adjustable bed?
Yes, a hybrid mattress can flex with an adjustable bed's panels without impacting the mattress's comfort or support. As the panels rise, sections of the hybrid curve upwards without bending the inner coils.
This adaptability is something a modern hybrid possesses, but a traditional spring mattress does not, which is why we don't recommend pairing a classic innerspring mattress with an adjustable base.
Found the Best Hybrid Mattress?
The best hybrid mattresses are well-suited for various sleepers of all styles, from hot sleepers to side sleepers to plus-size sleepers. These days, they are among the best mattresses in a box, too. However, some individuals may choose a different mattress type if they feel a hybrid mattress is too expensive or heavy for their needs. Still, many people continue to opt for hybrid mattresses because they balance bouncy support with comfortable cushioning.