Sponsored Article
Best Mail Order Mattress
Learn about some of the best mattresses you can buy with mail order delivery here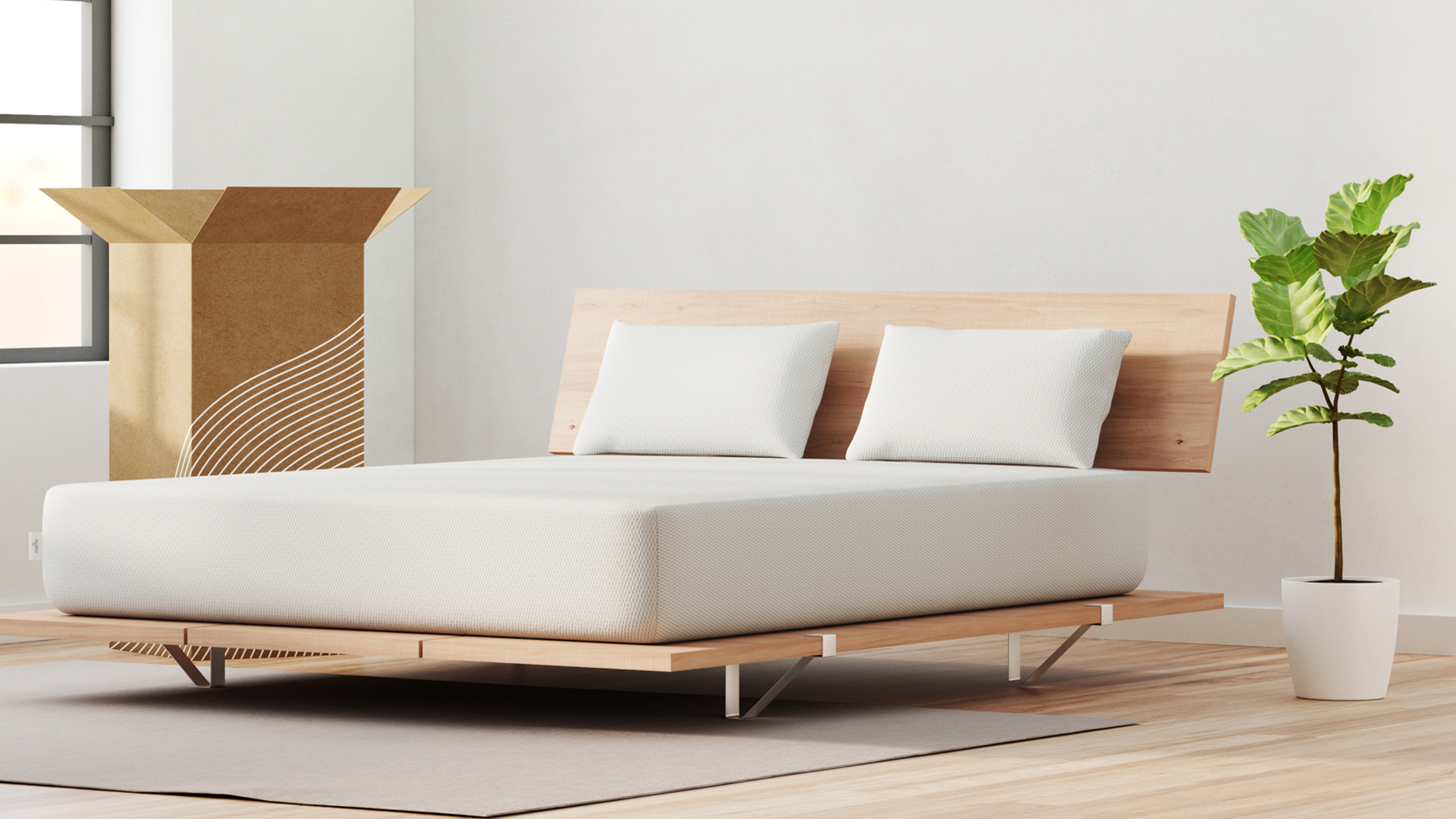 Today, shopping for pretty much any item online is faster and more convenient than going into a retail mattress store. Whether you are purchasing everyday household items or a new car, online shopping gives you more time to compare brands and prices and make sure you are getting precisely what you want. Without pushy sales associates, you have the freedom to shop around and make the most informed decision possible.
With the advent of the bed in a box industry, online shopping is now the best way to purchase a mattress. Online mattress brands offer extensive sleep trial periods, allowing you to test out the bed in the comfort of your home. Plus, by cutting out the middleman and shipping directly to the consumer, these brands can offer lower prices than most brick-and-mortar retailers.
However, just like every other product online, there is a huge selection of bed in a box mattresses to research and consider. Some models feature cheap, low-quality materials that break down quickly, leaving you unsupported and uncomfortable. While these beds often have low price points, they ultimately cost you more money and time in the long run.
The good news is there are plenty of new and innovative mattress brands producing durable, supportive, and, most importantly, extremely comfortable mattresses at affordable prices. To help you find a better night's sleep and avoid ordering a sub-par bed, we outline some of the best mail-order mattresses. We have also included a mattress buying guide to help you determine the right mattress firmness for your body type and sleep style.
Best Mail Order Mattresses
Best Mail Order Mattress Overall:

Amerisleep AS3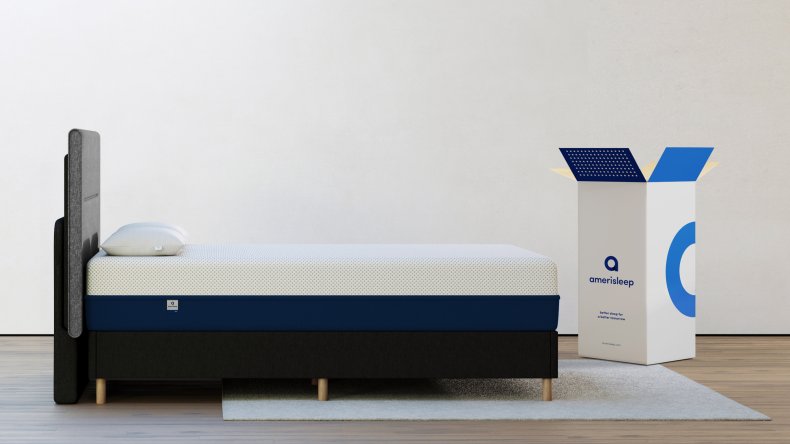 Memory foam beds continue to dominate the mattress industry because they offer deep contouring and instant pressure relief, allowing sleepers to wake up with less pain and joint stiffness. However, most memory foam beds trap heat and moisture, causing them to become too hot and uncomfortable.
Amerisleep is our favorite mail-order mattress brand because they have found a way to make memory foam even better. By using plant-based oils in constructing their foam, rather than 100 percent petroleum-based oils, their Bio-Pur® memory foam is lighter, more breathable, and more responsive than traditional varieties.
From their lineup, the Amerisleep AS3 is their most popular model because it has a medium firmness, perfect for side, back, and combination sleepers and couples with different body types and sleep habits.
The AS3 has a soft, ventilated cover to help body heat escape the mattress without causing it to heat up. This cover is also removable and washable, helping you keep the AS3 clean and free from germs and other allergens.
The comfort layer of the AS3 features their proprietary Bio-Pur® foam to cradle and cushion the joints from pressure points. To ensure proper spinal alignment during sleep, Amerisleep also includes their Affinity Foam transition layer with HIVE® technology.
The surface of this foam is embedded with hexagonal cutouts arranged in five support zones. These cutouts compress near the hips and shoulders, ensuring sensitive areas are cradled for maximum comfort. However, near the head, back, and legs, the cutouts are more supportive to prevent over-sinking that could force the spine to bow during sleep.
Both layers of the AS3 are supported by their Bio-Core® foam, a durable material resistant to sagging and indentations, ensuring the mattress remains comfortable through many years of use.
The AS3 mattress ships directly to your doorstep with free shipping. Once it arrives, you simply have to unbox it, unwrap it, let it expand, and start getting better sleep. Each Amerisleep mattress also comes with a generous 20-year warranty and a 100-night sleep trial.
Most Affordable Mail Order Mattress:

Vaya Mattress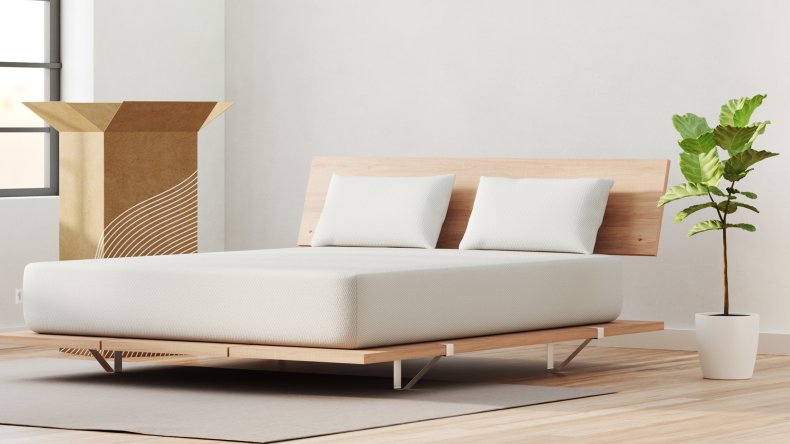 The Vaya Mattress is a budget-friendly mattress made with high-quality materials. As one of the best mattresses under $1000, you can get a supportive, versatile two-layer mattress. If you are shopping for a vacation rental, guest bedroom, or an everyday mattress, the Vaya is an excellent choice.
With a medium comfort level, the Vaya is suitable for most body types and sleep positions. No matter how you sleep, this mattress ensures your body's curves are cushioned and your spine is neutral. Vaya's proprietary foam comfort foam has a latex-like bounce to keep you from sinking too far into the mattress, which can make it difficult to move around and get comfortable.
The open-cell structure of this foam also makes it more airy and breathable than most mattress foams. With a ventilated microfiber cover, body heat quickly releases, leaving behind a soft, soothing, and cool sleep surface.
The Vaya Mattress base consists of a durable foam to provide further protection against spinal misalignment by keeping body weight evenly distributed. This base also protects against indentations that could change the structure and support of the mattress.
Vaya's budget-friendly price also includes free shipping, free returns, a 10-year warranty, and a 100-night in-home sleep trial.
Best Hybrid Mail Order Mattress:

Zoma Hybrid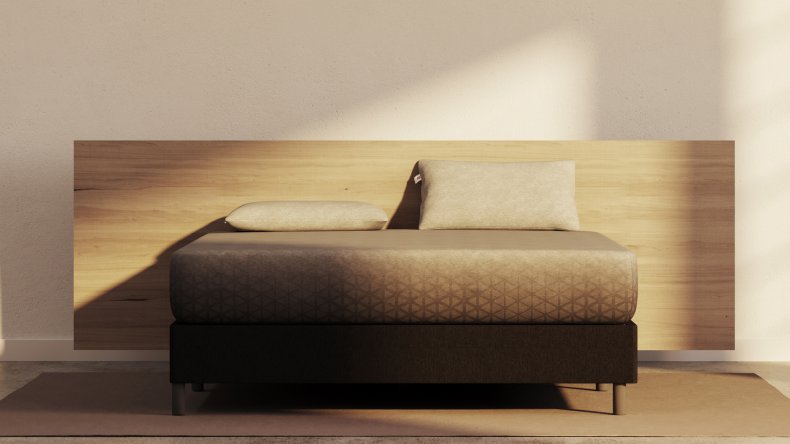 If you are a hot sleeper or experience uncomfortable night sweats, you may prefer the Zoma Hybrid Mattress. This bed has a comfort layer made with Zoma's proprietary gel memory foam infused with cooling gel to draw heat and moisture away from the mattress's surface. This feature keeps the bed cool and inviting throughout the night, so you never wake up hot and sweaty.
The soft, perforated cover of the Zoma Hybrid also keeps the mattress cool and comfortable. This flexible material allows sleepers to experience the full benefits of Zoma's pressure-relieving comfort foam, providing instant cushioning so the muscles can fully relax and recover.
Beneath the comfort layer is Zoma's Reactiv™ foam, a buoyant transition layer designed to keep the hips and shoulders lifted and the spine neutral. Whether you are a side or back sleeper, Zoma's Reactiv™ eases muscle tension so you can wake with less pain.
A pocketed spring coil base supports both foam layers of the Zoma Hybrid. Each coil is individually wrapped, allowing them to move separately and isolate motion. Body heat can also quickly pass through this coil base, contributing to the mattress's overall breathability.
The Zoma Hybrid comes with free shipping, free returns, a 100-night sleep trial, and a 10-year warranty covering sagging and indentations greater than .75 inches. This coverage protects your investment and ensures the Zoma Mattress keeps you supported and sleeping comfortably for many years.
Best Latex Mail Order Mattress:

Organica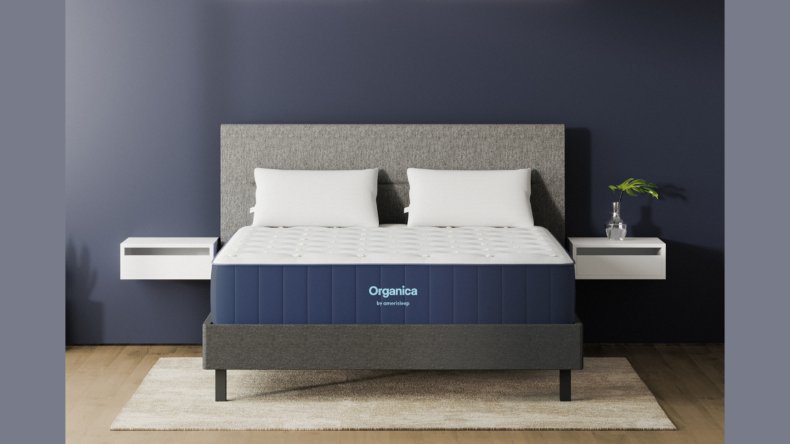 Amerisleep's Organica is a latex hybrid mattress made with natural, eco-friendly materials. The airy cover is made with GOTS certified organic cotton, guaranteeing it is free of pesticides, herbicides, and other toxic chemicals. While the top of this cover is soft and soothing, the woven sides increase air circulation and improve heat dissipation.
Instead of using harsh chemicals for fire resistance, Amerisleep includes a layer of all-natural New Zealand Joma Wool® just beneath the cover. This layer decreases heat retention and creates a safe, healthy fire barrier.
Organica's comfort layer features all-natural Talalay latex certified by OEKO-TEX® Standard 100, the Rainforest Alliance, and the eco-INSTITUT to be environmentally friendly, non-toxic, and safe for you and your family.
In addition to being a healthy mattress material, Talalay latex is also soft and conforming with a buoyant quality that reduces over sinking. This comfort layer gives the Organica Mattress a medium feel. Also, with its slight bounce, heavier sleepers and those with back pain don't have to worry about spinal misalignment.
Since latex foam is naturally resistant to dust mites, mold, and mildew, the Organica Mattress remains clean and free from germs. This material's natural bounce also helps maintain the mattress's shape and reduce soft spots or indentations.
Beneath the latex foam comfort layer, a base of pocketed spring coils provides support and even weight distribution to ease muscle tension and pain. These coils also have minimal motion transfer and noise, so you won't wake your partner when getting in and out of bed.
Like all Amerisleep mattresses, the Organica is protected by a 20-year warranty, ensuring your bed is repaired or replaced if it develops any structural defects. The 100-night trial period also allows you to test out the bed and make sure it's right for you.
Best Hybrid Mail Order Mattress:

Vaya Hybrid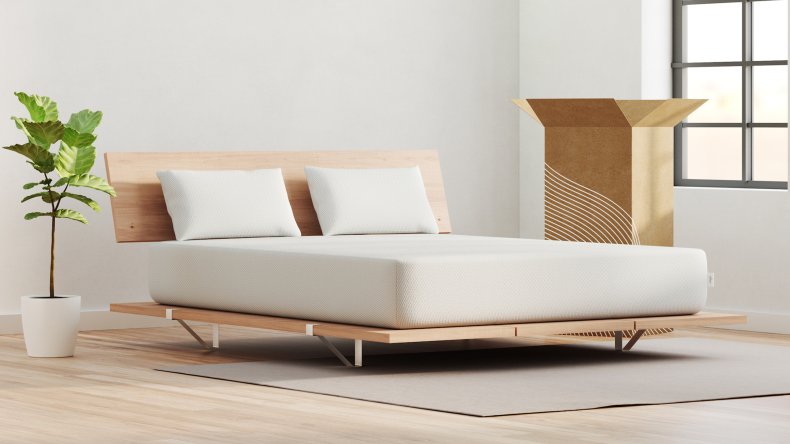 Vaya's Hybrid Mattress has the same responsive yet conforming comfort layer as their original model. This foam has a medium firmness that provides the perfect balance of plush contouring and spinal support. No matter what your body type or preferred sleep style, this mattress keeps you resting in a healthy sleep position, allowing you to wake with less pain.
Unlike Vaya's original mattress, their hybrid has a base of pocketed spring coils. Each coil in this support system is triple wrapped in a lightweight, durable material to add comfort and breathability. With reinforced edge support, sitting on the edge of the bed is easier and more comfortable.
Beneath the Vaya coils is a 1-inch layer of support foam to protect against motion transfer and sagging. When shopping with Vaya, you have 100 nights to test out the mattress and make sure it's right for you. Their 10-year warranty also ensures you are covered if the bed develops premature sags or indents.
Best Mail Order Mattress for Couples:

Zoma Mattress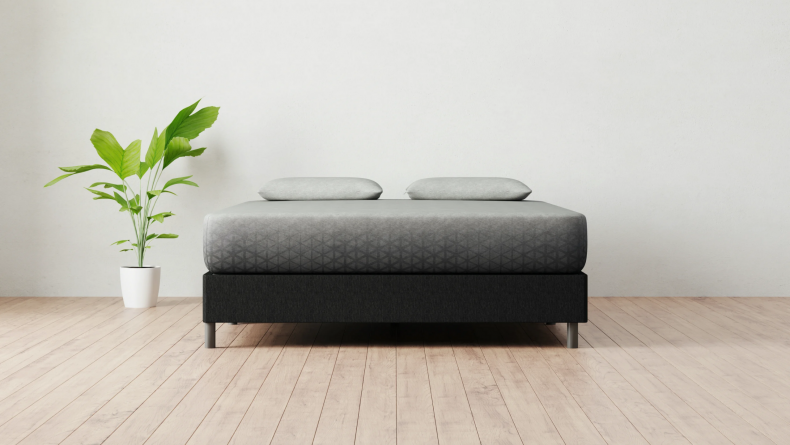 If you and your partner have different body types or sleep habits, it can be challenging to determine the right mattress firmness. The Zoma Mattress has a medium firmness suitable for most couples. It is firm enough to prevent excess sinking and lower back pain, but soft enough to reduce pressure points.
The top layer features Zoma's gel-infused memory foam, which wicks away heat and moisture as you sleep. This material also features Zoma's Triangulex™ technology—triangular cutouts across the surface of the foam respond to different levels of pressure, ensuring your lumbar spine is supported to reduce lower back pain.
To ease muscle tension and promote a neutral spine, Zoma includes their Reactiv™ transition layer. Reactiv™ has an elastic quality, perfect for keeping the body lifted and aligned during sleep. If you are a side sleeper and your partner is a back sleeper, Reactiv™ ensures you both have the support you need for deeper, more restful sleep.
With a foundation of Zoma's Support+ foam, you can rest assured the Zoma will not develop soft spots or indentations. Zoma's 10-year warranty covers sagging and indentations greater than .75 inches. Plus, you can test out the bed at home with their 100-night sleep trial.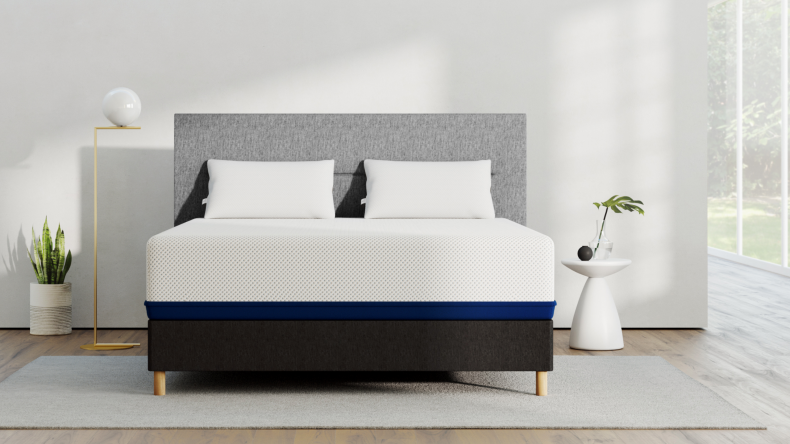 Side sleepers and petite individuals typically need a softer mattress to prevent pressure points near the hips and shoulders. However, an overly soft bed can lead to excess sinkage that causes muscle tension and pain.
The Amerisleep AS5 Hybrid is the perfect soft mattress for side sleepers because the plush Bio-Pur® comfort layer conforms closely to the body for maximum pressure relief. To prevent uncomfortable over-sinking, Amerisleep includes their Active Flex foam directly below the Bio-Pur® layer. This responsive transition layer gently lifts the hips and shoulders so the spine can rest in a safe, comfortable position.
Supporting these two foam layers is a base of Amerisleep's pocketed spring coils. Unlike traditional innerspring beds, Amerisleep's coils are not connected. Therefore, they have minimal motion transfer and conform more closely to the body. A 1-inch layer of their stable support foam sits just beneath the spring coil base for shock absorption and noise reduction.
Amerisleep's AS5 Hybrid comes with free shipping and a 100-night sleep trial. This advanced mattress comes with a 20-year warranty covering manufacturer and structural defects.
Best Mail Order Mattress on Amazon: Tuft & Needle Original Mattress
Tuft & Needle is a well-known mattress brand on Amazon. Although they have several models, their original mattress remains their most popular. With an average rating of 4.5 stars and over 12,900 reviews, many sleepers find quality sleep on the T&N Original Mattress.
The Tuft & Needle Original's comfort layer features their proprietary Adaptive Foam®, which has a medium firmness. This layer is infused with both cooling gel and graphite to ensure body heat can quickly pass through the mattress, so you experience fewer night sweats and sleep disruptions.
This mattress's base includes T&N's support foam, which provides breathability and even weight distribution. With this stable bottom layer, you can place this mattress on most modern bed frames, including slatted foundations, platform beds, bunkie boards, and adjustable bed frames.
All Tuft & Needle mattresses come with a 100-night sleep trial and a limited 10-year warranty.
Best Foam Alternative Mail Order Mattress: Purple Mattress
Purple is another popular mattress brand offering sleepers a selection of foam and hybrid models. From their lineup, we recommend their original Purple Mattress. This bed features 2 inches of their unique Purple Grid™, which conforms to the body to keep you supported and comfortable. This material can withstand intense pressure without losing its buoyancy, so it is highly durable and responsive.
With a lightweight, stretch-knit cover, and airflow channels placed throughout the Purple Grid™, this mattress is airy and won't retain body heat throughout the night. Purple's knit cover also acts as a fire barrier.
Supporting the Purple Grid™ are two poly-foam layers. One layer is soft and conforming for maximum contouring and comfort. However, the base layer is firm to prevent structural defects like sagging.
When shopping with Purple, each mattress comes with free shipping, free returns, a 100-night sleep trial, and a 10-year warranty.
How to Shop for a Mail Order Mattress
Mattress comfort is subjective—your sleep position and body type can determine how comfortable you find a bed.
The following mattress buyer's guide can help you select the right mattress for you and ensure the shopping experience is as simple as possible.
Mattress Type
There are currently four popular mattress types on the market—memory foam, latex, hybrid, and innerspring beds. Each style has different layers, materials, and features that affect the feel and support of the bed. Below, we outline the details of these four mattress types.
Memory Foam Mattress
The deep contouring and pressure relief found on a memory foam bed helps many different sleepers rest easy. Lying on a soft memory foam mattress provides instant comfort and relaxation, helping you fall asleep quickly and snooze soundly.
Memory foam beds are available in many firmness levels, from soft to firm, making them an excellent option for all sleepers. Whether you're a side sleeper needing more compression, or a back sleeper looking for better spinal support, you will likely find what you need on a memory foam mattress.
Since one of the drawbacks of memory foam is its tendency to retain heat, we suggest purchasing one of the best memory foam mattresses with plant-based foam, gel or graphite infused foam, or other features that promote breathability.
Latex Foam Mattress
Latex foam has a natural elastic quality, making it an ideal choice for a mattress. While this material is soft and conforming, similar to memory foam, the responsiveness of latex keeps sleepers lifted on the bed. This buoyancy promotes a neutral spine and helps ease muscle tension during sleep.
While latex foam comes in various firmness levels, it is most frequently medium to medium-firm, which works well for many types of sleepers. Since latex is naturally resistant to dust mites, mold, and mildew, it is also one of the most durable options on the market, with most latex beds lasting 12 to 15 years. Natural latex foam is sustainable, and latex manufacturers often use eco-friendly methods to produce less waste and pollution, making these beds a great choice for eco-conscious shoppers.
Hybrid Mattress
Hybrid mattresses have a 2 to 3-inch comfort layer of either memory foam, latex foam, or poly-foam. This layer cushions and cradles the body to alleviate muscle tension and prevent pressure points.
Supporting the comfort layer is a base of spring coils. While the type of coils used varies by brand, most feature pocketed spring coils. These coils are individually wrapped to reduce motion transfer, increase breathability, and prevent pressure points.
Hybrid beds also have a slight bounce. Thanks to the spring coil base, hybrids prevent excess sinkage and the uncomfortable feeling of being "stuck" in the mattress. This buoyancy is great for heavier sleepers (230 pounds or more) because it makes changing positions during sleep easier.
Hybrid beds can be found in soft, medium-soft, medium, medium-firm, and firm comfort levels. The feel of the mattress largely depends on the thickness, type, and firmness of the foam used in the first layer and second layer.
Hybrids with latex foam top layers tend to be medium to medium-firm. Hybrids with a memory foam comfort layer can be found in a range from soft to firm.
Innerspring Mattress
Innerspring beds are one of the most common mattress types. They consist of a 1 to 2 inch comfort layer, typically made of cotton, wool, or foam, and a spring coil base. The type of coils used in an innerspring bed can vary depending on brand. Traditional spring coils tend to be noisy and provide very little motion isolation. However, those with pocketed spring coils have minimal motion transfer and are quiet.
Innerspring beds are available in various firmness levels. But, since traditional spring coils often become bent or broken, these beds do not have the same lifespan as foam or hybrid mattresses.
Mattress Firmness Scale
Mattress firmness is typically rated on a scale from one to ten—with one being the softest and ten being the firmest. However, most mattresses land in the three to eight range.
In most cases, your body type and sleep position can help you determine the right firmness for you. The following table outlines the various firmness levels and who they are most suitable for whether you need to find the best firm mattress or the best mattress for side sleepers.
| | | |
| --- | --- | --- |
| Firmness | Firmness Rating | Recommend For... |
| Firm | 8 to 10 | Heavy individuals (230 pounds or more) and stomach sleepers |
| Medium-Firm | 6 to 7 | Heavy individuals (230 pounds or more), those with back pain, back sleepers, and stomach sleepers |
| Medium | 5 | Average weight individuals, back sleepers, combination sleepers, and couples |
| Medium-Soft | 3 to 4 | Lightweight individuals, side sleepers, and combination sleepers |
| Soft | 1 to 2 | Lightweight individuals, side sleepers, and combination sleepers |
Price
Mail order mattresses are typically more affordable than those found at brick and mortar locations. With lower overhead costs, online mattress brands pass along considerable savings to their customers. However, prices vary depending on brand, materials, and mattress type.
Memory foam mattresses and hybrid beds typically cost between $800 and $2000 for a queen size. Features, such as gel memory foam, plant-based foam, and graphite infusions, may increase the price, especially among the best cooling mattresses.
Latex foam beds, whether they have a hybrid spring coil base or a latex foam base, tend to be the most expensive option on the market. Since latex foam is often sustainably harvested and incredibly durable, these beds have a higher price point, between $1500 and $3000 for a queen size. Those with organic certification can often cost upwards of $4000.
Innerspring beds are often the cheapest option, with an average price point of $300 to $800 for a queen. However, because innerspring mattresses are not as durable as all-foam and hybrid mattresses, these beds typically end up costing you more in the long run.
Shipping and Delivery
Most mail order mattress brands offer free shipping to anywhere in the continental US. For expedited shipping, some companies may charge an additional fee.
Whether you choose a twin size or a California king, your mail-order mattress arrives compressed and rolled tight in a box. Once it arrives, you can unwrap it and let it expand for up to 24 hours before sleeping on it.
Upon unboxing, some mattresses, especially those made with foam, may have a slight odor due to the VOCs off-gassing. If you have allergies or are sensitive to smells, be sure to select one of the best mattresses in a box with a CertiPUR-US® certification. This third-party certification guarantees the bed is free of harmful chemicals and has minimal VOC off-gassing.
Sleep Trial and Warranty
While in-store mattress shopping has been the standard for many years, it doesn't necessarily lead to a more successful experience than online shopping. A short 10 to 20-minute test of a mattress in a store is not enough time to determine if the bed is right for your body type and sleep position.
Plus, when shopping at a brick and mortar store, you may not get the same sleep trial and warranty. When purchasing a best online mattress, you are buying directly from the company, so you get full warranty coverage and have a direct line to the brand if anything goes wrong with your new bed.
To ensure the mattress is helping you get a good night's sleep, many online mattress brands offer generous sleep trial warranties to allow you to test out the bed for up to 100-nights. If you are not happy with the mattress, many providers may offer a full refund.
Since it often takes your body 2 to 3 weeks to become accustomed to a new mattress, most brands require that you sleep on the bed for at least 30 days before providing a free return. If you decide to return the bed before the end of the first 30 days, they may charge a small fee.
Frequently Asked Questions
What is the Best Month to Buy a Mattress?
While online mattress brands have affordable prices all year, they typically have sales during Presidents Day, Memorial Day, 4th of July, Labor Day, and Veterans Day weekend. It is also common for online brands to offer large discounts on Black Friday and Cyber Monday.
What Mattresses Do Hotels Use?
Most hotel rooms have an innerspring or hybrid mattress with a medium-firm feel. If you find yourself getting better quality sleep in a hotel room, your home mattress may be too soft and unsupportive. Medium-firm beds are a great choice for back sleepers, plus-size sleepers, and those with back pain. In fact, medium and medium-firm beds are the best mattresses for back pain.
How Do I Know If My Mattress Needs To Be Replaced?
If you frequently wake with aches and pains that last throughout the day, your mattress may no longer be supporting you correctly. If the bed has become too soft, your hips and shoulders may sink and force your spine to bow. This awkward position leads to pressure and tension in the lower back.
Most mattresses last between 6 and 10 years, depending on the type. Memory foam, latex, and hybrid mattresses tend to have a longer lifespan, around 8 to 12 years. However, no matter how durable a mattress is, all beds eventually lose their supportive structure and need to be replaced. But be sure to check each mattress warranty as some companies will offer a full replacement in case of issues or premature wear.
If you're on a tight budget, you can even shop the best budget mattresses, too.
Can You Put a New Mattress on an Old Box Spring?
Box springs were initially designed to provide additional support for innerspring mattresses. Box springs hold spring coils, similar to the ones inside an innerspring bed. These coils within the box spring push off the coils inside the mattress and absorb shock.
However, modern box springs do not have spring coils, and they consist of only a hollow wooden or metal box. Box springs provide very little in terms of support, but they do add height to a bed.
Most advanced mattresses, such as memory foam, latex, and hybrid beds, do not need a box spring. In fact, these mattresses can become damaged if placed on a box spring. Therefore, we suggest using a supportive mattress foundation or a bed frame with slats placed no more than 3-inches apart.
If you prefer the height that comes with a box spring, you can place a bunkie board or a 1-inch piece of moisture-resistant plywood between the mattress and the box spring. This barrier prevents sagging and creates a more solid surface for your mattress.
Which is Better—Foam or Hybrid Mattress?
Whether a foam or hybrid mattress is right for you will depend on your personal preferences. If you prefer a bed with a slight bounce, you may enjoy the best hybrid mattress. These beds also help you feel more lifted, rather than cradled. However, if you prefer deeper contouring, you may want a foam mattress. Foam beds have more give and very little motion transfer.
Conclusion
Adequate sleep is essential for productivity and mental and physical health. If your sleep quality is suffering because you are still sleeping on an old, broken down mattress, do yourself a favor and upgrade to a more modern, advanced mattress. With so many high-quality mail order mattresses available at affordable prices, you are sure to find the best mattress for you.