Sponsored Article
Best Mattresses - Top Mattress Brands Reviewed
Browse our best mattress brands guide to get your best sleep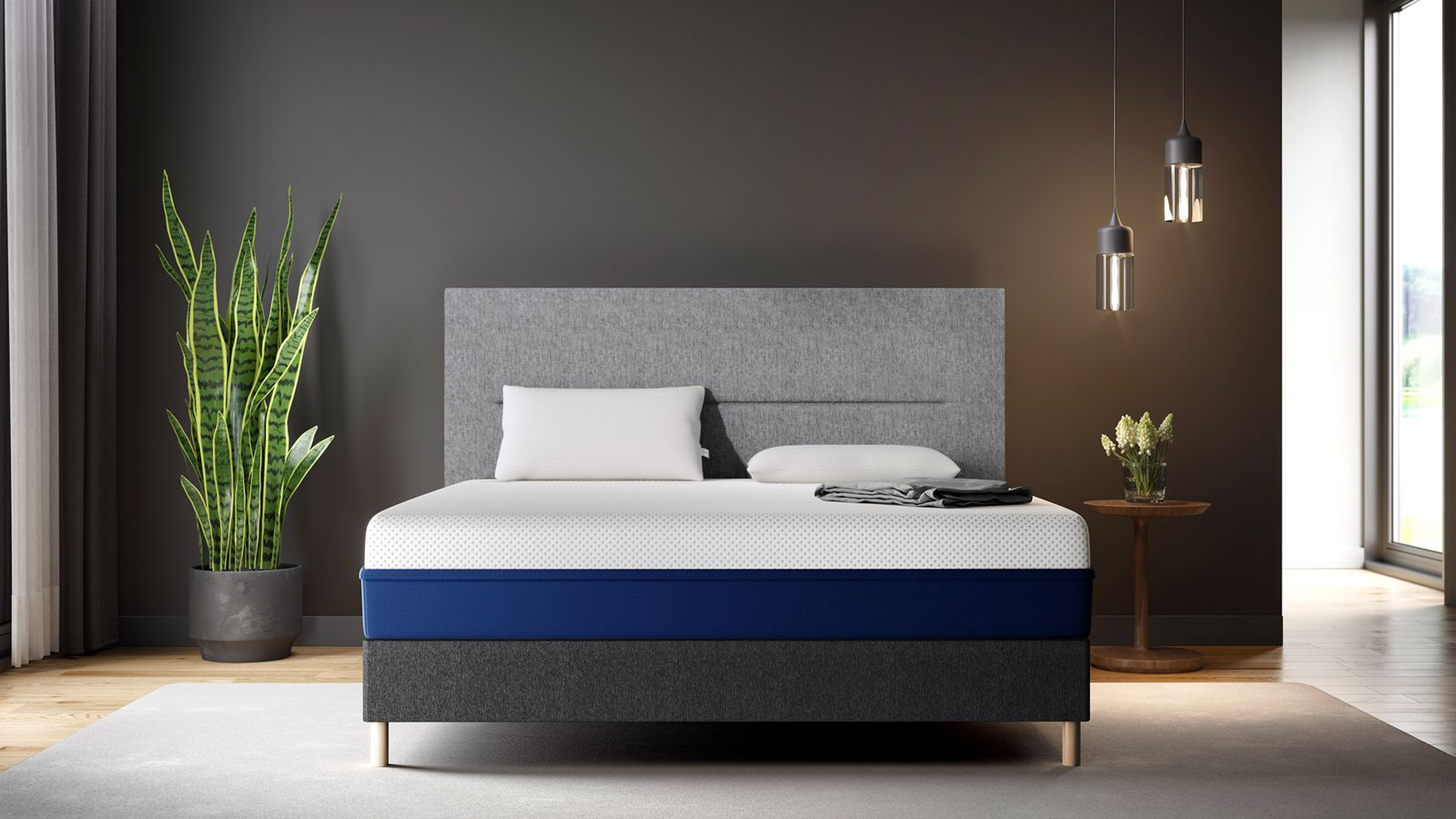 Buying a new mattress is a big decision that can affect the rest of your day-to-day life. If you choose the right mattress and it helps you get a better night's sleep, then your mood and productivity will likely improve. If you choose the wrong mattress and struggle to fall asleep, you may feel sluggish and unhappy during your daytime routine.
You may also be caught between not wanting to overspend on a mattress and wanting to know what you're buying is a quality product. High prices don't necessarily mean high quality, but it is a good idea to treat your next mattress as an investment in comfort. If you choose wisely, the mattress will provide you with years of comfortable sleep.
Mattress shopping can be quite a challenge, which is why we decided to round up our picks for the best mattresses.
Best Mattresses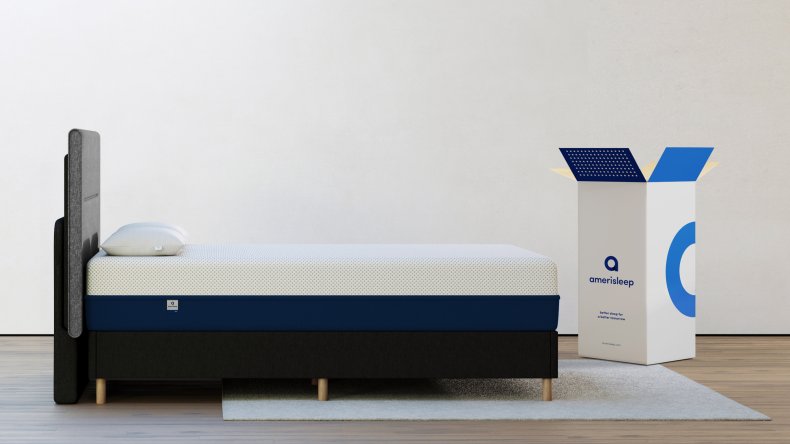 The Amerisleep AS3's medium feel is designed to accommodate a wide range of sleepers. It can cushion side sleepers' shoulders and hips for pressure relief and support back sleepers' neutral spine alignment. Because its feel is almost universally comfortable, the AS3 is a good choice for couples, too. Its versatility is why we chose the AS3 as our top recommendation.
The top layer of the AS3 mattress is 3 inches of Amerisleep's exclusive Bio-Pur® foam, a plant-based alternative to traditional memory foam. Amerisleep produces Bio-Pur® by replacing a portion of the chemicals that make up traditional memory foam with castor oil. The result is a foam more breathable and responsive than traditional foam.
The middle layer is 2 inches of Affinity foam with HIVE® technology, which separates the bed into five support zones with hundreds of hexagonal cutouts. The hexagons under the shoulders and hips flex with the body, providing better compression and improving the bed's pressure relief. In the head, back, and feet areas, the cutouts are closer together and lack the room to expand, keeping the mattress firm and supportive in these spots.
Forming the mattress's base is 7 inches of Bio-Core® foam, a sturdy and aerated material that strengthens the mattress for greater longevity. Bio-Core® resists sagging even after decades of use, and Amerisleep credits the foam for their industry-leading warranty.
Amerisleep offers free shipping, a 100-night sleep trial, and a 20-year warranty. The warranty divides cleanly into two parts, with a free replacement offered for the first 10 years and a prorated replacement for the final 10 years.
Thickness: 12 inches
Firmness: Medium
Available Sizes: Twin, twin XL, full, queen, king, California king, split king
Best Memory Foam Mattress:

Zoma Mattress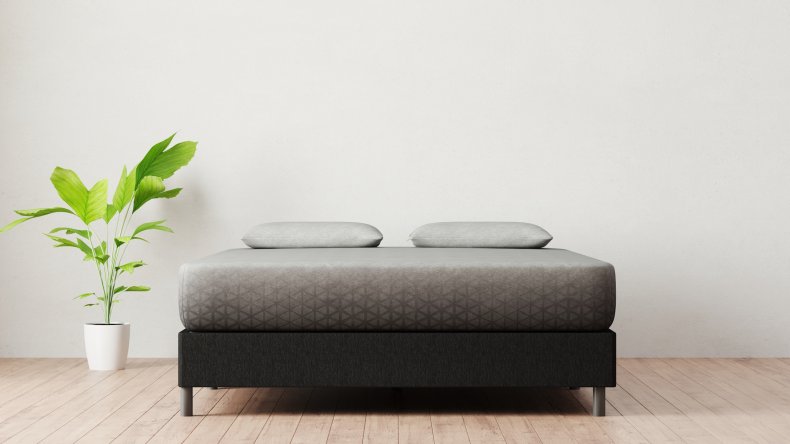 While originally called the Zoma Sports Mattress, the Zoma Mattress is suitable for people of all activity levels. Many professional athletes have enjoyed sleeping on the Zoma, but you can also benefit from the bed if you lead a generally active lifestyle.
The Zoma Mattress has three layers of foam in a breathable AirCloth cover. The first layer is 2 inches of gel-infused memory foam with Triangulex™ technology. Triangular cutouts in the mattress's head and foot increase the bed's flexible cushion, while the torso remains free of cutouts for consistent support.
Next is 2 inches of Reactiv™ foam and, as the name suggests, it reacts to your movements. The foam mimics latex's springy feel, lifting a sleeper's body and promoting neutral spine alignment. Reactiv™ foam also helps the mattress adapt quickly when you move, ensuring you don't feel stuck in a bed too slow to respond as you shift positions.
The last layer is 7 inches of Support+ foam, a durable material that gives the bed an uncompromising structure.
The Zoma Mattress ships free to your door, and includes a 100-night sleep trial and a 10-year full replacement warranty.
Thickness: 11 inches
Firmness: Medium to medium-soft
Available Sizes: Twin, twin XL, full, queen, king, California king, split king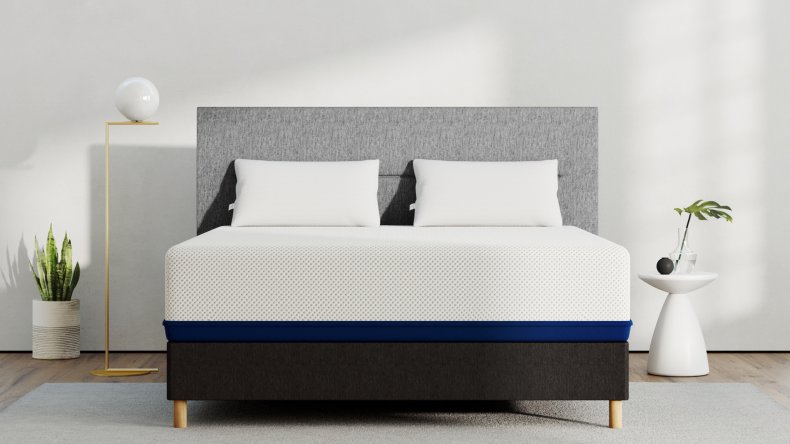 The medium-feel beds we've talked about are a good choice for side sleepers, but some prefer the cushioning of a soft mattress to help them fall asleep. Petite sleepers may also need a soft mattress to conform to and support their bodies. When it comes to soft beds, our top recommendation is the Amerisleep AS5 Hybrid.
The AS5 is also available as a memory foam mattress. However, we recommend the AS5 Hybrid because of its striking balance between plush cushion and bouncy support. The AS5 Hybrid is Amerisleep's thickest mattress, standing 14 inches tall and containing four layers.
The top layer is 3 inches of Amerisleep's proprietary Bio-Pur® foam, providing a soft cushion that adapts to your every movement. Even as the Bio-Pur® foam hugs your body, its airy design promotes a cool-to-the-touch feel, limiting sleep disturbances.
Underneath the Bio-Pur® foam is 2 inches of Active Flex foam, a material unique to the AS5 model. As the name suggests, Active Flex is a responsive material that increases the mattress's buoyancy. Many low-quality soft mattresses let a sleeper sink in too deep, misaligning their spine. Active Flex is Amerisleep's way of making sure that doesn't happen to you.
The mattress's support core is 8 inches of pocketed coils on a 1-inch thick foam base. Amerisleep arranges its coils for targeted support, creating a firmer, supportive feel under the back and a softer, contouring feel under the head and feet. Protective foam surrounds the coils, providing edge support for easier movements.
Like the Amerisleep AS3, the Amerisleep AS5 Hybrid comes with free shipping, a 100-night sleep trial, and a 20-year warranty.
Thickness: 14 inches
Firmness: Soft
Available Sizes: Twin, twin XL, full, queen, king, California king, split king
Best Mattress for Back Pain:

Amerisleep AS2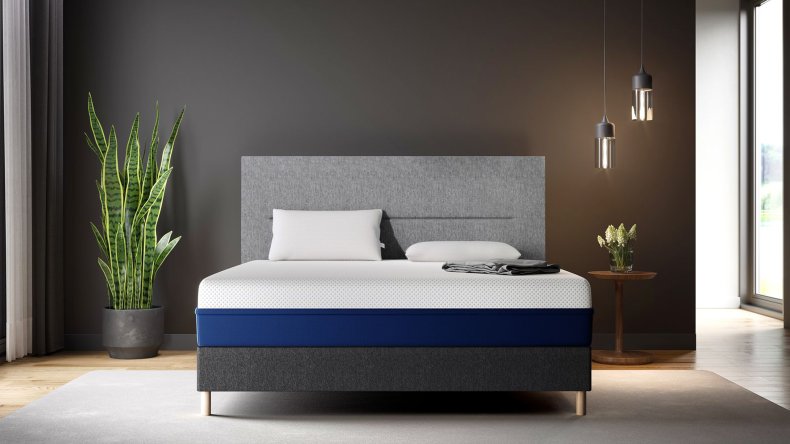 While plenty of sleepers enjoy the cushioning feel a medium or soft mattress provides, others require a firmer mattress to experience a good night's rest. Many sleepers who suffer from back pain find relief by using a medium-firm mattress like the Amerisleep AS2.
Like the AS3 and the AS5 Hybrid, the Amerisleep AS2 has a top layer of Bio-Pur® foam. While the 2-inch comfort layer is thinner than the other models, the AS2 still offers enough cushion to relieve pressure and pain throughout the night. It's also responsive enough to adapt quickly to a sleeper's movements, eliminating uncomfortable feelings of being stuck or sinking too deep.
Underneath the Bio-Pur® foam is a 3-inch layer of Affinity foam with HIVE® technology. We mentioned earlier that Amerisleep divides their Affinity foam layer into five sections. The mattress feels softer under the shoulders and hips and more supportive underneath the head, torso, and feet.
Last of all is the 7-inch base layer of Bio-Core® foam, which forms the mattress's core and promotes a long-lasting bed.
The Amerisleep AS2 ships free and includes a 100-night trial and a 20-year limited warranty.
Thickness: 12 inches
Firmness: Medium-firm
Available Sizes: Twin, twin XL, full, queen, king, California king, split king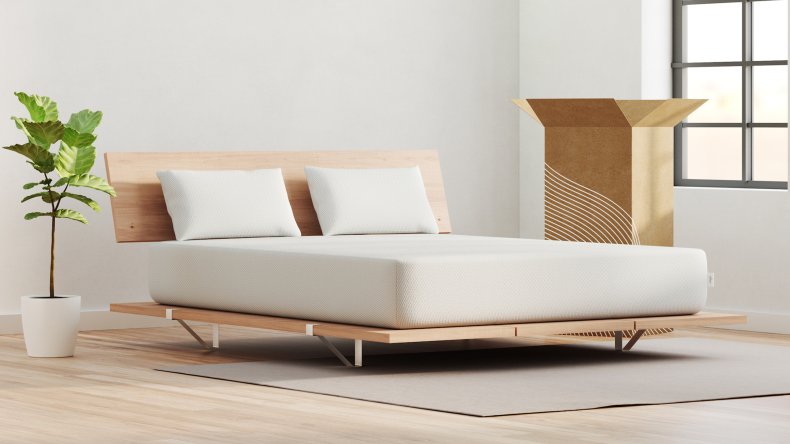 Many mattress companies strive to provide quality comfort and support at an affordable price. Vaya earns its place as our top recommendation for a budget mattress because of its versatility. The original Vaya foam mattress and the newer Vaya Hybrid are both designed to support a person in any sleep position.
We choose the Vaya Hybrid over the original Vaya Mattress because of its buoyant nature. Bargain-priced hybrids can also be trickier to find than inexpensive foam mattresses since hybrids are a mix of high-quality materials, so we wanted to highlight the Vaya Hybrid's clever design. A queen size Vaya Hybrid is the best mattress under $1,000.
Every Vaya Hybrid has three layers, wrapped in a mesh fabric cover. The top layer is 2 inches of Vaya Comfort Foam, a material lighter and more breathable than traditional memory foam. Yet Vaya Comfort Foam still conforms to the body the same way memory foam would, providing durable, responsive comfort.
The Vaya Hybrid's base is 8 inches of pocketed coils on a 2-inch supportive foam base. The coils are arranged to provide corner-to-corner edge support, making it easy for people to move in and out of bed. Edge support is handy if you have a condition that restricts movement, such as arthritis.
Vaya ships its mattresses for free and includes a 100-night sleep trial and a 10-year warranty.
Thickness: 12 inches
Firmness: Medium suitable for all sleepers
Available Sizes: Twin, twin XL, full, queen, king, California king
Best Latex Mattress:

Organica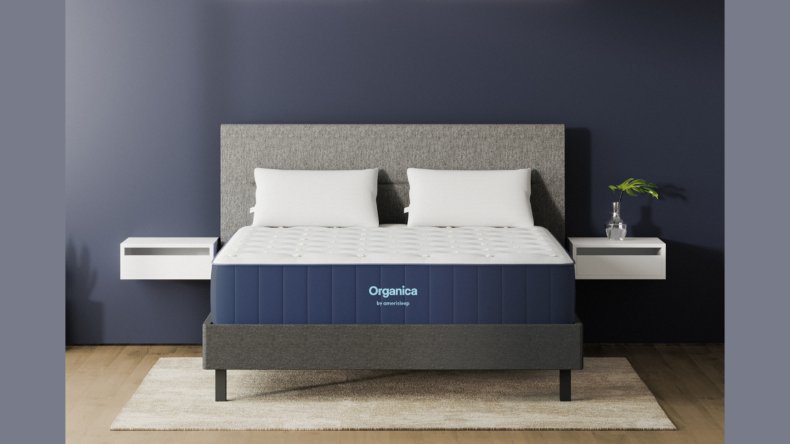 Increasingly, consumers are mindful of their environmental impact and want to do more to reduce their carbon footprint. As the name suggests, the Organica Mattress is made almost exclusively of organic materials for a cleaner, greener sleep.
The Organica contains four layers, encased in a Joma Wool® quilt cover. First is the 1-inch-thick padding inside the quilted cover, followed by 3 inches of Talalay latex. The plush padding cushions your body, while the Talalay latex responds to your movements and relieves pressure points.
Its support core is 8 inches of pocketed coils on top of a 1-inch-thick, supportive Dunlop latex base. The coils buoy your body and isolate motion to prevent sleep disruptions, while the latex base helps the entire mattress maintain its structure.
To verify its green materials and manufacturing processes, Organica is certified by OEKO-TEX®, Global Organic Textile Standard, eco-INSTITUT, and Rainforest Alliance. These organizations have certified the bed's Talalay latex and Joma Wool® as organic, tested the mattress's VOC emissions and certified that the yarn used in the mattress was produced in a socially responsible manner.
The Organica includes free shipping, a 100-night sleep trial, and a 20-year warranty.
Thickness: 13 inches
Firmness: Medium
Available Sizes: Twin, twin XL, full, queen, king, California king, split king
Other Mattress Brands to Consider
We've given our top six mattress recommendations, but there are still quite a few honorable mentions we can't skip over.
Layla Hybrid
Most hybrid mattresses are not flippable, but the Layla Hybrid is one of the few exceptions. Not only can you sleep on both sides, but each side has a different firmness. The soft side is suitable for side sleepers, while the reverse firm side is great for back and stomach sleepers. The mattress has handles along its sides to make flipping the bed a little easier.
The Layla Hybrid contains five layers, starting from the soft side:
2.5 inches of copper-infused memory foam
2 inches of Max Airflow Support Foam
6 inches of Infinity Edge™ individually wrapped coils
1.5 inches of Max Airflow Support Foam
1 inch of copper-infused memory foam
The copper infusion not only wicks heat away but also promotes a sleeping environment free of harmful bacteria. Layla's Max Airflow Support Foam has deep air channels to further promote a cooling surface, along with zoned support.
The Layla Hybrid includes free shipping, a 120-night sleep trial, and a 10-year warranty.
Thickness: 13 inches
Firmness: One side is soft, the other firm
Available Sizes: Twin, twin XL, full, queen, king, California king
Avocado Green Mattress
More and more shoppers are thinking about their environmental impact, and companies like Avocado are stepping up to provide an eco-friendly mattress. The bed contains organic latex, cotton, and wool, along with upcycled steel springs.
You can choose to add a 2-inch pillow top to soften the Avocado mattress's feel, making the bed more comfortable for side and combination sleepers. We would recommend the standard mattress with its medium-firm feel for back sleepers seeking a supportive, springy mattress.
Avocado ships their mattresses for free and includes a year-long home trial and a 25-year warranty.
Thickness: 11 inches, 13 inches with added pillow top
Firmness: Medium-firm, gentle firm with pillow top
Available Sizes: Twin, twin XL, full, queen, king, California king
Bear Hybrid
Bear focuses on promoting recovery in their mattresses and markets their beds towards athletes. Not only do they include pressure-relieving foams and supportive bases, but they also use Celliant® fibers in their mattress covers. Celliant® absorbs body heat and converts it into infrared energy that penetrates the sleeper's body and boosts local blood flow for greater recovery.
The Bear Hybrid has five layers, encased in a quilted Celliant® fabric cover:
2 inches of cooling gel foam
2 inches of premium comfort foam
1 inch of responsive transition foam
8 inches of pocketed coils
1 inch of high-density support foam
This mattress includes a 100-night trial and a 20-year warranty.
Thickness: 14 inches
Firmness: Medium
Available Sizes: Twin, twin XL, full, queen, king, California king
Purple Mattress
The big selling point of Purple's mattresses is their unique Purple Grid™, made with a breathable, flexible gel material. The grid's numerous squares flex and buckle under a sleeper as needed, cushioning and supporting the body in any position.
The basic Purple mattress has three layers, wrapped in a Softflex cover:
2 inches of Purple Grid™
3.5 inches of poly-foam to act as a buffer between the comfort and base layer
4 inches of denser poly-foam for support
Purple offers free shipping, a 100-night sleep trial, and a 10-year warranty.
Thickness: 9.5 inches
Firmness: Universal firmness for all sleep positions
Available Sizes: Twin, twin XL, full, queen, king, California king, split king
Tuft & Needle Original
If you're looking for a budget mattress, the original Tuft & Needle bed is a good choice. The Tuft & Needle original mattress has two foam layers:
3 inches of T&N Adaptive® foam, the company's alternative to memory foam
6.5 inches of support foam
Tuft & Needle says their original mattress is suitable "for sleepers of all kinds who want an uncomplicated mattress." However, its medium-firm surface may feel too unyielding to side sleepers, who need a conforming mattress for the heavier parts of their bodies.
Tuft & Needle offers free shipping, a 100-night sleep trial, and a 10-year limited warranty.
Thickness: 10 inches (though the two layers only combine to 9.5 inches)
Firmness: Medium-firm
Available Sizes: Twin, twin XL, full, queen, king, California king
Nolah Signature
Another rare modern mattress with a flippable design is the Nolah Signature mattress. One side feels soft and the other firm. We recommend the soft side for side sleepers and the firm side for back and stomach sleepers.
The Nolah Signature contains four layers, from the soft side down:
2.5 inches of Nolah AirFoam™
1.5 inches of supportive, high-resilience foam so that sleepers don't bottom out on the support layer
7 inches of high-density, aerated base foam to deepen the mattress's contouring
1 inch of Nolah AirFoam™
The Nolah Signature is well-suited for people who want to experiment with different sleep styles or keep a versatile bed in their guest room.
Thickness: 12 inches
Firmness: One side is soft, the other firm
Available Sizes: Twin, twin XL, full, queen, king, California king
Understand the Types of Mattresses
Most people will choose one of four mattress types—memory foam, latex, innerspring, and hybrid mattresses.
Memory Foam
Memory foam mattresses have earned a reputation for being some of the best mattresses to ease pain and stiff joints while you sleep. The top memory foam layer reacts within seconds to heat and pressure, closely conforming to a sleeper's body.
Another reason memory foam is popular is the material's affordability. You can find the best memory foam mattresses at all price points, though you typically have to spend at least a few hundred to be sure you're getting a well-made bed that will last.
Mattress manufacturers continue to discover ways to improve and customize their memory foam. Two popular variations include gel memory foam and plant-based foam, both of which create a material that keeps cool better than traditional memory foam.
Traditional memory foam typically retains too much body heat. While plant-based foam is one way to solve that problem, many modern manufacturers rely on gel-infused memory foam instead. The gels are spread throughout the foam and wick away heat from the sleeper.
Latex
Latex feels similar to memory foam and is quick to contour to a person's body. Many people choose to sleep on a natural latex mattress instead of a memory foam bed because latex is a more eco-friendly, durable alternative. Latex foam also tends to stay cooler better than traditional memory foam.
Latex sounds like a perfect mattress material, right? Well, like all mattress types, latex beds have their disadvantages. They're usually quite heavy, more so than a memory foam mattress of equal size and thickness. Natural latex mattresses are also expensive because of their production processes and certifications.
Innerspring
Innerspring mattresses have the classic coil support system with two thin cushioning layers on the top and bottom. While these mattresses once dominated the market, they've fallen slightly beneath the radar as other types have risen to prominence.
An innerspring mattress can be a good choice if you're looking for an inexpensive bed or one you can quickly buy at a nearby mattress store. However, we don't recommend innerspring mattresses to people seeking pain relief. Many innerspring mattress owners have complained about insufficient cushioning that left them sore and stiff in the morning.
Hybrid
Hybrid mattresses take an innerspring mattress's base, wrap the coils in fabric or foam pockets, and combine it with a foam mattress's comfort layers. With a hybrid, you can experience a bouncy mattress that also relieves pressure points and keeps you from a painful awakening.
Like latex mattresses, hybrid mattresses are one of the more expensive types of mattresses. Manufacturers have to mix different types of high-quality materials to make one, after all. They're also heavy, making standard chores like changing the sheets difficult if you have back problems, arthritis, or other physical conditions.
Mattress Shopping Tips
Research the Best Mattress Firmness for Your Sleep Style
Mattress firmness, thickness, and size are important features to consider as you shop. Of the three, mattress firmness can be the most difficult to understand when it comes to determining what's right for you.
For example, some people think that a firm bed is inherently better than a soft mattress. However, which is right for you mostly depends on your sleeping position and body type.
Most individuals prefer one of three sleeping positions—side, back, or stomach.
Side sleepers usually have pressure points concentrated in their shoulders and hips as a result of how their body weight is distributed. The best mattresses for side sleepers offer a soft to medium feel to cushion the shoulders and hips, relieving pain-causing pressure.
Back sleepers often rest on a medium-firm to a firm mattress. However, a medium mattress can provide more than acceptable support for back sleeping, particularly if it has extra lumbar support.
Stomach sleepers need the best firm mattress to keep their abdomen from sinking too deep into the bed. When a stomach sleeper lies down a softer bed, the weight of their belly can overextend their spine. This results in a bad back and can eventually lead to chronic back pain.
If you find it difficult to nail down what your favorite position is because you fall asleep and wake up in different poses, you might be a combination sleeper. A mattress for combination sleeping should have a medium feel for support in every position. Combination sleepers who plan on sharing a mattress should also prioritize motion isolation features.
Your weight can determine how well your mattress conforms to your body, affecting how the bed feels when you sleep on it. Body type is a significant factor if you weigh under 130 pounds or over 250 pounds. Otherwise, you're considered to have an "average build."
Petite sleepers often benefit from choosing a mattress softer than what is suggested for their sleeping style. The extra cushion molds to their body, which is a helpful feature when you have less weight pressing down into the mattress than the typical sleeper.
Plus-size sleepers can benefit from a mattress firmer than their recommended range. Firmer mattresses tend to soften up under a larger person's weight and keep the sleeper's spine in a neutral position.
Look for Cooling Technologies and Other Sleep-Enhancing Features
Ever woken up to sticky sheets and night sweats? Sleeping hot is no fun, whether the cause is living in a warm climate or a naturally high body temperature. A mattress with cooling features can help you sleep uninterrupted throughout the night.
Common features in the best cooling mattresses include:
Open-cell foams that wick away warm air easier
Gel infusions to better disperse body heat across the mattress's surface
Supportive coils that leave room for air and moisture to circulate
Improved air channels and added cutouts to make it easier for air to flow through the mattress and remove heat
Cooling technology isn't the only extra feature to look for in a new mattress. Many mattress companies design their beds to have three to five support zones, ensuring the mattress feels soft or firm in specific targeted areas. Support zone technology is a great way to wake up free of aches and pains.
Some smart mattresses even have sleep sensors that track how you sleep, measuring your heart rate and breathing. However, it's easy to obsess over the data and worry that you're not sleeping well enough, ironically losing sleep in the process. If you do purchase a smart bed, try to read your progress reports once a week at most, and not every day.
Familiarize Yourself with the Sleep Trial, Return Policy, and Warranty
Before you buy anything, you should always read the fine print. When it comes to mattresses, that mostly means taking a good look at the bed's warranty and return protocol.
Sleep trials are essentially an extended return policy. Online mattress companies started them as a show of confidence, allowing customers a few months to try out a mattress at home since they couldn't test them out before buying one. Today, the best online mattresses come with generous sleep trials.
Mattress companies commonly ask a customer to try a mattress for about a month before returning it. Some people can take a few weeks to adjust to a mattress's feel, so this break-in period ensures the sleeper has given themselves adequate time to adapt to their new mattress.
Some budget mattresses don't come with a sleep trial, only a standard return policy of 30 days. This can still be enough time to decide if a mattress is right for you or not. Read through the policy carefully, though. Some retailers will only accept a mattress return if the bed arrived damaged or if the original packaging remains unopened.
Warranties guarantee that a mattress contains high-end materials by detailing what the company will do if the bed is incorrectly made. Most warranties provide a free replacement if a mattress sags too far, though what a company defines as "too far" can vary. A reputable mattress brand should be willing to replace a mattress before sagging exceeds an inch.
Many mattress warranties have a clause stating their protection is void if you spill liquid on your bed or use it on an unsupportive foundation. To keep your mattress in good condition, you might want to encase it in a mattress protector. Waterproof protectors prevent spills, accidents, and even sweat from affecting the look, feel, and smell of your mattress.
You should never buy a mattress without a return policy or a warranty. These policies usually indicate a mattress company's belief that what they're selling is a quality product. If the company does not include a return policy, sleep trial, or warranty, it could mean they don't actually sell any good mattresses.
Frequently Asked Questions
What type of mattress is best for back pain?
Mattresses with a conforming, pressure-relieving surface and a supportive base help ease back pain. The cushioning top molds to your body's curves and maintains the spine's neutral alignment, while the base evenly distributes pressure that would otherwise cause or worsen pain. We recommend foam mattresses and hybrid models as these are typically the best mattresses for back pain.
What types of mattresses are the most comfortable?
Memory foam mattresses often receive praise for their pressure-relieving capabilities. People who switch from a traditional spring mattress to a memory foam bed typically note how many of their aches and pains quickly vanished, sometimes overnight.
Hybrid mattresses are also beloved by many mattress owners for how deftly they balance the best features of two mattress types. A quality hybrid is bouncy and cool like a classic innerspring bed but also conforming and cushioning like a foam mattress.
What's the best mattress for side sleepers with back pain?
The best mattresses for back pain should offer a pressure-relieving surface. Memory foam is a good choice, but latex can also keep pressure from building up. Many mattress manufacturers also rely on targeted back support to keep their customers comfortable and pain-free.
What's the best mattress for side sleepers?
Side sleepers usually find their greatest comfort on a soft to medium mattress. Whether a soft, medium-soft, or medium mattress is right can depend on a side sleeper's body type and personal preferences. Heavier side sleepers might want to try a medium-soft to medium bed.
People who primarily sleep on their sides but might occasionally spend time in other positions may also prefer a medium mattress.
What's the best mattress for combination sleepers?
Medium to medium-firm mattresses usually offer support for all three positions, exactly what a combination sleeper needs. Some combination sleepers prefer a mattress with coils, which do an excellent job of keeping their bodies on top of the bed for effortless movements.
Combination sleepers sharing the bed should also look for a mattress with excellent motion isolation. Otherwise, they might prematurely wake their partner.
Conclusion
The key to choosing the right mattress, whether you purchase in a store or order one of the best mattresses in a box, is understanding the perfect firmness, size, and type for your specific needs. For example, an allergy sufferer who sleeps on their side might want to look for a soft, hypoallergenic mattress. Couples will want to look for a queen size bed or larger, while individuals sleeping alone can rest well on a small twin xl or full-size mattress.
You can also ensure that what you're buying is a quality bed by reviewing its list of features and the exact details of its accompanying warranty and sleep trial. If you're not satisfied with the mattress, you can usually return it for a full refund or exchange it for another model.