Sponsored Article
Best Mattresses for Upper and Lower Back Pain
The best mattresses for upper and lower back pain include the Amerisleep AS3 Hybrid, the Zoma Hybrid, and the Vaya Mattress.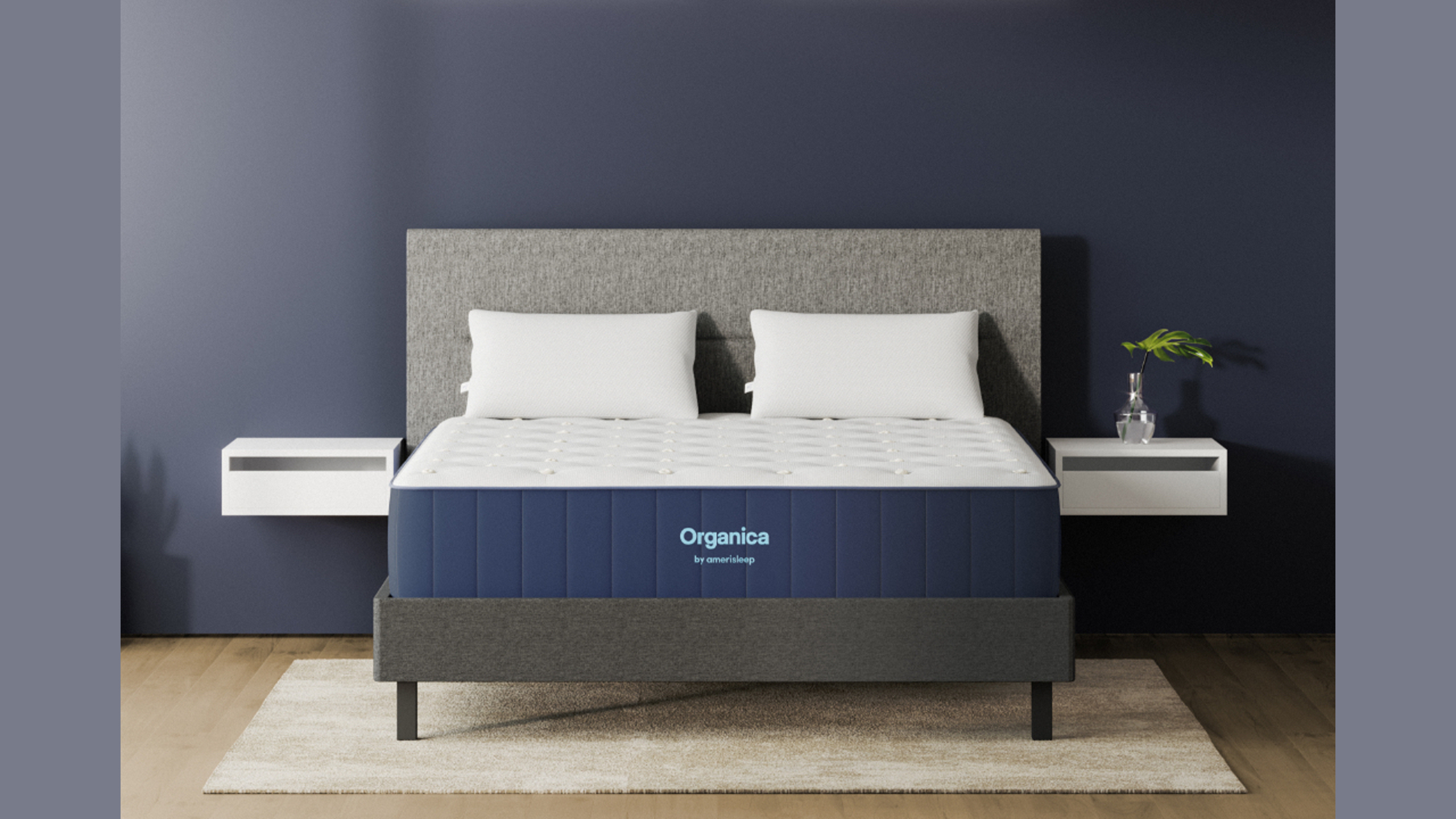 Many of you are familiar with the difficulties of falling asleep or waking up with a sore back. Whether you recently suffered an injury or live with chronic back pain, the right mattress can make all the difference when it comes to a good night's rest.
We have several recommendations for the best mattresses to deal with upper and lower back pain. We follow up with tips on choosing the right mattress for your sleeping style to take the guesswork out of shopping.
Best Mattresses for Back Pain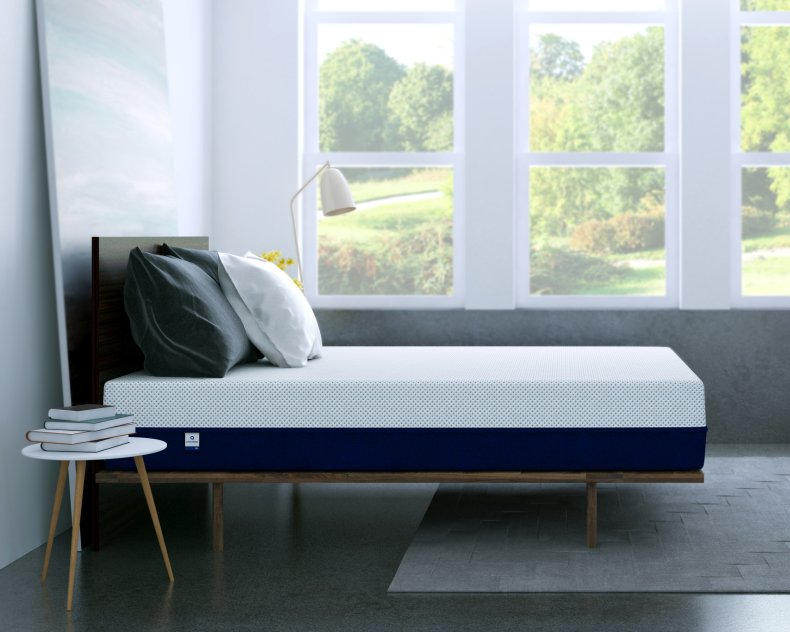 For many sleepers, an overly firm or overly soft mattress may be more likely to cause back pain than relieve it. That's why we recommend the medium feel of Amerisleep's AS3 Hybrid. It's a bouncy mattress capable of relieving pressure points across the body, particularly among back, side, and combination sleepers. It provides just the right amount of cushioning and support for most body types and sleep styles since improperly supported hips and shoulders can negatively affect a sleeper's spinal alignment, causing back pain.
The AS3 is Amerisleep's most popular model and is available as a memory foam or hybrid mattress. We decided to focus on the AS3 Hybrid for its balance between buoyant lifting and conforming cushioning.
An AS3 Hybrid stands 12 inches tall and has three layers of materials:
3 inches of Bio-Pur® foam
8 inches of zoned, pocketed coils
A 1-inch thick firm foam base
Bio-Pur® foam forms the top layer in every Amerisleep mattress, regardless of whether it's a memory foam or hybrid mattress. Amerisleep's unique comfort foam is partly plant-based, made with castor oil to create a more sustainable, breathable, and responsive material. Bio-Pur® stays cool while you sleep and snaps back into shape within seconds.
Pocketed coils mean every spring supporting the mattress is wrapped in a fabric pocket. These wrappings promote individual reaction in the coils, preventing your movement from rippling across the mattress. Pocketed coils encourage motion isolation, a helpful feature if you plan on sharing the bed with a partner.
Amerisleep arranges its hybrid mattress's coils into three support zones for the head, midsection, and feet. The coils under the head and feet promote a firm feel for better support, while the coils in the midsection have increased contouring for pressure relief. The foam base provides a surface for the coils to bounce off and gives structure to the overall mattress.
Every Amerisleep mattress comes with a 100-night sleep trial and the protection of a 20-year warranty.
Best Mattress for Active People:

Zoma Mattress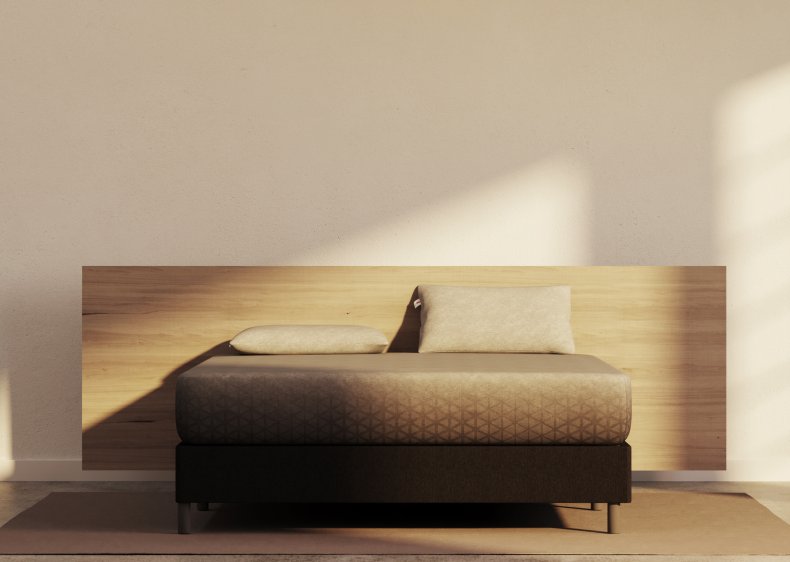 The Zoma Mattress is excellent for alleviating back pain because of the company's commitment to recovery-enhancing design. Zoma's designers drew upon decades of experience in the mattress industry when creating the Zoma Mattress. Its recovery-focused foams, cooling materials, and contouring cutouts all ensure that your sleep isn't disturbed and that you'll wake up without aches or stiffness.
The Zoma Mattress has a medium firmness well suited for side, back, and combination sleepers. There are three layers of foam inside the 11-inch tall Zoma Mattress:
2 inches of gel memory foam
2 inches of Reactiv™ foam
7 inches of Support+ foam
The gel memory foam has hundreds of triangles cut into the mattress's head and foot. These cutouts form the bed's unique Triangulex™ technology. Triangulex™ allows the mattress to flex more and conform closely to the shoulders and legs, relieving pressure points. The gel foam's midsection is free of cutouts for strong back support, ensuring the spine remains neutral.
Reactiv™ foam's buoyancy limits sinkage, ensuring your back won't bow into the mattress too far and cause discomfort and back strain. This poly-foam mimics the feel of latex, allowing the mattress to respond quicker to your movements.
Support+ is a dense poly-foam designed to withstand wear and tear and promote mattress longevity. Thanks to Support+, the Zoma Mattress has a decreased chance of sagging and developing permanent indentations.
The Zoma Mattress comes with free shipping and returns, a 100-night sleep trial, and a 10-year warranty. If you're not satisfied with the Zoma Mattress, the company will have you donate the mattress and give you a full refund.
Best Firm Mattress for Back Pain:

Amerisleep AS2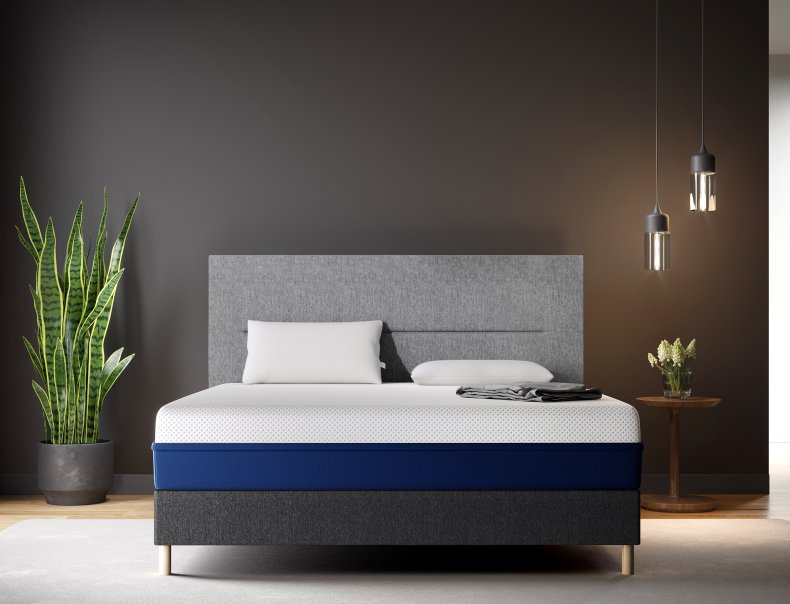 The driving belief behind the Amerisleep brand is that no single mattress can be perfect for everyone because people have varying sleep preferences and needs. Instead, Amerisleep offers eight mattresses in five different firmness levels to ensure a suitable option for every sleeper.
Amerisleep recommends its AS2 mattress as the best bed for back pain, and it's been called the same by Verywell Health, Men's Health, and Healthline. The mattress's medium-firm feel pairs unyielding support with enough conforming cushion to relieve aches and pains in the back. The AS2 is 12 inches tall and available as a memory foam or hybrid mattress. We chose to focus on the memory foam model due to its inclusion of multiple sleep-enhancing features and its affordable price.
The AS2 memory foam mattress has three layers inside a soft, breathable cover:
2 inches of pressure-relieving Bio-Pur® foam
3 inches of Affinity with HIVE® technology
7 inches of Bio-Core® foam
As previously stated, Bio-Pur® is Amerisleep's proprietary comfort foam. It's designed not only to be more airy and buoyant than traditional memory foam but also more eco-friendly. The foam regains its original shape within seconds, keeping you from ever feeling trapped in your bed.
The surface of the Affinity layer is covered with hundreds of hexagonal cutouts, forming the bed's HIVE® technology. Amerisleep uses HIVE® technology to divide the Affinity foam layer into five zoned support sections for the head, shoulders, hips, legs, and feet.
The hexagons in the back area provide firm support yet yield to the body for pressure relief. The head and feet sections offer a similar kind of uncompromising support, while the sections under the hips and shoulders feel softer for more contouring.
Bio-Core® is the base layer in all Amerisleep memory foam mattresses. Bio-Core® supports the mattress for greater durability and extended longevity. Amerisleep states that Bio-Core®'s supportive nature is why they're confident enough to offer an industry-leading warranty.
Amerisleep's mattress warranty spans 20 years and covers sagging that exceeds 0.75 inches. A sagging mattress is one of the primary reasons you might wake up with a bad back, and it doesn't take much sagging to cause severe discomfort.
The AS2 mattress also comes with a 100-night sleep trial, allowing you to return the mattress for a full refund if you're not satisfied. Shipping costs are included and returns are free.
Best Budget Mattress for Back Pain:

Vaya Mattress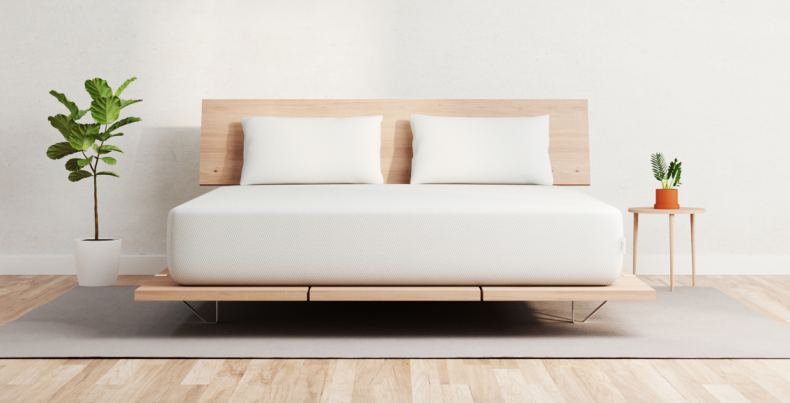 A new mattress can be quite an expensive commitment for some budget shoppers. That's why we love the Vaya, a foam mattress that focuses on pure comfort and support at a price that most can easily afford. The bed is 12 inches thick and suitable for all sleeping styles, with a queen size mattress costing $599.
The Vaya Mattress has two foam layers in a soft, breathable cover:
3 inches of Vaya Comfort Foam
9 inches of Vaya Base Foam
Vaya Comfort Foam is a bouncy, malleable foam. It conforms to you in every position for full-body pressure relief. The comfort foam's lightweight design also ensures it stays cool during the night, limiting the heat retention that can interrupt your rest.
Vaya Base Foam is a resilient material that resists sagging and supports you in all sleep positions. The foam evenly distributes your bodyweight, preventing the pressure build-up that can cause backaches or exacerbate existing conditions.
Vaya's commitment to their customers' comfort extends to their policies, as well. You have 100 nights to try out a Vaya Mattress after it arrives and can return it for a full refund if it's not right for you. Every purchase of a Vaya Mattress is backed by a 10-year warranty that covers sagging over 0.75 inches.
Best Mattress for Side Sleepers with Back Pain: Zoma Hybrid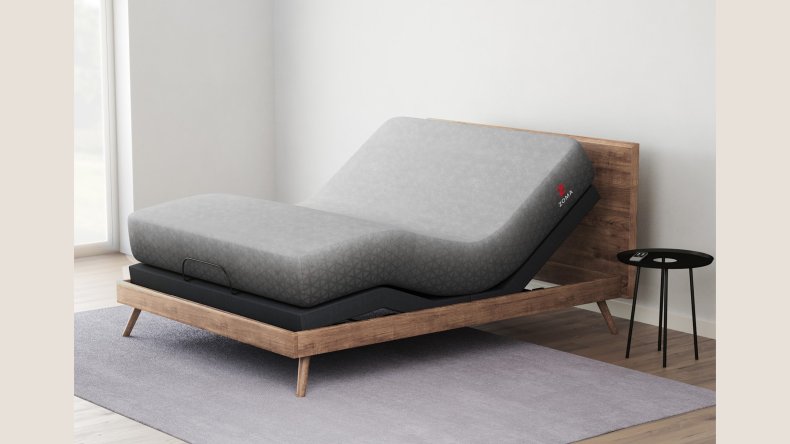 The Zoma Hybrid
is designed to encourage uninterrupted, restorative sleep. If you're a hot sleeper, a chronic pain sufferer, or want a bouncy bed, the Zoma Hybrid might be the perfect mattress for you. Plus, its medium feel is perfect for side sleepers that need more contouring around their hips and shoulders.
A Zoma Hybrid is 12 inches tall and has four layers encased in an AirCloth cover:
2 inches of gel memory foam
2 inches of Reactiv™ foam
7 inches of pocketed coils
1 inch of sturdy base foam
The gel memory foam promotes a cool and cushioning sleep surface, limiting heat retention and pressure points that can disturb your rest. Reactiv™ foam ensures your body doesn't sink in too deep but still feels cradled.
The pocketed coils react individually to every motion, keeping your movements from traveling across the mattress and jolting a partner awake. The base foam supports the coils. Additionally, firm foam surrounds the coils for protection and edge support.
Every Zoma Hybrid ships free and comes with a 100-night sleep trial with a full refund and a 10-year warranty.
Best Affordable Hybrid Mattress for Back Pain:

Vaya Hybrid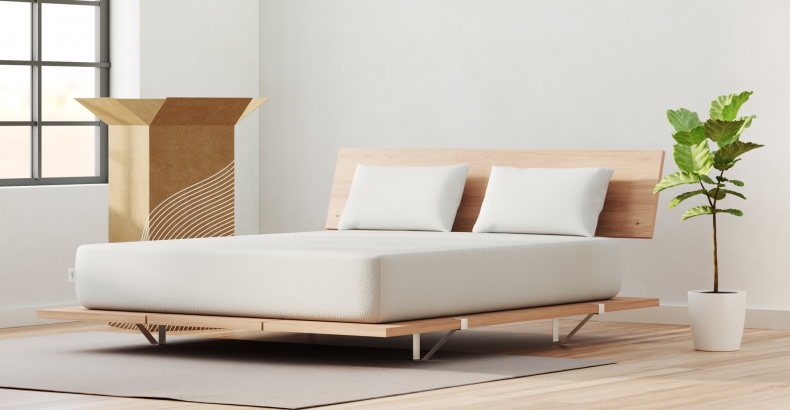 Quality hybrid mattresses often cost well over $1,000 for a queen, so it can be hard for a bargain hunter to find a bouncy mattress suitable for pain relief. The Vaya Hybrid is an exception, with its price ranging from $449 to $899. A queen size hybrid is $699, excellent for anyone who wants to share a mattress with a partner while living on a budget.
The Vaya Hybrid is 12 inches thick and contains three layers:
A 2-inch layer of Vaya Comfort Foam
An 8-inch layer of pocketed coils
A 2-inch layer of supportive base foam
Both sides of the Vaya Hybrid have added support at the edges. This corner-to-corner support keeps you from feeling like you could roll off the bed—a common drawback to foam mattresses.
Like the Vaya Mattress, the Vaya Hybrid includes a 100-night sleep trial with free returns and a 10-year warranty.
Best Latex Mattress for Back Pain:

Organica Mattress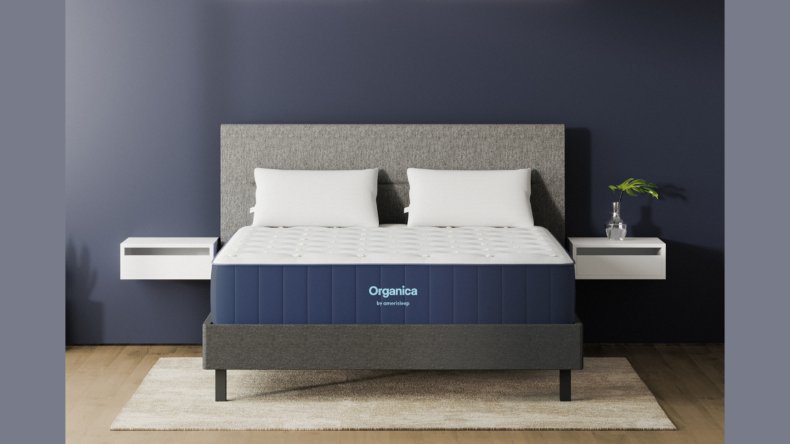 Amerisleep's Organica Mattress features two types of latex and pocketed coils to promote a bed that's not only conforming and responsive but highly eco-friendly.
The mattress's core has three layers:
3 inches of Talalay latex
8 inches of supportive pocketed coils
1 inch of natural Dunlop latex
The Talalay latex has a buoyant, lightweight feel that cushions the sleeper, while the coils are arranged to provide support and comfort where needed. The Dunlop latex foam base promotes a strong mattress structure by giving the coils a durable base to push off from. The mattress's layers are wrapped in a stretchy cotton knit, with a wool quilted top.
The Organica Mattress also features the following certifications:
The Joma wool and Talalay latex used in the mattress is certified under the Standard 100 by OEKO-TEX® label.
The mattress contains yarn certified safe under the Global Organic Textile Standard (GOTS), meaning they are harvested and manufactured in an environmentally and socially responsible manner.
Also the eco-INSTITUT, an independent organization that tests products for VOC emissions, has certified the mattress's Talalay latex as safe.
As with every other Amerisleep bed, the Organica Mattress includes a 100-night sleep trial and a 20-year warranty.
Upper and Lower Back Pain
Back pain affects most of us at one point or another in our lives. The pain may last only a handful of days or a few weeks––a temporary condition known as acute back pain. If the pain lasts 12 weeks or more, even after the initial cause is treated, it's known as chronic back pain.
Several important factors can increase your risk of developing back pain, such as:
Age. Your odds of having back pain increase as you grow older.
Physical activity levels. People who aren't in shape or work out intensely but infrequently are likely to suffer back pain.
Bodyweight. You're more likely to experience back pain if you're heavyset.
Genetics. Many causes of back pain are rooted in your genes.
If your back pain is the result of a recent traumatic event, such as a fall or injury, it's best to see a doctor right away. You should also seek immediate medical attention if your back pain is accompanied by a fever or a loss of bladder or bowel control.
About Lower Back Pain
The Mayo Clinic reviewed studies published from 2000 to 2014 and found that people tend to experience more lower back pain than upper back pain or neck pain. Most temporary lower back pain is caused by a disruption to how the parts of the back move and work together.
Potential causes of lower back pain are:
Skeletal abnormalities such as scoliosis
Disc degeneration
Various types of arthritis, such as osteoarthritis and rheumatoid arthritis
Sciatica
Herniated or ruptured discs
Osteoporosis
Fibromyalgia
Endometriosis
Pregnancy
Tumors
Injuries
About Upper Back Pain
You're less likely to experience pain in your upper back because it doesn't bear the same weight load as your lower back area. When you feel pain in your upper back, the symptoms can manifest as aches, general stiffness, or sharp, burning sensations.
Causes of upper back pain include:
The muscles and ligaments that support the spine suffering an injury
A pinched nerve near your ribs
Fractured vertebrae
A slipped disc
Osteoarthritis
Gallstones causing pain in the shoulder area
Best and Worst Mattress Types for Back Pain
When it comes to back pain, you can't expect all mattress types to provide the same amount of relief. Some are better suited to alleviating pain than others. We give a brief overview of the four main mattress types, starting with the best options and ending with the worst.
Memory Foam
Memory foam is also known as viscoelastic foam because of its pressure and heat sensitivity. The material fits your body's curves for full-body support and pressure relief. A memory foam mattress isn't all layers of memory foam, however. Usually, there's at least one underlying poly-foam layer to ensure adequate support.
Memory foam is one of the best materials for back pain because it contours and supports your body so that you can sleep in proper alignment to avoid further exacerbating symptoms and even improve your recovery.
Memory foam also ushered in a new era of mattress innovation, making it the primary material used in most new beds including the best mattress in a box.
Hybrid
A hybrid mattress combines a foam comfort layer with coil support. This mattress design is meant to offer the best of an innerspring and foam mattress. High-end hybrid mattresses may have a transition layer to increase responsiveness and keep a person from bottoming out on the uncomfortable coil layer. These features all help to encourage a healthier spine while you sleep, as well as muscle and tension relief.
The best hybrid mattresses can provide a mix of moldable cushion and firm back support needed to alleviate back pain. The main drawback is their price tags, with many hybrid mattresses costing well over $1,000.
Additionally, hybrids are some of the best cooling mattresses for hot sleepers so you won't end up tossing and turning in your sleep, which would otherwise irritate sleepers with back pain.
Latex Foam
Latex foam is processed from rubber tree sap. Manufacturers whip the sap and use molds to create the foam, sometimes adding synthetic fillers to increase comfort. This creates foam with a contouring feel similar to memory foam, though often latex feels a touch more bouncy and firm.
While latex foam is an excellent material for back pain relief, it's one of the more expensive mattress types. Some customers find its high price worthwhile because many all-latex mattresses last more than a decade, providing great value for their dollars. Natural latex mattresses are also a good choice for eco-friendly shoppers.
Innerspring Mattress
An innerspring mattress can be a good choice for many different reasons. If you're a hot sleeper, an innerspring mattress's cooling design can help you sleep better. People living on a limited budget will often find that an innerspring mattress is an inexpensive way to outfit their bedroom.
However, we do not recommend innerspring mattresses for back pain sufferers. An innerspring's thin comfort layers cannot deliver the pressure relief provided by a foam mattress. The internal coils are often spaced too far apart to evenly distribute your bodyweight, increasing the likelihood of pain-causing pressure points developing.
Choosing the Right Firmness Level
Mattresses often fall under one of seven firmness labels: extra soft, soft, medium-soft, medium, medium-firm, firm, and extra firm. You may also see special labels like "luxury firm" or "plush firm" to describe a bed that balances firm support with cushioning materials. Instead of a descriptive label, some companies may use a 1-10 firmness scale to rate their mattresses' firmness.
There is no one firmness that's perfect for back pain because every person has different sleep needs. For example, plus-size people often benefit from sleeping on a firmer mattress than the average sleeper.
You can usually determine what the best mattress is for you by considering your favorite position and body type.
Sleeping Position
The support your spine needs from a mattress depends on your preferred sleep position. Each position distributes pressure across your body differently; for example, side sleepers are more likely to develop pressure points in their shoulders and hips than back sleepers. Gravity can also push different parts of the body down depending on the way you sleep.
Because everyone's sleep needs vary, each position has different firmness levels best suited for it. As a general rule, side sleepers rest better on soft mattresses, while back and stomach sleepers require a firm mattress to sleep well.
Side Sleepers
Side sleepers often experience pressure build-up in their shoulders and hips, the widest areas of the body. If the shoulders and hips are not properly supported or cushioned, they can affect the spine's neutral alignment and cause back pain. A comfortable mattress for side sleeping often has a soft to medium feel.
Side sleepers waking up with back pain may also want to try sleeping with a pillow tucked between their knees. A firm knee pillow can ensure the hips remain aligned with the spine.
Back Sleepers
Back sleeping is one of the most recommended positions when it comes to back pain. Lying on your back creates a sleep posture similar to your body's stance when you're standing straight. The position minimizes pressure on your spine and other areas of the body.
A good mattress for back sleeping often falls in the medium-firm to firm range. However, a medium mattress can work if it has additional support features such as a responsive transition layer or targeted lumbar support. If you're experiencing lower back pain, you can further alleviate back pain by propping up your knees with a wedge pillow or an adjustable base. Raising your legs decreases the pressure on your lower back.
Stomach Sleepers
If you're a stomach sleeper who's experiencing back pain, we strongly suggest switching to side or back sleeping, as stomach sleeping is often linked to chronic back pain because of the way gravity affects the body. When you lie on your stomach on a soft mattress, gravity can push your belly and abdomen into the bed. If your stomach sinks too far, it shifts the spine out of its natural curve, causing back pain.
Stomach sleepers may also experience chronic neck pain, and this pain may sometimes extend to the upper back. People who lie on their abdomens have to twist their necks to the side to breathe, placing an unnatural amount of strain on their necks as they hold the position for hours.
If you can't fall asleep unless you're lying on your stomach, it's essential to make sure you have a mattress with a firm feel. You can slip a pillow under your abdomen as an added precaution.
Combination Sleepers
If you find yourself waking up in a different position than you fell asleep in, you're probably a combination sleeper. You may move between two or even all three positions in the night.
Combination sleepers with back pain should look for a mattress that minimizes sinkage for easier movement and improved spine alignment. A medium feel mattress can often support combination sleepers in every position.
Body Type
Your body weight determines how hard you press down on a mattress. The more you weigh, the more gravity pulls you down.
Plus-size sleepers are more likely to sink into a mattress and misalign their spine. That's why they need a firm mattress. Firm mattresses can maintain neutral spinal alignment and prevent a person from sinking in too deep. People over 230 pounds should look for a mattress that's a touch firmer than the recommended range for their position. For example, heavier side sleepers may want to consider a medium or perhaps even a medium-firm bed.
However, plus-size sleepers can consider a softer mattress if it has good support features. Many high-quality soft mattresses have responsive transition layers to limit sinkage and deliver targeted back support.
People under 130 pounds usually require a softer mattress than the average sleeper. Often, lightweight sleepers don't sink deep enough into a mattress to experience full pressure relief. Soft mattresses conform more readily, ensuring that a petite sleeper wakes up refreshed instead of sore.
If you weigh between 130 and 230 pounds, just focus on your sleeping position as you shop. Your bodyweight should have minimal influence on the right mattress for you since you won't be heavy enough to change its feel or so light that the mattress doesn't contour properly to your body.
Combatting Back Pain on a Budget
Finding pain relief can be a difficult prospect if you're living on a restricted budget. However, you don't have to buy the most expensive mattress with all the added features for a pain-free night of sleep. We offer three ways to sleep better without breaking your budget.
1. Switch Sleeping Positions
Here's a tip that doesn't necessarily require you to spend a cent. If you're experiencing back pain, try to change up your sleeping position.
Does your mattress feel too soft for stomach or back sleeping? Try sleeping on your side instead. Conversely, if you're a side sleeper lying on a too-firm mattress, try sleeping on your back.
We especially advise stomach sleepers to consider a different position because lying on the stomach is tied to chronic back pain. Gravity pushes down on the abdomen and often forces it to sink deeply into the mattress. When the stomach sinks too far, the spine is pulled out of its neutral alignment.
2. Try a Mattress Topper
Do you have a mattress that doesn't feel firm enough to support your body, or a bed so soft it swallows you when you lie down? You don't necessarily have to buy a new mattress. Instead, you can fix your mattress's feel with a mattress topper.
Toppers add a few extra inches of foam to your mattress. They're available in different feels, so you can fix your mattress whether it's hard as a rock or so soft that it traps your body. Mattress toppers usually cost a few hundred dollars at most, a fraction of what most tend to pay for a quality mattress.
There are other ways you can make your mattress feel firmer that cost even less than a topper. You can slip a piece of plywood under the mattress, flatten your bedding, and lower your bedroom's temperature.
3. Shop Online Mattresses
If there's no way out of buying a new mattress, you can still save money by shopping with online retailers. Online mattress companies can often offer lower prices than your local mattress store because they're selling directly to you instead of relying on a brick-and-mortar store as their middleman.
Plus, low prices aren't the only benefit of online shopping. It's often easier and less time-consuming to compare mattress features on your computer at home than to drive around to different mattress retailers. Looking up customer reviews is as simple as opening another tab. Finally, the best online mattresses come with a sleep trial that lets you try the bed out at home to ensure you feel comfortable with your choice.
Frequently Asked Questions
Can a mattress cause upper back pain?
Yes, a mattress with the wrong feel can contribute to or even cause back pain. If a mattress is too soft for you, you can bow in too deeply and shift your spine out of its neutral position. Conversely, a too-firm mattress can raise the spine out of alignment or cause too much pressure to build up in your back.
There's also the age of a mattress to consider. An old mattress might have worn-out support features and sag. Without proper support, your body can sink in too far and strain your spine.
Upper back pain can also be caused by neck strain. If you're waking up with a sore upper back, you might want to consider trying a more supportive pillow.
Is a firm mattress better for upper back pain?
A firm mattress isn't necessarily the best way to relieve upper back pain. If you're a stomach sleeper, the best firm mattress can be just what you need for a good night's sleep. However, back, side or combination sleepers might only experience more pain if they sleep on a firm mattress.
The best way to prevent and ease back pain is to sleep on a mattress suited for your normal sleep position:
Side sleepers do best on a soft to medium mattress.
Back sleepers should consider medium-firm to firm mattresses. Medium feel beds with targeted back support are a good idea for back sleepers who enjoy a soft mattress.
Stomach sleepers require a firm mattress to maintain neutral spine alignment.
Combination sleepers should look for a medium mattress.
How should you sleep if your upper back hurts?
When you're experiencing back pain, usually the best sleep position is on your back. This position keeps your spine aligned and evenly distributes body weight, preventing pressure point build-up from causing pain.
If you're experiencing lower back pain, you can reduce pressure on your lower back muscles by propping your knees up with a wedge pillow. If you have an adjustable base, you can raise the foot of the mattress instead.
What should you do if your lower back hurts?
If you've just started experiencing lower back pain, try applying an ice pack. If it's been 24 to 72 hours since the pain manifested, try a heating pad instead. Whether you use ice or heat, you shouldn't apply it for more than 20 minutes.
When should I worry about low back pain?
Lower back pain can happen quite suddenly and take a while to disappear. Often, the pain is easily treated at home until it's gone. However, you should see a medical professional if you experience any of the following with your back pain:
A fever, which can signify infection.
A prickly tingling sensation or numbness. These symptoms can signify nerve damage.
Loss of bowel or bladder control. These symptoms are tied to a rare condition where the nerve roots in the base of the spinal cord become paralyzed.
Unexplained weight loss, which can be caused by a tumor or infection.
Finally, if your back pain lasts beyond six weeks, you should see a doctor.
Why does my back hurt on a memory foam mattress?
You may feel sore after lying on a memory foam bed because it's the wrong firmness for you. Remember, side sleepers need mattresses soft enough to conform to the heavier and wider parts of the body. Back and stomach sleepers require a firm mattress to maintain neutral spine alignment.
If your bed is brand new, it may also take your body time to adjust to the feel. Your body's sleep posture often changes as your mattress wears out and loses support. Your body may need as long as a month to correct its sleeping posture.
If your memory foam mattress is more than a few years old, it might cause a sore back because the foams have lost support. Are there permanent indentations from your body in the bed, or do you tend to roll to the middle of the mattress when you lie down? If so, it's likely time for a replacement mattress.
Did You Find Your Next Mattress?
Back pain can range from mild to severe and tends to impact your daily routine. Choosing the right mattress for pain relief can help you wake up feeling refreshed. Of course, don't forget to maintain good posture during the day to ensure your back isn't sore when you fall into bed at night.