Sponsored Article
Best Mattress for Side Sleepers
If you prefer to sleep on your side, you need a bed suited for your specific needs. To help you shop, we outline 5 of the best mattresses for side sleepers.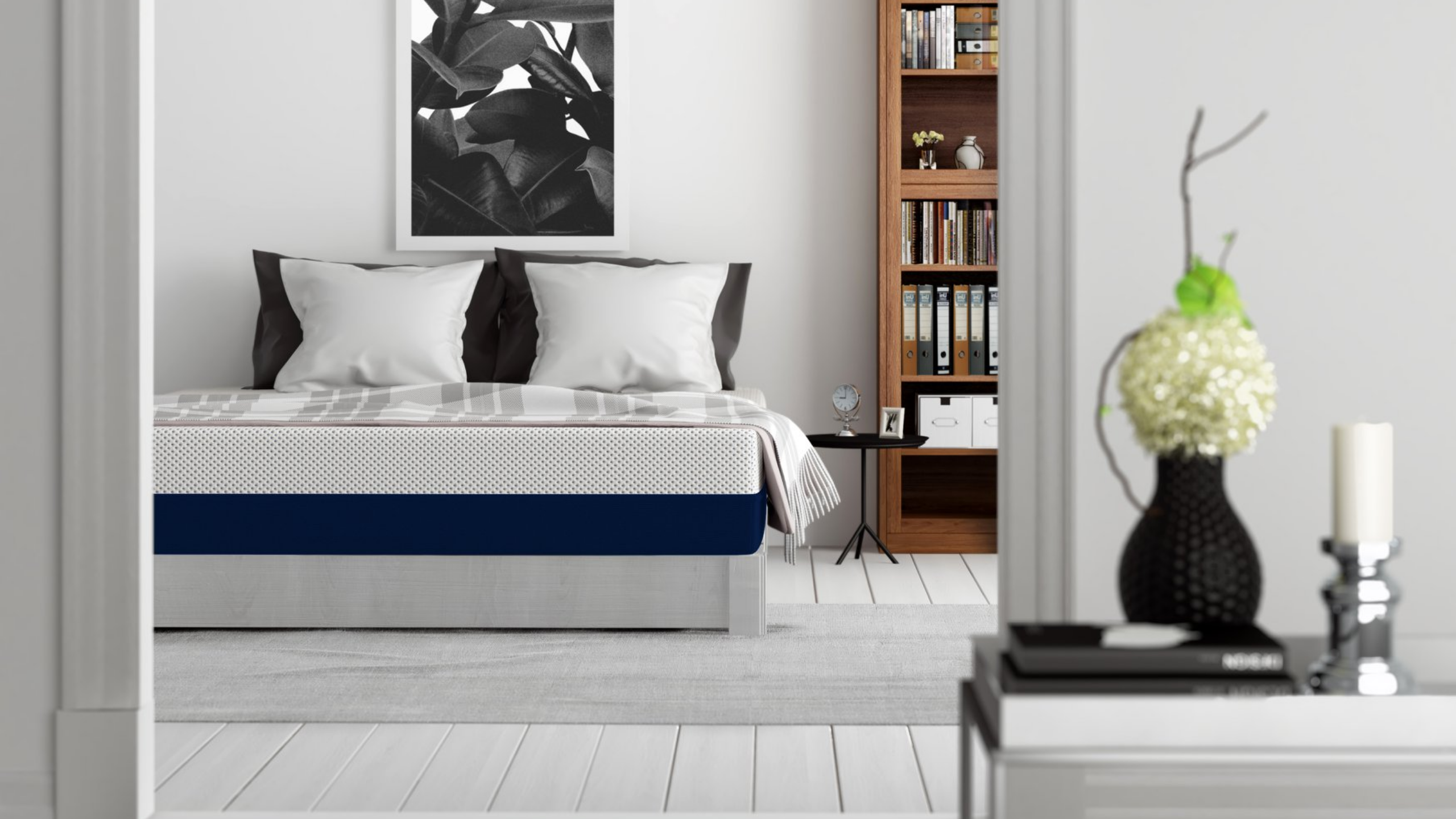 Side sleeping is common in the U.S. In fact, about 74 percent of all Americans prefer to sleep on their sides. While this is considered to be one of the healthiest sleep positions, side sleepers should pay careful attention to the firmness of their mattress. A bed that is too firm can cause painful pressure points to form near the hips and shoulders. However, a mattress that is too soft can lead to spinal misalignment and morning aches and pains.
In most cases, a soft to medium mattress firmness works best for side sleepers. These beds are soft, yet supportive to promote muscle relaxation and deeper, more restorative sleep.
If you are a side sleeper in need of a more supportive bed, we are here to help. We outline several of the best mattresses for side sleepers. We also highlight some benefits of side sleeping and what to look for when shopping for a new bed.
Best Mattress for Side Sleepers
Best Mattress for Side Sleepers Overall -

Amerisleep AS4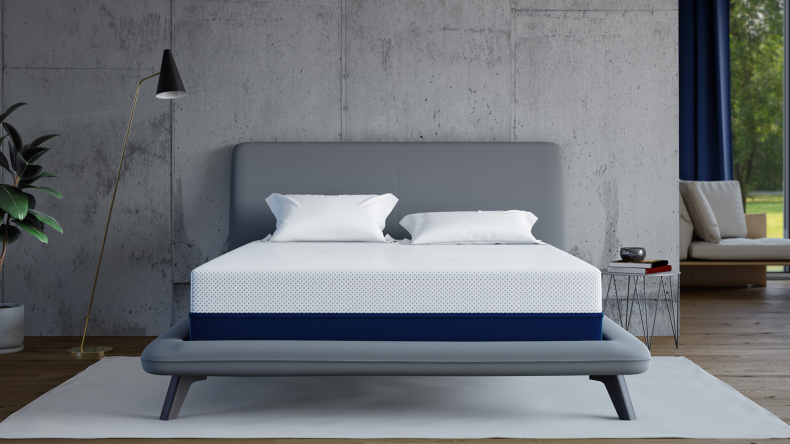 Amerisleep offers sleepers a lineup of eight mattresses, each one designed to accommodate various sleep positions. For side sleepers, we recommend Amerisleep's AS4, which is their medium-soft model. The Bio-Pur® comfort layer in the AS4 is thick enough to contour to the body's curves for maximum comfort, but its responsiveness also keeps the hips and shoulders lifted to alleviate tension. This combination works well for side sleepers because it provides spinal support while also reducing pressure points.
The AS4's Affinity layer with HIVE® has a unique support system to protect the lumbar region and ensure the joints remain cushioned. Cutouts across the surface of this layer are closer together and firmer along the back for adequate support. However, near the hip and shoulder joints, cutouts are further apart and softer to relieve tension.
The base of the AS4 features Amerisleep's Bio-Core® foam. This stable foundation reinforces the soft comfort layer and Affinity layer with HIVE® technology so they do not develop indentations or premature sagging. This base provides sturdy support for side sleepers so they can rest in a comfortable, aligned position.
Amerisleep offers a 20-year warranty with each of their mattresses. Side sleepers can also test out the AS4 risk-free with a 100-night sleep trial, ensuring the bed meets their needs.
Best Cooling Mattress for Side Sleepers -

Zoma Mattress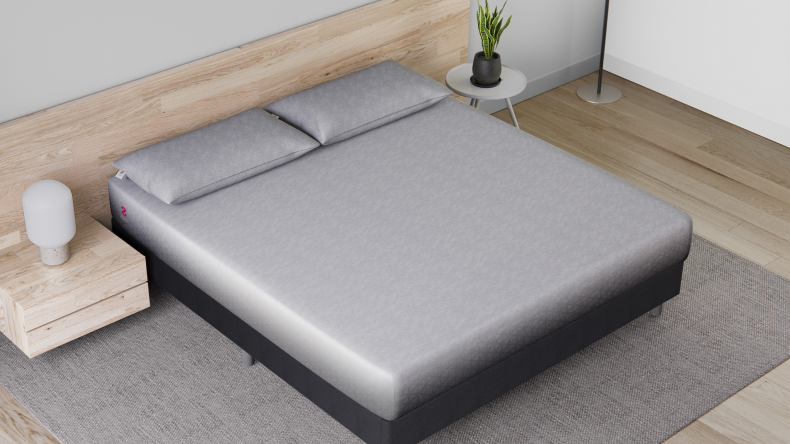 The Zoma Mattress has three distinct foam layers working together to provide side sleepers deeper, more restful shuteye. In fact, this mattress has become a popular option with many professional athletes for its ability to encourage muscle relaxation and tension relief.
The three layers of the Zoma are wrapped in a soft, stretch-knit fabric with ventilation holes. With this light, meshy cover, the mattress is less likely to trap body heat and moisture. The comfort layer of the Zoma is also infused with cooling gel to draw warm air away from the surface of the bed, preventing sleep disruptions due to night sweats and overheating.
In addition to the gel infusions, the Zoma comfort layer features unique Triangulex™ technology. This top layer includes hundreds of triangular cutouts, each designed to supply the perfect level of support. This material is soft where you want it but firm and supportive where you need it.
The Reactiv™ transition layer is a highly responsive foam designed to keep the heaviest parts of the body – the hips and shoulders – from sinking too far into the mattress. With a soft, conforming comfort layer and a supportive transition layer, side sleepers are less likely to rest in awkward positions that cause pressure and tension near the spine.
Zoma's Support+ foam sits at the base of the mattress. This material is soft enough to reduce pressure points, but firm enough to prevent indentations from forming in the layers above.
With each purchase, Zoma includes a 10-year warranty and a 100-night sleep trial. If you are not completely satisfied with the mattress, they provide a full refund and return.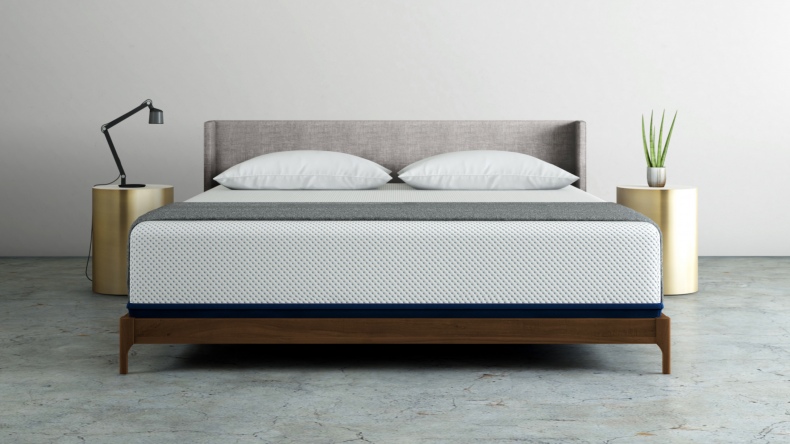 Amerisleep's AS5 Hybrid is the ideal hybrid mattress for side sleepers because it has an ultra-soft comfort layer designed to contour to the body's curves and reduce tension. Unlike most soft mattresses, the AS5 Hybrid has a slight bounce to reduce excess sinking. Despite its deep contouring, this mattress promotes a safe spinal position, so you wake with fewer aches and pains.
The Bio-Pur® comfort layer of this hybrid features Amerisleep's eco-friendly and non-toxic memory foam. Bio-Pur® is manufactured using plant-based oils, rather than 100 percent petroleum-based oils like traditional mattress foams. This process makes Bio-Pur® more responsive and less likely to retain heat and moisture.
To keep the hips and shoulders aligned during sleep, Amerisleep includes their responsive Active Flex layer in the AS5. This material has an elastic quality to keep sleepers resting on top of the mattress rather than sunk. For heavier individuals who prefer a soft mattress, this feature makes changing positions and getting in and out of bed more comfortable.
Hundreds of pocketed coils make up the base of the AS5 Hybrid. These coils move independently of one another, allowing them to respond to different levels of pressure. Near the hips, which tend to sink into the bed the most, the coils are soft and compress easily. Near the lumbar area, the coils are firmer and stabilizing to ensure alignment.
Amerisleep includes a generous 20-year warranty covering sagging and indentations. This coverage ensures the mattress provides even weight distribution and spinal support throughout years of use.
If you are a side sleeper in need of a more comfortable mattress, you can take advantage of Amerisleep's 100-night sleep trial and test out the AS5 Hybrid in your own home. If it's not right for you, Amerisleep will work with you to exchange the mattress or arrange for a return and full refund.
Best Affordable Mattress for Side Sleepers -

Vaya Hybri

d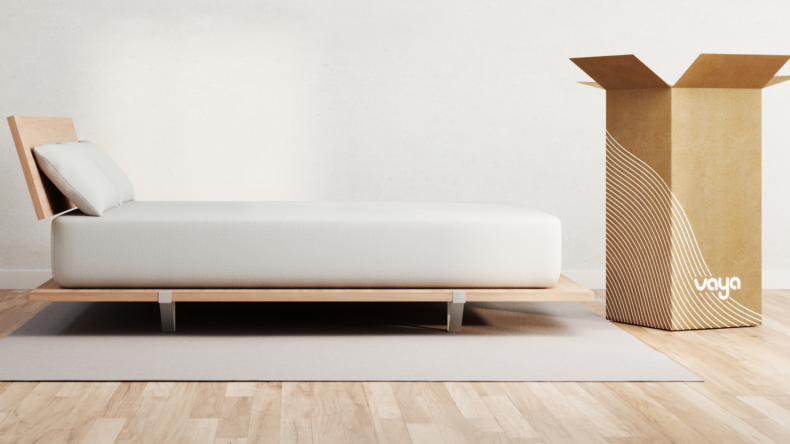 For a budget-friendly yet high-quality mattress with the perfect balance of cushioning and support for side sleeping, the Vaya Hybrid is a great option. This mattress has a plush top layer to cradle and protect the joints. The buoyancy of this material also prevents over sinking and spinal misalignment that could leave you stiff and sore in the morning.
Unlike memory foam, Vaya foam is breathable and retains less heat and moisture. The cover of this bed is also ventilated to promote air circulation for a cooler night's sleep.
The base of the Vaya Hybrid features pocketed spring coils. Each coil is triple wrapped in a durable yet lightweight fabric for added comfort. While this base keeps body weight evenly distributed, it also contours to the body's curves to relieve tension and pain. The mattress's perimeter is reinforced with edge support for added durability and to make sitting on the mattress more comfortable.
Vaya includes a 100-night sleep trial, so side sleepers can make sure the mattress is right for them. Vaya's 10-year warranty also covers indentations and sagging greater than .75 inches.
Best Flippable Mattress for Side Sleepers - Nolah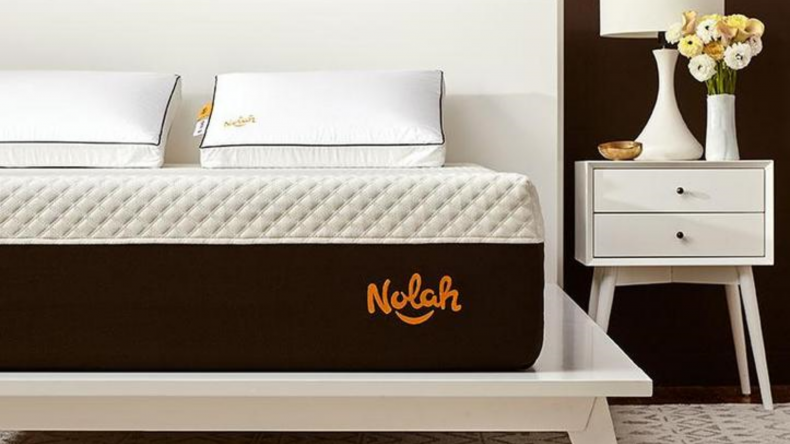 Unlike many foam beds, the Nolah Signature 12-inch Mattress is flippable and has two different firmness options, allowing sleepers to choose between a medium-soft or medium-firm comfort level.
We recommend the medium-soft side for side sleepers, which features 2.5 inches of Nolah's cooling AirFoam™. This foam responds immediately to pressure to keep you cradled and protected from pressure buildup. Since AirFoam™ is not temperature sensitive, it doesn't heat up or retain moisture, allowing the mattress to stay cool and inviting.
Beneath the medium-soft top layer is 1.5 inches of Nolah's responsive transition foam. The latex-like bounce of this material promotes a safe, natural sleep position by slightly lifting the hips and keeping them aligned with the shoulders. Like AirFoam™, this second layer also features air channels to help regulate body temperature.
The core of the Nolah Signature features 7 inches of their high-density support foam. No matter which side of the mattress you choose to rest on, this resilient foam ensures all foam layers maintain their structure so you can rest in a safe yet comfortable position.
With each mattress purchase, Nolah offers a 120-night sleep trial, allowing side sleepers to test both comfort layers and make sure one of them fits their needs. They also include a lifetime warranty to ensure the mattress maintains its supportive structure throughout its expected lifespan.
How to Find the Best Mattress for Side Sleeping
For side sleepers, the right mattress can mean the difference between a good night's sleep and waking up with sore shoulders and stiff hip joints. Generally, you can't go wrong selecting one of the best online mattresses. But to better personalize your choice, we outline important factors to keep in mind as you shop for the best side sleeping mattress.
Mattress Firmness and Side Sleeping
When resting on one's side, the hips and shoulder joints bear most of the body weight. When sleeping on a firmer mattress, side sleepers often develop sore spots, known as pressure points, near these areas. To prevent this, side sleepers need a softer mattress.
However, if the hips and shoulders sink too far into the bed, it can cause the spine to bow, leading to pain and pressure. Since heavy individuals tend to sink more, these sleepers often need a medium mattress for side sleeping. This comfort level is soft and cushions the joints, but it is also firm enough to prevent deep sinking. On the other hand, lightweight side sleepers sink very little, so they may prefer a soft to medium-soft mattress to experience optimal contouring and pressure relief.
Best Mattress Types for Side Sleeping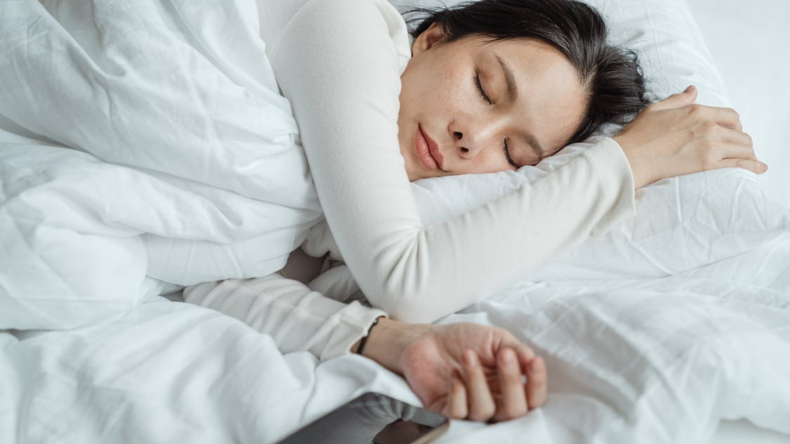 The materials and layers used for construction determine a mattress's "type." Each layer contributes to the overall comfort, durability, and support of the mattress. We explain the differences between the most common type of mattresses and how suitable they are for side sleepers.
Memory Foam Mattresses
Memory foam, or viscoelastic foam, is a highly responsive material that molds to the body's curves for instant pressure relief. Mattresses with a memory foam comfort layer are ideal for those with chronic pain because they promote deep relaxation so muscles can heal during sleep.
Depending on the manufacturing process, memory foam can be made in several different firmness levels, including soft and firm. This variety allows sleepers to select a memory foam mattress suited to their sleep position and body type. For side sleepers, soft to medium memory foam beds are perfect because they cradle and protect the joints and have enough responsiveness to reduce sinkage.
The construction method can also affect the durability and breathability of the foam. For example, memory foam varieties made with plant-based oils tend to retain less heat and have more resiliency than traditional memory foam and are used in the best mattresses. Those with other cooling features such as gel and graphite infusions also help keep the bed's surface cool and inviting.
Latex Foam Mattresses
Like memory foam, latex offers contouring and pressure relief. However, because latex foam is derived from the sap of the rubber tree, it has a natural elasticity and bounce to keep sleepers lifted on the mattress rather than cradled.
While latex foam can be made in many different firmness levels, it is most commonly found in medium-firm mattresses. Therefore, side sleepers considering latex mattresses should pay close attention to the mattress's firmness. Although some latex beds may be too firm for side sleepers, many people prefer the bounce this material provides.
Hybrid and Innerspring Mattresses
Hybrid and innerspring mattresses both have a base made with spring coils. However, these two styles have different comfort layers and coil types.
Hybrids have a comfort layer made with 2 to 3 inches of pressure-relieving foam, typically memory or latex foam. Most hybrids also feature a pocketed coil support core. These coils are wrapped in fabric for added comfort and durability. Pocketed coils move independently of one another, allowing them to respond to pressure more accurately.
Innerspring mattresses have a much thinner top layer, usually made with cotton or wool. Some innerspring beds feature pocketed coils, but many use continuous and hourglass coils, which tend to have more motion transfer than pocketed springs. The combination of a thinner top layer and a firm coil base makes most innerspring beds feel medium-firm to firm. Traditional innerspring coils also tend to break and bend easily, creating lumps in the mattress and causing painful pressure points.
For side sleepers, we recommend selecting a hybrid mattress over an innerspring bed. Hybrid mattresses have a thick comfort layer, typically made of soft, conforming foam. Many hybrids also have a zoned support system to guard against uncomfortable sinkage and spinal misalignment. If you prefer an innerspring bed, be sure to select one with at least a 2 to 3-inch foam mattress topper. This addition provides extra cushioning and protection for side sleepers. Hybrids are also among the best cooling mattresses available and they are even considered the best mattress for back pain.
Benefits of Side Sleeping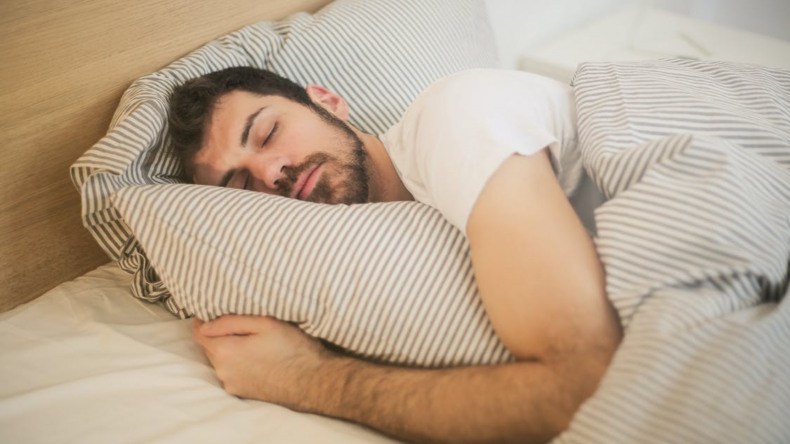 Side sleeping is considered to be one of the best sleep positions. In addition to being a comfortable and supportive way to rest, side sleeping offers the following benefits:
Reduced acid reflux: Research indicates sleeping on one's side decreases heartburn and acid reflux symptoms. Stomach acid and gastric juices are less likely to enter the esophagus and cause an uncomfortable burning sensation when side sleeping.
Reduced snoring: When resting on one's back, the soft tissue in the back of the throat relaxes and blocks the airways, leading to snoring. Side sleeping prevents this and makes breathing easier during sleep. This position can also help improve breathing and reduce nighttime disruptions for those with sleep apnea. In case you are a back sleeper though, you might want to opt for the best firm mattress options.
Improved brain health: According to The Journal of Neuroscience, side sleeping helps eliminate interstitial waste from the brain during sleep. Clearing out build-up from the brain tissue reduces the risk of developing Alzheimer's and Parkinson's disease.
Improved digestion: In addition to reducing acid reflux, side sleeping also improves digestion. Studies show individuals are less likely to develop obstructions that could prevent the flow of waste through the intestines when side sleeping.
Safe for pregnant women: Resting on the left side improves blood flow from the IVC (inferior vena cava) to the large vein running along the right side of the spine. Increased blood flow reduces swelling, improves kidney function, and ensures vital nutrients reach the placenta.
Frequently Asked Questions
Should a side sleeper rest on a firm mattress?
Most side sleepers who rest on a firm mattress tend to develop pain near the joints. This is due to the friction and pressure build-up between the hip and shoulder joints and the bed's surface. Lightweight and average weight side sleepers typically prefer soft to medium-soft mattresses, while heavier sleepers prefer medium.
What is the best mattress for side sleepers with back pain?
Side sleepers with back pain may benefit from a medium mattress made with either memory foam or a mix of foam and pocketed coils. This comfort level prevents excess sinking and cushions the joints. This combination allows back muscles to relax and heal during sleep.
What is the best mattress for side sleepers who are heavy?
Heavier individuals who prefer to sleep on their sides often enjoy a medium mattress and, in some cases, medium-firm. Both these firmness levels prevent uncomfortable sinkage and promote a healthy, neutral spine.
We suggest a mattress with a slight bounce for heavy sleepers, such as one made with a responsive memory or latex foam, or the best hybrid mattress. These mattress styles keep heavier individuals lifted on the mattress rather than feeling trapped, making movement on the bed more comfortable.
What's the best mattress for side sleepers with shoulder pain?
Many mattresses designed for side sleepers feature extra padding in the shoulders' area. Added flexible cushion can hug the shoulders, cradling them throughout the night for pressure relief.
Side sleepers might also want to try replacing their pillow if they're waking up with sore shoulders. Maintaining a neutral neck alignment can ease shoulder pain due to how the two areas are connected.
What mattress types are best for side sleepers?
Memory foam, latex, and hybrid mattresses are all excellent options for a side sleeper. The top layer of foam hugs the body, keeping pressure from building up in the shoulders and hips.
While classic innerspring mattresses have their fans, we don't recommend them for side sleepers. A side sleeper needs a conforming surface for pressure relief and a pain-free morning. However, traditional innerspring mattresses tend to establish firm, non-conforming surfaces.
What's the best mattress for side sleepers with hip pain?
Side sleepers might want to look for a mattress with targeted support. Many mattresses feature added support in the torso area or extra pressure-relieving cushion in the shoulders and hips. Cooling features can promote undisturbed sleep and keep pain from worsening in a sore hip.
Conclusion
Although we may not give too much thought to how we fall asleep each night, our preferred sleep position can actually tell us a lot about the type of comfort and support we need. If you are a side sleeper searching for a better night's sleep, our suggestions above can help you bring home the perfect new mattress.