Sponsored Article
Best Mattresses in a Box
Today, buying almost anything is easier and faster because of the internet. And thanks to detailed customer reviews and sleep trials, you can even buy a new bed online with minimal risk. The latest online mattress trend is compressing and rolling your next bed into a box and shipping it directly to your front door, eliminating the stress (and ineffectiveness) of trying out mattresses in-store.
Plus, online mattress brands can offer high-quality beds at a more affordable price because they don't have to pay overhead costs or sales commissions.
So with all the options out there, how do you find the best mattress in a box? In our article, we'll break down the ins and outs of online mattress shopping, including how to find the most comfortable bed without trying it out first. We'll cover sizes, sleep trials, mattress types, and more.
Best Mattresses in a Box
Best Mattress in a Box Overall:

Amerisleep AS3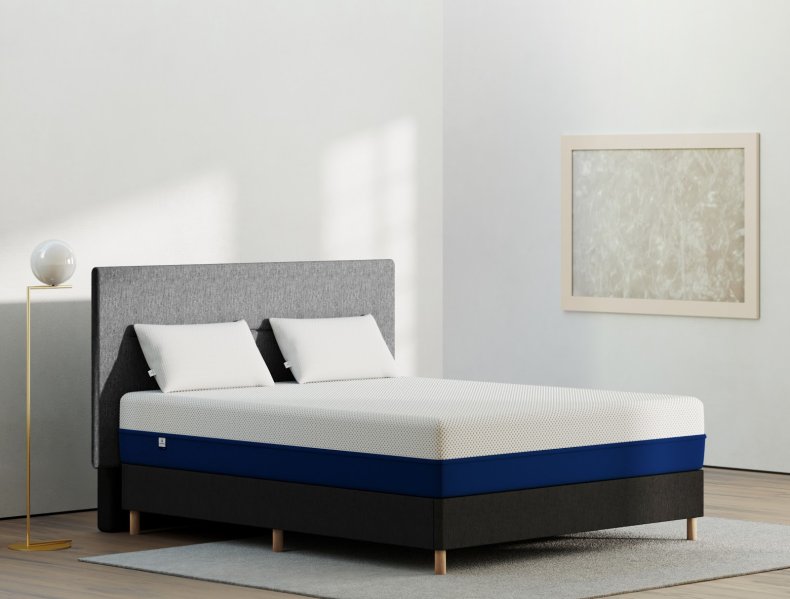 Amerisleep has taken the bed in a box world by storm with their eco-friendly foams and innovative sleep technologies to ensure optimal rest and recovery each night. Their bestselling mattress, the AS3, has a universally comfortable medium feel that appeals to couples, side sleepers, and combo sleepers.
First, beneath a soft and stretchy cover sits their plant-based Bio-Pur® top layer. This CertiPUR-US® certified foam bounces back in seconds and contains an advanced open-cell design, ensuring you won't feel stuck or hot like you would on traditional memory foam. Bio-Pur® is made using plant-based oils, so there's little to no off-gassing when you unbox the AS3.
A second layer, called Affinity foam with HIVE®, provides excellent contouring and targeted support to your back, hips, and other areas sensitive to pressure points. The hexagon-shaped cutouts in this layer enhance the airflow of the mattress and respond to every movement you make, ensuring you don't sink down. In short, the HIVE® technology makes you feel like you're floating!
The Bio-Core® base is a durable poly-foam that keeps the softer layers above it stable and sag-free, even with years of use. This material is so durable, Amerisleep is able to offer a 20-year warranty with their beds—providing 10 more years of coverage than the standard mattress warranty.
The Amerisleep AS3 also comes with a risk-free 100-night sleep trial, plus free shipping and free returns.
Best Mattress in a Box for Back Pain:

Zoma Mattress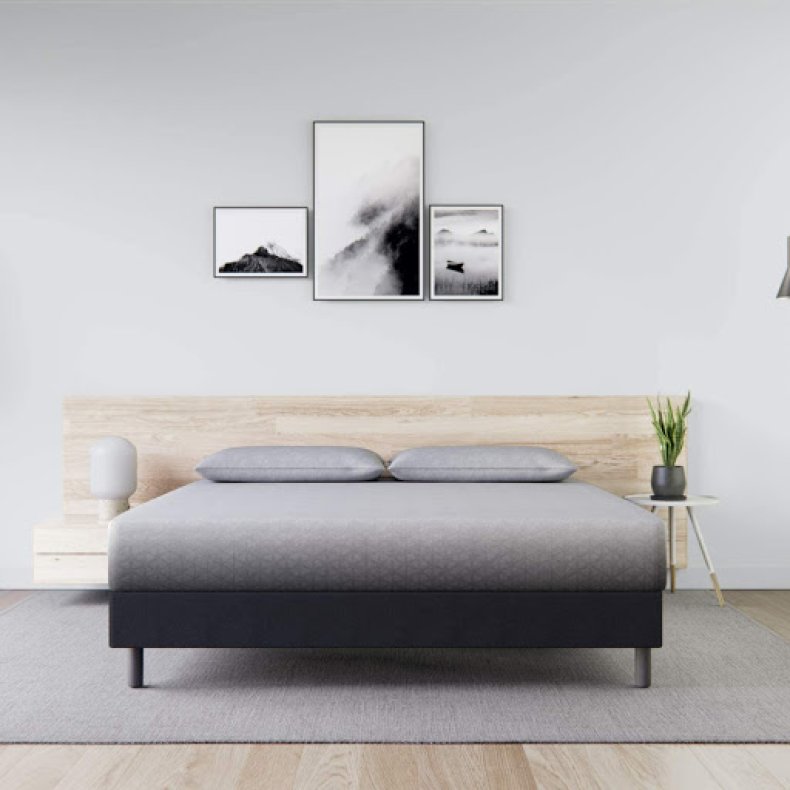 Zoma has combined decades of experience in the mattress industry to create a bed built for deep recovery and sleep. In fact, the Zoma is becoming even more popular with athletes and sleepers with active lifestyles. The secret is in the zoned layers made with durable materials.
The comfort layer of the Zoma Mattress is a gel memory foam with Triangulex™ technology. Triangle-shaped cutouts in this layer are spaced closer together where you need more support and farther apart in areas that need softer cushioning. Plus, the gel infusion of this layer keeps you cool and comfortable all night.
A responsive, bouncy layer called Reactiv™ comes next. This foam keeps the surface of the bed
even and deters sags, so you can wake up pain-free.
The base foam, called Support+, contributes to the mattress's durability and lifespan, and the Zoma is also backed by a 10-year warranty. Plus, you can try out the bed risk-free during its 100-night sleep trial.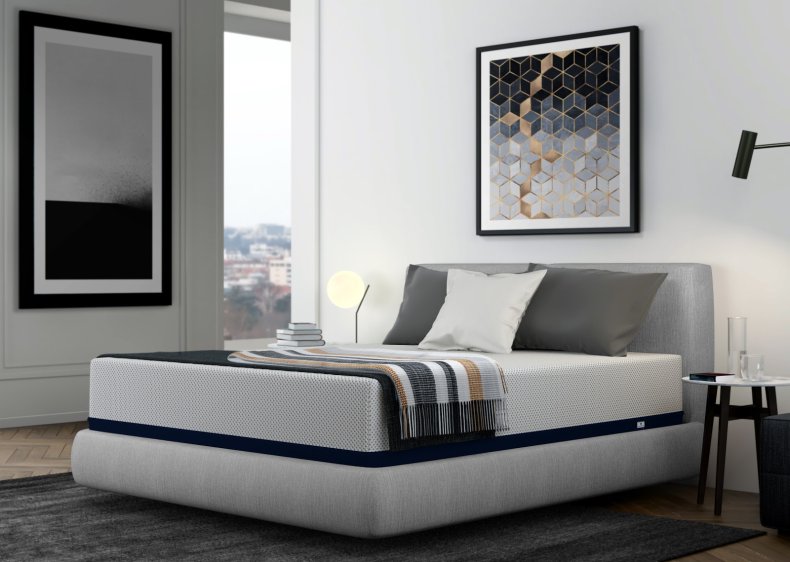 Another popular mattress in Amerisleep's lineup comes from their new hybrid line, made with the same plant-based foams from their original collection plus pocketed coils for extra responsiveness and airflow.
First, the familiar Bio-Pur® foam sits on top to cradle the sleeper—in the AS5, this layer is super soft and conforming. But don't think that means it's not supportive! Thanks to a layer only found in the AS5 and AS5 Hybrid called Active Flex, you won't feel stuck in this ultra-soft mattress. The Active Flex layer right below the Bio-Pur® layer keeps you lifted and supported all night.
Next comes another layer unique to hybrids: pocketed coils. This 8-inch base is made up of steel coils. Each one is wrapped in fabric to limit motion transfer, increase targeted cushioning and support, and minimize sagging. The zoned coils make this mattress both soft and supportive, a rare combination for many soft beds!
At the very bottom of the mattress, a thin layer of foam sits beneath the coils for added stability. Like all Amerisleep beds, the AS5 Hybrid is backed by a 20-year warranty and ships free to your door. If you decide within the 100-night sleep trial that the bed isn't for you, returns are free.
Best Budget Mattress in a Box:

Vaya Mattress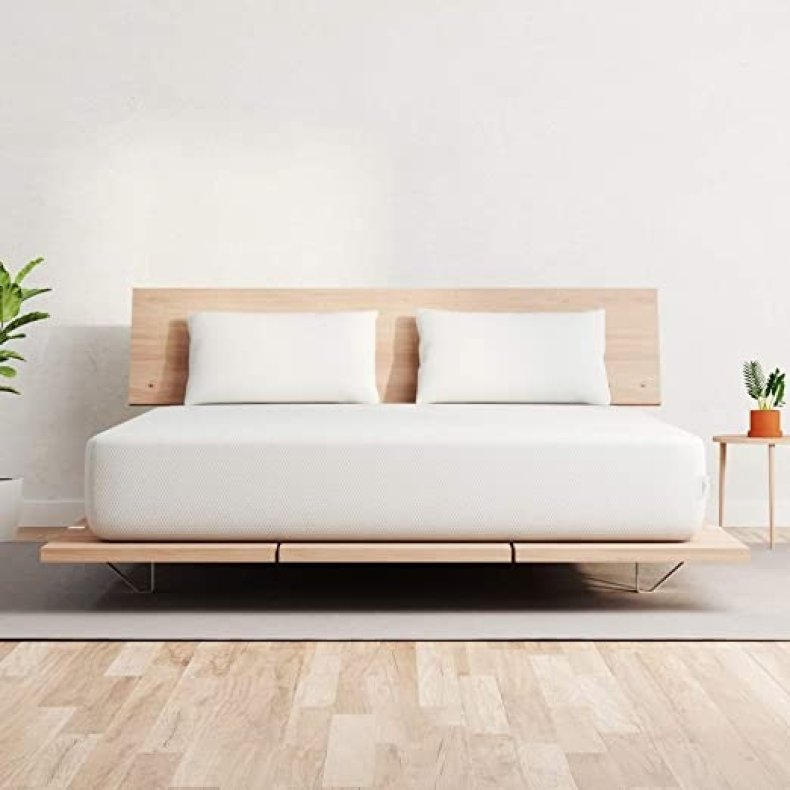 The Vaya Mattress has a simple, effective design perfect for sleepers on a budget. Though it's one of the more affordable beds on our list, you shouldn't be fooled by the lower price—it still features high-quality, CertiPUR-US® certified foams made to last.
The Vaya Comfort Foam's open-cell design wicks away heat and moisture to keep you
comfortable and cool. The CertiPUR-US® certification means this foam contains no phthalates,
heavy metals, formaldehyde, or other chemicals that can cause the pesky off-gassing smell found in cheaper mattresses.
Vaya Base Foam is thick, sturdy, and firm to support you no matter the position you sleep in. The
perfect medium feel of the Vaya will appeal to side and combo sleepers. You can use the Vaya
Mattress on a platform or slatted base, or even an adjustable bed.
The Vaya Mattress comes with a 100-night sleep trial, 10-year warranty, free shipping, and free returns.
Other Beds in a Box to Consider
Purple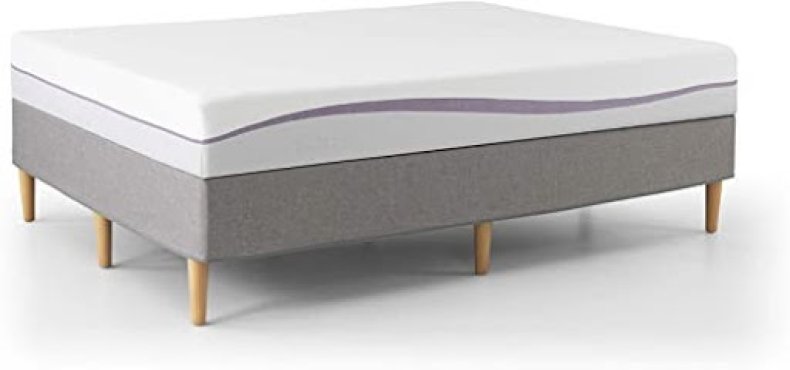 The Purple Mattress is one of the most popular beds in the online mattress world. Instead of using foam like so many other brands, Purple created a proprietary material for their beds called Hyper-Elastic Polymer or Purple Grid™.
The Purple Grid™ layer has a No-Pressure™ design to keep you from waking up with achy joints and sore spots. Instead of sinking down under the heaviest parts of your body, Purple Grid™ bounces back and conforms closely to your curves so you feel cradled all night.
Beneath the Purple GridTM, there are actually two foams (together they are called "dual-layered comfort foam"). First is a soft, cushiony layer for added pressure relief, and under that is a firm, high-density support foam to prevent sags from forming.
The Purple Mattress comes with a 10-year warranty that covers sags deeper than 1 inch. Plus, the Purple ships free straight to your home, where you can try it out risk-free for 100 nights.
Tuft & Needle Mint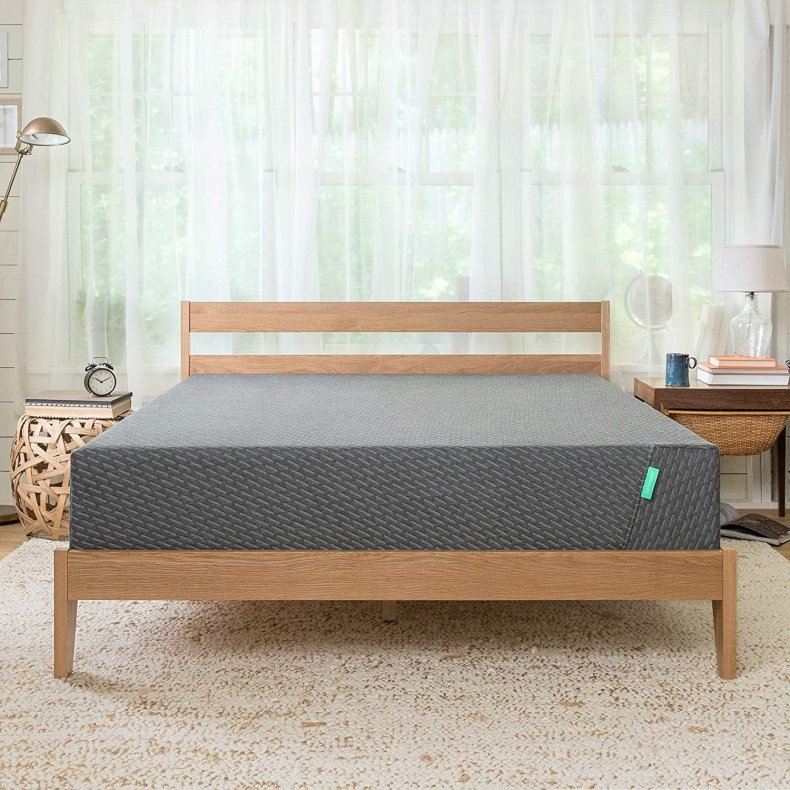 The Tuft & Needle Mint is a cooler variation of their original mattress. Both are made with T&N Adaptive FoamTM, a responsive, graphite and gel-infused material meant to keep you cool.
Ceramic gel beads in the top layer stack as you lie down, providing targeted support to
areas you need it most, and the gel and graphite infused in the layer help to wick away body heat.
The bottom layer is a sturdy, durable foam with edge support around the perimeter to make getting in and out of bed easier. The Mint Mattress is antimicrobial, too.
The Tuft & Needle Mint comes with free shipping, free returns, and a 100-night sleep trial. If you decide to keep the bed, it's covered by a 10-year warranty. You can use the Mint on box springs, a platform bed, or an adjustable base.
What is a Mattress in a Box?
Ever since mattresses were invented, the most popular type has been innersprings. However, they cannot be rolled up into a box without being damaged. In fact, most people buy their mattresses in a brick-and-mortar mattress shop, then drive them home or get them delivered. It's a time-consuming process and research shows trying out a mattress for a few minutes in-store doesn't typically result in the best choice for your sleeping position, anyway.
Now, if you're buying a mattress in a box, you won't be able to try out the bed before you purchase, but that's where sleep trials come in. Plus, you have access to other mattress types that can be shipped in a box—such as memory foam, latex foam, and hybrids. And these three bed types have higher satisfaction ratings than innersprings, but we'll discuss mattress types later on.
How to Choose the Best Mattress in a Box
Once you've found a few good mattress options (and there are a seemingly endless amount), it's time to narrow it down. The best mattress should be supportive, comfortable, affordable, and durable. The one you ultimately choose depends on the mattress type and firmness compatible with your weight and sleeping position.
Sleeping Position and Body Type
Your sleeping position affects how your mattress feels more than you might realize! Along with that, your weight (also referred to as body type) impacts the feel and lifespan of the mattress, too. Most brands market their beds to sleeping positions, so let's go over those first.
Side Sleeping
The majority of Americans sleep on their sides, probably because it's naturally comfortable. In fact, one of the most popular side sleeping variations is called the fetal position—so named because it's a lot like the position we adopted in the womb.
Side sleepers enjoy the most benefits from their sleep posture: minimal risk of snoring or sleep apnea, back pain, shoulder pain, and spinal misalignment.
If side sleepers choose an unsupportive mattress or pillow, they could experience paresthesia, or
numbness and tingling in their limbs from pressure buildup. So the real question is, what is the best mattress for side sleepers? We recommend memory foam, latex foam, or hybrids, and side sleepers should choose between medium, medium-soft, and soft beds.
Back Sleeping
Back sleepers have one advantage over side sleepers: their spines are in a neutral position with little risk of misalignment all night. However, because back sleepers lie flat with their heads and necks straight, they are at higher risk for snoring and exacerbated sleep apnea symptoms (note that back sleeping does not cause sleep apnea).
To avoid breathing problems, back sleepers need a medium-firm or firm mattress that won't sink down. We recommend memory foam, hybrids, or latex foam for back sleepers.
Stomach Sleeping
To put it briefly: we don't recommend stomach sleeping, primarily because it puts you at risk for back pain and misalignment. Most of the body's weight is concentrated to the midsection, and when you lie flat on it, gravity pulls the body down, causing the spine to arch unnaturally. That means stomach sleepers should absolutely sleep on a medium-firm mattress or the best firm mattress to avoid that "stuck" feeling (and of course, back pain).
The best mattress for stomach sleepers is probably a memory foam, hybrid, and latex foam bed. You may not think memory foam mattresses can be firm, but they actually come in a variety of firmness. Let's discuss mattress types and how they feel.
Mattress Types
Mattresses have come a long way since they were invented back in the late 1800s—and that's just when innerspring coil beds originated! Mattresses made their first appearance in ancient Egypt, where people usually used planks of wood, wool, and linen to make their "beds."
Today, it may seem like we face a multitude of options when it comes to mattress materials and types, but really there are just four basic mattress types you need to know. While every one of them is available online to buy, only some can be shipped to you in a box.
Memory Foam
Memory foam, or viscoelastic foam, has been a mattress staple for about 30 years. Memory foam beds have become just as well-known as innersprings, but they typically last longer and offer more contouring and pressure relief.
Memory foam mattresses are made with petroleum-based oils to give them that soft, cushioning feel. You've probably felt a memory foam mattress before (if you haven't slept on one)—they take on the shape of anything that presses down on them and then spring back immediately. This close-conforming characteristic means memory foam is great for pressure relief.
Innerspring
Innerspring mattresses have been around the longest, and they're still very popular in dorm rooms, hotels, and more. Innersprings are relatively affordable, responsive, and have excellent airflow thanks to their coil base. However, innersprings also lack pressure relief and long-lasting support, as most models begin to sag within a few years of use.
The comfort layer of every innerspring is typically 1 to 2 inches thick and made of memory foam, latex foam, cotton, or wool. The coils beneath this layer are often hourglass-shaped and connected with "helicals," or long wires made to ensure the coils bounce back quickly. This responsiveness makes innersprings appealing for many people, although it also causes motion transfer and noise.
The combination of a thin comfort layer and bouncy coils creates impressions quickly, so innersprings aren't ideal for sleepers with back pain, snoring and other breathing issues, or side, back, or combo sleepers. Stomach sleepers might enjoy the firmness of innersprings, but eventually, the sagging will cause a loss of support, meaning stomach sleepers should avoid innersprings if possible.
Most innersprings made today cannot be shipped in a box, and that's why you won't typically find them with bed-in-a-box retailers. If you want an innerspring, you have to go pick it up from a showroom or brick and mortar mattress store.
If back pain ails you, check out our list of best mattresses for back pain.
Hybrid
Hybrids are a relatively new mattress type, but they've become a favorite for many because they're both responsive and pressure-relieving. All of the best hybrid mattresses have a comfort layer of memory or latex foam at least 2 to 3 inches thick, plus a coil base. The coils in a hybrid mattress are pocketed (individually-wrapped in fabric or foam). This extra piece of material surrounding each coil ensures motion isolation, minimal sagging, and easier movement in bed.
Hybrids are great for most sleeping positions because they offer the benefits of both innerspring and memory foam beds without the most common downsides (heat buildup, motion transfer, sagging, pressure buildup).
If you're interested in a hybrid, note that some brands may not ship them in a box. However, many do, and compressing them in a box doesn't damage the coils. Hybrids are a little heavier than most other mattress types, and more expensive, too.
Latex
You've probably used latex before, as it's a common material for medical equipment; but did you know it's also a durable and eco-friendly mattress material? Latex foam is made from rubber tree sap, which is whipped into a foam using a few different processes depending on the type of foam being made. Talalay and Dunlop are the two most popular types of latex foam.
The latex for Talalay foam is harvested the same way as it is for Dunlop, but during processing, polyurethane fillers are added to give it a soft feel akin to memory foam. Dunlop foam contains no polyurethane or other added chemicals, making it 100% natural latex foam. As a result, it has a naturally firmer feel. Dunlop latex can last up to 15 years if properly cared for, and that could be why latex is one of the pricier mattress types.
Mattress Size
When it comes to mattress size, most people already know what they're looking for. If you're
shopping just for yourself, a full or a twin XL are fine budget options, but if you're restless or just need a little more room, a queen might be better. On the other hand, if you have a partner, you'll need at least a queen size bed, which is the most popular mattress for couples. A king size will give each of you about 38 inches of personal space—lots of parents like king size beds if they co-sleep with their kids.
There's a common misconception that a California King is bigger than a king, but in actuality, Cal Kings are narrower than king size beds. Their size difference comes in the length—California Kings are 4 inches longer but 4 inches narrower than standard kings, making them great for tall sleepers or people who want a lot of surface area but don't have a wide space for their bed.
| | |
| --- | --- |
| Mattress Size | Mattress Dimensions |
| Twin | 38 x 74 inches |
| Twin XL | 38 x 80 inches |
| Full | 54 x 75 inches |
| Queen | 60 x 80 inches |
| King | 76 x 80 inches |
| California King | 72 x 84 inches |
| Split Queen | 30 x 80 inches each |
| Split King | 38 x 80 inches each |
Most mattress in a box brands offer their beds in every standard size, including split varieties, so don't let size stop you from getting a quality bed in a box.
Budget and Cost
Buying a mattress is an investment for most people, and we all expect our beds to last a long time. After all, we use our mattresses more consistently than most other furniture in our own home, and with all the consequences of poor sleep, a lot is at stake when you're shopping for a new bed!
How can you ensure the money you spend on your new mattress doesn't go to waste? Let's talk about what makes a mattress durable and how to maintain your mattress's lifespan.
How Much Does a Mattress in a Box Cost?
The average cost of a mattress is pretty varied now, probably because there are so many different brands offering proprietary foams, technologies, warranties, white glove delivery, and more. With that said, you can get one of the best memory foam mattresses for about $1500, give or take. Now, that amount will change depending on the type of mattress you buy, how long the warranty is, and if it includes special features like cooling gel foam or zoned support.
For our purposes, we'll break down the average cost of every mattress type because that is the factor that affects price most.
| | |
| --- | --- |
| Mattress Type | Average Cost for Queen Size |
| Innerspring | $700-$1,500 |
| Memory Foam | $700-$1,800 |
| Hybrid | $1,200-$2,500 |
| Latex Foam | $2,000-$3,000 |
How Much Should I Budget for a Mattress in a Box?
Now that you know the average cost of a mattress (emphasis on average), plan ahead before you buy. You might be tempted by added features that drive the cost up, but do you really need hand-tufted buttons, sleep trackers, or temperature controls?
Most people only need a few things from their mattress: cooling features, long-lasting support—especially to keep the spine neutral––and comfort. The latter does not necessarily mean "cushioning," as for some people, a comfortable mattress is firm and does not sink down very much at all. And some of the best cooling mattresses don't even need special hardware or app connectivity either. Remember to note your sleeping position when choosing the right mattress type and firmness for your bed in a box purchase.
Features and materials that affect mattress cost:
Proprietary foams and materials exclusive to the brand
Cooling technologies, such as gel memory foam, graphite-infused foam, etc.
Pocketed coils (typically only found in hybrids)
Latex foam, especially Dunlop latex
White glove delivery (the company will deliver and set up the mattress for you, and some companies will take away your old bed, too)
Longer than usual warranties (the industry standard is 10 years, so anything longer could be factored into the final cost of the bed)
Mattress Brand Policies
An oft-overlooked part of online shopping is the company policies. You might be more focused on the mattress itself, but brand transparency is key if you want a reliable product. For example, if a mattress seems like a good fit but doesn't come with a sleep trial, you could be risking a big loss by buying it. And if the mattress you've got your eye on doesn't come with a standard 10-year warranty, walk away—that's a red flag that could mean the company isn't confident enough in their product to back it.
Sleep Trials
Sleep trials go hand-in-hand with bed-in-a-box mattresses. When mattress shopping migrated online, customers lost out on the experience of trying out beds in-store before buying. However, like we already mentioned, testing a bed for just a few minutes doesn't usually give you the best choice. Studies have shown sleeping on a mattress overnight is more effective. The good news is that online mattress brands offer sleep trials—a 90 to 100 day time period for the customer to try out the bed and return it for a full refund if they wish. In fact, nearly all of the best online mattresses offer some sort of extended sleep trial ensuring you can rest easy knowing it's a risk-free purchase.
Warranties
Warranties are standard when it comes to mattresses, and you should expect a 10-year warranty (at least) with your new bed. Most beds last around 10 years, so if your warranty is shorter than that, you may be stuck with a sagging mattress you're unable to fix. Mattress warranties cover sags (usually 1 inch, but that coverage can be more or less depending on the brand) and manufacturing defects such as broken zippers, burst coils, or torn foam. They do not cover damage the user does to the mattress, which is why we always recommend mattress protectors. Take care to always read the fine print!
Return Policies
If your mattress comes with a trial period, the return policy should be fairly easy. With most companies, you call up customer service to initiate a return and then will work with you to donate or recycle it before giving you a full refund (almost no bed-in-a-box companies restock returned mattresses).
Note that if your mattress did not come with a sleep trial, it probably has a "customer satisfaction guarantee" instead. That usually means you have 30 days from the time of purchase to return the mattress. However, these guarantees are riskier than sleep trials, as some of them will only refund you if you haven't slept on the mattress or opened it.
FAQs
What is the best mattress in a box?
It depends on your sleeping position, budget, and comfort preferences. However, we highly recommend the Amerisleep AS3, Amerisleep AS5 Hybrid, Zoma Mattress, and Vaya Mattress as the best mattresses. Obviously, there is not one universally-comfortable mattress for everyone. Thankfully, most bed in a box brands offer many different types and firmness, so you've got plenty of options to choose from. Now, if you're looking for an innerspring mattress in a box, you probably won't find one. We recommend memory foam, latex foam, or hybrids for the best comfort and durability, anyway.
Are mattresses in a box good quality?
You're probably wondering if a mattress that can get shipped to you in a box maintains its quality after all that rolling and compressing. Good news—it can and does! The most important part of unboxing your new mattress is letting it air out and expand for about 24 hours. Of course, you might be impatient to try it out before that 24 hours is up, and if so, that's fine—you won't damage it by sleeping on it early. Most brands just recommend you wait this long so the foam has time to off-gas and all the corners are fully expanded.
How long do bed in a box mattresses last?
The average lifespan of a mattress doesn't really depend on its packaging. It's more about the
materials used to make it. Typically, you can get a pretty accurate idea of how long a bed will last
just by looking at the type.
| | |
| --- | --- |
| Mattress Type | Average Lifespan |
| Memory foam | 8-10 years |
| Hybrid | 7-10 years |
| Latex foam | 10-12 years |
| Innerspring | 5-7 years |
What if my bed in a box is too firm/too soft?
If you're within your sleep trial window (usually 90 to 100 days) and you've realized your bed is not right for you, just return it. However, if that sleep trial has passed, you could try a mattress topper. Toppers are typically 2 to 3 inches thick, made of latex or memory foam, and can be firm or soft. Just choose one depending on your needs.
When should I try to buy a new bed in a box?
Generally, you should spring for a new bed as soon as you notice yourself waking up with aches and pains due to your old one. However, you might also find your answer to perfect sleep during upcoming Black Friday mattress deals or Cyber Monday mattress deals.
How much does a bed in a box mattress cost?
Bed in a box mattresses cover a wide range of prices—they can be as low as $200 or $300 and as $2500 to $3000. The most significant factor in price is the mattress's type, followed by its size. Latex and hybrid mattresses cost more than memory foam mattresses because they contain higher-priced materials. Naturally, a smaller mattress is less expensive than a larger mattress.
Why Buy a Mattress in a Box?
Maybe it's been a while since you bought a new mattress, and you're not used to shopping for one online! Take advantage of sleep trials, read mattress reviews from other customers, and set a budget and expectations. Soon you'll be on your way to a good night's sleep with your new mattress.