Sponsored Article
Best Memorial Day Mattress Sales of 2021
Check out the best mattresses you can get this Memorial Day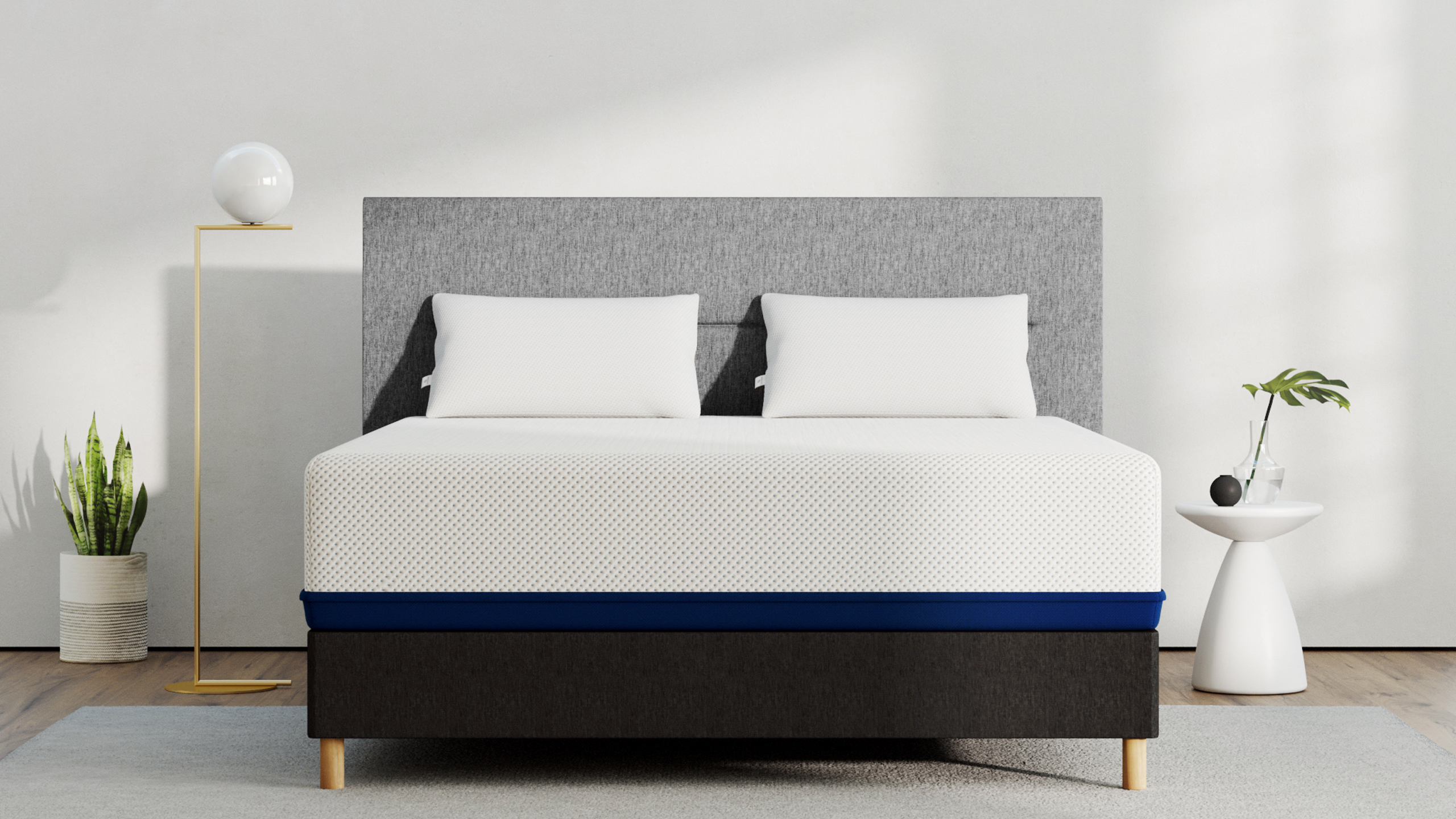 If you've been on the fence about when to buy a new mattress, now's the time.
Memorial Day weekend is one of the hottest sale seasons of the year for mattresses. And with the long weekend coming up at the end of May, mattress brands are starting to promote their bed sales, both online and in-store. You can score steep discounts, bundle mattresses with accessories, and more around the upcoming Memorial Day mattress sale weekend.
However, with all the brands offering sales this season, it can be hard knowing what's the best option for you. Sales can be hit or miss, so we've done the hard work for you. With our guide, we share the best Memorial Day mattress sales so you get the best deal and the best mattress for you.
Best Memorial Day Mattress Sales of 2021
Best Memorial Day Mattress Deal Overall:

Amerisleep AS3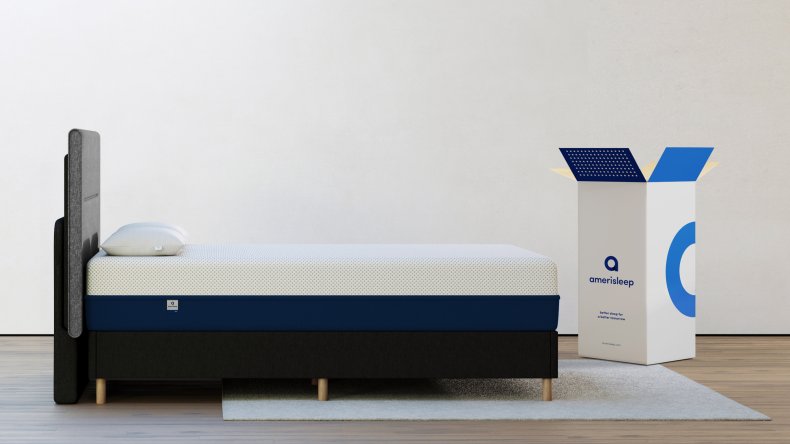 As Amerisleep's bestseller, we had to put the Amerisleep AS3 on our list. It has one of the highest owner satisfaction ratings among mattresses, with over 6,000 verified customer reviews rating the bed 4.7 out of 5 stars.
Amerisleep has countless offers for you to choose from this Memorial Day. Normally, a queen-sized AS3 bed is $1499, which is a great price already. However, Amerisleep is offering a 30 percent discount this Memorial Day, meaning you can score the AS3 for $1049, nearly $500 of savings! Just be sure to use the promo code AS30 at checkout.
The AS3 has a medium feel and works for a wide range of sleepers, including side sleepers, back sleepers, and combination sleepers. Thanks to its balance of firmness and support, the AS3 is also a good option for couples with different firmness preferences.
This memory foam mattress contains 3 inches of eco-friendly Bio-Pur®. This top layer conforms to your body weight and provides incredible pressure relief. And unlike traditional memory foam—which gets hot and uncomfortable quickly—Bio-Pur® is breathable and cool, so you don't have to worry about overheating anymore.
Next in the AS3 is 2 inches of Affinity foam with HIVE® technology. The HIVE® technology supports your head, back, and feet, but cushions your hips and shoulders. This construction evenly distributes your body weight and promotes healthy spinal alignment.
At the base of the AS3 is 7 inches of Bio-Core® foam, which Amerisleep designed to reinforce the upper layers and support your spine.
The AS3 is CertiPUR-US® certified, so you can sleep peacefully knowing your bed is free of formaldehyde, phthalates, flame retardants, and is low in VOCs. Even with the great discounts, you also receive a 100-night sleep trial and a 20-year warranty when you purchase the AS3!
Best Memory Foam Mattress Deal:

Zoma Mattress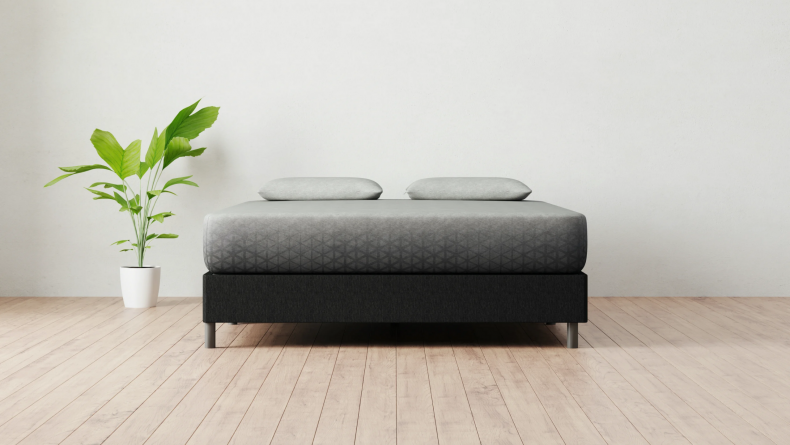 Next up on our list is the Zoma Mattress. Zoma designed their beds with athletes in mind, but sleepers of any activity level can enjoy the support and comfort of the Zoma Mattress. The Zoma Mattress helps you sleep deeper, enhances muscle recovery, and improves your physical performance.
Normally, a queen-size Zoma Mattress starts at $949. This Memorial Day, Zoma is offering $150 off all of their mattresses, meaning you can score the Zoma Mattress for only $799! Not only that but if you're looking to further improve your sleep, Zoma also sells their adjustable bed base for 30% off.
The 11-inch Zoma Mattress contains three foam layers and has a medium feel. The bed has a stretchy and moisture-wicking AirCloth cover so you don't wake up sweaty or uncomfortable.
The Zoma Mattress features a gel memory foam comfort layer with Triangulex™ technology. The gel foam ensures you stay cool, while the Triangulex™ technology helps keep your spine aligned with zoned support while you sleep, so you won't wake up achy or stiff.
The second layer in the Zoma Mattress is Reactiv™ foam. This latex-like foam is buoyant, making it easier to shift positions while minimizing motion transfer—a feature useful for couples.
The bottom layer features the Support+ base, a sturdy base built to keep your body aligned. It also protects the bed from prematurely sagging or going soft.
With the Zoma Mattress, you receive a 100-night sleep trial and a 10-year warranty, even with the great sales already available.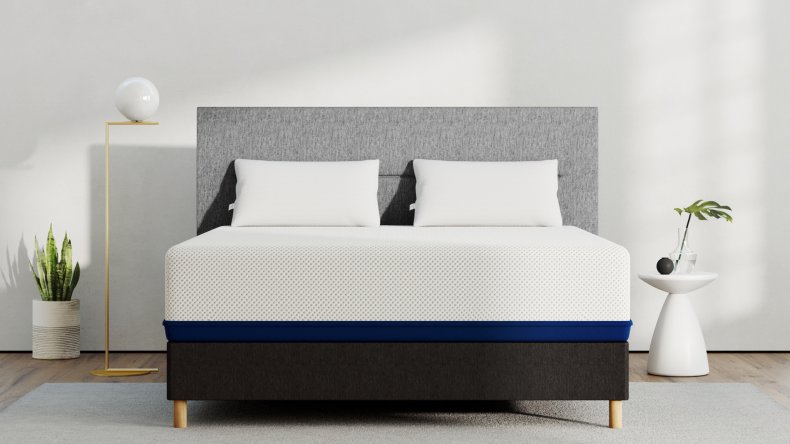 Another great option from Amerisleep is the AS5 Hybrid. One of the main reasons it's on our list is because of its plush and luxurious feel. At the same time, it's responsive and supportive enough to be comfortable for plus-size sleepers.
You have two Memorial Day sale options with the AS5 Hybrid. Similar to the AS3, you have the option to get a 30% discount off of the AS5 Hybrid. The queen-size AS5 Hybrid starts at $2699, but with the savings, you can get the mattress for $1889!
The AS5 Hybrid is 14 inches thick and has a soft feel. It contains cooling Bio-Pur®, Active Flex foam, pocketed coils, and durable base foam. The mattress has a soft and breathable cover over the four layers.
Active Flex is a layer unique to the AS5 foam and hybrid models. The layer increases the responsiveness of the mattress, preventing sleepers from feeling trapped or unable to move in bed.
Beneath the Active Flex layer are pocketed coils. The pocketed coils support your back and keep your spine neutral to prevent pain and discomfort. Unlike beds made entirely of foam, the coil layers increase air circulation throughout the bed, helping you stay cool and comfortable. The coils are firmer around the sides of the bed, providing ample edge support.
Like other Amerisleep mattresses, you receive free shipping and returns, a 100-night sleep trial, and a 20-year warranty.
Best Budget Mattress Deal:

Vaya Hybrid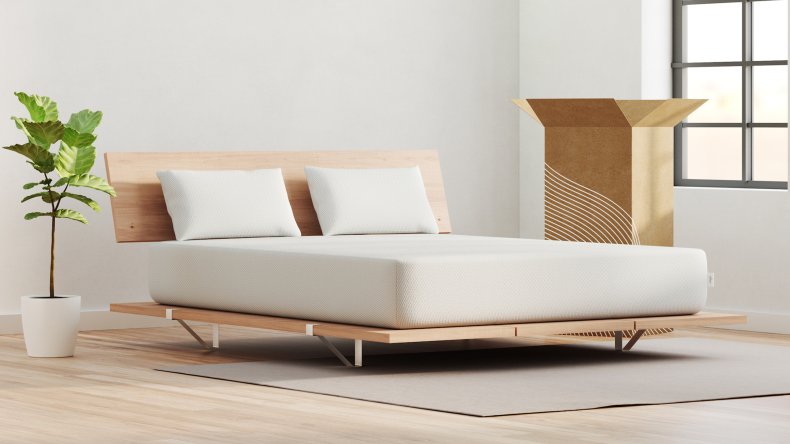 Another one of our favorite hybrid beds is the Vaya Hybrid. It's sleek, simple, and supportive, all at a great cost. It is 12 inches tall and has a medium feel, making it a good option for a variety of sleepers and couples.
During the 2021 Memorial Day mattress sale, you can get the Vaya Hybrid for $300 off! The Vaya Hybrid normally starts at $999 for a queen, but with the code VAYA300, it drops down to $699. Not only that, but you'll also receive a free pillow worth $70!
The top of the Vaya Hybrid contains Vaya Comfort Foam for a soft and conforming feel. However, the foam still provides enough bounce to prevent sleepers from feeling trapped or uncomfortable in their bed.
The coils in hybrid mattresses are individually wrapped in a lightweight fabric to reduce motion transfer and noise production. Not only that, but it also improves the Vaya Hybrid's overall durability.
The Vaya Hybrid is CertiPUR-US® certified and made in the USA. If you go with the Vaya Hybrid, you receive a 100-night sleep trial, a 10-year warranty, and free shipping and returns.
Our Tips For Shopping Memorial Day Mattress Sales
While shopping during a sale seems simple enough, there are a variety of factors to consider to ensure you get the best mattress while the deals last. Let's take a look at some of our tips when mattress shopping during Memorial Day!
Plan Ahead
When scouting for deals, it's always a good idea to come up with a game plan. Some brands even roll out their deals before Memorial Day, so you can get ahead and buy from them. Lots of brands also start displaying their upcoming best memory foam mattress and best hybrid mattress discounts so you know what to expect.
Not only that, but it's worth checking out the promotions mattress brands offered last year to give you an idea of what they'll offer this time around.
If the mattress company you're interested in has retail stores or showrooms, you might check out the mattresses in person so you can properly visualize and feel them.
Preparing ahead of time ensures you have enough information to figure out exactly what you need, minimizing the chances of making a bad purchase.
Know Your Preferences
When mattress shopping during popular weekend sales, it can be tempting to go for the cheapest mattress available, just because it's from a brand you're interested in. However, if the lowest-cost mattress isn't right for you, you're making a bad purchase—good deal or not.
For instance, a firm mattress may be on sale for $499, which may save you a lot of money, but maybe you need a medium mattress. Medium mattresses are the best mattresses for side sleepers. The best firm mattresses, on the other hand, work best for back and stomach sleepers. So, if you choose the firm mattress just to score the discount, you'll end up with an uncomfortable bed and probably replace it sooner than expected, costing you more in the long run.
Make a list of your needs and preferences when looking for a mattress discount and try to stick with them so you don't end up with a bed you don't like. Consider features including:
Firmness level
Type of mattress
Mattress size
Your budget
Any accessories you need, such as mattress toppers, sheet sets, pillows, bed frames, or mattress protectors (lots of brands throw in these accessories for free or at a discounted rate)
One underrated feature to also consider is a mattress's cooling capabilities so you can sleep easily without night sweats. For more, see our best cooling mattress recommendations. For back pain sufferers, consider looking into the best mattress for back pain, too.
Read Customer Reviews
While professional reviews are very clear and informative, nothing compares to mattress reviews from other customers.
Reading customer reviews can give you insight into matters including a mattress's true quality and comfort, how well it works after several years, or a brand's customer service. If a customer has a bad experience, it's useful to know and can help you decide whether or not you still want to purchase a certain product.
For example, a customer may rate a mattress badly and complain about it off-gassing or how it turned out they don't enjoy memory foam. However, if those complaints aren't deal breakers for you, you may still want that same bed.
When looking through customer reviews, be sure to double-check that they are certified by a third-party verification service. This way, you know the person who wrote that review actually purchased it and that the brand isn't writing fake reviews.
Independent and unbiased review websites are another outlet to look into when reviewing other people's experiences with a certain mattress. They'll have clearer information regarding the bed if you're interested in its specs and details.
Compare Brands
As any smart shopper does, it's important to compare different bedding brands and mattress retailers to see what they offer.
Every brand will promote some level of mattress deals during Memorial Day and Memorial weekend, though some brands may lower prices and offer better savings than others. It's a good idea to check out all of your options and find the best bed for the best price.
Again, some brands release their upcoming savings before the big Memorial Day mattress sale weekend begins, so you can plan ahead and decide if those deals are right for you. This also helps prevent you from making a hasty purchase during the shopping rush.
Read the Fine Print
Sometimes, the brands that offer great deals around long weekends may also have some drawbacks. This includes brands nixing their sleep trials, shortening warranties, or marking items as final sales.
Unless you're completely confident in the mattress you want and won't be upset over a lack of return policy or sleep trial, avoid buying mattresses that don't come with these policies.
Be sure to check a brand's sleep trials, warranty, and return policies before you make a purchase during this upcoming Memorial Day mattress deal. We recommend buying a mattress with a sleep trial longer than 30 days and a warranty of 10 years or more.
FAQs
Is Memorial Day a Good Time to Buy a Mattress?
Yes, Memorial Day, among other events, is a great time to make a mattress purchase because so many brands run sales and deals. This can include money off, bundling discounts, and more.
If you were already planning on getting a new mattress, it's worth waiting until a long weekend such as Memorial Day comes around to cash in on those deals.
How Long Do Memorial Day Mattress Sales Last?
The length of sales will vary depending on the company you shop from. Some brands do sales only on Memorial Day, other sales last through Memorial weekend, and some sales span the entire week before Memorial Day.
We recommend checking in on the brands you're interested in because they'll most likely release the dates and length of their Memorial Day sales before they begin.
What is the Best Month to Buy a Mattress?
Lots of brands offer deals and discounts year-round, so you can often score some mattress savings whenever you shop. However, your best chances of getting good deals on a mattress are at the end of the season or year.
The end of May is one of the best months to buy a mattress because many brands release new products in June, the start of summer. For this reason, mattress companies want to get rid of their old stock to make room for new products.
Another good time to shop for a mattress is around November or December, around Black Friday and Cyber Monday. These months are so popular as brands offer "end of the year" savings or deals for the winter.
How Much Should You Pay For a Good Mattress?
Mattress prices vary from the brand, mattress size, and the type of mattress you want.
Generally, a good-quality queen mattress can go from $700 to $2500 as its base price. With sales and discounts, you may be able to get a mattress for a bit lower than this.
We recommend avoiding overly cheap mattresses—for example, a queen mattress for $200—because they likely won't be comfortable or last long, meaning you'll have to replace them quickly, costing you more money in the long run. Remember, the best budget mattress isn't necessarily the cheapest one.
Is It Better to Buy a Mattress Online or in a Store?
Both buying a mattress online and in a store have their perks, but we think buying a mattress online including one of the best mattresses in a box is a bit better. Although you won't always be able to feel your bed before buying it, the best online mattresses are more affordable than in-store mattresses despite being the same quality of mattresses you'll find in-store.
Online mattress brands are affordable as is, but then they run lots of deals and have coupon codes, especially around the long weekends. Also, most mattresses sold online come with sleep trials, meaning you can test your bed out at home and return it hassle-free if it doesn't work out for you. And since they come with free delivery they make for the best mail order mattresses around.
Mattresses from brick and mortar stores are often marked up unnecessarily, so they're not worth your time or money. You may be able to find coupons or discounts occasionally, but they're nowhere near as valuable as deals online.
Conclusion
Memorial Day is one of the best times to invest in a mattress because it kicks off the summer and brands are clearing out their inventory. Brands offer some of their best mattress deals around this time of year, so if you've been thinking about buying a bed, we say go for it.
With that in mind, always remember to do your research before making a purchase. Mattresses are an investment that will stay with you for many years and considering humans spend one-third of their lives in bed, you should choose a mattress built to withstand this usage. Read reviews, compare brands, and look for the best deal possible while also getting the right mattress for you.