Sponsored Article
Best Memory Foam Mattress
Are you in search of the best memory foam mattress? Here's a list of the year's best of the best.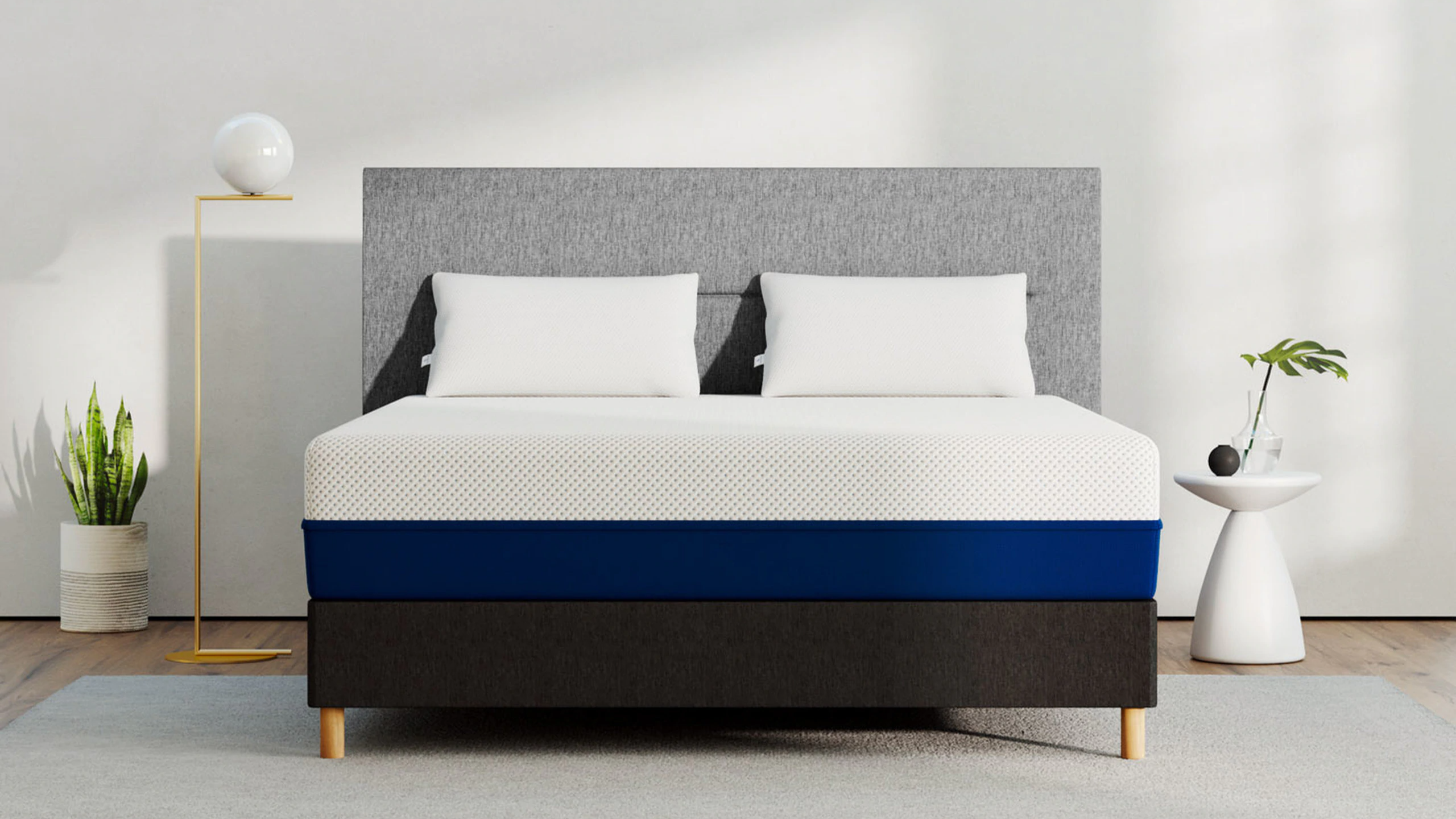 Memory foam has changed the way we sleep, offering comfortable, cloud-like softness, and healthy support. Compared to traditional innerspring-only options, memory foam contours closely to the body for better pressure relief.
Over the years, memory foam technology has evolved, with brands offering unique mattress models built to suit a variety of sleep needs. Different memory foams are available, like plant-based memory foam, gel memory foam, and copper and graphite-infused memory foam, along with unique layering methods to further comfort and support the sleeper.
Our article reviews some of the best memory foam mattresses and includes a comprehensive guide on what to look for in the best memory foam beds.
Best Memory Foam Mattresses
Best Memory Foam Mattress Overall: Amerisleep AS3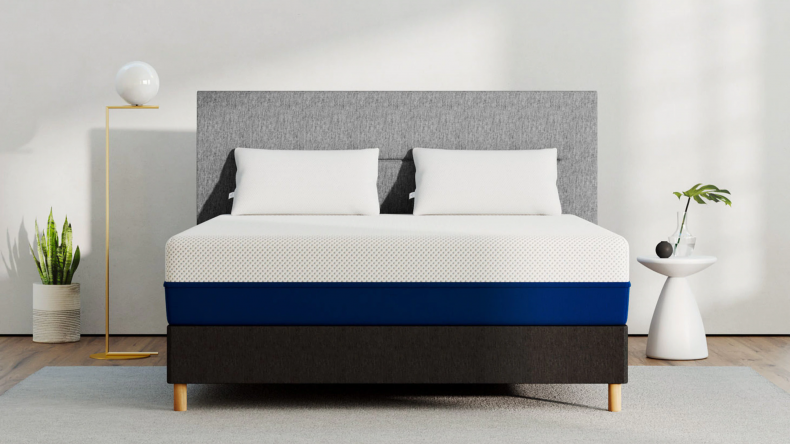 We love the Amerisleep AS3 memory foam mattress for a few reasons: the 12-inch profile, the medium feel, and the pain-relieving comfort layers. The 12-inch profile offers versatile support and allows the sleeper to change positions throughout the night without waking others thanks to its excellent motion isolation.
The medium feel provides superb comfort and support to most sleeping positions—the AS3 cushions the shoulders and hips without the body sinking too deep into the bed. The durable comfort layers ensure you enjoy the Amerisleep AS3 for years to come.
Within the Amerisleep AS3 mattress are three distinct foam layers—each plays a significant role in the bed's overall performance.
The thick layer of Bio-Pur®, a plant-based memory foam, is designed to keep the body cool, relieve pressure points, and allow for easy movement. Unlike traditional memory foam mattresses, you won't feel trapped resting on top of Bio-Pur®—plus, this cooling comfort layer doesn't retain heat.
The 2-inch transition layer is Affinity foam with HIVE® technology to form a 5-zone support system—hundreds of hexagonal-shaped segments create firmer support for the head, back, and legs, and softer support for the shoulders and hips. HIVE® technology also encourages spinal alignment and reduces back and joint pain.
A sag-resistant, 7-inch-thick layer of Bio-Core® evenly supports the body and reinforces the top layers. You can rest easy without worrying about the mattress developing soft spots.
All Amerisleep mattresses come with a 100-night, risk-free trial period, ensuring you have a chance to adjust to the mattress before deciding if it's right for you. If it isn't, Amerisleep will provide a free return and refund.
The AS3 is covered by a 20-year warranty, one of the best in the mattress industry. During the first ten years, Amerisleep fully covers the mattress in case of a defect. During the last ten years, Amerisleep will repair or replace the bed at a prorated price.
Best Memory Foam Mattress for Side Sleepers: Amerisleep AS5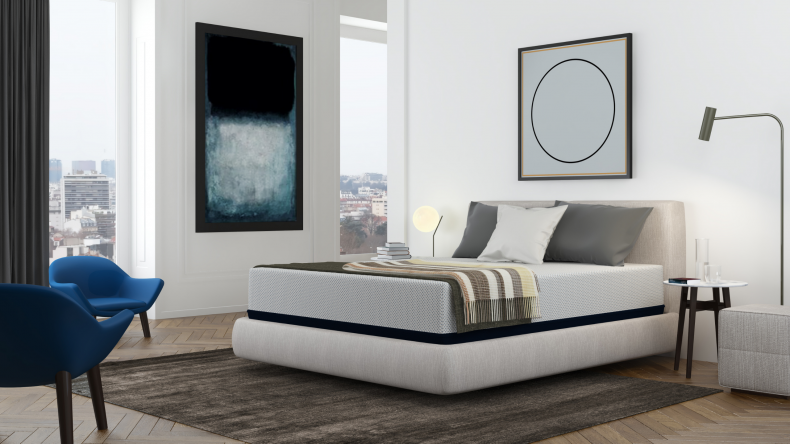 The Amerisleep AS5 mattress is an excellent option for side sleepers looking for the most cushioning bed that's still supportive. The thick foam layers reduce pressure buildup in the shoulders and hips, problem areas for side sleepers. Another bonus to the AS5—you can enjoy the plush surface without feeling stuck inside the bed, unlike other soft mattress models.
The soft AS5 mattress starts with a top layer of Bio-Pur®, Amerisleep's signature plant-based memory foam. You might like the 3-inch foam layer as it conforms to your body and alleviates pressure points. Bio-Pur® is more breathable than traditional memory foam, so there's less risk of waking up hot.
The transition Active Flex layer is a highly responsive, ultra-soft foam responsible for the AS5's luxurious softness. Active Flex automatically reverts to its original shape when you switch sleeping positions, so you feel plush comfort without sinking into the support layer.
The 2-inch Affinity foam is a second transition layer. Affinity has HIVE® technology, a 5-zone support system that enhances pressure relief under the shoulders and hips and provides enhanced support under the head, back, and legs.
Amerisleep's proprietary Bio-Core® supports body weight for even wear and tear. Unlike other base foams, Bio-Core® doesn't sag or develop soft spots with regular use.
You can try out the Amerisleep AS5 mattress for 100 nights, risk-free. If at any time during the sleep trial, you feel the bed isn't a good fit, Amerisleep will donate the mattress and issue a full refund.
The AS5 comes with Amerisleep's 20-year warranty. Amerisleep takes full financial responsibility for the mattress for the first ten years; then, for the remaining warranty period, Amerisleep will repair or replace the bed at a prorated charge.
Best Memory Foam Mattress for Back Pain: Zoma Mattress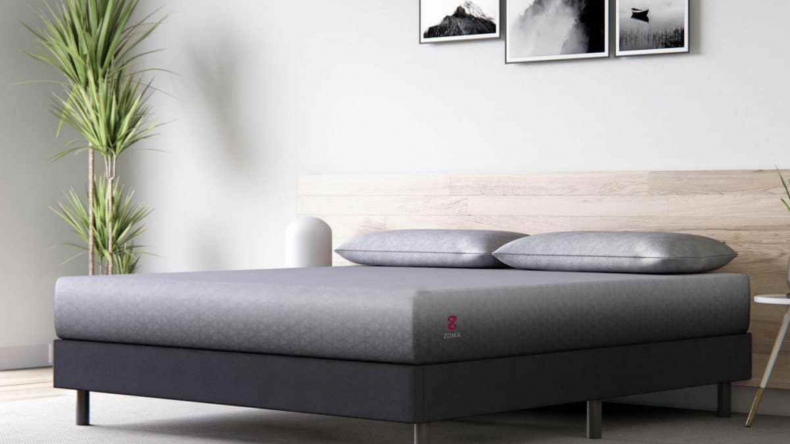 Zoma Mattress is the perfect solution if you struggle with sleep due to back pain, whether from an injury or medical condition, like a herniated disc. The cooling and responsive foam layers regulate body temperature and relieve pressure points—these foams may also relieve soreness and improve comfort so you can rest easy and recover faster.
This Zoma Mattress offers three layers designed for comfort, motion isolation, cooler sleep, and durability. One of Zoma's best elements is the Triangulex™ technology built into the first layer of gel memory foam. This sleep technology has hundreds of triangular-shaped segments strategically placed to form a targeted support system. The shoulders and hips receive extra cushion while the back and hips are reinforced.
A transition layer called Reactiv™ offers a responsive bounce to encourage spinal alignment. Reactiv™'s elasticity also prevents the body from sinking into the support layer, so you don't feel trapped inside the mattress.
The base is Support+, a durable foam to keep the body resting on top of the mattress without sagging. You'll love the consistent support without the sag.
When you purchase the Zoma, you'll receive a 100-night sleep trial to make sure this mattress is right for your needs. If the mattress isn't a good fit, Zoma will donate the bed and give you a refund.
The Zoma Mattress comes with a 10-year warranty promising complete replacement of the mattress if any manufacturing defects occur or sagging greater than 0.75 inches develops.
Best Hybrid Foam Mattress: Zoma Hybrid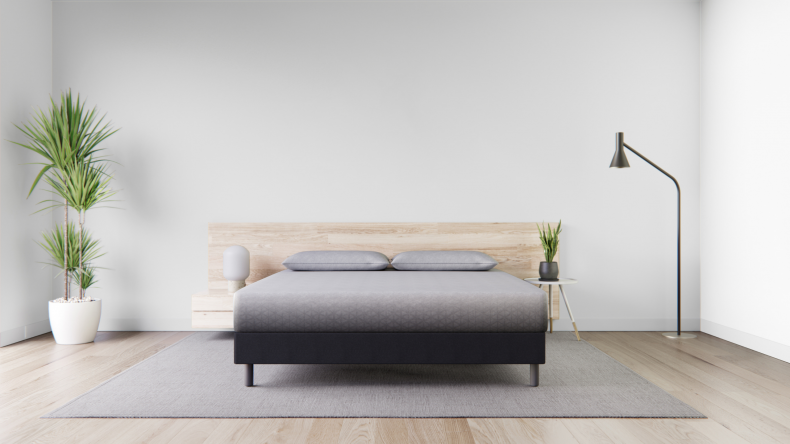 For potential shoppers torn between memory foam and innerspring, why not try the Zoma Hybrid? The Zoma Hybrid is one of the best hybrid foam mattresses on the market and a great option for those who lead an active lifestyle. Responsive foam layers keep you cool and improve muscle recovery after a workout.
The top layer of gel memory foam is designed to be cushioning and contouring. This layer relieves pressure points while the gel in the foam pulls heat away from the body for a comfortable sleep without night sweats.
The responsive Reactiv™ transition layer adjusts to shifting weight and keeps the body resting on top of the bed. The elastic material encourages spinal alignment, so you're less likely to experience back pain.
The 7-inch base layer contains hundreds of pocketed innerspring coils. Each coil reacts individually for targeted support along the spine. The coils also give the Zoma Hybrid more bounce, making it easier to switch sleeping positions.
Zoma gives customers 100 nights to try out the Zoma Hybrid—if you don't like the mattress, Zoma donates the bed and issues a full refund.
The Zoma Hybrid comes with Zoma's 10-year warranty, covering sagging greater than 0.75 inches and any manufacturing defects.
Best Budget Foam Mattress: Vaya Mattress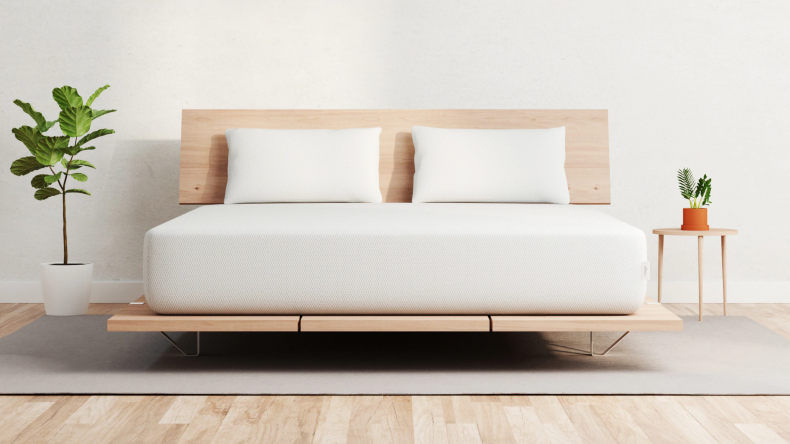 If you have a limited budget, the Vaya Mattress is a great choice. You can score a queen size for $599 but still get the same excellent quality you'd expect from high-end retailers.
The Vaya brand believes a good night's sleep doesn't have to be complicated—these values are reflected in the Vaya Mattress's design. The Vaya Mattress contains two foam layers—the Vaya Comfort Foam and the Vaya Support Foam.
The 3-inch Vaya Comfort Foam provides you with a plush surface and optimal pressure relief, especially in high-pressure areas, like the shoulders and hips. Plus, Vaya Comfort Foam conforms to the body without causing you to sink. You can easily change sleeping positions without feeling trapped.
The 9-inch Vaya Support Foam distributes body weight across the sleep surface for even wear and tear. Vaya Support Foam is built to provide long-lasting support without sagging.
Vaya offers sleepers a 100-night sleep trial to see if the Vaya Mattress is right for them. If not, Vaya offers free returns and refunds.
The Vaya Mattress comes with a 10-year warranty, covering manufacturing defects and sagging greater than 0.75 inches.
Other Mattresses to Consider
Bear Pro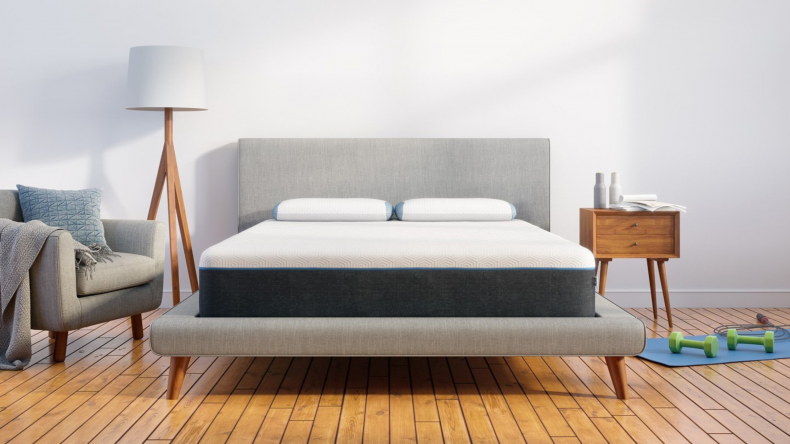 If you're a hot sleeper who struggles to find a temperature-regulating memory foam mattress, look no further than the Bear Pro. The Bear Pro Mattress features both copper-infused and gel memory foam layers that disperse heat to ensure you sleep cool throughout the night. The Bear Pro has CertiPUR-US® certified foams and a water-based bonding solution, so it's environmentally-friendly and has little to no off-gassing smell.
So what's the secret behind Bear's success? The Bear Pro Mattress has four key layers that each lead to a cool night's sleep.
The mattress cover uses Celliant®, which transforms body heat into infrared energy, ensuring the bed remains cool with little risk of overheating. Underneath, the 1-inch copper-infused foam removes unwanted body heat and pairs with a 1.5-inch gel memory foam layer to relieve pressure points and absorb body heat. Both comfort foams are supported by a responsive 2.5-inch layer of responsive poly-foam for pressure relief and balanced support. At the base of the mattress, you'll find a strong support foam created to provide long-lasting durability.
Bear includes a 100-night sleep trial to give you plenty of time to ensure the mattress is the right fit for you. Bear requires you to keep the bed for at least 30 nights before initiating a return, should you choose to do so.
This cooling foam mattress also comes with a 10-year warranty to protect against defects and sags greater than 1 inch. Bear takes full financial responsibility for the Bear Pro in case of a manufacturing defect. For other recommendations, check out our review of the best cooling mattresses.
Tuft & Needle Mint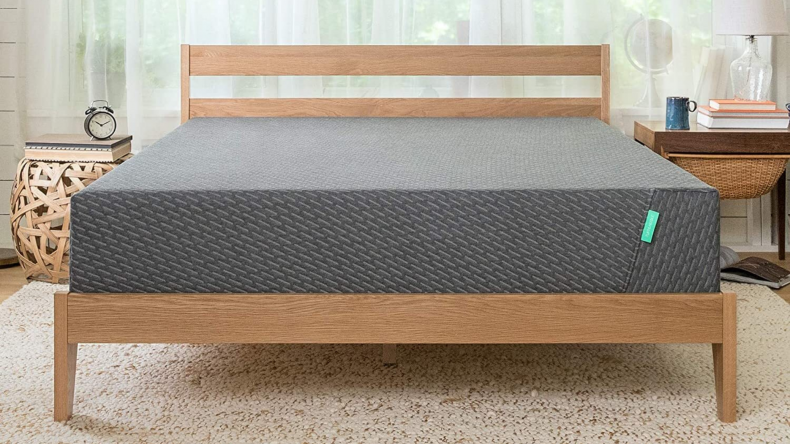 The Tuft & Needle Mint mattress is a great choice for combination sleepers, as the medium-firm feel keeps your body evenly supported no matter your sleeping position. The Mint is also a luxury upgrade from the Original T&N Mattress, an option you'll love if you're a fan of Tuft & Needle.
T&N's signature Adaptive® foam provides a responsive sleep surface, so you don't sink too deep. The 3-inch foam is infused with graphite and draws heat away as the material contours to your body. The special transition poly-foam contains ceramic gel beads, creating a unique cushioning feel. This layer is what gives the Mint Mattress more support and encourages spinal alignment for combination sleepers. A durable poly-foam base supports the body and evenly distributes body weight across the mattress.
Tuft & Needle provides customers with a 100-night sleep trial, so you have plenty of time to try out the bed and see if it's the right mattress for you.
The Tuft & Needle includes a 10-year warranty. If you notice a visible sag greater than 0.75 inches or a manufacturing defect, Tuft & Needle will replace the bed at no extra cost to the customer. In case you're looking for a firmer mattress, see our list of the best firm mattresses.
Tulo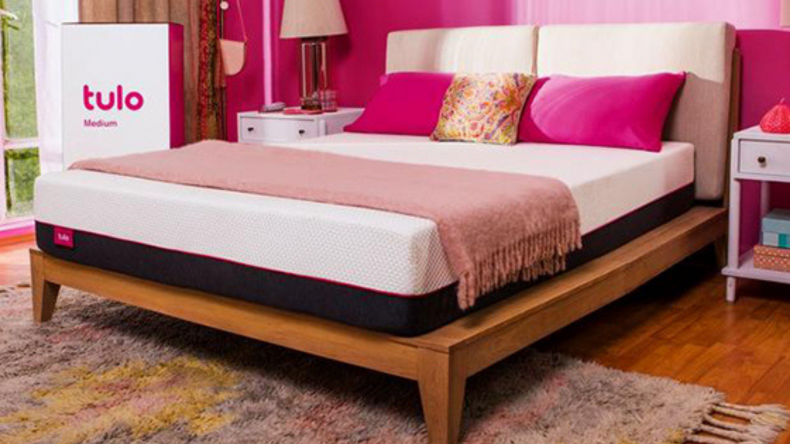 The Tulo is another mattress we like because the company offers the Tulo mattress in soft, medium, or firm models. You can enjoy the comfort and support of the Tulo mattress, no matter your sleeping position. Each 10-inch model contains four high-quality foam layers. Plus, each mattress comes encased in a Tencel™ blend mattress cover to boost the bed's breathability.
The first layer is a 2-inch thick memory foam infused with titanium particles and cooling gel. This foam molds to your body's curves and reduces pressure points without trapping heat. The responsive poly-foam transition layer has an egg crate structure to improve airflow inside the mattress and reduce heat retention.
The second layer of transition foam also has an egg crate shape and evenly distributes weight across the bed and enhances pressure relief in the body. The poly-foam base layer is 4 inches thick and supports the top layers. The base also reinforces the bed's shape, so the sleep surface remains smooth instead of lumpy.
Tulo offers one of the longest sleep trials on our list at 120 nights. Should you not like the bed, you can return it for a full refund.
The Tulo Mattress comes with a 10-year warranty, where Tulo will repair or replace the mattress if the bed sags deeper than 0.75 inches.
Why Choose a Memory Foam Mattress?
Memory foam is one of the best mattress options because memory foam provides optimal pressure point relief, isolates motion, and repels dust mites.
Pressure Relief
Memory foam is known for its close-conforming, pressure-relieving properties. Under body heat and pressure, memory foam softens and molds to your body for pain relief and cushioning support for a more restful sleep.
Motion Isolation
Unlike other mattress types, including innerspring beds, memory foam mattresses have great motion isolation, an excellent benefit for couples. Memory foam restricts movement from rippling across the surface so you don't disturb your sleep partner if you get up at night. A memory foam bed could also be the best choice for combination sleepers who regularly toss and turn.
Hypoallergenic
Memory foam is a dense material and prevents dust mites and other allergens from accumulating in the mattress. There's less risk of coughing or sneezing at night when you sleep on a memory foam mattress.
Durability
A memory foam mattress's lifespan often depends on how well it's cared for and the quality of the materials. A well-cared-for memory foam bed is likely to last between 8-10 years.
Another way to extend the life of your mattress is by purchasing a mattress protector. Mattress protectors guard against spills and stains, preventing damage that could also void your warranty.
Types of Memory Foam
One of the biggest concerns with memory foam mattresses is heat retention. Traditional memory foam and viscoelastic foam is dense and therefore traps body heat, leading to sleep disruptions.
To combat this problem, manufacturers create memory foam layers designed to increase the airflow within the mattress and keep sleepers at a comfortable temperature. A popular method is infusing the memory foam with gel beads to absorb and evenly disperse body heat.
Other cooling methods alter the structure of traditional memory foam. For example, partially replacing petroleum with plant-based oils, using an open-cell design, or injecting the foam with air results in more breathable, responsive foam.
Traditional Memory Foam
Traditional memory foam alleviates pressure points on the body, resulting in a healthier night's sleep. The foam material also provides excellent motion isolation to lessen the likelihood of waking up when sharing the bed with a sleep partner.
Traditional memory foam is antimicrobial, helping to combat the buildup of allergens and bacteria, which causes irritation or worsens existing allergies. The big drawback to traditional memory foam is heat retention. Customers who want a memory foam mattress should look for cooling memory foams like plant-based, gel, or copper and graphite-infusions.
Plant-Based Memory Foam
Plant-based memory foam has less off-gassing odor because mattress manufacturers replace some petroleum with plant oil. The added benefit of this is an eco-friendly mattress with more breathability and fewer harsh chemicals.
Gel-Infused Memory Foam
Gel memory foam has the same properties as traditional memory foam except for gel's inherent cooling ability. Manufacturers infuse gel or gel beads into the memory foam to regulate body temperature. We recommend gel memory foam for people looking for additional cooling, like those suffering from night sweats.
Copper and Graphite-Infused Memory Foam
Natural heat conductors, like copper and graphite, are infused into the memory foam to pull heat away from the body. Copper also has antimicrobial properties and keeps bacteria away from the bed for a cleaner sleep.
How to Find the Best Memory Foam Mattress
Before committing to a potential purchase, look at specific factors, including firmness, temperature regulation, edge support, and thickness, to score the best memory foam mattress. Also, check out what type of sleep trial or return policy is available along with the mattress's warranty.
Firmness
Choosing a mattress based on body weight and favorite sleeping position ensures you receive the best mattress for your needs.
Sleeping Position
Your preferred sleep position has a tremendous impact on the kind of memory foam mattress you choose. Memory foam is available in various firmness levels—each sleep position needs a specific level with the right amount of comfort and support to keep the spine in neutral alignment.
Side sleeping is one of the healthiest and most common sleep positions. Sleeping on the side allows for better breathing, reduces acid reflux symptoms, and alleviates pressure on vital organs. Memory foam beds with a soft to medium feel are the best mattresses for side sleepers because they contour to the body and release pressure on the hips and shoulders.
Back sleeping is the second healthiest sleep position. Lying on the back naturally aligns the spine because the body is in a neutral position. A medium to firm mattress is perfect for supporting a back sleeper—the bed is firm enough to provide support but soft enough to relieve pressure points.
Stomach sleeping is one of the unhealthiest sleep positions because of the high risk of neck strain and lower back pain. Twisting the head at an unnatural angle to breathe causes neck pain. Lower back pain results from gravity forcing the spine's natural curve to straighten. Medium-firm to firm memory foam mattresses are the best for stomach sleepers because a firmer surface keeps the body on top of the bed and doesn't misalign the spine.
Body Weight
Bodyweight is the next factor to consider when deciding on the right mattress firmness. Bodyweight is broken into three categories—lightweight, average, and plus-size. Each body type requires a specific firmness to balance comfort and support without misaligning the spine.
Lightweight sleepers who weigh less than 130 pounds need a soft to medium-soft mattress to allow the body to slightly sink into the bed, cushioning the body and relieving pressure points.
Average weight sleepers weigh between 130 and 230 pounds and can choose a mattress based on their sleeping position—they don't need to focus on choosing for their weight since most firmnesses will feel "as advertised."
Plus-size sleepers, or individuals who weigh more than 230 pounds, need a medium-firm to firm mattress to provide support without the risk of sagging.
Temperature Regulation
As previously stated, memory foam can trap heat, but mattress manufacturers use different memory foam types with cooling properties, like gel and plant-based foam. However, there are other indicators of a cool mattress.
A mattress cover's materials are an important factor too. Breathable fabrics like cotton, Tencel, or bamboo, allow hot air to escape and prevent overheating. Other materials, like thick quilted polyester, are less breathable and worsen heat retention.
The second indicator of a cool mattress is the presence of ventilation channels. Foam layers may have a convoluted surface, creating pathways for hot air to escape.
A third way to find out if your mattress is cool is to look for extra cooling technologies (usually these are advertised), like more air pockets inside the memory foam.
Edge Support
Edge support can be a significant deciding factor for potential customers, while others may not feel edge support is that important. Edge support refers to added support around the perimeter of the mattress. If you like to sleep on the edge of the bed, or regularly sit on the edge of your mattress to get ready for the day, then we recommend a memory foam mattress with sturdy edge support. You're less likely to slide off the bed with proper edge support.
Thickness
Look at the thickness of each foam layer inside a memory foam mattress. Memory foam beds contain two or more layers of foam, and the thickness of each layer can have a significant effect on your sleep.
The top layer is the comfort layer and has direct contact with the body. The thickness of the comfort layer can determine how much you'll sink in the bed. For example, a mattress with a 4-inch comfort layer has more cushion than a 2-inch layer because the 4-inch foam provides a much softer surface.
Thinner comfort layers are not a bad thing—back and stomach sleepers find the most comfort from a firmer surface. However, it might be a good idea to consider the density of each layer and the thickness.
If a memory foam mattress contains layers of all low-density foams, the bed may only last a few years after regular use compared to a memory foam bed made with at least one sturdy foam layer in the base. High-density foam can ensure you won't have to end up replacing your new bed in just a few years.
Sleep Trial and Warranty
Mattress manufacturers provide sleep trials, warranties, and return policies to assure the customer of a sound purchase. Always read the fine print of each policy.
Sleep trials allow customers to try out a new mattress in the comfort of their own home—these are especially common with bed-in-a-box brands since the customer typically isn't able to try out the mattress before buying. These trial periods last between 90 to 120 nights. If the customer isn't happy with the mattress, most companies will issue a full refund.
In case a sleep trial isn't available, the next best thing is to look for a return policy. Most return policies last 30 days—about the same amount of time it takes to adjust to a new mattress. If the customer isn't satisfied with the bed, they can return it for a refund (although some restocking fees may apply).
A warranty protects the mattress against manufacturing defects (such as cracked or bunched foam) and sagging greater than 1 inch (the measurement varies depending on the brand). Most beds come with a standard 10-year warranty.
FAQs
How much does a memory foam mattress cost?
Queen-size mattresses made entirely of memory foam cost anywhere between $500 to over $2000 for high-end models. High-quality memory foam beds cost an average of $1000, an affordable price for any quality mattress from any of the popular bed-in-a-box companies. Generally, you can find the best mattress in a box to fit your budget and personal sleep needs.
Collect as much information on each mattress as you can from the store, online, and mattress reviews. Once you've done your research on the brands you're interested in, check to see if there are any current sales or discounts available. Sometimes there are seasonal events. This year, we anticipate you'll be able to find the best Black Friday mattress deals and the best Cyber Monday mattress deals too. Online mattress companies are a good place to start because they offer high-quality materials at low prices by cutting out the middleman.
Also, online mattress retailers offer extended sleep trials compared to brick-and-mortar shops. You can find the best online mattress and enjoy a new memory foam bed for at least 100 nights compared to in-store 30-day return policies.
Do you need a box spring with a memory foam mattress?
A memory foam mattress is not compatible with a box spring. We recommend you pair a memory foam bed with a solid or slatted foundation instead. Box springs don't do well in supporting dense memory foam and could damage the mattress. A platform bed or an adjustable base better supports a memory foam bed and ensures long-lasting support.
How does a memory foam mattress compare to other mattress types?
If a memory foam mattress isn't for you, try an innerspring, latex, or hybrid mattress instead.
An innerspring mattress contains steel coils with a thin comfort layer on top. Innerspring offers strong edge support and excellent cooling, but they create pressure points because the comfort layer isn't thick enough. Add a mattress topper to improve conforming, pressure relief.
Latex mattresses share similar properties as memory foam, like pressure relief and motion isolation. However, latex is cooler than memory foam and less likely trap heat. Latex is also more responsive than memory foam. But, for many shoppers, latex mattresses might be too far out of their price range, which is why most people prefer memory foam instead.
A hybrid mattress features a combination of pressure-relieving foam with bouncy innersprings. The best hybrid mattresses offer more pressure relief than an innerspring mattress and their mattress materials sleep cool.
What's the best memory foam mattress for side sleepers?
Side sleepers tend to increase their rest quality if they lie on a soft to medium mattress. Many excellent memory foam mattresses for side sleepers feature zoned support, providing extra cushion for the shoulders and hips. These sensitive areas often accumulate more pressure points than the rest of the body, so additional flexibility can increase a side sleeper's comfort.
What's the best memory foam mattress for back pain?
The best memory foam mattresses for back pain usually offer a medium to medium-firm feel. Many higher-quality mattresses have separate support zones across the surface, including one for extra lumbar support. Mattresses with targeted back support keep the body from sinking too far into the bed, preventing back pain.
What are the pros and cons of a memory foam mattress?
What attracts many shoppers to a memory foam mattress is the bed's pressure relief. You're unlikely to wake up with aches and pains with a quality memory foam mattress. A memory foam mattress also swallows motion at the point of impact, so a person's movements won't disturb a partner's rest.
A common criticism of a traditional memory foam bed is the material's tendency to hold onto heat. Modern mattress companies usually increase dispersion with heat-wicking materials, such as cooling gels. Aside from heat retention, memory foam also tends to have an unpleasant odor not long after manufacturing. A low-VOC certification signifies the mattress should lose that new mattress smell quickly.
Conclusion
If you're in the market for a new mattress, memory foam is likely to offer the best value for you long-term. Unlike other mattress types, like innersprings, memory foam provides optimal pressure-relief for pain-free sleep and is a good option for all individuals. We recommend the Amerisleep AS3 because the medium feels is perfect for most sleeping positions and the bed contains breathable foam layers so you can sleep cool all throughout the night.