Sponsored Article
Best Online Mattresses
Shopping for a new bed online? Here are some of the best online mattresses.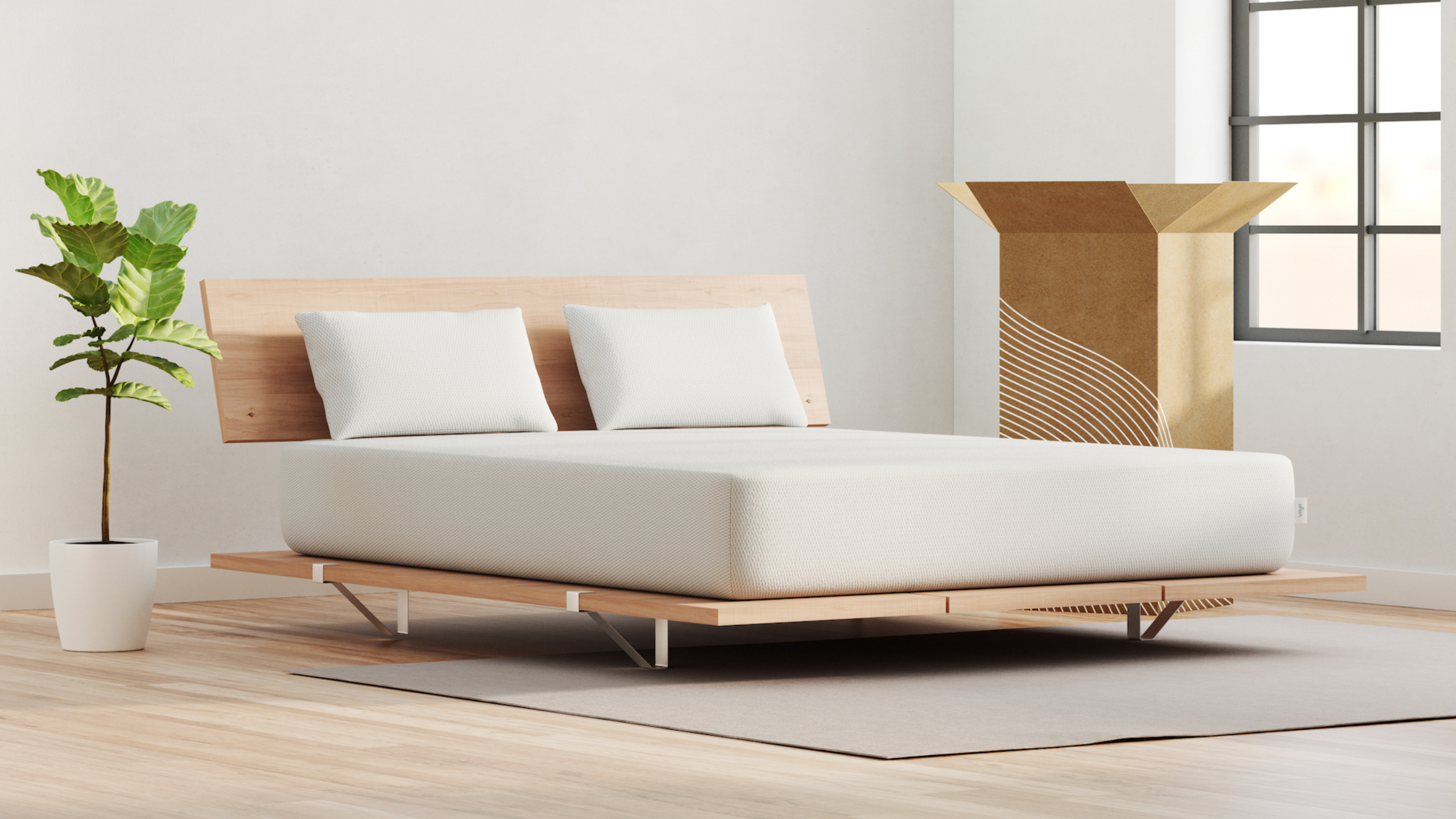 In recent years, the online shopping industry has seen massive growth. According to the U.S. Department of Commerce, Americans spent $601.75 billion with web-based U.S. merchants in 2019. This is an increase of 14.9 percent from 2018. As more people turn to the convenience of online shopping, the number of successful direct to consumer businesses has also exploded.
For example, the mattress industry has been completely transformed thanks to the growth of online shopping. Today, some of the most reputable and popular mattress brands in the country operate primarily online. In doing so, they are able to save money by reducing their overhead costs and cutting out the middleman. In turn, they can pass these savings on to consumers.
Now, a high-quality, durable, and affordable mattress is just a click away. However, with so many bed in a box brands flooding the market, it can be difficult to determine which one is right for you. To help, we outline some of the best online mattresses. We also explain the benefits of buying online and what to consider when selecting a new bed.
Best Online Mattresses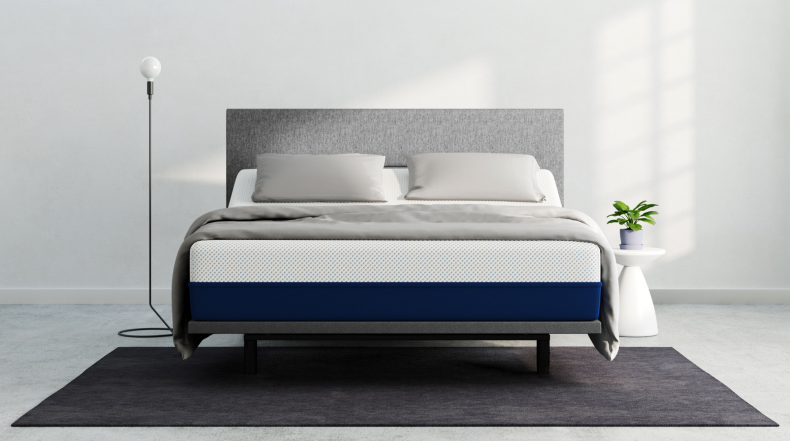 At Amerisleep, they understand mattresses are not one size fits all. That's why they've designed their line of eco-friendly beds to suit a variety of sleep styles and body types. The materials and layers in each of their mattresses are carefully chosen to create a sleep space that promotes a healthy, neutral spine and deep relaxation.
From Amerisleep's lineup, the AS3 Hybrid Mattress has the most universal comfort level—many side, back, and combination sleepers find this bed to be comfortable and supportive.
Beneath a soft, breathable cover, the AS3 Hybrid has a 3-inch Bio-Pur® comfort layer. This plant-based foam contours to the curves of the body for instant pressure relief. Unlike traditional memory foam, Bio-Pur® doesn't retain heat and moisture, creating a cooler night's sleep. Plus, this unique foam is highly responsive and won't cause excess sinking that could lead to poor sleeping postures.
The AS3 Hybrid has a pocketed spring coil base to keep body weight evenly distributed and ensure the hips and shoulders remain aligned. These coils move independently of one another, allowing them to contour to the body more effectively without causing pressure points. Reinforced edge support outlines the perimeter of the mattress to reduce motion transfer and make getting in and out of bed more comfortable.
When buying a mattress online, it can be difficult to determine exactly how it will feel. In many cases, it takes up to 3 weeks to become accustomed to a new bed. At Amerisleep, they offer a 100-night risk-free trial period. This sleep trial gives you plenty of time to sleep on the bed and make sure it's the right mattress for you. If you decide it's not a good fit, Amerisleep will arrange for pick up and provide a full refund.
To protect your investment, Amerisleep provides a generous 20-year warranty covering manufacturing defects, such as sagging and indentations greater than .75 inches. This coverage ensures the mattress maintains its supportive structure for many years.
Amerisleep provides free shipping and free returns. You can also bundle one of their advanced mattresses with the Amerisleep Adjustable Bed or Adjustable Bed+ and save up to $1600.
Best Online Memory Foam Mattress -

Zoma Mattress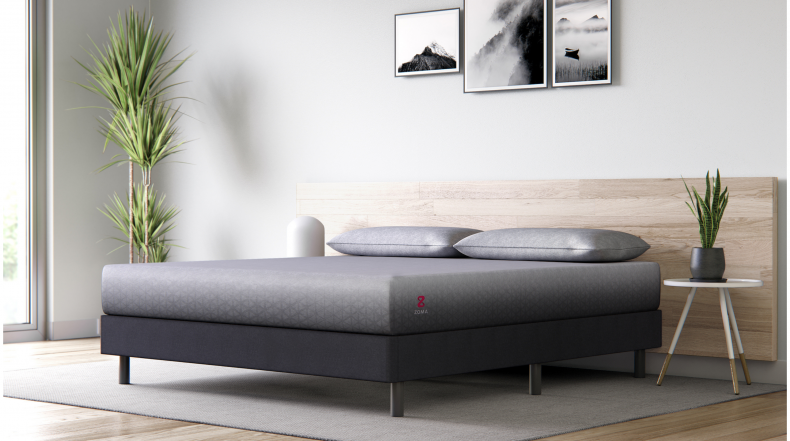 The manufacturers behind the Zoma Mattress relied on more than two decades of experience to create a mattress that promotes deeper, more restorative sleep. The result is a bed with three unique foam layers that regulate body temperature for undisturbed rest.
The Zoma Mattress contains a top layer of gel memory foam with Triangulex™ technology. Triangular segments beneath the head, shoulders, and legs contour to the body for less pressure build-up. Near the lower back and hips, cutouts are firmer to prevent sinkage. The air channels created by these segments also improves circulation, allowing body heat to escape the mattress.
The Reactiv™ transition layer has an elastic feel, giving the bed a slight bounce and encouraging spinal alignment by gently lifting the hips. Reactiv™ also prevents the feeling of being stuck or confined in the mattress and makes it easy to change positions throughout the night.
Zoma's Support+ layer in the base of the mattress deters sagging and indentations. This durable foam is soft enough to prevent pressure points but strong enough to support the comfort layer and Reactiv™ transition foam.
With their 100-night sleep trial, Zoma takes the risk out of online shopping. Customers can test out this memory foam mattress for 3 months to determine if it meets their needs. If it's not right, Zoma will pick-up the bed and provide a full refund.
The Zoma includes a 10-year warranty with each mattress purchase. In the case of manufacturing defects, Zoma will repair or fully replace the bed.
Best Affordable Online Mattress -

Vaya Hybrid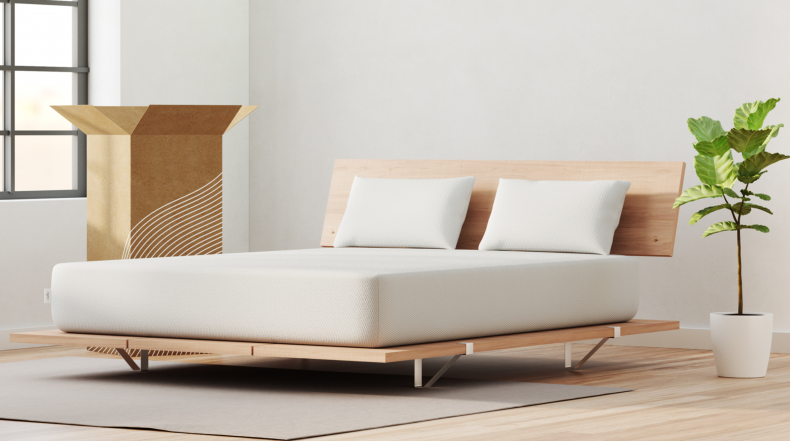 Vaya is a newer mattress brand offering sleepers an affordable yet durable hybrid mattress. The Vaya Hybrid features a plush comfort layer to alleviate tension and pressure—this Vaya Comfort Foam has an inherent elasticity to prevent sinking and reduce muscle tension. Not to mention, Vaya's proprietary foam is also hypoallergenic and CertiPUR-US® certified, so you can rest assured the Vaya Hybrid is free of any harmful pollutants.
Each coil in the base of the Vaya Hybrid is pocketed to improve durability and prevent pressure points. The independent movement of these coils ensures bodyweight stays evenly distributed so the spine is not forced out of alignment. The stable support coils around the perimeter of the mattress also reduce motion transfer, helping couples and light sleepers rest undisturbed.
The layers of the Vaya Hybrid are wrapped in a lightweight, airy fabric. This versatile mattress can also be paired with most modern bed frames, including adjustable bases, slatted foundations, and platform beds.
Every Vaya Hybrid mattress comes with a 100-night sleep trial, so you can be sure the firmness level is suited to your sleep position and body type. They also include a 10-year warranty to cover any structural defects, such as sagging and indentations greater than .75 inches.
Best Online Cooling Mattress -

Zoma Hybrid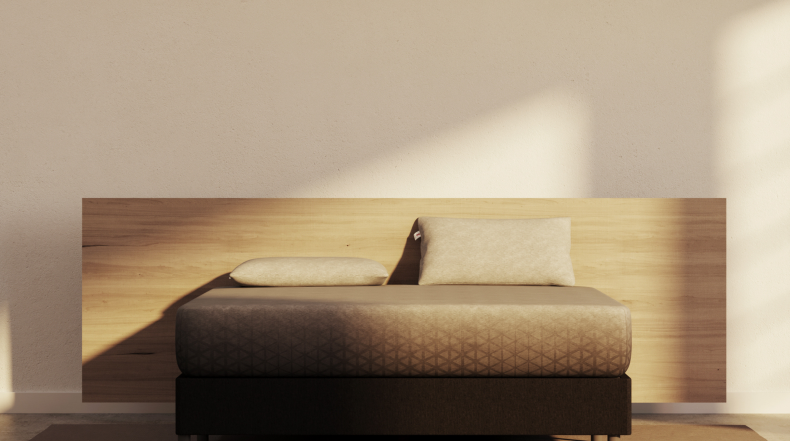 The Zoma Hybrid has the same supportive and responsive foam layers as their memory foam model, but with a coil base. The soft, pressure-relieving foam and buoyant spring coil base are ideal for petite sleepers because it keeps their joints cushioned while also encouraging spinal alignment.
The top layer of the Zoma Hybrid features gel-infused memory foam with Triangulex™ technology. While the cooling gels within this foam pull heat and moisture away from the body, the triangular cutouts embedded in this foam cradle the joints and support the lumbar spine.
A transition layer of Zoma's Reactiv™ foam keeps the hips and shoulders lifted and aligned for a healthy, comfortable sleep position. This material also responds immediately to pressure, so you stay supported even as you change positions throughout the night.
The base of the Zoma Hybrid is made with pocketed spring coils; each one is wrapped in fabric for added comfort and pressure relief. Unlike traditional innerspring beds, these coils move independently, allowing them to contour more accurately and reduce motion transfer.
When shopping with Zoma, each mattress comes with a 100-night trial period and a 10-year warranty. Their warranty covers indentations greater than .75 inches, guaranteeing the mattress remains supportive and stable for up to 10 years.
Best Online Mattress for Side Sleepers -

Amerisleep AS4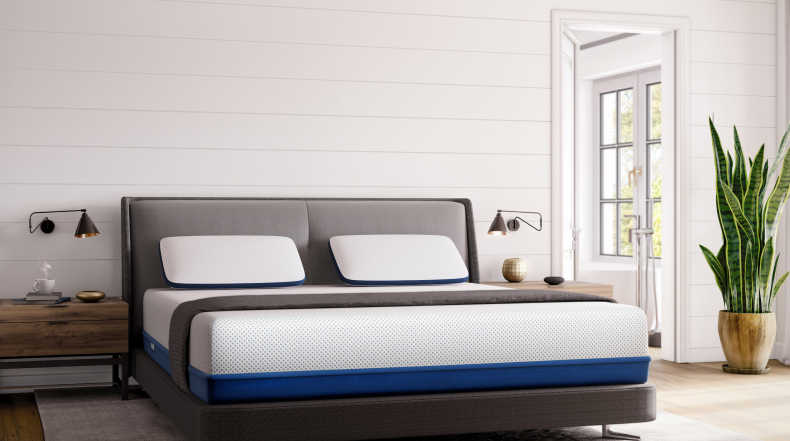 Side sleepers often prefer a soft mattress to experience deep contouring. For these sleepers, we recommend Amerisleep's AS4. This bed has an ultra-soft Bio-Pur® top layer to cushion and protect joints from pressure points. Plus, the responsive transition layer keeps the hips lifted and aligned with the shoulders to alleviate muscle tension. This combination is perfect for side sleepers because it prevents uncomfortable sinkage.
Since Bio-Pur® is manufactured using plant-based oils, rather than 100 percent petroleum-based oils, this foam is breathable and airy. While Bio-Pur® contours closely to the body, it won't cause overheating and night sweats that could disrupt your sleep. The Bio-Pur® comfort layer is also why eachnight.com rates the AS4 as the best mattress for side sleepers.
Most soft mattresses cause the hips to sink into the bed. However, too much sinkage could force the spine to bow. Over time, sleeping in this awkward position could lead to stiff, sore muscles. To prevent this, Amerisleep includes its Affinity foam with HIVE® technology. Across the surface of this foam, hexagonal cutouts are arranged in five distinct zones. Each zone is designed to provide a balance of cushioning and support. For example, near the lumbar spine, cutouts are firm and supportive, but near the hips and shoulders, cutouts are softer to alleviate tension.
The base of the AS4 features Amerisleep's Bio-Core® foam, a strong, durable material resistant to sagging and indentations. This stable base ensures the unique layers of foam support you and keep you resting soundly for decades.
To experience the comfort of the AS4 for yourself, you can take advantage of Amerisleep's 100-night sleep trial. If you are not completely satisfied with the mattress, they will provide a full refund or work with you to find a more suitable model. All Amerisleep mattresses are backed by a 20-year warranty, which covers structural defects and deep indentations that impact their support.
Benefits of Buying a Mattress Online
The popularity of the bed in a box industry isn't due solely to the convenience of online shopping. Purchasing a new mattress from one of the many reputable online brands comes with several benefits.
Affordable
Online mattress companies save money by cutting out the middleman and shipping their beds directly to the consumer. With less overhead than a traditional brick and mortar store, they can sell their mattress at a more affordable price. Most direct to consumer brands also offer free shipping and free returns, while traditional mattress stores charge a hefty delivery fee and a restocking fee if the mattress is returned.
Convenient
When shopping at a mattress store, pushy salespeople can often make you feel pressured to make a decision. Plus, many of these associates are incentivized to sell the products they have in stock, so their goal is not necessarily to help you find the right mattress but rather to make a sale.
When shopping online, you have the freedom to check out different brands, read customer reviews, and compare prices. Once you decide, your new mattress will be shipped right to your doorstep. Most bed in box mattresses are easy to set up. You unwrap it, let it expand for 24 to 48 hours, and you are ready to get a better night's sleep.
Longer Sleep Trial
When visiting a mattress store, you may test various beds for 5 to 10 minutes to determine the firmness and overall comfort. However, it takes up to 4 weeks to become fully acclimated to a new bed, so this is really not enough time to decide if the mattress is right for you.
Most reputable online mattress brands offer sleep trials for up to 100 days. This trial period gives sleepers plenty of time to rest on the mattress and decide if it's right for them. If it's not a good fit, many companies will arrange for pick up, donate the mattress, and provide you with a full refund.
What to Consider When Buying a Mattress Online
As you shop for a new mattress online, there are several important factors to keep in mind. The following points can help you select a mattress suited to your specific needs.
Sleep Trials
As we mentioned above, most online mattress brands offer a generous sleep trial. A longer trial period takes the risk out of buying online and gives you peace of mind. As you shop, be sure you have at least 100 days to test out the bed. This length of time allows you to become fully accustomed to the mattress before deciding if it is right for you.
In most cases, online brands will not return or exchange the bed until you have slept on it for at least 30 days. Therefore, you should be prepared to test the mattress for at least a month. Also, read the fine print when it comes to your sleep trial. Some companies charge a restocking fee or a pick-up fee if you have to return the mattress.
Warranties
Most online brands offer a warranty period of at least 10 years. This is the industry standard because most high-quality mattresses last up to 10 years. If the bed develops sags, indentions, or impressions that change its structure and support, most companies will repair or replace the mattress at no additional cost.
When you compare mattresses, review their warranty details too. In many cases, the mattress warranty kicks in after the mattress sags more than an inch while others might trigger warranty claims earlier. You'll ultimately want better coverage that works sooner rather than later.
Off-Gassing
Off-gassing refers to the smell that emanates from a new mattress once it is unboxed. This smell is often due to VOCs (volatile organic compounds) released from the materials after construction. While most new mattresses have this "new" smell, compressed beds often have a stronger smell because they don't have enough time to fully air out before being wrapped and shipped to the customer.
While off-gassing odors are typically harmless and only last a day or two, they can cause headaches, nausea, and nasal congestion. If you suffer from severe allergies, shop for a mattress with a CertiPUR-US® certification—this third-party organization tests all the mattress's foam components to ensure minimal off-gassing.
Firmness
The mattress firmness that's right for you largely depends on your preferred sleep position and body type. Below, we explain how to select the best mattress firmness for your needs.
Sleep Position
Side Sleeping: The best mattress firmness for side sleepers is soft to medium. These sleepers need a bed on the softer side to keep the joints cushioned and protected from pressure points.
Back Sleeping: Medium to firm mattresses work best for back sleepers and are the best mattresses for back pain. This comfort level is firm enough to keep the hips from sinking and forcing the spine out of alignment.
Stomach Sleeping: We suggest avoiding stomach sleeping when possible as it leads to neck and back pain. However, if you can't avoid this sleep position, it is recommended to rest on the best firm mattress. A firm sleep surface will keep the hips lifted and aligned with the shoulders to alleviate tension.
Body Type
Lightweight Sleepers (130 pounds or less): Lightweight sleepers sink very little; therefore, they need a soft to medium-soft mattress for maximum contouring and pressure relief.
Average Weight Sleepers (between 131 and 229 pounds): If you have an average build, you can just defer to the mattress recommendations based on sleeping position above.
Heavyweight Sleepers (230 pounds or more): Heavier sleepers are more likely to sink into the bed. If these individuals sink too much, it can force the spine to bow, causing tension build-up in the back muscles. Heavy individuals often prefer a medium-firm or firm mattress since it is firm enough to keep body weight evenly distributed but has enough responsiveness to prevent pressure points. Heavier sleepers who prefer a softer mattress may benefit from a hybrid because it has a slight bounce to keep the body lifted and aligned.
Mattress Type
As you shop for a mattress online, you will come across several different types. We explain the materials and layers of the four most common mattress types.
Memory Foam Mattresses: Memory foam hugs the body's curves to alleviate tension and help muscles fully relax. This material comes in a variety of firmness levels between soft and firm. In most cases, memory foam is used in the mattress's top layer, while a sturdy support foam is used as the base.
Latex Foam Mattresses: Latex foam has a natural bounce, perfect for keeping the hips lifted so the spine can remain neutral. Most latex foam beds feel medium to medium-firm and work well for back sleepers and heavier individuals.
Hybrid Mattresses: Hybrid mattresses have a foam top layer and spring coil base. The best hybrid beds offer the pressure relief of foam with the buoyancy of coils. Most hybrids have pocketed spring coils, which are wrapped in fabrics for added durability and pressure relief.
Innerspring Mattresses: Like a hybrid, innerspring beds have a spring coil base and a comfort layer, typically made of cotton, wool, or foam. However, the coils used in most innerspring beds tend to be very firm, noisy, and bouncy. The comfort layer on many innerspring mattresses is also thin and provides very little pressure relief or contouring.
Frequently Asked Questions
When is the best time to buy a mattress?
Many online mattress brands have sales throughout the year. However, the best time to buy a mattress is typically during the Presidents Day, Memorial Day, Independence Day, and Labor Day weekend, or on Black Friday or Cyber Monday. To save big on a high-quality mattress, plan ahead, and watch for promotions from your favorite brands.
What mattresses do chiropractors recommend?
Chiropractors commonly recommend memory foam mattresses because this material conforms to the body for instant pressure relief and support. Those with chronic pain can benefit from one of the best memory foam mattresses because they cushion and protect the joints from pressure points. They also have responsiveness, promoting a healthy spinal position so muscles can fully relax and heal during sleep.
Which mattresses last the longest?
An average mattress's lifespan is typically between 6 to 10 years, but natural latex, memory foam, and hybrid mattresses have the longest lifespan. Natural latex beds last between 8 and 12 years, while memory foam beds last between 8 and 10 years. Depending on the type of foam used in the top layer, hybrids typically last around 10 years.
In contrast, innerspring mattresses only last around 6 years since traditional coil springs tend to break and bend quickly, causing them to stick up through the thin comfort layer.
What is the most comfortable mattress for back pain?
Those with back pain often prefer a medium-firm mattress because they are firm enough to keep body weight evenly distributed and reduce uncomfortable sinking. At the same time, they also have a slight softness to cradle the joints. Side sleepers with back pain, however, may prefer a medium mattress to provide better pressure relief to their shoulders and hips, allowing their spine to remain neutral. Another important thing to remember is you'll want a good cooling mattress so you're able to get a deep and undisturbed night of sleep.
What is the best mattress for side sleepers?
When side sleeping, the hips and shoulders bear most of the body weight. On a firm mattress, tension and pressure may build-up near these joints and cause sore spots. However, it is also important that side sleepers do not sink too far into the mattress, as this can force the spine to bow and also lead to back pains. In most cases, a soft to medium firmness level is ideal within the best mattress for side sleepers.
Conclusion
Shopping for a new mattress online may seem overwhelming at first. With so many choices, it can be difficult to determine which style and firmness are right for you. However, buying a mattress online gives you the freedom to research different brands and compare prices. Plus, you won't have to deal with pushy sales associates or even leave your couch.
With the mattress suggestions and shopping tips outlined above, you are sure to narrow down your choices in no time. As you shop, keep your sleep style and body type in mind—this will help you select a mattress that feels comfortable and supportive.