Sponsored Article
Best Twin Size Mattresses
They're Great for Adults and Kids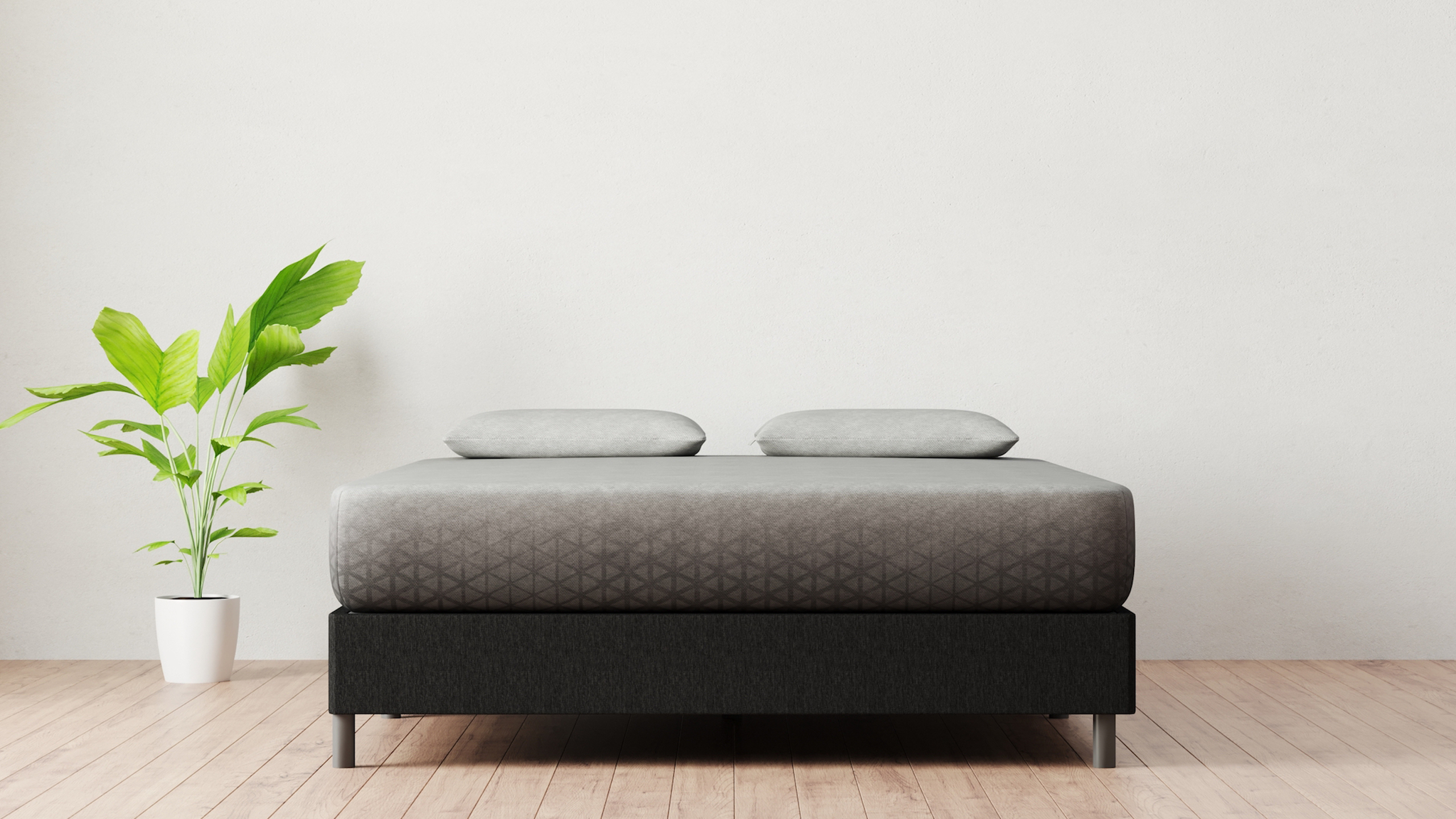 Twin size mattresses (which are also called single mattresses) are 38 inches wide and 75 inches long. They're the smallest standard mattress size and great for children and teens, guest rooms, and saving space. Even better, they're one of the cheapest mattress sizes due to their small size!
Of course, not all twin mattresses are equal. So, we've made things easier by finding all the best twin size mattresses out there and breaking them down for you. We share the specs for the best twin size beds as well as what you need to know about buying a new mattress.
Best Twin Mattresses
Best Twin Size Mattress
| | | |
| --- | --- | --- |
| Mattress | Highlights | Price (Twin) |
| Zoma Mattress | Gel memory foam mattress is cooling, cushioning, and promotes a good night's sleep | $499 |
| Vaya Hybrid | Hybrid bed features reinforced pocketed coils for extra responsiveness and added edge support | $449 |
| Amerisleep AS3 | Eco-friendly foams are cooling, durable, and won't off-gas | $804 |
Best Twin Size Mattress Overall:

Zoma Mattress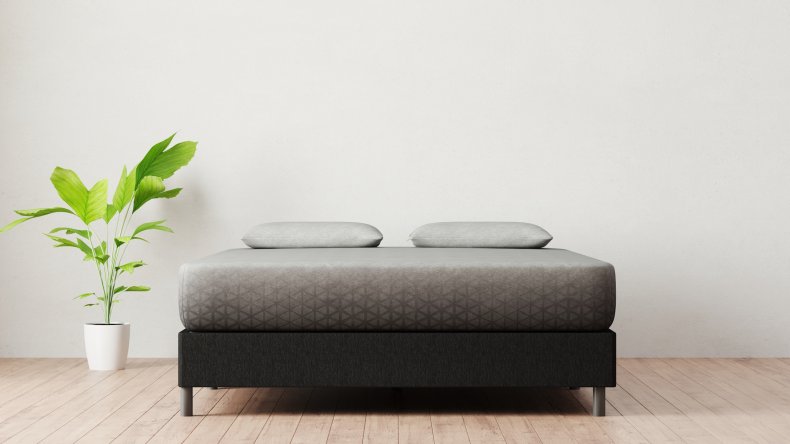 Mattress Specs:
Price: $499-$1198
Mattress Type: Gel memory foam
Mattress Height: 11 inches
Firmness: Medium (5 on the firmness scale)
Best for most sleep positions, athletes and active people, chronic pain sufferers, heavy people, and hot sleepers
Available in twin (single), twin XL, full (double), queen, king, California king, and split king
Sleep Trial: 100 nights
Warranty: 10 years
Shipping: Free
Recommended for:
Most sleep styles
Athletes and active people
People with chronic pain
Heavy people
Hot sleepers
Mattress Highlights:
Triangulex™ zoned support evenly distributes body weight
Gel memory foam ensures you sleep cool and undisturbed
Reactiv™ layer prevents painful and uncomfortable sinkage
The Zoma Mattress tops our list of best twin mattresses because it's built to help you sleep deeper while also improving muscle recovery and physical performance. While Zoma targets athletes and active people, anyone can enjoy the recovery-based benefits of the Zoma Mattress. It's a great choice for people who sleep hot or struggle with chronic pain.
The bed has a medium feel, so it suits most sleeping positions. Whether you're a bodybuilder, have a manual labor job, or simply deal with chronic pain, customers love the Zoma Mattress for soothing their back pain and making sleeping through the night manageable. Plus, reviews mention how sleepers no longer feel hot at night and wake up feeling refreshed the next day.
The Zoma Mattress is 11 inches thick and contains three layers of foam, plus a stretchy mesh cover designed to keep you cool throughout the night.
The top of the Zoma Mattress is gel memory foam with Triangulex™ technology. The gel is built to dissipate heat and keep your body temperature down, while the Triangulex™ technology is a zoned support system. This makes it one of the best cooling mattresses too. This twin size gel mattress has three zones and is firm around your back, but soft around your head and legs. This way, you don't experience pressure points at night.
Beneath that is Reactiv™ foam, a latex-like material designed to support your body and keep you lifted at night. This way, you won't feel "trapped" in your mattress and can move around without difficulty.
The base of the Zoma Mattress is made from Support+ foam. This durable base supports your spine and prevents soft spots or sags from developing throughout the mattress, helping the bed last longer.
The Zoma Mattress is both made in the USA and CertiPUR-US® certified. With this twin size bed, you receive free shipping, a 100-night sleep trial, and a 10-year limited warranty.
Best Hybrid Twin Size Mattress:

Vaya Hybrid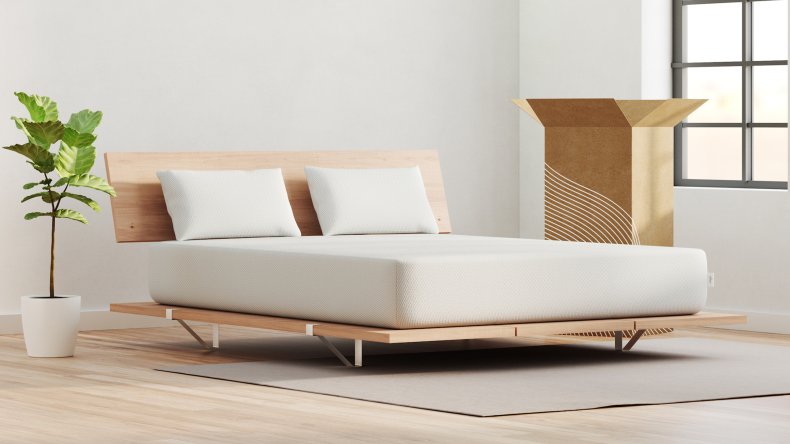 Mattress Specs:
Price: $449-899
Mattress Type: Hybrid (foam and coils)
Mattress Height: 12 inches
Firmness: Medium to medium-soft (4-5 on the firmness scale)
Best for side sleepers, petite sleepers, hot sleepers, and budget shoppers
Available in twin (single), twin XL, full (double), queen, king, and California king
Sleep Trial: 100 nights
Warranty: 10 years
Shipping: Free
Recommended for:
Side sleepers
Petite people
Hot sleepers
Budget shoppers
Mattress Highlights:
Vaya Comfort Foam acts similar to latex, being cool and bouncy
Soft and stretchy cover draws away heat and moisture
Pocketed coils are reinforced on the sides for edge support
Vaya aims to provide high-quality mattresses for the lowest price, saving you money while also helping you get the best sleep possible. The Vaya Hybrid is Vaya's hybrid variation of their flagship mattress model, the Vaya Mattress. It has a medium feel (though some say it's even softer than that) and is great for side sleepers and petite people.
People love the Vaya Hybrid for helping the chronic aches and pains that even luxury mattresses couldn't address. Also, the bed is breathable and cooling so people who struggle with running hot and sweating through the night can finally sleep in peace.
The Vaya Hybrid has a stretchy and plush mattress cover designed to dissipate heat and moisture.
The top layer of the Vaya Hybrid is made from Vaya Comfort Foam, a proprietary foam designed to replicate latex. It's cooling, durable, and springy, so you never feel stuck or unable to move when lying down in bed.
Beneath the Vaya Comfort Foam is a layer of pocketed coils. The coils promote adequate support for the spine and increased air circulation throughout the bed. Also, the coils on the sides of the bed are firmer to provide extra edge support.
The third and final layer of the Vaya Hybrid is a thin layer of durable base foam. This foam helps maintain the mattress's structure and gives a sturdy surface for the coils to bounce off of.
The Vaya Hybrid is made in the USA and CertiPUR-US® certified. It comes with free shipping, a 100-night sleep trial, and a 10-year warranty.
Best Cooling Twin Size Mattress:

Amerisleep AS3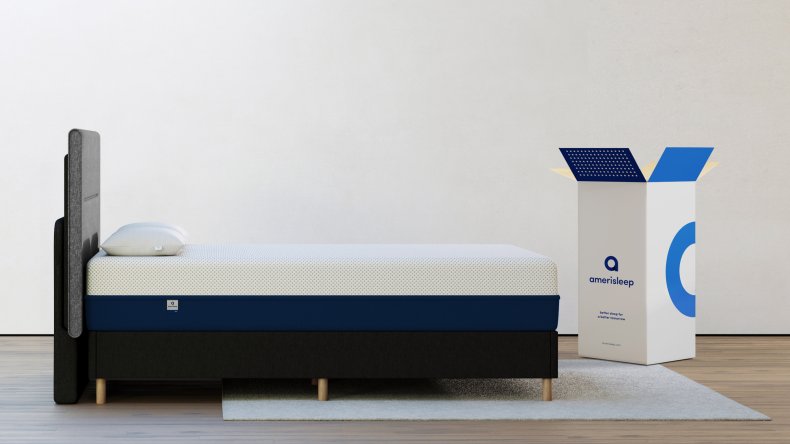 Mattress Specs:
Price: $804-$1678
Mattress Type: Memory foam
Mattress Height: 12 inches
Firmness: Medium (5 on the firmness scale)
Best for side and combo sleepers, hot sleepers, and eco-conscious shoppers
Available in twin (single), twin XL, full (double), queen, king, California king, and split king
Sleep Trial: 100 nights
Warranty: 20 years
Shipping: Free
Recommended for:
Side sleepers
Combo sleepers
Hot sleepers
Eco-conscious shoppers
Mattress Highlights:
Rated 4.8/5 stars in 6,600+ reviews
Plant-based foams won't off-gas and are free from harmful chemicals
HIVE® zoned technology prevents pressure and pain build-up
The Amerisleep AS3 is one of our favorite twin mattresses (and our choice for the best memory foam mattress) for its excellent, balanced feel. With a medium feel, the AS3 is a great option for side sleepers, combo sleepers, and couples with different firmness needs. Customers love the AS3 because it has improved their hip and shoulder pain, reduced their tossing and turning at night, and helped their sleep quality overall.
Of Amerisleep's mattresses, the AS3 is easily their most popular bed. Compared to Amerisleep's eight other mattresses, the AS3 Hybrid and Organica have the most similar feels.
Unsurprisingly, the AS3 Hybrid is the hybrid variation of the AS3, so they look and feel alike. However, the AS3 Hybrid contains pocketed coils for added bounce, while the standard AS3 is made entirely of foam. Conversely, the Organica is a latex hybrid mattress, so while it also has a medium firmness, it is entirely different from the AS3.
Let's take a look at what goes into the AS3!
The AS3's cover is made from a lightweight and ultra-breathable fabric built to keep you cool and dry at night.
Under the cover is Bio-Pur® foam, a plant-based memory foam designed to be cooler and more durable than traditional memory foam. Not only that, but it's more responsive, so you won't feel stuck in your mattress especially as you move around.
The bed's second layer is called the Affinity layer. It features HIVE® technology, a zoned support system where the foam is firm around the head, back, and legs, but soft around the hips and shoulders. This construction evenly distributes body weight, in turn preventing pressure points.
The base of the mattress is made from Bio-Core® foam. This support layer helps keep your spine neutral while also protecting the mattress from sags, indentations, and soft spots.
Amerisleep offers free shipping plus a 100-night sleep trial and a 20-year warranty for the AS3. If you decide you don't like the mattress, Amerisleep makes returns hassle-free.
Who Should Use a Twin Mattress?
As a smaller mattress, twin beds are very versatile. Not only do they work on normal bed frames, but they also pair with day beds, bunk beds, trundle beds, RVs, and more. Plus, their small size makes them fit in practically any bedroom.
Some types of people who may benefit from twin mattresses and their versatility include:
Children and teens: Young children and teens are easily one of the most common twin bed users. Most children and teens don't take up as much space on a bed as adults do, so a twin bed is an ideal choice for them.
Single adults: If you're an adult and don't share your bed, a twin bed can be a great, cost-effective bed that won't take up much space in your bedroom. At the same time, if you're taller than 6 feet, a twin bed may be too small for you and you might need the longer twin XL option.
Toddlers switching out of their cribs: Although there are "child size" mattresses built for toddlers upgrading from their cribs, your child will outgrow it quickly. A twin bed is a great first "big-kid" bed for toddlers and lasts them well into their teen years.
Vacation rental owners: If you own a vacation rental and are hoping to offer as many mattresses as possible, twin beds are great. Since they fit on bunk beds, day beds, and other space-saving frames, you can include even more sleeping space in your rental.
College students: Many college students live in dorms, studios, or small apartments and homes. Plus, most students have tight budgets, so a twin mattress works great for people in college.
Types of Twin Mattresses
All types of mattresses come in twin sizes, but not all mattress types are equal. The type of mattress you choose can affect its price, lifespan, feel, and overall quality.
Some of the most popular types of twin mattresses are made from memory foam, latex, innerspring, or hybrid materials.
Memory Foam
Memory foam twin mattresses are popular for helping with pressure points and pain, as well as having a luxurious feel. They are excellent if you struggle with chronic pain or just prefer a cushiony and soft bed.
Most memory foam beds aren't made entirely of memory foam. For the most part, the comfort and transition layers of memory foam mattresses contain actual memory foam, but the support layers often feature poly-foam as it's more durable and sturdy. This way, you can enjoy the benefits of memory foam while also being well-supported. Memory foam mattresses are among the best mattresses for back pain too.
A problem people commonly face with twin memory foam beds is that they retain heat and aren't very responsive, causing the user to feel trapped and uncomfortable. However, many brands have worked around both issues by creating memory foam using materials such as gels, plant-based oils, and graphite to provide cooling and responsive qualities.
Latex
Latex is a natural foam made from the sap of rubber trees. Latex isn't quite as pressure-relieving as memory foam, but its advantage is it's durable, springy, and cooling.
There are two primary latex foams: Talalay and Dunlop. The difference between the two is the manufacturing process, with Talalay resulting in a softer and more pressure-relieving feel while Dunlop feels more firm and supportive.
Talalay latex is typically reserved for the comfort or transition layers of latex beds, while Dunlop latex is generally used in comfort, transition, or support layers.
As a natural material, latex is one of the most expensive types of beds out there, with twin latex beds costing more than $1,000.
Innerspring
Innerspring mattresses with box springs have been around for ages and are still popular today due to their affordable prices and availability. Even then, innerspring beds are notorious for being uncomfortable and breaking down quickly. Despite being popular, most people don't enjoy their innerspring beds.
They contain continuous steel coils which offer great bounce and breathability. However, the coils are prone to squeaking, breaking, and causing motion transfer.
The comfort layers of innerspring beds are often pillow or Euro tops made from cotton, wool, polyester, or poly-foam. They can feel soft and cloud-like but often do little in terms of long-term comfort or pressure relief.
Hybrid
Hybrid mattresses are, in a way, an upgraded version of innerspring mattresses. They contain a coil support layer and a foam comfort layer for the ultimate sleep experience.
For a hybrid mattress to be considered a "hybrid" its foam comfort layer must be at least 2 or 3 inches thick. Any thinner and it's still considered an innerspring bed by definition. The foam comfort layers are often made from memory foam or latex to promote excellent pressure relief and comfort.
Rather than the continuous coils found in most innerspring beds, hybrid beds feature individual coils wrapped in a lightweight fabric. This way, the coils provide better support compared to continuous coils. Plus, the coils aren't as likely to break or squeak when they're wrapped in fabric, so your bed might last longer. For more, you can check out our list of the best hybrid mattresses.
How to Choose a Twin Mattress Firmness
Your twin bed's firmness makes a big impact on your comfort at night. If your bed is too soft or firm for your needs, you may end up tossing and turning due to how uncomfortable your mattress is for you.
There's no "best" mattress firmness. Finding the right firmness level for you comes down to factors including your sleep style and weight.
Sleeping Position
The way you sleep makes the biggest impact on the ideal mattress firmness as it affects what areas need cushioning and how much.
Side sleepers generally need the softest beds and are often most comfortable on twin mattresses with a soft to medium feel. This way, they won't experience pressure points and pain on the hips and shoulders, the widest parts of the body. You can also read up on our recommendations for the best mattress for side sleepers.
When back sleeping, it's best to use a medium-firm or firm mattress to keep your spine aligned, prevent sinkage, and minimize pressure build-up around the lumbar spine.
Stomach sleeping is very hard on your back and neck, so stomach sleepers need firm beds to keep the spine neutral. Softer beds can cause your hips to sink, throwing your spine out of alignment and leading to pain. We also have the best firm mattresses ranked.
A good mattress firmness for combination sleepers is a medium. The balance of support and comfort in medium beds is great for supporting different positions throughout the night.
Weight
Next to your sleeping position, your body type plays an important role in which mattress firmness to choose for your twin bed. The typical firmness recommendations are based on the average adult who weighs between 130 to 230 pounds. If you weigh more or less than this, we recommend adjusting your firmness choices accordingly.
If you weigh less than 130 pounds, choose a mattress firmness softer than what's recommended for your sleeping position. For instance, if you sleep on your back, go for a medium or medium-firm bed over a medium-firm or firm mattress.
If you weigh over 230 pounds, choose a mattress firmness firmer than what's recommended for your sleeping position. So if you prefer to side sleep, consider a medium to medium-firm mattress over a soft to medium bed.
FAQs
What are the dimensions of a twin size mattress?
Twin mattresses are 38 inches wide and 75 inches long, making them the smallest standard mattress size. The small size of twin beds makes them a good option for children and teens, vacation homes, bunk beds, day beds, and more. However, if you're taller than 6 feet or tend to stretch out a lot at night, you may prefer a larger mattress such as a twin XL, full, or the best queen mattress. When you shop online, you're likely to find some of the best mattresses in a box or the best mail order mattresses where the shipping dimensions are a lot smaller for easier transport and handling, but you'll still end up with the perfect twin size mattress.
How much should a good twin mattress cost?
A twin mattress can cost as low as $100 and upwards of $1500. Generally, you can find a good and reliable option for around $300 to $750. Overly cheap twin beds are prone to breaking down and being uncomfortable, while luxury twin beds are usually unreasonably priced for the average person. You'll want to shop for the best online mattresses or the best budget mattresses to save and get the best deals.
How thick should a twin mattress be?
There's no best mattress thickness for twin mattresses as it'll depend on your weight, age, and budget. Naturally, the thicker a twin bed is, the more expensive it'll end up being.
Children and toddlers can generally sleep comfortably on twin mattresses between 4 to 8 inches thick since they're so light. As you get older, it's best to use a thicker mattress between 8 to 14 inches. This way, the bed won't bottom out under your weight.
How much does a twin size mattress weigh?
The weight of a twin mattress depends on the thickness of the bed and the materials it contains, so the exact number will vary. Still, as the smallest standard mattress size, twin beds will often be the lightest. Generally, twin beds will weigh around 40 to 75 pounds, but always check the manufacturer's specifications for exact weights.
Do two twin beds make a king size mattress?
No, two twin mattresses pushed together don't make a king size mattress. Two twin beds pushed together are 76 inches wide and 75 inches long, which doesn't equal any standard mattress size.
If you want to use two separate beds to make a king mattress—as many couples do so both people can use their mattress of choice—get two twin XL beds, not twin beds. Twin XL mattresses are 38 inches wide and 80 inches long. Two twin XL beds pushed together are 76 inches wide and 80 inches long, or the equivalent of a regular king size mattress.
Conclusion
Twin mattresses are excellent since they work with a large variety of sleepers, are exceptionally affordable, and don't take up much floor space.
With our guide, finding the right twin bed and the best mattress for you won't be difficult. Like with other mattress sizes, we recommend prioritizing your sleep style and any health needs when deciding what twin size mattress is right for you. Of course, for an even more luxurious experience, you can even try some of the best adjustable beds to pair with your new twin mattress later.