Sponsored Article
Women Are Loving This Amazing Face Serum That Fights Fine Lines, Wrinkles, and Minimizes Pores Overnight
Wake up to smooth, glowing, younger-looking skin.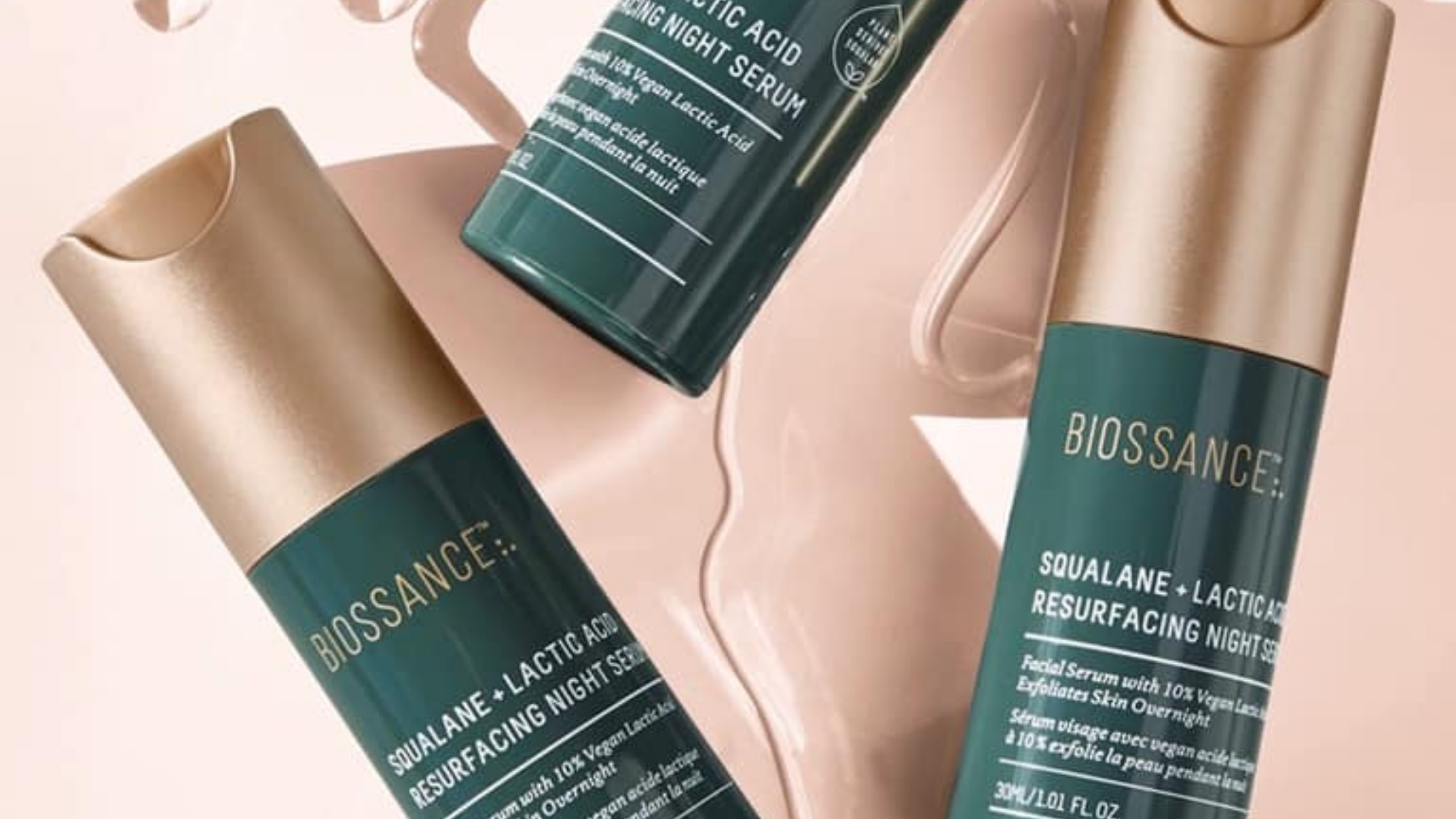 If you find yourself spending extra time in front of the mirror, nitpicking at every new blemish you swore wasn't on your face yesterday; then, you're not alone. The "new normal" has imposed a new way of life, and with it, the changes in your body range from subtle to apparent - especially with your skin.
It doesn't help you have to deal with all this on top of aging skin issues to boot! As soon as you hit your 30s, the onslaught of aging skin issues begins, and some of the most common problems are fine lines, wrinkles, and enlarged pores.
Without a proper skincare routine in place, these blemishes can continue to wreak havoc on your skin. However, that doesn't mean that these skin-securities are irreparable.
How Can You Combat the Effects of Aging Skin?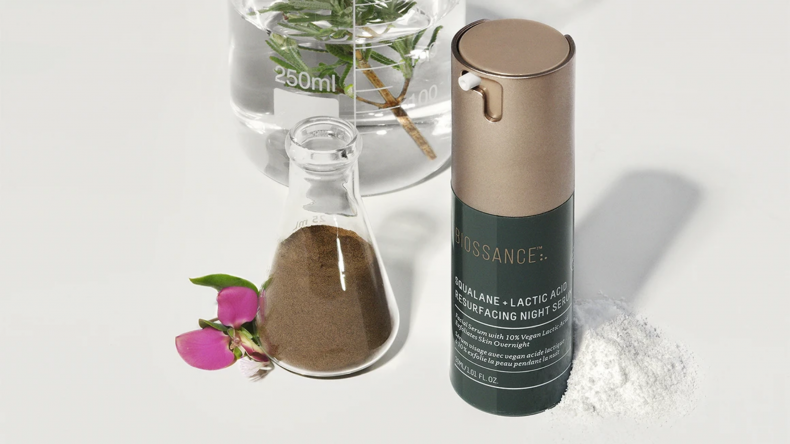 If you haven't changed your skincare routine since your 20s or switched the products you've been using with something more problem-targeted or age-appropriate, the time to make that change is now. Take a look at yourself in the mirror, and take note of the skin issues you want to address. For women struggling with wrinkles, visible pores, and fine lines, they swear by Biossance Squalane + Lactic Acid Resurfacing Night Serum, a clinically-proven vegan brightening hydrating serum that's proven to deliver dramatically smoother, more luminous skin overnight.
Biossance's Resurfacing Night Serum contains 10 percent vegan lactic acid, a potent alpha hydroxy acid (AHA) that sloughs off dead skin cells and thoroughly cleanses your skin from dirt and debris to reveal fresh-looking skin. Also, lactic acid helps boost your cell turnover, a significant body process that typically slows down as you age, to help maintain a youthful glow.
Clover extract works with the lactic acid to help exfoliate your skin and stimulate cell turnover while also healing your skin after exposure to harmful UV rays, blue light, and pollution. Finally, Biossance's squalane is an active ingredient that comes from sugarcane and is an ultra-hydrating compound that deeply nourishes your skin as it mimics your body's naturally produced oils for faster absorption.
How Do I Add Biossance Squalane + Lactic Acid Resurfacing Night Serum To My Skincare Routine?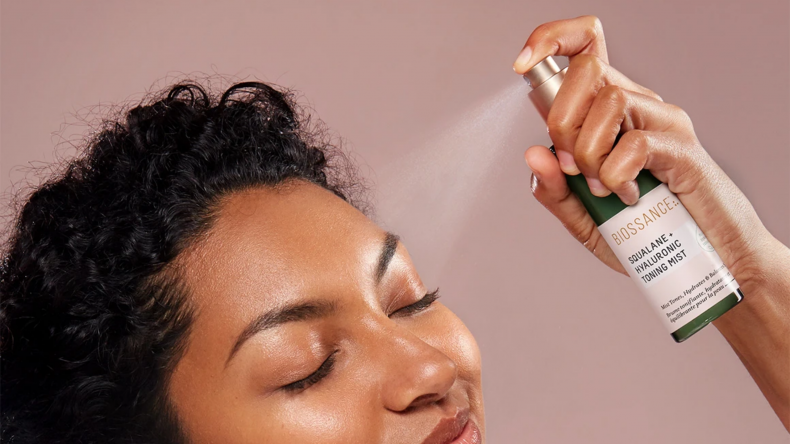 For any skincare routine to work, the key is in the sequence. Some products are responsible for stripping your skin of the dirt, bacteria, and makeup that clog your pores; others can only be effective after performing a specific skincare step. Ensure you're following the right order of skincare products to make your skin essentials work effectively for you!
Ideally, you should apply a face serum after cleansing and toning your face. We suggest starting with the Biossance Squalane + Elderberry Cleanser, followed by our Biossance Squalane + Hyaluronic Toning Mist. Toner detoxifies and removes impurities embedded in your skin to prepare it for the succeeding steps, which mainly comprises nourishing skincare products you'll be "feeding" your skin—this is where the night serum comes in.
To apply Biossance Squalane + Lactic Acid Resurfacing Night Serum, two or three pumps is enough to cover your face, neck, and décolleté fully. Use an outward and upward motion, starting from the middle of your face. Thoroughly spread the serum around your face, neck, and neckline, then follow with your favorite moisturizer.
Got Maskne, AKA Face Mask Acne?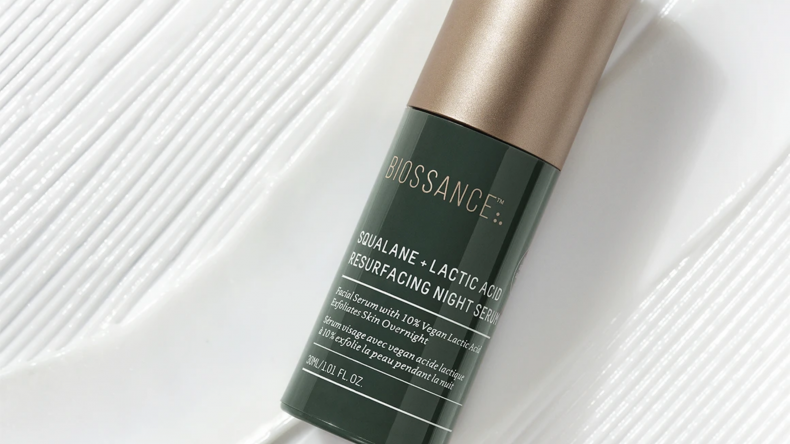 Now that face masks are required in public, you may suffer from pesky, irritating bumps on your face, particularly in areas where your skin and the fabric of your mask rub against each other. Sometimes, this can occur when sweat and dirt are trapped in your mask, inadvertently becoming the ideal breeding ground for an acne breakout.
If you're a victim of "maskne," the Biossance Squalane + Lactic Acid Resurfacing Night Serum can help restore damaged skin. The lactic acid can "reset" your skin by regenerating your skin's microbiome. Meanwhile, the squalane deeply moisturizes your skin as it heals.
What Do Users Say About Biossance Squalane + Lactic Acid Resurfacing Night Serum?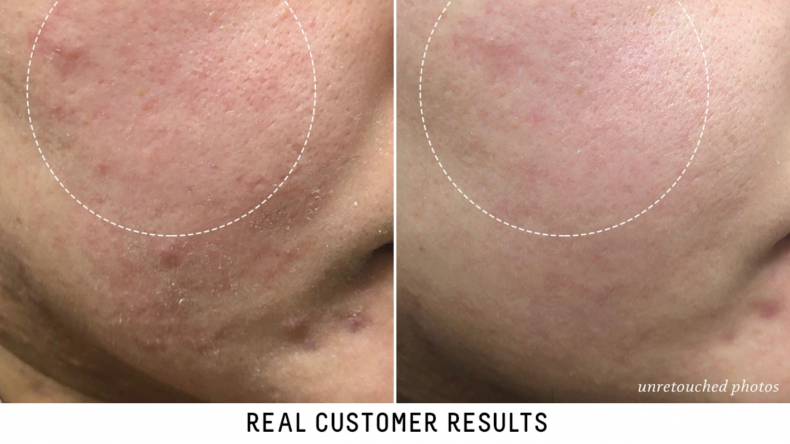 Based on a clinical study of women aged 30 to 60 years old, participants showed a significant change in skin texture, reduced pores, and a visible decrease of fine lines and wrinkles when they use Biossance Squalane + Lactic Acid Resurfacing Night Serum.
Biossance user, Tara, raves about the Squalane + Lactic Acid Resurfacing Night Serum in helping her keep her cystic acne in check.
"I have PCOS(Polycystic Ovarian Syndrome), which makes my hormones unbalanced and gives me cystic acne for three weeks out of the month," Tara shares. "I purchased the sample size...and I loved it! I really love how smooth my face feels, and it even helped with my uneven skin tone...definitely a game-changer!"
Keira, another Biossance user with sensitive skin, encourages first-time buyers to take before and after photos, as she shares how this serum has given her a "brand new face."
"After two nights, my nose and chin area have never been smoother," Keira says.
Is Biossance Squalane + Lactic Acid Resurfacing Night Serum Right for You?

Aging skin may be inevitable, but you can slow down its effects with the right skincare products. If you're suffering from wrinkles, fine lines, dull skin, and enlarged pores, then add Biossance Squalane + Lactic Acid Resurfacing Night Serum to your nightly skincare routine to help keep your skin smooth, fresh, and youthful.