Sponsored Article
Bring Light and Color to Your Yard With These Garden Accents
Add a Touch of Creativity to Your Garden With These Accessories From Plow & Hearth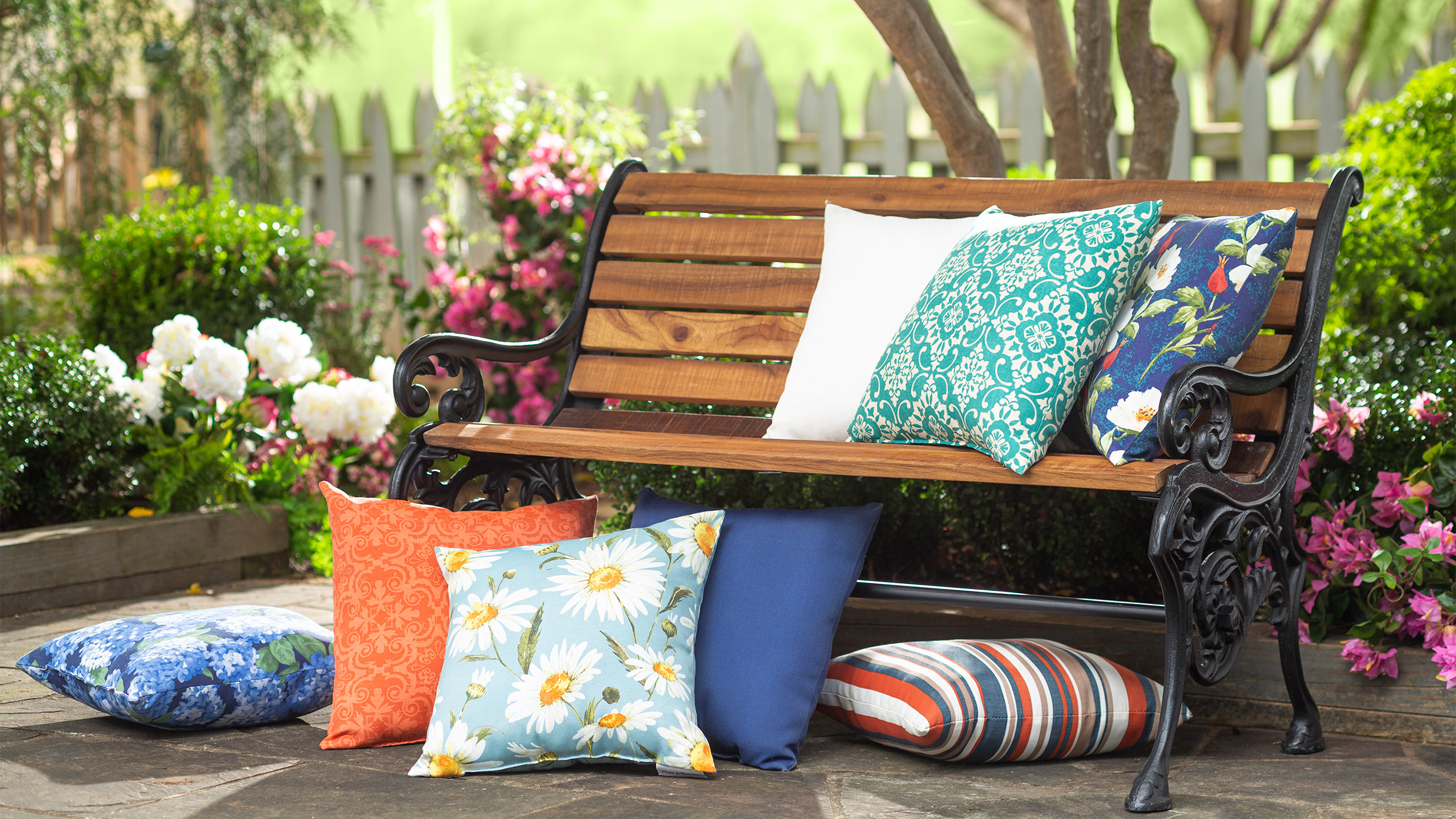 The days are longer and warmer, and your garden can finally bloom with all the bright and gorgeous flowers you've been working hard to cultivate. But flowers don't have to be your backyard's only source of fun and whimsy. You can create the outdoor oasis you've been craving during winter with fun accessories from Plow & Hearth, one of the go-to brands for home and garden accessories.
They have a wide selection of garden accents that can add a touch of playfulness and functionality to your outdoor living space. Click here to view all solar accents or simply keep reading to see our top selections.
1. Solar Garden Flower Stakes With LED Lights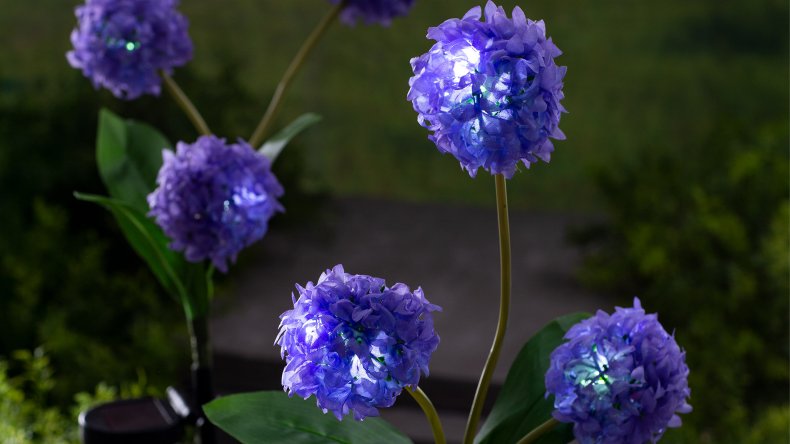 Have you been struggling to get your hydrangeas to bloom? Or have the bare spots in your yard gotten you to scratch your head at what to put there? These bright blooms have built-in solar panels with soft white lights that illuminate the lush fabric petals at night. Each flower measures 31.5 inches tall and boasts three beautiful blooms. This set of two can be purchased in pink, purple, or white to accentuate the other features of your garden.
Click here to buy a set of two for $39.95.
2. Classic Mission Style Solar Light Post Caps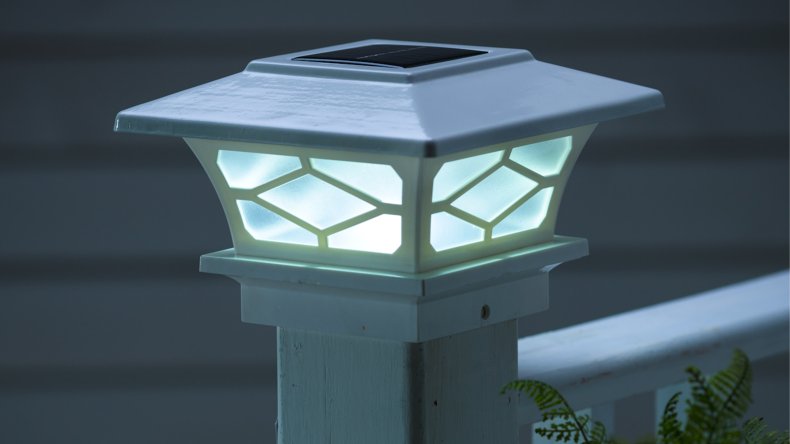 Adding a touch of functionality doesn't have to be boring. These beautiful mission-style lights can add brightness to your deck or porch. You can easily add these solar-powered lights on top of any standard 4-inch-square post. They even have predrilled screw holes to make installation a breeze. The solar panel on top powers the bright LED lights, which are encased in a sleek and stylish design. They are available in black, copper, or white (above) to match your decor.
Click here to buy a set of two for $49.95.
3. Multifunction, Color-Changing Solar Butterfly String Lights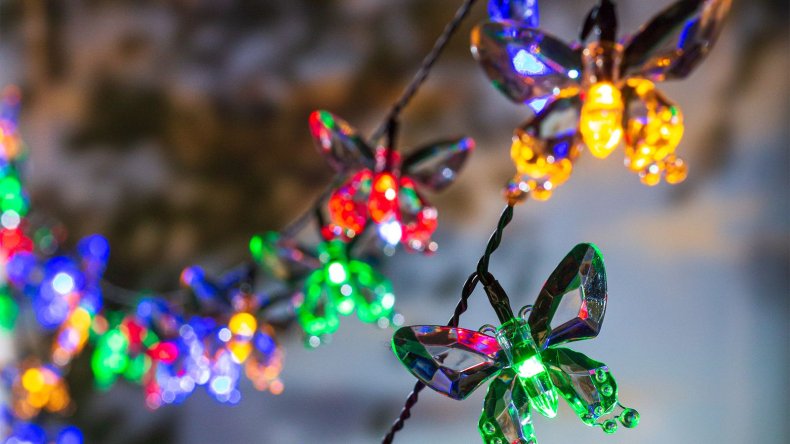 Add a touch of fluttering ambiance to your yard with these colorful butterfly string lights. These can light up your garden for a special celebration or simply enhance your garden's charm for your own entertainment. With approximately 30 feet of lights featuring 50 butterfly charms every 6 inches, you can turn an archway, deck railing, tree branches, and more into a cheerful display. The lights have six different functions and change color from red to green to yellow to blue. Place the panel where it receives strong sunlight and enjoy hours of illumination.
Click here to buy it for $29.95.
4. Solar Firefly Garden Pathway Lights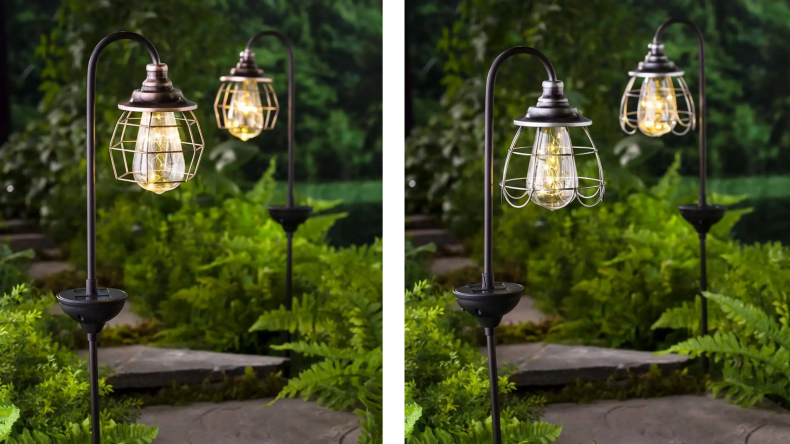 These micro-LED string lights are encased in a durable plastic bulb to mimic the twinkling effect of real fireflies, while the metal cage wings add a rustic flair. Available in copper (above, left) or pewter (right), these solar-powered lights add mood and function to your yard.
Click here to buy a set of two for $39.95.
5. Labrador Retriever Puppy Statue With Solar Butterfly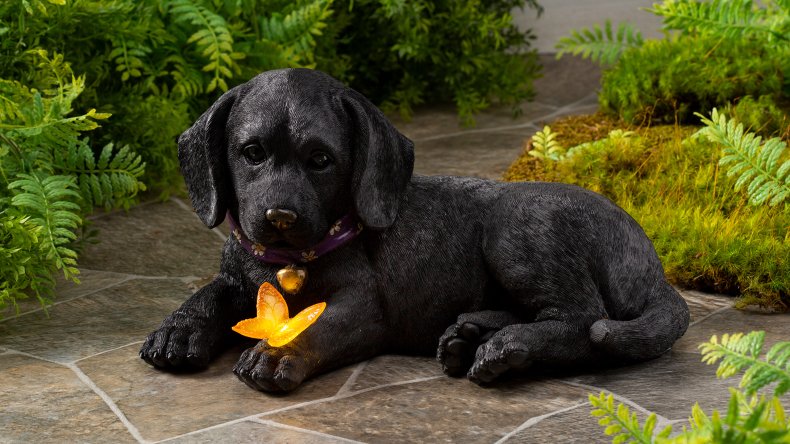 How can you say no to puppy dog eyes? This adorable black Labrador puppy is made of weather-resistant resin and carved with intricate details, including fur texture and a purple, flowered collar. A hidden solar panel absorbs the sun's rays during the day, then illuminates the adorable yellow butterfly at night.
Click here to buy it for $59.95.
6. Hanging Solar Multi Butterfly Jewel Ball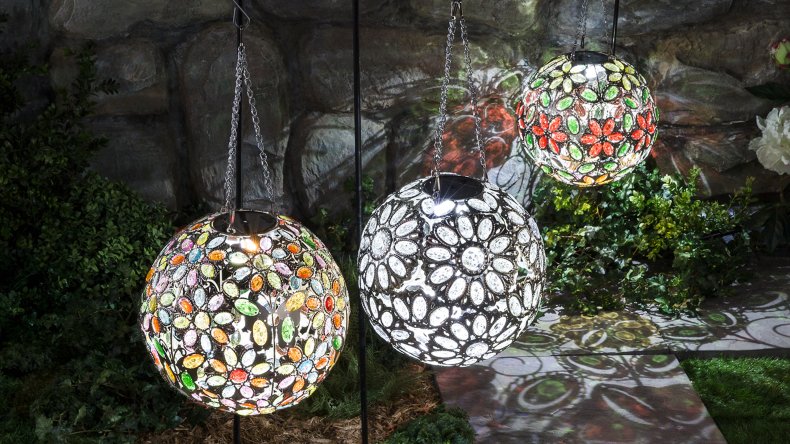 These hanging accents feature colorful acrylic crystals immaculately placed into mosaic floral-inspired patterns. The integrated solar panel absorbs energy during the day to power the internal light at night while casting beautiful patterns of light. The orb measures 10 inches in diameter and comes with built-in chains for hanging (shepherd's hook not included).
Click here to buy it for $69.95.
7. Color-Changing Solar Mobile With Flying Pigs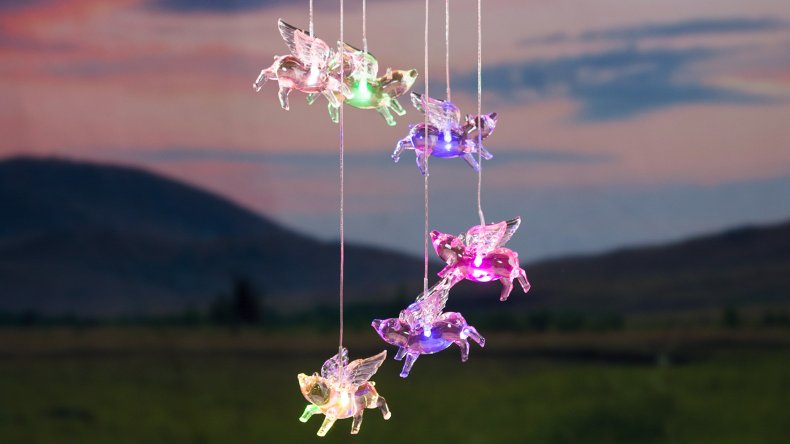 This whimsical color-changing solar mobile features a cascade of clear plastic pigs with wings. Hang it from a tree or shepherd's hook with plenty of sunlight, and the integrated solar panel in the top of the mobile can turn the pigs into a glowing, colorful display at night.
Click here to buy it for $19.95.
8. Set of Four Solar Step Lights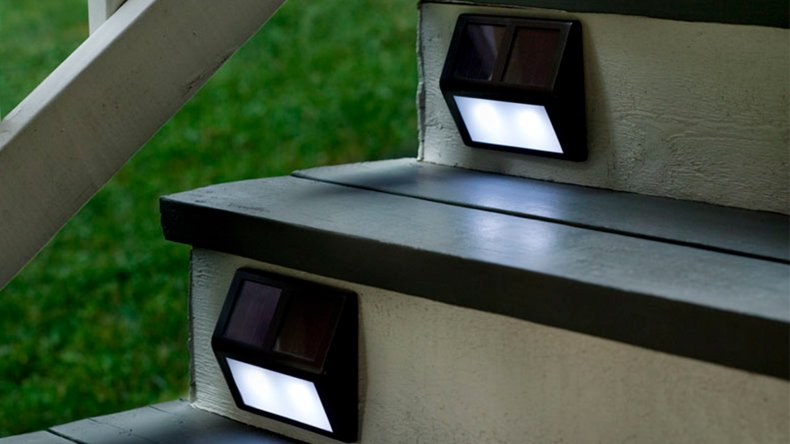 Add a touch of classy functionality to your garden space with these solar-powered step lights. They capture sunlight during the day, then automatically turn on at dusk, and can provide 6 to 8 hours of illumination.
Click here to buy a set of four for $49.95.
9. Outdoor Metal Flower Garden Tiki Torch With Snuffer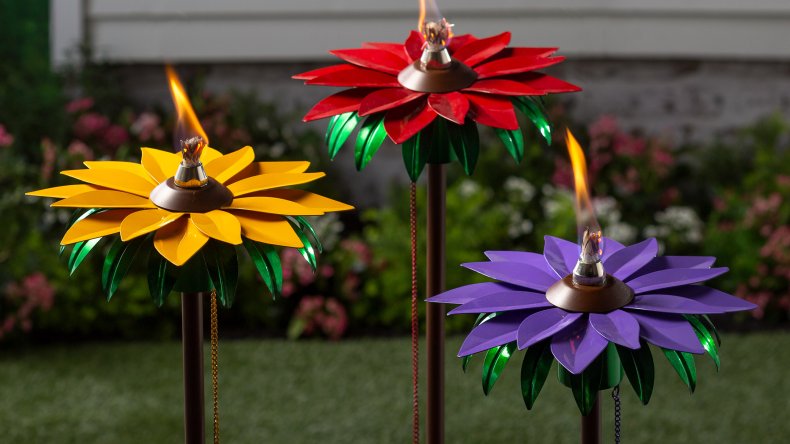 These tiki torches can be an eye-catching piece for your garden, patio, or anywhere you want to make a statement. The flowers feature multiple layers of cut metal petals, painted in purple, yellow, or red, with a coordinating snuffer to put out the flame. With lamp oil or citronella, these torches can burn for 3 to 5 hours and could help ward off mosquitos from your yard. They stand 42 inches tall with a diameter of 10 inches at the flower.
Click here to buy it for $69.95.
10. Pineapple Hanging Solar Lantern Decoration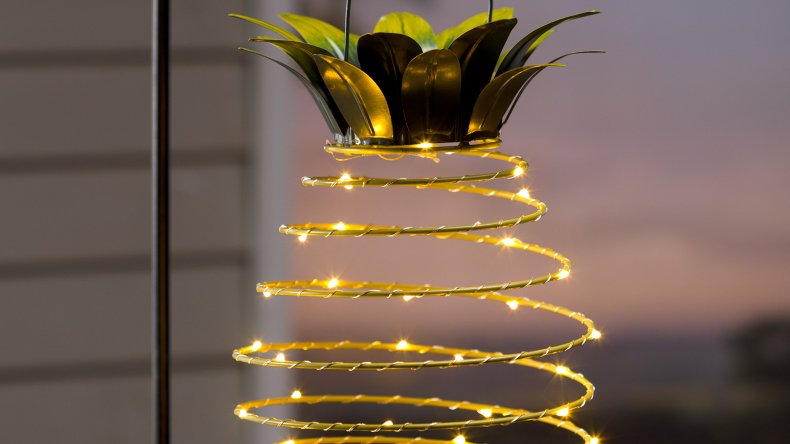 Welcome guests into your home with this charming pineapple light fixture. Hang this cheerful lantern along the path to your home in the sunlight, and watch the yellow lights glow at night. The solar panel is discreetly nestled into the green metal "leaves" on top, so you don't have to worry about unsightly wires hanging around.
Click here to buy it for $39.95.
11. Indoor-Outdoor Electric Lighted Faux Dogwood Trees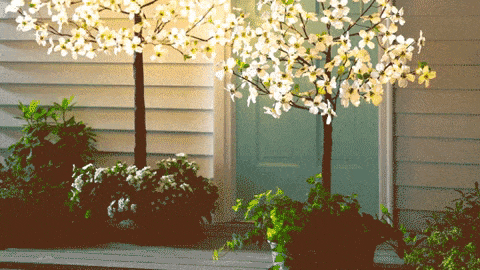 Bring a touch of beautiful blooms to your garden or home with these faux dogwood trees. The small tree measures 4 feet tall, while the large tree measures 6 feet tall. These trees are big in size and impact, with realistic branches, a natural silhouette, and beautiful white blooms illuminated with LED lights. Each tree comes with four stakes for mounting directly into the ground or into stylish planters. The 16-foot long brown lead cord is suitable for indoor or outdoor use.
Click here to buy the small tree for $169.95 and the large tree for $229.95.
Add a touch of light and dimension to your garden with these Plow & Hearth garden accents. Read more about how you can bring light to your yard with Plow & Hearth accessories. Click here to shop all solar accessories.