Sponsored Article
CanvasDiscount Could Print Your Mom's Favorite Photos for Mother's Day—Quickly and Within Budget
Show Your Appreciation to Your Mom This Mother's Day With a Personalized Gift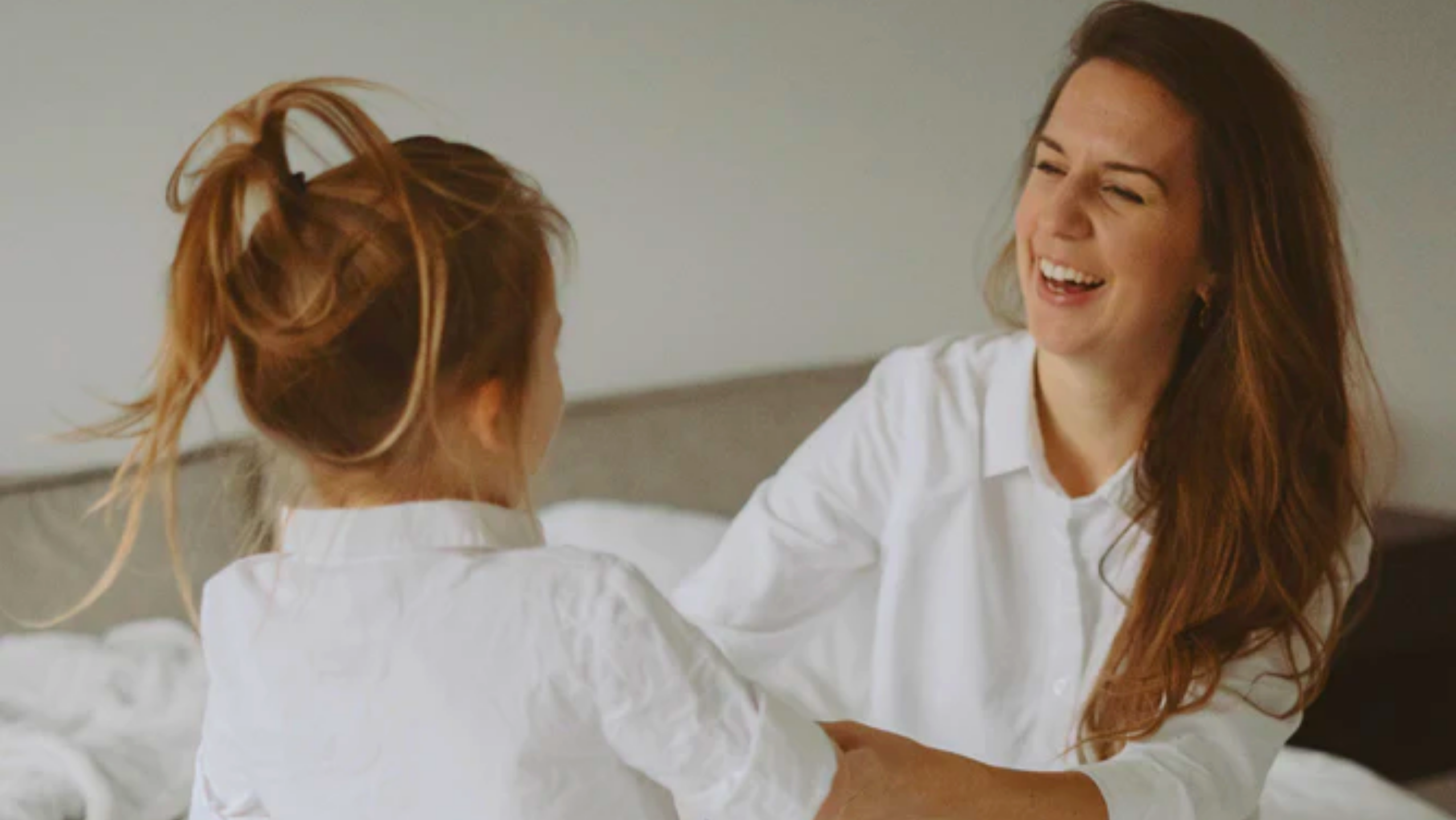 No matter how old you get, sometimes, all you need are a few moments with your mom to help put things in perspective. While the rush of everyday life could sometimes keep you from seeing her, a little effort to make her feel special could go a long way. With Mother's Day coming up, finding the perfect gift could serve as a symbol of your love and appreciation.
While memories can last forever, it's also a different kind of joy to have reminders of the best moments and people in your life present all around you. This Mother's Day, you could give your mom precisely that—a daily remembrance of her happiest memories and the people who love her.
This is the experience that CanvasDiscount provides. The brand, which specializes in personal prints, allows you to gift something meaningful to loved ones with budget-friendly photo prints. A Canvas Print is available starting at an affordable $5, with seasonal discounted offers that could make obtaining your own prints even more of a bargain. And with a number of print options available, finding the perfect gift for your mom from CanvasDiscount could be made so much easier.
How Does CanvasDiscount Work?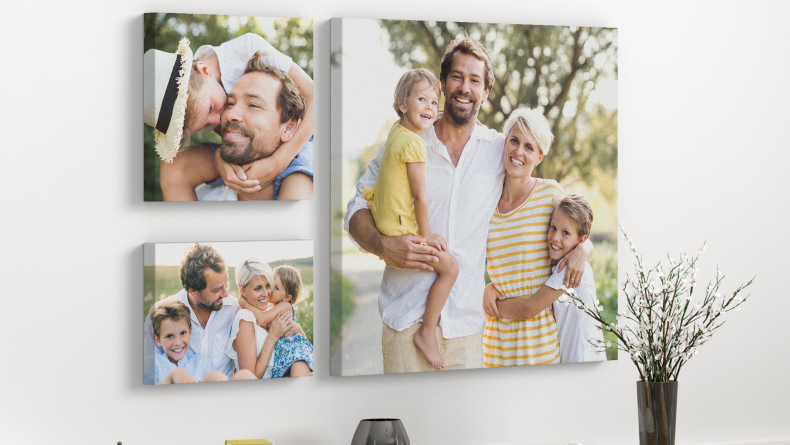 With CanvasDiscount, you could have personal photos printed on canvas, acrylic, metal, or other frame options as wall decoration. You could even have your photos printed on pillows, blankets, mugs, and puzzles for a more unique and exciting present.
And you get to design your own gifts: CanvasDiscount lets you upload your own photos, decide on the item you want them printed on, choose the size, frame, color and even add text. And though this might sound like a difficult process, it isn't. CanvasDiscount's design work space is easy to use, helping you make the process easier.
Here's how to do it:
Start by uploading the photo or photos you want printed
Choose the product you want your photo to be printed on
Depending on the product you choose, you could be prompted to select the color, size, format, or more customization options
For wall decorations, you'd also need to:
Decide if you want to include a hanger set
Choose the frame thickness and edge design
Zoom in and out of the photo to add text
Finalize how you want your print to look
And for an additional fee, you could also have your image placed within a premium frame
While customizing your print, the price summary at the bottom of the page will keep updating, allowing you to see right away how much your design could cost.
Show Your Love for Your Mom With These CanvasDiscount Items
Sometimes, the simplest gifts could be the most valuable ones. Here is a selection of customizable items on CanvasDiscount that could make your mom's heart happy on Mother's Day. You may also use the exclusive Newsweek code NEWS20 upon checkout to get an additional 20 percent discount on orders above $39. This promo code is valid until July 31.
Canvas Prints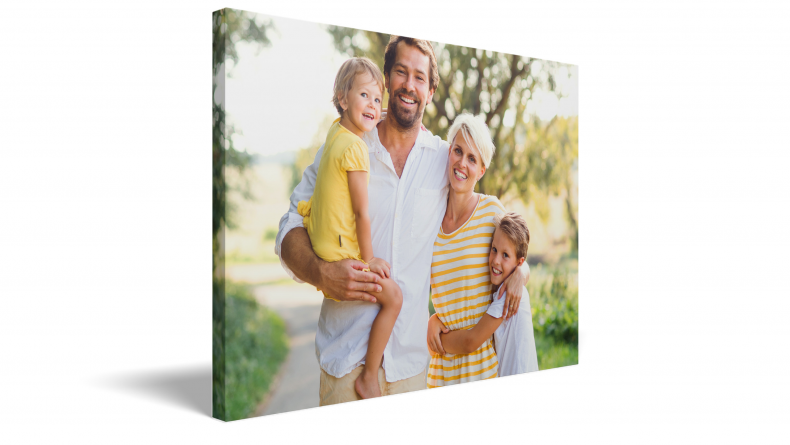 Your photo will be printed on a hand-stretched canvas using solvent-free, water-based latex ink technology from HP that is said to be eco-friendly and safe to use. CanvasDiscount also claims they use high-resolution photo printing to achieve quality prints, and ultraviolet-resistant ink to make the gift last. You could also choose from the frame designs available on the brand's website to complete your gift's look.
Create your own Canvas Print here.
Acrylic Prints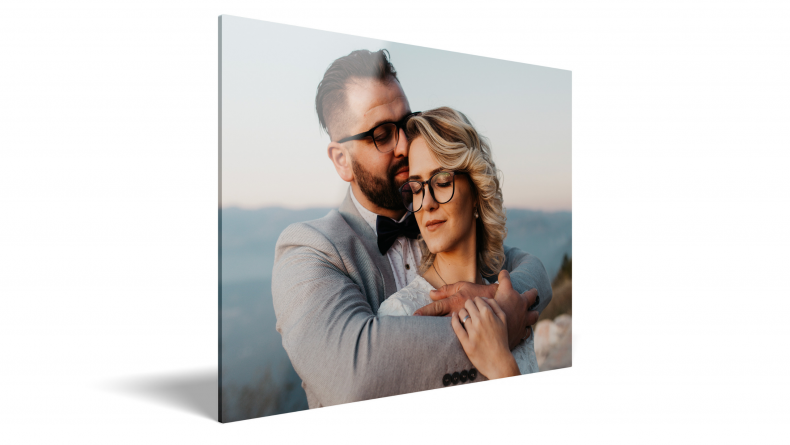 If you want something sleeker than a canvas print, acrylic prints could be the answer. This item comes in a hand-polished acrylic glass pane, which CanvasDiscount says "produces a mesmeric depth effect." Its glossy finish also helps the photo stand out. Similar to canvas prints, the images are UV and moisture-resistant, which may help avoid the print getting easily damaged.
Design your own Acrylic Print here.
Metal Photo Prints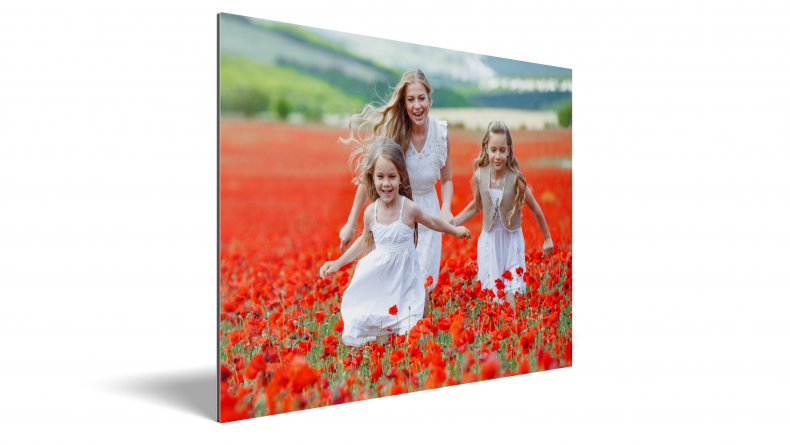 Make your photos stand out by having them printed on metal sheets, another option from CanvasDiscount. This Metal Photo Print could give your snaps a more elegant look. It's made up of a pair of aluminum sheets covering a plastic core, and a protective laminate to extend its lifespan. CanvasDiscount says it uses laboratory-quality photo paper to help ensure that not a single detail from the photo is lost.
Make your own Metal Photo Prints here.
Canvas Collage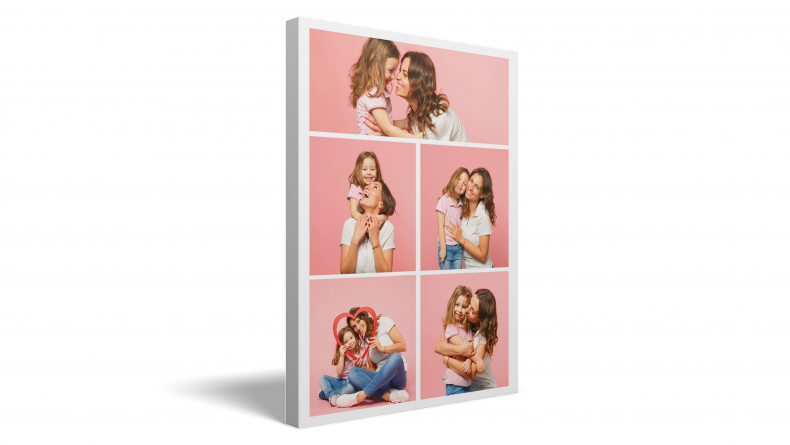 Sometimes, picking just one good moment could be a challenge. These canvas collages might be able to help you with that, allowing you to fit multiple snaps of your family's best times together with your mom in one print. CanvasDiscount offers different collage styles and themes to choose from, so you can fully customize your gift.
Click here to put together your best moments using Canvas Collages.
Canvas Wall Displays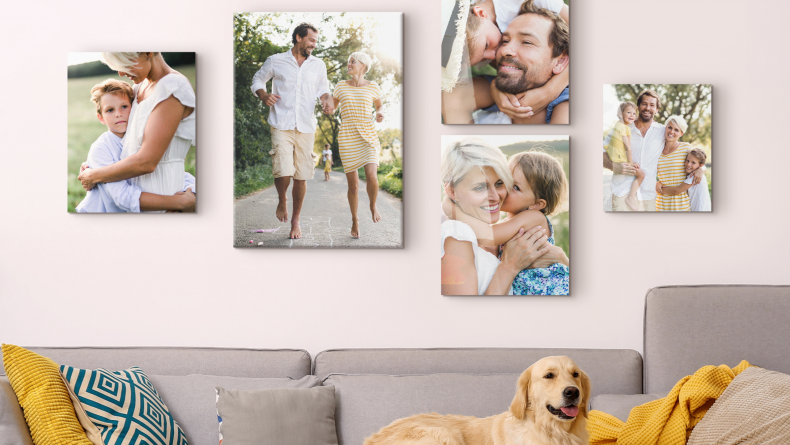 In case you're not a fan of collages, the Canvas Wall Displays could be the choice for you. This option allows you to send in more than one photo, which will be printed on individual frames. The prints could come in varying sizes depending on the layout you choose. There are nine different layouts so you can decide how the pictures will look up on your wall.
Display all your favorite photos of your mom with the Canvas Wall Displays.
Photo Pillows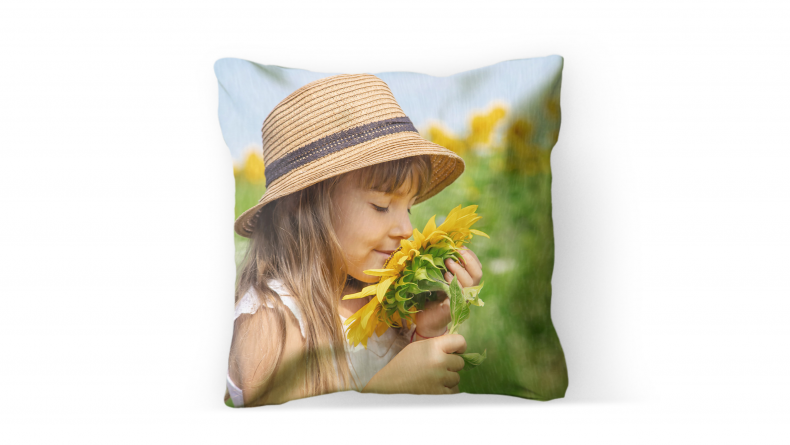 For another unique gift, try this pillow that could be printed on with a photo of you and your mom together. These pillows are said to be hand-sewn, and may come in either a classic satin or premium plush format. The "vibrant reproduction of your photo," as CanvasDiscount describes it, will be printed on a pillowcase that's machine washable, hypoallergenic, and made with odorless dyes.
Photo Blanket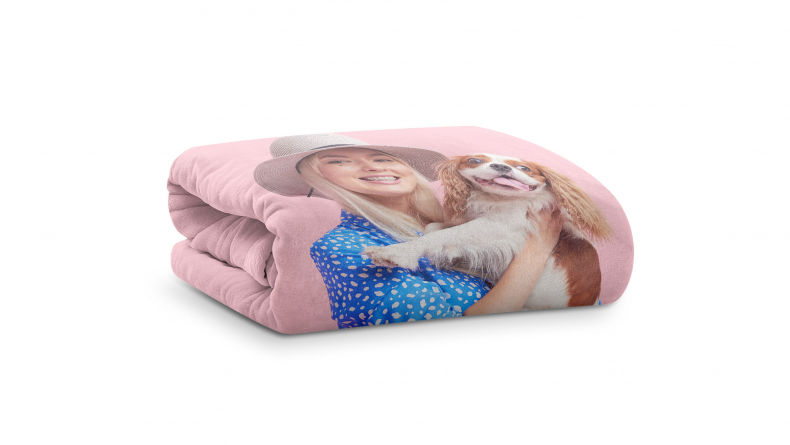 Keep your mom feeling warm and comfortable as she reminisces about your precious times together with this custom photo blanket. You may choose between two types—fleece or a premium plush blanket for that extra layer of warmth on colder days. Your photo will be printed on the whole blanket using a special technique for "the very best results," according to CanvasDiscount.
Give your mom the gift of warmth and comfort with this Photo Blanket.
Photo Mugs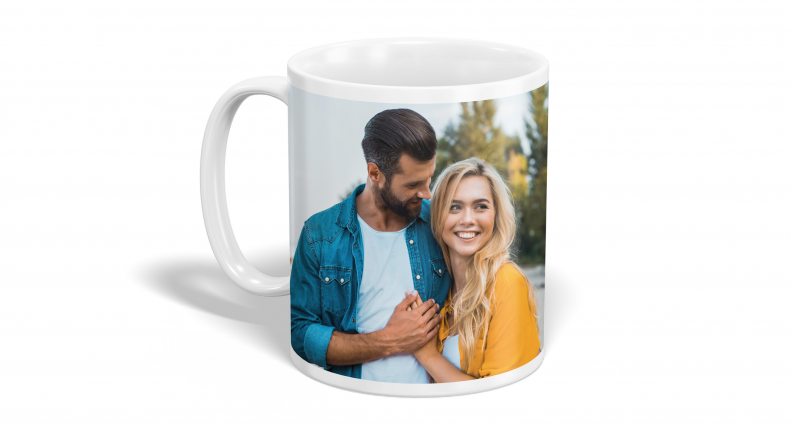 Your mom might enjoy her morning coffee all the more with these photo mugs. You could have a special photo with your mom printed on these cups, which could be either ceramic, porcelain, or the magic cup that reacts when filled with a hot beverage. On the magic cup, you can see the photo print appearing and disappearing as it comes in contact with a hot drink. These photo mugs are said to be microwave and dishwasher safe, with variants available for left- and right-handers.
Create custom Photo Mugs here.
Photo Mouse Pad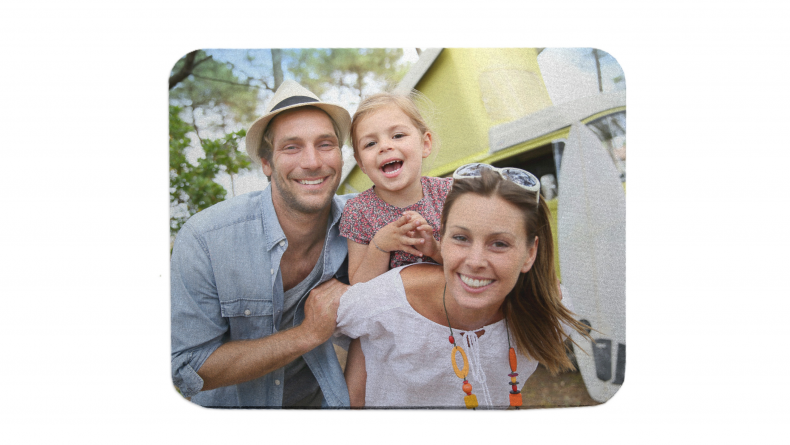 Practical gifts may be made even more special with an added personal touch. Help your mom get through a busy workday with CanvasDiscount's Photo Mouse Pads, which could help remind her through the day that she is loved. A rubber base helps keep the mouse pad in place, and a microfiber surface helps allow your mom to stay comfortable as she uses it.
Print your Photo Mouse Pads here.
Photo Puzzle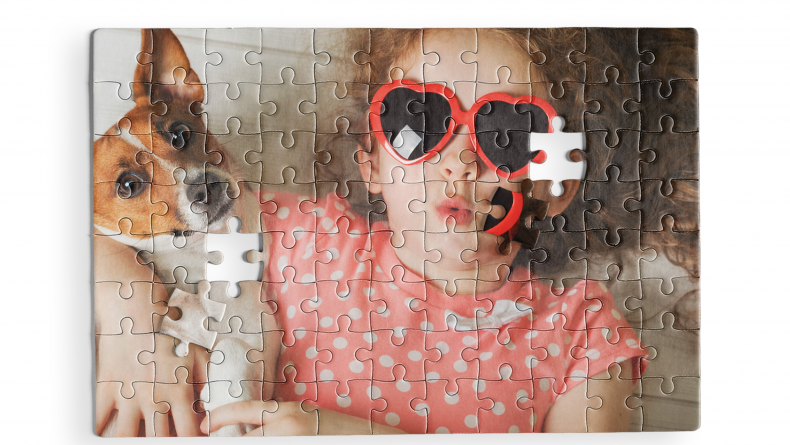 Make the gift reveal even more exciting by giving your mom a challenge she might love to complete—a photo puzzle. CanvasDiscount divides your photo into 110 cardboard pieces that, when assembled, would display the image of your choosing.
Make your custom Photo Puzzle here.
Motherhood can be challenging. Unlike your regular nine-to-five job, there are no time-outs from being a mom. This Mother's Day, show your appreciation for all your mom's hard work, not only by showering her with love but also with thoughtful, personalized gifts. A small token could go a long way, especially when coming from the heart.