Sponsored Article
Celebrating Valentine's? This Keto-Friendly Chocolate Bar Lets You Indulge Without Breaking Your Diet
No Matter the Diet, Nothing Says "I Love You" Better Than Chocolate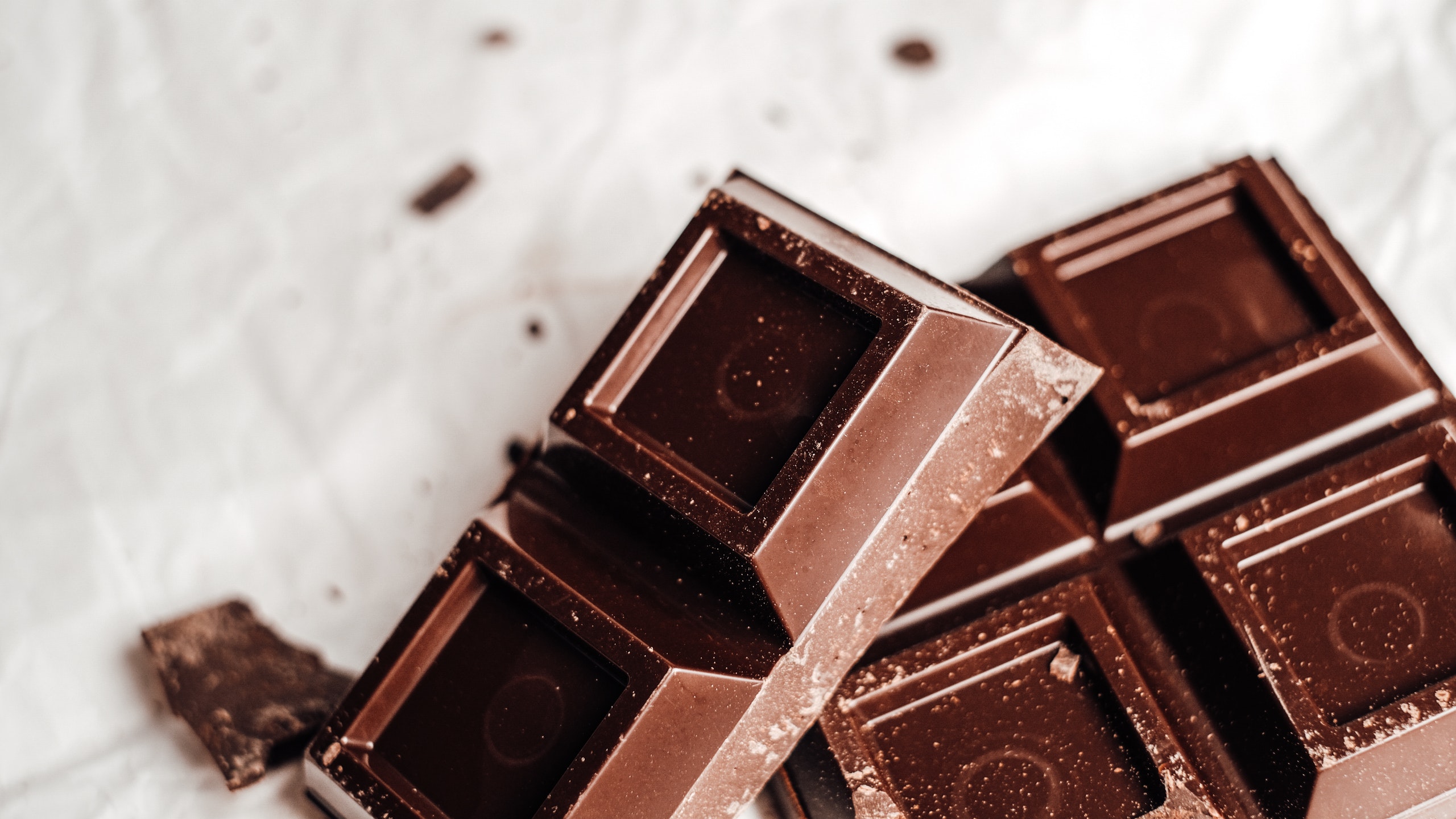 If there's one thing to feel toward keto dieters, it's admiration, not judgment. As goal-oriented individuals, they've managed to stay consistent in a lifestyle that requires sacrifice - not to mention substitutes for the more decadent things of the world - to live a long, active, and healthy life.
This also means choosing what they eat, especially during holidays like Thanksgiving, Christmas, Memorial Day, and even Valentine's Day. It may have been a difficult transition initially. But the fact that keto dieters stay consistent even with so many temptations around them is a lesson in self-control many people have trouble learning.
So what happens when you're following the keto diet, and you're psyching yourself to avoid the smooth, creamy, melt-in-your-mouth chocolates associated with Valentine's Day? Well, keto dieters don't have to live through the rest of their lifestyle without the joys of chocolate, especially now that nutrition brand Bulletproof has created their own chocolate bar recipe that stays indulgent without the guilt! But before we get into the delicious bits, here's a quick history lesson on why chocolate is commonly tied to Valentine's Day - or love, in general.
Valentine's and Chocolate: A Match Made In Heaven
There are some time-honored, no-brainer gifts you can give on Valentine's Day. You'll know them once you see them, thanks to the heart-shaped and glaring red designs that seem to take over store shelves at the start of February. The most popular choice for confused or first-time Valentine's partners is a generous box of chocolates.
The origins of chocolate can be traced back to the Mayans, who must be credited with blessing the rest of the world with their delicious discovery. Their use of cacao goes as far back as 500 B.C.E., centuries before Valentine's Day (or the Feast of St. Valentine, for that matter) became a casual holiday.
Mayans ground cacao beans into hot chocolate and used it as part of their wedding rituals. Instead of sacred wine, the bride and groom would each take a sip of hot chocolate as a sign of commitment to one another - a foreshadowing of sorts on how chocolate would later be a symbol of love.
In the 19th century, the first batch of heart-shaped boxes of chocolates came from the British chocolate company Cadbury, and it filled candy stores in time for Valentine's Day in 1861. Designed with cupids and roses, it quickly became a holiday sensation for families and lovers. Receivers of the sweet gift even kept the heart-shaped box to store love letters and even locks of hair (which was considered romantic at the time).
Since Cadbury forgot to patent their heart-shaped chocolate box, other chocolate makers followed suit for the next Valentine's Day, creating packages with their own designs. Fast forward to today's Valentine's celebrations, and red boxes of chocolates have been a go-to holiday staple as a simple expression of love to friends, family members, and lovers.
Chocolate And Keto: The New Match Made In Heaven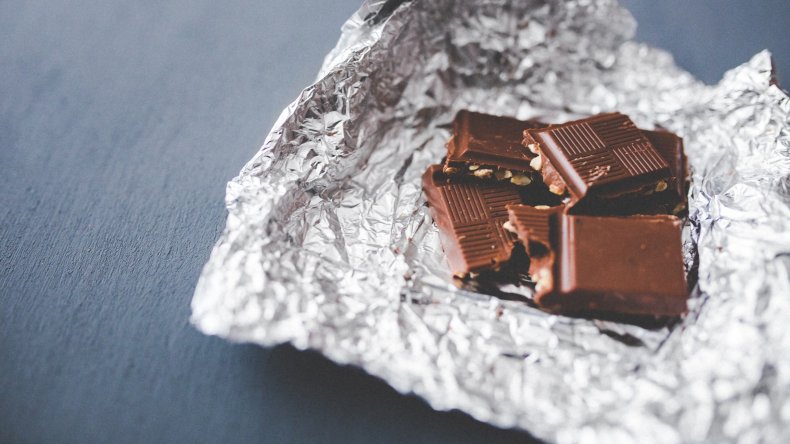 A few years ago, when the keto diet was still well on its way to becoming a worldwide phenomenon, sourcing the right food to complement the diet was limited. Since more people are catching on to the trend these days, many keto options have sprouted, from menu options at a regular restaurant to full-fledged keto food shops.
The sky's the limit for the dessert portion of your meal, too. Because many available substitutes for high-carb ingredients have been made widely available, a lot of popular desserts have easily been "keto-fied" so that those on the diet won't have any trouble satisfying their sweet tooth. That's also probably why Bulletproof decided to launch their brand new, guiltless chocolate bars that make your keto lifestyle sweeter.
Bulletproof Chocolate Bars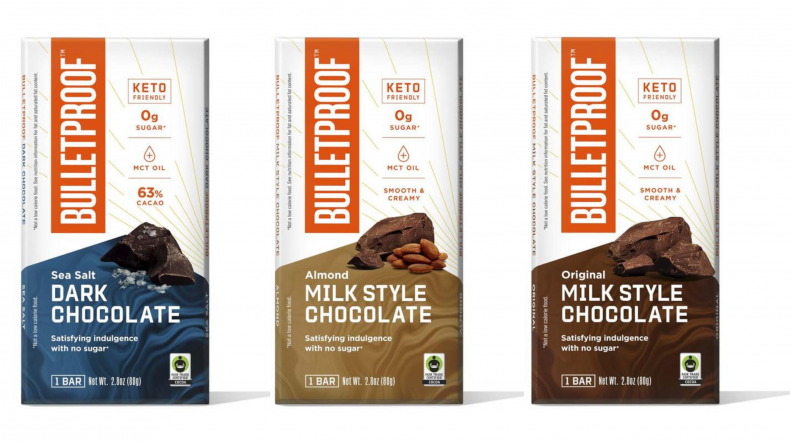 Bulletproof's brand new chocolate bars aren't just the indulgent snacks you're craving in a keto diet - they can help boost your diet, too. They also contain pure medium-chain triglyceride or MCT oil sourced from coconuts to give you an energy boost; erythritol, vanilla extract, and stevia as sweeteners; and Fair Trade Certified cocoa for quality chocolate.
Sea Salt Dark Chocolate Bar
Price: $19.99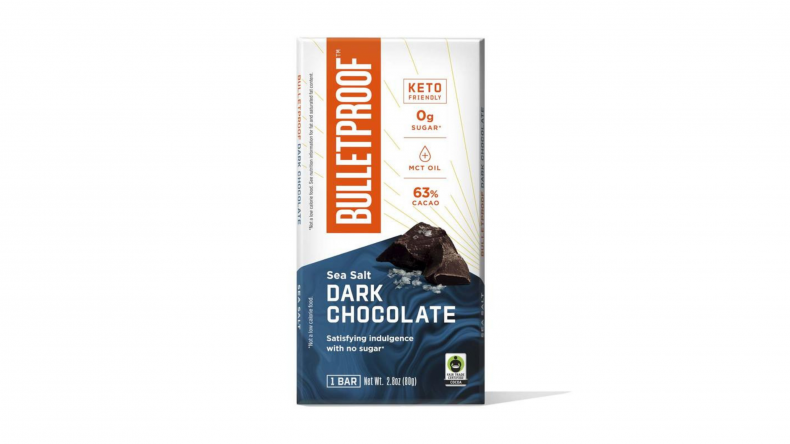 Macros per serving: 13 grams of fat, 2 grams of net carbs, 0 grams of sugar*
For the keto dieter who loves the tangy, bitter side of chocolate, the Sea Salt Dark Chocolate is a fantastic alternative to regular, store-bought chocolate. It has 63% cacao, loaded with MCT oil, and sweetened with erythritol, stevia, and vanilla extract instead of regular sugar. Combined with a sprinkle of sea salt, the dark chocolate becomes less overwhelming in bitterness and is instead given more depth of flavor - a truly guiltless, indulgent treat for those on keto.
Get the Bulletproof Sea Salt Dark Chocolate Bar here.
Almond Milk-Style Chocolate Bar
Price: $19.99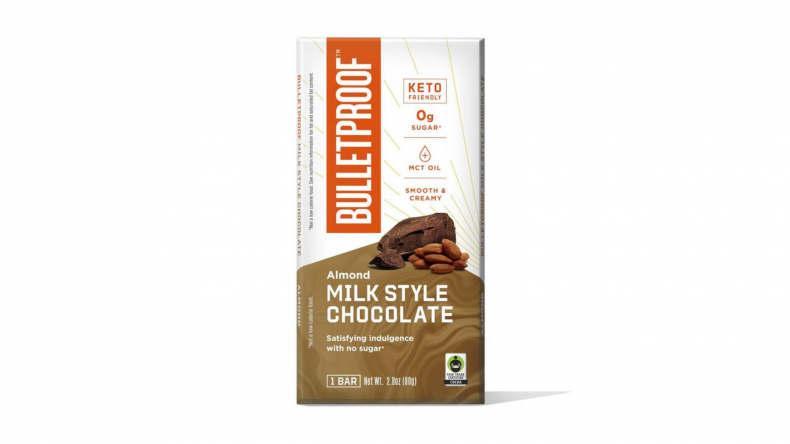 Macros per serving: 14 grams of fat, 3 grams of net carbs, 0 grams of sugar*
Not all is lost for the keto dieters who sacrificed their favorite milk chocolate-covered almonds to watch their figures. Bulletproof's Almond Milk-Style Chocolate is the perfect alternative to the sweet and crunchy treat you love. Made with 57% Fair Trade Certified cocoa, every bite of the Almond Milk-Style Chocolate bar will remind you that the simple pleasures in life can be enjoyed even when on a keto diet.
Get the Bulletproof Almond Milk-Style Chocolate Bar here.
Original Milk-Style Chocolate Bar
Price: $19.99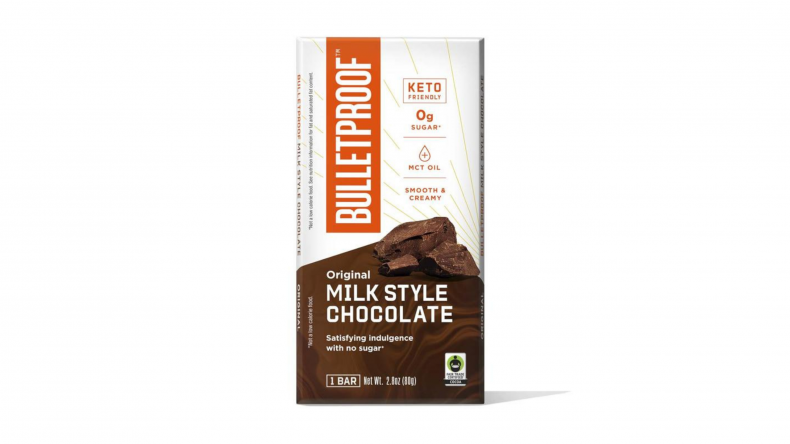 Macros per serving: 15 grams of fat, 2 grams of net carbs, 0 grams of sugar*
If you're a chocolate purist at heart - no nuts, fruits, and any other toppings, just 100% chocolate goodness - then the Original Milk-Style Chocolate Bar is the ideal choice for you. It's like the traditional milk chocolate bar you love to break into pieces and enjoy, except it's keto-fied, so you don't break your diet! Not too sweet and not too bitter, the Original Milk-Style Chocolate can be eaten as a quick snack or incorporated into your own keto-fied desserts.
Get the Bulletproof Original Milk-Style Chocolate Bar here.
If you're looking to get a bundle of Bulletproof's keto-friendly chocolate bars as a Valentine's gift for someone you love, you can take 14% off on Bulletproof's new chocolate bars by using the code BPLOVE14 when you check out! This offer is valid until February 28, 2021.
Keep Valentine's Day romantic and sweet with the brand new keto-friendly chocolate bars from Bulletproof! Give the chocolate bars as a gift, or turn it into a thoughtful dessert to cap off your Valentine's evening. Order here.
*Not a low-calorie food.