Sponsored Article
Don't Like Weights? These Bodyweight Training Exercise Kits are for You
A simple and cheaper alternative to the gym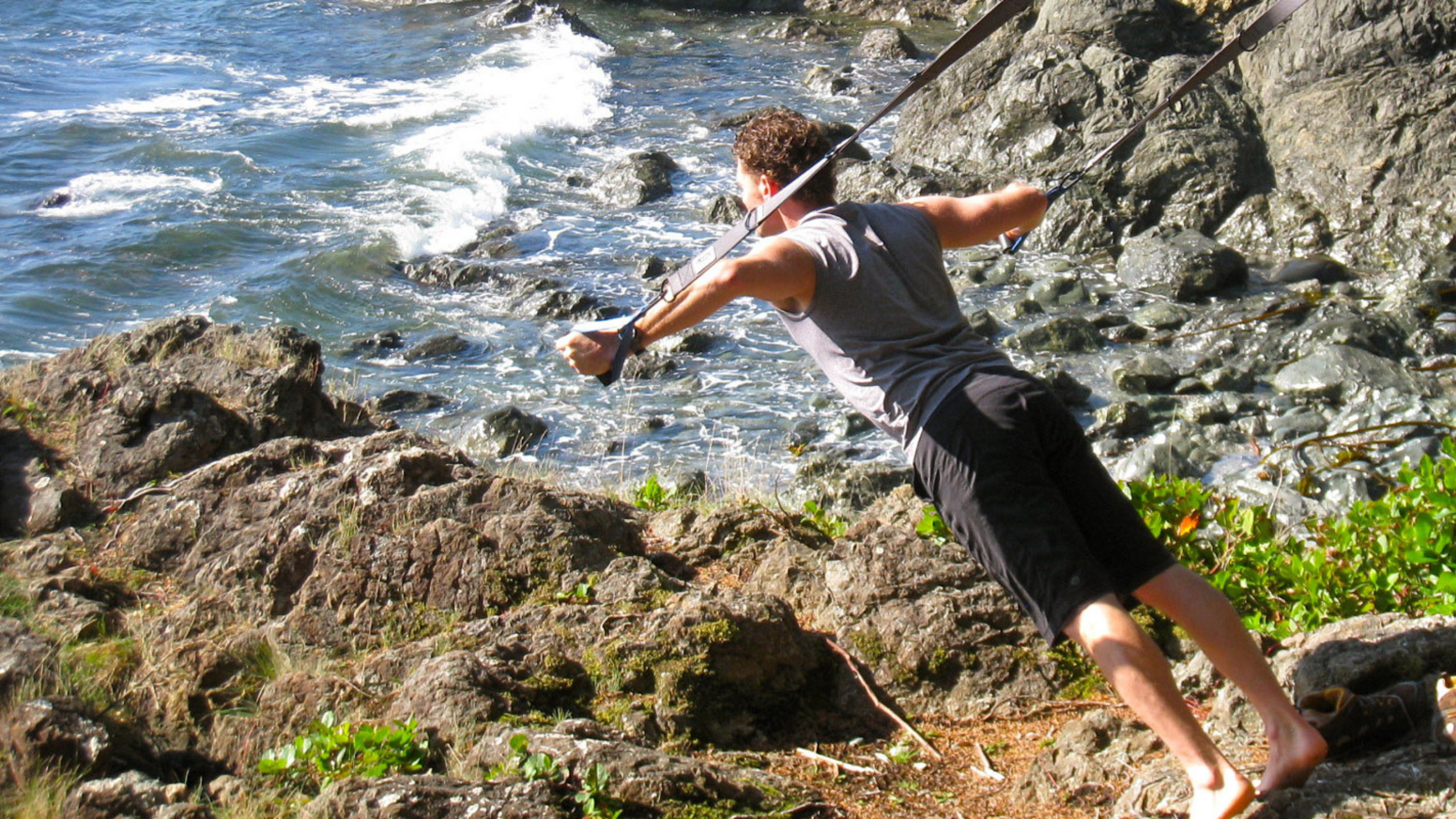 Whether you are a first-timer, a gym buff, or an athlete looking to stay in shape; there are many easy-to-use pieces of equipment out there that serve as cheap alternatives to regular gym equipment. A great gift for Valentine's Day for the fit and healthy, these kits are easy to bring around. You can literally bring this gear anywhere you want or just use it in the comfort of your own home.
Working Out at Home
As the old adage goes, "you don't know what you have until it's gone." This took on a whole new meaning when the pandemic hit. A lot of things that we used to enjoy doing are now only available at limited access. This includes cinemas, restaurants, shops, bars, and gyms. Because of this, we have been pushed to use our imagination and creativity to be able to do our favorite activities somewhere safer, particularly our homes.
Gym restrictions vary from state to state, but a lot of people have taken to working out at home to ensure the utmost safety. Even if you are exercising at home, though, it is still important to use the right gear. Push-ups, sit-ups, pull-ups, squats, and yoga may all be great exercises, but they aren't all-encompassing. Some muscles need equipment to feel added strain and pressure. The good news is that you don't have to break the bank balance when building your own convenient fitness facility at home. The Human Trainer is a great help when it comes to this.
What is The Human Trainer?
The Human Trainer offers equipment that focuses on using what you already have: your body. By suspending and shifting your body weight against gravity, you can create a dynamic vertical resistance that allows you to target every muscle in your body.
Their products are designed to perform hundreds of different full-body exercises to strengthen and tone your upper and lower body, as well as your core. Within seconds, you can have any of The Human Trainer's equipment set up indoors or outdoors. All you need is a door, a sturdy overhead beam, or a tree. Here are a few of the kits they have available on their website:
Rotational Pulley Kit
Great for use at any fitness level, this bodyweight suspension kit is great for your arms, legs, and core. It comes with one rotational pulley, two-foot cradle handles, and two versatility anchors. Attach them to a sturdy structure and use your body to act as the weight that you are pulling to and fro as seen above.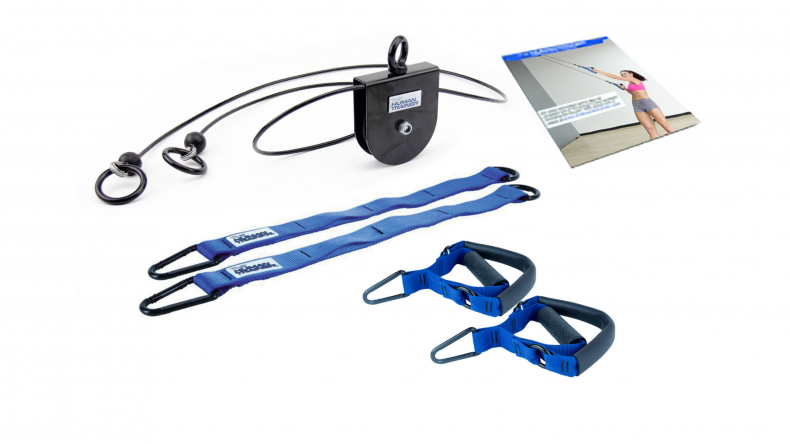 This will challenge your muscles and increase your balance, strength, conditioning, and agility. This kit is also great for those going through rehabilitation as it can help improve your range of motion with basic assisted exercises.
Get yours now for only $129.99!
The Essential Kit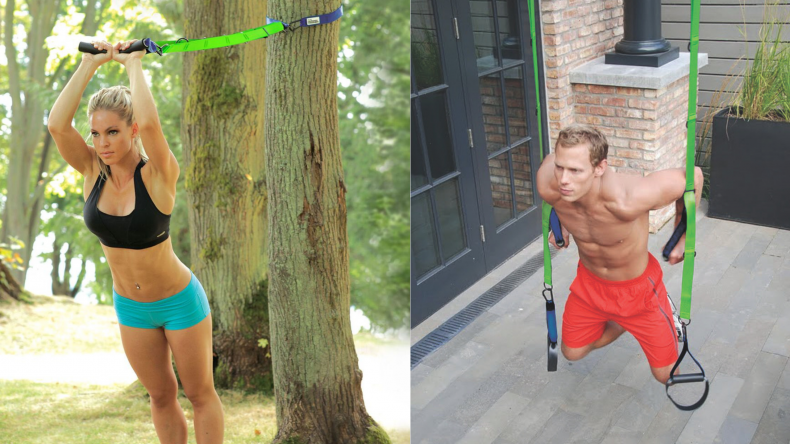 Probably the most versatile bodyweight suspension kit on the market, this kit comes with two main straps with integrated door anchors, two short-versatility anchors with integrated door anchors, and two-foot cradle handles.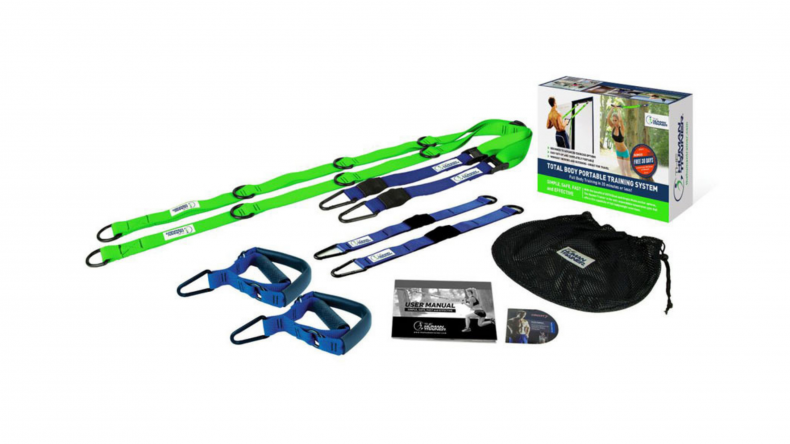 Although you can perform hundreds of full-body movements with this kit, it particularly focuses on suspended core exercises that are great for toning and building strength. It also comes with a detailed manual with 20+ sample exercises for you to incorporate into your workout routine.
Get yours online now for only $189.99!
The Master Kit
The Master Kit comes with all of the above and more. From tricep ropes and ceiling mounts to hardware, instructional DVDs, and posters detailing all the different exercises you can do - this kit really has it all!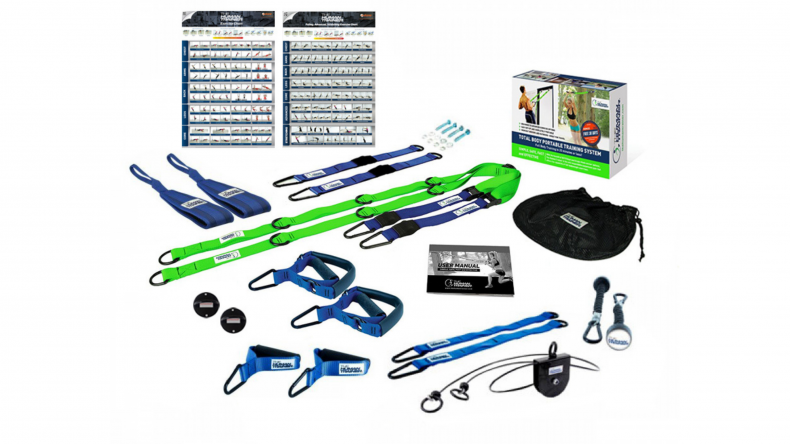 By engaging your whole body, these exercises will force you to use your own stabilizer muscles to build a leaner, more athletic, and more muscular physique with a much stronger core. You can also instantly adjust the level of difficulty by shifting your body position, changing the angle, or adding more weight to the exercise.
Get all of this for only $429.99 today!
With these great kits, you can work out at home, at the office, in the park, and wherever else you can think of whilst saving hundreds of dollars a year by eliminating monthly gym fees. All products come with a 90-day money-back guarantee and a 2-year replacement warranty. If you and your other half made a New Year's resolution to get fit, this is the perfect Valentine's Day gift to help you carry through!