Sponsored Article
Don't Want To Head Out? These CBD Joints Can Be Delivered To Your Doorstep
Need a legal bud?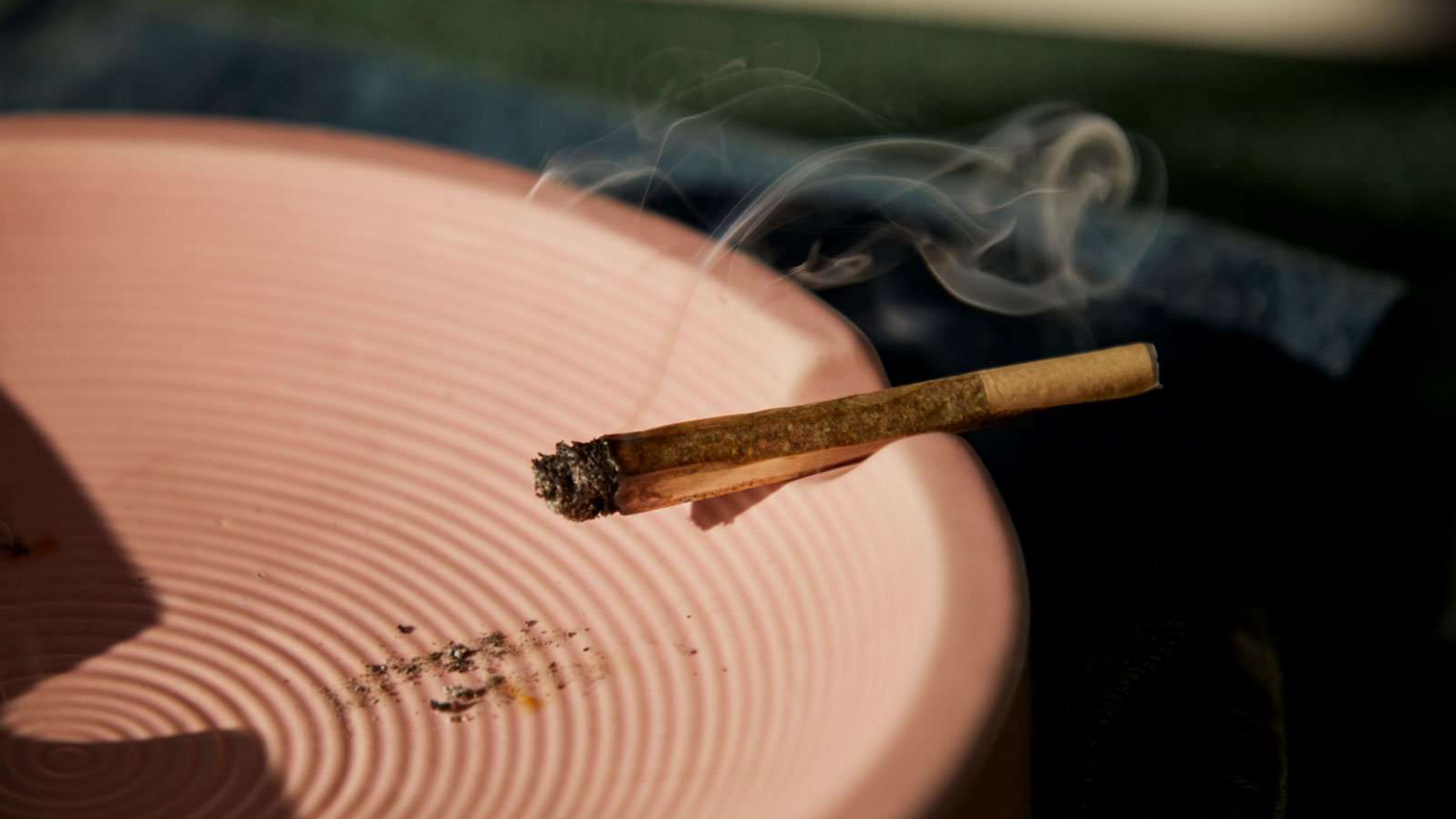 It's important to consult your doctors with any medical concerns, and before making any changes or adding supplements to your health plan.
If you've browsed a CBD dispensary lately, you might have noticed that cannabis (or marijuana/weed) is a lot stronger than it was a few decades ago. In fact, the National Institute on Drug Abuse notes a steady increase over the years in the amount of tetrahydrocannabinol (THC) in marijuana. THC is the main psychoactive component of cannabis that is largely responsible for that "high" sensation.
But what if you want to enjoy the relaxing pastime of smoking a joint without the risk of getting more intoxicated than you'd like?
Introducing the Dad Grass CBD joint. Dad Grass is a company doubling down on the notion that there's still demand for getting "just high enough" safely and without breaking the law. The company believes in smoking a joint fun without the social and health risks that may be associated with other CBD products.
How are Dad Grass CBD joints legal?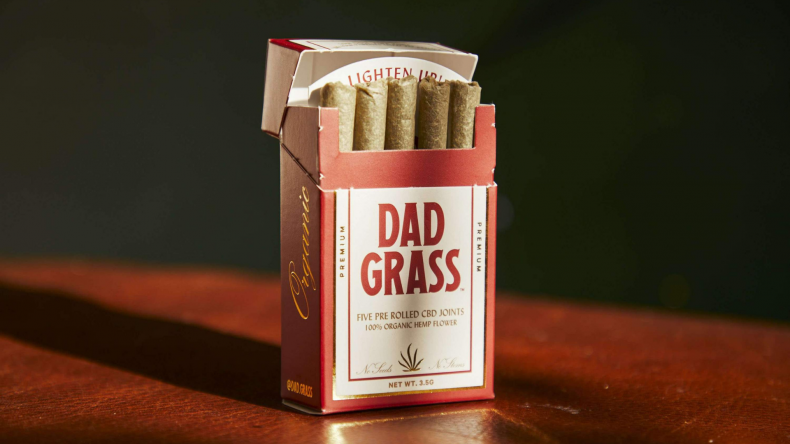 According to Dad Grass, its pre-rolls are made of 100 percent legal bud, also known as hemp, that contains less than 0.3 percent THC. The 2018 Farm Bill declared smokable hemp containing less than 0.3 percent THC legal to buy, sell, and consume in all 50 states.
Dad Grass has even put a handy QR code on the packaging outlining the legal nature of the product (including lab tests) should you ever need such resources. Take note: its product does look and smell like marijuana, so do use your common sense when consuming and while transporting the product.
Delivering Legal Bud to Your Front Door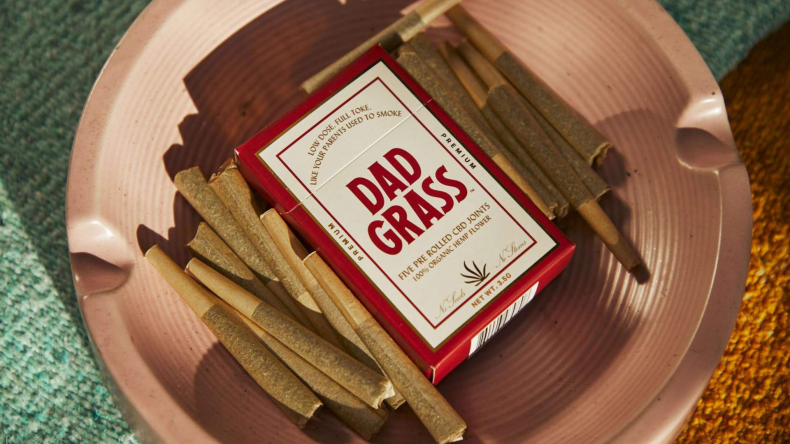 One of the biggest perks of Dad Grass's legal bud is that it delivers to all 50 states via USPS. Joints range from $10 for a 1G Classic to $70 for a pack of 10. You could opt to purchase a quarter-ounce or half-ounce tin of flower if you prefer to roll your own joints.
The company's website also serves up a throwback-inspired selection of merchandise and gear—from hats and shirts to coffee beans and hacky-sacks that are hard to pass up.
More Reasons To Feel Good About Dad Grass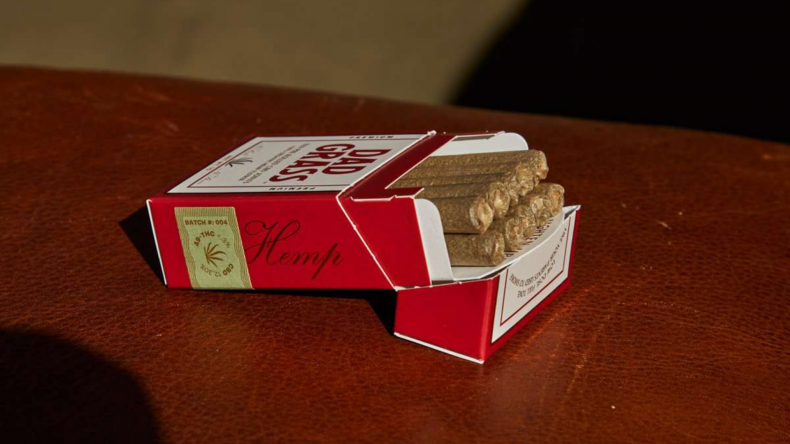 Dad Grass claims that its products are made with 100 percent U.S.-grown, organic hemp with no harmful pesticides or additives. The company also says that its CBD joints contain no highly addictive nicotine that you'd find in smokable tobacco products.
Additionally, Dad Grass is committed to raising awareness for and giving back to social justice organizations, even during one of the most challenging economic periods many of us have experienced. Through special edition products and grassroots campaigns, the company has been able to donate tens of thousands of dollars to the Last Prisoner Project and Equality California.
Not Your Average CBD Company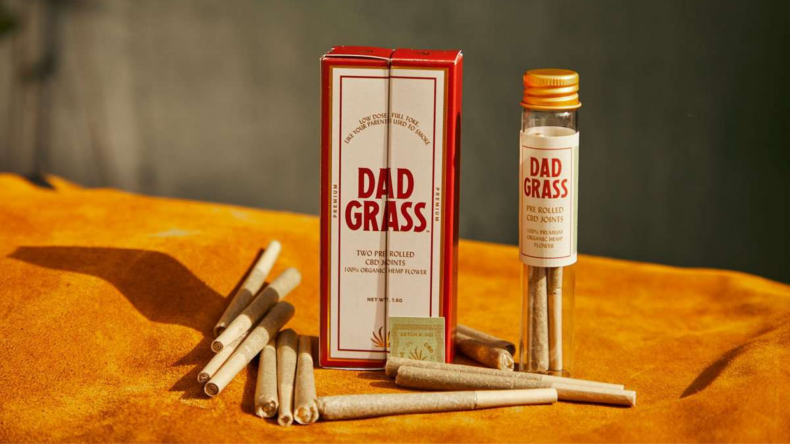 Dad Grass strikes a chord that's all too often ignored: Yes, you can enjoy smoking a joint without wanting to get stoned out of your mind.
Dad Grass claims that it doesn't masquerade as a health company or that it is out to solve your biggest life problems. But if you want to chill out and enjoy a joint, the company's joints might be the products you're looking for.
Newsweek readers can enjoy 20 percent off their first order of Dad Grass CBD joints with code Newsweek20.