Sponsored Article
Draymond Green and Zay Todd Team Up With Hugo Boss to Take NBA Team Spirit to Another Level
Level Up Your Casual Wear With Cool Pieces From the BOSS X NBA Collection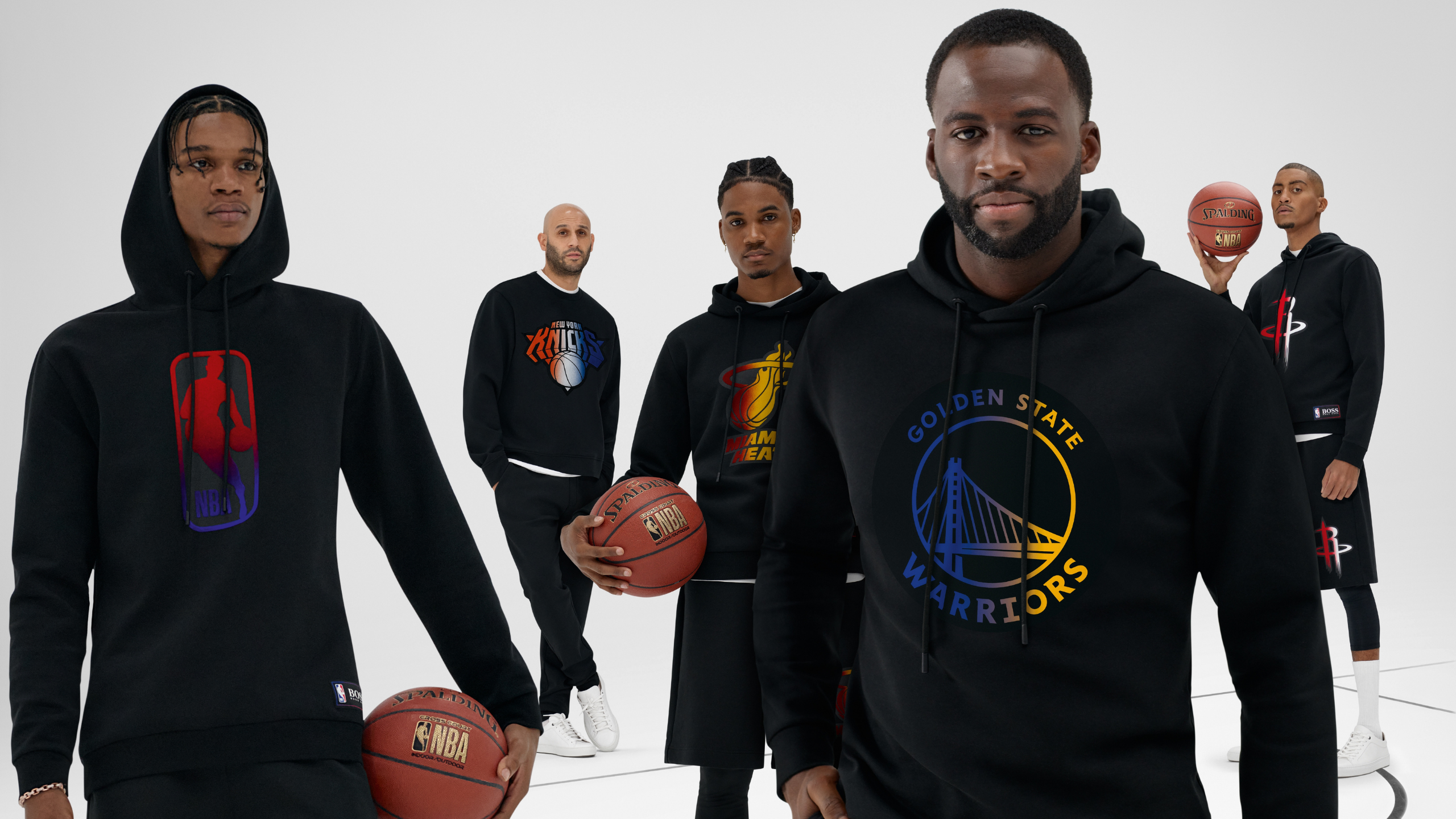 It seems as though fashion and basketball have found a middle ground in the NBA. Tunnel walks are akin to walking on the red carpet, as basketball players dress to the nines upon arriving at basketball arenas for their game. It's these mere seconds from the bus to the locker room when basketball players can flaunt their style and when fans can see a different side of them off the court.
According to Golden State Warriors power forward Draymond Green, some large-scale arenas or finals games call for a decked-out suit, while other venues find that a pair of denim jeans, a bomber jacket, and a pair of sneakers will suffice. Green, the Dubs's No. 23, embraces versatility much like he does his job on the court. It's also this versatility that Hugo Boss features with their collaboration with the NBA, with Green as the brand ambassador and face of the new campaign.
With the BOSS x NBA collection, the German menswear brand ventures away from dapper suits and leans into relaxed, casual pieces that basketball fans and players alike can easily (and affordably) add to their wardrobe without feeling overdressed. "I love the fact that it's affordable," says Green. "It's not extremely expensive like most of the brands in that space." What was most important to the Michigan native was how comfortable he felt dressed in the brand's sleek and mature apparel that fully encapsulates gentleman's style. It's a testament to Boss's longstanding history in menswear, and another selling point for the three-time NBA champ.
BOSS x NBA Capsule Collection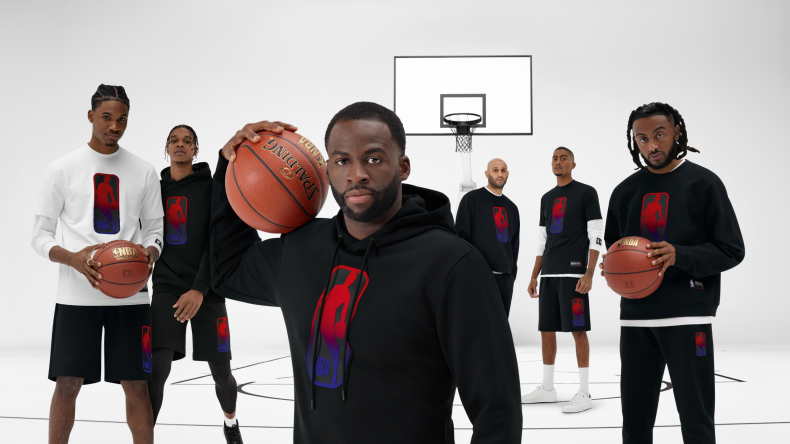 The BOSS x NBA capsule collection for spring-summer 2021 features casual wear that sports the NBA logo plus logos from nine basketball teams on the East and West coasts: the Toronto Raptors, Miami Heat, Brooklyn Nets, New York Knicks, Chicago Bulls, Los Angeles Lakers, L.A. Clippers, Houston Rockets, and Golden State Warriors. The collection includes comfy apparel like hooded sweatshirts, crewneck T-shirts, trainer bottoms, drawstring shorts, and more.
"The NBA has put basketball on the world map of international sports, making it a global cultural phenomenon," shares Ingo Wilts, chief brand officer of Hugo Boss AG. The opportunity to work with the NBA and an all-star like Draymond Green also allows the brand to create products at the regional and national levels. Working with the NBA enables the brand to collaborate with the league's best teams and talent. "The collaboration is, therefore, an exciting opportunity for Boss to strengthen our brand awareness, especially among U.S. customer," said Wilts. "In addition, it emphasizes our ambition to continuously expand the share of casual wear in our collections in the years to come."
While Draymond Green is the chosen brand ambassador and face for Hugo Boss's NBA capsule collection, he's joined by NBA G League Ignite up-and-comer Isaiah "Zay" Todd, Grammy-nominated rapper Amine, and jewelry designer Greg Yuna.
Casual Wear for Three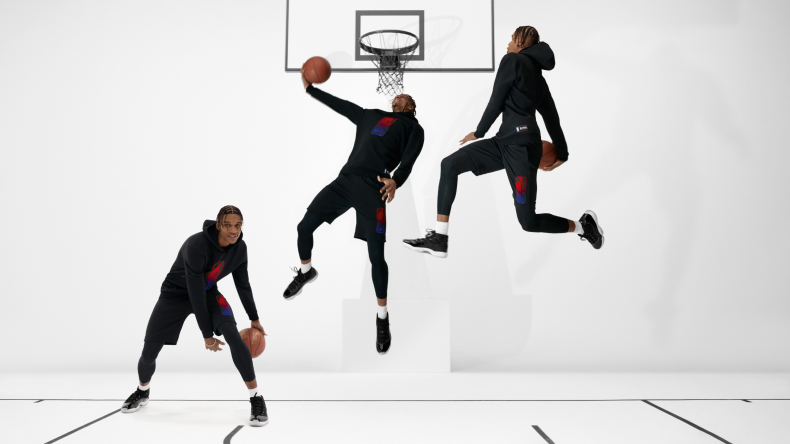 The spring-summer 2021 collection for the BOSS x NBA collaboration is available in Hugo Boss online stores as well as store branches across North and South America. Online shops NBA Store and Fanatics plus retail stores Nordstrom and Bloomingdale's also carry the capsule collection. They are likely to introduce the second capsule collection for the campaign when it drops in October 2021.
Gentlemen interested in elevating their casual wardrobe with the BOSS x NBA capsule can also mix and match items from the collection with pieces from Boss's line of jersey suits, trousers, and outerwear to test the limits of casual versatility. Be the epitome of casual cool when you style your BOSS x NBA garb to evoke your personality—and do so with a bit more effort.
If you're still on the fence on just how to dress up (and down) your BOSS x NBA threads, here's a bit of inspiration to give you an idea:
Long-Sleeve Shirt With Team Logo
Price: $98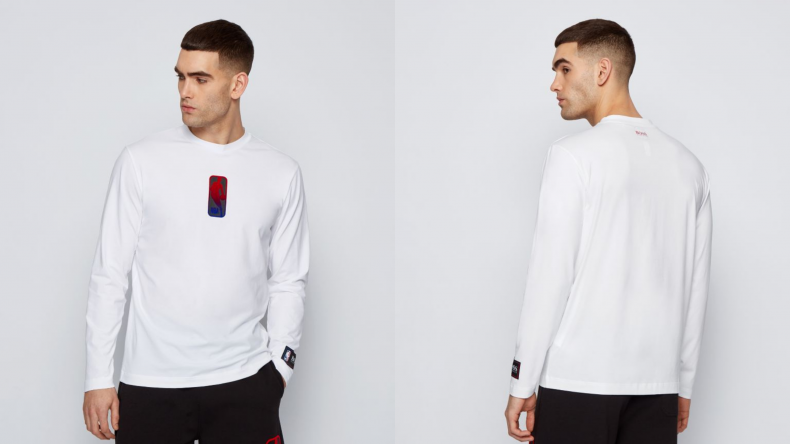 Made from stretchy cotton interlock, this long-sleeve crewneck T-shirt features a printed NBA logo and a special label on the left sleeve. If you feel like leveling up your team spirit, the relaxed shirt is also available with any of the above-mentioned teams' logos, too! Get it here.
Dress-Down Starters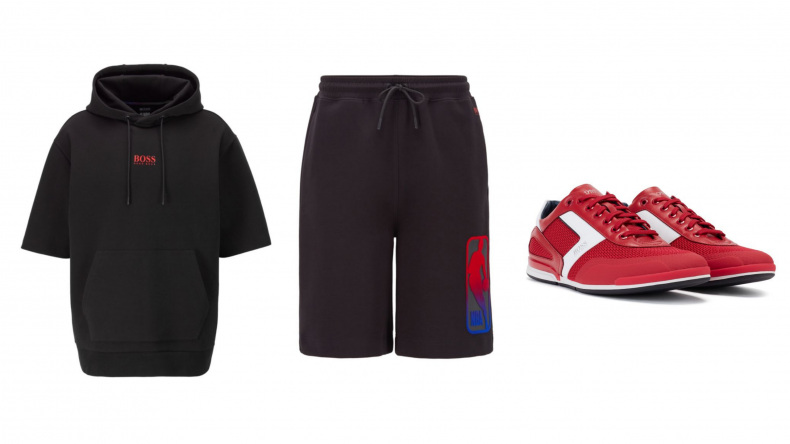 BOSS x NBA short-sleeve hoodie with team logo—$158
BOSS x NBA drawstring shorts with team logo—$138
Hybrid trainers with reflective details and back-tab logo—$198
Dress-Up Starters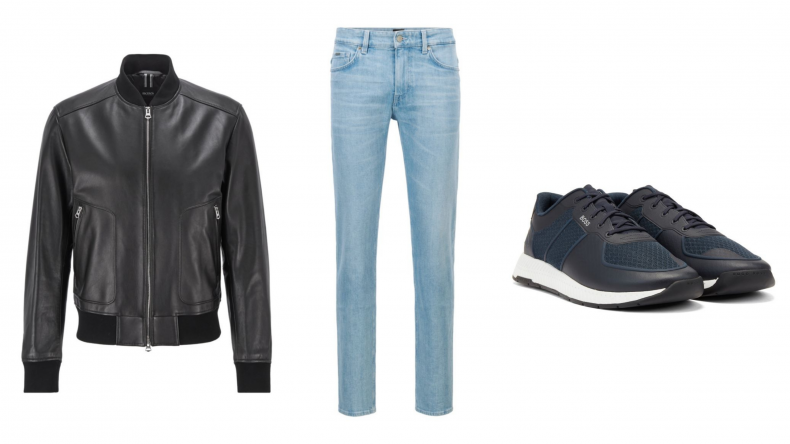 Regular-fit jacket in napa leather with ribbed knitwear—$645
Slim-fit jeans in turquoise Italian stretch denim—$178
Hybrid trainers with reflective accents and bamboo-cotton insole—$198
T-shirt With Team Logo
Price: $88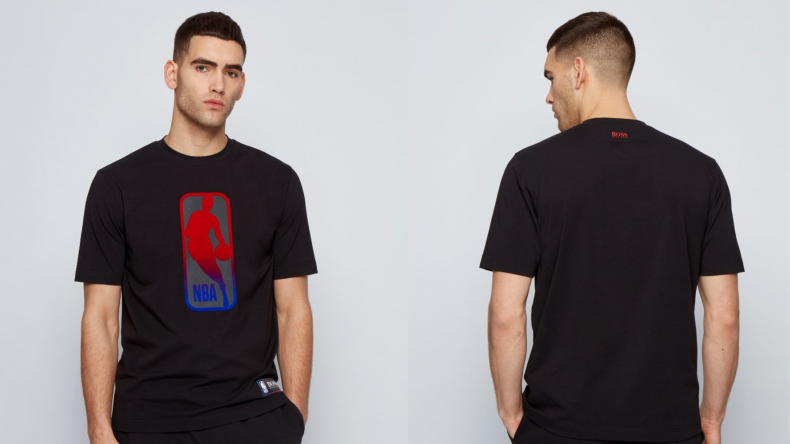 Designed with a statement team-logo graphic, the BOSS x NBA T-shirt has the versatility of a basic tee. Made with interlocking stretch cotton, the comfy T-shirt can be easily matched with a pair of shorts or joggers to create a quick, Instagram-worthy streetwear ensemble. Available in black, white, and gray. Get it here.
Dress-Down Starters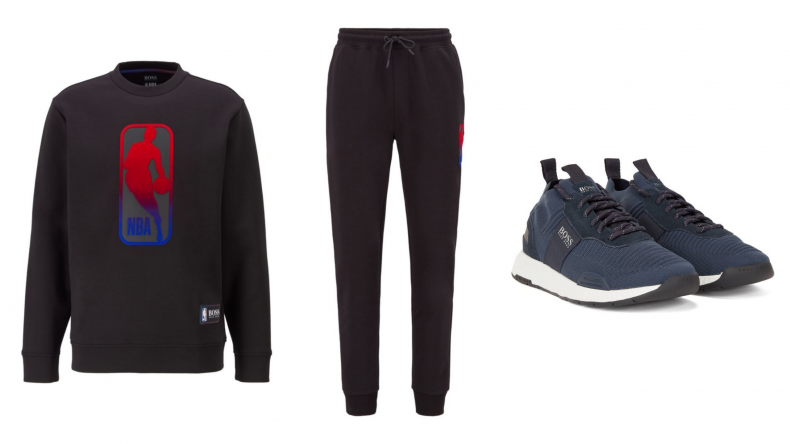 BOSS x NBA sweatshirt with team logo—$158
BOSS x NBA tracksuit bottoms with team logo—$158
Sock trainers with knit REPREVE® uppers—$198
Dress-Up Starters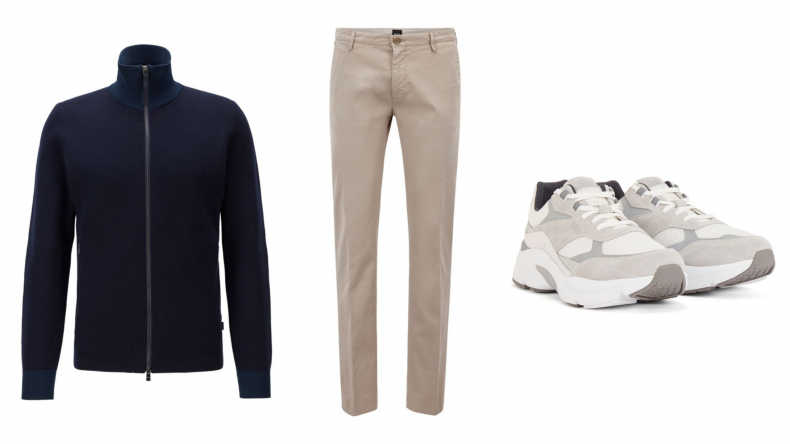 Regular-fit jacket in mixed-structure cotton—$248
Slim-fit chinos in stretch cotton gabardine—$158
Hybrid running trainers with reflective details—$198
Cop the Looks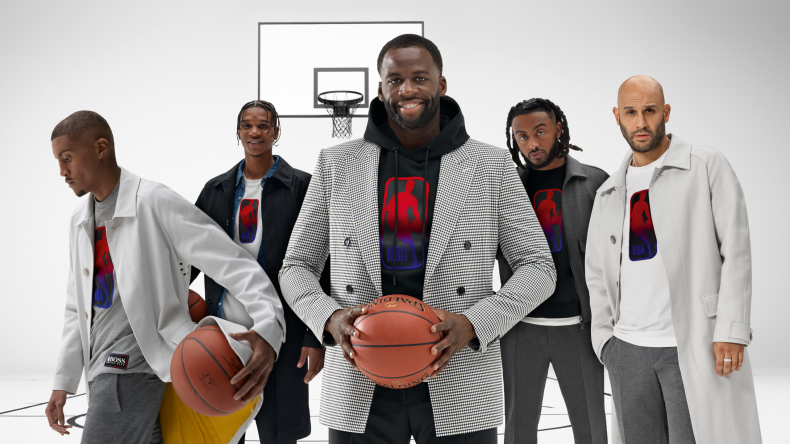 Looking for inspiration on how to create a lifestyle ensemble from the BOSS x NBA collection? Check out Draymond Green wearing the fresh collection and cop the looks below:
Clutch Situation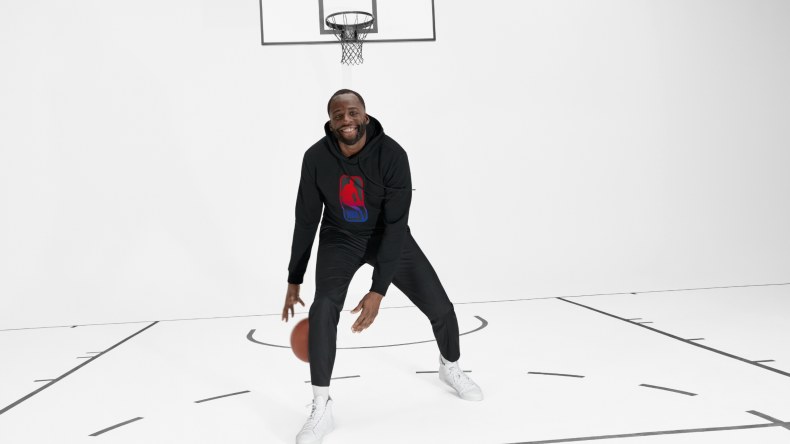 Whether you're running errands or on your way to watch a basketball game, this clutch ensemble is versatile for any situation that requires casual attire. In case you want to be ready to catch a 3-on-3 match on a concrete court, switch out the trousers for a pair of tracksuit bottoms or shorts, so you're game ready.
Cop It
BOSS x NBA hooded sweatshirt with team logo—$178
Slim-fit pants in travel-friendly stretch twill—$208
Padded nylon trainers with contrast logo—$158
The Closer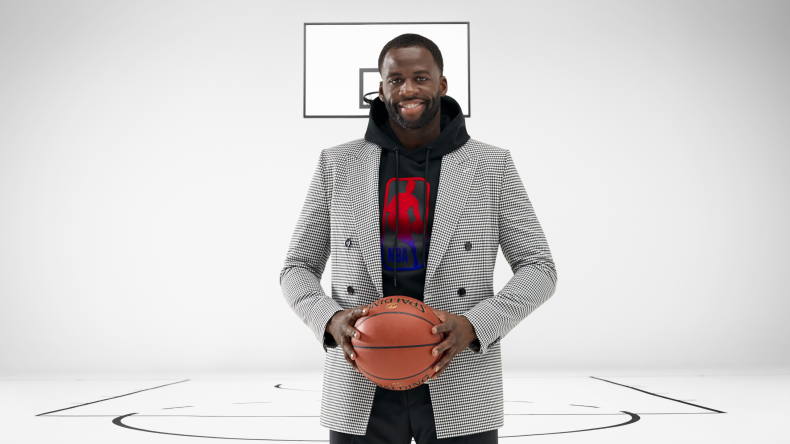 The blazer and hoodie trend isn't going away anytime soon, so you might as well lean into the millennials' version of "smart casual." For your next casual Friday at work, wear your fave BOSS x NBA hoodie, then don a suit jacket in a bold color or with prints over it. To let loose during afterwork drinks, just take off the printed jacket—or leave it on so you don't waste your outfit—and you're good to go.
Cop It
Extra-slim-fit jacket in checked fabric—$695
BOSS x NBA hooded sweatshirt with team logo—$178
Slim-fit pants in travel-friendly stretch twill—$208
Traveling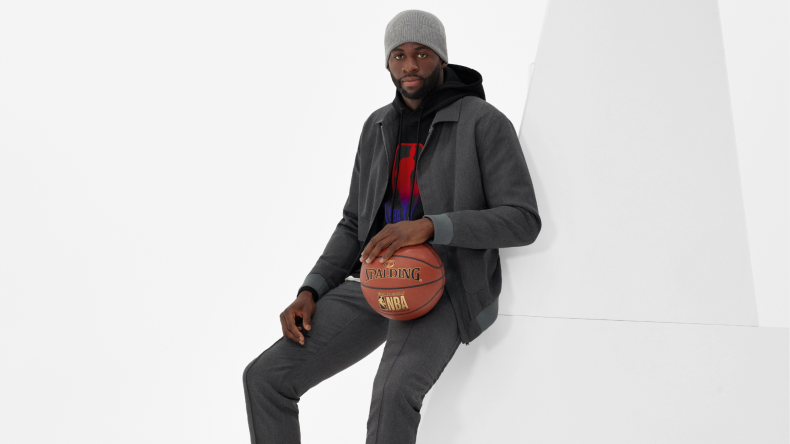 When it comes to cabin wear, you want something that offers the comfort of plush pajamas while still looking travel appropriate. For this reason, the hoodie is a cozy choice, and when you match it with a Harrington jacket and a stretchy pair of trousers, you'll look like the passenger who's cracked the code to a jet-setter's wardrobe.
Cop It
Regular-fit padded jacket in overdyed cotton twill—$398
BOSS x NBA hooded sweatshirt with team logo—$178
Extra-slim-fit pants in virgin wool—$248
Take your NBA team spirit to the next level with these casual pieces from the BOSS x NBA capsule. Check out the entire collection here.