Sponsored Article
Dreaming of Warmer Weather: Top 10 Beach & Waterfront Homes
Only the Best Beach and Waterfront Homes From Architectural Designs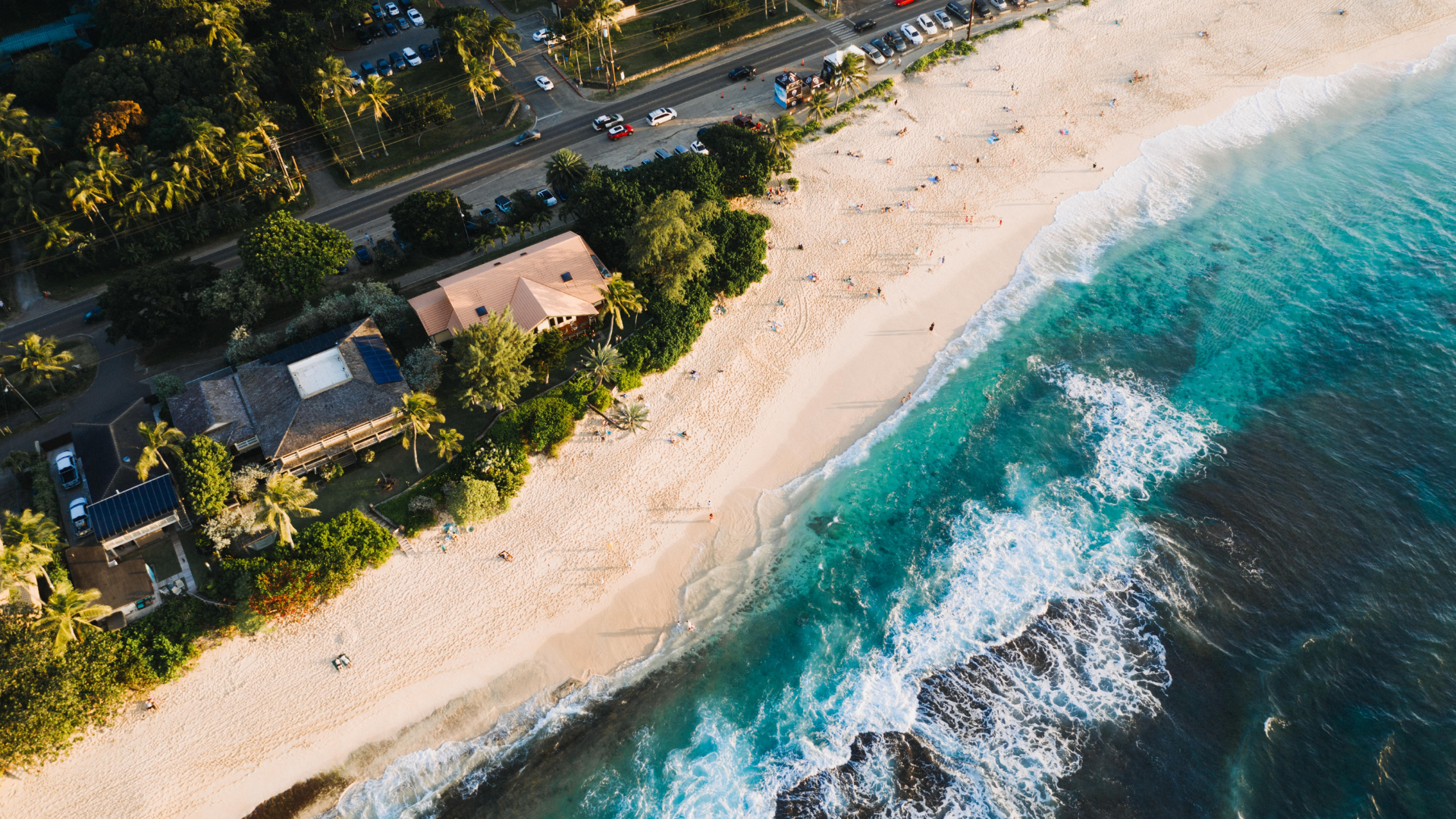 You have two options as you begin searching for your dream beach house. Your first option is to buy a ready-made house that you can renovate, while your second option is to build the beach house of your dreams from scratch.
The upfront costs of building a beach house from scratch can vary, depending on the style, materials used, and custom finishes. Building a beach house that suits your every taste and preference is incomparable to settling for an existing home. Nothing is more satisfying than watching your dreams being constructed, one day at a time.
However, note that the overall design of that beach house you have in mind needs to consider several factors. Consider flood risks, proximity to water, water durability, how high your house can actually be built as per zoning limitations, among others.
Before designing your beach dream house, consult with the professional and experienced team at Architectural Designs. Show them your home design ideas and ask for advice on finding a home that fits your needs, or better yet, look through their portfolio with hundreds of coastal and beach house plans to see whether any suits your taste even more than what you originally imagined. They can make adjustments and modifications to make any plan just how you want.
Below are the top 10 beach home designs that you can choose from the portfolio of Architectural Designs.
Top 10 Beach Home Designs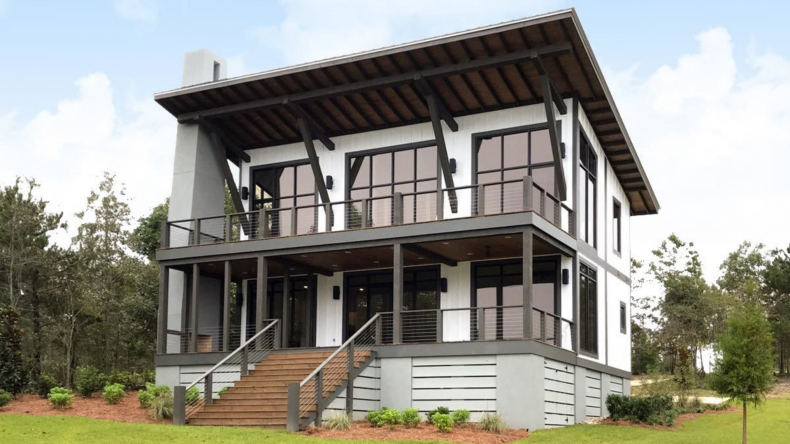 Plan Number: 130022LLS
This modern 3-bed vacation home is perfect for homeowners who want an unassuming front-home design but still want a real "wow!" factor to their home when viewed from the back. Enjoy the privacy and inconspicuousness of your beach home from pedestrians. On the front porch, this house features a minimalist pair of French doors. At the back, ideally facing the beach, experience the beautiful glow of nature from the comfort of your home with floor-to-ceiling windows on the first floor and second floor.
Check out the Modern 3-Bed Vacation Home with Dramatic Back Side by Architectural Designs here.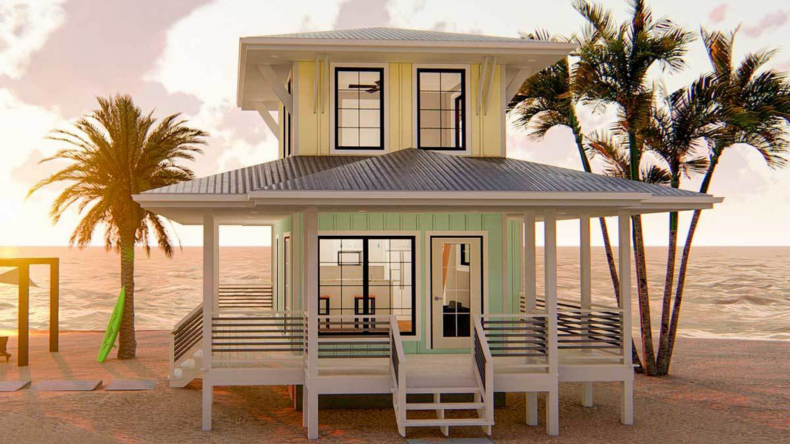 Plan Number: 62575DJ
The Beach Lover's Dream Tiny House plan is for homeowners looking for a smaller piece of paradise that they can come home to for relaxation. This 2-story compact home is affordable to build, with 330 square feet of space on the first floor and 203 square feet on the second floor. Enjoy the simple life inside, with an efficient, functional kitchen and a ship ladder going up to the second floor, with just the right space to fit a queen-sized bed.
Check out the Beach Lover's Dream Tiny House Plan by Architectural Designs here.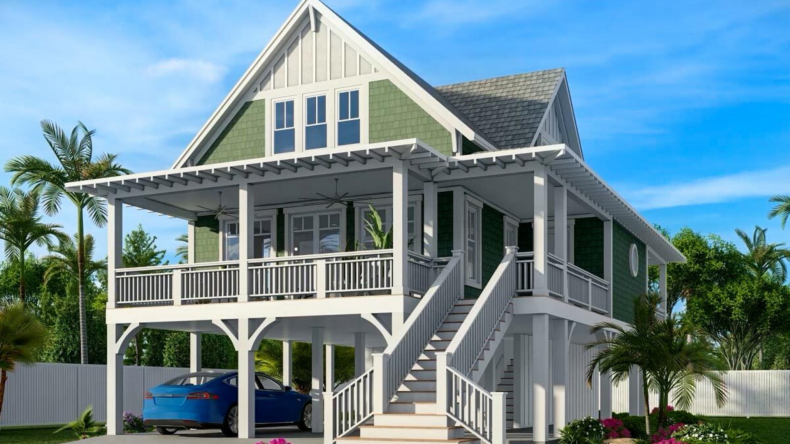 Plan Number: 15266NC
This charming 3-bed home plan with a classic wrap-around porch embodies the American Dream. It is suited for a family who loves the outdoors and wants to be as safe yet open to nature as much as possible. The master suite is located on the first floor, leading to a private reach porch for easy access. Family and friends can park two carks inside the covered parking, then use the storage garage for any outdoor equipment.
Check out the Charming 3-Bed Home Plan with Wrap-Around Porch by Architectural Designs here.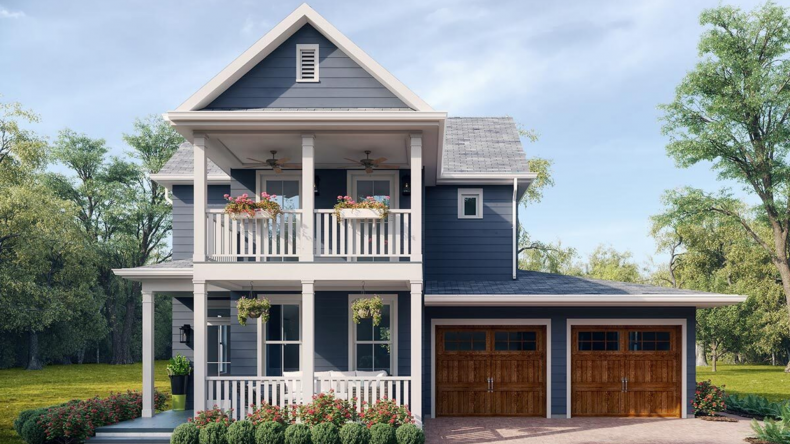 Plan Number: 871004NST
We just love how serene this 4-bed house plan looks, with stacked front porches that are perfect for hanging beautiful flowering plants. This ever-blue beach house has an open concept living space complete with a fireplace on the first floor, perfect for family nights to remember. On the second level, enjoy an airy sun deck and a family room overlooking the beachfront.
Check out the Exclusive 4-Bed House Plan with Stacked Front Porches and Upstairs Family Room by Architectural Designs here.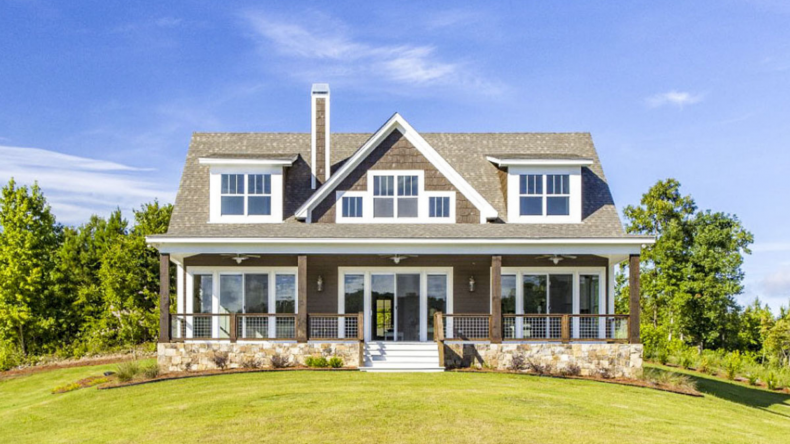 Plan Number: 86340HH
This 5-Bed Country Cottage speaks elegance and simplicity. It's a whole-structure design with an earth-tone exterior, inviting on the outside as it is on the inside. The large black porch at the back is useful for hanging out and enjoying any rearward views. Inside, an open layout combines the family room, kitchen, and breakfast nook. The master level is located on the first floor and includes an oversized shower with an adjoining spacious walk-in closet.
Check out the 5-Bed Country Cottage with 2-Story Family Room by Architectural Designs here.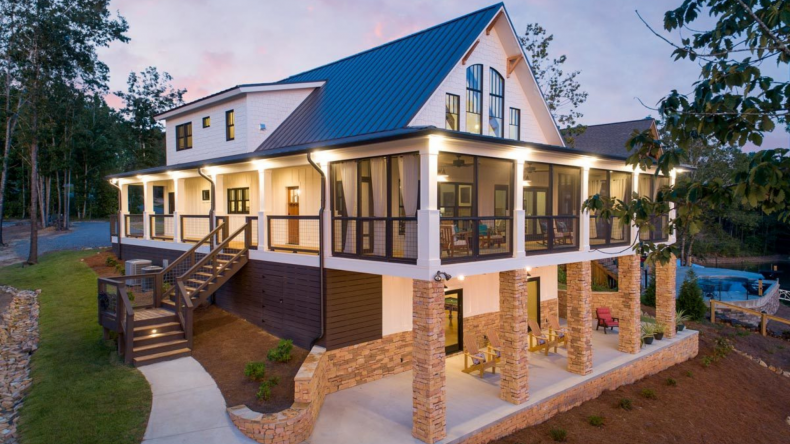 Plan Number: 18302BE
We fell in love with the spacious interior design of this exclusive show-stopping vacation home. The loft looks out across the vaulted living and dining rooms, giving the feel of a wide-open and spacious interior. This beach house is specially designed for lot areas that slope to the back, with living spaces that provide a clear view to that side of the home.
Check out the Exclusive Show-Stopping Vacation Home Plan with 3-Sided Wraparound Porch by Architectural Designs here.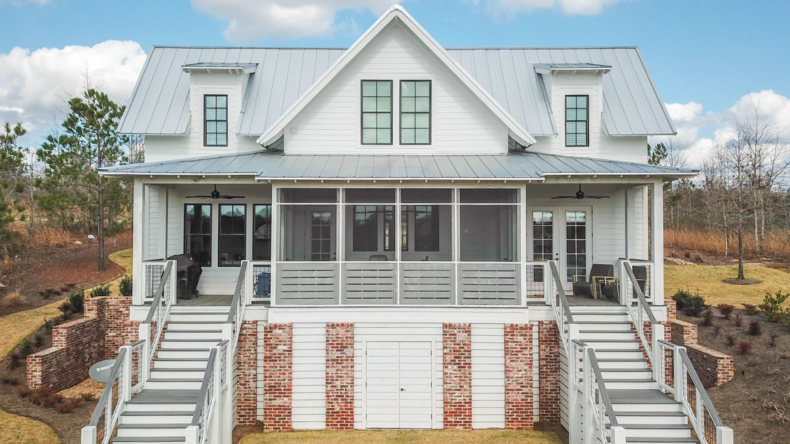 Plan Number: 130006LLS
A pristine, white farmhouse design is hard to beat. This 2-story farmhouse home features two shaded porches as well as a private porch for exclusive access via the master suite. There are two large bedrooms on the second floor, located on the left and right wings, respectively. In the middle is a spacious loft that can be turned into a family room or an open game room.
Check out the Cheerful Farmhouse House Plan by Architectural Designs here.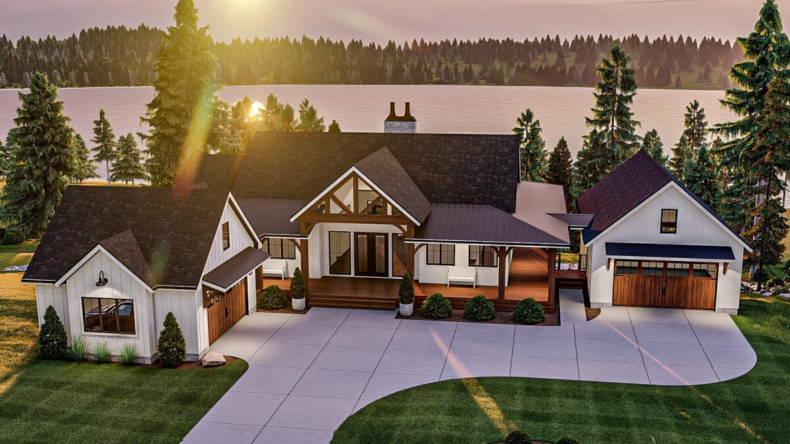 Plan Number: 62327DJ
This Lake House Plan is designed for homeowners who prefer their beach homes grand and spacious. Specially designed for land with lots of outdoor space, this dream home features two 2-car garages connected to the house via a massive, covered deck that wraps all the way around the main house. Inside, the soaring cathedral ceiling welcomes residents back home. There is also a fireplace with built-in bookshelves, adding to the grand aura of the interior design.
Check out the Lake House Plan with Massive Wraparound Covered Deck and Optional Lower Level Lake Bar by Architectural Designs here.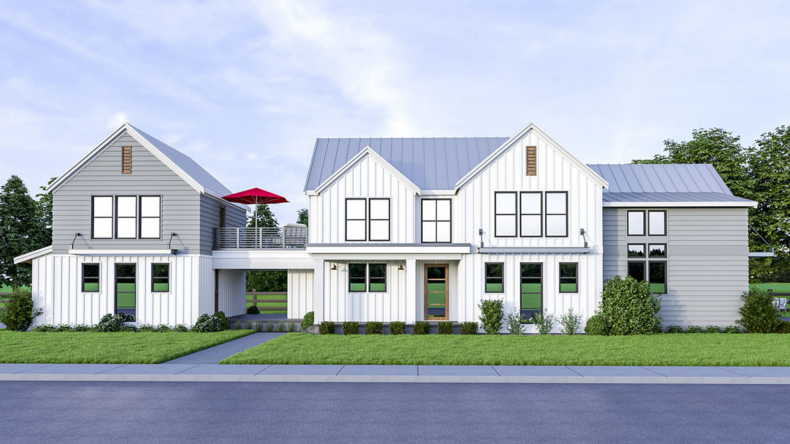 Plan Number: 280066JWD
If you have a spacious lot area that you want to fill in with an equally spacious beach house, then this contemporary farmhouse might just be the right design for you. Covering 1,610 square feet on the first floor and 932 square feet on the second, this dream breach house is specially designed for a horizontal lot type. The separate garage features a second-level apartment that adjoins the main house through an open deck. In the main house, enjoy the warmth of the fireplace surrounded by lots of windows to let in natural sunlight.
Check out the Contemporary Farmhouse with Studio Apartment above Garage by Architectural Designs here.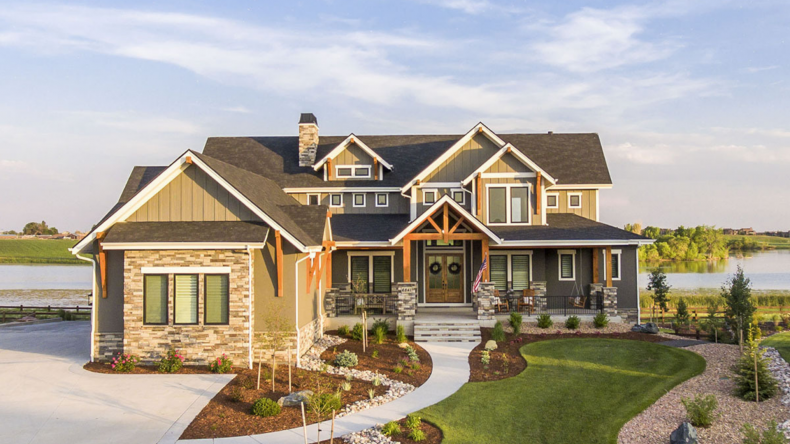 Plan Number: 95100RW
The Craftsman 2-story beach house with a 4-car garage looks perfect with your very own landscaping design. The exterior exudes warm tones with tall, vaulted ceilings. Inside, the spacious kitchen makes cooking a breeze and a pleasure, complete with two islands and an enormous pantry. Meanwhile, the master bedroom located at the first level features a fireplace, access to a covered deck, a freestanding tub, and a spacious walk-in closet.
Check out the Craftsman with 4-Car Garage and 2-Story Family Room and an Upstairs Office by Architectural Designs here.
More Dream Home Designs from Architectural Designs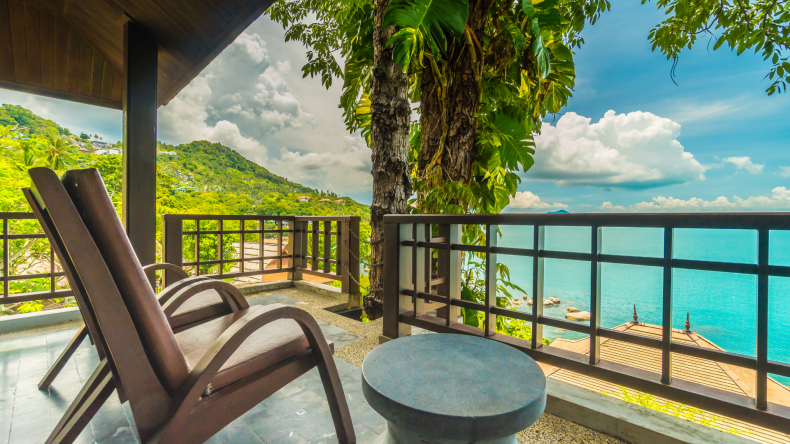 The beautifully designed beach home inspirations above are all from Architectural Designs.
Architectural Designs is a family-owned business with seasoned staff that has helped families create the house plans of their dreams for more than 40 years. They have more available dream house layouts for your perusal, right here.
Each house layout is customizable according to your plans, complete with construction estimates to work with your budget.