Sponsored Article
Finally, an app That Makes Your Pennies and Dimes Work for you
Savings and investments are two tricky topics.
As kids, we were already happy placing our money in a piggy bank. We went to bed happy, knowing that we had money to buy the occasional candy bar or comic book.
But as we grew up, we realized that earning and saving money, more so growing it, can be quite tough, especially during these sordid times. We are sure that there were times when you opened your wallet and asked yourself, where did my money go? It is perfectly understandable that parting with your money can be scary.
What if we told you that we found a mobile application that can transform your pennies and dimes into legit earnings and investments? Cool, right? Think of it as Piggy Bank 3.0, where the loose change you put in is magically upgraded into serious dollars.
The best part is, this is not magic, even if it seems like it. This is real.
Getting To Know Acorns
We came across an application called Acorns- yes, the fruit of an oak tree which, quite fortuitously, are symbols of strength and potential. It initially started as a mobile application but it now has a web-based version as well, perfect for desktop and laptop users.
Acorns implements the concept of micro-savings, a deposit service that allows people to save small amounts of money, even pennies and dimes. After all, these coins do have value, and it is only a matter of time before their value appreciates.
Who is Acorns best suited for? If you happen to fall under any of these categories, then you may wish to consider using the app soon:
People who wish to make savings a normal habit
Individuals without a retirement plan or 401(k) benefits
Passive investors
Investors that want to keep a close eye on their money
To begin using Acorns, all you have to do is create an account and link your respective checking or credit card account. If you are worried about the integrity of your financial details, fear not, as the platform is equipped with bank-level security features like 256-bit encryption and two-factor authentication measures.
The fintech firm understands that everyone has different priorities when it comes to savings and investments, so when you register for an account, you will be asked the following questions:
What are your investment goals
The time you in which wish to achieve these investment goals
How comfortable you are with the risks that naturally come with investing
Acorns offers two alternatives: the Lite plan, which is your basic micro-savings account, and the Personal plan, which is an upgraded version of the former, as it offers you the option to build and manage a retirement fund.
Now, do note that the use of the app does not come for free- unless you are a college student, then you can use the app free for up to four years. For the rest, it comes with a very affordable price tag- $1 per month for the Lite plan and $3 per month for the Personal plan. Not bad at all.
What the Acorns app does is it rounds up your purchase to the nearest dollar, and uses the difference to make smart investments on your behalf. For example, you pull in to a gas station for $17.65 worth of gas, which you pay using your credit card. Instead of $17.65, your credit card bill will reflect a purchase of $18, with Acorns investing the 35 cents for you.
What's good about this is that it makes savings almost effortless. By pooling together so-called chump change regularly, sooner or later, it will grow into a dollar or two then so on. Acorns also give you the option to increase your round-ups to an amount that you will be comfortable with. Instead of 35 cents, you can choose to round up your gas purchase above to $20, so you automatically boost your savings by $2.35.
Making Your Round-Ups Work For You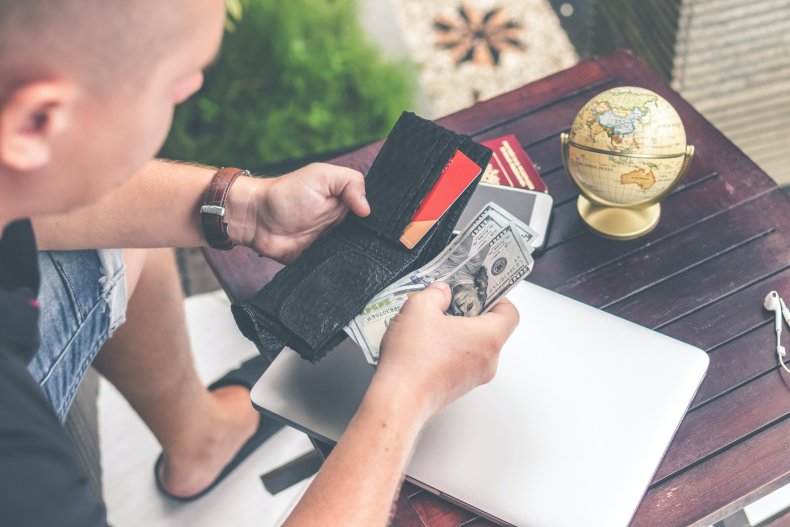 Now, let's say your round-up balance has reached $5- what happens then? Acorns withdraws the said amount from your connected accounts and invests it in exchange-traded funds. The app focuses on building a diversified portfolio by investing your money in over 7000 stocks, which considerably fortifies your investments against market volatility.
Remember that Acorns asks you regarding your comfort level with risk earlier on? This is because it will offer you five investment options for your money, ranging from conservative, which translates to investments in cash and bonds, to aggressive, which is more equity-driven. So before you make your selection, ask yourself- are you happy with receiving minimal returns for as long as your money is safe or do you dare to take a gamble for bigger returns?
On top of the investment component, Acorns also has a Found Money feature, which rewards you with extra amounts every time you use an Acorns-connected debit or credit card at a partner retailer. These rewards range from 1% of your total purchase to as much as $100 when you avail of a particular service. How cool is it that you get to save even when you spend!
The app takes a very slight pinch of your money that it is out of sight and mind, and grows it for you as you go about your day.
If you have $5 and want to finally get your savings game on, sign up for an Acorns account, and watch those pennies and dimes grow.