Sponsored Article
The First 3D Luminous Colored Wooden World Map, Now on Kickstarter
Enjoy the Wood's Newest Design Is Its Best Yet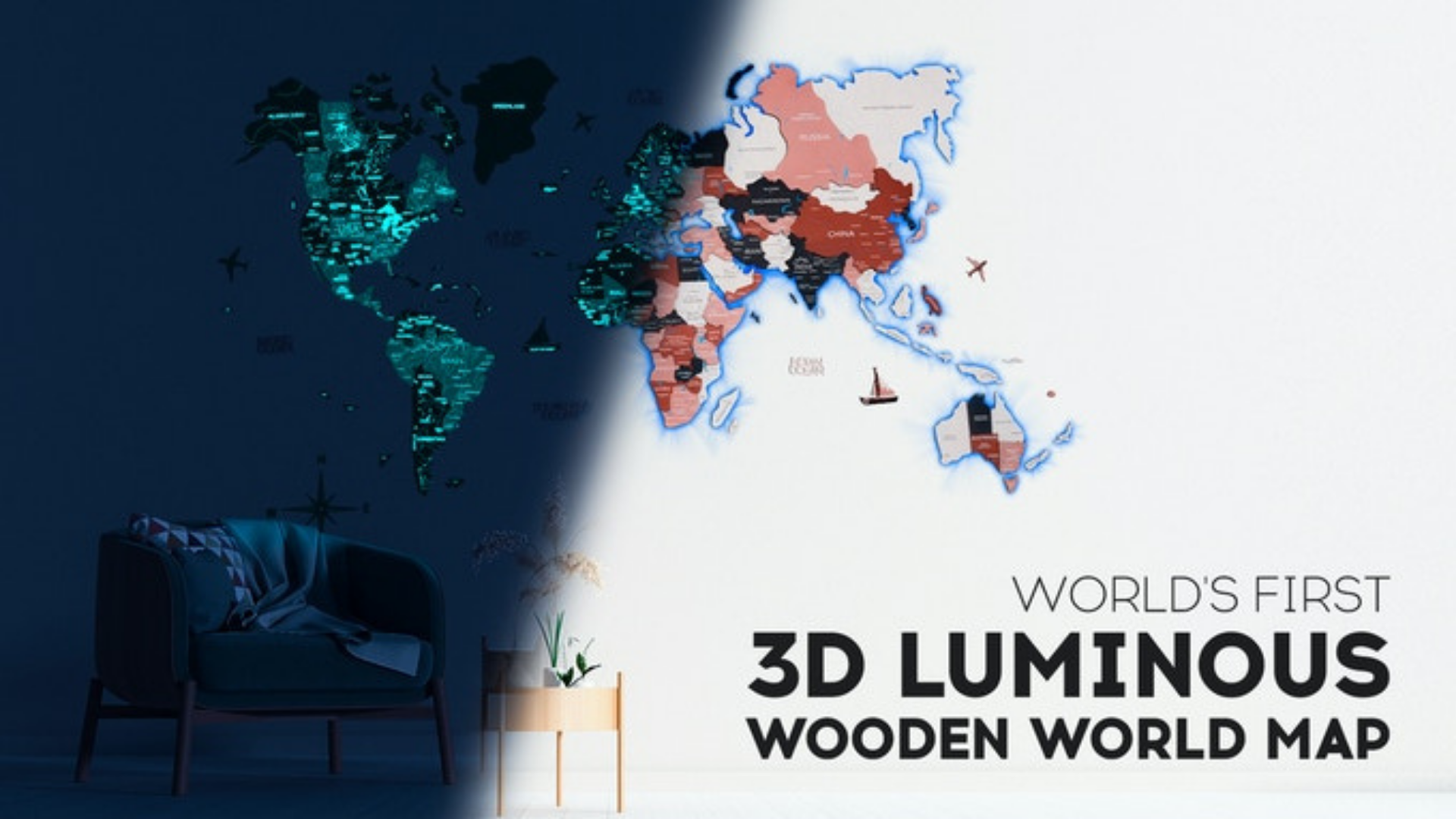 If you're a traveler, a global citizen, and an adventure lover, there's finally a world map that is worthy of representing your priceless memories from around the world. This exquisite modern world map for your home is now on Kickstarter and is available for preorder.
Enjoy The Wood, a family business that started seven years ago produces top-quality wooden world maps for homes to be designed with new and exciting decor. In 2019, the brand's wooden world map project raised over $500,000, which allowed the family to expand Enjoy The Wood's product range to dozens of different products. Their newest is the best yet. It's the world's first 3D luminous wooden world map, and you have an opportunity to support it via preordering or prepaying for an early bird price.
Check out some of the new map's coolest features below or head over to Enjoy the Wood's Kickstarter page to preorder your very own 3D luminous wooden world map.
Cool Features of the First 3D Luminous Colored Wooden World Map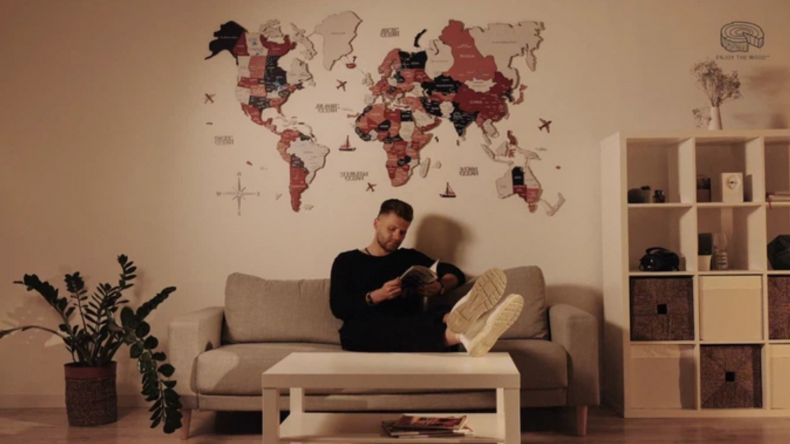 17 New Colors to Match Your Interior Design
The decor pieces worth investing in are those that are versatile and could last for years. The new 3D luminous colored wooden world map is made with strong materials and can fit just about any color palette. It has 17 new colors, including aqua, rustic, Scandinavian, and natural. It could complement the look and feel of any room.
Smart Controls With Enjoy The Wood's Mobile App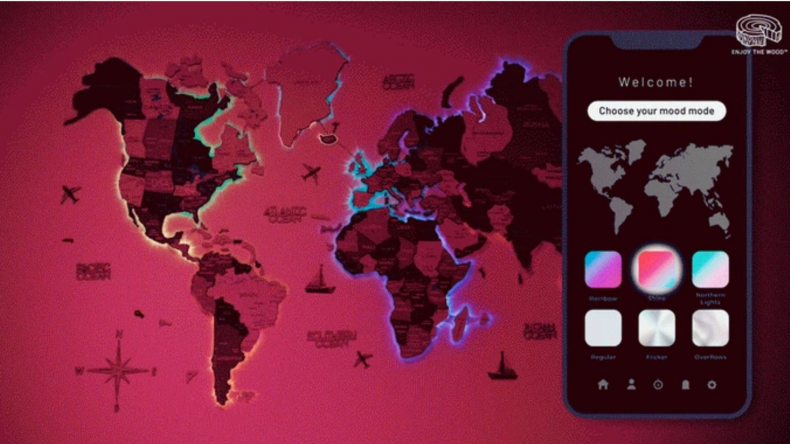 Change your world map's LED backlight colors effortlessly with Enjoy The Wood's mobile app. Choose from seven light modes and a few funky twinkle modes, or leave the backlights off to enjoy the map bare and beautiful. The backlights can be installed in under 2 hours with an instructional video to help you along the way.
Glow in the Dark
The darker the room is, the brighter the world map shines. Its luminescence could be a much-loved feature to engage all ages. It could spark a conversation among families and guests and add that extra bit of wonder and ambiance to any night.
Magnetic, Eco-Friendly Materials
Display photos of unforgettable trips on the new world map. Its eco-friendly materials, which include certified sustainable birch plywood, can hold magnets to exhibit your priceless mementos. Aside from being a memory board, the map could also serve as a travel planner to keep your wanderlust well and truly alive.
Easy Installation
In the box, you'll find everything you need to install the 3D Luminous Colored Wooden Map. No drilling or holes are required. This could be a special activity you might do with your kids, a loved one, or the whole family.
Available in Several Sizes and Types
Enjoy the Wood's 3D Luminous Colored Wooden Puzzle is for everyone. Decide which size map fits best in your room, whether it's the library, home office, living room, or your own bedroom. The smallest size is 100 centimeters by 60 centimeters, ideal for a kids' room or your own. The biggest size is 300 centimeters by 175 centimeters, best for showcasing your travel photos or complementing a home office's interior design.
Packaged, Ready to Gift
Enjoy the Wood makes the new map gift ready. All materials are packaged neatly in a box that is easy to gift wrap or give as is. In the box, you'll find map pieces including ocean names, wooden planes, boats, a compass, double-sided sticky tape, corner stencils, instructions, and a lifetime warranty. Depending on the size map you choose, you could gift the 3D Luminous Colored Wooden Puzzle for a child adventurer's birthday or a newly married couple who is fond of traveling.
Add on Keepsake Magnets, Sightseeing Pins, and Special Event Marks
For a small fee, Enjoy the Wood also offers either magnetic or stick-on add-ons. Choose from a variety of sightseeing pins, flag pins, special events marks, and more. Use these to display adventure photos or travel plans on the new map.
Preorder the first-ever 3D Luminous Colored Wooden World Map on Kickstarter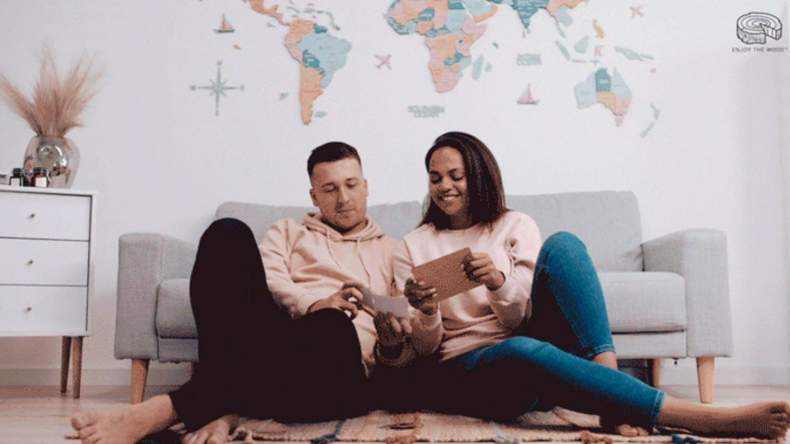 At the time of publishing, Enjoy the Wood's newest product line has over 1,800 backers with $416,500 pledged to support this project. Supporters and customers who pledge anywhere from $69 and above get a 3D Colored Map either in medium, large, or extra-large. This new map also ships worldwide. Decorate your home with an exquisite, backlit world map or gift it to a loved one.
There are only two weeks to go before Enjoy The Wood's 3D Luminous Colored Wooden World Map ends its Kickstarter campaign. Support a one-of-a-kind creative project and get your very own world map at a discounted price.
Visit Enjoy the Wood's Kickstarter here.