Sponsored Article
Gameday Tour: The Story of Vintage Brand's Hustle
Connecting With Sports Fans Over Koozies at Tailgates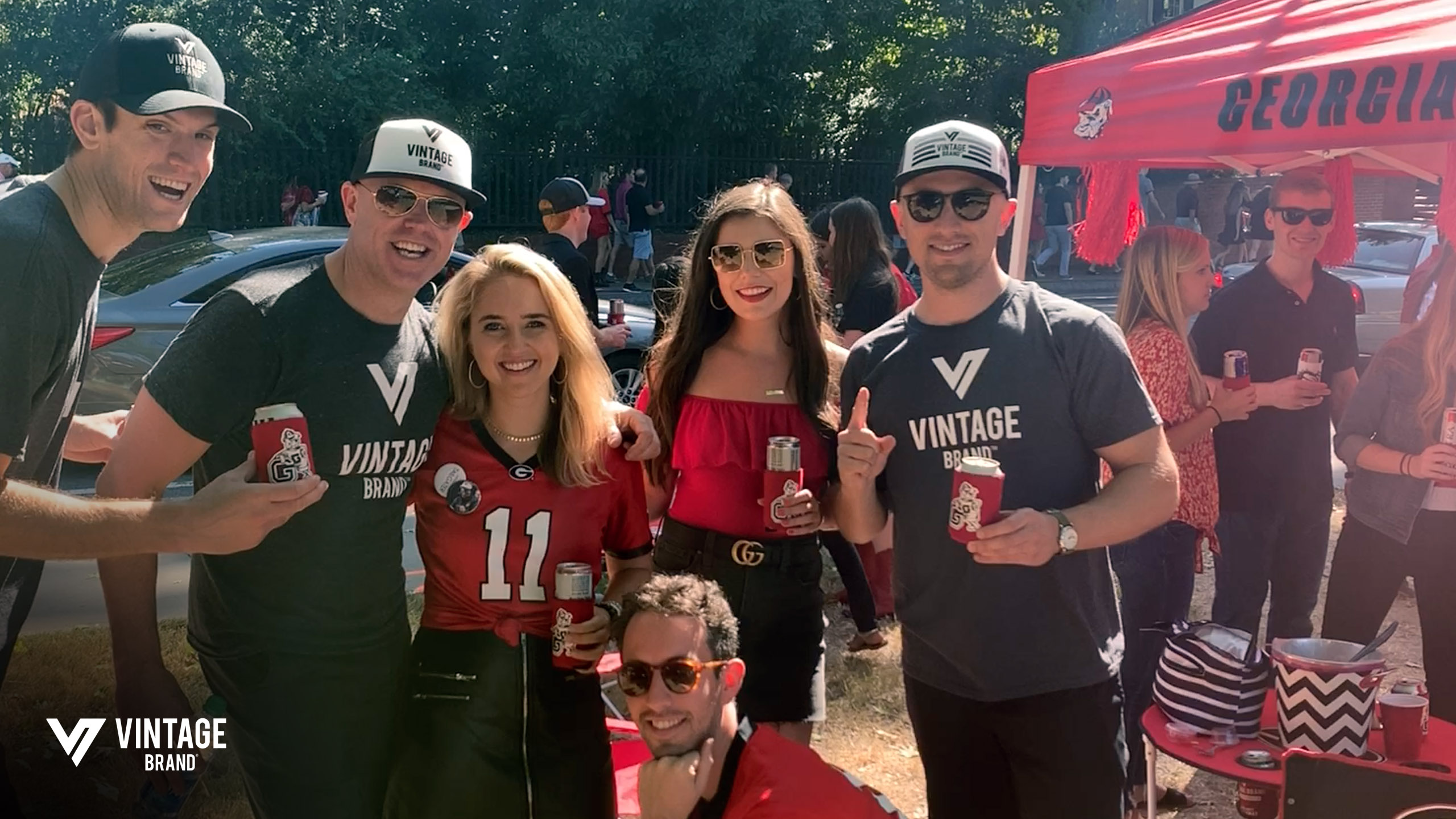 Erik Hartvigson is a self-confessed lifelong sports fan, having played football, basketball and baseball for as long as he can remember. "I grew up outside of Seattle, Washington, and was always a fan of the Washington Huskies," he told Newsweek. His favorite sporting events growing up were college football games. It helped later on that his younger brother Michael played tight end for the Huskies from 2010 to 2014. Having attended many of those games, Hartvigson said that they are some of his most cherished sports memories.
Now 31, Hartvigson is the digital marketing manager of Vintage Brand, a sportswear apparel brand that takes pride in having the world's largest selection of fan apparel featuring retro designs of college and professional sports teams and leagues. Any sports fan can relate to having specific moments or games in their fandom permanently etched in their memories. One look at an iconic photo, logo or quote can immediately bring a sports fan back to a simpler and happier time. Vintage Brand wants to reconnect fans to those moments through their unique collection, which features classic designs that aren't readily available anywhere else.
Hi, We're Vintage Brand—Here, Have a Koozie!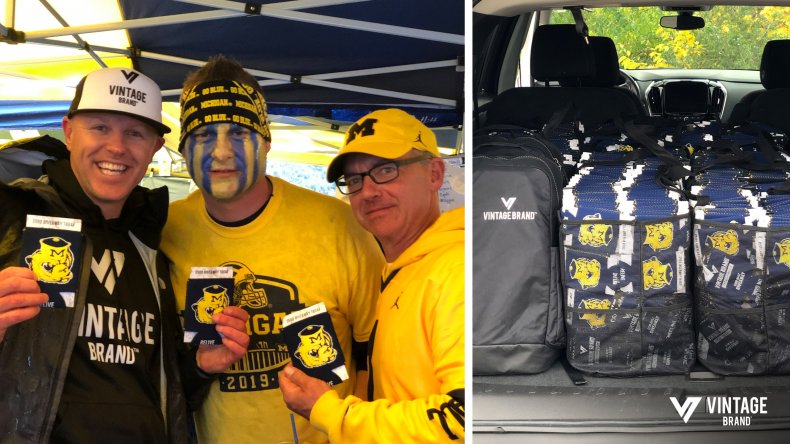 When Vintage Brand launched in 2018, one of the ways it got its name out there was through a grassroots effort called the Gameday Tour. It involved representatives from Vintage Brand going on the road during college football seasons in the fall and attending tailgating events outside football stadiums, passing out koozies with the company's logo. "In some parts of the U.S., when a person leaves their house, they make sure they have their wallet, keys, phone and koozie!" exclaimed Hartvigson. "You never know when someone will offer you a cold beverage."
Why a koozie of all things? Being a sports diehard himself, Hartvigson explained that most people at tailgates are likely drinking beer, and everyone wants to keep their beer cold. "A free koozie is a great icebreaker when getting to know strangers," he remarked. He added that koozies also tend to last longer than most items. "I hope they'll be used for years to come," he said, "which means each time it's used, someone will see the Vintage Brand logo and our retro imagery." Another reason why he chose to distribute koozies is that they're easy to hand out in large numbers and to store because of their small size.
Hartvigson remembered that the people at the tailgates would be skeptical when first approached. But upon seeing the koozie, their faces would light up at what he could only describe as "pure joy." "Fans loved the koozies everywhere we went, but they're especially beloved in Georgia, Michigan and Alabama," he added. "It was common for fans to invite us to play tailgate games and offer food and beverages!"
The Vintage Brand team brought the Gameday Tour to a few memorable college games, including the matchup between the Ohio State Buckeyes and the Penn State Nittany Lions on September 29, 2018, and the World's Largest Cocktail Party (University of Florida Gators vs. University of Georgia Bulldogs) on October 27, 2018. By the second Gameday Tour, Hartvigson and his team were at the iconic 2019 game between the Louisiana State University Tigers and the University of Alabama Crimson Tide—which many consider a spiritual sequel to 2011's "Game of the Century."
Despite being a new initiative, the Gameday Tour got to cover a lot of ground. Through the 2018 and 2019 seasons and two Gameday Tours, the Vintage Brand team passed out 68,000 koozies and traveled over 76,000 miles. This was ultimately more than a road trip to raise brand awareness. For a sports fan like Hartvigson, it was all about making those genuine connections with fellow fans like himself.
Sports fans know that just being at the same game or cheering for the same team can spark a lifelong friendship. The folks at Vintage Brand tried to capture some of that magic through its koozies and made some new friends along the way. "On many occasions, we passed out koozies to people who still had the koozie they received from us the previous year!" Hartvigson reminisced.
But the reaction that struck him most was that of nostalgia from alumni who loved seeing logos that they hadn't glimpsed in decades. "It's obvious that many fans miss logos that have been lost to history, but bring back good memories,"Hartvigson reflected.
The Struggle Behind the Hustle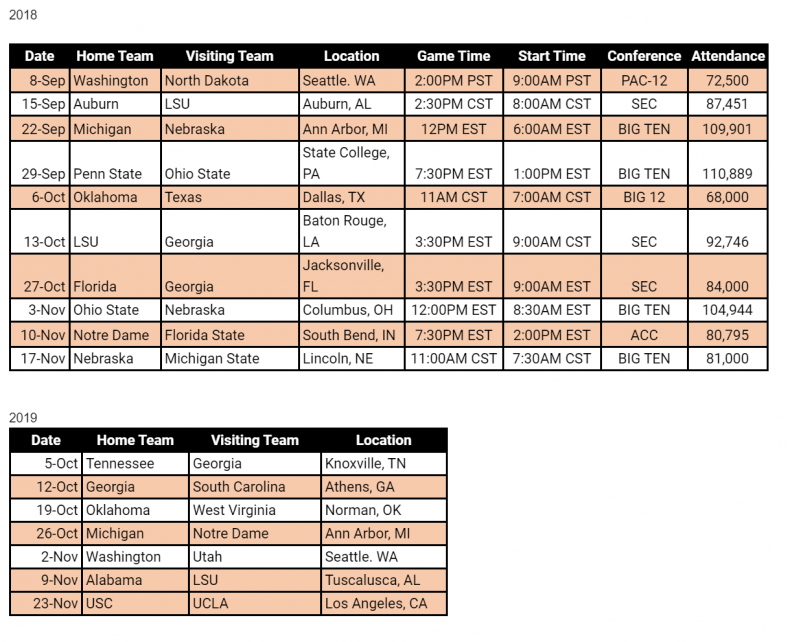 While going through how the Gameday Tours were put together, Hartvigson shared that the most challenging part was the logistics. Most of the games they attended were located in small college towns, which he said weren't easy to get to and didn't have many options for lodging either. "A town of 25,000 people sometimes brings in 200,000 fans for a football weekend," he shared. "There were many nights where we slept in uncomfortable places at hotels or hostels that weren't ideal!"
Through 2018 and 2019, Hartvigson and his team were on the road for six weeks at a time, traveling across the country. "The longest travel day we experienced was going to Penn State," he recalled. "We took a red-eye flight from Seattle to Pittsburgh, then drove four hours from Pittsburgh to State College, Pennsylvania!"
By February 2020, Vintage Brand was gearing up for its third annual Gameday Tour. But as the COVID-19 pandemic took over the world a month later, Hartvigson and his team quickly realized that sporting events with large crowds weren't going to take place later in the year. Now that vaccination numbers are on the rise, Vintage Brand is looking to get back on the road and go back to making some new friends at college football games. How? By handing out its signature koozies, of course.
Relive Your Favorite Sports Moments With Vintage Brand
You don't have to wait for football season to rock a Vintage Brand shirt and show off its signature retro designs. You don't even have to wait for your birthday or a special occasion to get a Vintage Brand hat. Being a sports superfan should be enough of a reason to treat yourself to some Vintage Brand merchandise—whether it's in the form of a mug, coaster, or even a framed poster. Just click here to get started.
Vintage Brand is currently offering 40 percent off for all new email newsletter signups, which lets you be the first to know about upcoming sales and new product launches. Its newsletter also gives you access to the rich history behind many of the items on Vintage Brand. You can also get 30 percent off all of their items sitewide by using the promo code JULY30 upon checkout.