Sponsored Article
Get a Customized Couples Tumbler for Valentines Under $30 — Here's How
Tervis allows you to fully customize your tumbler with designs and engraving — all for under $30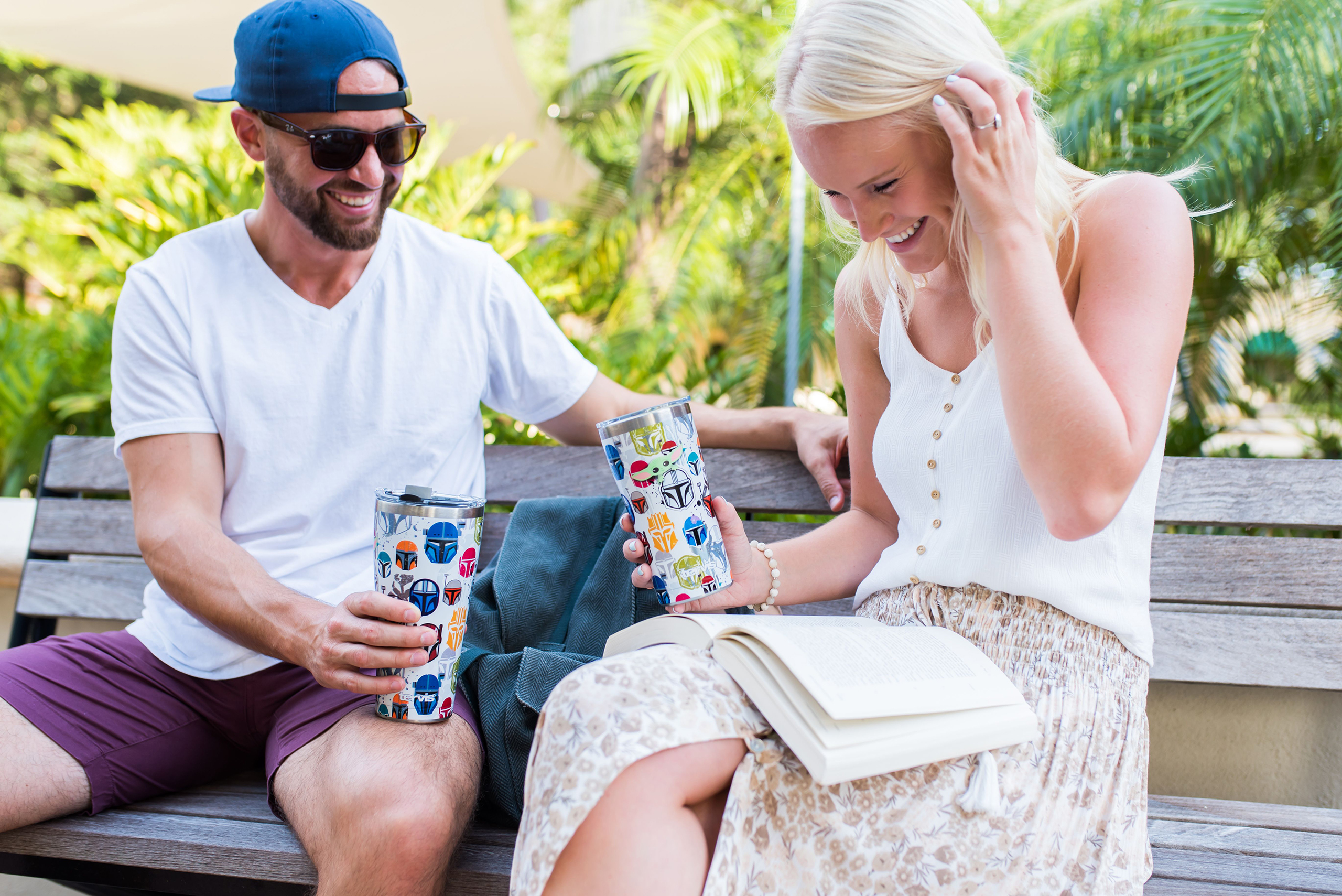 Valentine's Day, a.k.a. the official holiday for couples, is just around the corner. Like Christmas, this is a season of gift-giving — the perfect time to shower your significant other with love and presents. But, this year, why not forego the fancy gifts and instead turn to something simpler but personal? After all, the best presents are not always the most expensive. Often, the simplest gifts turn out to be the most heartfelt ones.
For something truly personal and unique, you can get a customizable tumbler from this brand — Tervis. The "Customyzer" feature on their website allows you to choose the bottle type and size you prefer, create your own design, have it engraved, or even insert a physical photo, note, or small memorabilia within the tumbler's display. They've made the process of customizing very easy, too, and not to mention, fun. As the gift-giver, you'll find some charm in the process of creating something you know your partner will love. You'll enjoy designing the print, looking for pictures, and going through your box of keepsakes to place inside the tumbler. And to top it all off, you can customize a tumbler for under $30.
There are three creative ways you can customize your Valentine's tumbler at Tervis. Here's how:
Design Your Own Tumbler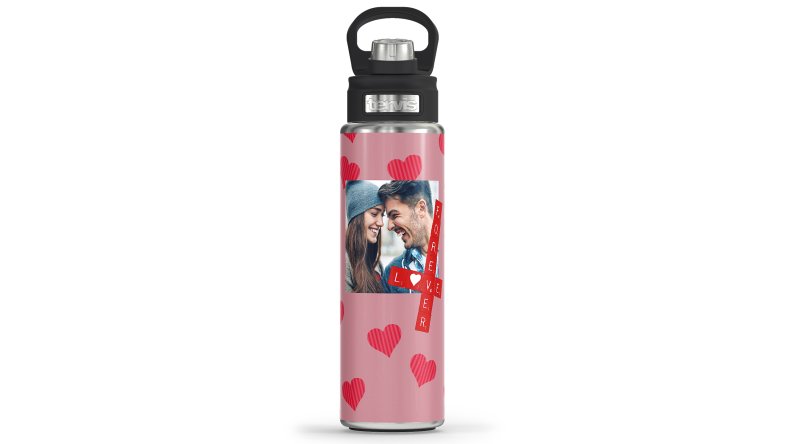 The first option lets you design your own tumbler print and even personalize it with text, a picture, and some stamps. Here's how it works.
1. Choose your tumbler
The first step in customizing your couple's tumbler for Valentine's is choosing the bottle. Which style and size do you think your better half would prefer? You can choose among their Classic Insulated Tumblers like the 10oz Wavy Tumbler, 16 or 24oz Tumbler, Water Bottle, and Mug. If you prefer stainless, you can opt for one of these Stainless Steel Bottles: the 20 or 30oz Stainless Steel Bottle, Stainless Waterbottle, 17oz Stainless Slim Bottle, or a 24, 32, or 40oz Stainless Wide Mouth Bottle.
The Insulated Tumblers are classic Tervis — it's the design that made Tervis a household name in Florida, where it was established in 1946. This original design features a double-walled insulated line that keeps your cold drinks cold and your hot drinks hot. It's BPA chemical-free, eco-friendly, and dishwasher and microwave safe. Tervis Classic Insulated Tumblers also come with a Lifetime Guarantee.
Their line of Stainless Steel Bottles, on the other hand, can maintain the hot or cold temperature of your drinks much longer with their triple insulation and copper-lining. They also feature double-wall vacuum insulation and 18/8 grade steel. They come with a limited five-year warranty and, like the Classic Insulated Tumblers, are eco-friendly and BPA-free.
2. Get creative and start designing
Got the tumbler you think your S.O. will love? Great. After you confirm the tumbler on Tervis' website, you will be led to a workspace where you can personalize the bottle you chose. There, you'll get to pick from a whole gallery of backgrounds — collections include family and pets, patterns and florals, outdoors, special occasions, and many more. There are even cool backgrounds from brands like Disney, DC Comics, Sesame Street, and Peanuts.
After setting a background that will serve as the tumbler's skin, you can also choose a template that will dictate how your image and text will appear on the bottle. From there, you can upload an image from your device — perhaps a photo of you together from your favorite vacation, your first date, or a special occasion. Take note that the image should be in a PNG or JPG file type and is at least 480x480 pixels in size. If you need help with the picture you want uploaded, Tervis is also able to provide assistance. Just send your image to them via email to get help.
Aside from adding a photo, you can also place a text on your bottle. You can even select the font, font size, and color from the editing workspace. Through this option, you can have your partner's name appear on their bottle, or perhaps a personal phrase that's significant between the two of you. Lastly, you can further customize your gift with stamps. Like with the background image, a whole gallery of stamp options is available for you to choose from. On the right side of the design workspace will be a 3D preview of your tumbler that updates whenever you make changes — a great feature that gives you a peek of how the finished product will look.
3. Submit your design and wait for confirmation
Once you've chosen your bottle and personalized your design, image, text, and stamps, your tumbler is good to go. Confirm your customized bottle and head to checkout. After that, all you have to do is wait for Tervis to review and approve your design. Once approved, it's off to printing. And you don't have to wait long to get it. According to Tervis, it takes about six to eight days to have your custom design approved, printed on your bottle, and then shipped.
Ready? Start designing a Valentine's tumbler here.
Customized Insertions
Another unique way to personalize your present is to opt for a customized insertion. This feature, called Customyze by Mail, allows you to insert a photo, note, or any small keepsake or emblem into the tumbler. Imagine having something so personal preserved within the display of your water bottle — it's a gesture that your loved one will surely appreciate. Customized Insertions cost only an extra $5 on top of your custom bottle's price.
Here's how it works:
1. Decide what items you want inserted into your custom tumbler
What special item do you want to be inserted into the bottle? You can choose a nice photo of you two, a piece of note or letter, or a tiny keepsake that's significant between both of you. The item or items will be inserted into the tumbler, so be mindful of the maximum size and thickness required. The item should not be thicker than .02cm (or 1/16 of an inch) — that's about as thick as a nickel.
2. Download and fill out an order form
Once you've decided on your item, head to the Custom Insertions page on Tervis' website, download their order form, print it, and fill it up. You'll need this to complete your tumbler order.
3. Mail your item and order form to Tervis
After accomplishing the order form, get ready to send them to Tervis so they can start making your customized Valentine's tumbler. You can mail both the order form and your item for insertion to the address indicated in their Customyze by Mail web page.
Expect to wait around 10 to 15 days after Tervis confirms your order for your customized tumbler to arrive.
Get your Tervis tumbler with customized insertions here.
Personalize and Engrave
The last customization option is to have the tumbler engraved. This is a good choice if you know your significant other prefers minimalist designs. You get to decide the font size and text, which could be your partner's name, initials, or — for a unique, personal touch — even a short message or significant phrase familiar to you both.
Besides the text, depending on which tumbler you pick, you can also choose the bottle size and lid style. This Personalize and Engrave option is available for only an additional $5 on top of the tumbler.
No matter what customization option you choose, Tervis offers a delivery option that sends your gift straight to that lucky person in your life. To do that, make sure to select "Yes" under Gift Options during the checkout of your customized tumbler. You can even have Tervis include a short message to go along with your gift, and also have them wrap it in a colorful gift box at a minimal added cost of $5.
Oder a Tervis tumbler and have it personalized and engraved here.
Bonus: Shop These Crowd-Favorite Branded Tumblers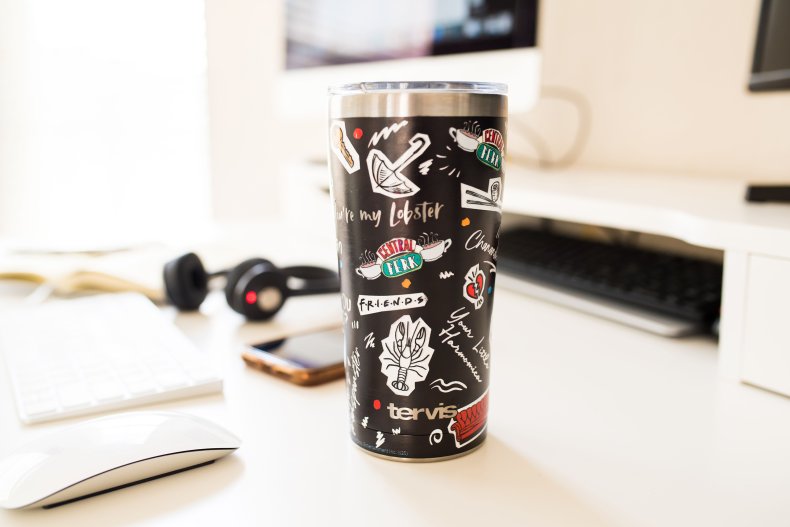 If you feel like designing your own tumbler is not really your thing (or your partners'), here's the next best thing — branded tumblers. Tervis features collections of beautifully-designed tumblers made for fans of hit shows and franchises like Game of Thrones, Star Wars and Mandalorian, Disney, FRIENDS, Harry Potter, Marvel, and many more.
Get your special someone an equally special branded tumbler from Tervis' Fan Shop here.
Finding a gift for your loved one shouldn't be challenging, nor should it be expensive. At the end of the day, nothing offers more warmth than thoughtful and personalized presents. This Valentine's, you can give your special someone exactly that — something personal and thoughtful — with these customized tumblers from Tervis.