Sponsored Article
Get Your Hair Ready For Summer With These Vegan Supplements
Get Your Hair Ready For Summer With These Vegan Supplements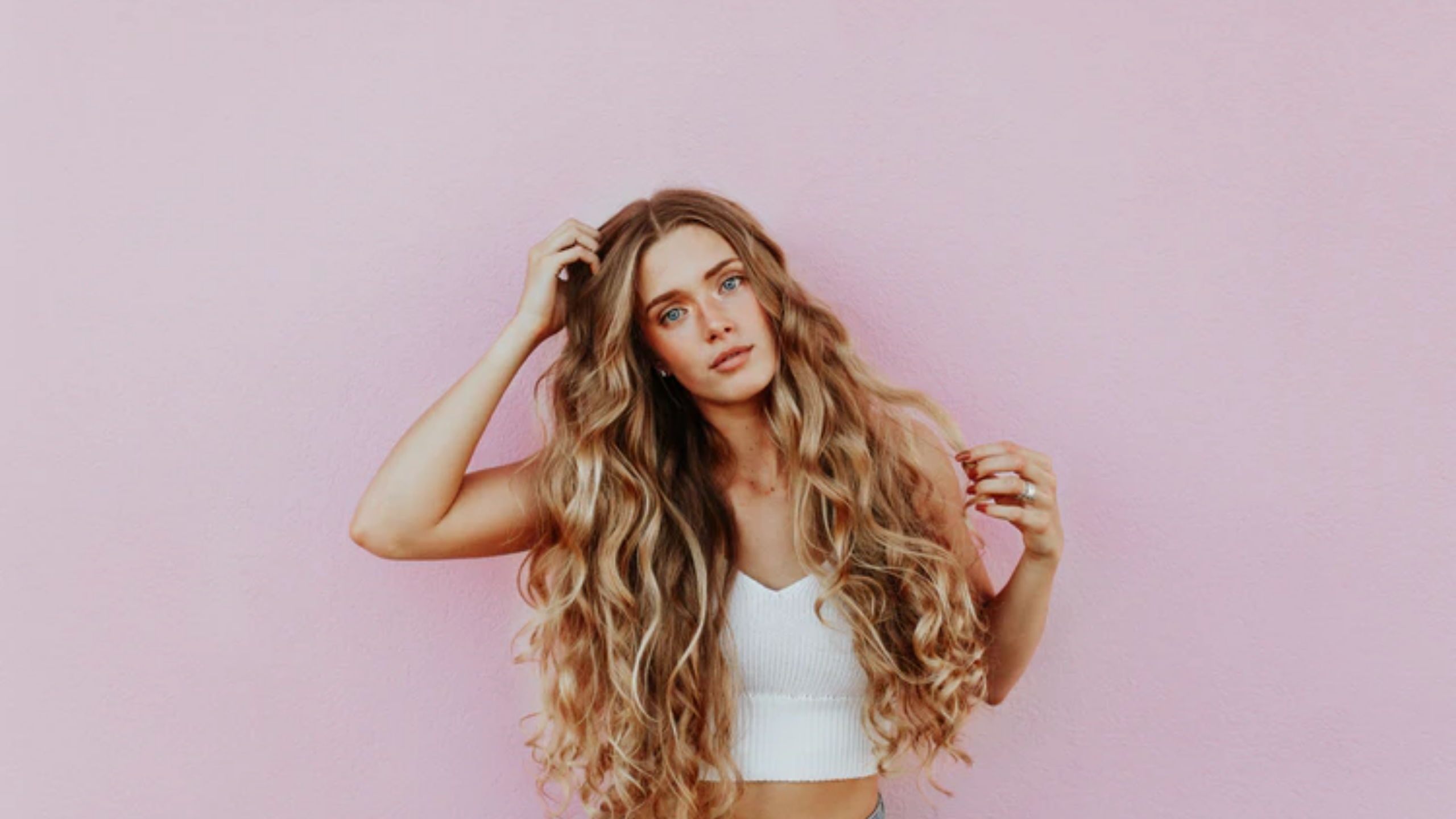 It's important to consult your doctors with any medical concerns, and before making any changes or adding supplements to your health plan.
Now that we're enjoying warmer weather, you could already be trying on those breezy dresses and planning the gorgeous hairstyles to go with them. But first, check your hair: is it ready for the ponytails and soft curls we typically associate with this time of the year? Or does it appear ragged and thin?
As the days get hotter, hair tends to look dry and damaged due to the effects of harsh weather changes on your skin and scalp. In this state, it's also prone to breakage, which makes it challenging to style or grow to the desired length.
If you're looking forward to trying out new hairstyles as the days get longer, you'd probably want your hair to be at its healthiest and shiniest.
How To Keep Your Hair Healthy
Several factors could cause hair issues like hair loss and thinning. Aside from the weather, your age, genetics, diet, and daily styling practices could all play a role in it, too.
The American Academy of Dermatology Association (AAD) recommends the following tips to manage hair conditions and keep your hair healthy:
Consult a professional. A board-certified dermatologist can check and diagnose if you have a condition affecting your hair's growth.
Be gentle on your hair. Overstyling your hair and overusing heating tools could harm your scalp and make your hair fall out faster.
Eat a proper diet. Make sure you're getting enough vitamins and minerals. Having a vitamin imbalance or deficiency might result in hair issues.
Aside from these remedies, you could also consider taking supplements to ensure you're getting all the nutrients you need for long, thick locks.
What Vitamins Might Help Keep Your Hair Healthy?
Which nutrients does your hair really need? Below is a list of vitamins that might help keep your hair healthy, especially as we head towards summertime.
Vitamin A Palmitate
Vitamin A palmitate is a preformed version of Vitamin A that your body is able to absorb easily. It acts as a natural storage form of vitamin A for both humans and animals.
Natural sources of vitamin A palmitate include liver, fish, and milk. Vitamin A itself is necessary for cell growth, and that includes your hair because your hair is the fastest growing tissue in your body. The right amount of vitamin A could help your skin and scalp by promoting oxygen circulation in the blood, which helps feed the cells on your scalp the nutrients your hair needs to grow longer and stronger. Vitamin A's antioxidant properties could also help prevent hair loss or excessive shedding. On top of that, vitamin A may also help your body produce the natural oil that prevents your scalp from turning dry, flaky, and itchy.
Vitamin C
Vitamin C contains components that could promote hair growth. It also helps support the regeneration of Vitamin E, another important nutrient for maintaining healthy, shiny hair.
Vitamin E
Vitamin E is a powerful antioxidant that helps repair our body's damaged cells and could keep our skin and scalp healthy. One study found that a form of Vitamin E also helped increase hair growth among a small group of patients.
Vitamin B-6
Poultry, fish, and organ meats are all good sources of Vitamin B-6. Our body needs this B-vitamin to keep our nervous and immune systems healthy. It might help with hair regrowth, too, with research suggesting that Vitamin B-6 could help reduce hair loss.
Folic Acid (Vitamin B-9)
Folic Acid is a synthetic form of folate, a nutrient occurring naturally in foods like beans, citrus fruits, and leafy vegetables. While existing studies have not yet established a strong link between taking folic acid and healthy hair, it's an essential vitamin for maintaining your overall wellness. On top of that, a small study found that folic acid deficiency could be a factor in the premature greying of hair.
Vitamin B-12
Our body needs Vitamin B-12 to produce red blood cells, repair DNA, and perform other functions. That means it could play a vital role in keeping your whole body, including your scalp and hair, healthy.
Biotin
Biotin deficiency might lead to thinning hair, skin rashes, and brittle nails, which is why it's a popular ingredient in hair growth supplements. While there's not enough research to conclude that biotin could help with all types of hair loss, available studies show that taking a biotin supplement might help induce hair growth.
Vitamin B-5 (Pantothenic Acid)
Pantothenic Acid belongs to the B-complex group, a set of vitamins crucial for healthy hair, skin, eyes, and liver. A study found that taking a supplement containing Vitamin B-5 might help prevent hair loss.
Coconut Oil
Coconut oil is a popular hair and skin moisturizer that could help maintain the shiny, manageable appearance of hair. This study from 2015 found that hair strands are more likely to absorb coconut oil than other oils, which seemed to help prevent breakage. Meanwhile, this study from 2004 found that coconut oil seemed to promote skin hydration.
A Vegan, Vitamin-Packed Supplement for Your Hair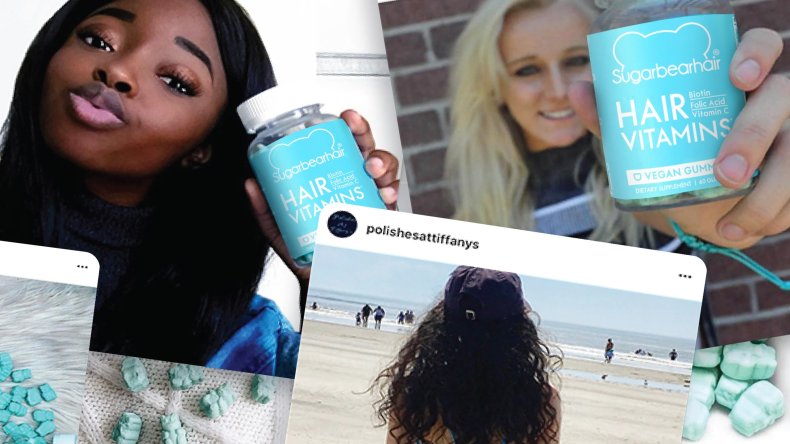 All the nutrients mentioned above are included in SugarBear Hair vitamins, a supplement that could help your hair stay healthy as the seasons change. These gummies are 100 percent vegan—they contain no gelatin and are flavored with natural berry juices. Each serving comes in bear-shaped gummies made from pectin, a substance derived from fruit. This product is also certified cruelty-free and manufactured in the U.S.
You could take two SugarBear Hair gummies a day to get all the nutrients that might help you have healthier hair. Results might be seen within three months, though SugarBear Hair recommends taking the supplement up to six months for ideal results.
What Did Actual Customers Say About SugarBear Hair?
A customer named Naomi P. gave SugarBear Hair vitamins a five-star review for transforming her thin, fine, and damaged hair. After trying the supplement, she was surprised to see how her hair grew more than it has in the past few years. She wrote, "I've been trying to find a way to get my hair to feel healthy again and even grow a little, and these vitamins actually worked!"
Another customer, Precious U., swears by SugarBear Hair vitamins for its results. "Since I've started these vitamins, my hair has been healthy and growing," she said. She adds that the supplement tastes good and that she hasn't worried about acne or breakouts, which she explains she tends to get concerned about with other vitamins.
Meanwhile, user Felecia B. raved about the rapid hair growth she experienced within 30 days of using SugarBear Hair vitamins. She adds that the supplements are "worth every dime."
You can look through more reviews of SugarBear Hair vitamins here.
One bottle contains 60 SugarBear Hair gummies. You can order one bottle for $29.99 or check out a set good for three months ($79.99) or six months ($159.99). Free gifts and even bigger discounts are available when you purchase three bottles or more. Shipping is also available worldwide.