Sponsored Article
Giddy Changes the Sex Health Sector With ED Treatment "Eddie" and "ED Guide" Video Series
Giddy is a sexual health and wellness company disrupting the current state of erectile dysfunction treatments and the conversation around it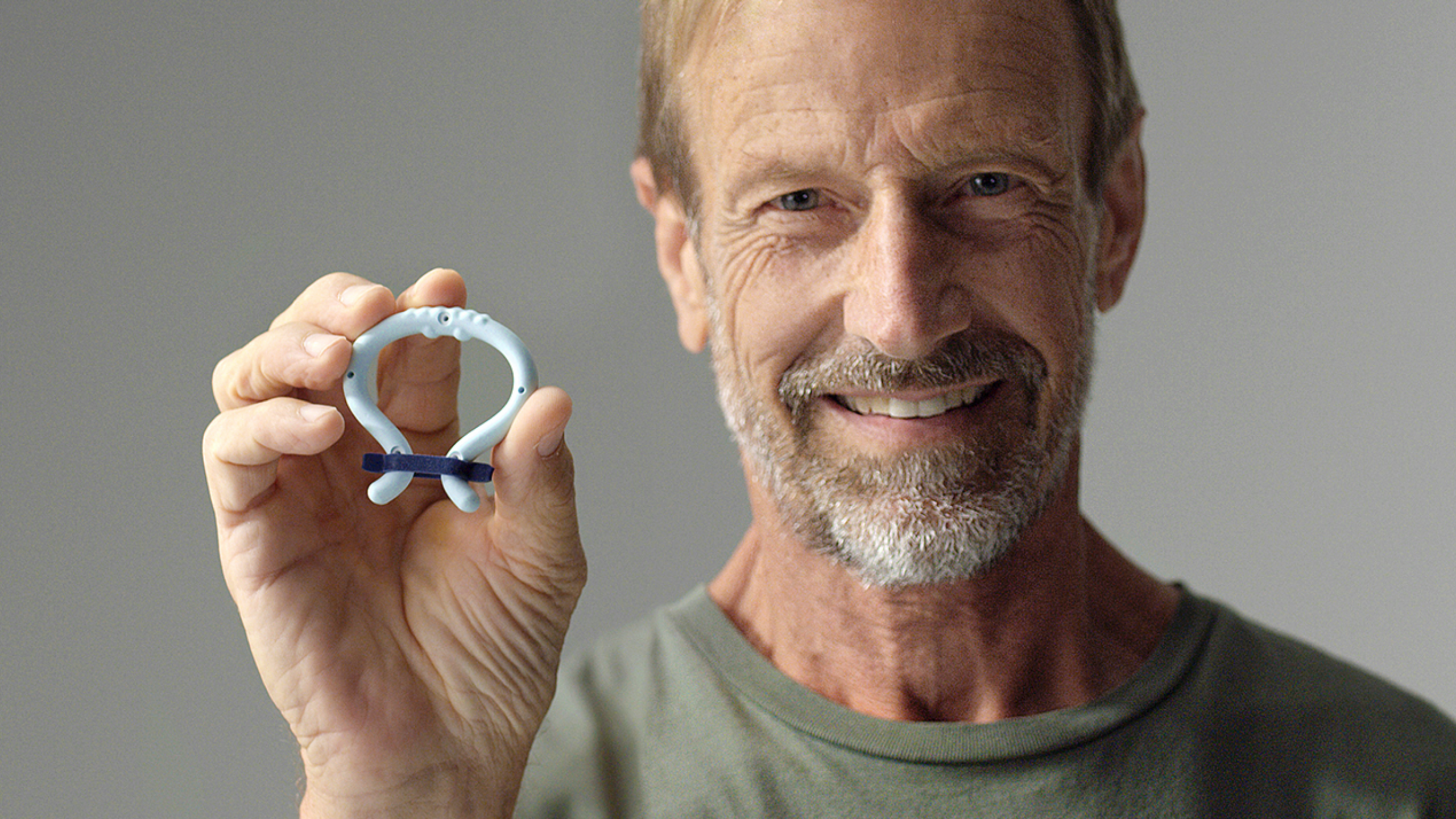 As we age, we risk losing the connections we've come to expect. Connections to the people we've loved, and experiences we consider normal. Changing as time passes is a reality for all of us, but just because we change doesn't mean we have to accept less out of life.
Quality of life and sexual health are intertwined. Changes to our sexual performance are bound to happen with time, and historically, to do something about it you had to try medication, one ineffective and demoralizing product after the other, or just accept a lower quality of life. Specifically with erectile dysfunction, the only thing outnumbering the unsatisfying treatment options were the men and their partners looking for a real solution.
Statistically, most men with erectile dysfunction will do nothing to address it. In their minds, a "one-off event" isn't an official diagnosis and requires no action. It's common for men to unknowingly describe ED while trying to disregard it. "I'm just nervous." "I drank too much." "Must be my meds." These excuses can lead to decreasing satisfaction, and a steady drop in quality of life for themselves and their partner.
Our society doesn't talk about the normalcy of ED. Somehow even with 40% of men experiencing ED, it remains a stigmatized topic. So when ED happens, men feel like they're the only ones dealing with it. The loss of sexual performance becomes accepted, so the act of sex becomes avoided, causing isolation and guilt. Their partners share the blame, however, seeing ED as a sign of their own inadequacy in the relationship.
Giddy is a sexual health and wellness company disrupting the current state of erectile dysfunction treatments, and the conversation around it, which are antiquated, ineffective, expensive, or impractical. ED pills were not even originally developed to treat ED. They're a product of happenstance. For example, Viagra started as blood pressure medication.
Giddy's answer is "Eddie", the wearable, FDA Registered Class II medical device designed to treat erectile dysfunction in a more effective and comfortable way. Eddie wasn't an accident. It was designed by urologists and mathematicians specifically to address blood flow in and out of the penis, and maintain erections comfortably.
Unlike competitors, Eddie addresses common venous leakage without affecting blood inflow. By constricting the veins while allowing the arteries to flow freely, Eddie can help men maintain an erection that feels natural and unencumbered. The urethra is also left unrestricted, allowing for a more natural, free-flowing, satisfying sensation during ejaculation.
Eddie is constructed from a medical-grade thermoplastic elastomer that is strong, soft, and compatible with Eddie's accompanying tension bands. The innovation behind Eddie sends a strong message to a dormant sector that has become content with lucky accidents and centuries-old methods.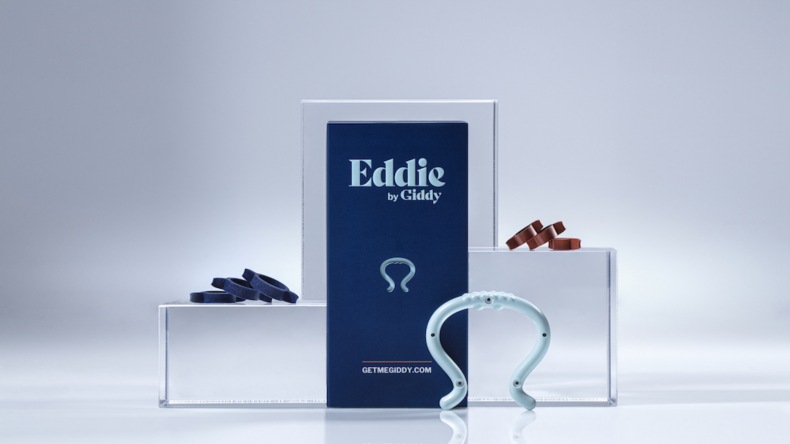 Other ED treatments on the market have unintended consequences, oftentimes falling victim to problems of their own creation. Drugs that are designed to increase blood flow work by increasing the volume of blood vessels, but this can allow blood to flow out just as easily as it came in. A penis unable to hold blood will be unable to maintain an erection.
Even if ED pills do work as designed, there's been zero progress in that field since their inception. At nearly three decades old, the current medications are largely unchanged, and continue to exist as cash cows for the companies distributing them. Thirty years later, they exist in practically the same form with the same side effects and risks.
Vacuum pumps physically pull blood into the penis, causing it to rise and mimic an erection, usually accompanied by a constriction ring applied to stop the outflow of blood. Pumps "fake" an erection rather than giving the body a method in which to accomplish the erection itself. This is known to cause "spongy," unnatural-feeling erections. Pumps, arguably, are also impossible to use discreetly, and are infamous for ruining intimate moments.
Giddy's innovative device began to take shape when a retired machinist looked at the problem with traditional devices, and applied a simple idea: the shape of an oval with an opening at the bottom. The idea was shown to urologists and mathematicians to advance even further. After committing three years of R&D to fully understanding the natural physiology and processes of an erection, Eddie's design was perfected. It was the first time state-of-the-art body imaging was used to develop a medical device in the ED sector.
As ED doesn't exist solely as a physical ailment, Giddy didn't stop at creating a device. ED exists on a spectrum of completely physiological to completely psychological causes, so to provide an effective treatment and satisfying result for men and their partners of all lifestyles, Giddy knew the mental, emotional, and relationship aspects of ED should be addressed as well.
Giddy produced the "ED Guide" video series led by experts in health and wellness to address the issues that other ED treatments ignore. From mental causes to physiological issues, experts in fields pertaining to all aspects of sexual health provide men and their partners information and exercises for more impactful treatment. The causes of ED are specific to a person. There is no such thing as a "one size fits all" solution to handling ED. Giddy's video series is tailored to the specific needs of the user to better address the underlying reasons behind their performance issues.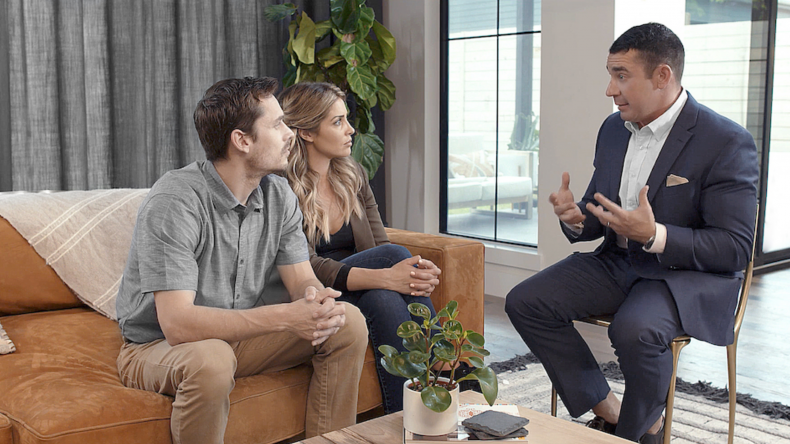 And men are taking notice. After beginning to deliver to customers in November 2019, demand for Eddie and the video series soared. Specifically, men who had otherwise thought ED treatments weren't for them—athletes, veterans, men with serious medical conditions, men that were used to pushing their body when they were younger—saw results.
Veterans in particular have responded to Giddy's resources. By putting control back in their hands, Veterans noted an increased sense of self-esteem that other treatments didn't provide. Eddie gave them the physical capability to regain intimacy with their partners. The ED Guide video series gave trustworthy and actionable advice to handling the broader scope of their issues.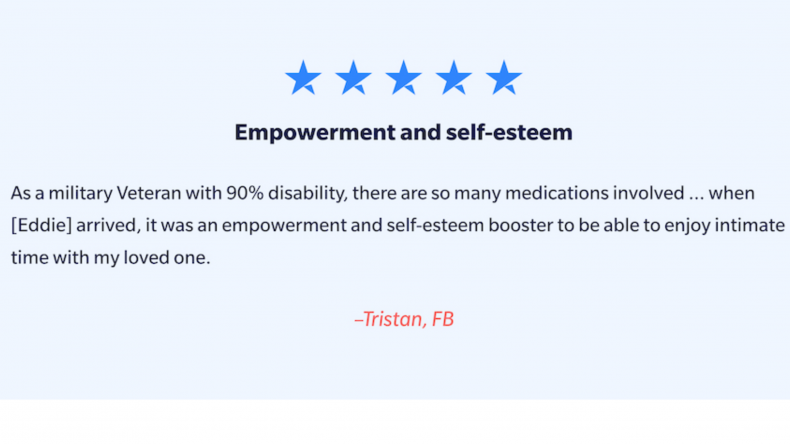 Giddy works with the VA to provide Eddies and the ED Guide free of charge to qualified members, allowing them to take ownership of their sexual health and progress on their terms. Through addressing the particular issues affecting former service members, be it PTSD, anxiety, or depression, some of society's most impacted individuals are re-discovering their sense of agency. By re-establishing an intimate connection with loved ones, many have reported decreasing feelings of isolation or loneliness, leading to improved self-worth and less risk of spiraling mental health issues.
Giddy knows a dramatic or traumatizing incident doesn't have to be the catalyst for change. Men and their partners from all walks of life are being given the resources to make small changes that lead to real, enjoyable results.
An after-dinner walk with your loved one not only keeps your body active, but the time spent with that person is time that strengthens your shared sense of bond, connection, and fulfillment. That becomes a habit and common touchpoint, strengthening that bond, and what was supposedly just a walk now means more. Getting a full night of sleep gives your body a better chance of recovery, more energy in the morning, and leads to an improvement in your mood, which is not lost on your partner. Focusing on healthy communication leads to a pattern of couples tackling problems together.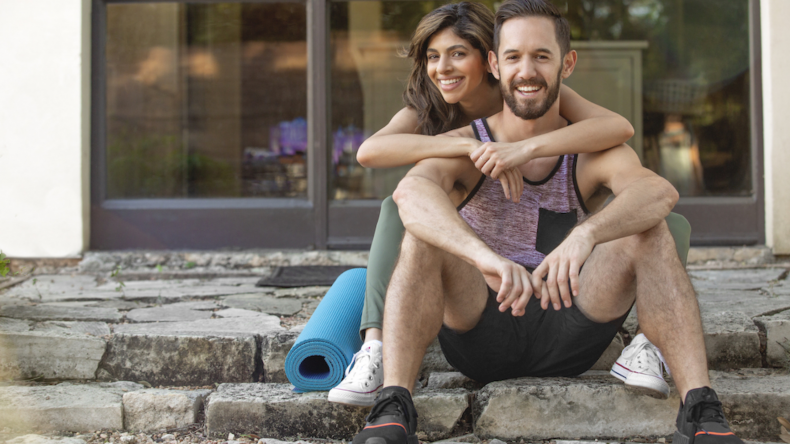 Giddy understands that when those incremental changes compound, dramatic change is possible. And, that intimacy is far more than just a physical act. Their commitment to a balanced approach to sexual health and wellness is evident in all aspects of their work - from their advanced medical technology to thought-leading discussion and educational tools.
Progress isn't accidental. The reality is that true improvement takes effort, sometimes patience. Giddy is responding to that reality with proactive efforts that give men and their partners a real way to live better, and feel better.
See for yourself what Giddy and Eddie can do for you.