Sponsored Article
The Halo Collar Uses Smart Fence Technology and GPS To Keep Your Dog Safe—Here's How
Here's a Better Solution to Ensuring Your Dog's Safety, Even When You're Not Home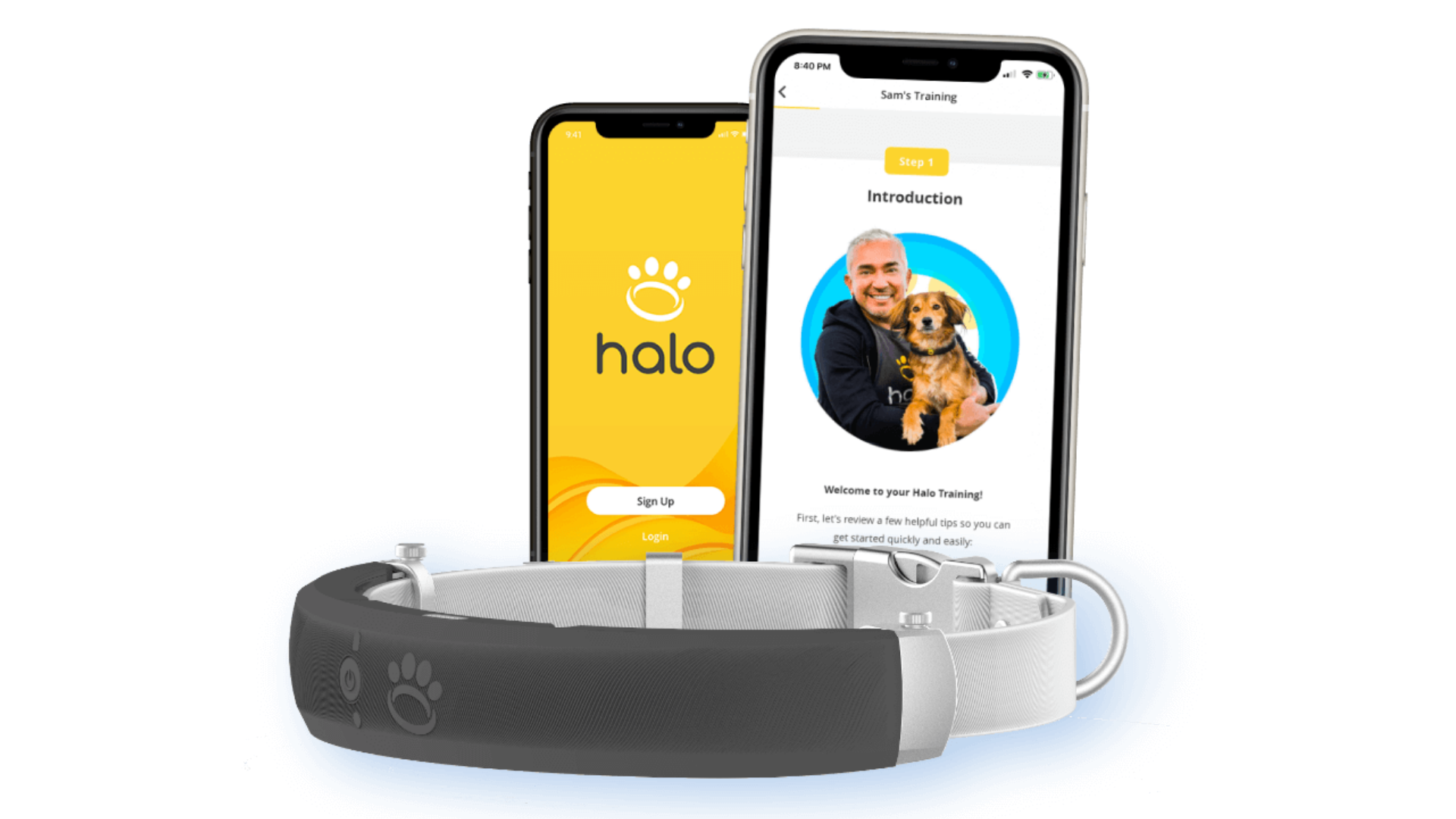 Over 10 million pets get lost each year. While some make it back home, others either end up in shelters or can no longer be found.
We try to protect our pets from wandering off by locking them indoors or in our backyard when we're not around. Others let their dogs out, confident that an enclosed fence is assurance enough of their safety. However, experience has taught many pet parents that when dogs look for a way out, they will find one. Dogs can break fences, jump over them, dig under them, and use all kinds of classic dog techniques to break free of their safe boundaries.
Sometimes, all a dog wants is to roam free. They don't always appreciate that we're keeping them in to protect them. Dogs are smart and motivated, especially when they set their cute noses to something. They can be master escapees, one moment safe inside your property and the next roaming wild and free outside! Luckily for us, fellow canine lovers have come up with a solution. Cesar Millan, the world-renowned dog behaviorist, gives us the Halo Collar, the next-gen smart collar that uses smart fence technology and GPS to keep your dog safe.
Halo Collar—A Smart Solution for Your Canine Friend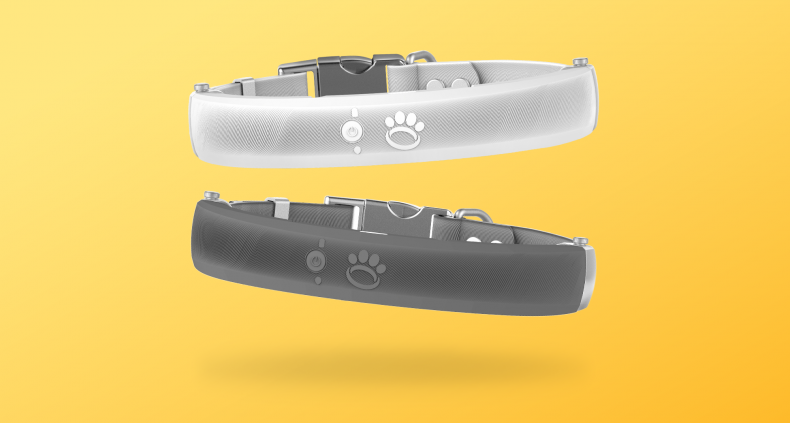 People say that some of the best ideas are born out of the greatest need, which is exactly how Halo Collar's creators thought of a great solution.
Ken Ehrman, the founder of Halo Collar, saw this first-hand when his two nieces lost their dog. Ruby was an active, always curious, loveable dog, and all she wanted at the time was to run free and explore.
Although Ruby had been trained to stay inside her yard, emergency situations can sometimes occur when major distractions arise—like a squirrel sighting or a quick chase of the neighborhood cat. Unfortunately, Ruby ran out of the yard one day and was hit by a passing car.
Ken witnessed the pain that his nieces had to go through after suffering such a loss. He realized that he never wanted to see any pet parent go through the same experience. Ken worked hard over the next few years on a solution, utilizing his 25 years of experience as a leader and pioneer with the Internet of Things, and safety and tracking technologies to develop the next-gen fence that keeps dogs safe. His brother, Michael Ehrman, designed and developed those technologies with Ken. Together with Cesar Millan, the world's best dog trainer, they invented the world's only all-in-one smart fence, smart training, GPS, and activity tracker system built for our canine friends—the Halo Collar.
The Halo team aims to enhance your dog's safety and give pet parents the peace of mind they deserve, and they did just that (and more) with the Halo Collar.
How Does the Halo Collar Work to Keep Your Dog Safe?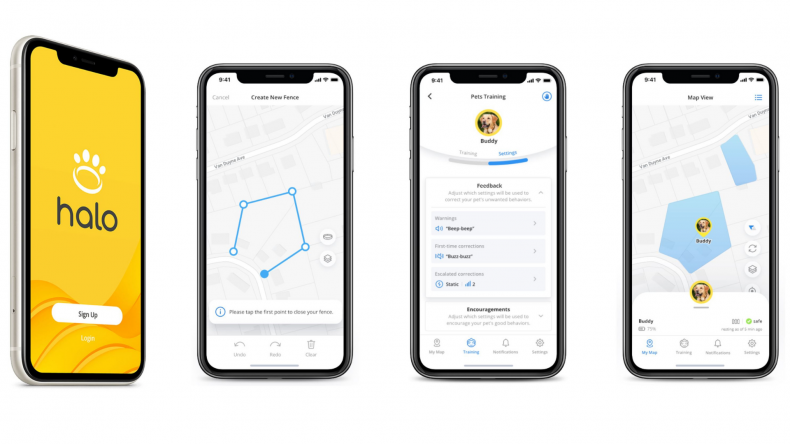 One of the major reasons dogs get lost is that they find a way out of the yard. Gates are not always fully closed, and fences aren't nearly as escape-proof as people think, so some days, we find ourselves looking for our wandering dogs.
Pet owners usually have an idea where their dogs can most likely be found, especially if their dogs are the master-escapist kind. They can generally be found somewhere around the neighborhood, either using their puppy-dog eyes to beg for food or playing with the neighbor's dog. However, this exposes them to the dangers that exist outside of the yard, such as cars and other vehicles. The only way to keep your dog truly safe is through prevention. Dogs who like to roam can do so now, while staying safely inside the smart fence boundary you create—if they're wearing the Halo Collar.
The Halo Collar uses smart-fence technology and GPS to keep your dog safe. The built-in smart-fence technology within the collar lets your dog know which areas are free-roam and which ones are off-limits. Even with a gate wide open or with no physical gate at all, your dog will stay safe inside the boundary that you—a loving pet parent—have virtually created.
When we say virtually created, we mean that you don't have to keep building physical fences to keep your dog safely within your property. The Halo Collar acts as a virtual fence. When your dog is wearing it, the collar automatically sends prompts that your dog will recognize as a reminder that says, "No, buddy. Turn around." Most dogs require freedom to stay healthy, with most needing 1-2 hours of daily exercise. To help visualize how the Halo Collar works to achieve this, the Get to Know Halo video clip from Halo Collar's homepage shows how dogs stay inside their virtual fences even without human supervision.
Your dog's Halo collar encourages your dog to roam around only within the virtual fences you set. Walk around the perimeter while holding the Halo Collar in your hand, or draw fence lines in the Halo App to create a fence. You can create up to 20 virtual fences anywhere in the world, so your dog can run around safely whenever you go—even when traveling. Did we mention that the Halo Collar also works on your dog even without Wi-Fi or cellular data? This means your dog can roam off-leash during forest adventures, beach camping, and other areas with no Internet coverage and still stay within the perimeters you set!
The Halo Collar's GPS feature also comes in handy when you want to know where your dog is—both inside and outside the perimeter. Now you can rest assured that your canine buddy will never stray too far from you. With the Halo Collar, your dog's safety comes first.
What Else Can You Do with a Halo Collar?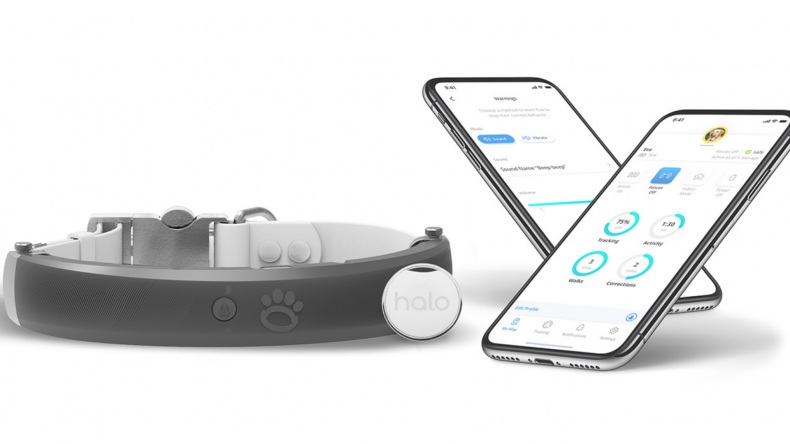 The Halo Collar was built with smart fence technology and GPS so you can keep your dog safe, but it does more than that!
Another feature that is very helpful to dogs who have a hard time staying home, especially if they were strays or surrendered to shelters for behavior "problems", is the in-depth training. Your dog can slowly learn to stay within the boundaries you set up through the Halo Collar, using Cesar Millan's repeatable training program. The Halo Collar allows you to rehabilitate behavior problems through a series of easy-to-follow steps.
Lastly, the Halo Collar features an activity tracker! Get access to daily metrics for activity, safety, walks, and feedback logs that summarize your dog's day. You can use the data to enhance your dog's quality of life. The Halo Collar is not your typical dog collar. It is an all-in-one smart solution that makes your and your canine friend's life better, in more ways than one.