Sponsored Article
Have Dry and Calloused Feet? This Foot Peel Mask Could Give You Baby-Smooth Skin
You Could Help Your Feet Go From Brutal to Beautiful With a Foot Peel Mask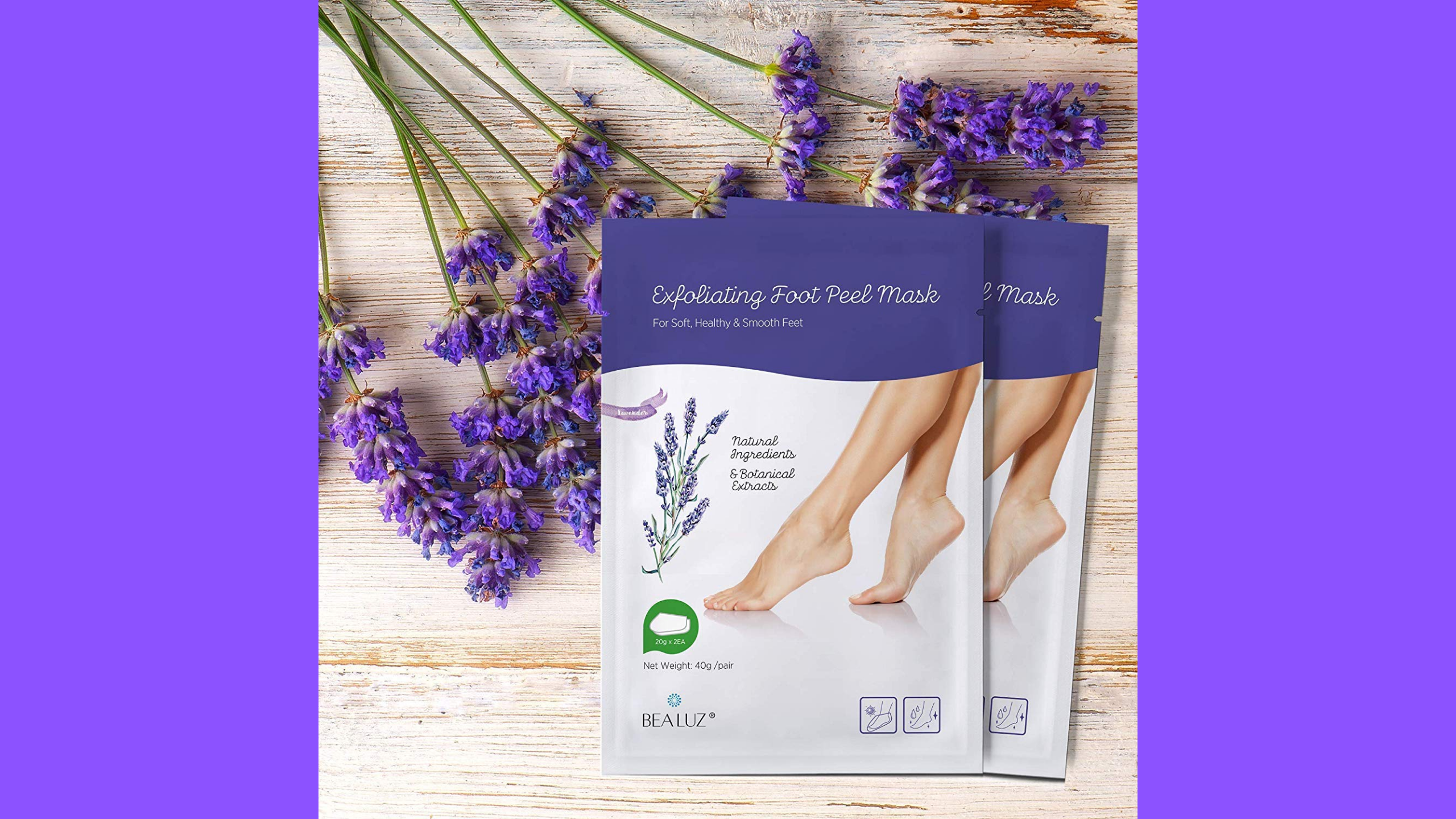 It's important to consult your doctors with any medical concerns, and before making any changes or adding supplements to your health plan.
Harsh winter months can wreak havoc on your feet. As we transition out of boot season, you might want to give your cracked, dry feet some tender love and care. Before you slip your toes into your favorite summer sandals, make sure they are at their prettiest. One way to do this is to use a foot peel mask.
You don't have to trek your toes to a salon to do it. This foot peel mask from Bea Luz aims to give you baby-soft feet in just one to two weeks. You could even use the Bea Luz foot peel mask from the comfort of your home. So pop some popcorn, put on your favorite Netflix special, and get ready for this mask that could help transform your feet from brutal to beautiful.
How Does the Bea Luz Foot Mask Peel Work?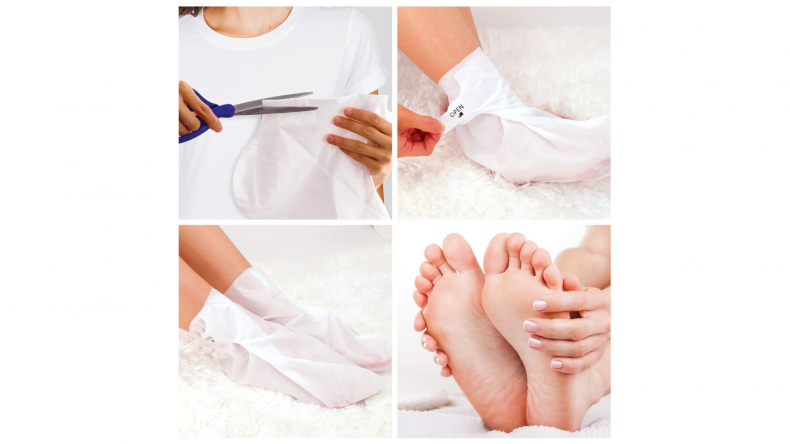 This lavender-scented mask is formulated primarily with fruit acid and lactic acid. Some of the natural ingredients and botanical extracts include papain (papaya), aloe vera extract, milk extract, Melaleuca alternifolia (tea tree) plant extract, castor oil, and lavender extract.
How do you use the mask? All it takes is a few easy steps:
Prepare your feet by cleaning them and drying them thoroughly.
Take out the foot masks and use scissors to cut off the seal.
Insert your feet into the booties. Press the masks close against your feet to allow your skin to absorb the formula.
Wrap the masks tightly around your ankles and secure them with the sticker labels provided.
Put on regular socks over the foot masks to help keep them tight to the skin and allow you to walk easier.
Remove after 60 to 90 minutes. Rinse all the formula off of your feet before drying them with a towel.
After about three to seven days, you might start to notice your outer layer of dead, dry skin peeling away. The manufacturers recommend soaking your feet in warm water 48 hours after applying the mask to accelerate this process.
After one to two weeks, all that dead calloused skin is likely to fall off, revealing fresh, beautiful skin on your feet. There might be no need to scrub or exfoliate after applying the masks because the formula is designed to have the skin peel away on its own.
It's best to nourish and look after the new skin on your feet, so you might want to stock up on a thick moisturizer, as well. Click here to purchase a 20-ounce bottle of Cetaphil Moisturizing Cream for dry to very dry skin.
Bea Luz says that the peeling process will likely be pain free. However, if you experience any discomfort as the old skin peels off, applying moisturizer could help ease this.
Customer Kayleigh S. also recommends doing a spot test of the formula before using the booties. She advises users to take a cotton swab or gloved finger, dip it into the solution, and apply a bit to the elbow or the inside of the arm. If you feel excessive burning or stinging, she recommends you don't use the product.
The package comes with two pairs of booties so you could enjoy a night of self-care at home with your best friend or significant other.
What Users Are Saying About the Bea Luz Foot Peel Masks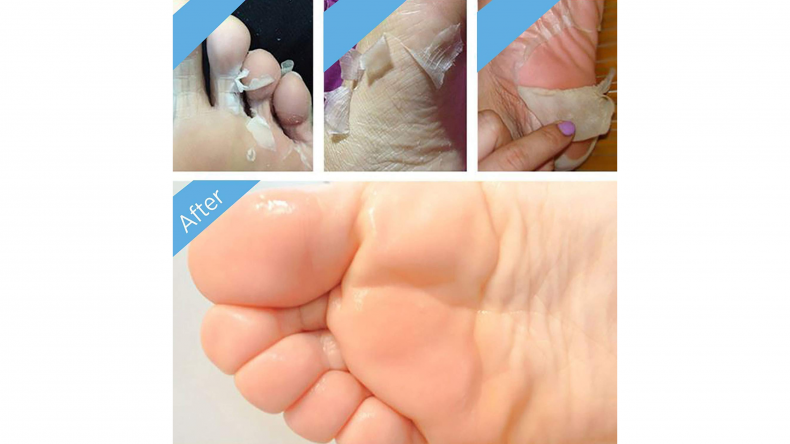 With over 6,000 reviews and a 4.4 (out of 5) star rating, users are raving about the results of their foot peels.
Reviewer Christina Ethridge enjoyed the Bea Luz foot peel as an easy salon alternative when pandemic restrictions ruled out pedicures at the nail salon. She writes that she has used the foot peel masks regularly for multiple years now and that she doesn't miss those visits to the salon at all. She also notes that "the best results come from longer soaking before applying, longer application (maximum of 90 minutes), and dedicated soaking each day after. [She] can be totally done peeling in three to four days if [she follows] these steps." She has had such a positive experience using these masks and said that she will "continue purchasing this for a long time."
User Angela P. was skeptical about the foot peel masks but ended up being impressed with the softness of her feet after using them. She writes that she had heard great things about chemical foot peels and had a history of dry feet, most notable around her heels. She tells other users that she "would do an almost nightly foot soak which [she] thinks really helped get the excess flakes off." She elaborates that after using the masks, she felt like she had gained more sensation in her feet. "The floors seemed a little colder on my bare feet than they did before," she explains.
Another Amazon customer named J. Nilsson-Green enjoyed these peels on a spa night with his wife during quarantine while watching TV. He explains that the "results didn't really show up for either of [them] for a few days, but it was so satisfying watching all the old skin peel off, with new, soft, smooth skin underneath." He notes that one of his callouses didn't completely break down, but he plans on buying another pack to finish healing his skin. He writes that he "would totally recommend" others try out the foot mask, as well.