Sponsored Article
Here's How Noom Could Help You Improve Your Relationship With Food
Noomer Shivani Shares Her Journey With Noom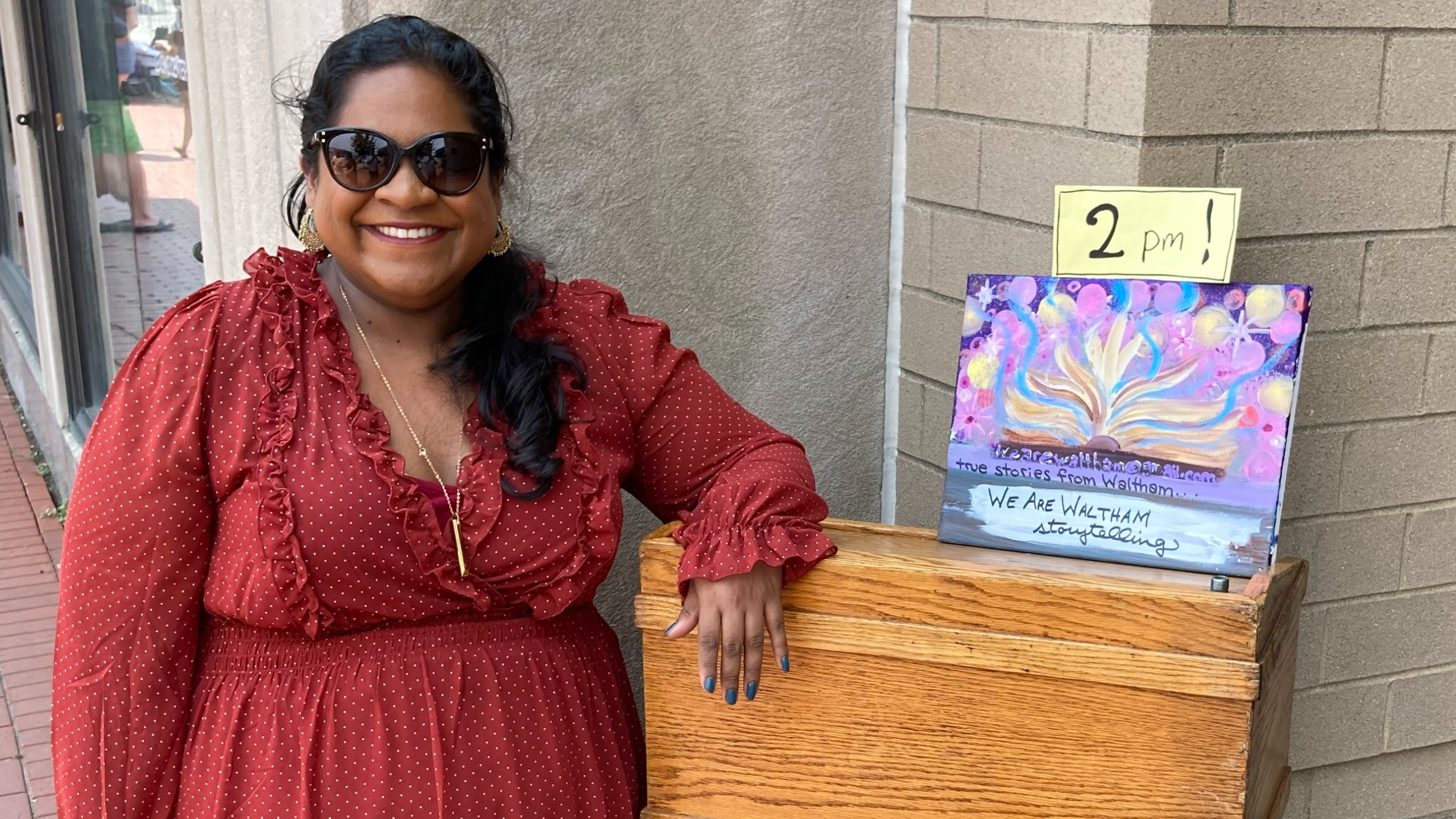 It's important to consult your doctors with any medical concerns, and before making any changes or adding supplements to your health plan.
When 2021 began, Boston-based comedian Shivani felt like her life was an endless cycle of doing stand-up shows, eating, drinking and smoking. This unhealthy lifestyle would have continued had the COVID-19 pandemic not kept Shivani—like so many—at home for the better part of the past year and a half.
At the start of 2020, Shivani had just relocated to Boston after a decade of living in South Carolina and was in the process of quitting a 16-year smoking habit. The challenges that came with the pandemic compelled her to step back, focus on herself and reflect. She came to the realization that it was the right time to consider some life-changing decisions or, as she puts it, to "clean house" and start anew.
Having grown up in an immigrant Sri Lankan household that struggled to make ends meet, Shivani found that she had internalized her family's practices. These may have maximized their income but were ultimately unhealthy. "We didn't throw away food at all," Shivani reminisced in an email interview with Newsweek. "So oftentimes, I would eat beyond being full to not waste [any food]."
The practice of eating even though she was already satiated was part of an unhealthy lifestyle that she described as "fairly sedentary." Shivani grew up believing she was incapable of losing weight because she was always considered a "big kid." This resulted in her being averse to diets or any sort of physical activity and the mentality that having to sweat on purpose was ridiculous.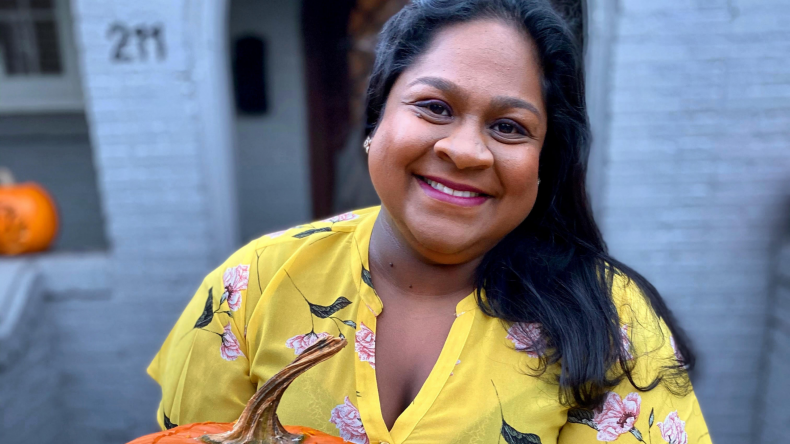 However, Shivani was able to change this unhealthy mindset and her relationship with food thanks to her personal journey with Noom, a digital health platform that aims to help people lead healthier lives through long-term behavioral changes. Noom provides users with the tools they need to develop healthier habits and improve their relationships with food. The company claims that its methods are based on psychological principles and backed by science.
What got Shivani hooked on Noom was the concept of the "psychology of food." After completing her first few lessons on Noom, she realized that she could change the way she thought about food―a way of thinking that had been influenced by her culture and upbringing.
Before Noom, Shivani followed her family's practice of buying low-quality food in bulk and not throwing anything away by eating beyond what she needed. These days, she follows better habits like proper portion control. She also now invests in "quality, healthier food purchases," ensuring that she still doesn't waste a bite; except now, they're all foods she feels confident about putting in her body. "2021 was the year of change for me," Shivani shared. "[Noom] cost $80 [a year], and it wasn't breaking the bank. Plus, I got a ridiculous New Year discount. No South Asian has ever paid full price for anything," she quipped.
Shivani's relationship with food is not the only thing that has improved since joining Noom. She previously had difficulties with sleeping and was frequently stressed at her day job in human resources. But she was able to address these concerns with the tools provided to her by Noom coaches—whom she jokingly referred to as her personal search engines. She also talked about other positive changes in her life since she joined Noom. "I fit much better in my clothes, and mentally, I have more energy," she shared. "I'm sleeping better, and I'm actually enjoying physical activities like walking—something I thought would never happen!"
Since starting the program in January 2021, Shivani has lost nearly 40 pounds by utilizing the resources she has gained from Noom, such as portion control, food weighing and understanding calorie density. According to her, these were concepts she had never grasped prior to joining Noom, and she considers the learning as having contributed to her positive lifestyle change.
The platform also introduced her to new and inventive ingredients that were fewer in calories and rich in proteins. She remembers sitting with her family in a Chinese restaurant for Thanksgiving because they couldn't look past the blandness of turkey. These days, she considers turkey a "protein game changer" of an ingredient. She explained, "The reason why Noom has been successful with me is that it hasn't been restrictive. You make choices, and over time, you learn how to make better choices. This program also has multiple different options and opens your mind and palette to [ingredients] you have never tried before."
Finding new and exciting ingredients is one Noom discovery that Shivani treasures the most because she has a passion for cooking. She particularly enjoys sharing her South Asian heritage by posting on her Instagram traditional recipes she grew up loving—but with a healthier twist, including variations in ingredients and serving options. "As a South Asian kid, you come out of the womb eating rice," she recalled. "So the concept of serving curry over a salad was foreign to me. I tried it, and it was absolutely amazing!"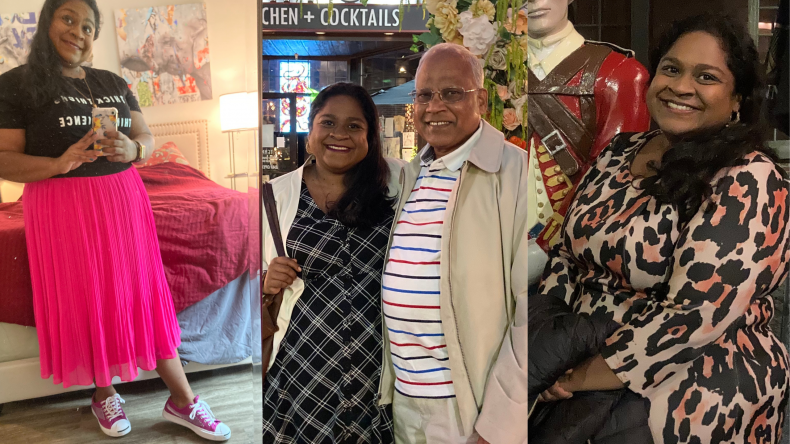 Through her journey with Noom, Shivani expressed how the platform made her feel accomplished as she worked through the daily tasks that broke down complex concepts into easily digestible lessons. As a Noomer, she would have to complete mini-challenges every day, like "stay within calorie budget" or "complete your daily classes." Celebrating those little milestones made the overall experience more fun for her and added a certain sense of achievement as she continued her journey.
Shivani completed all the daily lessons in six months and is now classified as a Noom Master under the program. She still follows the lifestyle changes and habits she developed, like regularly logging her meals and weight each day. Even though she has reached this milestone in her wellness journey, she considers herself a lifelong Noomer and continues to look for new and healthier ingredients for her recipes.
"I really felt like Noom was curated for me, by me, because there were so many resources and directions I could take," said Shivani. There were different facets to the program, but Shivani found herself enjoying the food education feature the most compared to other subjects like group support threads or physical activities. Being able to focus on one aspect helped Shivani take charge of her journey toward having a healthier relationship with food. This is why she wants to "share the wealth" by recommending Noom to others so that the program could also help other people get on a path toward a healthier lifestyle.
"I believe Noom is designed to have multiple paths to success. There is no one specific path for any person," she shared. "It may not be for everyone, but for some, it could be life changing."