Sponsored Article
How to Choose the Right Dog Food and Where to Buy Online
Choose high-quality well-balanced dog food
There are a lot of dog food variants on the market today that promise to offer your pet essential vitamins, fiber and other important nutrients. However, they might not all be suitable for your dog.
Choosing the right dog food is important because the it can give your dog the proper nutrients it needs for optimal joint health, digestion and immunity. Moreover, your dog may have certain food sensitivities and preferences that you may need to consider and that generic pet food does not.
Choosing the Right Dog Food Online
Here are some simple steps on how to choose the right dog food for your fur buddy online.
1. Consider Your Dog's Age, Breed and Activity Levels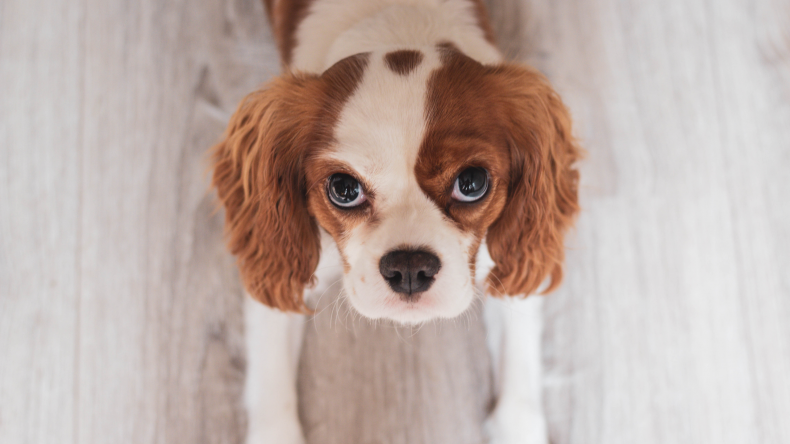 This first step is very important. If your dog is a new mom, she'll need more calories than usual per day. If you're caring for an older dog, you'll need to find dog food that will help it maintain its weight. Highly active dogs will also need more calories than less-active dogs.
There are brands on the market that target specific breeds, but most dog food only offers formulas for two categories: small breeds and large breeds. The difference between the two is the size of the kibble. Generally speaking, you want to consider kibble size because you want to ensure that your pet can eat their food comfortably and safely.
If your dog is sick and you're looking for food that it will be able to stomach easily, Active Dawg's Chicken Bone Broth is a great nutritional supplement. It's made of organic, all-natural and USDA-certified, 100 percent real chicken. The gelatin in the broth will help restore and protect your dog's gut lining, and it's also an excellent source of immunity-boosting minerals.
Enjoy bigger savings the more Chicken Bone Broth you buy today!
2. Pay Attention to Buzzwords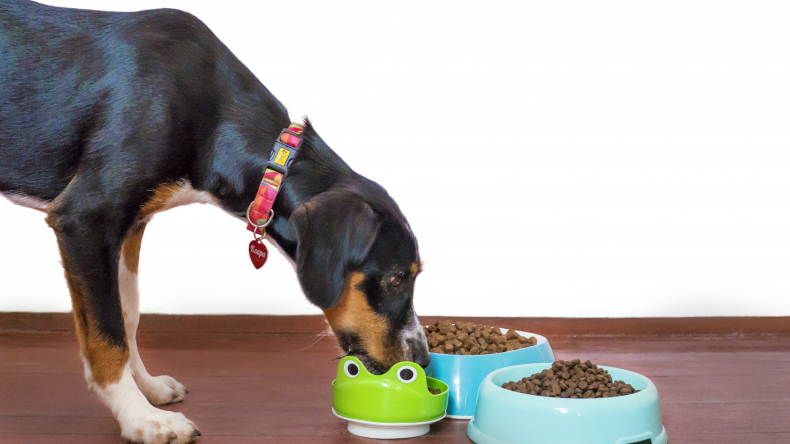 According to the FDA analysis of pet food labels, it's important to pay attention to the wording on dog food packaging. "Beef for Dogs" or "Chicken Dog Food" usually means that the listed protein on the label comprises 95 percent of the total dog food product, not including the water content. When water is added, these types of dog food still comply with the required 70 percent listed protein requirement by the regulator.
If you're considering dog food with the word "dinner" in its packaging, you should know that this means it only contains 25 percent of the listed protein. The same goes for dog food labels that contain the words "platter," "entree," "nuggets" and "formula."
If dog food brands use wording like "with a flavorful ingredient," this usually means that the highlighted ingredient only comprises 3 percent of the total product in compliance with regulatory requirements.
3. Learn More About Ingredients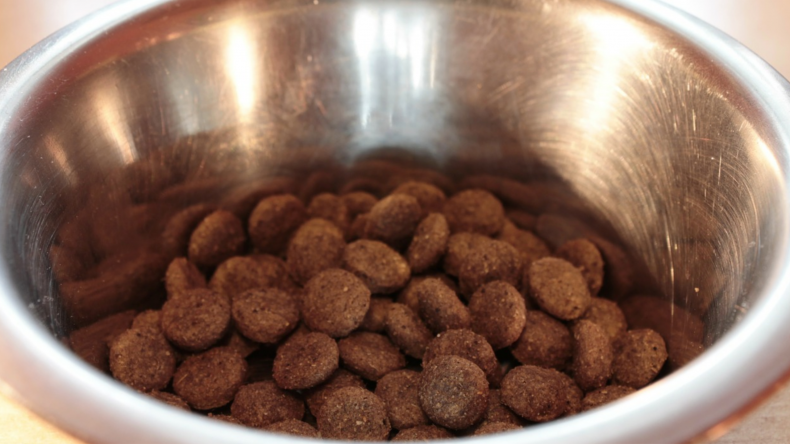 If you're very particular about what your dog eats, learning more about the ingredients on dog food labels is an important skill to develop.
When it comes to "meat," this usually pertains to animal meat that's also deemed fit for human consumption. This includes skeletal muscles and tissue from the heart, diaphragm and esophagus, and in some cases, fat and gristle. "Meat by-product," on the other hand, refers to any rendered product from animal tissues, and can include lungs, kidneys, brain, blood, bone and more. The Association of American Feed Control Officials ensures that meat and meat by-products do not contain any hair, horns, teeth or hooves.
Dog foods with meat are best for most dogs. Ideally, you should choose dog foods that lists meat as their top ingredient on the label. If your dog has a bad allergy, though, it would be best for it to follow a vegetarian diet instead.
If the top ingredient on the label is a grain, tuber or vegetable, like ground corn, this usually means that the food does not have high nutritional value. Corn actually has low protein and unimpressive vitamin and mineral content, and is mostly used by brands that want to skimp on their dog food formula.
4. Consult With Your Vet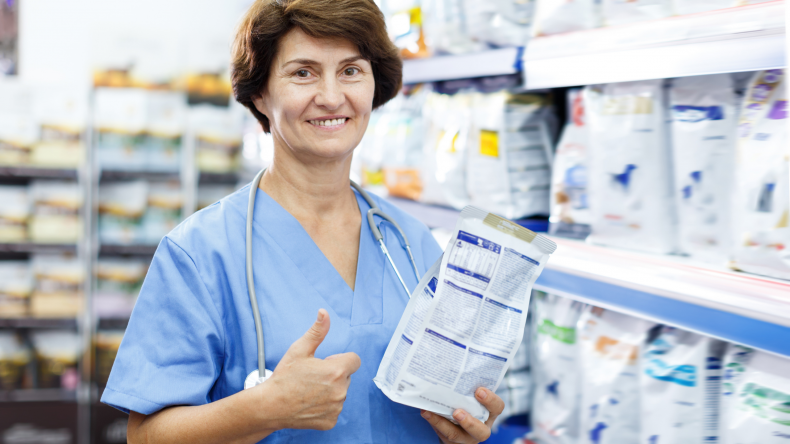 Dogs are omnivores by nature, so if you plan on switching to an all-grain diet, it would be best to consult with your veterinarian first. Your veterinarian will also be able to tell you when to make the switch and how to ease your dog into it.
Your vet will also be able to tell you if your dog has a food allergy or intolerance. Some common symptoms of food allergies and intolerance include:
Excessive licking of the paws
Scratching
Vomiting
Diarrhea
Fortunately, most allergies caused by meat or meat by-product ingredients merely involve certain brands and may go away after you switch brands.
One safe grain-based food you can add to your dog's diet is peanut butter. Active Dawg's Peanut Butter Powder is a healthy treat or meal enhancer. When mixed with the prescribed amount of water, your dog will benefit from a number of vitamins and minerals, including niacin, vitamin B, vitamin E, vitamin B3 (which reduces inflammation and helps improve flexibility) and antioxidants.
5. Check if the Brand Fits Your Pet's Nutritional Needs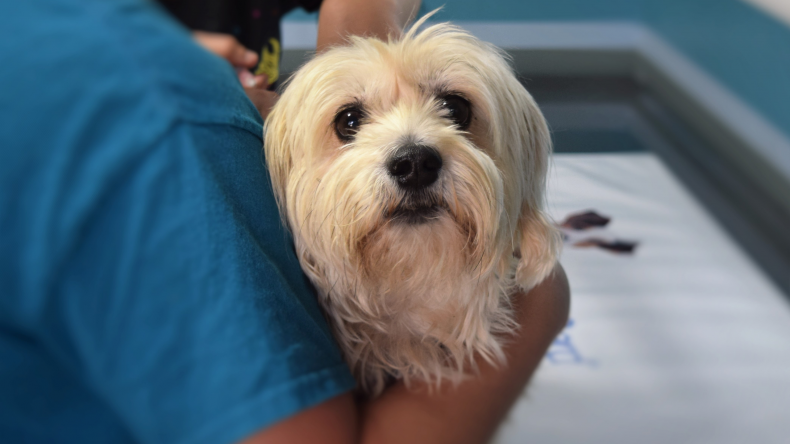 All dog food brands have nutritional information on their bags, cans or packages that are broken down into a table of listed nutrients per recommended serving, and the amount of the nutrients in a serving. This nutritional information is important for you to figure out if your dog is actually getting enough nutrients.
Your dog's health and nutrition are too important to leave to chance. As such, it's of the utmost importance to find a brand that takes your dog's health seriously and brings about real benefits.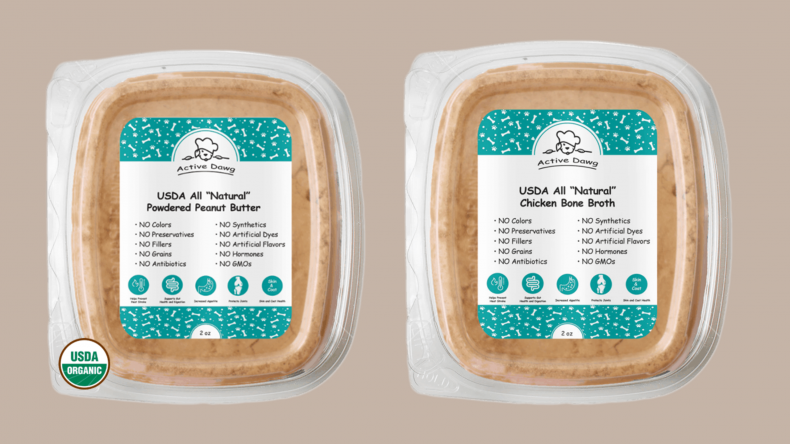 For top-of-line nutrition sans the stress, Active Dawg offers USDA-certified, organic, all-natural meal additives, which you can introduce to your dog's diet for better joint health, anti-dehydration, healthy gut, and coat and skin improvement.
Give Your Dog the Power of Nutrition With Active Dawg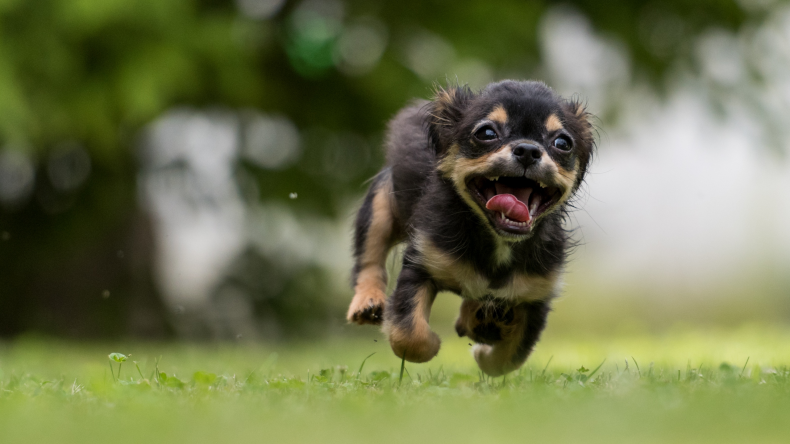 Active Dawg's flagship products have helped so many dogs improve their quality of life without breaking the bank. This is because all of its products are formulated and patented to help dogs achieve their optimum health, no matter their current stage of life. They're also great for sickly dogs and dogs on palliative care.
Moreover, Active Dawg maintains strict standards to deliver USDA-certified organic and all-natural products that are sourced in the USA and have no added antibiotics, artificial colors, or flavors, by-products, fillers, GMOs preservatives, grains or hormones. As always, though, make sure to consult with your veterinarian about the best dog food choices and diet for your dogs.