Sponsored Article
How a Period Cup Works and Other Things You Need to Know
Upgrade Your Period Essentials With Intimina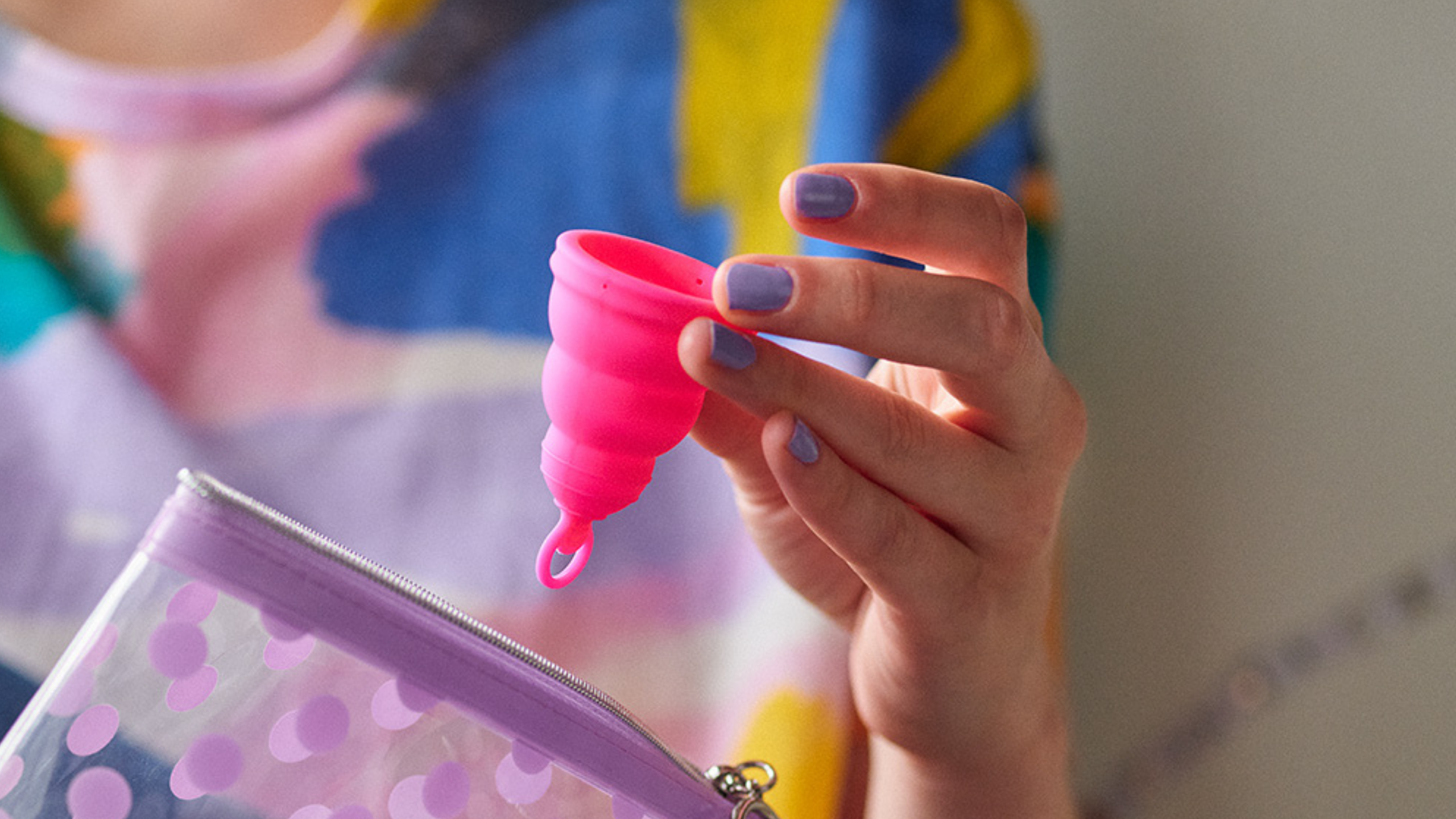 It's important to consult your doctors with any medical concerns, and before making any changes or adding supplements to your health plan.
Most women are familiar with the constant worry of not having a spare menstrual pad or tampon on hand when they're on their period. When your period arrives and you're not prepared, settling for a pad or tampon that you're not accustomed to could be uncomfortable. In addition, used pads and tampons are significant contributors to menstrual waste. According to market and consumer data provider Statista, tampons were used by 34.1 million women in the U.S. in 2020. Additionally, according to data published in a 2019 feature by National Geographic, most of the tampons used in the United States end up in landfills as plastic waste, contributing to the pollution problem both here and elsewhere in the world.
This is where Swedish brand Intimina could help. Since 2009, Intimina has been providing women with sustainable products that cater to their needs—especially when on their period. Intimina also made it its mission to focus on eliminating stereotypes about menstruation while providing reliable information on all women's reproductive health requirements.
One such product that Intimina offers is its menstrual cup, which is an alternative to traditional menstrual products. The menstrual cups are made of flexible, medical-grade silicone. You use the cup by inserting it inside the vagina during your period to collect menstrual fluid. You may retrieve and empty the cup between 4 and 12 hours, depending on your menstrual flow. An average cup could last up to 10 years. Intimina's menstrual cups come in different sizes and designs, and they're also reusable and eco-friendly.
By switching to a menstrual cup, you could help reduce the amount of menstrual waste added to the environment. In its blog, Intimina discussed the negative impact of plastic products like tampons on the environment, including oceans, where they might contribute to the death of sea creatures. If you want to know the environmental impact of your personal use of menstrual products, Intimina's Greentimina calculator tells you the amount of menstrual waste generated by using disposable products. It also estimates how much you've spent on menstrual products.
Each purchase of an Intimina product includes a manual for proper insertion and placement, cleaning guides and other useful tips. Intimina has an ongoing promo on its website, where you can take 15 percent off most of its products.
Ready to make the switch to eco-friendly and affordable menstrual products? Intimina might just have the right ones for you with its Menstrual Care line. As always, the prices listed may fluctuate over time.
Menstrual Care Line
Intimina's Menstrual Care line features four menstrual cups: the Lily Cup, the Lily Cup One, the Lily Cup Compact and the Ziggy Cup.
Lily Cup One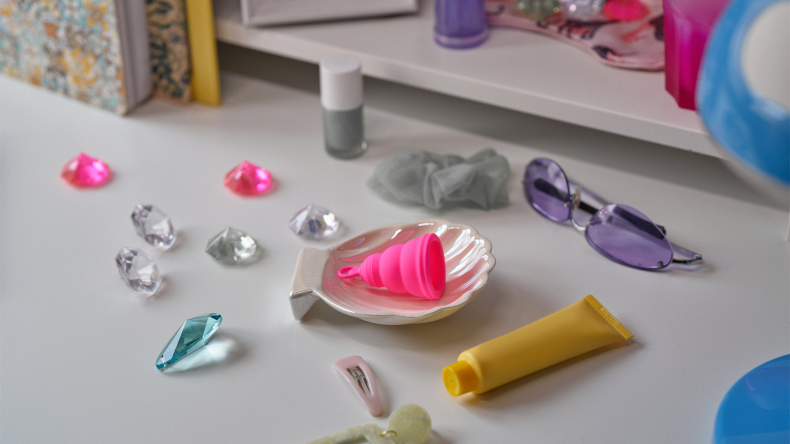 If you're a bit hesitant to try a menstrual cup, the Lily Cup One could be the ideal starter kit. It's specifically designed for first-time menstrual cup users and features a smaller design and a loop at the end for easier removal. It comes with a compact protective case so you can keep it with you at all times. Though it's smaller, it's still recommended for those who experience light to heavy flow.
Click here to buy it at a discounted price of $19.96.
Lily Cup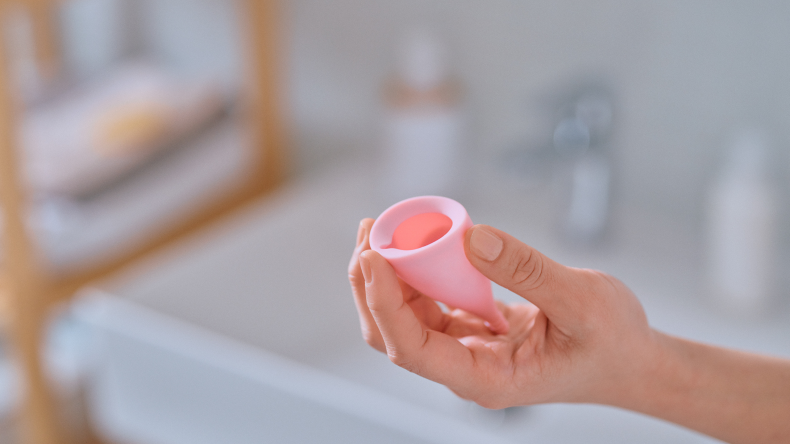 Like the rest of Intimina's menstrual cups, the Lily Cup is a reusable cup made of medical-grade silicone. You shouldn't have to worry about any marks on your clothes because it features a no-spill rim and can be used for up to 8 hours. It comes in two sizes: A and B. The A size is for those who experience a moderate flow, while the B size is recommended for those whose pelvic floors need more support or who experience heavy period flow.
Click here to buy it at a discounted price of $23.96.
Lily Cup Compact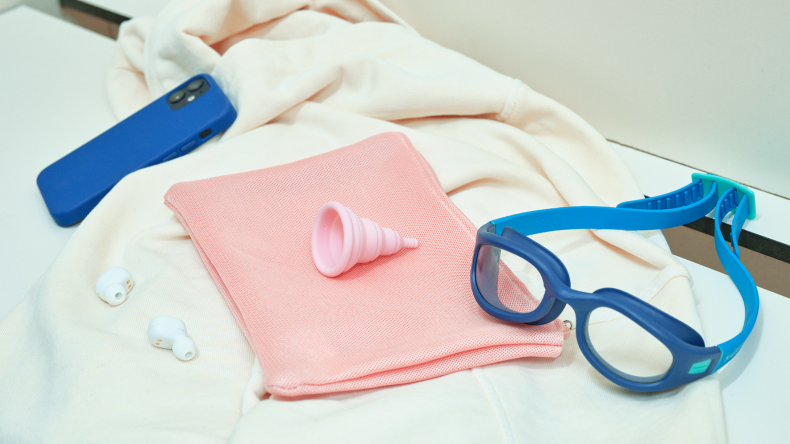 If you prefer keeping a menstrual cup on your person at all times, then the Lily Cup Compact could be what you need. With the same features as the Lily Cup, the compact version is the world's first-ever collapsible menstrual cup. You can keep it in your bag and be prepared whenever your period comes unexpectedly.
Click here to buy it at a discounted price of $23.96.
Ziggy Cup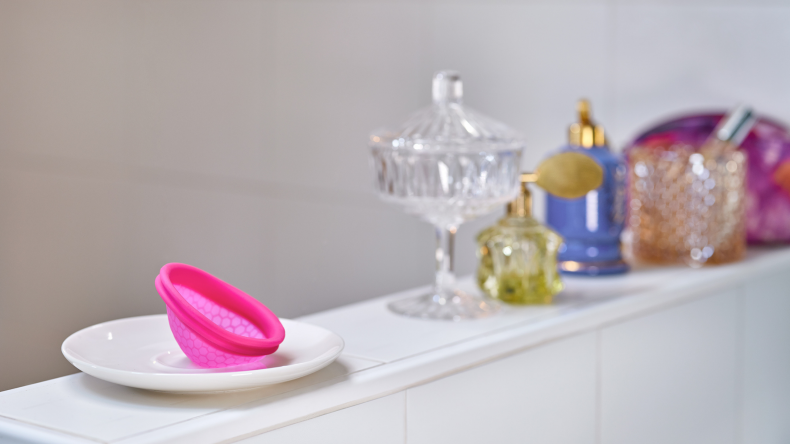 The final product in Intimina's Menstrual Care line is its Ziggy Cup, with its revolutionary design. The reusable cup has a leak-proof double rim that enables it to be used during sex. The product was recognized as one of the award-winning designs in the beauty and/or care categories at the iF Design Awards 2021 because of its petal-thin silicone and flat-fit model, which allows you to have sexual activity without any discomfort.
Click here to buy it at a discounted price of $31.96.